How to Get a Moroccan IP Address from Anywhere in 2020 [+VIDEO]
Updated on 25th December 2019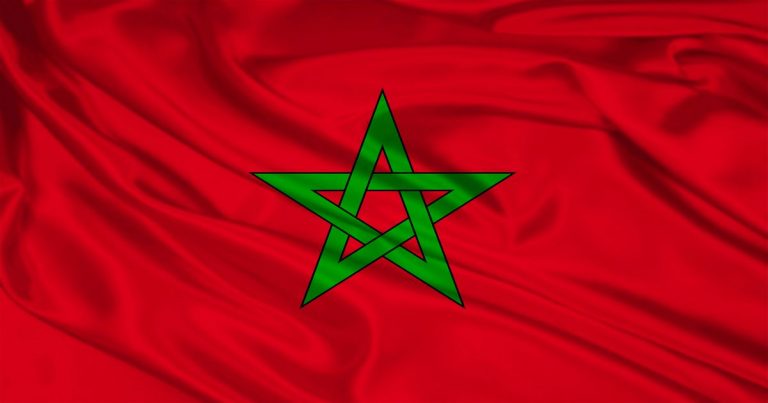 If you try to access your Moroccan bank accounts or keep up with your favorite Al Aoula TV shows from outside Morocco, you will likely run into geoblocks or access limitations. However, if you can get an IP address that says you're in Morocco, you can easily bypass these restrictions.
Our guide will show you how to get a Moroccan IP address from anywhere in the world using a VPN. We'll also give you tips on what to consider when choosing the best VPN for you.
Quick Guide: How to Get a Moroccan IP Address with a VPN
Select a VPN with servers in Morocco.HMAis our #1 choice and one of a very few top-rated VPNs with Moroccan servers.
Download the VPN software and install it on your computer or other device.
Launch the software and connect to a server in Morocco.
Use our tool to check your new IP address and make sure it's in Morocco.
Get a Moroccan IP Address NOW!
Table of Contents
How a VPN Can Get You a Morocco IP Address
A VPN works by connecting your device through a secure tunnel to a server in Morocco, thus masking your location. Your new IP address corresponds to the server's location, making it possible for you to access content and services only available within Morocco.
Though VPN servers are not widespread in Morocco, we have found a couple of high-quality VPNs that will both unblock Moroccan content and protect you from online threats. Read on to discover exactly how a VPN can benefit you.
A VPN Also Keeps You Safe & Lets You Stream Almost Anything
Being outside Morocco makes it difficult to keep up with current events in the country. Your access to regional TV coverage and news services can be restricted based on your IP.
Using a VPN to get a Moroccan IP address will solve this issue so you can stay connected to websites and loved ones in Morocco. Your new IP will also give you an advantage if you're looking for accommodations in the country, as prices change depending on your location.
Furthermore, a good VPN protects any data you send or receive, so you can be sure your communications with friends, family, and business contacts in Morocco remain private.
Keeping your online activity hidden from the Moroccan government is critical. Many Moroccans have been arrested for expressing opinions online in recent years. A premium VPN offers security features such as strong encryption and tracking prevention to ensure your messages and browsing can't be traced back to you.
Be aware, however, that using a Moroccan IP address is likely to trigger Morocco's selective internet censorship. VPNs that support unlimited server switching make it simple for you to get around censorship blocks by choosing servers both inside and outside Morocco.
If you have friends or family in Morocco, they can also use a VPN to bypass censorship and avoid government surveillance. With the right VPN, they'll have free access to the most popular internet content from all over the world.
Streaming services like Netflix use VPN-screening tools that can block your access if you use a low-quality VPN or free proxy to change your IP address. Only the best VPNs can get past both geoblocks and VPN blockers, so you can stream all your favorite videos from anywhere.
What to Look For in a VPN
Advanced security: Features like Double VPN, DNS leak protection, and a kill switch will ensure your data is always protected from surveillance.
Unblocking capabilities: Premium VPNs will help you bypass even the trickiest geoblocks.
High speed: VPNs with high-speed connections, unlimited bandwidth, and servers around the world make streaming online content quick and easy.
Excellent customer support: If you're new to VPNs, look for 24/7 live chat support so you can get help anytime you need it.
Unlimited server switching: Choose a VPN that makes it easy to switch between IP addresses inside and outside Morocco as often as you need to.
The Best VPNs to Get an IP Address in Morocco
Overall Rating: 4.6 out of 5.0 – The Highest-Rated VPN with Servers in Morocco!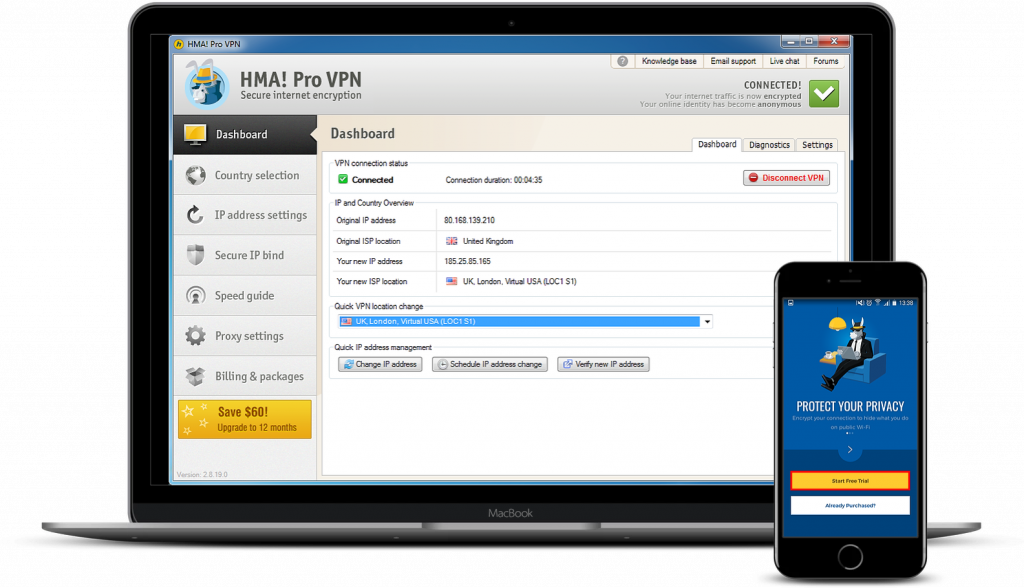 HMA boasts the world's largest VPN network, with servers in almost every country, including 2 in Morocco. It uses military-grade encryption to guarantee your privacy and security online. Users love HMA, as it's simple to use and offers convenient preset modes:
Instant mode: With one click, your connection will be protected as HMA routes your traffic through the server closest to your physical location.
Location mode: This option allows you to select your server location yourself. Simply choose one of the Moroccan servers to get a Morocco IP.
Freedom mode: Particularly beneficial to users in Morocco, this mode connects you with a server in a country with free speech, so you don't have to worry about what you read, view, or post online.
Another valuable feature of HMA is its fast file uploading service, which lets users share large files quickly for free. HMA also has servers dedicated for streaming so you can enjoy buffer-free movies anytime.
You can test HMA for yourself with a free trial, and there is also a 30-day money back guarantee when you subscribe.
Need more info? Here's our detailed expert review of HMA!
Overall Rating: 4.1 out of 5.0 – Secure VPN With an Expansive Network.

With servers in 140+ countries, including 3 in Morocco, PureVPN is another well-established VPN provider that's popular with users worldwide. It uses 256-bit encryption, and you can secure up to 5 devices under one subscription, which is great for families.
Its split tunneling feature allows you to choose which data to send through your VPN and which to send through your normal ISP connection. You can access all servers on the network with any plan, and you also get unlimited server switching.
You can subscribe to PureVPN and try it out for yourself with 31-day money-back guarantee.
Need more info? Here's our detailed expert review of PureVPN.
Further Reading
To get yourself a bargain on your VPN, head over to our deals page for some special offers.
If you're traveling to Morocco, we have compiled a list of interesting things to see and do in the country.
You can learn more about internet censorship around the world in our internet freedom report, which we continually update.