VPN Keeps Disconnecting? Here's Why & How to Fix It in 2023
Updated on 4th November 2022
Like any software, VPNs sometimes have technical difficulties. To save you time scouring the web trying to pinpoint the problem, I've compiled a guide on the most common VPN connection issues and how to fix them. Whether your VPN won't connect, unexpectedly disconnects, or just gives you a slow, unstable connection, you'll find some actionable solutions that aren't complicated in this guide.
Of course, the most important thing is that you're using a reliable VPN with solid connections (ExpressVPN is my favorite). ExpressVPN has a global server network and world-class security features that reduce the likelihood of connection issues. It's also backed by a 30-day money-back guarantee so that you can test all of ExpressVPN's features risk-free. You can claim a refund within the 30-day period if you don't like it.
Short on Time: Here Are 4 Common VPN Connection Issues and How to Solve Them
How to Fix a VPN That Disconnects Frequently
How to Fix a VPN That Won't Connect
Sometimes VPNs won't connect because there's a conflict between them and another app or firewall. Here are some things you can try:
How to Fix Speed Issues in a VPN
Speed issues with VPNs are quite common, as many of them won't provide superfast connections by default. However, there are some things you can do:
How to Fix a VPN With Software Problems
The Best VPNs for Reliable Connections in 2023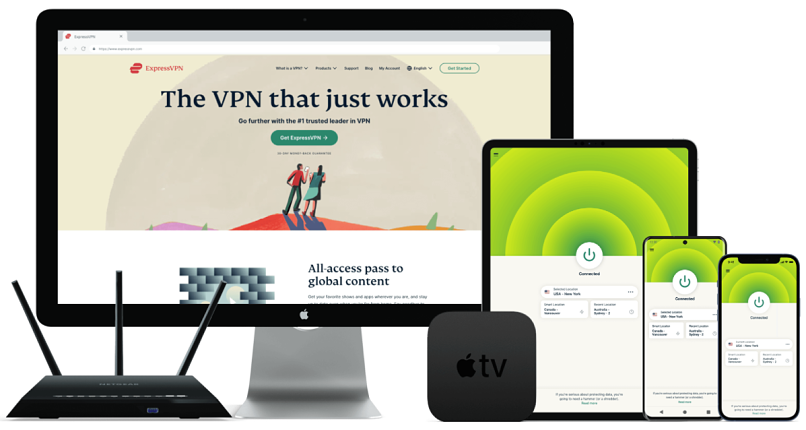 Editor's Choice
Editor's Choice

Tested January 2023
Try Risk-Free for 30 Days
Available on:
Chrome
Router
Smart TV
More
www.ExpressVPN.com
Lightning-fast speeds
AES-256 bit encryption and no-logs policy
5 simultaneous device connections
Can unblock: Netflix, Disney+, HBO Max, Hulu, BBC iPlayer, Vudu, and more
Compatible with: Windows, Mac, iOS, Android, Linux, routers, Apple TV, and more
ExpressVPN is one of the fastest VPNs available, making it ideal for streaming and reliable connections. When I tested 3 US and 3 UK servers while watching Netflix, I recorded an average download speed of 49.8 Mbps, and 48.4 Mbps, respectively. Not once did my connection drop and my stream was in UltraHD. Therefore, you can enjoy watching shows without any lag and download large files quickly.
Thanks to ExpressVPN's server network of 3,000 servers in 94 countries, you can reliably bypass geoblocks. More servers give you more chances to access geo-restricted sites from anywhere. By simply connecting to a US or UK server with one click, I unblocked Netflix, Disney+, and BBC iPlayer without any delays or issues.
When it comes to security, ExpressVPN uses military-grade encryption, a kill switch, and DNS/IP leak protection. In addition to protecting your data, these features can reduce the likelihood of VPN disconnection issues by making your connection more secure and impenetrable. When I tested its US servers on ipleak.net, no DNS/IP leaks were detected.
The main downside of ExpressVPN is its price, which is expensive compared to other VPNs. The cheapest plans start at $6.67/month. But if you go to its website, you can take advantage of a deal and save money. When I signed up, I got my first 2 months for free.
If you're undecided, then you can test all of ExpressVPN's features risk-free since it comes with a 30-day money-back guarantee. To test this policy, I asked them to cancel my subscription over 24/7 live chat. After telling them my reason for canceling, they went ahead with my request and I got all my money back after 4 business days.
Superfast speeds
9,758 servers in 91 countries, including streaming-optimized servers
7 simultaneous device connections
Can unblock: Netflix, Disney+, HBO Max, Hulu, BBC iPlayer, Vudu, and more
Compatible with: Windows, Mac, iOS, Android, Linux, routers, Apple TV, and more
CyberGhost has an intuitive app for all major devices that's easy to install and use. It only took me just under 20 seconds to download and install it on my MacBook Pro, while doing the same on my Smartphone was closer to 10 seconds. Finding and connecting to a server I wanted only took 2 clicks, too. Therefore, you can easily secure your devices without technical knowledge.
Its server network of 9,758 servers in 91 countries is large, and even includes optimized servers for streaming and downloading. The streaming servers are for specific sites like Netflix and Hulu and are designed to provide easy access from anywhere. When I tested its Netflix US and BBC iPlayer servers, I unblocked both sites in under 10 seconds each time.
To protect your data and identity, CyberGhost adheres to a strict no-logs policy and uses AES-256 bit encryption. These features make your data unreadable and hide your online activity, so no one can see what you do. Plus, it's located in Romania, a privacy-friendly country that's free of data retention laws. With this level of protection, your VPN connection will be more secure and reliable.
A minor con of CyberGhost is its expensive short-term plans, which come with a reduced money-back guarantee (14 days vs 45 days). However, a long-term plan is super affordable, as you can get a subscription for $2.19/month.
Also, you can use its money-back guarantee to get a full refund on your subscription if CyberGhost doesn't work out. I wanted to see if it was legitimate, so I asked them to cancel my subscription through its 24/7 live chat. After they asked me a question about my experience, I was fully refunded after 4 business days.
AES-128 or 256-bit encryption and advanced protocols
29,650 servers in 84 countries
10 simultaneous device connections
Can unblock: Netflix, Disney+, HBO Max, Hulu, BBC iPlayer, Vudu, and more
Compatible with: Windows, Mac, iOS, Android, Linux, routers, Apple TV, and more
Private Internet Access (PIA) has a number of customizable security features that make data transmission more secure and reliable. For example, you can change your DNS servers, use a different port, and switch protocols on its desktop apps. It also has basic features like a kill switch and military-grade encryption. Therefore, it significantly decreases your chances of disconnection issues.
PIA provides fast and reliable connections through its Next Generation Network, which is built for speed. I tested 4 US servers during my speed tests, which produced an average download speed of 45.3 Mbps while watching ESPN. Since you only need 25 Mbps to watch content in Ultra HD, you won't stare at frozen loading screens.
What concerned me with PIA is its US home base since it makes it within the realm of the 14 Eyes Alliance. However, it adheres to a strict no-logs policy that's been independently audited, meaning it doesn't collect user data. Therefore, your privacy is safe.
When I checked out its plan, I found its long-term plan to be the most economical at $2.19/month. Short-term plans with the same features are also available, but you'll save more over the long run with a long-term plan.
And since it comes with a 30-day money-back guarantee, you can try PIA completely free. After I was done testing, I asked a customer service representative to cancel my subscription over live chat. She immediately proceeded with my request after I gave my cancelation reason, and my money was in my bank account after 3 business days.
Unlimited simultaneous device connections
Reliable speeds
Strict no-logs policy and DNS/IP leak protection
Can unblock: Netflix, Disney+, HBO Max, Hulu, BBC iPlayer, Vudu, and more
Compatible with: Windows, Mac, iOS, Android, Linux, routers, Apple TV, and more
You can connect any number of devices simultaneously when using IPVanish. To test this, I connected my MacBook Pro, Windows laptop, smartphone, and tablet while streaming Netflix and downloading torrents. Compared to having 1 device connected, there wasn't any difference in my user experience.
When it comes to security, IPVanish lets you choose from several advanced protocols and has a kill switch. The protocols include OpenVPN, IKEv2/IPSec, and L2TP/IPSec, which provide different balances of speed and security. I'd recommend OpenVPN as it's newer and more secure, meaning there are fewer chances of connectivity issues.
What disappointed me with IPVanish was that it doesn't accept cryptocurrency payments. However, it let me pay via credit card, online gift card, or PayPal. It offers long-term plans for as low as $3.99/month, which is decent value. Additionally, you can add cloud storage for an extra cost.
If you're undecided, then you can try IPVanish for free as it's backed by a 30-day money-back guarantee. There wasn't any need to contact customer service to cancel my account, as I simply logged into it and did everything from the portal. After 2 clicks and 4 business days, I was fully refunded.
Stealth VPN protocol
200 servers in 63 countries
DNS leak protection and automatic kill switch
Can unblock: Netflix, Disney+, HBO Max, Hulu, BBC iPlayer, Vudu, and more
Compatible with: Windows, Mac, iOS, Android, Linux, routers, Apple TV, and more
PrivateVPN's StealthVPN protocol is designed to bypass firewalls in restrictive networks and countries. It scrambles your data to hide the fact you're using a VPN, making it seem like a regular connection. Plus, it can be used to bypass geoblocks. By enabling StealthVPN and connecting to a US server, I easily accessed Netflix and HBO Max.
Its app is also user-friendly as its main interface is very minimalistic. All it contains is a connect button and a drop-down box that shows the list of servers. Plus, it even offers a 'simple' version, which doesn't display many advanced features. Installing it on my MacBook Pro took me around 30 seconds while connecting to a server took no more than 10.
A minor con of PrivateVPN is that its server network is relatively small when compared to other VPNs. However, the servers I tested all produced fast speeds with reliable connections.
Upon looking at its pricing plans, I found its yearly plans to provide the best value for money at $2/month. Feature-wise, they're no different from the monthly plans and are cheaper over a long period of time.
And thanks to its money-back guarantee, you can try all of PrivateVPN's features for free. To cancel my subscription, I contacted its support team via live chat and asked for a refund. They gladly accepted my request without asking any questions, and my money was in my account after 5 business days.
Other VPN Connection Issues (and How to Fix Them)
My VPN can't access streaming sites like Netflix
A lot of VPNs claim to unblock popular streaming sites, but most of them can't. And even amongst the ones that can, there can be instances where they don't work. If you're in this situation, then it's best to keep trying different servers or ask your VPN provider for a list of working servers. I recommend going for the latter option, especially if you are concerned about time.
My VPN won't work in restrictive countries like China
Some countries such as China and Russia impose firewalls to block access to certain websites. Blocked websites include social media sites, news sites, and even VPN sites. Therefore, your best option is to install your VPN before arriving in the country.
Make sure you familiarize yourself with the laws and regulations for the country you're going to, so you don't land into trouble.
My VPN server is in the wrong location
A VPN will usually have physical servers that are located in the designated country. But it may use virtual servers for dangerous or expensive regions. Virtual servers are located in a different country from your chosen location, so they configure your traffic to make it seem like you're in your chosen country. The problem is that some IP checking services can't tell the difference and will therefore block you from accessing specific sites.
If you're concerned about virtual servers, you can find out which servers are virtual from your VPN and avoid them. Virtual servers are usually only a tiny percentage of the entire server network, so the risk is low.
I can't find a VPN server I previously used
A server might get taken down for maintenance and upgrades. While this is usually temporary and uncommon, there can be times when it happens for an extended period. For example, a VPN might decide to take down all its servers in an authoritarian country that issues new privacy laws. The solution is to either bookmark your favorite server or ask your VPN why it was removed. Bookmarking the server helps you find it easier when you need to use it again and lets you know immediately if it has been removed.
FAQs on VPN Connection Issues
What happens if my VPN disconnects?
If your VPN disconnects and you use the internet, it exposes you to significant privacy and security risks. This is because your data becomes visible, meaning your ISP and any potential hackers will be able to see everything you do online. This information can be sent to unwanted third parties, like advertisers and the government, and it puts you at risk from malware.
You can protect yourself from these risks by using a VPN with a kill switch. A kill switch instantly cuts you off from the internet if your VPN disconnects, which means your data won't be exposed.
What causes my VPN to disconnect?
A number of reasons can result in your VPN becoming disconnected. The most common causes are related to the stability of your internet connection, using old VPN software, slow internet speeds, and your VPN being blocked by other software like your firewall or antivirus. Also, there might be times when a VPN's servers are down for maintenance.
To reduce the chances of your VPN disconnecting, I recommend using a reliable VPN like ExpressVPN that has a global server network with world-class infrastructure. Even if you are thousands of miles away from your server, it still provides a fast and reliable connection. Plus, its military-grade encryption protects your data.
What should I do if my VPN keeps connecting and disconnecting?
A number of solutions exist because there's a wide range of VPN connection issues. One of the most common reasons is that your VPN runs simultaneously with your firewall or antivirus, which flags your VPN as suspicious. The way to solve this is to disable the firewall or antivirus temporarily. Another common problem is when your internet connection is slow and disconnects frequently. Since this isn't directly related to your VPN, you'll need to contact your ISP.
Why does connecting to a VPN disconnect my internet?
This happens when you enable your kill switch, which stops you from accessing the internet when you're not connected to your VPN. This also includes the time when you're connecting to a VPN server or switching to a new one. It's designed to stop the accidental exposure of your data, which makes it a helpful security feature. But if you disable your kill switch and still experience the same issues, there are other reasons with easy fixes.
Why won't my free VPN connect?
Free VPNs might seem like a good idea, but most are unreliable and come with limited features. Connection issues usually result from small server networks with slow and overcrowded servers. This can negatively impact you when streaming, torrenting, and downloading, as your connection will no longer be reliable. A much better option is to use a quality VPN that comes with a money-back guarantee. This lets you use it for free for a set period of time.
Fix Your VPN Connection Now
There's no need to panic or get frustrated when your VPN disconnects, as there are plenty of working solutions for different connection issues. Regardless of your experience level, you can easily identify the cause of your issue and fix it with a method that's quick and easy. Some problems might require a bit of technical knowledge, although they're rare.
Out of all the VPNs I tested, the fastest and most reliable is ExpressVPN. Wherever you are in the world, you can connect to any of its servers and enjoy a smooth and reliable connection that barely drops. It even comes with a 30-day money-back guarantee, so you can try all of its features risk-free. If you don't like it, you can request a refund.
To summarize, the best VPNs for disconnection issues are…
Privacy Alert!
Your data is exposed to the websites you visit!
The information above can be used to track you, target you for ads, and monitor what you do online.
VPNs can help you hide this information from websites so that you are protected at all times. We recommend ExpressVPN — the #1 VPN out of over 350 providers we've tested. It has military-grade encryption and privacy features that will ensure your digital security, plus — it's currently offering 49% off.