How to Use Bet365 Abroad in 2023 — Make Bets and Stream
While Bet365 is available in certain countries, some places still block it. This can be problematic if you travel abroad and want to bet on your favorite sports teams or players. However, there is a way to use Bet365 and stream live sports events anywhere.
VPNs are the easiest way to access Bet365 while abroad. With a global network of servers, you can get an IP address from your home country to unblock your usual online service, like Bet365. Plus, a VPN's robust security features protect your data from third parties when placing bets on Bet365.
Out of the 70+ VPNs I tested, the one I recommend for Bet365 is ExpressVPN. Thanks to its user-friendly app, fast speeds, and military-grade encryption, you can safely make bets in real-time. It's even backed by a 30-day money-back guarantee, so you can confidently test all ExpressVPN features. If you're not 100% happy with it, you can ask for a refund.
Use Bet365 With ExpressVPN Now
Important. Some countries block Bet365 because they prohibit gambling. Since this can land you in legal trouble, we strongly recommend you familiarize yourself with local laws before unblocking Bet365. vpnMentor does not condone any illegal behavior.
Quick Guide:
How to Access Bet365 With a VPN in 3 Easy Steps
Download a VPN. My favorite VPN for Bet365 is ExpressVPN, as its global network of lightning-fast servers can stream live sports matches on Bet365 buffer-free.
Connect to a server. Choose a server located in a country with a Bet365 license, such as the UK.
Access Bet365 anywhere. Start placing live bets and stream your favorite sports.
Why You Need a VPN to Access Bet365 From Abroad?
Bet365 is only available in licensed countries like the UK, Australia, and Germany. To enforce licensing agreements, the site regularly checks users' IP addresses to determine their location. If Bet365 sees you're from a country where the service is unavailable, they'll block you.
A VPN can unblock Bet 365 by changing your actual IP address to one that can access the service. A VPN redirects your internet traffic through a private server, so it seems like you're in that country. For example, connecting to a UK server will provide you with a UK IP address.
A VPN will also encrypt your connection so you can use Bet365 safely. Without one, your ISP can see your betting history, and malicious parties can obtain your login details when using a public WiFi network. But if your data is encrypted, you're well protected from these dangers.
Unblock Bet365 With ExpressVPN Today
Best VPNs to Access Bet365 From Abroad in February 2023
All the VPNs on my list can access Bet365 anywhere without delays. Plus, they're easy to use and compatible with most operating systems so that you can stream sports events and place bets on your preferred device.
Robust security features mean your online privacy will be protected. You can also try each service risk-free as they all offer trustworthy money-back guarantees.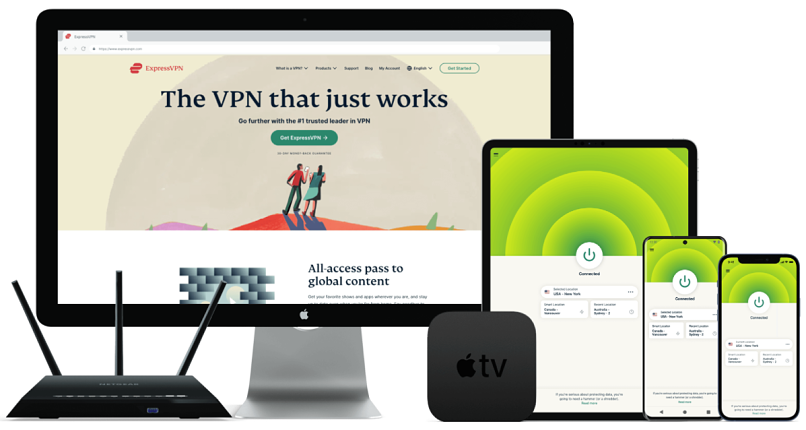 Editor's Choice
Editor's Choice

Tested February 2023
Try Risk-Free for 30 Days
www.ExpressVPN.com
Lightning-fast speeds to place bets online without delays
3,000 servers in 94 countries to access Bet365 anywhere
5 simultaneous connections for placing bets on various devices
Can unblock: Bet365, Betfair,1xBet, Betway, Bovada, Sbobet, and more
Compatible with: Windows, Mac, iOS, Android, Linux, routers, Apple TV, and more
ExpressVPN's super-fast servers are ideal for real-time betting on Bet365. I didn't experience any delays. I tested 3 UK servers and recorded an average download speed of 47.6 Mbps while streaming the Champions League. This is well above the 25 Mbps needed for UHD streaming. Therefore, you can watch sports and place bets without worrying about interruptions.
With 3,000 servers in 94 countries, unblocking Bet365 and other international content (like your Netflix US and Hulu accounts) is easy. When I used its UK and Australian servers, I accessed Bet365 without any issues and made bets accordingly. This means you won't be denied betting opportunities when traveling or living abroad.
ExpressVPN apps are very user-friendly. I installed it and connected to a UK server in under 3 minutes. Plus, the apps are available in multiple languages, and its SMart Location feature automatically finds you the fastest server.
Its world-class security features keep you safe on Bet365. For example, AES 256-bit encryption makes your connection virtually unhackable, while its kill switch and DNS/IP leak protection prevent your real IP address from being exposed. And thanks to ExpressVPN's no-logs policy, it won't record your betting activity either.
The only negative is the VPN's expensive pricing plans starting at $6.67/month. However, you can take advantage of ExpressVPN special deals and save up to 49%. I even managed to get 3 months of service for free when I signed up for the 12-month option.
It also comes with a 30-day money-back guarantee. I tested its refund policy and found it trustworthy. After contacting a customer service representative on its 24/7 live chat to cancel my subscription, I received a full refund on my credit card after 2 business days. I only had to answer 1 question about my experience with the VPN and wasn't pressured to stay.
Beginner-friendly app to easily protect your data while using Bet365
9,753 servers in 91 countries to unblock Bet365 when traveling abroad
Gamble online using up to 7 devices simultaneously
Can unblock: Bet365, Betfair,1xBet, Betway, Bovada, Sbobet, and more
Compatible with: Windows, Mac, iOS, Android, Linux, routers, Apple TV, and more
CyberGhost's beginner-friendly app is available on all major devices and is easy to install and use. You can connect to any server in just 2 clicks, which means you can access Bet365 without any VPN experience. It took me around 15 seconds to install on my MacBook Pro during my tests, while its smartphone app was closer to 10 seconds.
I had no problem accessing Bet365 with CyberGhost's global network of servers (with 3 in the UK). I tested 2 UK and 2 New Zealand servers and logged into my Bet365 account each time, meaning you can place bets from almost any country.
The speeds are great, too. I recorded an average download speed of 38.43 Mbps and experienced no delays while watching and betting on the horse races.
When it comes to privacy and security, CyberGhost has a no-logs policy and military-grade encryption. The no-logs policy ensures that no personal information (like your browsing habits and real IP) gets collected or shared, while AES 256-bit encryption prevents anyone from unscrambling your data. This level of protection is around the same as ExpressVPN, making it highly secure. In short, you can use Bet365 without worrying about online threats.
One drawback is CyberGhost's pricey monthly plans, with only a 14-day money-back guarantee. But by opting for a long-term subscription, you can get CyberGhost for as low as $2.19/month. It has the same features as its short-term options but saves you money in the long run.
You can test CyberGhost for free using its 45-day money-back guarantee. After 4 weeks, I asked a customer service representative for a refund through 24/7 live chat. The representative only asked me my reason for canceling, and my PayPal wallet was reimbursed after 3 business days.
Balance speed with security with a choice between AES-128 or 256-bit encryption
Quickly access Bet365 wherever you are with 29,650 servers in 84 countries
Download the app and place bets on up to 10 devices at once
Can unblock: Bet365, Betfair,1xBet, Betway, Bovada, Sbobet, and more
Compatible with: Windows, Mac, iOS, Android, Linux, routers, Apple TV, and more
Private Internet Access (PIA) has several customizable security features for optimizing your Bet365 connection. You can balance speed and security by choosing between AES-128 and 256-bit encryption and various advanced protocols (like OpenVPN and WireGuard). This is ideal for online betting and streaming.
Its server network of 29,650 servers in 84 countries is massive, giving you plenty of IP addresses to unblock Bet365. When I tested 3 UK servers and 2 Australian servers, I streamed sports and made bets on Bet365 in no time. PIA can unblock other websites, too, so you can freely use the internet without restrictions.
PIA also has its own ad and malware blocker called MACE. It protects your privacy by blocking annoying ads, meaning advertisers can't collect your data. It is beneficial on Bet365 as pop-up ads are frequent. Additionally, its leak protection and kill switch prevent you from leaving a digital footprint, so no one can keep track of your online behavior.
I was initially skeptical about PIA because it's based in the US, which is part of the 5-Eyes Alliance. But since PIA's no-logs policy has been independently audited, I can confirm it doesn't collect your data.
The 3-year plan is the cheapest at $2.19/month. It's no different from the short-term options, but it's more affordable. And since it's backed by a 30-day money-back guarantee, you can try PIA with Bet365 completely free. To test its reliability, I requested a refund through 24/7 live chat. After telling them I wanted to cancel, the agent proceeded with my request, and I got all my money in my bank account after 5 days.
Unlimited device connections
Kill switch and DNS/IP leak protection
2,000 servers in 75 countries
Can unblock: Netflix, Disney+, HBO Max, Hulu, BBC iPlayer, Vudu, and more
Compatible with: Windows, Mac, iOS, Android, Linux, routers, Apple TV, and more
IPVanish lets you connect any number of devices while using Bet365. I connected 11 devices simultaneously (including my MacBook Pro, Windows laptop, smartphone, and tablet), and everything ran smoothly. My tests showed no performance difference between having only 1 device connected vs. many — I received live updates on my bets and streamed the Premier League with no issues.
I found the apps easy to use with multiple language options. However, if you want to change more advanced settings, customer support is available 24/7 via email and live chat.
It also has a kill switch and DNS/IP leak protection to protect sensitive data. The kill switch cuts off your internet connection if your VPN drops unexpectedly, while the DNS/IP leak protection stops the exposure of your personal data. I detected no leaks when I tested IPvanish's UK servers on ipleak.net.
A minor inconvenience of IPVanish is that it doesn't accept cryptocurrency payments. But I could pay via credit card, online gift card, or PayPal, which was helpful. You can even get IPVanish's long-term plan for just $3.33/month and add cloud storage as an added extra.
If you're on the fence, you can try all of IPVanish's features risk-free because it comes with a 30-day money-back guarantee. Getting a refund is straightforward — I logged into my dashboard via its website and deactivated my account. After 2 clicks and 5 business days, I got my money back on my credit card.
Stealth VPN obfuscation technology
200 servers in 63 countries
DNS leak protection and automatic kill switch
Can unblock: Netflix, Disney+, HBO Max, Hulu, BBC iPlayer, Vudu, and more
Compatible with: Windows, Mac, iOS, Android, Linux, routers, and more
Thanks to PrivateVPN's StealthVPN protocol, you can scramble your VPN traffic to bypass geoblocks and firewalls to use Bet365 wherever you are. When I tested StealthVPN and connected to a couple of its UK servers, I unblocked Bet365 in less than 20 seconds. All I had to do was select StealthVPN in a drop-down box in the settings, so no manual configuration is required.
PrivateVPN is also a reliable option for speed. My download speed averaged 32.4 Mbps on its UK servers as I was streaming live football matches on Bet365. While this wasn't as fast as ExpressVPN or CyberGhost, it is still fast enough to make bets and watch sports without interruptions.
A minor downside of PrivateVPN is that you can't pay by Google Pay. However, it's possible to pay by credit card, PayPal, and even cryptocurrencies, so it's not really an issue. You can get a long-term plan for just $2/month. I recommend the 3-year option as monthly options are more expensive despite no additional benefits.
It's even possible to test PrivateVPN with Bet365 for free as it's backed by a 30-day money-back guarantee. I wanted to test the legitimacy of this refund policy, so I asked a live chat agent to cancel my subscription. After answering 2 questions about my experience, she canceled my account and refunded my bank account that same week.
Tips on Choosing the Best VPNs for Bet365
Since Bet365 is both a betting and streaming service, there are several factors to consider when choosing a VPN. As a show of transparency, I outlined the main features I looked at when deciding on my VPN shortlist. Feel free to use them as a checklist if you want to run some of your own tests:
Extensive server network — Choose a VPN with servers in the UK, Australia, Germany, and Spain to unblock Bet365 anywhere.
Security and privacy features — Online betting involves using sensitive information, so you want to be well protected from malicious threats. Look for a VPN with a strict no-logs policy, military-grade encryption, and a kill switch.
Easy to use — VPNs should be easy to use, even for beginners. My list of VPNs has user-friendly apps that are straightforward to navigate.
Device compatibility — Most people have several devices, so I made sure to only choose VPNs with native apps for WiFi-enabled devices. I also tested them to make sure they're easy to download and install.
Fast speeds — It's normal for a VPN to slow your speeds due to all the encryption. But, the best services won't compromise your online betting. Select a VPN that allows buffer-free streaming and that you can use to make bets without interruptions.
Trustworthy money-back guarantee — If a VPN doesn't work out for you, it's only normal to want your money back. Every VPN on my list comes with a reliable money-back guarantee, so you can request a refund if you're not happy with it.
Use Bet365 With ExpressVPN Now
FAQs on Accessing Bet365 From Abroad
Can I use a free VPN to access Bet365?
You can, but it's not an option I'd consider. While a free service might be enticing, a top-tier VPN with a money-back guarantee is a more reliable option. Many free VPNs come with small server networks and speed restrictions, meaning you might not be able to unblock Bet365 and stream live sports events.
From a security standpoint, free VPNs tend to gather user data and sell it to advertisers to make money. Some of them secretly install trackers on your device, which is highly dangerous. Additionally, it's normal for them to lack high-level encryption and a kill switch, making it easy for hackers to obtain sensitive data on public networks.
Is it legal to use Bet365 with a VPN?
Yes, using a VPN to access Bet365 is legal in most countries. You just need to be careful in places that ban or restrict online gambling, as you might encounter legal issues. Remember, a VPN's primary purpose is to keep you safe online. It's a good idea to first understand the laws and regulations of the country you're in and Bet365's terms and conditions. Some places might let you access the site and not make bets, while others might ban both.
Can I unblock the Bet365 mobile app on my phone?
Yes, it's possible to use the Bet365 app on your mobile phone. You just need to download and install a quality VPN with a native app for iPhone and Android. This process usually takes less than a minute, while connecting to a server is almost instantaneous. When that's done, you just need to open your Bet365 app and use it like you usually would.
Can I use a VPN to make bets and withdraw cash on Bet365?
Yes, you shouldn't encounter any problems if you use a reliable VPN to make bets and withdraw cash on Bet365. Just make sure you don't engage in illegal behavior and abide by Bet365's terms and conditions. If you want to avoid the hassles of foreign banking, I recommend using PayPal to make bets and receive payouts. However, a PayPal payout can sometimes take up to 72 hours.
What sports can I stream and make bets on with Bet365?
You can watch horse races, ball sports, motorsports, combat sports, and more on Bet365. Popular examples include football, cricket, F1, MMA, and darts. To watch your favorite sports online using Bet365, launch your VPN and connect to an appropriate server, for example, in the UK. Watching minor sports like badminton and hockey is possible too. In addition to sports, you can make bets on political outcomes, financial markets, award shows, and other non-sporting events.
But keep in mind that what you can watch depends on your location, so make sure you use a reliable VPN like ExpressVPN to unblock Bet365. As long as you're not breaking the laws of the country you're in, you shouldn't have any issues.
Does Bet365 actively block VPNs?
Like other geo-restricted services, Bet365 makes an effort to block VPN users. This is done to uphold licensing agreements. Since some VPNs are much better at unblocking Bet365 than others, finding a reliable VPN can be difficult. The key is to use a VPN with a large server network proven to work with Bet365.
But sometimes, even the best VPNs may be unable to unblock the service, which means you'll need to get help from the VPN's customer support. You can also ask them for a list of servers that work with Bet365.
Why does Bet365 suspend accounts?
While it's not common, Bet365 has previously suspended accounts that use a VPN. Therefore, it's wise to choose a quality VPN and not change servers or IP addresses too much. If you can, you might want to consider a VPN that offers dedicated IP addresses, like CyberGhost. Since it's an IP address that only you can use, it's much harder for Bet365 to detect and suspend your account.
Try ExpressVPN Risk-Free Today
Access Bet365 From Anywhere Now
You shouldn't be denied the opportunity to make bets and stream sports if you're in a different location. If you're an avid Bet365 user and traveling abroad, I recommend using a VPN to restore access. Just make sure you get a VPN with an extensive server network, robust security, and fast speeds for the best experience.
My favorite VPN for Bet365 is ExpressVPN which comes with lightning-fast servers worldwide to quickly unblock Bet365 anywhere. And since it comes with a 30-day money-back guarantee, you can try ExpressVPN with Bet365 without risk. This lets you ask for a refund if it's not what you wanted.
To summarize, the best VPNs for Bet365 are…
Privacy Alert!
Your data is exposed to the websites you visit!
The information above can be used to track you, target you for ads, and monitor what you do online.
VPNs can help you hide this information from websites so that you are protected at all times. We recommend ExpressVPN — the #1 VPN out of over 350 providers we've tested. It has military-grade encryption and privacy features that will ensure your digital security, plus — it's currently offering 49% off.