Is Harry Potter On Netflix? Yes, But It's Hidden. Find it Here!
Updated on 17th August 2020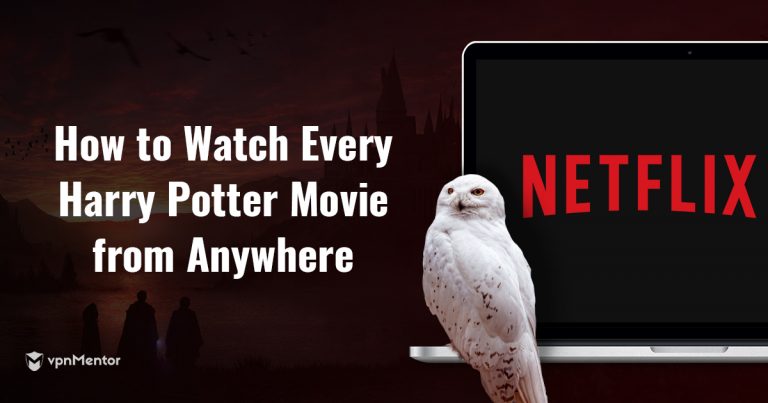 Accio, Netflix!
The Harry Potter movies are available on Netflix, but only if you're in Canada or Poland.
What's happening here is that Netflix is using geoblocking technology to prevent users in other countries from accessing certain content. This sounds like bad news for Potterheads everywhere else, but don't worry.
With a simple alohomora incantation, also known as a VPN, you can bypass Netflix's geo-restrictions and stream Harry Potter from anywhere. VPNs are kind of like a digital invisibility cloak, hiding your real location so you can stream content from around the world.
Better yet, you can take advantage of Netflix's 30-day free trial to rewatch all the Harry Potter movies at no cost. Once you've set up your Netflix subscription, simply follow our quick guide. Then check out our VPN recommendations below, and you'll be ready to board the Hogwarts Express!
How to Watch Harry Potter from Anywhere in Under 2 Minutes
Choose a VPN. I recommend NordVPN for its lightning-fast speeds, unlimited bandwidth, and expansive server coverage.
Install your VPN, and connect to a server in Canada or Poland.
Log in to your Netflix account, and enjoy the magical world of Harry Potter!
How Netflix Blocks You From Streaming Harry Potter
Netflix uses geoblocking software to prevent you from viewing content that isn't available in your region. That means that if you want to watch Harry Potter, you'll have to convince Netflix that you're in Canada or Poland, the only regions that are currently steaming all the movies.
How do you do that, short of jumping on a plane and heading to Europe? It's easy. The answer is a VPN.
When you use one of the VPNs I recommend below, your computer will connect to a remote server to mask your IP location. To the rest of the world, it will look like you're accessing the internet from the location of the server you chose, even though you're actually somewhere else entirely.
Connect to a server in Canada or Poland, and the Netflix libraries of those countries—including all eight Harry Potter movies—will be yours for the watching.

Best VPNs for Watching Harry Potter from Anywhere – Full Analysis (Updated 2020)
We removed ExpressVPN and Surfshark from this list as neither worked consistently well with Netflix Canada and Poland.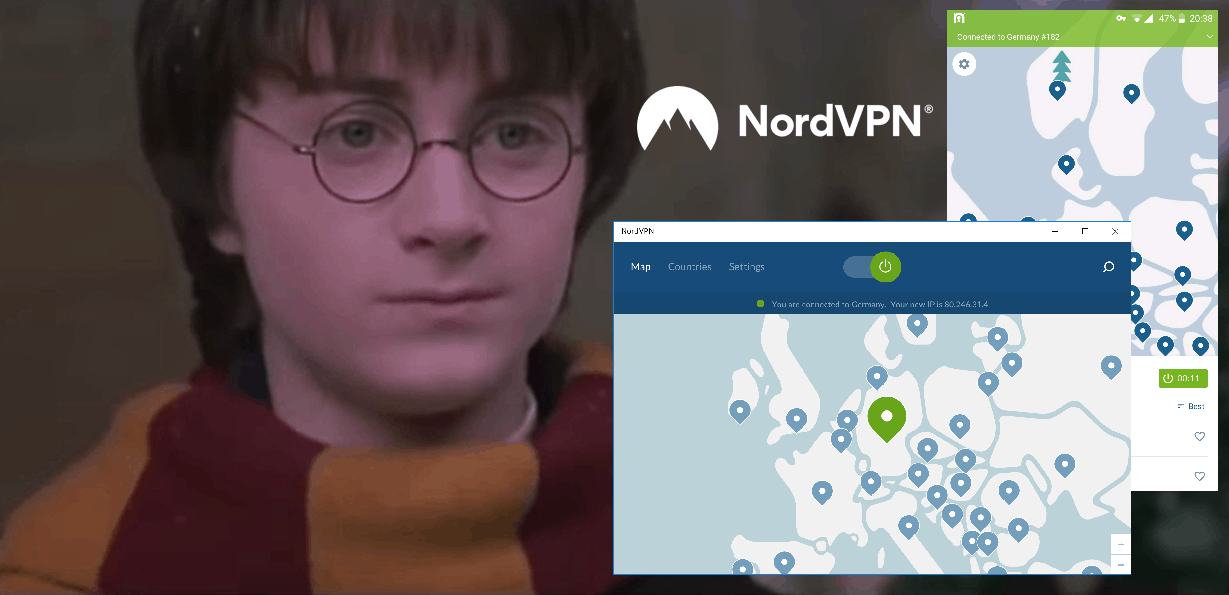 5,800+ servers in over 55 countries, including Canada and Poland
SmartPlay technology for getting around geoblocks
Fast speeds for lag-free streaming
Compatible with all major platforms
Up to six simultaneous connections
30-day money-back guarantee
Works with: Android, Windows, macOS, iOS, Amazon Fire TV Stick, Linux, and more
Compatible with: multiple Netflix libraries, Hulu, Amazon Prime Video, BBC iPlayer, and more
NordVPN is constantly popping up as our #1 recommended VPN, and it's for good reason. It's the fastest, most powerful service available, and it's got the power to bust through geoblocks so that you can stream Harry Potter and just about anything else you want to watch.
Its strength comes from the combination of its SmartPlay technology and its immense server network. SmartPlay is built right into the VPN, so you don't have to do anything to activate it.
When I connected to one of the 40o+ available servers in Canada for streaming Harry Potter, SmartPlay kicked in automatically to bypass Netflix's geoblocks. It activates to combines DNS-masking technology with the security features of a VPN. The result is a reliable connection that's backed by military-grade encryption.
Another thing that NordVPN has going for it is its incredible speeds. During our recent speed tests, we found this service to be the fastest around. And it was no different when I tested it here, either.
| | | | |
| --- | --- | --- | --- |
| Connection | Ping | Download Speed | Upload Speed |
| Starting speed UK | 11 ms | 55.73 Mbps | 11.88 Mbps |
| Quick connect CA server | 36 ms | 52.85 Mbps | 11.31 Mbps |
| Quick connect POL server | 34 ms | 53.41 Mbps | 11.30 Mbps |
I only saw a maximum drop of 4%, which wasn't noticeable at all. I could continue streaming every Harry Potter movie in HD quality from start to finish. This means that when you sit back to relive the magic of Harry Potter, your streams will be free of lagging, buffering, and other interruptions.
NordVPN's compatibility with most major devices is another plus. Whether you want to catch the movies on your computer, on your cell phone, or even on the big screen with your Amazon Fire TV Stick, it's all available to you. I found the NordVPN apps easy to use across all of my devices and the mobile app is one of my personal favorites.
Does everyone in the house want to get in on this Harry Potter action? Your subscription comes with up to six simultaneous connections and unlimited bandwidth, allowing you to share the movie-watching fun with friends and family so they can watch at their own pace on their own devices.
You can try NordVPN and its powerful streaming capabilities for yourself with its 30-day, no-questions-asked, money-back guarantee. If it doesn't perform as well as we've described, you can request a refund.
Want to know more? Explore our NordVPN review to see the full results of our research and testing.
Limited time deal: Save 68% on NordVPN's most popular plan!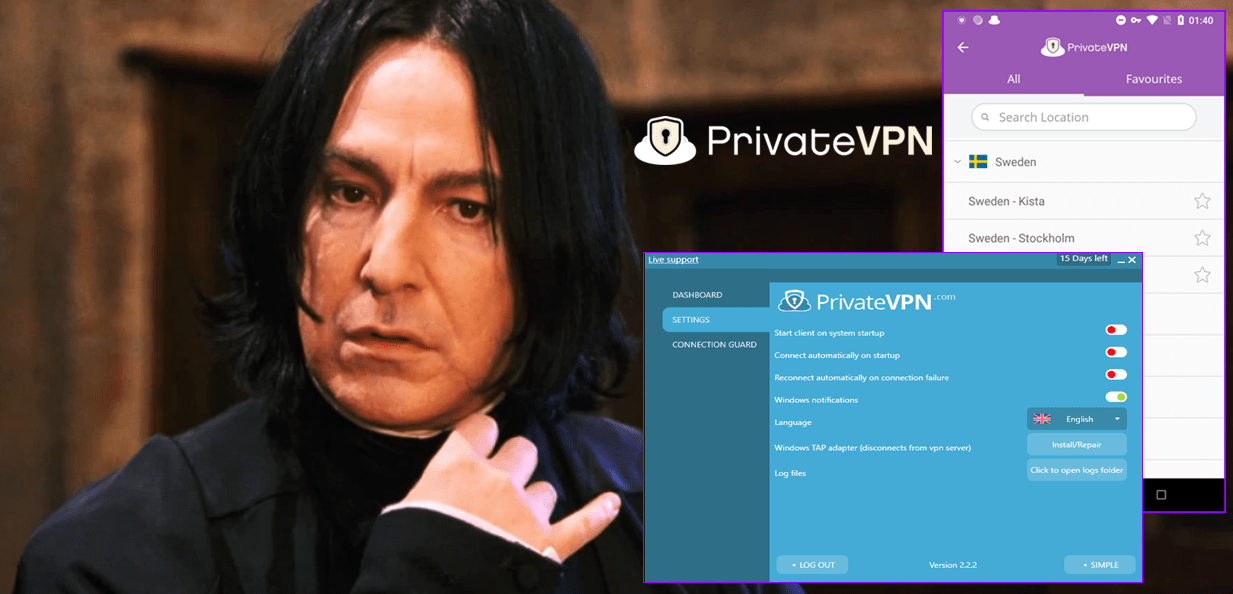 150+ servers throughout the world
Buffer-free streaming
Unlimited bandwidth and data
Apps for many major devices
Connect up to six devices at the same time
30-day money-back guarantee
Works with: Windows, Mac, iOS, Android, Linux, Kodi, and some routers
Compatible with: Netflix, Hulu, ABC, Amazon Prime Video, BBC iPlayer, and others
PrivateVPN may not be as large as other top VPNs, but it's an underdog that can pull off some impressive feats. It's solid for streaming, but its premium features also make one of our top choices for downloading and general browsing.
PrivateVPN only has 150 servers worldwide, but it's got connections in Canada and Poland, and I unblocked Netflix seamlessly on both. For good measure, our operatives around the world also checked Canada, Mexico, Argentina, and Brazil—the locations where you can stream movies 5, 6, and 7—and PrivateVPN has servers in each, too. We didn't run into any geoblocks.
One of the common issues with having fewer servers is that they may get busy during peak times. I tested my connection several times over the course of a few days, and while I did notice some slowdowns on occasion, my connection was always fast enough to provide clear, buffer-free streaming. Here are my results.
| | | | |
| --- | --- | --- | --- |
| Connection | Ping | Download Speed | Upload Speed |
| Starting speed UK | 11 ms | 55.73 Mbps | 11.88 Mbps |
| Quick connect CA server | 30 ms | 35.53 Mbps | 11.31 Mbps |
| Quick connect POL server | 29 ms | 33.21 Mbps | 10.92 Mbps |
A speed loss of 35% sounds quite worrying, but you needn't be. 35 Mbps is super quick, and the decrease in speeds wasn't noticeable. It did drop to around 21 Mbps at peak times on the Spanish server, which was noticeably slower but it didn't interrupt my stream too much.
Another thing that's important when you plan to binge-watch movies is how much data and bandwidth a VPN allows. With PrivateVPN, the answer is unlimited, so you'll never have to worry about being cut off in the middle of a monumental scene.
PrivateVPN also makes it easy to watch the stories of the world's most famous boy wizard on all your devices. It allows up to six simultaneous connections so you can stream on multiple screens, and it supports most major platforms, including computers, cell phones, and tablets, so you can watch however you please.
You can take PrivateVPN for a risk-free spin to ensure its servers can unblock Netflix for you. Should you run into any issues, just take advantage of the VPN's 30-day money-back guarantee. But make sure you stay under 100GB of data, because one of our team members ran into trouble trying to get a refund having used 186GB of traffic. Before you start to worry, though, that's 30 hours of streaming, which is more than enough to watch every Harry Potter movie back to back.
Want to know more? Explore our PrivateVPN review to see the full results of our research and testing.
Special deal: Save up to 74% on your subscription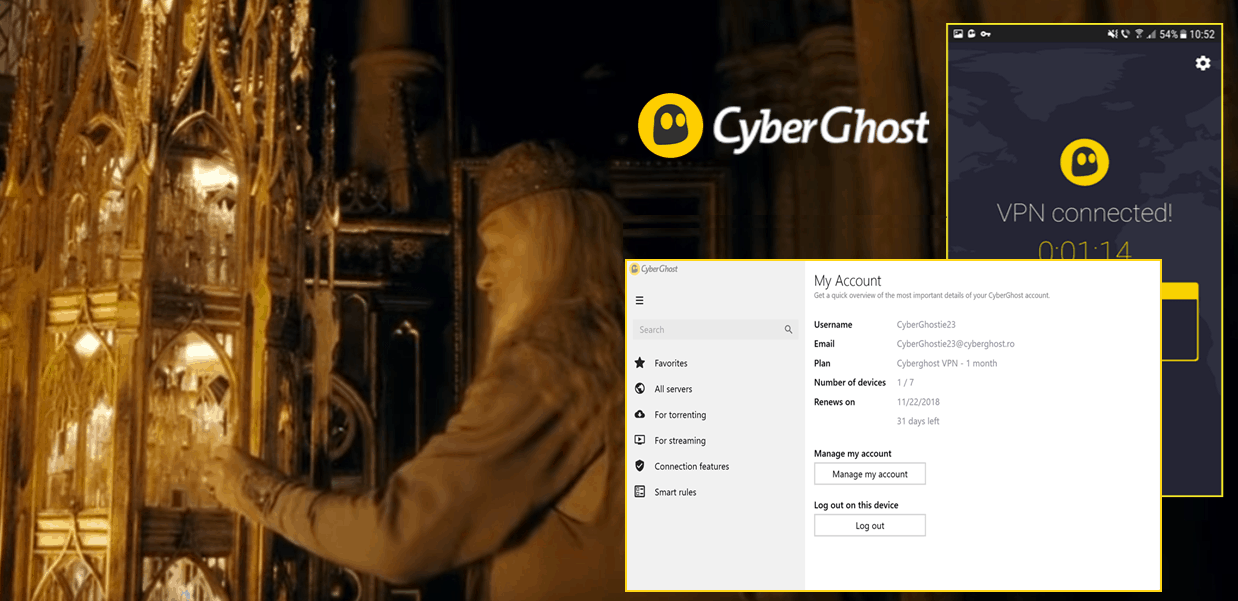 390+ servers throughout Canada and 5,900 worldwide
Streaming-optimized servers for hassle-free connections
Fast speeds for crystal-clear streaming with no lagging
Extensive device compatibility
Up to seven simultaneous connections
45-day money-back guarantee
Works with: Windows, Mac, Chrome, Firefox, Amazon Fire Stick TV, Android TV, and many routers
Compatible with: Netflix, HBO GO, BBC iPlayer, Disney+, MTV, Amazon Prime Video, and others
If you're new to VPNs, I'd definitely recommend CyberGhost. I find it simple to use, fast, and effective, and that's why it often lands high on our list of recommended services.
Its intuitive platform makes it easy to get started, and its streaming-optimized servers take the guesswork out of figuring out how to connect. It's also got over 390+ servers in Canada, so you have plenty of options for getting around Netflix's geo-restrictions.
Using a streaming-optimized server is extremely easy: Just select the Streaming tab on the app, and connect to a server in Canada. There isn't an optimized server for Netflix Canada, but I was able to unblock it using the Canadian YouTube server.
You can also search Netflix in the search bar on the app, and connect to an appropriate server that way. But I  found that the streaming-optimized servers were much more reliable than manual connections. My speeds increased by 5% when I stuck with the servers optimized for Netflix.
CyberGhost offers fast speeds, even when you're connecting to a faraway server. Our team tested this extensively from the UK, US, Australia, and Canada, even comparing CyberGhost against super-speedy NordVPN, and CyberGhost held its own quite well. My download speed never went lower than 25 Mbps in the whole 2 weeks I tested the VPN. This is important because if you don't have good speeds, you may have to suffer through long loading times and a shaky picture while trying to stream.
| | | | |
| --- | --- | --- | --- |
| Connection | Ping | Download Speed | Upload Speed |
| Starting speed UK | 11 ms | 55.73 Mbps | 11.88 Mbps |
| Quick connect POL server | 38 ms | 28.93 Mbps | 11.35 Mbps |
With this VPN, you're allowed up to seven simultaneous connections, which is quite generous. It gives you plenty of space to share your subscription if you've got other people in the house who also want to take the opportunity to stream Harry Potter.
One place that CyberGhost really excels is its money-back guarantee. While most services give you a month to try things out, CyberGhost blows them away with an industry-leading 45-day trial period. That's over two weeks longer than most to try out the service's premium features to make sure it's a good fit for your needs. But further digging revealed that the lengthy money-back guarantee is only available if you sign up for longer than six months, so it's easy to get caught out.
Want to know more? Explore our CyberGhost review to see the full results of our research and testing.
Won't last long: Save 79% when you sign up today
FAQs
❓ Is using a VPN for Netflix legal?
Yes, using a VPN to access Netflix is completely legal in most countries. However, some countries place heavy restrictions on the type of content citizens can view or access online. Belarus, China, Russia, and others may even require you to use government-approved VPNs, and many of them don't have the power to bypass tough geoblocks.
No need to worry if you are visiting one of these countries the same rules don't apply to tourists, only permanent citizens.
📲 Can I watch Harry Potter movies on my phone with a VPN?
Yes. Choose a VPN that works on your mobile devices, and you can watch Netflix on your phone or tablet! See our handy compatibility guide in each VPN Key Feature box, to see if your phone is compatible.
👍 Why do these VPNs work when others don't?
Netflix uses strong anti-VPN technology, to prevent users from accessing content outside certain regions. It's not a malicious act, Netflix is simply adhering to the licensing and distribution laws for the programming it provides. To get around these blocks, the VPN you use has to have the power to bypass even the toughest georestrictions.
Many lesser known/free VPNs don't have the resources to invest in the type of technology required to bypass Netflix's geoblocks. Never fear! All of the VPNs on my list are more than capable of doing the job!
How Long Will it Take to Stream All Eight Harry Potter Movies?
If you have a few free weekends coming up, you're in for a treat!
It will take just under 20 hours to watch the entire Harry Potter movie series online (19 hours and 39 minutes, to be exact).
If you're excited to return to Hogwarts, a VPN is the safest and simplest way to bypass Netflix's geoblocking. The services I recommend above will enable you to apparate to Canada or Poland, and stream the movies whenever you want—c'est magique!
With a good VPN, you can unblock content from around the world securely and anonymously. But that's not all. Check out our complete beginner's guide for an in-depth look at everything else a VPN can do for you.
To learn more about VPNs for Netflix, see what our experts have to say about the VPNs guaranteed to beat Netflix's VPN ban.
Stream Harry Potter Movies Now with NordVPN!
To summarise, the best VPNs for watching Harry Potter are…
Provider
Our Score

9.8

/10

9.8

/10

9.6

/10

9.4

/10

9.2

/10
Privacy Alert!
You are exposing yourself to the websites you visit!
The information above can be used to track you, target you for ads, and monitor what you do online.
VPNs can help you hide this information from websites so that you are protected at all times. We recommend NordVPN — the #1 VPN out of over 350 providers we've tested. It has military-grade encryption and privacy features that will ensure your digital security, plus — it's currently offering  68% off.