How to Claim Your NordVPN Free Trial – Updated for 2019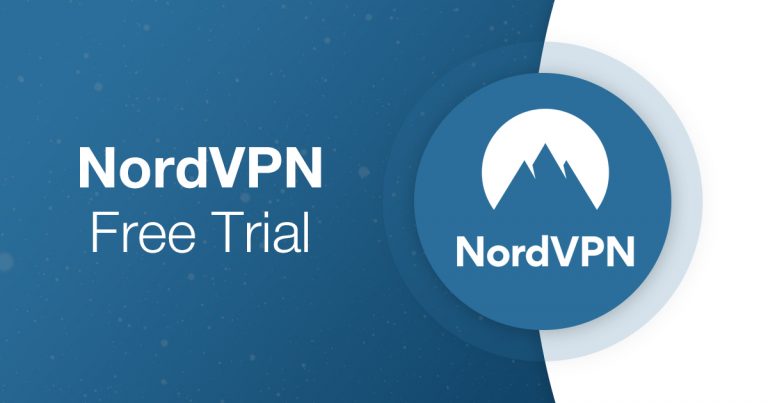 Are you eager to try one of the best VPNs on the market for FREE? We don't blame you – NordVPN's impressive performance and reliability have made it the world's #1 VPN choice. It's still a good idea to see what any service can do for you before you commit to a lengthy subscription.
Well, check this out: Did you know you can get a 7-day NordVPN free trial, giving you seven whole days to explore the array of servers and features? You can even test if it unblocks the sites you want to reach, delivers the streaming speeds you need, and more!
We'll tell you all about NordVPN's trial offer, as well as how to redeem it and enjoy seven days of top-shelf privacy protection, along with the power to get through the toughest content geoblocks. Stick around!
NordVPN Free Trial: Overview
NordVPN's trial service is every bit as good as the subscription service.
That's because you get the exact same VPN – no missing features or bandwidth limits. Many free VPN trials place limits on your data usage or which servers you can use within the VPN's network. So you can't really tell how well the VPN would work if you subscribed.
You might think the ability to access NordVPN's full server network and complete array of features is offset by the rather short trial period, but ask yourself this: would you rather have seven days of full functionality to test every aspect of a VPN thoroughly, or a two-week trial with heavy restrictions?
When you sign up for a NordVPN trial, you're treated just like a paying user – this speaks volumes to the provider's attention to every customer's needs, and shows that the service has nothing to hide.
What do you get? Over 5,200 servers (with specialized ones for P2P, streaming, and double encryption), the CyberSec suite with ad blocking and anti-malware, and kill switches for both your internet connection and the app itself – and all that is still just part of the package.
As is NordVPN's standard practice with all paid plans, you also get a proxy service for free. You can check what that service is all about during your 7-day trial as well!
We've explored all of NordVPN's capabilities in detail in our VPN review. If you want to learn more about this premium VPN service so you can make the most of the trial period, feel free to check it out.
NordVPN Free Trial: Quick Setup Guide
Redeeming your NordVPN trial is fast and easy. Here are the steps:
1. Head to NordVPN's trial page .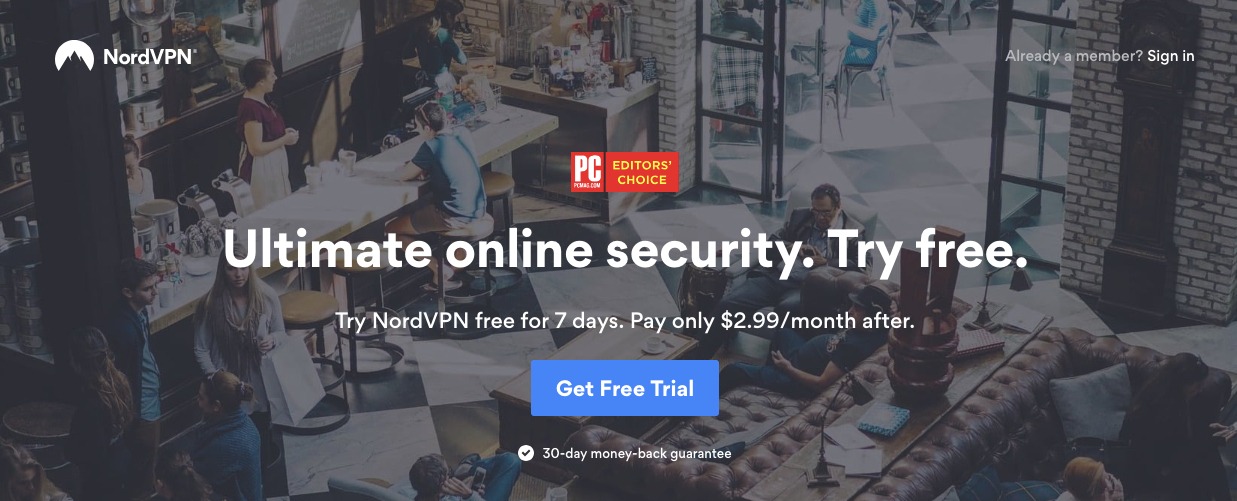 2. Click on "Get Free Trial" or scroll down on the page until you see "Start your free trial now."

3. Enter your email and credit card information, then click Continue.
Note: Don't worry! NordVPN will verify your payment information but will not charge you until the trial period is over. We will review how easy it is to turn off automatic payments later in this article.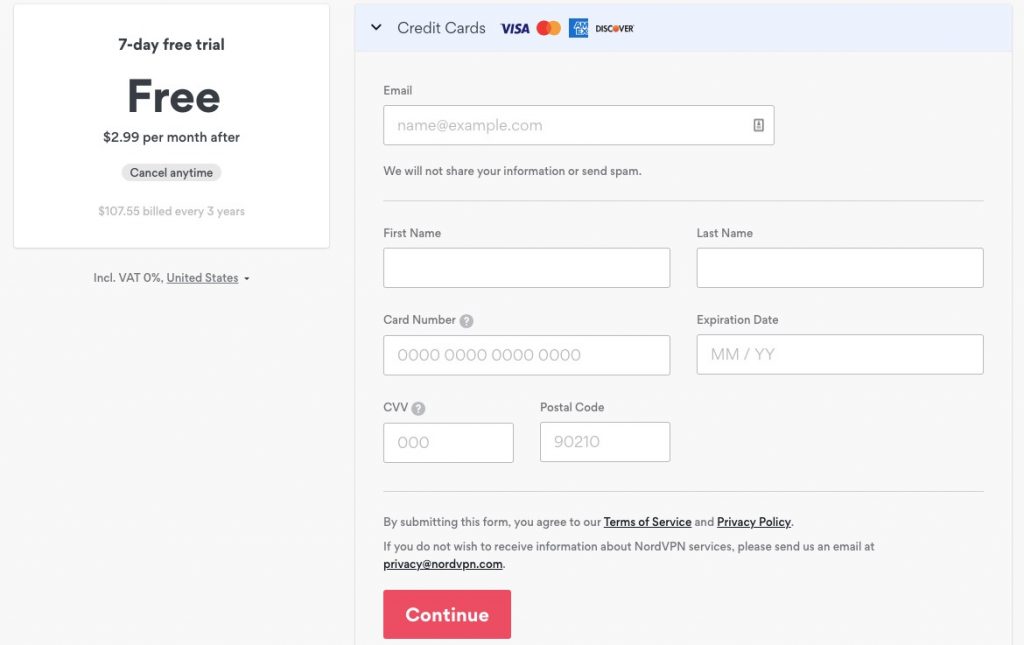 4. Check your email. You will find the following message with a link to activate your free trial:
5. Create a password for your account.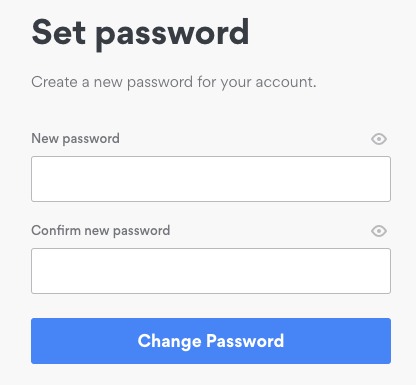 6. You're almost there! Now all you have to do is download NordVPN to your device. You will be given a link to the correct version for your current device.

7. Once you open the NordVPN app, you will be prompted to enter your login information.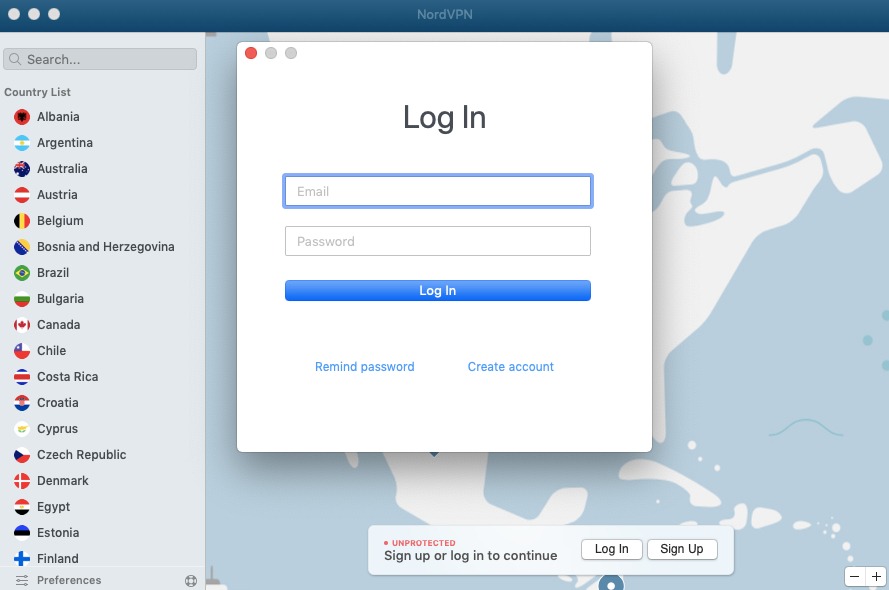 And that's it – now you have seven days of NordVPN protection and unblocking power at your disposal!
As you can see below, you have access to all settings, locations, and specialty servers…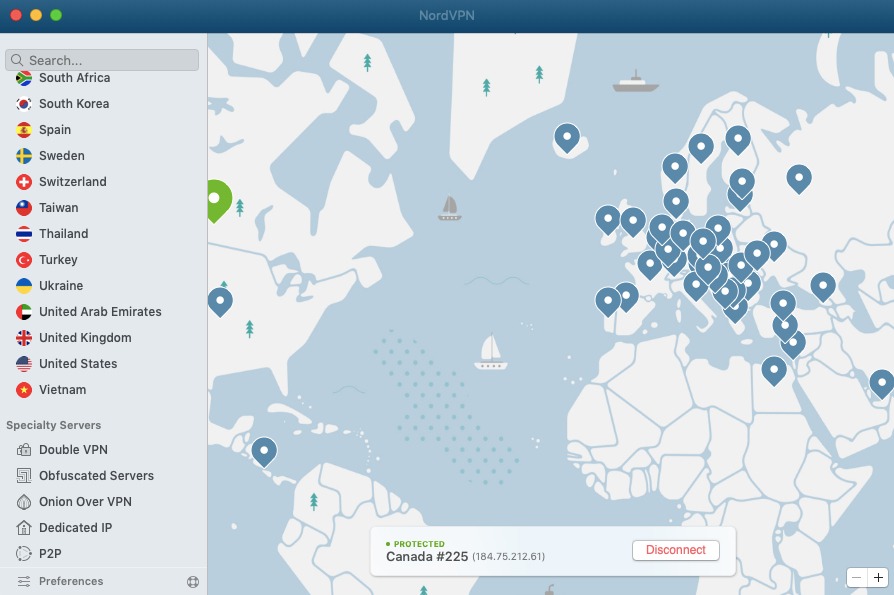 …and if you open the Account page on NordVPN's website, you should see that your VPN service is active and running with no history of transactions.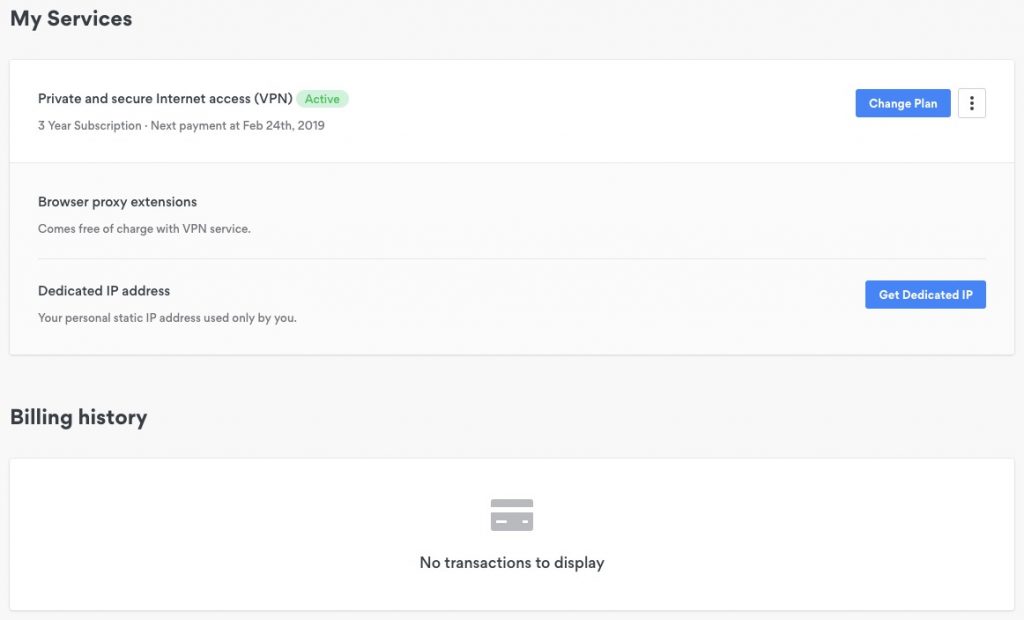 How Do You Cancel Automatic Payments?
A common concern with free trials is that you are going to be automatically charged for the service after the trial period is up. This isn't an issue with NordVPN's free trial, since they make it super easy to turn off automatic payments.
If you don't want to be automatically charged at the end of the free trial period, just click on the three dots next to where it says "Change Plan" and a link will pop up that says "Cancel automatic payments."

Click on "Cancel automatic payments" and then click "Confirm Cancellation" on the box that pops up.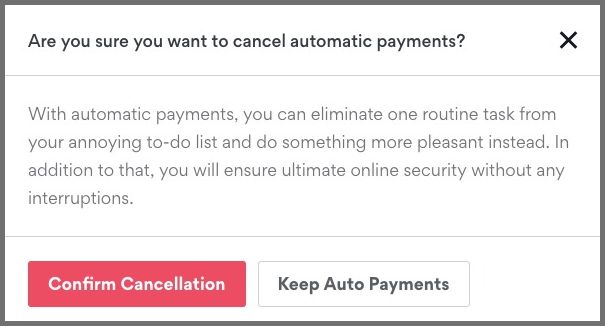 You're done! A box will appear confirming that you have turned off auto payments.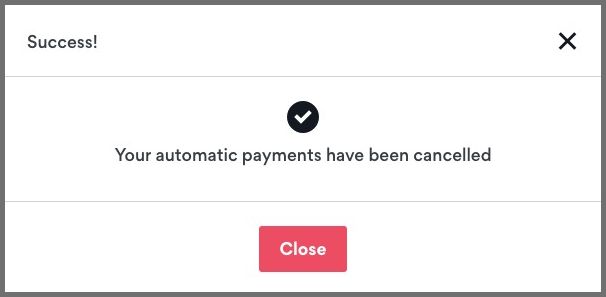 Now when you open your account, you can see that you will not be charged when the trial period ends.

You've Used Your NordVPN Free Trial – What's Next?
If seven days isn't quite enough for you to be sure that NordVPN is the right VPN for you, no problem – you can actually get up to a month of NordVPN service risk-free, thanks to the 30-day money-back guarantee! Take a look at our guide to learn how the refund process works. Honestly, though, once you've used NordVPN for a month, you'll probably never want to give it up!
Summary
No matter how many experts say that NordVPN is one of the best VPN services in the world, you still can't know for sure if it fits your needs until you try it. The 7-day free trial gives you the chance to do just that.
If you're new to VPNs, you may want some tips on what to look for during your trial period so you can be certain that NordVPN does everything you need a VPN to do. We've got guides that lead you through all the basics so you can make an informed decision.