NordVPN vs Norton Secure VPN: Which Is Best For You in 2020?
NordVPN consistently makes it to the top of our overall VPN ranking list, but Norton Secure VPN has a lot to offer. To make things easy for you, we are going to find out which VPN is the strongest in eight different categories of service, spick the one that meets your specific needs. Share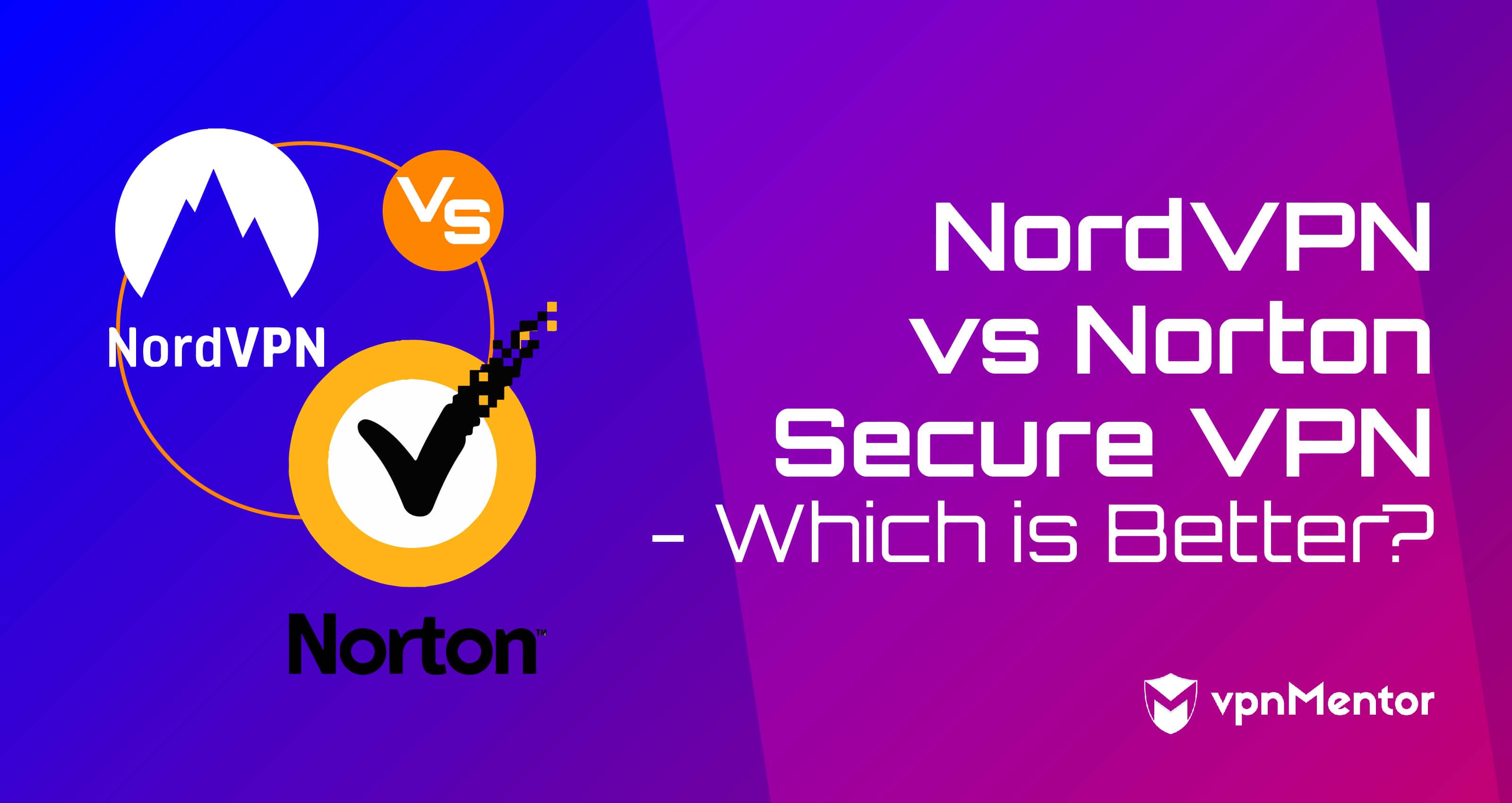 NordVPN and Norton Secure VPN are both popular VPN services that were developed by two of the most reputable internet security companies in the world.
When it comes to VPN performance and security, it's hard to beat NordVPN; there's a good reason that NordVPN consistently makes it to the top of our overall VPN ranking list.
On the other hand, Norton is a well-established cybersecurity provider best known for its antivirus software. Norton Secure VPN, formerly known as Norton WiFi Privacy, is a strong VPN with a lot to offer.
There's only one way to find out which VPN will come out on top; get ready for an epic showdown for the title of "best VPN".
In this article, we are going to pit NordVPN and Norton Secure VPN against each other in multiple categories to find out which VPN is the winner.
Feel free to jump to the sections that you care about the most. We know that the best choice for you will depend on your specific needs, so we are going to cover every detail of the two services to make your decision as easy as possible.
For more information about both of these popular VPN services, take a look at our in-depth expert reviews of NordVPN and Norton Secure VPN.
NordVPN vs Norton Secure VPN – The Categories
We are going to compare NordVPN and Norton Secure VPN across eight important categories to find out the strengths and weaknesses of each service.
TV fanatics can look to our first category, where we find out which provider has the best VPN service for streaming. Next, the two VPNs will compete for the title of best VPN for torrenting.
We will then move on to compare cost and ease of use to find out which VPN is the most user-friendly and best for your budget.
Worried that your operating system won't be supported? We are going to discuss platform compatibility in detail, so you can be sure you'll be covered on all your devices.
We'll also cover the connection quality and server networks of NordVPN and Norton Secure VPN to find out which service will give you the best speeds and performance. VPNs.
Finally, we are going to find out which VPN will protect your devices with the best overall security.
Ready to find out which VPN will come out as the winner? Let the battle begin!
1. Streaming
NordVPN is an excellent choice for streaming, thanks to its unlimited bandwidth and large network of 5,100+ high-speed servers in 60+ countries. It also has no trouble bypassing tough geo-restrictions and VPN blocks on streaming sites.
During our tests, NordVPN was able to access Netflix catalogs in the US, UK, Canada, Germany, France, Brazil, and Japan.
The VPN is also able to stream content on HBO, Hulu, Showtime, BBC iPlayer, Amazon Prime Video, SlingTv, and more. When it comes to geo-spoofing and bypassing VPN blocks, it doesn't get much better than that.
One of the reasons that NordVPN is such a great choice for streaming is its proprietary SmartPlay DNS feature.
With SmartPlay enabled, NordVPN will automatically connect you to an optimized streaming server that can access any content you are trying to watch.
That means you can watch an episode on Hulu (only available in the US) and then open up BBC iPlayer (only available in the UK) without pausing to configure your connection.
Norton Secure VPN doesn't release its exact number of servers (this is fairly common) but we do know that they have servers in 28 countries. This tells us that Norton Secure VPN has a much smaller server network than its competitor, which isn't ideal for high-speed streaming.
That by itself wouldn't be enough to rule out a VPN as a good choice for streaming. Unfortunately, that wasn't the only streaming issue we ran into with Norton Secure VPN.
We were unable to access any of the Netflix catalogs that we tested on Norton Secure VPN servers. We received the following error message when connected to the VPN: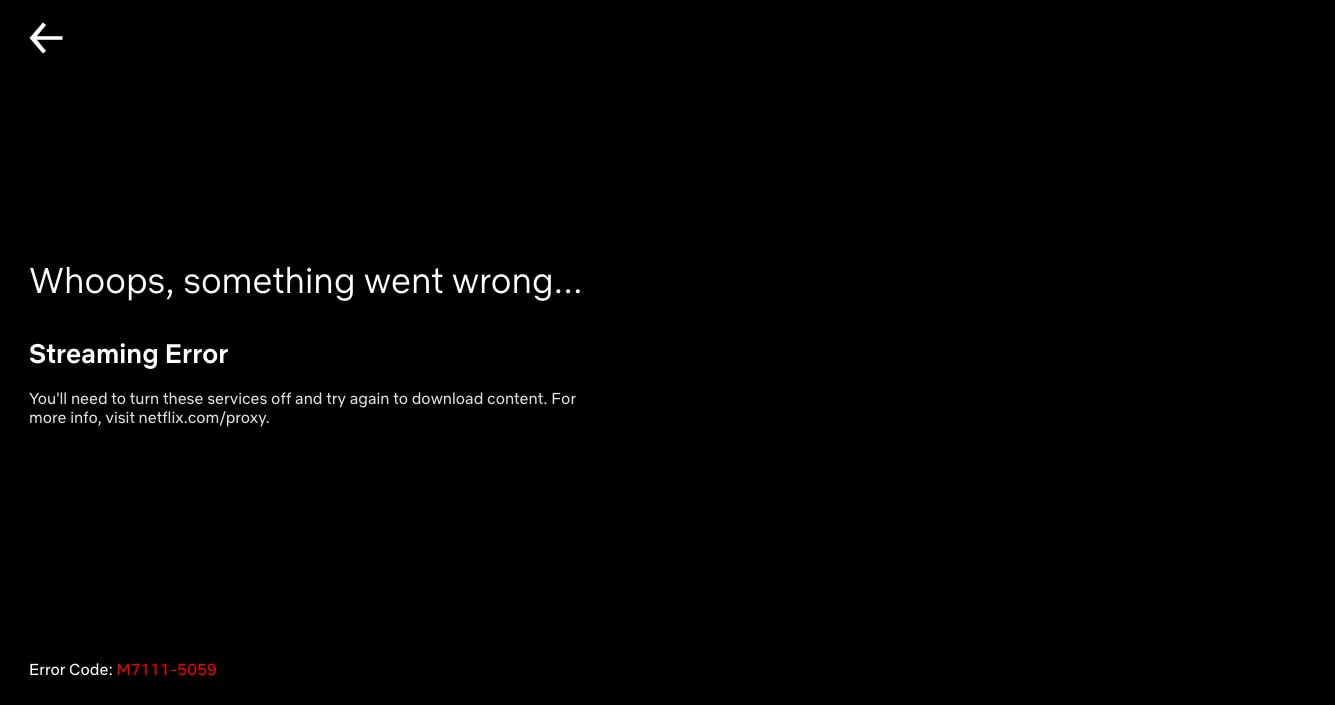 Norton Secure VPN was also blocked from the other streaming services we tested, including Hulu, BBC iPlayer, and Amazon Video.
The Norton website makes it clear that unblocking streaming content is not part of the Norton Secure VPN service:

This leads us doubtful that this part of the Norton Secure VPN service will be competing with NordVPN's geo-spoofing abilities anytime soon.
2. Torrenting
When it comes to torrenting, it's hard to beat NordVPN. The VPN advertises itself as a torrent-friendly option, and torrenting is allowed on 4,300+ dedicated P2P servers.
You can also find plenty of P2P file sharing support on the website, including in-depth tutorials on how to use NordVPN with various P2P clients.
The VPN's excellent speeds and unlimited bandwidth are ideal for sharing and downloading large files. To torrent safely with NordVPN, all you need to do is connect to a server on the P2P list in the Specialty servers tab: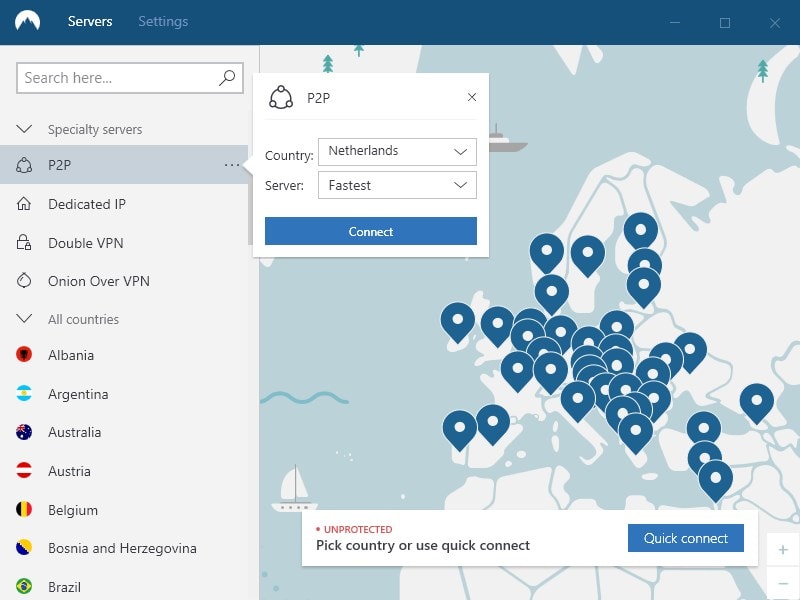 In the end, Norton Secure VPN forfeits this match. Torrenting isn't allowed on any of Norton Secure VPN's servers, making it an unsuitable choice for P2P activity.
3. Cost
If you are looking for the best bargain, it's usually best to avoid monthly VPN subscriptions since they tend to be the most expensive.
Both VPNs offer significant discounts on long-term subscriptions. Between the two, NordVPN is more reasonably priced and offers more frequent deals and discounts.
NordVPN consistently has great deals on its one- and two-year plans (respectively 41% and 66% cheaper than the monthly option). In even better news, you can currently save 70% on your NordVPN subscription with our exclusive coupon codes!
Norton Secure VPN's pricing plan is a bit different. Like NordVPN, Norton Secure VPN's annual subscriptions are cheaper than paying month-to-month (saving you 20-40%).
But unlike NordVPN, Norton Secure VPN offers different subscription plans based on the number of devices you would like supported. You can choose a plan that covers 1 device, 5 devices, or 10 devices.
In comparison, all of NordVPN's subscriptions allow up to six simultaneous connections.
If you only need a VPN for one device, Norton Secure VPN is reasonably priced, especially if you only want a VPN for a short period of time.
But in the end, NordVPN discounts are unbeatable if you are looking for long-term coverage. Norton Secure VPN's cheapest annual plan (which covers only 1 device) is still more expensive per-month than NordVPN's 3-year plan (which supports up to 6 simultaneous devices.)
Both VPNs offer money-back guarantees that you can use to test the service. All NordVPN subscriptions come with a 30-day money-back guarantee, while Norton Secure VPN has a 60-day money-back guarantee that applies to annual plans only. Monthly Norton subscriptions are not eligible for refunds.
4. Ease of Use
The two VPNs are neck-and-neck when it comes to creating a pleasant user experience. Both Norton Secure VPN and NordVPN make the installation process as painless as possible with well-organized websites and clear set up instructions.
Both VPNs also offer user-friendly apps with interfaces that are simple to navigate. Connecting to either service only takes a single click.
Here is what you will see when connected to Norton Secure VPN: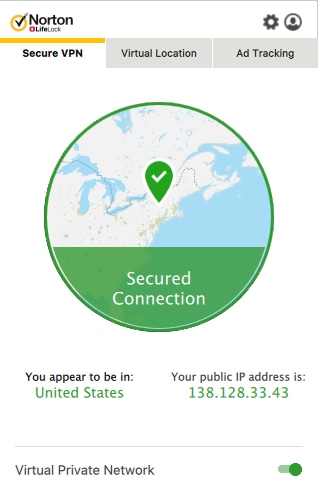 Your current virtual location is displayed on the map, and the VPN can be toggled on and off in the bottom right corner. It's also easy to access and adjust important settings by clicking on one of the tabs at the top of the app.
NordVPN's interface is equally straightforward, and it gains some extra points for a more stylish design.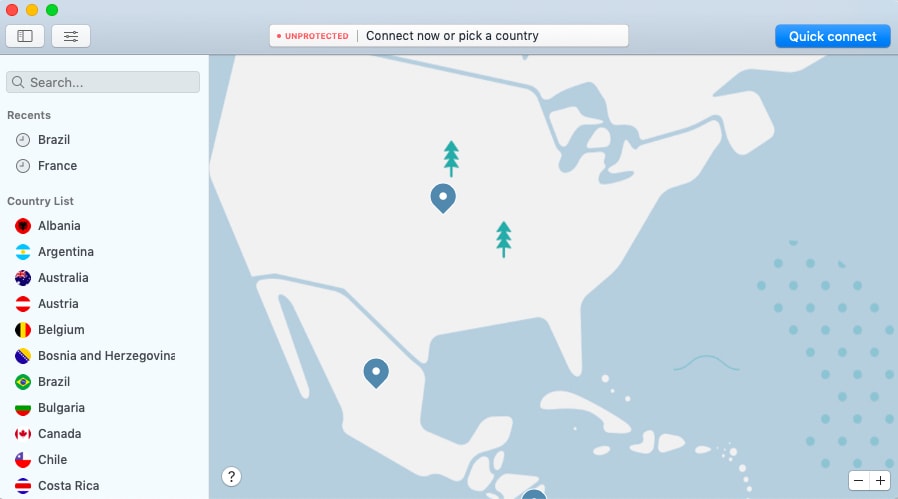 You can use NordVPN's Quick Connect button to find a high-speed server near your location or choose a location from the list on the left. You can also select a server directly from the map interface.
If you are looking for advanced security or P2P support, it's easy to access NordVPN's specialty servers for P2P, Double VPN, Onion Over VPN, and more from the server list.
Unlike Norton Secure VPN, which only allows you to select a country, the NordVPN app gives you the freedom to quickly select your location down to a specific city or individual server.
The settings menu is straightforward enough for even an inexperienced VPN user to navigate with ease.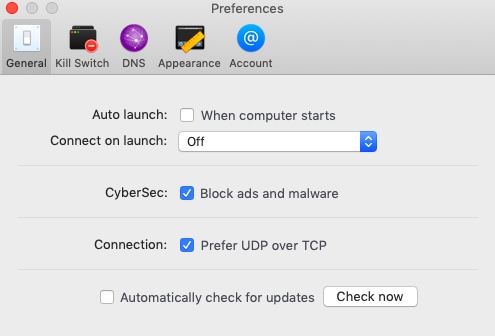 NordVPN also provides configuration files for those who prefer manual installation. The website's step-by-step installation guides make the process as smooth as possible.
Manual installation isn't an option with Norton Secure VPN, but this shouldn't be an issue for most people. We will discuss device compatibility in more detail below.
Overall, both VPNs offer user-friendly apps with well-organized interfaces that are dressed to impress.
5. Compatibility
NordVPN and Norton Secure VPN are both compatible with major operating systems, but there are some pretty big differences when we look closer at the support for each platform.
Windows
As the largest group of VPN users, it should come as no surprise to Windows users that both VPNs offer dedicated apps for Windows. Both apps are compatible with Windows 7 and above.
If you prefer manual installation, NordVPN is your best option. Configuration files and tutorials are offered for multiple protocols and different versions of Windows.
Mac
NordVPN and Norton Secure VPN offer dedicated macOS apps similar in style and features to their Windows counterparts. Your computer will need to have macOS Yosemite (10.10) or higher to install either app.
Just like with Windows, NordVPN offers a lot of support for manual installation on Mac devices as well.
Android
You can easily download dedicated Android apps for NordVPN and Norton Secure VPN from the Google Play Store. Both apps are frequently updated and user-friendly.
NordVPN goes the extra mile by being fully compatible with Android TV.
iOS
You can protect your iPhone or iPad with either VPN by heading over to the App Store, where you can download user-friendly dedicated iOS apps from NordVPN and Norton Secure VPN.
Linux
If you use Linux, you'll be happy to learn that NordVPN is one of the few VPN providers that offer a dedicated Linux app.
Linux users are out of luck when it comes to Norton Secure VPN, which offers neither a Linux app nor manual configuration options.
Routers
Norton Secure VPN is not compatible with routers. On the opposite side, NordVPN is compatible with a wide variety of routers and even offers a dedicated app for some models.
You can install the VPN yourself on a compatible router (Asus, DD-WRT, Tomato, Padavan, OpenWRT, Merlin, and more), or purchase a preconfigured router to avoid set up altogether.
Other Platforms
Norton Secure VPN isn't compatible with any additional platforms. If you are looking for a VPN that is compatible with a wide range of devices, NordVPN is a better choice.
NordVPN supports the following additional platforms:
Browser extensions (Chrome, Firefox, Opera, Safari, Internet Explorer)
Blackberry
Kodi
Media and gaming consoles (via router)
Smart TVs (via router)
6. Speed
No one wants to sacrifice speed for security. If your VPN is slowing you down, it can ruin your whole online experience.
Luckily, that's not an issue with NordVPN. The VPN has earned a reputation for its consistently fast speeds, in part thanks to the vendor's enormous server network.
Norton's VPN service isn't as well-known as some of the company's other software, so it's harder to guess how the VPN will perform compared to NordVPN's speed.
To find out which competitor is the fastest, we tested each VPN's connection speed in five different server locations around the world.
We ran our tests from a location in the eastern US. Here are our benchmark speeds (no VPN):

Here are the results of our tests (in Mbps):
NordVPN:
US: 69.50 download, 6.15 upload
UK: 32.11 download, 5.40 upload
Belgium: 40.43 download, 2.44 upload
Japan: 57.35 download, 1.77 upload
Canada: 42.9 download, 5.07 upload
Norton Secure VPN:
US: 21.97 download, 6.03 upload
UK: 36.71 download, 4.73 upload
Belgium: 38.74 download, 5.56 upload
Japan: 29.6 download, 4.23 upload
Canada: 56.5 download, 4.62 upload
7. Servers and Network
NordVPN has one of the largest server networks we have ever encountered. With a NordVPN subscription, you get access to 5,100+ servers around the world.
Although we don't know Norton Secure VPN's exact number of servers (because they don't release that information), it's hard to imagine that the number comes anywhere close to NordVPN.
The difference in network size is also reflected in the number of locations offered by each VPN.
Norton Secure VPN has servers in 25+ countries across 5 continents, which is a respectable number. But NordVPN swoops ahead once again with servers in 60+ countries, including multiple locations in every continent except Antarctica.
It's hard to beat that kind of coverage. More servers means less traffic and higher speeds for users.
The number of servers is especially important if you plan on using the VPN for data-heavy activities like HD streaming, gaming, and torrenting.
We also experienced a few brief drops in service while connected to Norton Secure VPN. While it wasn't a huge issue, it was still frustrating to have to wait for the server to reconnect.
Meanwhile, we experienced no drops in service while connected to NordVPN, which says a lot about the VPN's network reliability.
8. Privacy and Security
Norton is a company that has been producing high-quality cybersecurity products for a long time, but the company's VPN is fairly new and hasn't proved itself as much as many of Norton's other products.
Given its parent company's success, Norton Secure VPN has a lot to live up to when it comes to privacy and security.
On the flip side, NordVPN has stood the test of time and risen to be one of the industry leaders in the world of VPN security.
We are going to need to go deep to find out which VPN is the winner of this category.
Logging policy
NordVPN operates out of Panama, outside the jurisdiction of the 5/9/14-Eyes Alliance. Panama maintains some very privacy-friendly laws and regulations, which supports the VPN's strict no-logging policy.
Norton Secure VPN also has a no-logging policy in place. The downside is that the VPN's parent company, Symantec, is headquartered in the US. As one of the founding members of the 5/9/14-Eyes Alliance, the US is definitely not one of the most privacy-friendly countries to operate out of.
Encryption and protocols
Norton advertises that its VPN will protect you with "bank-grade" encryption. True to its promise, the VPN uses robust AES-256 encryption to secure your devices. This one of the most secure encrypton algorithms out there.
NordVPN uses the same level of encryption, but with the additional protection of Perfect Forward Secrecy. This key agreement protocol automatically generates new encryption keys throughout your VPN session, making it virtually impossible for your encryption to be compromised.
In terms of VPN protocols, NordVPN and Norton Secure VPN both use OpenVPN protocols for their Windows, Mac, and Android apps.
NordVPN wins some points by giving you the freedom to choose between UDP and TCP OpenVPN connections within the app, an option that Norton lacks.
The NordVPN iOS app operates using the IKEv2/IPsec protocol, while Norton Secure VPN uses the L2TP/IPsec protocol. It's common for VPN iOS apps to avoid OpenVPN because of various App Store regulations.
Of the two protocols used for iOS platforms, IKEv2/IPsec is more modern and offers stronger protection than L2TP/IPsec, giving NordVPN a slight advantage.
Security Features
Both of these security-minded VPNs have got you covered with their robust encryption, but the differences between the two services grow as we get into the additional security features that they offer.
Norton Secure VPN is more focused on providing a simple but secure service to protect the average person from common risks online, such as connecting to an unsecured public wifi network at the local coffee shop.
In contrast, NordVPN is known for its long list of security features and advanced types of protection.
Both VPNs include an adblocking service, which is a big plus. Norton Secure VPN's app displays a record of the number of ads it has successfully blocked each session: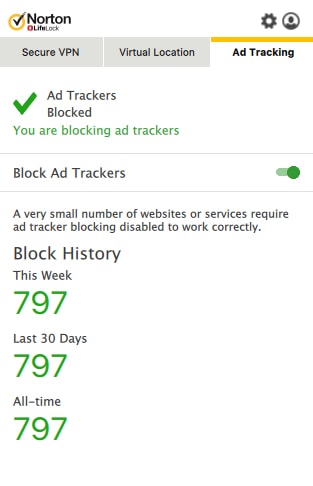 NordVPN's excellent adblocking abilities are part of its CyberSec suite, which also protects you from malware, trackers, and prevents your device from participating in DDoS (distributed denial-of-service) attacks even if your device has already been infected with malware.
One major flaw in Norton Secure VPN's service is its lack of DNS and IPv6 leak protection. We tested for IP and DNS leaks while connected to a Norton server in the UK.
The VPN did successfully mask our IPv4 address, but left our IPv6 address exposed:

As you can see, our true location in the US was leaked by Norton Secure VPN via our IPv6 address (blacked out for the screenshot). The result was the same on every website we tested.
For comparison, this is what it looks like when we are connected to a NordVPN server in the UK:

Thanks to NordVPN's advanced IPv6 leak protection, our IPv6 address is completely hidden from the websites we visit.
NordVPN is also the only one of the two VPNs to have an automatic kill switch, which keeps your data safe even if your VPN connection suddenly drops.
The VPN's network hosts a number of specialty servers that you can connect to for extra security, including designated servers for DoubleVPN and Onion Over VPN, which routes your traffic through the Tor network.
You can also take advantage of NordVPN's obfuscated servers to hide the fact that you are using a VPN, which is great for safely bypassing tough censorship. They can even bypass the Great Firewall of China, something that very few VPNs can achieve.
9. Final Verdict
Norton Secure VPN put up a good fight and performed well in many of our categories, but it couldn't compete with the powerhouse that is NordVPN.
In each of our eight categories, NordVPN pulled ahead as the clear winner. Norton Secure VPN has proved itself to be a reliable, user-friendly service that can protect your data from many common security threats, but the fact that it doesn't always hide your true location is a big issue.
It may be worth considering Norton Secure VPN if you are looking for a lightweight VPN service to accompany other Norton products, such as Norton's antivirus software.
But in the end, the VPN failed to fully protect our privacy and couldn't keep up with NordVPN's extensive list of features and affordable long-term subscription plans.
NordVPN once again proved why it is our top-rated VPN overall. It is an excellent choice for streaming, torrenting, bypassing censorship, and keeping your online activity safe and private.