Norton is one of the biggest names in internet security, but its VPN is not considered the best out there. Given its global reputation,  I decided to put it to a test, and see if it's really worth it. I wasn't expecting anything more than online security, but is it good enough to be declared a great VPN service?
I started by looking into its privacy policy to see what kind of information it stores, what it does with it, and what I should expect. After that, I tested its speeds and the number of streaming platforms it could unblock. I also tried all its features on every compatible device and ran a few leak tests to determine its overall safety.
While Norton Secure VPN doesn't have many features, I can say that it's safe. However, it has a relatively small server network, its speeds are slow on both local and international servers, and it doesn't support torrenting. On top of that, it couldn't bypass most of the streaming platforms I tested and doesn't stand a chance of bypassing the Great Firewall of China.
Try Norton Secure VPN Risk-Free For 60 Days!
Short on Time? Here Are My Key Findings
Norton Secure VPN Features — Updated in October 2021
💸

Price
$3.33/month

📆

Money Back Guarantee
60

📝

Does VPN keep logs?
Yes

🖥

Number of servers
3000

💻

Number of devices per license
5

🛡

Kill switch
Yes

🗺

Based in country
United States

📥

Supports torrenting
No
Streaming – Norton Secure VPN Unblocks Netflix and UKTV
Norton Secure VPN only unblocks a couple of streaming platforms, so it's not a good choice if you want to watch international movies and shows. Before I started testing, I looked at Norton's policies to see what I should expect. My conclusion is that Norton did not put any effort into a VPN that unblocks streaming platforms.
I could unblock UKTV and Netflix from its UK and US servers but no other platforms. The other platforms I tested recognized the VPN and completely blocked my access.
Unblocked: Netflix and UKTV
Norton Secure VPN could only unblock UKTV and Netflix, which is a little disappointing. The good part is that my connection was fast enough to stream shows on these platforms without lag or buffering. I tested Norton Secure VPN with Criminal Minds which is only available on Netflix US. However, my speeds experienced a significant decrease while I was connected to the VPN — if I didn't have a fast connection in the first place, I would have experienced a lot of buffering.
Even though Netflix has strong geo-restrictions, Norton Secure VPN managed to get around them. I was impressed by this because this VPN is only intended to protect you from hackers and data leaks, not streaming content.
UKTV was very easy to unblock too. I connected to a UK server, and I had full, unlimited access to the platform. On top of that, the connection was great. I didn't experience slowdowns or changes in quality.
Blocked By: Hulu, HBO Max, HBO Now, Disney+, ESPN+, Amazon Prime Video, and BBC iPlayer
I couldn't access Hulu, HBO Max, HBO Now, Disney+, Amazon Prime Video, ESPN+, and BBC iPlayer using Norton Secure VPN. I'm fine with Norton not being able to unblock these platforms, but HBO Max and HBO Now blocked me for being outside the licensed region, not for using a VPN — it looked like Norton Secure VPN was not even trying to hide my location. This made me concerned because it could indicate there was a leak, so I ran a test to see what that was about.
The situation was slightly better with Hulu, BBC iPlayer, and Amazon Prime. Those platforms blocked me because I was using a VPN, which was obviously not ideal, but at least Norton Secure VPN tried here.
ESPN+ and Disney+ didn't even load with Norton Secure VPN. I was stuck in an endless loop, taking me back to the login screen every time.
Norton Secure VPN is not a good choice for unblocking streaming platforms. It couldn't bypass most geoblocks, and its server network is really small. When you can't choose from a large number of servers, sometimes all you're left with are the ones that the streaming service has already detected and blocked.
Start Streaming with Norton Secure VPN!
Speeds – Very Slow on Local and International Servers
Norton Secure VPN is one of the slowest VPNs I have ever tested. It's normal to experience a loss in speed when you connect to a VPN, but not more than 20%. However,  the difference was huge with Norton. If my connection was just a little slower, it would have been impossible to stream any movies or access interactive websites.
To test Norton Secure VPN's speeds, I used Ookla's speed test tool and measured my:
Ping — measures the time to get a response from the website or app you're connecting to
Download speed – measures the time you need to download files and information from the internet
Upload speed – measures the time you need to send files, such as messages and videos
Local Speeds
Norton Secure VPN has incredibly slow speeds on local servers. I used its auto-select feature, and it found a server that's close to my location, which was supposed to provide me with the fastest connection.
I started with a 35.37 Mbps download, 36.76 Mbps upload speed, and a ping of 8 ms. After connecting to the Romanian server Norton recommended, my download speed dropped to 9.44 Mbps, which is a 75% decrease. My upload speed decreased by 58% to 15.72 Mbps, and the ping increased to 14ms.
These differences are huge, and I only had enough speed to browse the internet because I started with a high speed. If your network is not very fast, it will be impossible to do anything with Norton Secure VPN.
| | | | |
| --- | --- | --- | --- |
| | Download speed | Upload speed | Ping |
| Speeds without a VPN (Bucharest, Romania) | 35.37 Mbps | 36.76 Mbps | 8 ms |
| Speeds connected to Norton's fastest server | 9.44 Mbps (75% decrease) | 15.72 Mbps (58% decrease) | 14 ms |
I don't recommend Norton Secure VPN for regular browsing or streaming on local networks. Its speeds are very slow, and if I didn't already have a good connection, it would have been impossible to watch any shows or even continue with my regular browsing.
Long-Distance Speeds
Norton Secure VPN's long-distance speeds are just as slow as the local ones, which is a little unusual. In general, the local servers are a little faster than the international ones, but distance didn't make a difference with Norton's VPN.
The first server I tested was in the US. My download speed was 8.87 Mbps, which is a 75% decrease compared to my original one. My upload speed decreased by 64% to 13.50 Mbps, and ping stood at 159. These results are terrible — I could hardly continue with my regular browsing with these numbers.
| | | | |
| --- | --- | --- | --- |
| | Download speed | Upload speed | Ping |
| Speeds without a VPN (Bucharest, Romania) | 35.37 Mbps | 36.76 Mbps | 8 ms |
| Speeds connected to Norton's US server | 8.87 Mbps (75% decrease) | 13.50 Mbps (64% decrease) | 159 ms |
The decrease is massive, and if my connection was just a little slower, I couldn't do much with Norton Secure VPN.
I then moved to Norton's UK servers — the UK is a little closer to me, so I hoped for better results. My download speed was at 10.50 Mbps, 14.09 Mbps upload speed, and ping stood at 51 ms. A 61% decrease in download speed is huge — with other VPNs, I didn't encounter such a significant loss. This makes it almost impossible to stream any movie on slower networks, which is inconvenient.
| | | | |
| --- | --- | --- | --- |
| | Download speed | Upload speed | Ping |
| Speeds without a VPN (Bucharest, Romania) | 35.37 Mbps | 36.76 Mbps | 8 ms |
| Speeds connected to Norton's UK server | 10.50 Mbps (61% decrease) | 14.09 Mbps (62% decrease) | 51 ms |
I don't recommend Norton Secure VPN. After I connected to its servers, my speeds decreased a lot. There are dozens of VPNs that are way faster, so I suggest looking into other options before you make a choice.
Are Norton Secure VPN's Speeds Fast Enough for Gaming? No
Norton Secure VPN is definitely not a good choice for gaming. Its speeds are slow on both local and international servers, making it impossible to establish a good connection. I tested its gaming performances using Nvidia GeForce Now, which measures:
Bandwidth — measures the amount of data transferred in a given amount of time
Packet loss — measures the percentage of data lost during transfer
Ping/Latency — measures the time needed to get a response from the server
In order to successfully stream a game from Nvidia's servers, I need 25 Mbps, and if it's an online game, I need at least 30 Mbps.
On the local server I tested, these metrics were within the required intervals — it's wasn't ideal and I still experienced a great deal of lag. However, the bandwidth stood at 24 Mbps, I had no packet loss — meaning that I could still load CS:GO maps without problems. The ping was 52 ms, which is higher than the minimum of 40 ms to play an online game. On a faster base connection, gaming would be possible with Norton Secure VPN, but that's not the case for most people.
The next step was to test an international server, and I chose Norton's US location. The connection was even slower than before, making it impossible to play any game.
The bandwidth was slow, at 24 Mbps and I had a packet loss of 1.4% — this means that I wasn't receiving all the information from the server. During casual WoW raids, my character would be left behind and the maps wouldn't fully load. The ping was 240 ms, which is way too high to play any multiplayer game —  I'd spend a lot of time reconnecting to the game. Most online games will disconnect you from the match if your ping is too high.
 I can't recommend Norton Secure VPN for gaming. Unless you have a base speed of over 50 Mbps, it's going to be impossible to establish a proper connection with the server and play a multiplayer game without lag.
Try Norton Secure VPN Risk-Free For 60 Days!
Server Network — Small but Secure
Norton Secure VPN has 3,000 servers in 30 countries, which is an average-sized network. It's always better for a VPN to have a large server network because it can give you better speeds. With more servers, there's a higher chance that there will be one close to your actual location. On top of that, there won't be slowdowns caused by overcrowding.
A big downside is that you can't manually choose the server you connect to — you can only choose the location. This becomes a problem when you need to access location-exclusive content because Norton Secure VPN assigns you a random server with a random IP address. If you want to watch US Netflix but some of its IPs are blocked by the platform, all you can do is connect and disconnect to the same location until you find one that works.
I messaged its support team to see if I could find out how many servers it has, and I was surprised. The first agent I spoke to couldn't provide me with any information but gave me a phone number for another team. After that, I tried contacting a different team, and I was told that it has servers in 30 countries, but nothing more.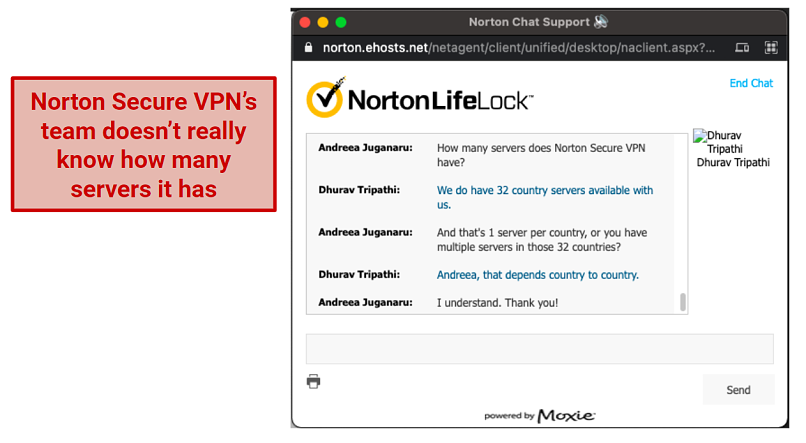 While Norton Secure VPN has a decent number of servers, its global coverage isn't great. I would recommend ExpressVPN for its 3,000 servers in 90 countries if you're looking for better coverage.
Security – Limited but Strong Security Features
Norton Secure VPN has great security features, but they're not available on all the supported devices. I tested its kill switch, split tunneling, and WiFi security on a Windows laptop, Macbook, Android phone, and iPad. Even though each of these features worked great, I couldn't use them all on a single device. This is incredibly inconvenient and makes the VPN limited.
It will keep you safe during your regular browsing. I ran a few DNS and IP leak tests to see whether my information was visible to anyone on the internet — DNS and IP leaks can expose your information, making the VPN completely useless. I was glad I didn't encounter anything unusual. Norton uses AES-256 encryption, which is the strongest around, so there's no doubt about its security.
Norton needs to maintain its reputation, so it can't have any security issues or data breaches. Its VPN is great for people who only need to protect their identity. However, if you're looking for more than browsing and you also need to download torrents or bypass geoblocks, I recommend checking out other VPN services.
Protect Yourself With Norton Secure VPN Today!
Kill Switch
Norton Secure VPN has a kill switch — but only on Android devices. The kill switch helps you maintain your anonymity by blocking your internet connection in case the VPN fails. This means that if you're downloading something and the VPN can't cover you anymore, it will shut your internet connection down. This is a feature you may want to use when you're downloading torrents or accessing the internet from public networks. Since it's only available for Android devices, Norton Secure VPN won't provide you with the best level of security across all your devices.
I tested Norton Secure VPN's kill switch on my Android device — to activate it, you need to access the settings menu and click on the checkbox next to the kill switch. The process was fast, and Norton seems to be doing a great job here. Unfortunately, if you choose Norton Secure VPN, you'll be limited to using the features available on your devices — and exposing your data.
Split Tunneling
Norton's split tunneling feature is only available on Windows devices, which, again, is inconvenient. Split tunneling lets you route certain apps and websites through the VPN and keep the rest on your regular network. This is very useful when you only want to route your torrent client or a browser to watch an international show.
To test this feature, I used my Windows laptop and set the VPN up to only route apps, but not browser traffic. This was the easiest way to test this feature — I ran a quick IP leak test and Nvidia's connection test, and everything matched. Nvidia GeForce Now was tunneled, but my browser wasn't, which was the exact result I was hoping for.
WiFi Security
WiFi security provides you with information regarding the security of your home network. It didn't give me a warning on my home server, but the moment I connected to an unsecured mobile hotspot, Norton let me know that something was off.
This feature would have been awesome to have on my MacBook. If you like visiting coffee shops and working from there, you'll want to know whether the network is safe or not. Unfortunately, that's not the case as you can only use this feature on mobile devices.
Encryption and Protocols
Norton uses AES-256 type encryption, which is advertised as "bank-grade encryption," and it's the strongest one out there. When the data is sent to and from your computer, it is encrypted using a special key. That data can only be decrypted using the same key or by cracking it — which would be impossible using today's computers, as they don't have enough power.
As for protocols, Norton Secure VPN uses the OpenVPN and L2TP/IPSec protocols in its clients. I was a bit disappointed that other popular protocols like WireGuard and IKEv2 aren't available. However, OpenVPN is the industry standard and the most versatile protocol out there. It offers 256-bit encryption, and it works in UDP and TCP modes — TCP is a slower protocol that checks every file for integrity, while UDP is faster but doesn't perform these checks. On top of that, OpenVPN is continuously being improved by developers all over the world. Only Norton's Windows, macOS, and Android apps use this protocol.
The L2TP/IPSec protocol used on iOS devices is a little slower than OpenVPN. It also uses 256-bit encryption, making every bit of encrypted information impossible to crack. The main difference between them is that L2TP/IPSec uses a more complicated build, so it can fail a lot easier, making it not as safe as OpenVPN.
These protocols ensure secure browsing, so you don't have to worry about having your information stolen.
IP and DNS Leak Test Proved That Norton Secure VPN is Safe to Use
I couldn't identify any DNS or IP leaks on Norton Secure VPN's servers. These tests allowed me to see if the VPN would leave my information exposed. Its purpose is to hide my IP address and location and block IPv6 requests from my network.
Depending on the browser you use and its configuration, your IP address may still be visible — which is the exact thing you want to avoid. Besides, some VPNs have trouble blocking IPv6 requests, leaving sensitive data uncovered.
To start, I used ipleak.net on Norton Secure VPN's US server, and it was secure! It couldn't identify any leaks, IPv6 was blocked, and my information was completely hidden.
I then moved to test the Netherlands, UK, and Germany servers, and the connection was safe every time. I was impressed with Norton's performance. The problem is that most of its apps don't have a kill switch. This means that if the VPN fails, your information may be exposed after all.
Norton Secure VPN has great security features, but the lack of compatibility is very inconvenient. Even if the system is overall trustworthy, it's still lacking some very important security features on some devices — such as split tunneling and a kill switch. This means that no matter what you do, you're never 100% safe. I would recommend a VPN that has all of these features on every device (plus extras) to boost your security even more.
Privacy — Enough Features to Keep Your Traffic Private
Norton Secure VPN keeps as little information about its users as possible, but there are a few security policy gaps. I read the documentation from top to bottom to see what kind of information it collects, and it got me a little confused. Since it shares the same privacy policy with all of Norton's services, you can't be sure that it doesn't collect sensitive information. My biggest problem is that Norton's headquarters are in the US, so it may be required to keep and share data about its users with the government. On top of that, I couldn't find any concrete information about the disclosure of this data.
Location
Norton's headquarters are located in the US, or the heart of the Five-Eyes Alliance. Naturally, this thought is not very comforting because the government can force Norton to gather information about you, and there's nothing anyone can do about that.
For your information to be 100% private, Norton would need a strong (and real) no logs policy — this means no IP, no email, device, country, or any other data the government could use to identify you.
Norton Secure VPN Keeps Logs
Norton sells the VPN as part of the antivirus package, and it only has one privacy policy for all these services. I went through its privacy policy, and I discovered the 7 types of data it collects:
Member Information — Norton collects your contact details, such as name, mailing address, phone number and credentials, shipping and billing details — including your credit card or other payment data, transaction history, and any official documents you submit. All this information helps Norton manage its business relationship with you as a customer.
Administrative Data — Norton collects this data to maintain its business records, and it consists of license keys, IDs generated by Norton, and device ID.
Provisioning Data — this category includes your device model, browser type, system information, IP address, OS, and network type. This type of data is retained to deliver products and services.
Security Data — Norton keeps this data to protect you from fraud or identity theft. It consists of your transaction and location data, credit alerts, and diagnostic, usage and preference information, and third-party data.
Diagnostic Information — this category includes all the data Norton needs to troubleshoot the system. All your conversations with them are recorded, and all the crash reports are sent directly to them.
Usage and Preference Information — for marketing purposes, Norton keeps information from your cookies and client settings.
Third-Party Data — whenever you receive a malicious email and Norton scans it, it will have access to the sender's IP address and email.
Even though it doesn't track the servers you connect to and your activity, the fact that Norton still has your IP address and location is a little concerning. On top of that, it doesn't have specific information about disclosure in the privacy policy, leaving everything in a grey zone. There are many other VPNs to choose from that have clear, transparent, and verified no-logs policies.
Ad and Tracking Blocker
Along with the VPN, you also get an ad and tracking blocker — at least on paper. When I reached out to its support team to see what kind of information it keeps about my activity, the agent told me that it doesn't have an ad blocker; it only has an ad tracker. It's integrated into the VPN, and you can turn it on and off whenever you need it. While I tested Norton, I kept it on the entire time, and it really did find a lot of ad trackers — but it didn't block all of them. I accessed forbes.com, which has a reputation for a tremendous amount of ads. I still saw a few ads, but no annoying pop-ups, which is nice.
According to Norton's support agent, the ad tracker doesn't log information about you or your activity, and it also stops websites from tracking your browser.
Secure VPN
This one is not necessarily a feature of the VPN, but it comes with Norton 360 which is mandatory to use any of Norton's services. You can set it up to start the VPN once you open your computer. I was very disappointed that I couldn't download the VPN as a standalone app and didn't find this feature extremely useful, as the entire Norton 360 suite really slows my entire computer down. If you only need a reliable VPN, I suggest you look for better and more convenient options.
Torrenting — No P2P Support Whatsoever
Norton made it very clear that it doesn't support any type of torrenting. Even more, the VPN won't work at all if it detects torrent traffic. The moment I opened Transmission, Norton Secure VPN gave me an error and cut the connection.
If you're looking for a VPN you can torrent with, Norton Secure VPN is not it. But no worries, there are many other VPNs that support torrenting, some of which even offer specialized servers for it.
Does Norton Secure VPN Work in China? No, It Doesn't
Norton Secure VPN doesn't work in China at all — it doesn't even have servers there. I messaged Norton's support team to see where they stand on this matter, and the agent confirmed it — it doesn't work in China.
In all fairness, I was expecting this answer. Norton's purpose is not to help you unblock the internet in specific regions of the world. Instead, it sells a VPN that will only hide your location in countries where VPNs are legal. If you are looking for a VPN that works in China, then there are several others to choose from.