Known for its popular antivirus software, Norton also offers a VPN. Norton Secure VPN is usually bundled with Norton's other products, but it's also a fully functional standalone VPN.
They claim to have servers in 25 countries, but they don't tell you how many. This could imply that the network is small compared to bigger VPNs like NordVPN. And the lack of transparency could be a concern, too.
I wanted to find out just how good Norton Secure VPN is, so I put it through our rigorous testing process.
Overall, I was pleased with Norton Secure VPN's ease of use and customer service. Norton Secure VPN is also solid choice for keeping you safe while on public WiFi as it uses high-grade encryption to keep your data secure. The service also comes with ad tracker protection.
However, there are some pretty big downsides when it comes to streaming, torrenting, and privacy. For one, Netflix is completely off limits, so if you're looking to unlock major Netflix libraries, I'd suggest one of these five vendors instead.
Let's unpack this VPN's features and performance in detail to find out if it is a good option for you.
Streaming – Does Norton Secure VPN Work with Netflix?
The short answer is no. I ran into multiple issues with Norton Secure VPN during my streaming tests.
When I first connected to the VPN and loaded Netflix, I thought the VPN was working because I was able to stream content without an issue. After switching to a VPN server in a different country, I was confused when the Netflix catalog did not update to reflect my new location.
After some investigating, I realized that Norton Secure VPN was not masking my public IPv6 address at all, which is an issue that I will discuss in more detail later.
Although Netflix didn't realize that I was using a VPN, I could only access my own country's catalog. Netflix didn't realize that I was using a VPN, which is convenient if I only want to access my usual country catalog. But I couldn't geospoof with Norton Secure VPN. No matter which country server I connected to, Netflix could see my real location, so I couldn't access any global Netflix content.
Norton Secure VPN was unable to bypass the VPN blocks on other streaming sites I tested, including Hulu, Amazon Prime Video, HBO GO, and BBC iPlayer.
Looking for a VPN to help you stream? NordVPN will bypass Netflix's and BBC iPlayer's tough geoblocks (and many more!), and even has optimized streaming servers.
Norton's website makes it clear that bypassing the VPN blocks streaming of platforms is not a priority at this time:

It doesn't seem like the VPN's streaming service will be improving anytime soon.
Norton Secure VPN Speeds
When your VPN is slowing you down, it can ruin your whole online experience. Even if you aren't doing high-bandwidth activities like streaming, torrenting, or online gaming, sitting around waiting for every website to load is never fun.
Before testing Norton Secure VPN's network, I checked my connection speed without the VPN. I started out with a download speed of 70.01 Mbps:

First, I tested Norton Secure VPN's speeds on a nearby server. Server speed is affected by physical distance, so you can usually get the best connection speeds by selecting the closest server possible.
I am located in the US, so I selected the US virtual location and connected to the VPN.

Norton did decrease my speed, but only by a small amount. My new download speed of 57.31 Mbps was pretty great!
Next, I connected to the UK virtual location and checked my speed.

I was still pleased with my download speed of 44.98 Mbps, but my upload speed took a pretty big hit and went down to 2.54.
For the toughest test, I connected to the Hong Kong virtual location to see how the VPN performs over long distances.

Both my download and upload speeds were dramatically lower. It's normal for connection speeds to be impacted by server distance, but some VPNs handle the distance better than others.
This big of a slowdown is something to keep in mind when you are thinking about your physical location and which virtual locations you are most interested in connecting to.
Is Norton Secure VPN Good for Torrenting?
Norton Secure VPN is not a good option for you if torrenting is a top priority. The provider does not allow P2P traffic on any servers.
Security – Is Norton Secure VPN Safe?
Norton is an established name in the world of cybersecurity, so I had high hopes for the company's VPN when it came to security.
The VPN is advertised as a simple service that focuses on providing excellent security and privacy protection rather than trying to do everything halfway.
Unfortunately, Norton Secure VPN failed one of the most basic VPN security tests. I experienced both DNS leaks and IPv6 leaks on every server that I tested.
Here is what happened when I connected to one of Norton's UK servers:

On the left, you can see my IPv4 address displays as I would expect. The VPN is masking my true IP address and making it look like I have a UK IP address.
But if you look on the right, my real IPv6 address is completely exposed. I've blurred out my IP address and city location in the picture, but you can still see that my real location in the US is not protected.
IPv6 is a newer version of IP addresses that has been gradually rolled out. Some devices still only use IPv4 connections, but many devices, mine included, now use IPv6 as their public IP address.
For comparison, this is what happens when I connect to a UK server with vpnMentor's #1 recommended VPN, NordVPN:

Since NordVPN has advanced IPv6 leak protection, it hides my IPv6 address completely from the websites that I visit.
Norton Secure VPN also had some problems with DNS leaks. The websites I visited kept detecting DNS addresses in Belgium even though I was connected to Norton's UK virtual location: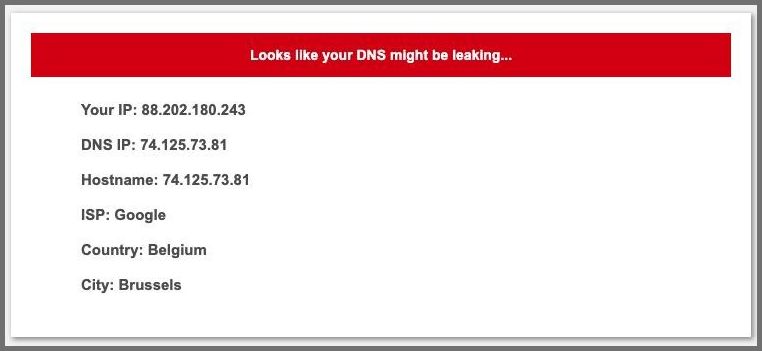 In fact, dozens of different DNS addresses were leaked by the VPN. Although my DNS address was not leaked, this can still cause issues. For one thing, it can make it obvious to the websites you visit that you are using a VPN.
Norton Secure VPN was able to successfully protect my computer's data with secure encryption, but exposed the city that I live in to all the websites I visited.
In addition to the lack of IP/DNS leak protection, I was also disappointed to see that Norton Secure VPN lacks an automatic kill switch. This could leave your data vulnerable if your VPN connection suddenly drops.
Does Norton Secure VPN Keep Logs?
Norton Secure VPN is headquartered in the US, one of the founding members of the 5/9/14-Eyes Alliance. This isn't a privacy-friendly location by any means.
Despite this, I was pleased to see that Norton Secure VPN has a clear no-logging policy.
The privacy policy states: "During the use of Norton Secure VPN, we route the user's internet traffic through NortonLifeLock's network, which is a 'No Log' network. This means that NortonLifeLock does not store the user's originating IP address when connected to Norton Secure VPN and therefore NortonLifeLock cannot identify individuals."
However, when I looked deeper I found that the provider does collect "temporary usage data to assist with debugging a problem with the service." This line is pretty vague, and seems like it could potentially give Norton the ability to view users' usage data in some situations.
If you are looking for a VPN that truly protects your anonymity, you're better off with another provider.
Does Norton Secure VPN Have an Ad Blocker?
The VPN service comes with a partial ad blocker. The ad blocker doesn't block every single ad that you encounter, but it does block ad trackers from gathering your data.
Ad tracking technology is everywhere, and it has gotten very sophisticated in recent years. This is a nice feature included with the Norton Secure VPN service.
Does Norton Secure VPN Work in China?
No, most users report that Norton Secure VPN is not currently working in China. The VPN doesn't have any kind of obfuscation settings to hide your VPN traffic from detection.
Price and Value for Money
There are some advantages to Norton Secure VPN's pricing structure. Norton Secure VPN is one of the few providers I've seen that offers different prices based on the number of devices you want covered.
If you only want protection for a single device, you can purchase a subscription at a much lower price. This might come in handy if you are traveling and just want a short-term VPN subscription to cover your phone or laptop.
On the other hand, Norton Secure VPN gets pretty pricey if you need a VPN for more than one device. You can choose a plan with coverage for 1 device, 5 devices, or up to 10 devices.
Each option can be purchased as a monthly or annual subscription. Discounts are offered on yearly subscriptions, but the VPN still ends up being pretty expensive compared to other big names on the market.
The price seems especially high when you consider how simple Norton Secure VPN's service is compared to many cheaper VPNs with significantly more features.
You get the best deal if you are purchasing the VPN as part of a Norton bundle. For a very reasonable price, you can purchase the VPN as part a Norton 360 Deluxe plan, which also includes features like a password manager, cloud storage, antivirus software, and more.
Does Norton Secure VPN Have a Free Version?
No, the VPN does not have a free version.
Norton Secure VPN's Refund Policy
Norton has a 60-day money-back guarantee that applies to annual subscriptions of Norton Secure VPN. Monthly subscriptions are not eligible for a refund.
If you want to try out the service but don't want to purchase an annual subscription, you also have the option of buying a monthly plan for a single device, which is the cheapest plan available.
Is Norton Secure VPN Compatible with My Device?
Norton Secure VPN is compatible with Windows, macOS, Android, and iOS devices. Features are very similar across platforms.
If you are looking for a VPN to protect your Linux device, router, or other platform, you are out of luck. Currently, only those four major platforms are supported. Norton Secure VPN also doesn't offer manual set up options for any device.
Encryption
Norton Secure VPN claims to protect your device with "bank-grade encryption." As promised, the VPN uses AES 256-bit encryption to secure your connection.
This type of encryption is practically unhackable, which is why it is used by most banks and many government bodies.
The VPN uses two VPN protocols. On Windows, macOS, and Android devices, OpenVPN is used. The dedicated iOS client uses the L2TP/IPSec protocol, which isn't as advanced as OpenVPN but still offers decent protection.
Norton Secure VPN Customer Service
Customer service is a strength of Norton Secure VPN. Since the VPN is part of a much larger cybersecurity company, you get to take advantage of the resources that come with being a big name provider.
I reached out to the Norton customer service team via live chat with a few questions. Before speaking with a representative, I was asked to fill out a form about my issue.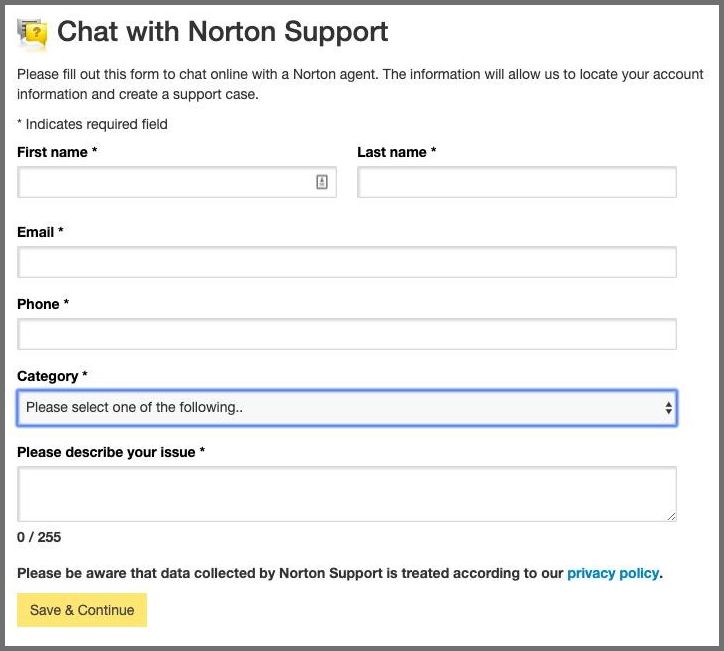 The form asks for a lot of personal information, which is something that VPN providers typically try to avoid to protect your privacy.
On the bright side, I only had to wait for a few minutes before being contacted by a representative. I found the support team to be helpful and responsive. They were able to answer all of my questions without an issue.
For more complex problems, you may want to call the Norton customer service phone line. Both the phone line and live chat support are available 24/7.
There is also a large knowledge database on the website, including FAQs, video tutorials, installation guides, and a community forum. Just keep in mind that many of the resources you may find are for other Norton products rather than specific to the VPN service.
User Experience
Norton Secure VPN comes with a user-friendly VPN client that is very simple to navigate.
Here is the main interface of the VPN app: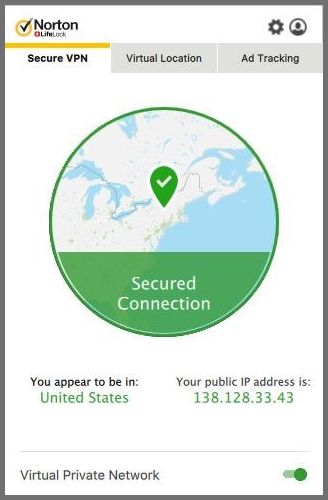 You easily connect and disconnect with a single click by toggling the button on the bottom right.
The VPN will automatically connect you to a server when you open the app, but you can change this within the settings menu if you prefer by clicking on the gear icon at the top of the app.
Important settings are neatly organized into tabs. The Virtual Location tab lists the available server countries.
The one downside is that you can only select your location at the country level. You don't have the option of choosing an individual city or server, which can be frustrating if a specific server is causing issues.
The third tab displays information about the ad trackers blocked during your current session.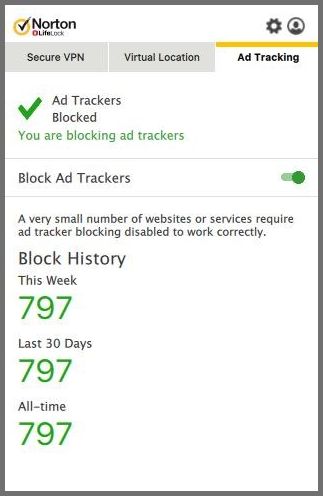 If you are an advanced user, you may wish there were more advanced options to configure your connection, but overall the Norton Secure VPN app strikes a good balance between simplicity and useful information displays.
Conclusion
Would I recommend Norton Secure VPN? No.
The VPN successfully secures your data with robust encryption and even protects you from ad tracking. I also was impressed with my connection speeds on the VPN's nearby servers.
However, exposing your real city location and IP address is a big dealbreaker if you value online privacy.
Given that Norton Secure VPN also isn't designed for streaming and torrenting, it just doesn't provide enough value right now to justify the cost. There are plenty of other VPNs on the market that can be used for streaming, torrenting, and anonymity for a lower cost. If Netflix is top of your list, one of these five vendors will easily bypass geoblocks and keep you secure, too.
If you are purchasing a bundle of Norton services that includes Norton Secure VPN and you just want a safe VPN that can encrypt your private data when you connect to public wi-fi networks, I would definitely recommend that you put this VPN to use.
Otherwise, I would recommend that you check out a top-rated VPN like NordVPN for lower prices and a lot more value.
| Features | Details |
| --- | --- |
| Number of countries with servers | 25 |
| Number of servers | 30 |
| Does VPN keep logs? | No |
| Does VPN include a kill switch? | No |
| Number of devices per license | 1 |