NordVPN vs ProtonVPN Comparison – Which Is Best for You in 2020?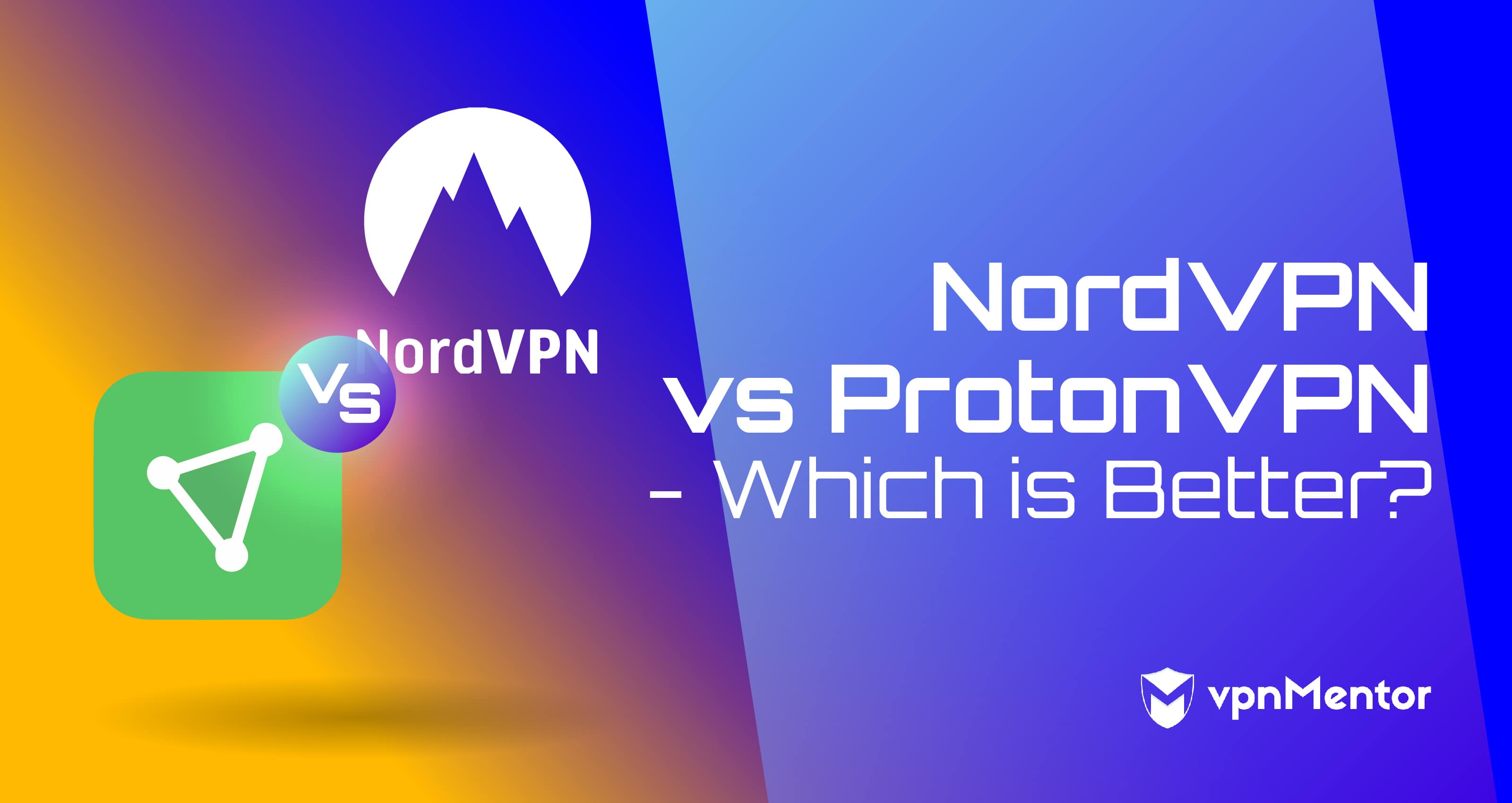 NordVPN and ProtonVPN are two providers with an extensive focus on security, but plenty of extra value as well. Which one is the better pick?
The answer to this question isn't as simple as NordVPN fans would think. Although NordVPN often finds a place in top lists and performs exceptionally well in our best overall VPN rankings, ProtonVPN makes a strong case with a polished service of its own.
To find the winner, we'll need to go deeper. In this comparison, we put NordVPN and ProtonVPN to the test in several crucial categories. Read on to find out where each of these premium VPNs is strongest, and which one offers the better all-around value.
For the full scoop on these two top-shelf providers, we invite you to check out our in-depth NordVPN review and ProtonVPN review.
NOTE: ProtonVPN has three paid plans with different features. For this comparison, we used ProtonVPN Plus, which is the most similar to NordVPN in terms of features and price.
NordVPN vs. ProtonVPN – The Categories
We based this comparison on eight essential VPN attributes.
First up are the streaming and torrenting categories, where we'll look at each VPN's ability to bypass geo-restrictions and compare P2P features.
Next, we'll compare NordVPN and ProtonVPN's price tags, user-friendliness, and platform support in the cost, ease of use, and compatibility sections.
We also conducted detailed tests to find the faster VPN on a variety of servers worldwide. Don't skip the speed category if you're interested in the end results!
Last but not least, we'll check out how these two premium VPNs fare in the server networks, privacy, and security comparisons.
So the terms are set, and the race is on! Let's see which VPN comes out ahead.
1. Streaming
It's no secret that reliable geo-spoofing is a must-have if you want access to your favorite content from anywhere.
But not every VPN service can provide consistent streaming without regional restrictions getting in the way. Can NordVPN and ProtonVPN succeed, and which one does it better?
In a promising first look, both VPNs work with a variety of popular streaming services. NordVPN has more impressive results for Netflix, granting effortless access to catalogs in the US, UK, Canada, France, Japan, and Brazil. ProtonVPN doesn't offer the same flexibility here, but accessing US Netflix shouldn't be a problem.
Other streams you can watch with either VPN include Hulu and Amazon Prime Video. NordVPN pulls even further ahead, since it can also access BBC iPlayer – something ProtonVPN failed to achieve in our tests.
In fact, you're likely to find a working NordVPN server for virtually any stream out there. There are two reasons for this: NordVPN has a truly massive network with 5,100+ servers, and it comes with a very useful feature called SmartPlay.
SmartPlay is an encrypted, smart DNS proxy which is deployed automatically when you attempt to access a streaming service with regional blocks. This not only guarantees reliable streaming on most popular sites, but also makes for a hassle-free user experience – all you need to do is choose the right country (for example, if you want US Netflix, simply connect to a US server).
Compared to NordVPN's streaming capabilities, ProtonVPN falls behind. It doesn't have any standout features for better access, and offers much less variety in servers and locations.
2. Torrenting
Both NordVPN and ProtonVPN allow P2P connections and file sharing, with a similar approach. You'll find special servers for torrenting in either VPN's apps.
NordVPN is the easier service from the get-go with its dedicated P2P tab.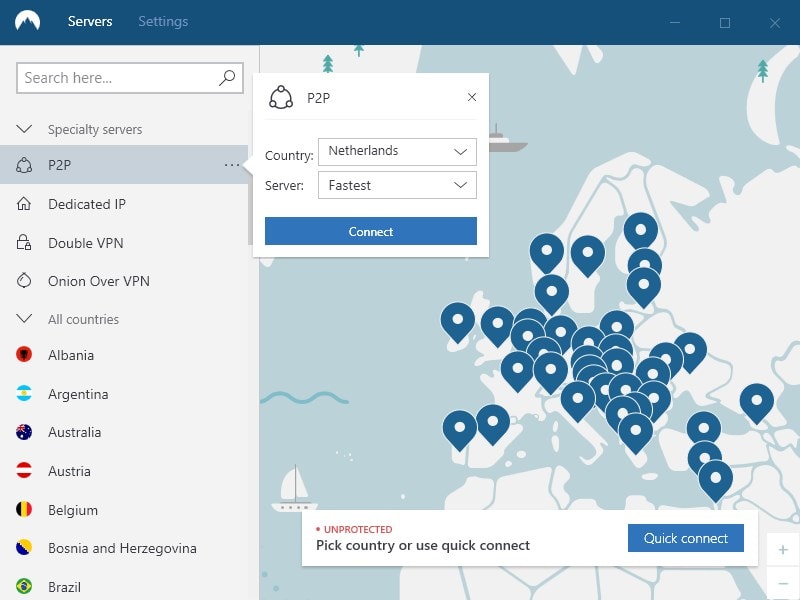 ProtonVPN doesn't have a premade P2P profile, but you can set up your own in just a few seconds. Overall, it does the same job as NordVPN, but you'll need to make an extra effort to add the profiles you want.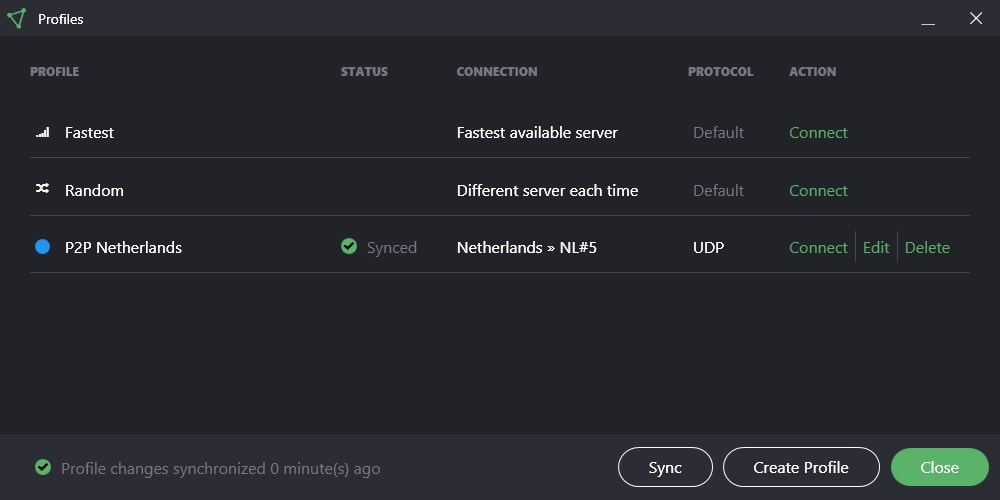 It's also worth noting that ProtonVPN doesn't give you many P2P servers. Currently, you can choose from 69 in Australia (4), the Netherlands (16), Singapore (20), and Sweden (16). These numbers are a little disappointing, and the lack of any P2P locations in the Americas/Eastern Europe may be a problem for users in these regions.
NordVPN is much more impressive with close to 4,400 P2P servers in 45 countries. No matter where you live, you're likely to find a suitable server that's very close to your physical location – highly important if you want the best performance out of your VPN.
You also get SOCKS5 proxy support with your NordVPN subscription. These proxies are configured in your torrent client and usually deliver better speeds, which is why many avid torrent fans enjoy having them.
ProtonVPN doesn't come with SOCKS5 proxies, but it does offer split tunneling. With this feature, you can customize the VPN specifically for P2P by whitelisting your torrent client. That said, you can't have split tunneling and the kill switch enabled at the same time, so it's not the ideal thing to do when downloading torrents.
3. Cost
When you look for a VPN, the price tag is usually a driving factor. Can ProtonVPN finally take the win from NordVPN in this category?
If you're in the market for a short-term service, it might just do that. A month of ProtonVPN Plus is roughly 16% cheaper than NordVPN, but make no mistake – monthly plans are rather pricey across the board. If you're looking for a good deal, you should definitely look at longer plans.
This is where things change. Compared to ProtonVPN's flat 20% discount on yearly subscriptions, NordVPN stands out at 41% off. This makes the annual NordVPN plan almost 13% cheaper than the ProtonVPN alternative.
The good news for NordVPN users doesn't end here. You can also subscribe for two years, which nets you a sweet 58% discount. But even more impressive is the three-year plan – you can get it with one of our special coupons and reduce the final price by a whopping 70%! With some quick math, you'll find that three years of NordVPN ends up just slightly more expensive than one year of ProtonVPN Plus.
4. Ease of Use
The NordVPN and ProtonVPN apps are a joy to use. You won't have any trouble with either service, but we're here to find the better one. Let's take a closer look.
NordVPN looks sharp and clean on all platforms. The mobile apps are more compact, but the desktop version are also easy to use. The Quick Connect button is there if you'd rather let the VPN find an optimal server. If you want to choose one manually, that's easy too, just take your pick from the convenient server list on the left.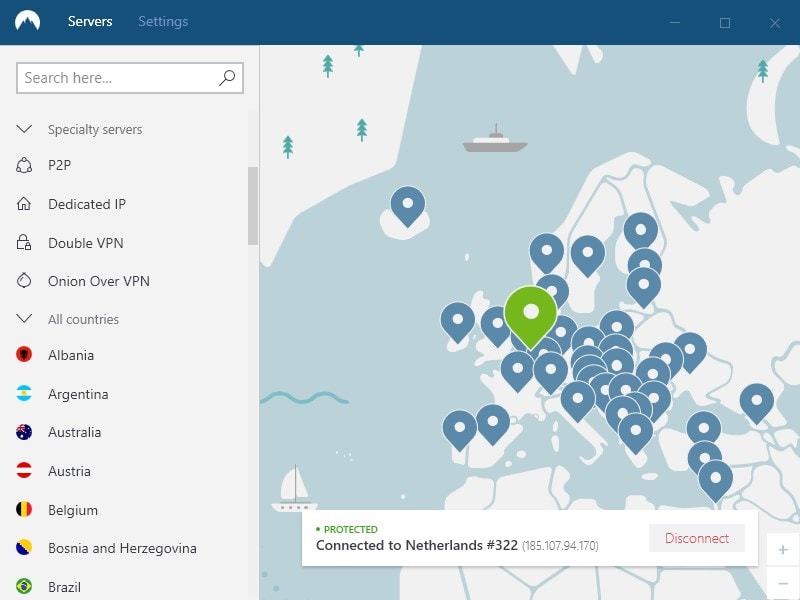 ProtonVPN is almost identical in terms of functionality, as you can see from the screenshot below.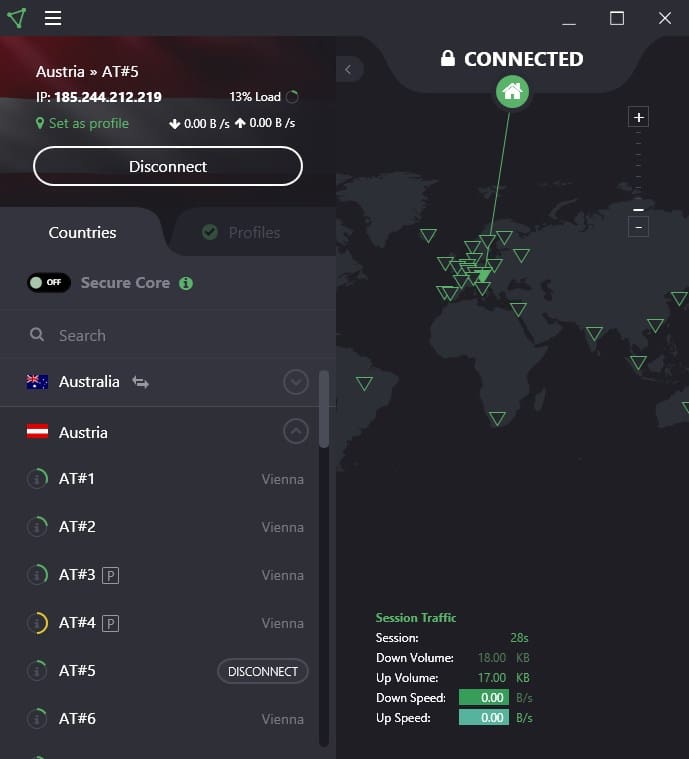 A noteworthy difference is the Profiles tab, which we mentioned earlier.  With this additional tab, you can tailor ProtonVPN to your needs by creating separate profiles with specific protocol, country, and server settings.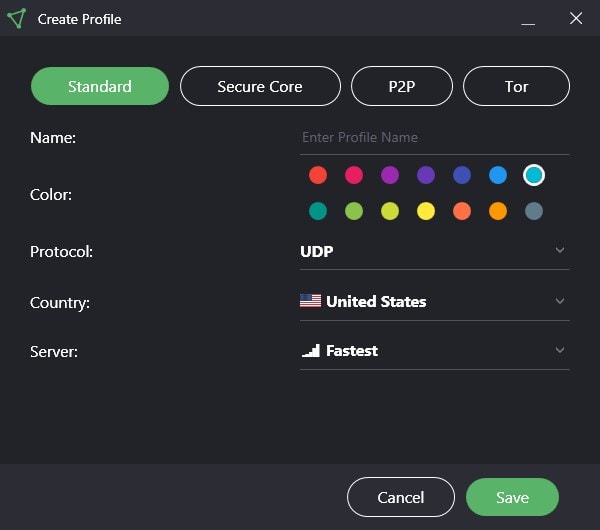 Both VPNs provide server load info, so it's easy to avoid crowded servers – admittedly more so with NordVPN, due to its advantage in sheer numbers over ProtonVPN.
Access to settings is straightforward – exactly what you'd expect from either VPN. NordVPN puts all settings (even advanced features) in the General tab.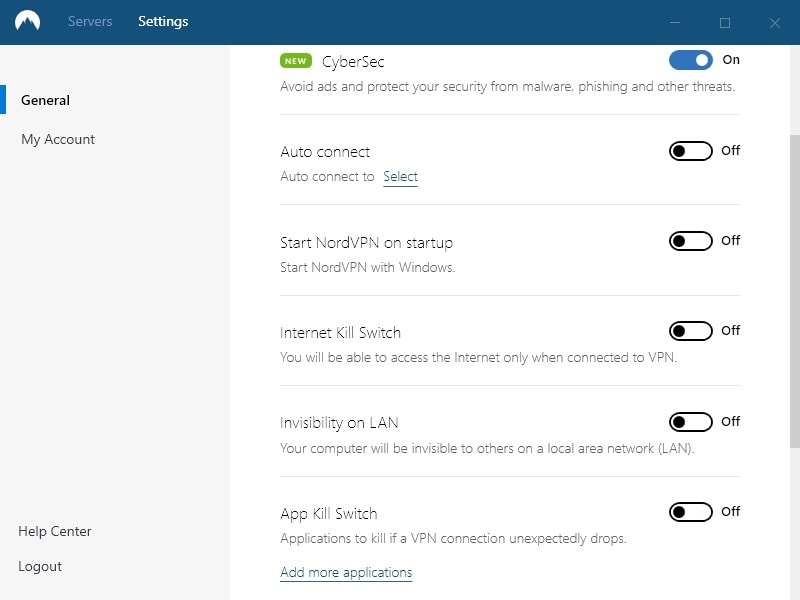 ProtonVPN takes a slightly different approach, dividing settings into General, Connection, and Advanced tabs.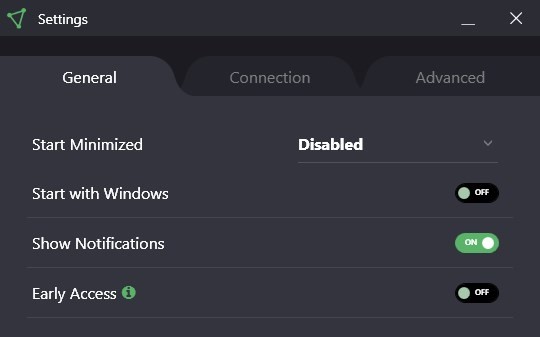 If you aren't interested in the extra functionality offered by the apps, both VPNs provide OpenVPN config files for manual setups. You can find them once you log in to your account.
5. Compatibility
Both NordVPN and ProtonVPN support a wide range of platforms and operating systems. Is there a clear winner in this category?
You guessed it – we need to take a deeper look.
Windows
Both VPNs require Windows 7 and above for their apps. If you're still running XP or Vista for some reason, you can run either service with a manual configuration – helpful tutorials included!
Mac
NordVPN's app support on macOS starts from version 10.10 (Yosemite). ProtonVPN isn't as flexible – you'll need at least macOS 10.12 (Sierra).
Android
NordVPN should work with anything from Android 4.0 and above. In order to use ProtonVPN on your Android device, make sure it's running at least version 4.4.2.
Both VPNs can be installed on your Android TV. That said, NordVPN offers the more polished app – ProtonVPN feels like an afterthought on TV.
Lastly, you can get the raw APK files directly from either provider. NordVPN has them readily available on the website, which is an advantage over ProtonVPN, which requires a ticket to support before you get a link to the latest version.
iOS
To run NordVPN on your iPhone or iPad, you'll need at least iOS 9.0. Again, ProtonVPN is just slightly pickier, with iOS app support starting from version 10.0.
Linux
ProtonVPN is more versatile on Linux, with detailed instructions for Ubuntu and Fedora, as well as Arch Linux and Manjaro. NordVPN's offering is centered around Debian, which makes overall Linux support rather limited.
Routers
Both VPNs can be installed on routers. If you're in the middle of setting up a VPN router, you'll find great tutorials for DD-WRT and Tomato. NordVPN takes the lead with support for some additional firmware.
If you're okay with spending extra cash on a pre-flashed router, NordVPN includes this option. ProtonVPN doesn't offer any preconfigured routers, whether directly or via third-party vendors.
Other Platforms
NordVPN works on the following additional platforms:
Browser extensions (Chrome, Firefox, Opera, Safari, Internet Explorer)

Blackberry

Kodi

Media and gaming consoles (via router)

Smart TVs (via router)
ProtonVPN doesn't explicitly support any additional platforms.
6. Speed
For all the benefits of encryption, there's one potentially frustrating drawback – slower speeds.
With that in mind, it's very important to have a fast VPN. Not just for bragging rights, but so you can actually continue browsing, streaming, and downloading without a hassle. And not just fast on some servers; you should be looking for consistent results in every server country that's relevant to you.
We're happy to help you out on that.
We tested NordVPN and ProtonVPN on 10 servers around the world, from a location in Eastern Europe. Here are our benchmark results (no VPN):

The table below shows how the two VPNs performed in each of our tests.
Server
Download speed (Mbps)
Upload speed (Mbps)
NordVPN
ProtonVPN
NordVPN
ProtonVPN

Auto (closest)

70.05
68.09
32.61
28.18

Romania

55.90
N/A*
34.15
N/A*

Germany

63.95
56.89
34.53
30.80

United Kingdom

53.72
45.49
24.44
23.22

Portugal

33.93
4.09
30.00
5.62

Israel

34.52
14.78
11.62
15.86

United States (New York)

54.35
38.50
27.61
17.31

United States (Los Angeles)

51.12
14.84
7.77
15.39

Japan

28.09
17.17
2.02
2.00

Australia

24.56
17.51
1.97
1.53
*ProtonVPN currently doesn't offer any servers in Romania.
The big takeaway – NordVPN is consistently fast on all servers, even if the Portugal and Israel results could be better. Of course, the numbers become smaller over longer distances, but they're still impressive even on faraway servers like Japan and Australia. Keep in mind your results will likely be better if you're closer to these countries.
The real highlight is NordVPN's performance on US servers. Our test location is thousands of miles and one ocean away from New York and Los Angeles, but an overall decrease of 25% and 29% (respectively) is more than acceptable.
Things aren't looking as great for ProtonVPN, despite a strong start. It really drops the ball in Portugal (94% decrease) and Israel (80% decrease). The servers in the US, Japan, and Australia delivered functional speeds, but nothing special.
Is ProtonVPN slow, then? As a whole, not really. But when compared against NordVPN, the difference is plain to see.
7. Servers and Network
If you're looking for thousands of servers and a long list of available locations, only one of the two VPNs in this comparison can provide this combination.
It's NordVPN. Here's a breakdown of its 5,100+ servers:
4,600+ Standard servers (4,400 of which allow P2P)
460+ Obfuscated servers
30 Double VPN servers
3 Onion-over-VPN servers
70+ Dedicated IP servers (optional extra)
This is one of the biggest server networks in the industry. What's more, you can choose among 60 countries. In other words, NordVPN's offering here is very hard to beat.

Truthfully, ProtonVPN is completely outclassed here. Normally, 400 servers and 33 countries don't sound like a bad deal – but they pale in comparison to NordVPN's massive server park and location variety.

To put things in perspective, NordVPN has 1693 servers in the United States alone at the time of this writing. That's four times more than ProtonVPN's entire server park.
Still, ProtonVPN comes with some neat specialty servers of its own. These include the 69 P2P-optimized servers we mentioned earlier, as well as 33 Secure Core (double-hop) servers and 3 Tor-compatible options in Hong Kong, Switzerland, and the US.
8. Privacy and Security
This category will probably be the most heavily contested one yet, and here's why:
NordVPN has bulletproof encryption, a spotless privacy record, and an independent Big Four audit confirming all of the above.
ProtonVPN, on the other hand, was created by the same people behind ProtonMail – an open source, encrypted email service that also happens to be the largest in the world – with one main purpose. Security.
So yet again, it's the tiniest of details that will decide the winner.
Logging Policy
Both VPNs operate under a strict zero-logging policy, backed by favorable jurisdictions: NordVPN is based in Panama, and ProtonVPN operates out of Switzerland. The good thing about these two countries is that data retention laws are either nonexistent (Panama) or not enforced at all (Switzerland).
Another important aspect for the privacy-conscious is surveillance alliances, which frequently engage in some serious spying and share sensitive information with each other. Fortunately, neither Panama nor Switzerland are members of the 5/9/14 Eyes agreements.
In short, there isn't a clear favorite here. Great news, if you ask us.
Encryption and Protocols
The trend continues, as both these VPNs are at the top of their game when it comes to encryption and protocols.
NordVPN and ProtonVPN both use AES-256 encryption, which is considered unbreakable. They both offer Perfect Forward Secrecy as well, a security feature that uses dynamic encryption keys instead of static ones.
Protocol support is another area where the two are identical. For both, OpenVPN is the default (and only) protocol for the Windows, Mac, and Android apps, whereas IKEv2/IPSec is used for iOS. If you'd rather have OpenVPN on your iPhone or iPad, both VPNs can be configured manually via the OpenVPN interface (third-party software).
Security Features
So far, NordVPN and ProtonVPN could very well be the same service, as far as privacy and security go. Surely there have to be some differences?
Yep, there are. While both VPNs cover the essentials with ease, NordVPN is the better-equipped service with advantages that include ad and malware blocking (thanks to the proprietary CyberSec suite), two different kill switches, and DNS leak protection with the option of using custom DNS settings.
ProtonVPN also provides the must-have kill switch, but unlike NordVPN, there's no additional kill switch for specific apps. DNS leak protection is also included, but you're limited to  ProtonVPN's DNS addresses, with no option of typing in your own.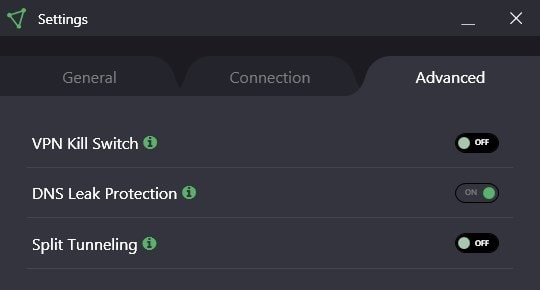 On the upside, ProtonVPN offers the Auto Connect feature and allows extra customization for the Quick Connect button.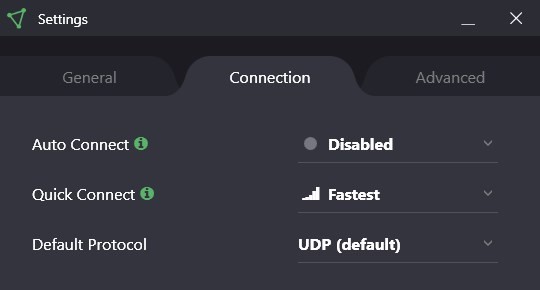 Both VPNs let you easily switch between OpenVPN UDP and TCP. OpenVPN UDP usually gives you better speeds, but it may sometimes be detected and blocked by a firewall, in which case you'll need to change to OpenVPN TCP.
Speaking of firewalls, NordVPN is one of the best choices for bypassing the Great Firewall of China. Thanks to its special Obfuscated servers, this VPN is well prepared to deal with strict internet censorship. Keep in mind that enabling the stealth settings changes the NordVPN app completely, and you'll have access only to the Obfuscated servers until you disable them.
ProtonVPN, on the other hand, struggles with reliable access from China. It doesn't have any advanced obfuscation settings or servers, but some users have reported success with manual configurations using the OpenVPN interface.
9. Final Verdict
In the end, it's a clean sweep for NordVPN. ProtonVPN is a respectable opponent, but can't claim victory in any of our eight categories.
Simply put, whatever ProtonVPN can do, NordVPN can do better. Streaming and torrenting fans will get a lot more out of NordVPN, and for less money, too. With cheaper long-term plans, faster overall speeds, and a serious advantage in servers, NordVPN doesn't leave any room for the challenger to shine.
Don't get us wrong – ProtonVPN is more than decent on its own. Privacy and security are on point, and the stylish, intuitive apps will surely win over plenty of users.
But ultimately, why would you choose a provider that offers less value at a higher price? ProtonVPN needs to step it up and improve some key aspects of its service if it wants to beat NordVPN anytime soon.