NordVPN vs TunnelBear Comparison – Which is Best for You in 2020?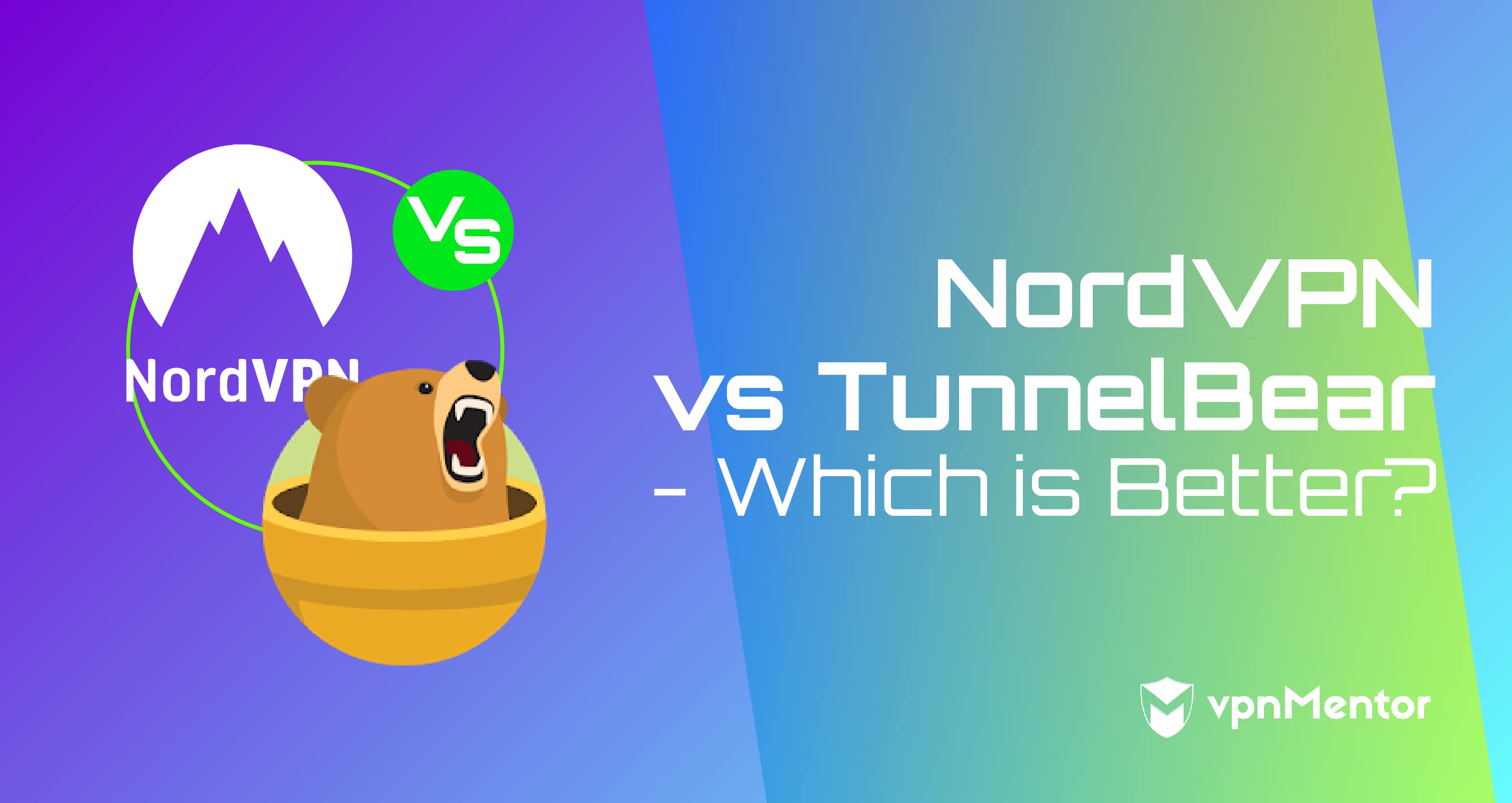 NordVPN and TunnelBear are two very popular and reputable VPN services, but for different reasons.
When we're talking about leaders on the market, NordVPNalways finds a spot at the top – our best overall VPN rankings are no exception.
On the other hand, TunnelBearis known for its free version – one of the best out there, thanks to a generous VPN package that doesn't compromise your privacy.
That said, TunnelBear also offers a paid version, bringing it closer to the competition with unlimited bandwidth and other extras. Does it have what it takes to beat NordVPN's impressive mix of servers, security features, and intuitive apps?
We're about to find out! In this detailed comparison, TunnelBear goes up against NordVPN in several crucial categories, which will determine the final winner.
For more in-depth information on each VPN, we invite you to check out our NordVPN review and TunnelBear review.
NordVPN vs TunnelBear – The Categories
We based our comparison between NordVPN and TunnelBear on eight key VPN aspects.
First off, we'll take a closer look at each VPN's potential for streaming and torrenting.
Next up are cost and ease of use. In these two categories, we'll see which VPN offers the better deals and/or app interface.
The compatibility section is where you'll find the finer details of NordVPN and TunnelBear's platform support.
If you're mainly interested in how many servers each VPN has, and how fast they are, don't skip the speed and server network categories.
Last but not least, we'll talk about privacy and security. Here, you'll see how TunnelBear stacks up against NordVPN when it comes to logging policies, encryption standards, and useful security features.
Now that you know what to expect from our comparison, it's time to get started. Let's see how NordVPN and TunnelBear fare in the various tests we've prepared for them!
1. Streaming
Unfortunately, the best streaming sites and services out there are getting better and better at detecting VPNs.
This means you need a dependable provider with the resources (and desire) to stay one step ahead of the increasingly challenging geographical restrictions and blocks.
NordVPN is one of those providers. Thanks to the proprietary SmartPlay feature and a truly massive network of 5,100+ servers in 60 countries (more on that later), this VPN is one of the most reliable picks for hassle-free streaming.
SmartPlay kicks in automatically when you attempt to access normally restricted content – such as region-exclusive Netflix catalogs. During our extensive Netflix tests, we were able to watch the US, UK, Canadian, French, Japanese, and Brazilian versions with ease.
Netflix isn't the only platform where NordVPN helps you out, though. You have plenty of suitable servers for Hulu, BBC iPlayer, HBO, Showtime, Amazon Prime Video, and many others.
In short, NordVPN is easily among the best services to choose if you're a fan of streaming. Most VPNs can't beat this versatility, as is the case in this comparison.
TunnelBear struggles with most streaming sites and services. At best, Netflix access is a gamble – the US version is blocked most of the time, and the same goes for other regional catalogs.
The only platform we could watch smoothly was HBO. Others, like Hulu, Amazon Prime Video, and BBC iPlayer, remained off-limits with TunnelBear.
With a noticeably smaller network and far fewer countries to choose from, TunnelBear doesn't offer the same server variety as NordVPN. There aren't any special streaming features to speak of, either.
2. Torrenting
Before looking deeper into torrenting VPNs, you must first make sure they fully allow P2P networking.
NordVPN doesn't leave you wondering for too long. You can quickly find the reassurance you're looking for on the website: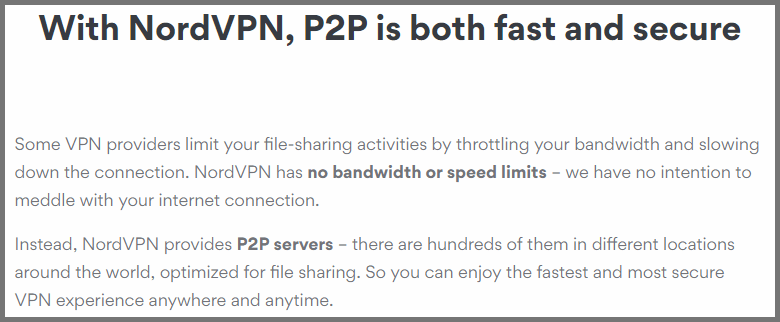 There's just one issue we have with the information above. NordVPN doesn't offer hundreds of P2P servers – it offers thousands of them. Over 4,400 in 40+ countries, to be precise.
Even better, they're neatly organized in a special P2P tab, so you don't have to scroll through the long list to find suitable options.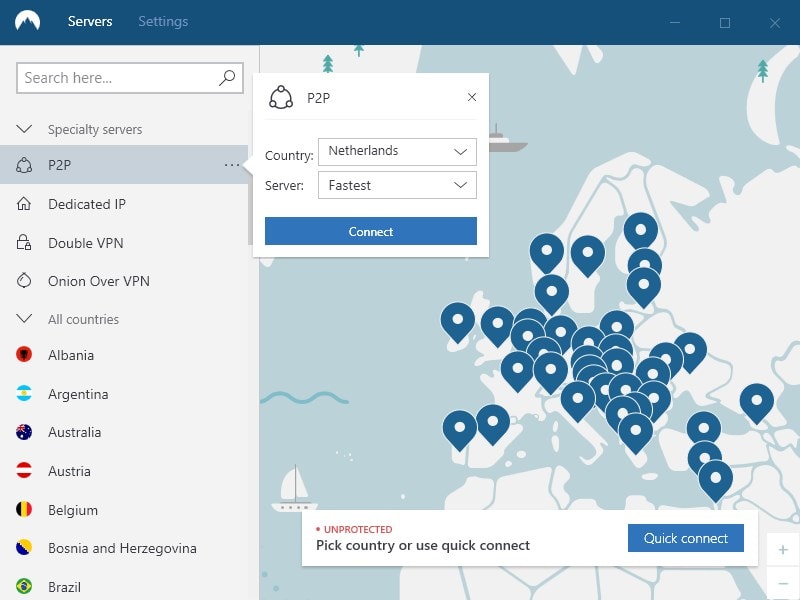 NordVPN also includes SOCKS5 proxies with your subscription. These are separate from the VPN apps, and require you to configure them manually within your torrent client. On their own, SOCKS5 proxies trade encryption for (usually) faster speeds, but you can use them together with your NordVPN app for an extra layer of protection.
While NordVPN doesn't mind being open about its P2P support, TunnelBear is much more hesitant to announce this. Worry not – nowadays, this VPN also allows P2P connections and file sharing, but you won't find it mentioned anywhere on the website or within the apps. Not ideal, especially since TunnelBear used to block P2P traffic in the past.
Needless to say, it's a little inconvenient when you have to ask customer support for confirmation:

Moving on, TunnelBear just doesn't offer the same level of depth as NordVPN in this category. Without a dedicated profile or features for torrenting, this VPN is simple to use during P2P sessions – perhaps too simple for some.
If you're an avid BitTorrent fan, the word "should" isn't what you want to see. After all, you aren't in the market for a VPN that "should" work, but one that guarantees secure and anonymous torrenting at all times.
3. Cost
So far, NordVPN hasn't given any room for TunnelBear to shine. Let's see if things are different when it comes to price tags.
First off, let's get one thing out of the way – yes, TunnelBear has the obvious advantage of providing a free version. It comes with a 500 MB/month data cap, which you can increase by an additional 1 GB if you tweet at the TunnelBear team. You also get the full range of servers and ad-free apps – not bad at all.
That said, we are comparing TunnelBear's paid version here. Even though having a free option is great, it won't earn it any extra points in this category as it's not the full-fledged VPN service.
Both NordVPN and TunnelBear offer monthly and yearly subscriptions. You get the same package across the board with either VPN, but longer plans come with some sweet discounts.
One month of TunnelBear is approximately 17% cheaper than NordVPN. This isn't such a big difference, especially when you take into account NordVPN's extra value for money.
Paying for either VPN by the month is relatively pricey. Bargain hunters should check out the one-year plans, where NordVPN and TunnelBear shave off 41% and 50% (respectively) from the final price. But even here, TunnelBear is the cheaper pick.
NordVPN isn't finished just yet. It becomes much more affordable on the two- and three-year plans – the best part is you can save 70% on your NordVPN subscription with our coupon!
Compared to TunnelBear's best offer, two years of NordVPN will be roughly 20% cheaper in the long run. It gets even better with the three-year deal – you'll pay 30% less.
Lastly, NordVPN comes with a full-satisfaction, 30-day money-back guarantee on all available plans. TunnelBear has a no-refunds policy, but its free version is good enough to run some tests and make a decision before subscribing.
4. Ease of Use
As two of the most popular VPN providers out there, NordVPN and TunnelBear have put in the extra effort to design brilliant, user-friendly apps. And it shows.
A common theme with both VPNs is the clean, intuitive interface. On desktop, NordVPN provides a little more information – you can see your newly-assigned IP address, as well as the full server list on the left side of the app. Server load info is also included, so you can easily avoid crowded servers.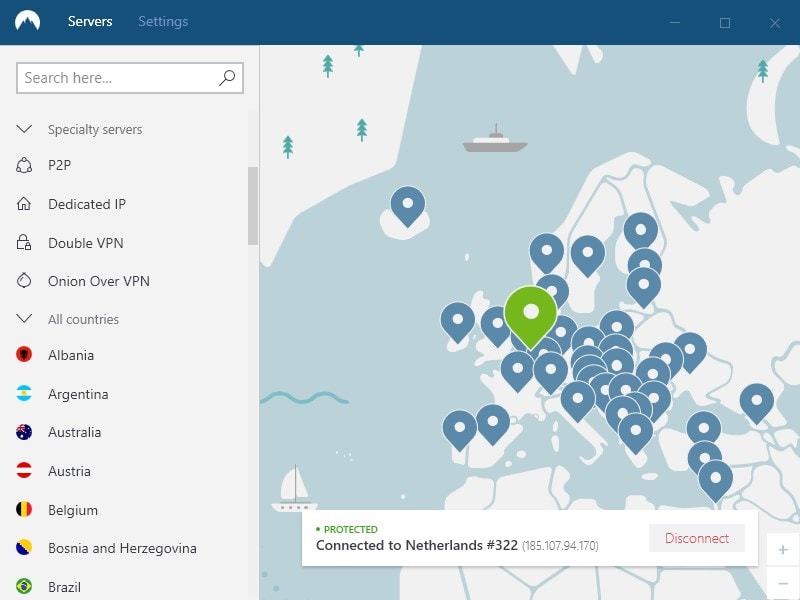 If you like to keep things compact, you can also right-click the NordVPN app in your system tray and quickly connect to recent or preferred servers.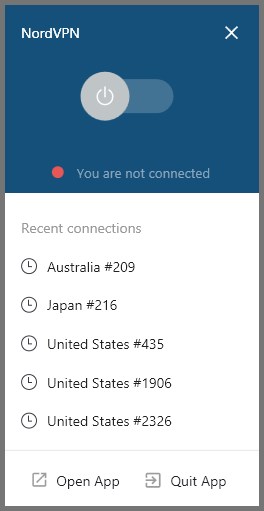 Access to the various settings and features couldn't be easier – simply open the Settings tab, and you'll be looking at everything NordVPN has to offer.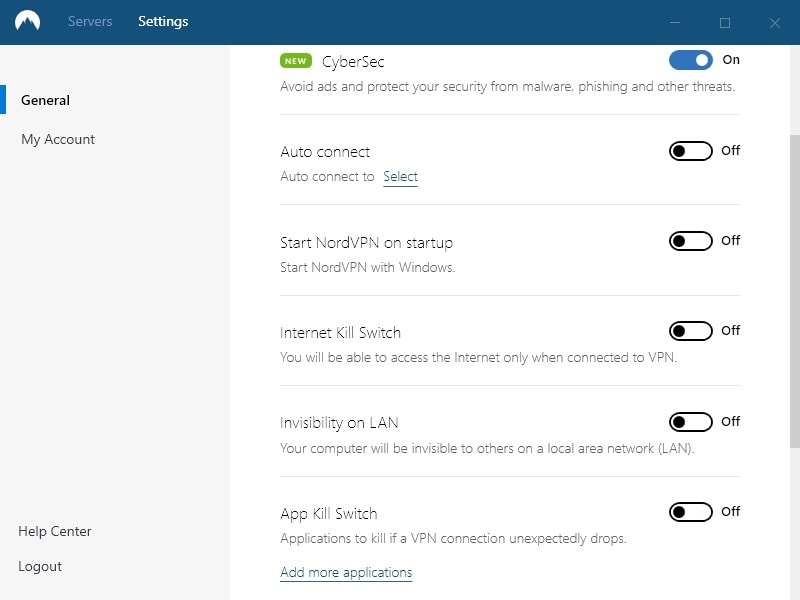 TunnelBear's desktop app is more modest, but just as straightforward. Like with NordVPN, you get a quick-connect button and a pretty server map. Granted, it's a little emptier, but you get a tiny tunnel-digging bear! It's not pictured below, but it's there, we promise.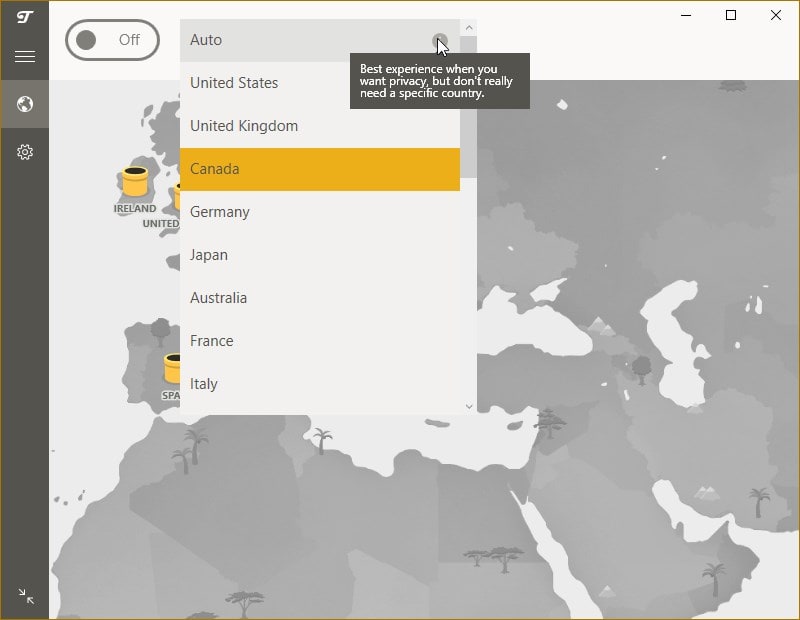 Sadly, cuteness doesn't offset TunnelBear's limitations when compared against NordVPN. The big difference is how server selection works.
NordVPN allows you to pick servers and regions with precision, in addition to automatic connections. With TunnelBear, you don't have the same luxury – you can choose a country or let the VPN do that for you, but servers are always handled by the software.
On the upside, settings are just a click away – same as with NordVPN. TunnelBear divides them into three tabs — General, Network, and Security. The Account "settings" simply have info about your subscription, so we wouldn't put them in the same group.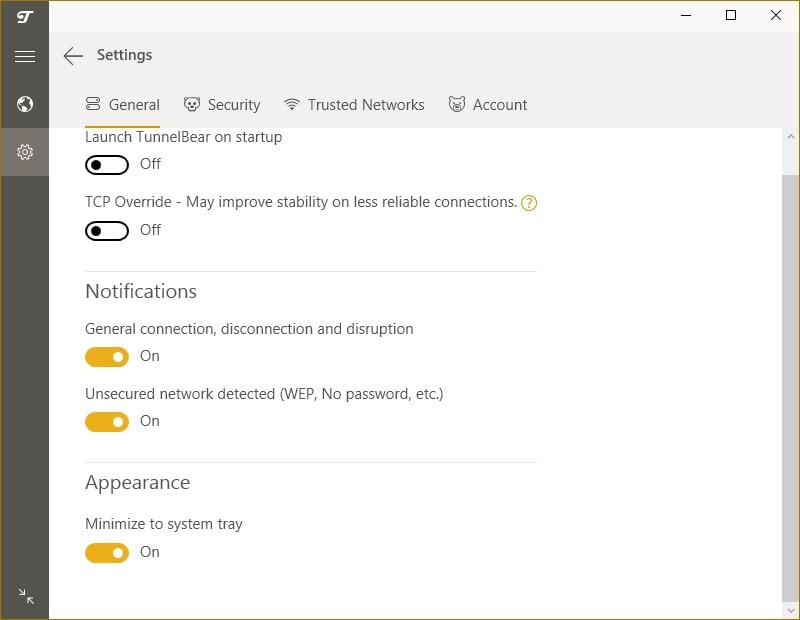 One last thing. Some users prefer their own custom setups, whether out of necessity or personal preference. NordVPN lets you do this by providing the required configuration files on its website. TunnelBear, however, doesn't – it's either the apps or nothing with this VPN.
5. Compatibility
On major platforms, you won't find a difference in either VPN's compatibility. NordVPN and TunnelBear have native apps for Windows, Mac, Android, and iOS. Both give you plenty of simultaneous connections as well – five for TunnelBear, and six for NordVPN.
Let's take a closer look at overall platform support.
Windows
In order to use NordVPN and TunnelBear's Windows apps, you'll need at least Windows 7. NordVPN also has instructions for manual setups on the older XP and Vista operating systems. As we already mentioned, TunnelBear doesn't support manual configurations.
Mac
No differences here – NordVPN and TunnelBear require at least macOS 10.10 (Yosemite) for their apps.
Android
Android app support for both VPNs starts from the Jelly Bean platform. TunnelBear requires version 4.1 and above.
NordVPN's app is also fully functional on Android TVs; this isn't the case with TunnelBear.
If you want to download the APK files for the Android app directly, NordVPN lets you do so from the website. Your only option with TunnelBear is a trip to Google Play.
iOS
Again, both VPNs are identical – iOS 9.0 is the oldest supported version by their apps.
Linux
NordVPN has helpful setup tutorials for Ubuntu and Debian. TunnelBear is slightly different, with support for Ubuntu and Fedora distributions.
Linux doesn't seem to be the focus of either VPN. Technically, NordVPN and TunnelBear should work with a variety of distros, but overall support is rather limited on this OS.
Routers
NordVPN returns to form with flexible router setups. Supported firmware include the popular DD-WRT and Tomato, as well as several other types.
Detailed instructions are also included, in case you're setting up a VPN router by yourself.
Pre-flashed routers are an option with this VPN as well – you can buy one from third-party vendors.
TunnelBear can't be configured with routers, which is an obvious drawback compared to NordVPN.
Other Platforms
NordVPN works on the following additional platforms:
Browser extensions (Chrome, Firefox, Opera, Safari, Internet Explorer)

BlackBerry

Kodi

Media and gaming consoles (via router)

Smart TVs (via router)
TunnelBear supports the following additional platforms:
Browser extensions (Chrome, Firefox, Opera)
6. Speed
By definition, VPNs slow your connection down. All the encryption and server hopping has to come at the expense of something, right?
That said, you don't want your VPN to slow you down too much, as this can have a negative impact on your browsing. Ideally, you want the numbers to remain as high as possible – but you also need consistent performance on your regular servers.
To find the faster VPN in this comparison, we tested NordVPN and TunnelBear on several of their servers around the world. Our test location was in Eastern Europe; the table below is arranged from the closest to the most distant server.
Here are our benchmark results (no VPN):

And here's how NordVPN and TunnelBear scored in our tests:
Server
Download speed (Mbps)
Upload speed (Mbps)
NordVPN
TunnelBear
NordVPN
TunnelBear

Auto (closest)

70.05
17.38
32.61
29.84

Romania

55.90
60.38
34.15
30.55

Germany

63.95
63.20
34.53
31.29

United Kingdom

53.72
9.12
24.44
34.49

Portugal

33.93
N/A
30.00
N/A

Israel

34.52
N/A
11.62
N/A

United States (New York)

54.35
8.34
27.61
18.12

United States (Los Angeles)

51.12
N/A
7.77
N/A

Japan

28.09
11.81
2.02
5.97

Australia

24.56
3.60
1.97
0.36
*TunnelBear doesn't have servers in Portugal and Israel. We also connected to East Coast servers in all of our US tests – since we couldn't pick specific servers, we assume TunnelBear doesn't have any servers on the US West Coast.
As you can see from the table, TunnelBear is off to a shaky start. Automatic server selection should connect you to the closest available server, but that doesn't necessarily mean you'll get the best speeds – especially if servers are less powerful in some countries.
We aren't saying this is the case with TunnelBear (they are rather secretive about their server network), but the results strongly suggest so.
TunnelBear bounces back in the Romania and Germany tests, but the good news for this VPN end here.
Download speeds are crucial for streaming, torrenting, and even casual browsing. While TunnelBear delivers acceptable all-around upload speeds (with one serious exception), it's remarkably sluggish in the UK, US, Japan, and Australia.
Meanwhile, NordVPN blazes through each and every test. Sure, the servers in Portugal and Israel aren't too fast relative to the rest of its results, but TunnelBear doesn't even offer these countries.
7. Servers and Network
Throughout this comparison, we've brought up NordVPN and TunnelBear's servers here and there. Now it's time to take a look at the finer details.
As you can probably guess, TunnelBear is hopelessly outmatched. Normally, 22+ countries doesn't sound too bad for an affordable VPN, but the competition is way too strong.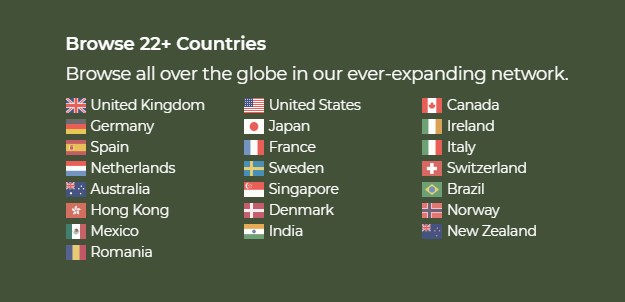 NordVPN takes a massive lead, with almost three times as many countries and a total of 5,100+ servers. With stronger presence on every continent, this VPN is not only faster, but more flexible as well.

It's not just the numbers, though. NordVPN provides much more depth, with five specialty server types. Here's a full breakdown:
4,600+ Standard

servers (4,400 of which allow P2P)

460+ Obfuscated

servers

30 Double VPN

servers

3 Onion-over-VPN

servers

70+ Dedicated IP servers (optional extra)
We're repeating ourselves, but not having access to the actual servers can also be extremely frustrating. Casual users – the crowd TunnelBear is clearly targetting – probably won't see this as a huge problem.
However, switching servers can be very beneficial in many different situations. Examples include avoiding overloaded servers, finding suitable options for streaming, or fixing performance issues. This is another advantage of NordVPN in this category.
8. Privacy and Security
NordVPN and TunnelBear take the privacy of their users very seriously.
Both VPNs go to great lengths to keep you safe online. Between the tight no-logging policies, bulletproof encryption, and essential security features, hackers and snoopers are kept away with great success.
Both VPNs have also undergone independent security audits, which confirm all of the above.
To find the winner, we'll need yet another deep dive.
Logging Policy
NordVPN and TunnelBear are based in Panama and Canada, respectively.
As far as jurisdiction goes, NordVPN operates in a very favorable climate for VPN providers. Panama doesn't have mandatory data retention laws – or any other potentially dangerous legislation.
Canada takes a rather concerning (for the average citizen) stance on some matters related to online freedom. Still, data retention laws aren't an issue for VPN providers in this country, either.
But unlike Panama, Canada is a founding member of the Five Eyes alliance. This means it's part of several agreements on exchanging digital data between participating countries – which often includes sensitive user information.
Is this a huge problem? If you're privacy-conscious, it can be. Keep in mind TunnelBear has flawlessly upheld its claims of zero data logging so far, giving us no reason to doubt this provider.
That said, if you want that extra peace of mind, NordVPN may be the better choice.
Encryption and Protocols
NordVPN and TunnelBear are almost identical here.
Let's start with the encryption standard. Both VPNs implement AES-256 across the board. As the name suggests, this is 256-bit encryption – widely used in most premium VPN services due to the unbreakable security and small overall impact on speeds.
Perfect Forward Secrecy is also utilized by NordVPN and TunnelBear. In short, this means that dynamic encryption keys are used for extra security, instead of static ones.
For protocols, you get the industry-standard OpenVPN on either VPN's Windows, Mac, and Android apps. On iOS, both VPNs use the IKEv2/IPSec protocol. Again, NordVPN is a little more flexible, as it allows manual OpenVPN setups via third-party interfaces.
Security Features
NordVPN's arsenal of features is one of its biggest strengths.
Here, you'll find built-in ad-blocking and anti-malware protection, thanks to the proprietary CyberSec suite.
The list goes on with two separate kill switches – one for your entire connection, and another for specific apps.
You also get advanced DNS leak protection, with the option to use custom DNS addresses.
Compared to this powerful combination of security features, TunnelBear is a little lacking.
There's no DNS leak protection, although the VPN was leak-proof in our tests. Ad blocking doesn't come natively, either – you'll have to install the TunnelBear Blocker extension for that, and even then, it's only available on desktop.
In other words, the TunnelBear security settings look rather empty. That said, you do get the must-have connection kill switch and one other very important (for some) tool.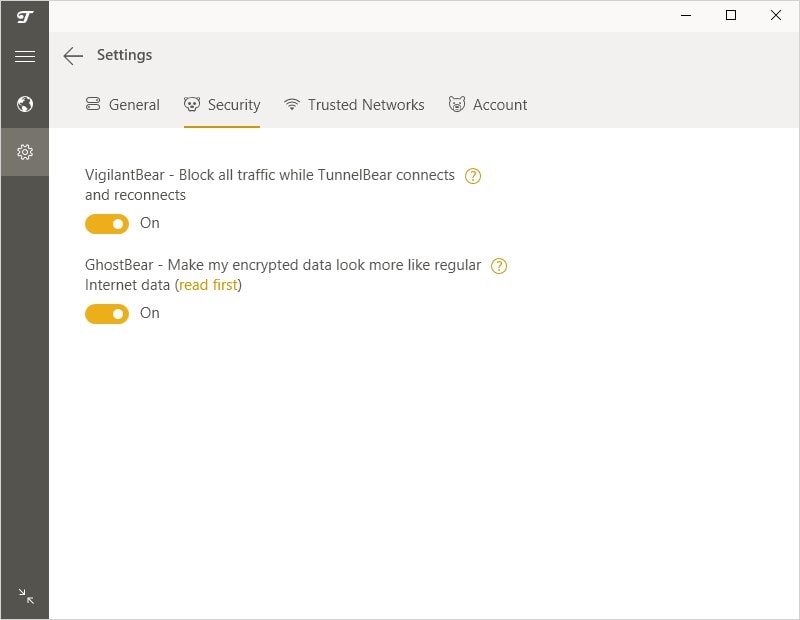 The GhostBear feature is TunnelBear's answer to strict online censorship. It's designed to provide additional obfuscation for users in countries with heavy internet restrictions. This makes TunnelBear one of the few VPNs that still work reliably in China.
NordVPN is also part of this exclusive club. Enabling the Obfuscated servers allows you to bypass the Great Firewall, but keep in mind you won't have access to the standard servers until you disable this mode.
Overall, a strong showing for NordVPN and TunnelBear here.
9. Final Verdict
It goes without saying that NordVPN and TunnelBear haven't exactly been equal opponents in this comparison.
NordVPN earns a deserved victory in all eight of our categories. It's the better all-around service in every aspect, and although a strong case can be made for TunnelBear in a few sections, this VPN falls behind in the end.
Currently, TunnelBear just doesn't add enough value on its paid version to justify a price point that's in the same range as NordVPN. You could probably tolerate shaky speeds and a less developed server network on a free VPN, but things should improve when you start paying for premium levels of performance. Not here, it seems.
We have to give credit where it's due – TunnelBear provides spotless privacy and security, as well as sharp desktop and mobile apps. But so does NordVPN, in addition to thousands of fast servers, effortless streaming, and great P2P support.
All this makes NordVPNthe undisputed winner in this comparison.