How to Use WhatsApp in China in 2023 (Safe and Easy)
The Great Firewall of China blocks many apps and websites, including WhatsApp, most probably because its contents can't be easily monitored. The government restricts internet traffic using a method called deep packet inspection (DPI) to filter out and block unwanted online activities. Luckily, there is a workaround for this.
Even though WhatsApp is banned in China, a good VPN can unblock it without compromising your safety. A virtual private network encrypts your internet activity, so the Chinese government and internet service providers can't see what you're doing online. If they can't monitor your online activities, they can't block you.
However, not all VPNs work in China. I tested over 20 VPNs and found that ExpressVPN is the best since it offers special servers for use in China. It is also speedy and reliable, plus you can try ExpressVPN risk-free since it comes with a 30-day money-back guarantee. You can get a refund quickly if it doesn't meet your needs.
Quick Guide: How to Use WhatsApp in China in 3 Easy Steps
Download a VPN. I suggest ExpressVPN. It's super-fast, it's safe, and it unblocks WhatsApp reliably. You can install ExpressVPN before arriving in China or download it from ExpressVPN's mirror website afterward.
Select a server in any country, such as Japan. That encrypts your traffic, so the government and your ISP can't monitor what you do online. For the fastest speeds, choose a server closer to you.
Start using WhatsApp. Open WhatsApp and enjoy making voice and video calls and sending texts to your friends, family members, or business associates.
Why You Need a VPN to Use WhatsApp in China
China is a high-censorship country that uses a combination of laws and firewalls (nicknamed the Great Firewall of China) to control you. The firewall monitors network traffic using deep packet inspection. So, if it detects you're trying to access WhatsApp, it blocks you. Still, you can overcome these restrictions with a good VPN.
A VPN encrypts your data to keep your online activity private, so anything you do on your device remains confidential. If the Chinese government and the ISP can't see the websites and apps you're accessing, they can't block you. That way, a VPN can get past the firewall to allow access to WhatsApp.
But only a handful of VPNs are capable of bypassing the Great Firewall. To overcome these tight restrictions, a VPN needs to have strong encryption and obfuscation. Encryption makes your data unreadable, so no one can see your traffic except for the intended recipient. Obfuscation hides the fact you're using a VPN. This is crucial because China also blocks all non-government-operated VPNs and allows only the Chinese-approved ones.
Note: Even though China bans non-government-approved VPNs, there have been no cases of penalizing foreign tourists who use them. Nevertheless, my team and I do not condone using VPNs for anything illegal.
Best VPNs to Use WhatsApp in China in 2023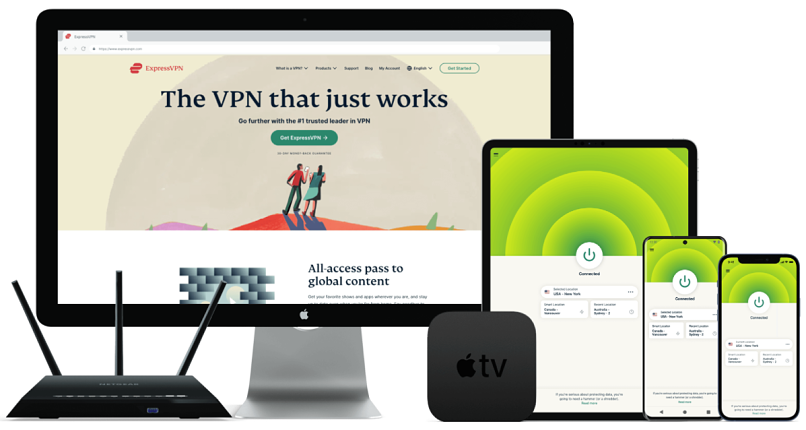 Editor's Choice
Editor's Choice

Tested February 2023
Try Risk-Free for 30 Days
Available on:
Chrome
Router
Smart TV
More
www.ExpressVPN.com
Special servers for unblocking sites and apps like WhatsApp while in China
Blazing-fast speeds
3,000 servers in 94 countries
Can unblock: WhatsApp, Viber, Skype, FaceTime, Netflix, Disney+, HBO Max, Hulu, BBC iPlayer, and more
Compatible with: Windows, Mac, iOS, Android, Linux, routers, Apple TV, and more
ExpressVPN has optimized servers for use in China that are based in Japan, the US, the UK, and France. It monitors the performance of these servers to ensure they work reliably in China, as confirmed by its support. I tested ExpressVPN's USA – Santa Monica server and found it unblocked WhatsApp quickly while maintaining a stable connection. I also used its server in Japan, and I got a reliable connection and had no problems using WhatsApp.
ExpressVPN's kill switch (called Network Lock) kept my connection safe all the time. If for some reason, you lose your VPN connection, this feature blocks all internet traffic until you've restored it. That way, all your private information stays safe at all times. Network Lock is usually enabled by default, so you don't need to activate it manually.
It also has built-in DNS leak protection. A DNS leak is a security flaw that allows your ISP or other entities to see the websites you visit despite using the VPN. But with this feature enabled, the firewall is less likely to block you, so you can make WhatsApp calls without worries.
ExpressVPN also has IPv6 leak protection, which prevents websites from seeing your real IP address when the VPN is connected. You can enable this added security feature in ExpressVPN's advanced settings manually, which is a good idea if you're using it in China.
One thing about ExpressVPN is that it costs a little more compared to other options, starting at $6.67/month. Still, it's worth it for its speed and ease of use. You can save on ExpressVPN depending on its active offers. Currently, its 49% discount is still available.
You can get a short or long-term ExpressVPN subscription. As with most VPNs, the longer you subscribe, the more you save. Also, you can get ExpressVPN using Bitcoin for extra privacy.
You can try ExpressVPN risk-free since it comes with a 30-day money-back guarantee, no matter which subscription you choose. To make sure it works, I tested the ExpressVPN refund policy. Getting a refund was as easy as opening the live chat window from the ExpressVPN homepage. It was a no-pressure process that only took a few minutes, and I got my money back in 5 working days.
Access WhatsApp With ExpressVPN
StealthVPN protocol to make the VPN undetectable
113 servers in 57 countries
Unlimited simultaneous device connections
Can unblock: WhatsApp, Viber, Skype, FaceTime, Netflix, Disney+, HBO Max, Hulu, BBC iPlayer, and more
Compatible with: Windows, Mac, iOS, Android, Linux, routers, Apple TV, and more
Astrill VPN's StealthVPN protocol uses obfuscation to make your VPN traffic look like regular internet traffic. Obfuscation is crucial because it stops the government and ISPs from detecting and blocking the VPN. I found that Astrill VPN's obfuscation technology works well in China, as tested by our team there and confirmed by its support.
In addition to that, as a way of getting around VPN blocks, its Smart Mode assigns you a local IP address. This technology makes it extremely difficult for authorities to spot a VPN. You can enable its Smart Mode in the settings, and then simply connect to any server you want.
Like ExpressVPN, Astrill VPN offers additional security with its VPN kill switch and IPv6 leak protection. The kill switch feature is important to ensure the Great Firewall of China doesn't detect your online activities. The VPN protected my identity from IPv6 and WebRTC leaks and provided DNS leak protection while visiting China.
Astrill VPN is a high-end product that comes with a higher price tag. However, you can get its long-term subscription for $12.50/month. If you plan to keep Astrill VPN after traveling to China, I advise you to go with the extended plan since it offers the most value for your money. If you're concerned about privacy, like ExpressVPN, Astrill VPN also accepts Bitcoin payments.
However, it doesn't offer refunds or a money-back guarantee. But through a referral, you can get a month for free.
Access WhatsApp With Astrill VPN
Proprietary anti-censorship protocol
700 servers in 70 countries
10 simultaneous device connections
Can unblock: WhatsApp, Viber, Skype, FaceTime, Netflix, Disney+, HBO Max, Hulu, BBC iPlayer, and more
Compatible with Mac, Windows, Linux, Android, iOS, Roku, gaming consoles, and more
VyprVPN is an excellent choice for using WhatsApp in China, thanks to its in-house anti-censorship protocol called Chameleon. This feature is designed to get around the Great Firewall's VPN blocks and makes the VPN connection undetectable. When I tested VyprVPN using its Chameleon protocol and contacted customer support to further confirm that it allows access to WhatsApp in China. An extension to this protocol is its Smart IP, which is currently available on Windows, Android, and iOS. The technology works by continually changing the IP address throughout the session.
VyprVPN owns and operates all its servers and networks. That means you can use it to access WhatsApp in China with a piece of mind, knowing your private information isn't shared with any third parties.
Also, it is based in Switzerland, which has some of the most privacy-friendly laws in the world. The Swiss constitution guarantees users' right to privacy. With that in mind, you don't have to worry about keeping your browsing activity private while using WhatsApp in China with VyprVPN.
A minor drawback is that you can't purchase VyprVPN using cryptocurrency payments. Still, you have plenty of payment options like credit cards, PayPal, or Amazon Pay.
You can also save money by picking the long-term subscription when you sign up, which starts at $5/month.
You can try VyprVPN risk-free with its 30-day guarantee. I put VyprVPN's refund policy to the test. The chat representative was super polite, and I received a refund in 7 days.
How to Safely Download and Use WhatsApp in China With a VPN
When installing a VPN, the service usually sets it up to balance speed and security by default. But to access WhatsApp in China with maximum safety and privacy, you should:
Download and install a premium VPN and WhatsApp before leaving for China. Out of all the VPNs I've tested, ExpressVPN is my top pick. It even has a mirror site you can use to download it in China. If needed, you can reach out to ExpressVPN support, and they'll send you a link enabling you to download the VPN in China.
Activate the advanced security features. ExpressVPN has a kill switch and IP leak protection to keep your connection safe at all times. But make sure to check if these features are enabled on your device.

Pick any server to connect to, but choose one near China for the fastest speeds. For instance, if you're using ExpressVPN, you can connect to a server in Japan or Hong Kong.
Once you've successfully connected to a server, you're ready to use WhatsApp in China like you usually would anywhere else.
FAQs on Using WhatsApp With a VPN
Why is WhatsApp banned in China?
The Chinese government blocks WhatsApp and many other apps and websites they believe may spread "undesirable" information. The problem is that the government decides what is and isn't desirable.
China's Computer Information Network and Information Security, Protection, and Management Regulation is the reason for the WhatsApp ban. In short, the government has used the law since the internet became available to control what information enters and exits the country.
But there is a way to access your needed resources like WhatsApp while in China. A VPN is a simple tool that encrypts your online activities, so ISPs and governments can't see which websites you're visiting or apps you're using. That way, they can't block you.
Is it dangerous to use a VPN in China?
Based on my research and our tester team's reports in China, there have been no cases of the Chinese government acting against tourists for using VPNs. The technology itself isn't illegal, but China banned all non-government-operated VPNs. But still, some Chinese businesses use VPNs every day to protect company information even though the Chinese government only allows the use of certain VPNs they can monitor. To stay safe, I recommend you use a premium VPN with top-tier security features to ensure your online data and activities remain private.
Is there a WhatsApp equivalent for China?
WeChat is equivalent to WhatsApp and approved by the Chinese government, but it's not private. The government has full access to users' WeChat accounts and activities. WhatsApp, on the other hand, is end-to-end encrypted and has features such as read receipts and disappearing messages.
The Chinese government monitors all approved apps and sites closely. It's safer and much more private to use a premium VPN to access WhatsApp. A VPN is a simple app that encrypts your traffic, so Chinese ISPs and the government can't see the websites you're visiting. Although the Chinese government hasn't penalized any visitors for using a VPN, you still shouldn't use it to perform any illegal activities.
Where else is WhatsApp banned?
Governments in China, Cuba, Iran, North Korea, and Syria have banned WhatsApp. It's also partially banned in the United Arab Emirates, where you can only use it to text. When traveling to these areas, you can use a premium VPN such as ExpressVPN to stay connected with your important contacts. A VPN hides your internet traffic from your ISP and the government, so you can freely surf and use the apps you want.
Start Using WhatsApp Now
Internet censorship continues to persist in China. If you're traveling to China, you'll lose access to mainstream platforms like WhatsApp.
However, with a premium VPN, you can continue using WhatsApp safely even while visiting China. More importantly, you can keep your private information safe. Out of all the VPNs I tested, I recommend using ExpressVPN because it has fast speeds and reliable obfuscated servers that can bypass the Great Firewall. You can even test ExpressVPN out completely risk-free as it's backed by a 30-day money-back guarantee. If you're not completely satisfied for some reason, you can easily get a full refund.
To summarize, the best VPNs for using WhatsApp in China are…
Privacy Alert!
Your data is exposed to the websites you visit!
The information above can be used to track you, target you for ads, and monitor what you do online.
VPNs can help you hide this information from websites so that you are protected at all times. We recommend ExpressVPN — the #1 VPN out of over 350 providers we've tested. It has military-grade encryption and privacy features that will ensure your digital security, plus — it's currently offering 49% off.