How to Use Private Internet Access (PIA) VPN in China in 2023
Founded by London Media Trust in 2010, Private Internet Access is a solid VPN with a long-standing reputation. However, getting PIA up and running in China is a little tricky. China's strict censorship and VPN blocks make it really difficult to get VPNs working there.
PIA's customer support told me that it's not guaranteed to work there. My research and tests confirm this; it's unreliable in China. However, I've found a few ways to get PIA to work if you've already subscribed.
There are a handful of VPNs that work reliably in China. I recommend ExpressVPN, which easily bypasses the Great Firewall and its VPN blocks. In addition, it has a mirror website, so you can even download it while in China. ExpressVPN offers a 30-day money-back guarantee so you can try it out for yourself completely risk-free. If you're not satisfied, you can always get a refund.
Important! Using non-government-approved VPNs is not permitted in China, even though there have been no cases of tourists being fined for using one. A VPN should not be used for any illegal online activities, so make sure to use it cautiously in China.
Quick Guide: How to Use PIA in China in 3 Easy Steps
Get PIA. You should download and install PIA before arriving in China.
Connect to a server in or close to China using the WireGuard protocol. Servers closer to you give you better speeds, and WireGuard is more likely to overcome the Great Firewall.
Start using PIA for China. You should be able now to access your favorite websites and stream foreign content in China.
NOTE: Even though PIA's WireGuard is the most recommended protocol in China, PIA's customer support told me it may not always work. If you want a VPN guaranteed to work in China, I recommend ExpressVPN. It reliably bypasses the Great Firewall and VPN blocks, and you can even install it while in China.
Does PIA Work in China?
PIA's customer service confirmed there is no guarantee that PIA works there due to China's aggressive blocks. China's government uses a strong firewall and VPN blocks to regulate domestic internet usage.
PIA's FAQ page also explains that it's unlikely to work in other regions with strong geoblocks or restrictions. High censorship countries work hard to ensure that people can't use VPNs there.
However, some VPNs can unblock websites and overcome these restrictions more reliably than others. VPNs protect you by encrypting your browsing activity, so that no third parties can see what you're doing online. They are designed to bypass the Great Firewall and access blocked sites like Facebook and YouTube.
To work reliably in China, your VPN needs to use strong obfuscation technology so that the Firewall can't tell you're using it. PIA lacks these features, which is why it doesn't always work in China. However, I have found and tried out some troubleshooting tips that may help you set up PIA to work even in China.
Only a handful of VPNs successfully work in China. I recommend using ExpressVPN, which uses strong obfuscation to ensure it can overcome China's Great Firewall.
How to Set up PIA in China
Use PIA's OpenVPN Connection
One of the ways to get PIA to work is by using its OpenVPN connection. It is one of the most commonly used protocols that deliver a stable connection under most circumstances. OpenVPN works by establishing a secure connection between your VPN client and server, making it undetectable and capable of overcoming China's VPN block.
This is easy to do by selecting it through your Account Settings > Protocols > OpenVPN.
Use PIA's WireGuard Protocol
PIA's customer support recommended using the WireGuard protocol, as it's one of the safest available. It provides a good balance between security and speed, so it's ideal for use in China. WireGuard's efficient code base means there are fewer opportunities for leaks.
The WireGuard protocol is easy to use by simply going to your Account Settings > Protocols > WireGuard.
Using the OpenVPN Connect App
PIA recommends manual configuration using the OpenVPN Connect app if the OpenVPN and WireGuard protocols haven't worked.
Download PIA VPN and the OpenVPN Connect app. You need both to do this.
Go to the customer control panel in your PIA account.
Click Go to OpenVPN Generator in PIA's Settings.
Find the version of OpenVPN Connect you are using. Search for your chosen platform and select China as the region.
Select the port. PIA recommends using Port TCP/ 443.
Pick Use IP and press Generate. Select Download at the pop-up.
Import the file to the OpenVPN Connect app. This depends on the device you're using.
Start using PIA in China by connecting to your imported file.
Best VPN Alternatives for China in 2023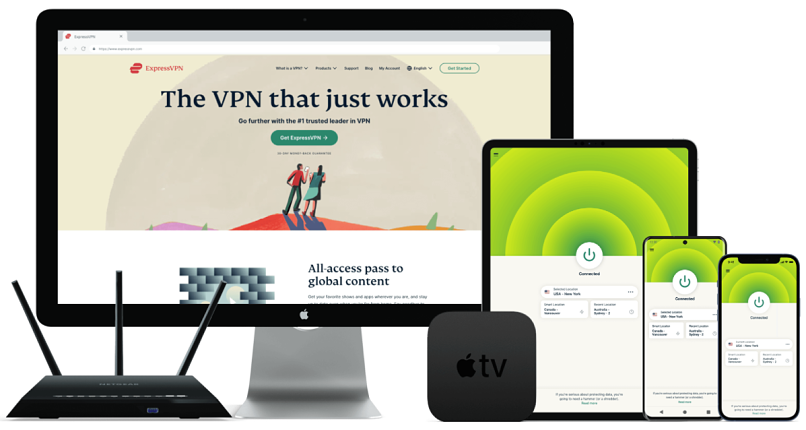 Editor's Choice
Editor's Choice

Tested January 2023
Try Risk-Free for 30 Days
Available on:
Chrome
Router
Smart TV
More
www.ExpressVPN.com
Obfuscation technology that bypasses the blocks
No-log policy
AES 256-bit encryption
Can unblock: Facebook, Netflix, WhatsApp, The New York Times, YouTube, Twitter, and more
Compatible with: Windows, Mac, iOS, Android, Linux, routers, Apple TV, and more
All of ExpressVPN's servers are obfuscated and tailored to bypass China's block easily if the protocol is set to automatic. Obfuscated technology is what makes it work in heavily restricted areas because it hides the fact that a VPN is in use. It also offers special servers for China in Japan, the US, the UK, France, and Singapore. These servers are regularly monitored to ensure you have a stable connection. Our testers in China tried them, and they all worked reliably.
ExpressVPN's speeds are the fastest of any VPN I've tested. This is important because the obfuscation provides another layer of encryption that can slow down your connection. However, that wasn't noticeable with any of the servers I tried. My speeds were excellent, even when connected to long-distance locations in New York. It's normal to lose 10–20% of your speed using a VPN, but when I tested ExpressVPN's speed, my loss was less than 7%.
It also has a website that you can access while in China, which you won't find with many other VPNs because most are blocked. Having a page that works in China means that if you need to re-download the app or change anything in your account while in China, you can do this easily.
It also uses DNS and IP leak protection. These security features are important because they preserve your online safety. I performed a leak test, and my IP address and location were kept private. Also, its Network Lock feature temporarily stops your internet connection if your VPN is interrupted so that none of your data is exposed while it reconnects.
ExpressVPN also uses TrustedServer technology, ensuring all information on its servers is deleted after each reboot. There are no identifiable logs, and since nothing is recorded, there is nothing to be retrieved. That means your data and online activities are kept private while in China.
The one downside of ExpressVPN is that it doesn't accept payments through Amazon Pay and Google Pay. However, it does allow you to pay using cryptocurrencies, which adds even more security when using it in China.
You can sign up for ExpressVPN for $6.67/month. You may even find discounts — for example, I saved 49% with its latest offer.
You can try ExpressVPN completely risk-free as it's backed by a 30-day money-back guarantee. I tested its refund policy by contacting its 24/7 customer support. Everything went smoothly, and I had the money back in my account in 3 days.
Strong obfuscation
Multi-hop VPN connection for an extra layer of protection in China
No-log policy
Can unblock: Facebook, Netflix, WhatsApp, The New York Times, YouTube, Twitter, and more
Compatible with: Windows, Mac, iOS, Android, Linux, routers, Apple TV, and more
Astrill VPN's StealthVPN protocol is designed to get around China's VPN blocks and obfuscate the traffic that goes through the VPN servers. The Firewall inspects detailed records of all communication happening online — called metadata — to see if you're using a VPN. However, Astrill's obfuscating protocol makes sure to hide the fact that a VPN is in use. Our testers in China highly recommend using this feature while you're in the country.
Its Smart Mode feature allows you to use a Chinese IP address to browse locally and an international IP for accessing blocked content. Therefore, you can still access local content safely, like your online banking. This makes it even harder for you to be identified in China since you're using your original IP address. This is a great feature as you can use the VPN in China with an extra layer of security.
With its 'Supercharged' China-optimized servers, Astrill can get around tough firewalls with enhanced speeds. It has servers in Hong Kong, South Korea, and Japan. I tested these optimized servers, and I didn't experience any leaks using them — my IP address, ISP, and location remained hidden.
Like ExpressVPN, Astrill VPN also has a dedicated website you can access in China. This means you have access to all information on its website and its 24/7 chat support. It also means you can download Astrill VPN's app when you're in China if you hadn't downloaded it beforehand. I confirmed this by talking to Astrill VPN's customer support.
The downside to Astrill VPN is that I don't find it very beginner-friendly or easy to use. However, it has detailed video tutorials for each of its apps on its website, so these can help you if you're struggling.
Its monthly plans are expensive, starting at $12.50/month. But you can save up to 59% by signing up for its long-term plan, which is more affordable.
It's also one of the few VPNs that doesn't offer a money-back guarantee. Still, I found out that if you want to try it, you can invite someone through its app, and if they use your invitation link to get a subscription, you can get 1 month of free access.
Proprietary Chameleon that gets around geo-restrictions
Encryption that disguises activity
No-log policy
Can unblock: Facebook, Netflix, WhatsApp, The New York Times, YouTube, Twitter, and more
Compatible with: Windows, Mac, iOS, Android, Linux, routers, Apple TV, and more
VyprVPN uses the Chameleon protocol to make your VPN activity look like regular traffic, so it's harder for the Great Firewall to detect and block it. It uses this with its Smart IP feature, which works by changing the server IP periodically. These 2 features are very important and I highly recommend using them for reliable internet access in China.
The VPN provides additional security and privacy features to protect you while you're there. Its kill switch cuts off your internet if you lose connection to the VPN, so your data won't leak. It also offers DNS leak protection. While testing this, I had no IP, DNS, WebRTC, or IPv6 leaks. This means you avoid any chances of your real location or personal data being visible.
It also has fast speeds. While I found VyprVPN's speeds to be a little inconsistent during my tests, servers closer to my location gave me impressive results. To get the fastest speeds, I recommend you connect to a server in a country near China, such as Japan. 
The downside is that VyprVPN doesn't accept cryptocurrency, unlike Astrill VPN and ExpressVPN. However, you can pay with credit cards, PayPal, and Amazon Pay.
It's not the cheapest VPN to sign up for on the monthly plan, but its annual plan costs only $5/month. Plus, it offers good discounts, so you can save 50% by taking advantage of its latest offer.
Luckily, you can also try VyprVPN risk-free since it offers a 30-day money-back guarantee. I tested this to make sure it was genuine, and the money was back in my account later that week.
FAQs on Using a VPN in China
What is the best VPN for China?
Out of all the VPNs I tested, ExpressVPN is the best and most reliable to use in China. It doesn't require complicated configurations. Plus, it has a Chinese website that allows you to download the app in China.
Are VPNs legal in China?
China bans all non-government-approved VPNs. It has many laws in place to restrict internet access. However, there are VPNs that still work and can overcome China's VPN ban.
The country goes after the VPNs rather than the users. There have been no instances of tourists facing punishment for using a VPN.
My team and I don't condone using a VPN with illegal intentions. You should always make yourself aware of the laws of the country you're in.
Can I use a free VPN for China?
Most free VPNs don't work in China. As free VPNs don't have obfuscated servers, the Chinese government can easily detect and block them.
The major streaming sites also block free VPNs, and they don't have the same robust security features as other VPNs.
The VPNs on my list work reliably in China, so I recommend using one of these.
Can I watch Netflix with a VPN in China?
Yes, you can. A VPN lets you access global Netflix libraries while you're in China. Each of the VPNs on this list can successfully unblock Netflix.
Can you access Chinese content with a VPN?
Yes. I recommend using ExpressVPN to access Chinese content no matter where you are. When I used ExpressVPN to get a Chinese IP address, I could access websites like CNTV, V.Baidu, and IQiyi.
To get a Chinese IP address, all you need to do is connect to a Chinese server using your VPN.
What's important when choosing a VPN to use in China?
When using a VPN in China, there are some really important features you should make sure it has. These are:
Advanced security features
Fast speeds
Ability to access banned content
Servers in or close to China
Functioning website in China
Generous money-back guarantee
Cryptocurrencies as a payment method
After extensively testing many VPNs, my top recommendation is ExpressVPN because it has all the above-mentioned features.
Start Using a VPN in China Now
There are a couple of ways to set up PIA in China, but it isn't guaranteed that those methods will work. Fortunately, there are a couple of other VPNs that are much more reliable for use there.
All the VPNs on this list can get around tough firewalls and geo-restrictions and unblock social media and streaming platforms.
I recommend ExpressVPN because of its blazing-fast speeds and obfuscated servers that can bypass China's VPN block. Also, it is backed by a money-back guarantee, so you can try it yourself without risk. If you're not satisfied, you have 30 days to claim a full refund.
To summarize, the best VPNs for China are…
Privacy Alert!
Your data is exposed to the websites you visit!
The information above can be used to track you, target you for ads, and monitor what you do online.
VPNs can help you hide this information from websites so that you are protected at all times. We recommend ExpressVPN — the #1 VPN out of over 350 providers we've tested. It has military-grade encryption and privacy features that will ensure your digital security, plus — it's currently offering 49% off.