How to Watch Blue Planet II Free Online!
Updated on 30th June 2020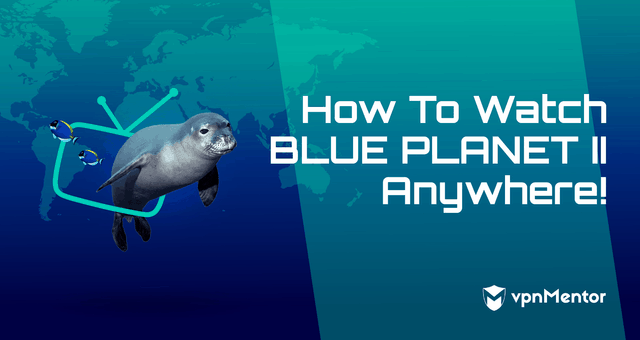 Enjoy Blue Planet II, the sequel to the acclaimed award-winning original, Blue Planet. Like the first, Sir David Attenborough, the famed naturalist and BBC writer and producer presents and narrates Blue Planet II. Marvel again at the wonders of ocean life and its impressive visuals in this documentary.
Blue Planet II, a BBC Natural History Unit production and BBC AMERICA offering, is available on Netflix. While Netflix offers streaming services in 190 countries, there are some countries that it restricts.
You can still experience the awesome spectacle of Blue Planet II by using a VPN. VPNs let you bypass geo-restrictions by masking your IP address. So Netflix thinks you are watching from a country it doesn't restrict.
Quick Guide – How to Watch Blue Planet II on Netflix
Choose a VPN–We recommend ExpressVPN for fast speeds with no buffering, optimum security, and excellent customer service.
Install the VPN and c

onnect to a server in the UK or US.




Sign up/into Netflix and start streaming!
Start Streaming With ExpressVPN Now!
Why You Need a VPN to Watch Blue Planet II
Netflix places geo-restrictions on its content, so not all shows are available in every location. Also, if you're in a country where Netflix isn't available, these geo-restrictions will stop you from accessing it at all.
A VPN gets around these geoblocks by hiding your IP address. Using a network of remote servers, it tricks Netflix into thinking you are watching from a supported location.
Once you connect to your VPN, you'll be able to watch all episodes of Blue Planet II, or any other show from anywhere in the world.
That's Not All a VPN Can Do
VPNs can do so much more than allowing you to access geoblocked content.
A VPN increases your security, especially on unprotected public networks like wi-fi cafes or hotspots. So you're safe from hackers and surveillance. The other threat is your internet provider itself and the websites it may redirect you to. Or the marketing and third-party groups it may sell your personal data to.
A VPN may also save you money. If you can access all the shows you watch on cable, why pay a cable company for shows you don't watch? This decision is fast becoming known as cutting the cord.
There are many other reasons for choosing VPN services. However, for streaming Blue Planet II, here's an important one. Even if you have non-VPN access to Netflix, or if you have non-VPN access to other streaming services wherever you are, your ISP may clog your data-transfer rate. A VPN hides your information and data use from your ISP, letting you stream, without detours or dams.
How do you choose a trustworthy, high-performance VPN? Keep reading to find out which 3 VPNs we recommend for watching Blue Planet II on Netflix.
3 Best VPNs for Watching Blue Planet II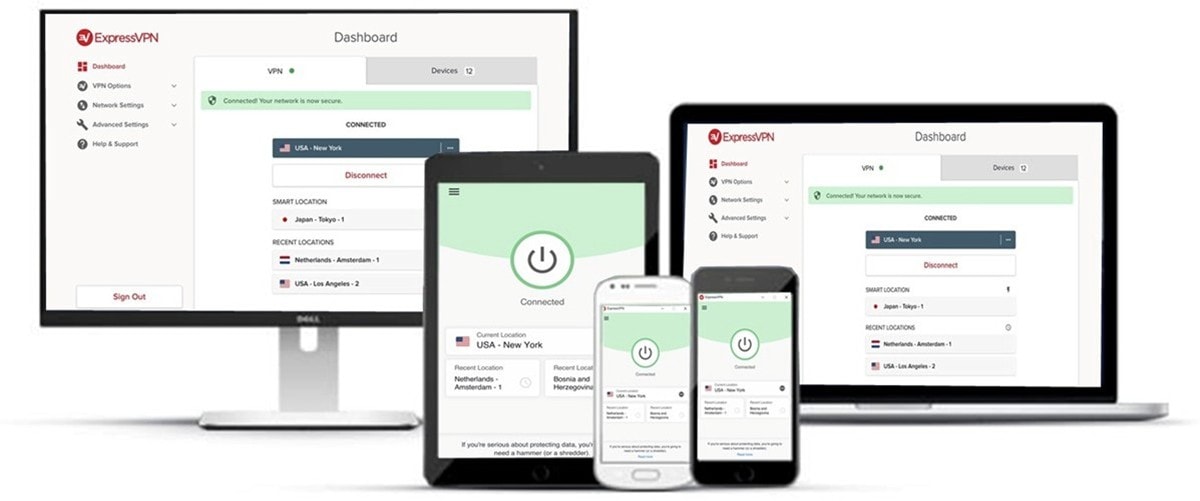 ExpressVPN is an industry leader in download speed, multiple server options, and privacy.
With ExpressVPN, you can access the geo-restricted content on video and TV entertainment services as well as sites like Facebook, Twitter, Gmail, and YouTube.
You'll get all these services with the option of choosing your download speed among ExpressVPN's  3,000+ servers in over 160 server locations in 94 countries. These locations include multiple server sites throughout the US.
Like many other top-notch VPNs, ExpressVPN uses AES-256 encryption. This standard is what security agencies, the military, and major financial institutions use to protect their data.
In addition, ExpressVPN operates a strict no-log policy and NeverLock kill-switch technology to shut down all access to your computer with any disruption of server operations. It also offers many other performance features that VPN users look for.
Get a free trial of ExpressVPN, including a 30-day money-back guarantee. Check our additional coupon offer to save money when you choose Express VPN.
ExpressVPN can unblock:
Netflix, Hulu, HBO, Amazon Prime Video, Showtime, Sling TV, DAZN, and BBC iPlayer.
Supports torrenting:
Yes, all servers support P2P activity.
ExpressVPN works on these devices:
Windows, macOS, Android, iOS, Android TV, Linux, Chrome, and Firefox. It also offers an app for use with certain routers.
Start Streaming Blue Planet II With ExpressVPN!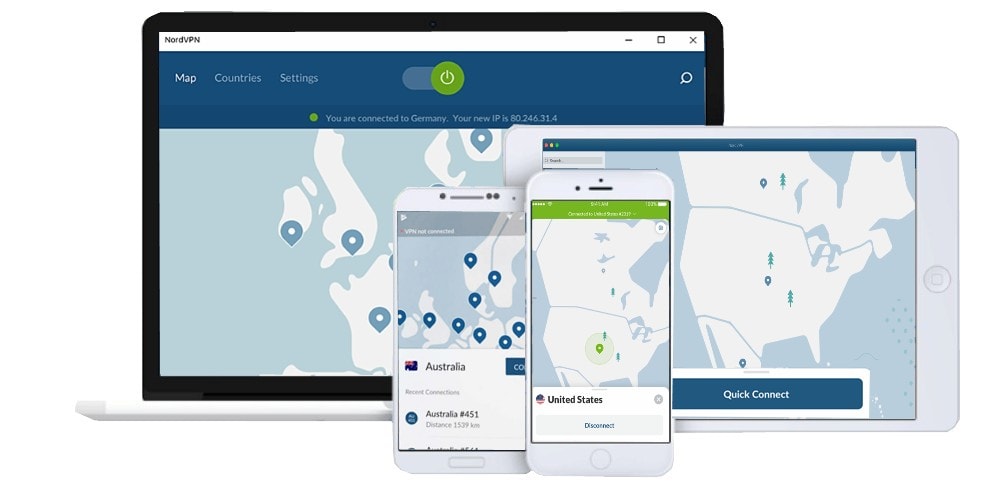 NordVPN doesn't take a back seat when it comes to speed, server locations, and security.
It offers military-grade AES-256 encryption and a no-logs policy so you can browse, stream, and download in complete security. It also provides a kill-switch for unexpected server drop-offs.
With unlimited speed and bandwidth, you'll be able to watch an episode of Blue Planet II with no buffering interruptions. You can stream on up to six devices simultaneously.
Where NordVPN shines is with its innovative double VPN technology, a security solution that encrypts data twice before it reaches the internet. The first encryption starts at the VPN server location, which passes through the already-secure data to a second location. The second location node re-encrypts the data before it reaches you.
Find out more about why NordVPN is one of the top choices among users, as well as how you can check out its services with a free trial. When you choose NordVPN, it comes with a 30-day money-back guarantee, and you can save money by visiting our coupon code and discount page.
NordVPN can unblock:
Netflix, HBO, Hulu, Showtime, BBC iPlayer, Amazon Prime Video, and Sling TV.
Supports torrenting:
Yes, P2P specialty servers available.
NordVPN works on these devices:
Windows, macOS, Android, iOS, Android TV, Linux, Chrome, and Firefox. It's also compatible with many routers.
Start Streaming Blue Planet II With NordVPN!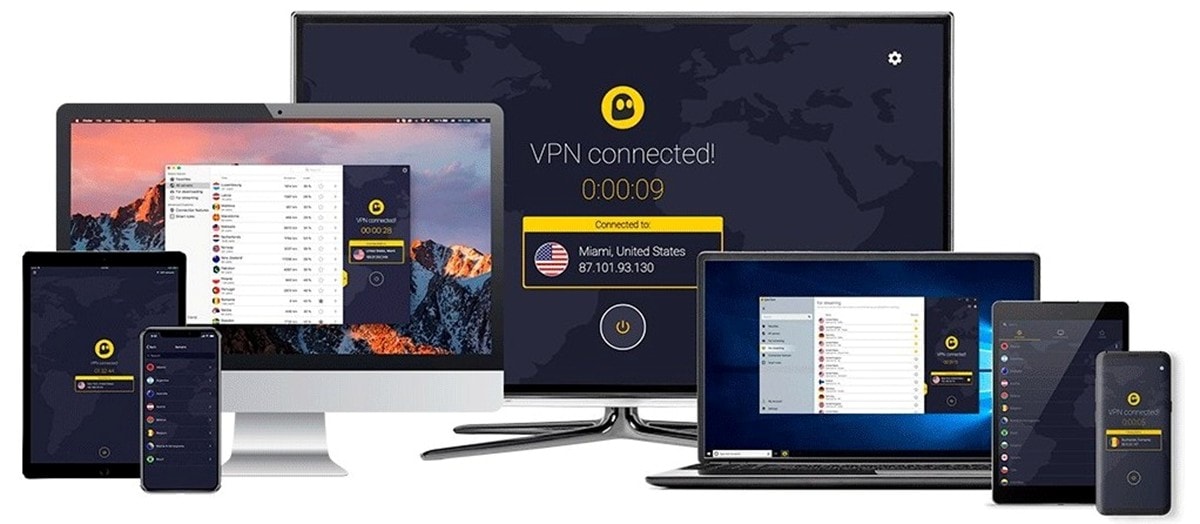 CyberGhost is a user-friendly VPN that also provides military-grade AES-256 encryption technology, along with a choice of three different internet security protocols for data tunneling.
Its NoSpy data center and servers are located in Romania, which is beyond the jurisdiction of the countries that have formed major security alliances to track the activities of their citizens. This, along with CyberGhost's no-logs policy, integrated ad blockers, and an automatic kill switch, guarantees privacy even when you're using public-access wi-fi.
CyberGhost also offers over 5,900 VPN servers in more than 90 countries. With just one CyberGhost VPN subscription, you can get simultaneous protection for up to seven devices.
For a more in-depth look at CyberGhost and its services, read this detailed review.
Also check out the 24-hour free trial of CyberGhost with all premium services included, as well as our money-saving coupon when you subscribe.
CyberGhost can unblock:
Netflix, BBC iPlayer, Sky Go, Comedy Central, Eurosport, ESPN, Sling TV, and others, using a dedicated streaming profile with optimized servers.
Supports torrenting:
Yes, the dedicated profile shows countries and number of users.
CyberGhost works on these devices:
Windows, macOS, Android, iOS, Amazon Fire Stick, Android TV, Linux, and Chrome.
Watch Blue Planet II With CyberGhost Now!
Summary
While VPNs are a great way to navigate around geo-restrictions so you can watch your favorite Netflix offerings like Blue Planet II, they are a sensible choice for anyone accessing online content.
Our top recommendation for watching Blue Planet II from Netflix is ExpressVPN, because it's fast, has multiple server locations, and provides a lot of security.
Further Reading
Learn about other VPNs that work with Netflix here.
New to VPNs and want to learn more? Check out or VPN for Newbies Guide.
Check out what performance metrics to look for as you choose a smarter, private online presence.