BoxPN is a no-frills, simple VPN service that has been around since 2009. Its price point seems attractive, but I found its lack of functions and low number of servers off-putting.
I tested every aspect of BoxPN, from speed and security to privacy, customer support, and device compatibility. I found that, while BoxPN is safe and easy to use, it's let down by poor performance and a lack of transparency over privacy.
Based on my findings, I can't recommend BoxPN. However, if you want to try it out, you can test it with its 7-day money-back guarantee and get a refund if you're not satisfied.
Short on Time? Here Are My Key Findings
BoxPN Features — Updated in March 2021
💸

Price
$3.08/month

📆

Money Back Guarantee
7

📝

Does VPN keep logs?
No

🖥

Number of servers
150

💻

Number of devices per license
5

🛡

Kill switch
No

🗺

Based in country
Seychelles

📥

Supports torrenting
No
Streaming — Stable for Netflix, Fails for Most Others
BoxPN reliably unblocks Netflix on multiple servers, as well as Hulu on US servers, but it was blocked by the other major platforms including HBO Max, Disney+, Amazon Prime Video.
If you mainly want to use your VPN for streaming, BoxPN is not the best choice.
Unblocked: Netflix US/UK, Hulu, BBC iPlayer
All the US servers I tested unblocked Netflix and Hulu. While BoxPN does not have the server network size of some larger VPNs, it has dedicated US servers for unblocking Netflix. However, I was able to unblock Netflix UK with a couple of UK servers too. These same servers helped me access BBC iPlayer too.
Apart from the US and UK, BoxPN unlocked a number of popular libraries on Netflix, but it failed to unblock France and Japan.
| | | | |
| --- | --- | --- | --- |
| | BoxPN unblocked? | Fast speeds for HD streaming? | Lag? |
| US | ✔ | Yes | Minimal |
| UK | ✔ | Yes | Minimal |
| Australia | ✔ | Yes | No |
| Canada | ✔ | Yes | No |
| Japan | ✖ | | |
| France | ✖ | | |
| India | ✔ | Yes | Minimal |
| Mexico | ✔ | Yes | No |
| Germany | ✔ | Yes | No |
| Portugal | ✔ | Yes | No |
BoxPN unblocked Hulu with no issues, on all US servers. It was seamless to watch and I experienced no lag.
Blocked By: HBO Max, Amazon Prime Video, Disney+
BoxPN is unable to unblock HBO Max. The platform detected that I was using a VPN and gave me an error message.
It failed to unblock Amazon Prime Video, too. I was able to log in, but it didn't allow me to watch anything.
Lastly, I tried to unblock Disney+ with BoxPN and that didn't work either. I tried several different servers but couldn't even load the login screen with any of them.
After testing, I can't recommend BoxPN for streaming. If you're looking for a VPN to unblock your favorite shows and movies, check out our list of the best streaming VPNs instead.
Speeds — Slow Overall, With Some Servers Unusable
BoxPN significantly decreased my internet speed across every server I tested. All VPNs can be expected to slow you down somewhat, but BoxPN made my connection unusably slow on a lot of the servers I tried.
I also noticed that BoxPN's speeds were inconsistent around the network, and not always due to distance — evidence that the VPN's small network can get congested and slow.
I tested each location for ping, download and upload speed.
Ping: measured in milliseconds (ms), this is how long it takes for the data to reach from one party to the other. The lower this value, the more responsive the connection. Ping of 50ms to 150 ms is considered good to average, with a ping of below 50 ms considered optimal.
Download speed: measured in megabits per second (Mbps), it tells you how fast data is downloading through the connection. This will determine how good your streaming quality is going to be, for example.
Upload speed: measured in megabits per second (Mbps), it tells you how fast data is uploading through the connection. This value is important when uploading images or videos on social media.
Here is an overview of my test results:
Normally, the larger the distance from the server, the more speed is lost, but BoxPN had some anomalies. The London (UK) server did a fabulous job, while most other servers were significantly slower than my home connection.
First, I checked my own connection without a VPN in Budapest, Hungary, to find out my base speed for comparison.
No VPN
| | |
| --- | --- |
| Ping (ms): | 10 |
| Download (Mbps): | 41.97 |
| Upload (Mbps): | 20.80 |
Then I connected to local servers first. BoxPN recommends OpenVPN (UDC) as the fastest connection protocol, so that's what I chose.
Local servers
The closest location to me was Prague (Czech Republic). While the ping for this server was still in the acceptable range, my speeds dropped significantly. You need 5 Mbps to stream Netflix in HD, so this speed only let me stream in standard definition.
Prague (CZ)
| | |
| --- | --- |
| Ping (ms): | 104 |
| Download (Mbps): | 3.58 (91,4% decrease) |
| Upload (Mbps): | 3.93 (81% decrease) |
The next closest server was Düsseldorf, Germany. This had better speed but still didn't meet the 25 Mbps necessary to stream in Ultra HD.
Düsseldorf (DE)
| | |
| --- | --- |
| Ping (ms): | 51 |
| Download (Mbps): | 13.86 (66,9% decrease) |
| Upload (Mbps): | 19.03 (8,5% decrease) |
Interestingly, the London (UK) server was by far the fastest, and gave me ping, download, and upload speeds fast enough for streaming in high quality or even gaming.
London (UK)
| | |
| --- | --- |
| Ping (ms): | 74 |
| Download (Mbps): | 36.71 (12,5% decrease) |
| Upload (Mbps): | 19.06 (8,3% decrease) |
While the London server I tested performed well, my other results showed that connecting to even local servers with BoxPN will significantly slow down your speeds, which is discouraging.
Long-distance servers
Overall, long distance servers gave much higher ping and very low download and upload speeds.
California (USA)
| | |
| --- | --- |
| Ping (ms): | 354 |
| Download (Mbps): | 8.03 (80,8% decrease) |
| Upload (Mbps): | 11.42(45% decrease) |
The low speed of US servers is especially problematic if you want to connect to these for streaming, gaming, and accessing geo-blocked content from the US.
Rio De Janeiro (Brazil)
| | |
| --- | --- |
| Ping (ms): | 469 |
| Download (Mbps): | 7.19 (82,8% decrease) |
| Upload (Mbps): | 3.48 (83,3% decrease) |
Tokyo (JP)
| | |
| --- | --- |
| Ping (ms): | 534 |
| Download (Mbps): | 5.08 (87,8% decrease) |
| Upload (Mbps): | 8.73 (58% decrease) |
Australian servers are usually the true tests of VPN speeds for those of us living in Europe, as they are the furthest away. The Sydney server gave back a disappointing result. These are speeds that would seriously hinder even surfing on the internet.
Sydney (AUS)
| | |
| --- | --- |
| Ping (ms): | 607 |
| Download (Mbps): | 2.43 (94,2% decrease) |
| Upload (Mbps): | 4.13 (80,1% decrease) |
Both my results from long-distance and local servers were disappointing. Of all the servers I tested, only the London location was able to give me fast enough speeds for everything I want to do online.
If you want a VPN with reliable speeds, I'd recommend you look at the results of our fastest VPN tests instead.
Are BoxPN's Speeds Fast Enough for Gaming? Only For Lightweight Games
BoxPN's servers are not capable of the 15ms ping that is considered ideal for fast-paced games such as first person shooter games like CoD or Unreal Tournament.
However, you can enjoy less demanding games even with higher ping values. I fired up World of Warships on Steam, and I tried playing with a short and a long distance server.
On the Düsseldorf (Germany) server, ping was 53ms and the game loaded with 10 FPS. Then I tried a New York (USA) server, and the same game had 16FPS and 107ms ping. Loading took somewhat longer than normal, but gameplay was smooth.
Gaming isn't impossible with BoxPN but I was disappointed I couldn't play more demanding online games like PUBG or Fortnite.
Server Network — Small but Functional
BoxPN has a significantly smaller server network than well-known competitors. They claim to have more than 150 servers in 30 countries, but the website is not transparent about exactly how many they have in each location, or even whether these are their own servers (a vague claim on their website says they own the "majority" of their servers).
There is also no indication anywhere about whether these servers are physical or virtual. My question on the subject was escalated to the technical team, and in a few hours I got a response that their servers are all physical.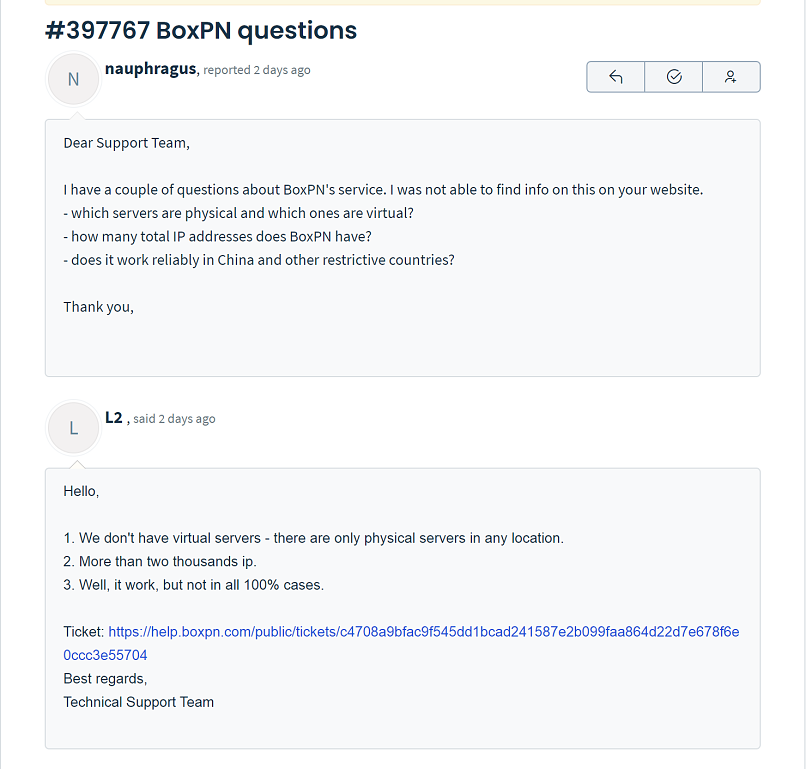 The US is the best covered country with 7 locations (plus 2 for Netflix), which makes BoxPN a decent option if your interests lie in streaming geo-restricted content from the States. In Brazil, Canada, Germany, Italy, Spain, Sweden, and the UK you can choose from 2 different locations, in the other countries only one location is covered.
With BoxPN, you can choose from static or dynamic IP addresses. Using a static IP means that you get the same IP address every time you connect to the VPN, which can be useful when you are surfing on sites that require a Captcha every time you access them from a new IP address.
However, using a static IP means all of your activity while connected to the VPN can be traced to one IP address — which is not great for privacy or anonymity. I would always recommend opting for dynamic IP addresses, which give you a different IP address every time you connect.
BoxPN has servers in China (Hong Kong), Russia, and Turkey. This is a bonus as it's rare to find a VPN with servers in these countries, due to their strict VPN regulations.
However, BoxPN doesn't explain how they keep their Chinese, Russian, and Turkish servers (and your information) safe from local government surveillance. In fact, its privacy policy actively states that the VPN will disclose your data to comply with legal obligations — so I would not trust these servers if you want to browse privately or anonymously. Skip ahead to my privacy review to find out more.
Security — Industry Standard, Nothing to Write Home About
BoxPN offers a choice of 128-bit and 256-bit AES encryption and a wide range of protocols.
Disappointingly, there aren't many other security features available. I was particularly disappointed to see that BoxPN doesn't offer split tunneling or any blockers for ads, trackers, malware, and phishing as these are common features in other VPN services.
Encryption
You can choose from 128-bit and 256-bit encryption, although your choice might be limited to which security protocol you're using. With OpenVPN, BoxPN lets you choose either level of encryption.
However, using L2TP and IPSec with the VPN only lets you use 256-bit encryption and PPTP only supports 128-bit encryption.
It's nice to have the option to customize the security settings in this way, as some people might prefer to use the slightly quicker 128-bit AES encryption. However, I always go for 256-bit encryption as it's the most secure option (that's why it's known as "military-grade" encryption).
Security protocols
BoxPN offers OpenVPN-UDC, OpenVPN-TCP, PPTP, L2TP, and SSTP as basic options in the desktop app. IPSec and Wireguard are also available, but you have to manually configure them. I was impressed to see Wireguard support available as not many VPNs have adopted this protocol so far.
BoxPN has an extensive knowledge base with detailed explanations on how to install these protocols on different operating systems.
OpenVPN: OpenVPN is a widespread and versatile protocol. It exists in 2 versions: UDP is faster and automatically recommended by BoxPN, while TCP is slower, but can be more stable.
PPTP: an obsolete protocol whose security flaws have been widely discussed. It is not recommended for use anymore.
L2TP: an extension of PPTP, this protocol uses double encryption, which means it can be slower than other protocols. It is recommended as a backup when OpenVPN is not available.
SSTP: a new and improved version of PPTP that's particularly effective at bypassing firewalls like the ones used in government censorship. It's not as secure as OpenVPN but can be useful if you're having trouble getting around internet restrictions.
IKEv2/IPSec: this is a protocol that's ideal for mobile surfing, and gives consistently good speed. However, setting it up from BoxPN is not trivial: you need to follow an approximately 5-minute procedure with every single server you want to use with this protocol. The process is well documented, and it worked perfectly for me.
WireGuard: This is a fairly new protocol, but it is known for delivering consistently faster speed than OpenVPN. However, there is a chance that your static IP address will be logged on the VPN server until it is rebooted. This may cause a privacy issue even if BoxPN itself does not store this data.
I compared speeds with the different protocols, and the result is that none of the protocols offer consistently better speed than the others. This is true for both short and long distance servers.
Leak and Virus Tests
I tested 6 different servers and BoxPN passed my leak tests on all of them, which means that no DNS, RTC or IP leaks were present. When I was connected to the Düsseldorf (Germany) server, it completely masked my true location in Budapest.
I also ran a virus test on BoxPN's installer, to make sure it's completely safe to download. I was pleased to see that the installer was clean.
Automatic Kill Switch
BoxPN only provides an automatic kill switch in its desktop app. A kill switch cuts off your internet traffic if you lose connection to your VPN. It prevents your traffic from defaulting to (and exposing your online activity to) your Internet Service Provider (ISP).
It's disappointing that BoxPN's mobile apps don't give you the same protection.
Even in the desktop app, I found the kill switch feature difficult to find and enable.
However, I liked that you can select which programs you want to kill when the VPN drops – so you can make sure that your torrent client will disconnect as soon as you are not protected by a VPN but keep other programs active if you want to.
Privacy — Worrying Logging Policy is Off-Putting
BoxPN claims it does not keep logs of your activity and IP address. However, they keep email addresses and payment information, plus Google Analytics and cookies data.
It's normal for a VPN to store your email and financial data, for repeat subscriptions, and the privacy policy states that Analytics and cookies data is only used to improve the VPN's website.
What I couldn't see any mention of in the policy was whether the VPN stores any of your connection logs (your IP address, when you connected, how long you connected for, or how much data you used).
I dug a little deeper into the policy and found something even more worrying:
BoxPN.com may disclose users personal information to third parties if
BoxPN.com is, or all of its assets are, acquired by a third party, in which case personal data held by it about its users will be one of the transferred assets, but will remain covered by this Privacy Policy.
BoxPN.com is under a duty to disclose user's data in order to comply with any legal obligation, or in order to enforce BoxPN.com Terms of Service; or to protect the rights, property, or BoxPN.com safety and BoxPN.com.
The second clause means that BoxPN will hand over your data to protect the company in case of a legal dispute. Since the VPN claims not to log any of your online activity, name, or location, it theoretically shouldn't have any identifying data about you to hand over to a third party.
However, if BoxPN does store your true IP address and connection logs, they could be used to identify you. I contacted the VPN's support team for clarification and am still waiting on a reply.
Overall, this privacy policy is less watertight than others I've seen and the lack of transparency itself is worrying. I wouldn't feel comfortable recommending BoxPN as completely safe and private — especially if you're based in a country where VPN use itself is illegal, and being connected to using a VPN could get you in trouble.
Location — In The Privacy-Friendly Seychelles (But Is It?)
BoxPN claims to be located in The Seychelles. It's owned by Edelino Commerce Inc., an IT company registered in The Seychelles — which is outside the 5/9/14 Eyes Alliance. 5/9/14 Eyes countries are in an intelligence sharing pact, so it's better news for your privacy that BoxPN's HQ is located outside of the Alliance.
However, I noticed the Terms of Use on BoxPN's website mention "local, state, and federal laws", which sounds like American wording. A quick background check also shows that the BoxPN website is hosted in Chicago.
All of these details seem to suggest that BoxPN is actually based in the US, which is part of the 5/9/14 Eyes Alliance and is not known for being privacy-friendly. Again, just the lack of transparency here is worrying enough by itself.
Independent Audits — Or The Lack Thereof
BoxPN has not had any independent audits of its practices, therefore we must take all their claims at face value. This is not the best practice among VPNs, as audits build credibility and trust.
Torrenting — P2P Traffic Supported on Most Servers
Torrenting with BoxPN is straightforward — most servers can be used for torrenting.
I tested the Düsseldorf (Germany) and the California (US) server, and the former downloaded a 2GB movie in 6 minutes, while the California server downloaded the same in 5 minutes.
However, neither the desktop nor the mobile app shows which servers are suitable for torrenting. After some searching, I eventually found the server list within my account on the BoxPN website — but it was annoying to have to go to this extra effort to find out which servers I could use for torrenting.
I tested some of the servers that were not recommended for P2P to see what would happen. Surprisingly, I didn't notice any difference in my torrenting experience.
The torrent downloaded as usual, and IPLeak.net showed my connection as still on the same server.
It might be that the servers BoxPN doesn't recommend for torrenting are just ones that might be a bit too slow. However, it was good to see that torrent support really is consistent across the network — even more so than the VPN lets on!
Does BoxPN Work in China? Yes, but Not Reliably
BoxPN's customer support said the VPN works in China but couldn't confirm 100% reliability.
If you're looking for a VPN that does reliably work within the Great Firewall, check out our recommendations for the best VPNs for China instead.
Simultaneous Device Connections — An Average Offering
BoxPN allows you to connect 5 devices at the same time.
I downloaded and connected to the VPN on 4 of my devices simultaneously and didn't notice any drop in performance.
Device Compatibility — All Major Operating Systems Except macOS
BoxPN has a native app for Windows, Android, and iOS but not for macOS. It also offers mobile apps that are free to use.
I was surprised to see that the VPN lacks native macOS support; it's quite unusual for a modern VPN. You can set the VPN up manually on Macs but it's definitely an inconvenience, especially if you're not tech-minded.
You can also set up BoxPN manually on Linux, KDE Plasma, Gnome 3, Raspbery Pi, DD-WRT and Asus routers, Apple TV, Roku, Chromecast, Amazon Fire TV, PlayStation, Xbox, and smart TVs.
You're much better catered for as a Windows user; the Windows app is the most intuitive and also the only one with an automatic kill switch. It's very simple to download and set up, and was ready to use in a few minutes.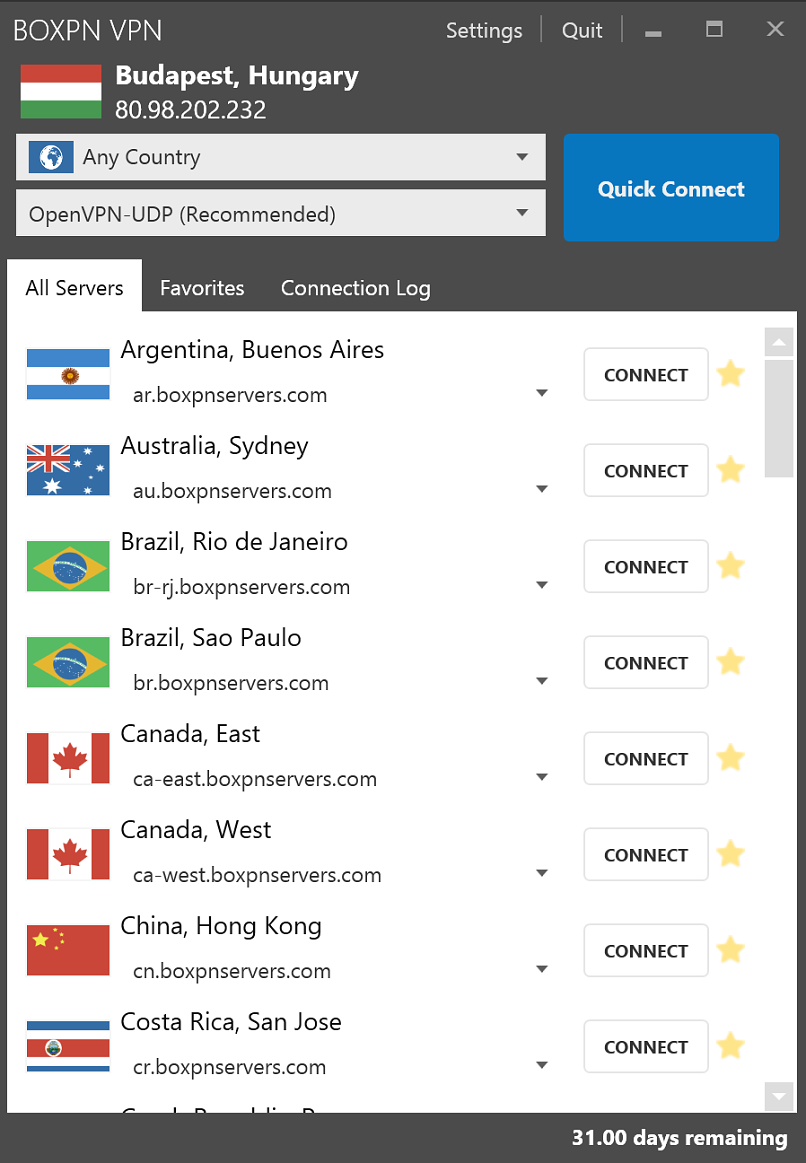 The app has a quick connect button that automatically connects you to the best server for your chosen country and security protocol. You can start servers to add them to your list of favorites.
The Android and iOS app are hugely simplified compared to the desktop app. You only get a list of countries rather than a list of available servers. However, there is an Optimal Location function that connects you to the best server.
Overall, BoxPN's app offerings are okay but not exactly impressive. If you're a macOS user and want a VPN with a native Mac app that you don't have to manually set up, I would choose one of our best VPNs for Mac instead.