BroVPN Reviews 2020 - Why 4.0 Stars?
BroVPN is a freemium P2P network/VPN hybrid. It's similar to Tor, but with less features and lower security. It offers eight servers to premium members, and one server with its free account. As you can imagine, this doesn't make it a great choice for streaming. BroVPN isn't able to unblock Netflix or any other streaming site. We'd recommend choosing a premium VPN like NordVPN for streaming. NordVPN is fantastic at bypassing geoblocks and VPN blocks – it can also offer you maximum security with no limitations on features.
If you use BroVPN for free, your device will be used as a P2P network node for other users.
Streaming - Does BroVPN Work with Netflix?
The short answer? No.
When I tested BroVPN, my speeds were so low that my connection timed out before Netflix loaded. I refreshed my connection. I was able to load Netflix this time, but found that BroVPN couldn't bypass Netflix's VPN block.
BroVPN could not unblock Hulu, HBO GO, and BBC iPlayer, either.
Netflix: No
Hulu: No
HBO GO: No
BBC iPlayer: No
If you want to watch Netflix and other services, you need a VPN with a much bigger and more powerful network. Check out our NordVPN review to find out why it's a much better choice for streaming.
BroVPN Speeds
Speed its key when you're looking for a great VPN. You don't want to wait forever for Netflix to load, so it's crucial that you choose a service with high-speed servers.
It's normal for your connection to slow down a little when you're connected to a VPN. Your data needs to travel farther to reach the VPN server, and it also takes some time to encrypt and decrypt your data. However, the difference should be barely noticeable with a premium VPN.
When you're browsing, you'll get the best speeds by connecting to a server in your country because your data won't have to travel as far.
If you want to bypass a geoblock or censorship, you'll need to connect to a server in a country where that content is already available. So, if you want to watch Netflix US, you'll need to connect to a US VPN server.
I decided to put BroVPN through its paces and test its speed.
My base speed before connecting to BroVPN was 12.73 Mbps download, 2.38 Mbps upload, with a ping of 31 ms. ADSL in Australia is pretty slow, so I was pleased to find my connection is faster than 75% of the country.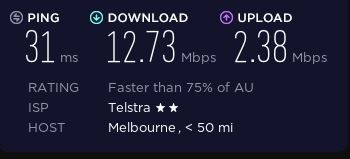 I noticed a dramatic speed loss when I connected to BroVPN's server in the Netherlands. My download speed dropped to 2.26 Mbps with an upload speed of 1.01 Mbps. My ping increased to 364 Mbps, which meant websites took longer to respond when I clicked links.
Although I could comfortably send emails and check social media, I wasn't able to stream Netflix in HD or watch YouTube videos at this speed.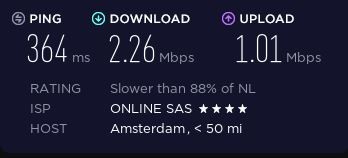 Is BroVPN Good for Torrenting?
I do not recommend BroVPN for torrenting.
On its FAQ page, BroVPN claims to monitor the websites you visit. It also says it will report criminal offenses to the relevant authorities.
This means that you could get in trouble if you torrent copyrighted material, even if you do it by mistake.

Does BroVPN Keep Logs?
Yes. In its FAQ section BroVPN indicates that it monitors users' data, and is capable of sending information to the authorities.
Does BroVPN Have an Ad Blocker?
No.
Does BroVPN Work in China?
No, BroVPN does not work in China. Even if you were able to make a connection, it is not secure enough to use in a country with strict surveillance and censorship laws.
Price and Value for Money
BroVPN's premium account doesn't offer any value for your money. In fact, you'd get more features, higher security, and extra servers at a lower cost with premium VPNs like NordVPN and CyberGhost.
Does BroVPN Have a Free Version?
Yes. BroVPN offers a limited free account with access to its server in the Netherlands.
BroVPN's Refund Policy
BroVPN offers a 30-day money-back guarantee.
Is BroVPN Compatible with My Device?
BroVPN is available for Windows, Mac, iOS, and Android.
You can connect up to 10 devices with a premium account.
Encryption
BroVPN is very vague about its encryption policies. In its FAQ section, it claims that it may encrypt some or all of your data depending on the protocol you choose. However, I wasn't able to find any settings on the app to configure its protocols.
I reached out to customer support for clarification and have yet to receive a response.

BroVPN's Customer Service
Once I was able to scavenge BroVPN's customer service email address from the error page URL, I received a response in under an hour.
The representative I spoke with was happy, friendly, and helpful. They answered my question concisely, and explained their answer well.

User Experience
I did not have a good experience with BroVPN. It was difficult to install the app and impossible to navigate its website.
The one good thing I will say is that its app is easy to use. This is because there are no settings to configure, and it features only a connect and disconnect button.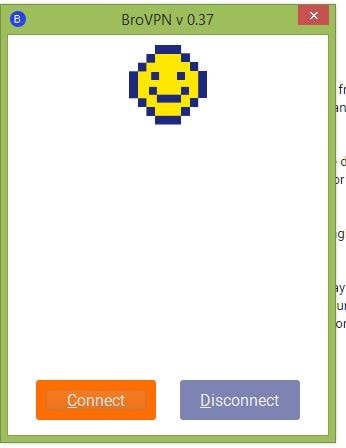 If you've paid for a premium account, you can change your server from the BroVPN accounts page.

That's basically all there is to it!
Conclusion
The only positive aspect of using BroVPN is I do like a challenge. And it was challenging from start to finish.
Its website is broken and none of the links work. This makes it impossible to reach out for support. It's also really difficult to find out any information about the service before you sign up.
Despite bragging about being a free, unlimited VPN, BroVPN's free account is severely limited. Unless you pay a premium price, you'll only have access to one slow-speed server. Even if you do upgrade, there are only eight servers in total.
BroVPN isn't secure, either. The website is very vague about its encryption protocols, and it monitors your browsing activity.
If you're looking for a VPN that's extremely secure, I recommend Mullvad VPN. It's budget-friendly, and it's the only service that allows you to be 100% anonymous. You can even pay by cash!
Unfortunately, Mullvad VPN can't unblock Netflix. So, if you're after a VPN for streaming, why not take a look at the feature-rich and reliable NordVPN or these other top-rated vendors.
| Features | Details |
| --- | --- |
| Number of countries with servers | 8 |
| Number of servers | 16 |
| Number of IP addresses | 16 |
| Does VPN keep logs? | No |
| Does VPN include a kill switch? | No |
| Number of devices per license | Unlimited |
If I could, I'd rename BroVPN to BrokenVPN, and never use it again.
BrokenVPN's website is a mess of, well, broken links and vague information. When I downloaded the Windows app, it took multiple attempts to open the .exe file. Eventually, I had to find it in my downloads manually and run it as an administrator to get it to open.
I tried to reach out to customer support for troubleshooting help, but all of the support links on the website are broken. I was eventually able to get their email address by copying the mail from a portion of an error page's URL.
Once I finally got it installed, the license agreement didn't translate to English. So, I had to click Agree and just hope I wasn't signing my soul – or device – away for good.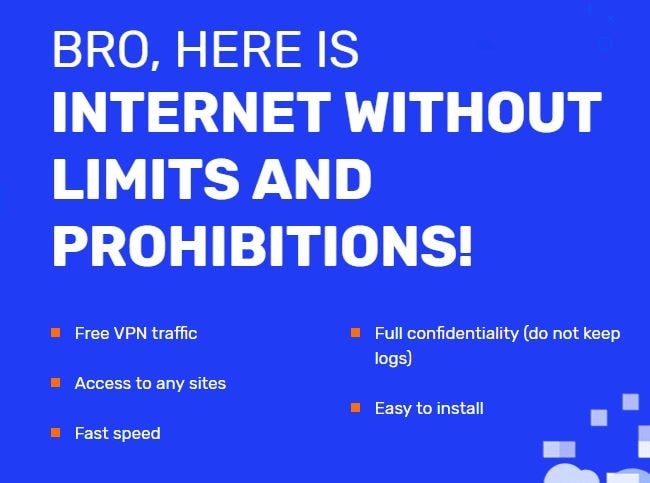 BroVPN uses the words "unlimited" and "free" on their homepage far too many times for a VPN provider that offers a very limited free account.
Because the "upgrade to premium" button on the homepage was broken, I couldn't find any information on its limitations before signing up. Once I was in my account area I noticed you have to pay extra for almost everything. You will get access to one low-speed server in the Netherlands for free.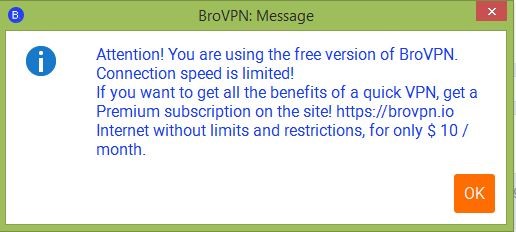 It's worth noting that the price quoted in the alert I received on the app didn't match the price quoted in the FAQ section, which also didn't match the price I was charged for a premium account.
The app is very, very basic. You only have two buttons: connect and disconnect. You have to sign in and use the account area of the BroVPN website any time you want to change servers. This is manageable for desktop users, but is very time-consuming on mobile devices.
BroVPN's pricing structure isn't explained very well on its website.
There is a limited free account that grants you low-speed access to one server in the Netherlands. If you want high-speed access or additional servers, you'll need to pay for a monthly premium account.
Becoming a premium member means that your device is no longer used as a node in BroVPN's P2P network, too.
BroVPN uses Interkassa at the checkout. It accepts VISA, MasterCard, Kiwi, Beeline, Tele2, MTS, and a selection of other e-money platforms. It also accepts BitCoin and BitCoin cash.
It does not convert the charge to your local currency, so beware that you could be hit with some hefty conversion fees depending on your bank.
Reliability & Support
3.9 / 5.0
BroVPN claims to offer support via email, Skype, Facebook, and Twitter, but this simply isn't the case.
When I tried to contact them, I discovered that the email, Skype, and social media links on its website didn't go anywhere. I had to scavenge its support email from an error page's URL.

To their credit, I got a polite and helpful answer within an hour of emailing.
Dysfunctional BroVPN is not worth the time it took me to sign up.
The website is unusable. Links lead only to error pages, and the few pieces of information it provides about the service are vague and somewhat misleading.
The app is very basic and difficult to install, and you have to pay a premium price just to access eight slow servers.
Don't waste your time – take a look at some of our top premium VPNs instead.
Money Back Guarantee (Days) :
30
Mobile app :
Number of devices per license :
Unlimited
Anonymous
Fast and reliable service
It works, it is fast, it is reliable and gives users maximum security when viewing content online. Great for mobile devices and any streaming media player. I tried other free VPNs that were free but not as low-quality. It's good that I found this service, a really great solution.
---
See Plans
Reply to this review
Did you know? We approve all user reviews. Companies can't pay to include or exclude any.
Anonymous
I've been using BroVPN for a couple of months now and this is the best of free VPNs. Before that, I used a couple of "free" applications and just didn't feel safe with them. It is almost invisible in the background, I did not notice any slowdown when using it and I feel much more protected now. Thanks Bro for a great product!
---
See Plans
Reply to this review
DC
Nice tool to bypass site blocking
It is that simple, a vpn service that an ordinary user needs. No tricks, ads, only high-quality and reliable vpn. Having an android application is another big advantage. Nice tool to bypass site blocking, I am satisfied.
---
See Plans
Reply to this review
Compare BroVPN with the top alternative VPNs