BTGuard is a small VPN and BitTorrent proxy provider that offers a scaled-back but secure service. Although they do offer a full VPN service, their main focus is providing security and anonymity for torrenting.
This is an okay choice for a VPN. However, we don't think 'okay' is enough. 'Okay' doesn't get past Netflix's geoblocks, either. For that, I'd recommend one of these vendors, which are guaranteed to unblock Netflix libraries.
We prefer the best-in-class, industry-leading of a VPN like ExpressVPN. It offers exceptional privacy and safe torrenting at a competitive price, fair exceeding BTGuard in every area.
BTGuard has a small network of 1,000 servers in 3 countries: Canada, the Netherlands, and Singapore. Because of their small network, this VPN shouldn't be your first choice for bypassing content geo-restrictions. However, they do offer unlimited download speeds, strong encryption, and lots of support for torrenting.
Here's a detailed overview of BTGuard's features and performance:
Streaming – Does BTGuard Work with Netflix?
BTGuard only has servers in a few select locations and the service doesn't prioritize bypassing geoblocks.
There are no servers in the US, so BTGuard is unable to unblock US-based streaming sites like Hulu.
The same thing goes for the UK and BBC iPlayer.
Regardless of the region, BTGuard was not able to unblock Netflix in any of our tests.
While BTGuard doesn't work with Netflix, our #1 recommended vendor, ExpressVPN, does. It has lightning-fast speeds, servers in every Netflix location, and the ability to knock down the toughest geoblocks.
BTGuard Speeds
Unfortunately, BTGuard's small server network affects the VPN's connection speed and reliability, especially if you are far away from BTGuard's three server locations.
We tested each of BTGuard's server locations with their OpenVPN configuration with a base speed of 70 Mbps. Here were our speed results when connected to the closest server in Canada: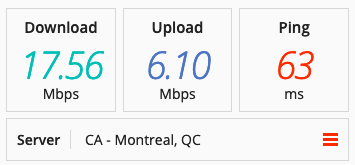 With the Canadian server's speeds of 15-20 Mbps, there was a noticeable increase in loading times. The connection was fast enough for casual browsing but not ideal for media-heavy websites and video content.
Connecting to either of the two farther away servers resulted in significantly slower speeds. We averaged less than 5 Mbps for both the Netherlands and Singapore locations.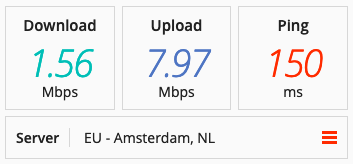 Overall, connecting to the closest BTGuard server may result in functional but not ideal download speeds. You will likely have trouble using this VPN for demanding activities like streaming and gaming.
The one upside is that the upload speeds were consistently pretty good across all three locations.
Is BTGuard Good for Torrenting?
BTGuard definitely supports torrenting. This VPN was actually designed with anonymous torrenting as its primary goal. The "BT" in its name actually stands for BitTorrent.
Unlimited torrenting is allowed on any of BTGuard's servers. The downside is that they have a small server network, which means that we were not very impressed with this VPN's download speeds.
Security – Is BTGuard Safe?
As we mentioned before, BTGuard offers a simple, scaled-back VPN service that isn't packed with features but still protects your connection with robust encryption and secure protocols.
Encryption
BTGuard keeps your connection extremely secure with military-grade AES 256-bit encryption. They also allow you to choose between two protocols: OpenVPN and PPTP.
It's nice to have a choice of protocols, but we would highly recommend sticking with OpenVPN if possible. While some older devices may have trouble supporting it, OpenVPN is widely considered the most secure option.
Meanwhile, PPTP is an older protocol that sometimes gives you better speeds, but is pretty much obsolete when it comes to security compared with other popular protocols.
BTGuard's VPN also lacks an automatic kill switch, which is something we usually hope for in a VPN that markets itself as a tool for secure, anonymous torrenting.
Does BTGuard Keep Logs?
Although BTGuard's official website states "No records of usage stored", their privacy policy makes it clear that they do retain some personal information, but they're a bit ambiguous about what that includes.
This raises some concerns if your biggest priority is true anonymity, especially considering that BTGuard is based in Canada, well within the jurisdiction of the 5/9/14-Eyes Alliance.
This means that if the Canadian government were to send BTGuard a legal request for information, they would have to comply. This information could then be easily shared with other countries within the intelligence-sharing alliance.
However, BTGuard does state clearly in their privacy policy that they do not collect your real IP address or browsing activity.
Price and Value for Money
BTGuard offers multiple plan lengths to choose from, each with the same features included. You get more value for your money with a longer subscription.
BTGuard does not have a free version or a free trial. They also don't offer any money-back guarantees on their VPN service.
If you want to try out the service, we recommend that you purchase a one-month subscription so you can see if you like it before you commit to a longer plan.
Is BTGuard Compatible with My Device?
Although BTGuard does not have a dedicated client, the advantage of this is that BTGuard is compatible with every major platform. Their website provides installation guides for how to set up the VPN on each device with either PPTP or OpenVPN.
You can set up BTGuard on as many devices as you would like. However, that doesn't mean that this is a service for families to share.
BTGuard states that each account is meant for a single user, and they enforce that pretty strictly. If they notice that you are connecting from multiple locations at a single time, they have the right to terminate your account.
BTGuard is compatible with the following devices:
Windows
MacOS
Android
iOS
Linux
BTGuard Customer Service
The BTGuard website provides some helpful resources for support, including:
Step-by-step setup instructions for every major platform
Pictures to guide you through the installation process
FAQs
Other than these resources, however, we weren't very impressed with BTGuard's customer service. There is no 24/7 live chat support or even a phone line to call.
The only way to get in touch with customer support is to submit a ticket through the BTGuard website.
You have the option to submit your ticket to either the sales department for issues related to payments and subscription plans or the support department for technical questions and concerns.
They frequently take three days or longer to respond to a ticket, and if the issue isn't resolved, then your only option is to submit another ticket and wait again.
While we were impressed by BTGuard's thorough setup guides, we typically expect more responsive customer support services from a VPN in BTGuard's price range.
User Experience
If you don't mind manually setting up your VPN, BTGuard actually makes the process pretty simple. The installation guides on their website are easy to follow and include directions for every major platform.
Since BTGuard doesn't have a dedicated client, they rely on open-source OpenVPN software. The installation guides provide a link and go over how to install this free software. It's easy to download from the OpenVPN website and is also available as an app on the Google Play store for Android or through the App Store for iOS.
The downside is that BTGuard doesn't offer many advanced settings and features that experienced users may be looking for. The fact that you have to reenter your username and password each time you connect to a server can also get frustrating. If you're used to a dedicated VPN client, you may miss the user-friendly interface.
You get to select your server location as part of the installation process, but after the VPN is set up, your only options are to connect and disconnect the service.
Conclusion
Despite its lack of a dedicated client, BTGuard is easy to install on any major platform and offers strong protection with its secure encryption and OpenVPN support.
If you are looking for a lightweight VPN that offers robust encryption and support for torrenting, BTGuard may be the right fit for you.
However, due to very limited server locations, BTGuard is not a great choice for geo-spoofing. BTGuard's connection speeds are also likely not fast enough for HD streaming, especially if you aren't located near one of BTGuard's servers. Why not check out our top picks for streaming instead? They're guaranteed to work anywhere you are, with reliably fast speeds.
If you want a more complete VPN package, choose ExpressVPN or any of our top 10 VPNs.
| | |
| --- | --- |
| Price | $7.5/month |
| Money Back Guarantee | 14 |
| Does VPN keep logs? | Partially |
| Number of servers | 1000 |
| Number of devices per license | 5 |
| Kill switch | No |
| Based in country | Canada |
| Supports torrenting | No |