CloudVPN Reviews 2020 - Why 4.0 Stars?
Strong points for this VPN include robust security, the ability to access popular geo-restricted content, and a simple, straightforward interface. On the downside, you may notice a decrease in speed with this provider, especially if you are torrenting or HD streaming. Which is something you won't deal with when using more advanced VPN's like ExpressVPN.
The relatively new provider has a network of 95 servers in 41 countries.
Streaming - Does CloudVPN Work with Netflix?
CloudVPN was able to access Netflix on some, but not all of its servers. We were able to stream US Netflix using the New York server, but not the Los Angeles server, for example. We also were able to access the UK Netflix catalog through the London server without a problem.
We did notice a significant increase in loading times when connected to CloudVPN, even when connected to the closest servers. Although after an initial loading delay on Netflix, we were able to stream content without pauses for buffering.
During our tests, CloudVPN was unable to bypass the VPN blocks on Hulu and Amazon Video through any of the US servers.
CloudVPN Speeds
CloudVPN claims to offer high-speed connections. We put that claim to the test starting with a base download speed of 70 Mbps before connecting to the VPN.
Closer servers typically lead to faster speeds, so we began our speed test by connecting to nearby servers in the Eastern US. Unfortunately, we noticed a significant decrease in speed right away, dropping from 70 Mbps to 23 Mbps.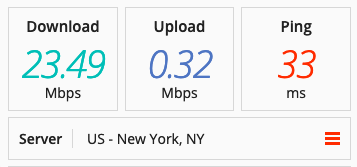 However, our download speed was still fast enough that we found it to be perfectly functional, though not ideal, for streaming content.
We weren't particularly impressed with the download speeds of 12-15 Mbps we got while connecting to CloudVPN's UK server.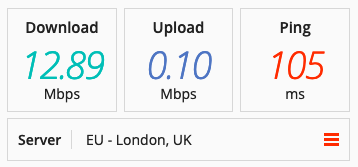 We were disappointed to find that the Canadian server performed even worse, dropping down to nearly 5 Mbps despite being physically much closer than the UK server.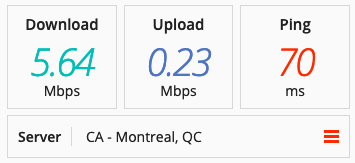 However, we were pleasantly surprised to see connection speeds above 20 Mbps with the Australian server. This is significantly better than the average VPN speeds we usually get connecting halfway across the world.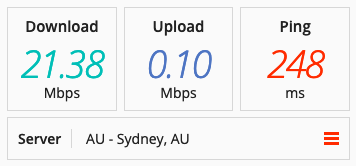 Despite some inconsistent speeds across servers, the biggest positive was that the connection speeds stayed consistent over time. We didn't experience any major drops in speed on any of the servers during our tests.
Is CloudVPN Good for Torrenting?
CloudVPN allows torrenting on some, but not all, servers. A list of servers that support P2P activity is available on the CloudVPN website.
Depending on your location, CloudVPN may be able to offer speeds fast enough for P2P downloads, but the upload speeds aren't great.
Security - Is CloudVPN Safe?
Users will be pleased with CloudVPN's robust security features, like a kill switch, DoubleVPN, and OpenVPN protocols.
CloudVPN protects your connection with AES 256-bit encryption, which offers an extremely high level of security. UDP and TCP OpenVPN protocols are supported on all platforms, as well as the IPsec protocol.
If you want to select your protocol, be aware that you may have to manually configure this depending on your platform. For example, on the iOS native app, the default connection protocol is IPsec. But, CloudVPN provides a detailed guide for how to configure an OpenVPN connection.
Does CloudVPN Keep Logs?
CloudVPN is located in Belize, outside of the jurisdiction of the 5/9/14-Eyes Alliance. The provider's privacy policy explains that their servers retain user emails that they use to send activation codes to customers. They also retain session start and end times for 90 days and the amount of data used during the current month.
Within the privacy policy, there is a strongly worded section in which they declare "every possible refusal" to the storage of usage data by themselves and all third parties.
They claim not to collect or retain any of the following information:
Your real IP address
Usage logs, including any information that users transmit or receive
User identification data
Payment information
CloudVPN reaffirms several times their promise not to share any personal data with any third parties, which is relatively rare among VPNs.
Price and Value for Money
There are several subscription plans to choose from with CloudVPN, each with the same premium features. The only difference is the length of the subscription, with longer subscriptions offering a better value.
CloudVPN offers a 24-hour free trial, but unfortunately does not offer refunds.
One great thing about CloudVPN is the fact that they accept over 40 different payment methods, including:
Major credit cards like Visa, Mastercard, Discover, and American Express
Bitcoin (for the best anonymity)
Online payment platforms
Bank transfers
Is CloudVPN Compatible with my Device?
CloudVPN has native apps available for Windows, MacOS Android, and iOS.
The interface is similar across apps, although only the Windows native app has an in-app setting to easily switch between TCP and UDP connection protocols. For all platforms, the website offers guides for how to manually configure CloudVPN with open-source OpenVPN software for more customization options.
You can connect up to six simultaneous devices with one CloudVPN subscription.
CloudVPN Customer Service
We were a bit disappointed with CloudVPN's customer service. The only way to get in touch with support is via email, and we have yet to receive a response to the questions that we emailed the support team despite CloudVPN's claim of 24/7 customer support.
In addition to the lack of live chat or phone support, we weren't pleased with their no refunds policy.
However, we found the installation guides on the website to be very thorough and helpful. We also found answers to many of our questions by reading through the online FAQ.
User Experience
The CloudVPN interface is similar across platforms. We didn't run into any issues during installation and found the interface very simple and easy to use.
It's hard to get lost with the native CloudVPN apps given the sparse settings and lack of configuration options.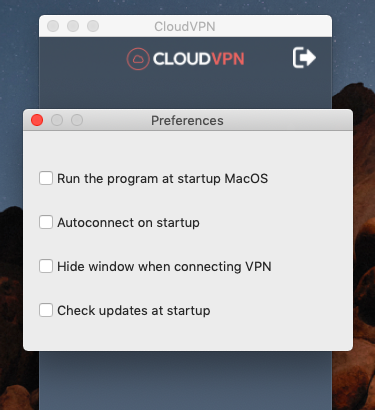 Getting started is straightforward. There is no quick connect option, but connecting to a server is as easy as selecting a location from the list and clicking connect.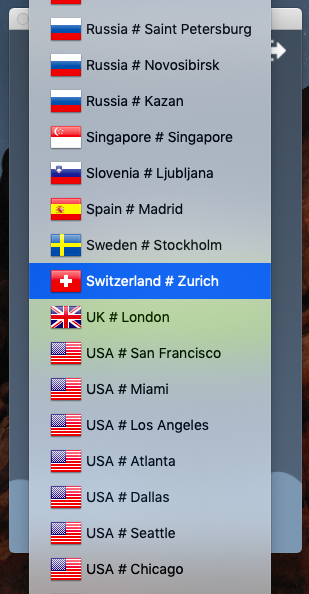 The app notifies you when your connection is complete, as well as when you have disconnected.
| Features | Details |
| --- | --- |
| Number of countries with servers | 41 |
| Number of servers | 95 |
| Number of IP addresses | 300 |
| Does VPN keep logs? | No |
| Does VPN include a kill switch? | Yes |
| Number of devices per license | 6 |
Installation is simple and takes only minutes with CloudVPN's dedicated apps for Windows, MacOS, Android, and iOS. Although the process is straightforward, CloudVPN also provides detailed installation guides on their website.
After installing CloudVPN's native MacOS app, getting started was as simple as selecting a server and clicking connect. There are very few settings to customize your experience, which could be a positive or a negative depending on your preference.
CloudVPN provides a range of subscription plans to choose from. Each plan includes the same features. The only difference is the subscription length. Overall, longer subscription plans give you a better value.
You can try out the full CloudVPN service with a 24-hour free trial. However, there are no refunds offered on paid plans.
There are over 40 payment methods to choose from with CloudVPN, including:
Bitcoin
Major credit cards, like Visa, Mastercard, Discover, and American Express
Online payment platforms
Bank transfers
Reliability & Support
4.0 / 5.0
If you have any questions or concerns, CloudVPN support can only be reached via email. They claim this service is 24/7, but we weren't very impressed with the support's responsiveness. Additionally, there is no live chat or phone support offered.
There are detailed installation guides and an FAQ page available on the website, which we found to be very helpful.
Straightforward and secure with functional speeds and the ability to unblock popular Netflix content
Overall, this relatively new VPN provider has a lot of positives. CloudVPN is easy to use, P2P-friendly, and offers strong encryption with support for OpenVPN and DoubleVPN as well as an automatic kill switch.
Speeds vary across servers, but we found download speeds to be consistent and reliable. We were also pleasantly surprised by CloudVPN's ability to unblock US and UK Netflix content.
CloudVPN is straightforward to use and protects your safety and privacy with robust security. Although not all servers offer the best speeds or the ability to unblock geo-restricted websites, enough servers do offer these capabilities that CloudVPN can be a good choice for Netflix streaming. Torrenting is supported on some servers, but upload and download speeds may not be ideal for P2P.
If you want fast upload and download speeds for P2P applications, check out our comprehensive review of the best VPN's for torrenting.
Money Back Guarantee (Days) :
0
Mobile app :
Number of devices per license :
6