FacelessMe VPN Review 2020 - Keep This in Mind Before Buying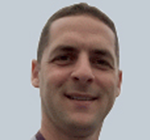 Ran Greenberg |
Published on 27th January 2020
New-Media and online expert, Venture Capitalist and investor
Security and safety is important for anyone who goes online today, and the goal of VPN provider Faceless.me guarantees anonymity for users. Getting set up with the service is quick and simple, it is compatible with Android, iOS, Mac OS X, and Windows. When the service is active, users can be sure they are anonymous and their data is safe, and they can torrent and utilize peer to peer connections over fast connections. But if choosing a low-key VPN isn't your thing, we suggest checking out a tried and tested vendor like NordVPN, which is loved by users around the globe for its advanced security features, global reach, and super-fast speeds.
Faceless.me is a VPN provider that guarantees anonymous and secure connections to its users. It provides servers in three locations: the Netherlands, the United States and Russia. It uses shared IP addresses, with PPTP and OpenVPN protocols, and 1024 bit RSA encryption. Faceless.me allows torrent and peer-to-peer file sharing, and the connections offered are speedy and reliable.
What makes Faceless.me stand out is the fact that it offers an entirely free option to users. This free option gives users the ability to use the internet securely and anonymously, as no logs are kept. However, the free option has some restrictions. The speed is limited, and traffic is limited to 2 Gb (and mobile traffic to 1 Gb). Also, users cannot change between servers. In spite of these limitations, the free plan might be ideal for someone who only needs to use a VPN service occasionally.
In order to get a truly unlimited service, with all the features of Faceless.me, users have to choose a Premium plan. Faceless.me offers two kinds of Premium subscription: 3 months and 6 months. Both subscriptions offer unlimited speed and traffic, as well as the ability to switch between servers.
With Faceless.me, users can bypass internet censorship and blocks. They can also have access to geo-restricted services based on one of the countries for which the service offers server locations. These will include streaming services such as Netflix, Hulu, Spotify, Pandora, Amazon Prime, HBO Go, and more.
Faceless.me is very easy to download, install, configure and use. For users of the free plan, no registration is required. The service is compatible with Windows, Mac OS X, Linux, iOS and Android. This means it can be used with nearly every type of desktop and laptop computers, as well as smartphones and tablets. Faceless.me provides prompt and efficient customer support, which can be contacted through a ticket system.
3 month and 6-month plans might be good for the short-term, but you often end up paying much more than you should. We suggest looking at these top-rated vendors instead who offer yearly plans too, so you can achieve even better value for money. With the maximum security features on offer with these VPNs, we think it's a safer option altogether.
| Features | Details |
| --- | --- |
| Number of countries with servers | 3 |
| Does VPN keep logs? | Yes |
| Does VPN include a kill switch? | No |
| Number of devices per license | 10 |
FacelessMe's setup is amongst the easiest. Simply download the installation files, and run them. They will guide you through the fast setup process that will only take a few minutes. If, while you are installing, the software asks you to install a driver, ensure that you do so.
If you have any problems getting the software to run, FacelessMe has a dedicated support team which can be reached through their website.
Faceless.me offers both a subscription and a free service. The free service has a limited speed and users are unable to switch between servers, whereas the paid subscriptions (available for either 3 or 6 months) allow you to switch servers as many times as you want and give unlimited speeds.
Reliability & Support
4.2 / 5.0
Faceless.me only allows contact through a support ticket system, and responded to our query in less than 24 hours. We did not have any issues with dropped connections, speeds were very varied depending on device used and server location, but were generally good.
Fast, reliable and unlimited, but only in limited locations
Although only providing servers in 3 locations: the Netherlands, the United States and Russia, Faceless.me still provides unlimited usage, for a paid package, including P2P and with torrenting support included. When tested, the connections are shown to be fast and reliable. The free option is something to seriously consider if you are only intending to be a light VPN user, though you only have access to limited data at limited speeds. However, if looking for a wider range of configuration options, and more servers and countries to choose from, you may find this service to be very limited.
No personal details needed
Free service available
Good speeds
Strong encryption
Money Back Guarantee (Days) :
30
Mobile app :
Number of devices per license :
10
FacelessMe VPN

User Reviews
ugurano
Compare FacelessMe VPN with the top alternative VPNs