OVPN.com Review & Test 2020- Keep This in Mind Before Buying
When it comes to your security and privacy online, OVPN makes bold claims that it can maintain both. But how secure is it really?
I ran every test possible to see if OVPN will give you good speeds and let you stream your favorite geoblocked content. And of course, to see if it truly is a no-logs VPN with maximum security.
To get to the point, I will say this: OVPN is good overall VPN with some neat features, including the fact it unblocks Netflix US (plus others).
But its performance in other areas was somewhat disappointing. Especially when you compare it to an industry-leading provider like NordVPN, which offers everything OVPN has and much more, at more attractive price points.
Keep reading to find out exactly how OVPN fared in my tests.
Streaming – Can OVPN Unblock Netflix?
Yes. OVPN has servers designed specifically for streaming, and they work. You can turn on the Enable streaming services toggle in the app, and traffic to your favorite sites is routed from the server from which you're connected to another one, using rented servers. These servers are rented so that if a streaming service blocks one of them, OVPN can easily replace it with a new one.
OVPN claims that it can access US, German, and Swedish Netflix libraries, so it's only right that I tested them first. I was able to access all libraries with no trouble, and the quality of my stream surprised me.
I also tried Netflix Canada, just for good measure. Accessing it was easy, but my streaming quality was badly affected and everything was pixelated.
As for other streaming platforms, the results were inconsistent:
Hulu: Yes, OVPN unblocks Hulu easily.
BBC iPlayer: No. As soon as I pressed play, I saw an error message.
ITV Hub: No. An error message once again.
HBO GO: Yes, I could easily access HBO GO.
So, if you're a fan of British TV shows, I suggest you look elsewhere. BBC iPlayer top of your list? Check out our top picks of the best VPNs for BBC iPlayer.
Speeds - How Fast is OVPN?
Most VPNs are quick to state that their speeds are the fastest. And you'll usually see it on the first page of their site, promising you speedy browsing, streaming, and gaming. But with OVPN, you don't get that.
There's not one single claim about speeds on OVPN's site. I decided to run a few quick tests to see how much my speeds were affected as I connected to different servers using manual selection.
I needed a base speed to compare my results to. Here it is:

First up, a local UK server.

As you can see, my speeds decreased considerably by 87%. But to be fair, a download speed of 24.28 Mbps is still pretty quick. I would've expected higher from a local server, but there was still no buffering or lagging while I was streaming or browsing. The ping stayed low, too, which is good to see.
Next, I branched out a little further and connected to a server in France.

My speeds dropped by 88%, which again is pretty high. But if you compare it to the local server, it's only a drop of 11%. Streaming and browsing were still hassle-free, but I've seen better speeds elsewhere.
Finally, I connected to a server all the way in the US.

Here's where things got interesting. A download speed of just 4.11 Mbps means my overall speed decreased by a whopping 98%.
This speed made all online activities completely unbearable. My advice: Use the automatic selection if you need to hop onto a faraway server. It finds you the quickest one in your chosen location so you can enjoy the speeds you need. I did it so that I could maintain HD streaming on Netflix.
These results aren't the best, and it takes some testing to find the servers with good speeds. You should get quick-enough connections if you connect to a nearby server, but you might struggle with long-distance connections.
What Does OVPN's Server List Look Like?
If you're after a huge global network, you won't find it here. OVPN has just over 80 servers in 14 countries. This could be a cause for its slower speeds: Just think about how many users might be sharing each server.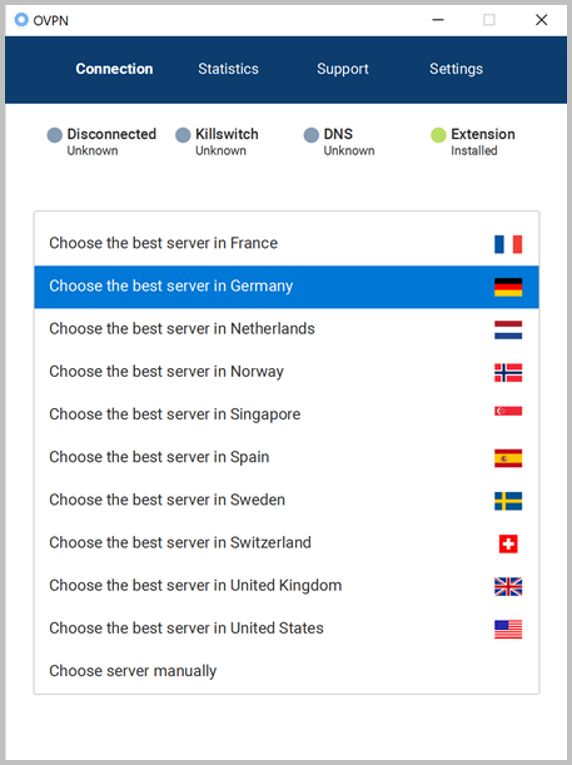 It does have all the major locations on the list, though, including the UK, the Netherlands, Canada, and the US.
Use the load information in the app to help choose a server. It tells you when a server is close to maximum capacity. If you choose a server with fewer people connected, you'll likely have faster speeds.
If you're on macOS, Windows, or Ubuntu, OVPN quickly selects the best server for you by location. That way, you get the best speeds possible.
Does OVPN Support Torrenting?
Yes. OVPN allows P2P sharing across all of its servers, and its strict no-logs policy means it's safe for torrenting, too.
However, its slow speeds mean downloading can take a long time. For safe, fast P2P sharing, I'd check out these vendors instead because they have servers optimized for torrenting.
How Secure is OVPN?
OVPN upholds tight security measures, including industry-leading 256-bit encryption with a 4096-bit RSA authentication key. This is the highest possible encryption available to encrypt and decrypt your data as it travels from your device to its destination, and back again.
It uses perfect forward secrecy, which resets your encryption key every time you log on. This sounds complicated, but it's important because it means anything from your previous session is unrelated to your new session—there's no link and no data trail at any point.
OVPN offers DNS leak protection on every server, which is a privacy feature I always like to see. It protects your online traffic from being leaked, preventing your Internet Service Provider (ISP) from seeing the sites you're visiting. You can also turn on DNScrypt to prevent man-in-the-middle attacks.
There was one thing I wasn't too keen on, though. To prevent WebRTC leaks (your IP address), OVPN tells you to install the browser extension to use alongside the VPN. VPN apps usually protect you against any leak, rather than asking you to install something else for better protection.
What Security Protocols Does OVPN Support?
OVPN supports OpenVPN UDP/TCP on all compatible devices. This is the most up-to-date protocol, with speed and security in one. It keeps you secure whenever you're online, with minimal impact on your speed, so that makes me happy.
However, there's no option for other security protocols. This means IKEv2/IPsec, PTTP, and L2TP are not available.
Does OVPN Keep Logs?
OVPN is based in Sweden, which sits within the 5/9/14 Eyes Alliance, so it's required to share any information it holds about you with the surveillance countries.
Before you start to worry: OVPN doesn't keep any logs. Its privacy policy clearly states that it doesn't store any of your personal data or online traffic. Its servers are configured with syslogs and write privileges disabled, so they don't store logs, either.
By using RAM storage, OVPN ensures that all data is wiped when the systems are rebooted. Using a hard drive is outdated, so I was glad to see the modern RAM storage being utilized. Plus, it means your data is safe because it's wiped from storage every time.
One feature I liked is that you don't need to supply an email address to sign up. It's optional for OVPN, but it's usually mandatory for most other vendors. All you need is a username and password for OVPN, so that's one less thing that can be attached to your name.
Does OVPN Have a Kill Switch?
Yes. OVPN has a kill switch for the desktop app. It's automatically enabled, so you don't need to switch it on yourself.
A kill switch is one feature that always makes a VPN stand out, since it's the feature that keeps you and your data secure if anything goes wrong with your connection or device. Anything that interrupts your connection has the potential to cause a leak, but a kill switch blocks your traffic if this ever happens, so you're secure.
Does OVPN Have an Ad Blocker?
On the desktop app, there's no ad blocker.
However, OVPN also offers a browser extension, which does include an ad blocker to protect you from trackers, cookies, and malware.
A browser-only ad blocker seems strange to me, and it's disappointing that it's not in the desktop app. I think it's better to check out one of these options instead.
Multi-Hop Feature
OVPN offers a multi-hop feature for an additional cost. This is a great add-on if you want as many options as possible to protect your online privacy.
With multi-hop, you can connect to multiple locations simultaneously, with no single line of traffic from your real location. This makes you harder to find and track.
Is OVPN Compatible With My Device?
OVPN is compatible with the many popular platforms, including:
Windows
macOS
Debian
Ubuntu
Android
iOS
Vilfo routers
Most noticeably missing from this list is Linux. If you're a Linux user, these VPNs have you covered.
Does OVPN Offer Browser Extensions?
Yes. It has browser extensions for Chrome, Firefox, Opera, and Vivaldi.
The browser extension has some added features you'll enjoy, but it also misses out on some, too. Let's start with what it does have.
You have added protection with a built-in ad blocker and WebRTC leak protection, so you're free from cookies, trackers, malware, and any potential leaks that may expose your physical location.
You can also restrict certain sites so you can only visit them if your browser extension is turned on. Any time you visit without your VPN, it'll block you. It's a nice reminder and another way of keeping you secure.
But the browser extensions don't have a kill switch. This is not good, and OVPN knows it. That's why it advises using the desktop app and browser extension simultaneously for the best protection.
How Many Simultaneous Connections Do I Have?
OVPN allows four simultaneous connections at any one time.
Is OVPN Easy to Use?
OVPN has a simple interface that makes finding servers easy. It's not the most modern app, but it's straightforward, even if you're a VPN newbie.
In the settings area, you can easily toggle on and off streaming servers, the kill switch, and more to adjust your experience.
You can also opt for OVPN to launch as soon as you turn on your device and to connect to a server automatically, too.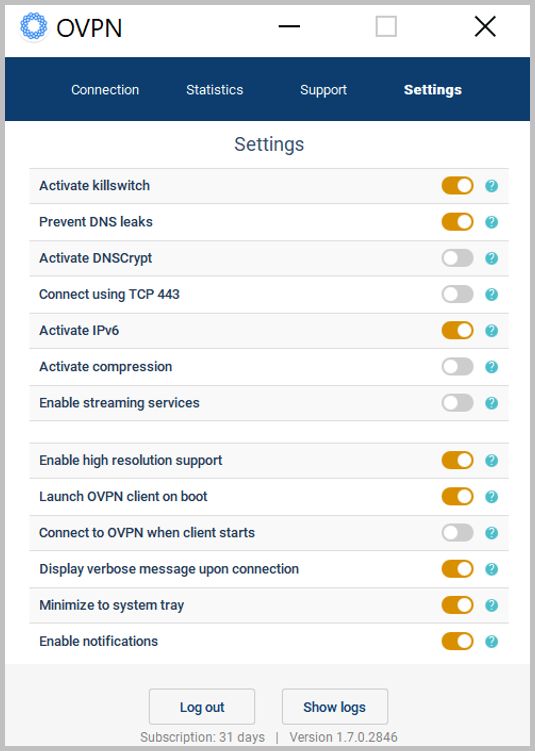 Customer Service
There's a live chat you can use for support queries, but it's not available 24/7. Working hours are 9 AM to 5 PM Central European Time, so be cognizant of when you write.
You also have access to plenty of step-by-step guides filtered by device type, plus some useful FAQs. Ticketing support is available in the app, too.
| Features | Details |
| --- | --- |
| Number of countries with servers | 14 |
| Number of servers | 83 |
| Number of IP addresses | 3225 |
| Does VPN keep logs? | No |
| Does VPN include a kill switch? | Yes |
| Number of devices per license | 4 |
Pricing and Plans
OVPN offers a few different plans, with the longest being 12 months. You can also sign up for a one-month or six-month subscription, too. Obviously, the longer you sign up for, the cheaper it gets.
To save more money, you can use the refer-a-friend promotion. It drops the price of your subscription depending on how long you each sign up for.
Pricing is quite low, which is tempting, but I still think you can get better value for your money elsewhere.
Does OVPN Have a Free Version?
No, there's no free version or free trial with OVPN.
OVPN Refund Policy
OVPN has a money-back guarantee of 10 days. It's probably long enough for you to explore the app and see if you like it, but other vendors usually give you at least 30 days guaranteed.
Fair prices and good compatibility, but some shortcomings
OVPN has quite a bit to offer. But "quite" is never good enough in my eyes. Sure, there's high security and it can unblock Netflix for you, but its performance in other areas isn't up to other VPNs' standards.
Its speeds are slow, UK content is off-limits, and the server coverage is very small.
OVPN may be an okay choice for protecting your online security, but if you want a VPN that can bypass all geo-restricted content and give you all the security benefits listed here plus more, opt for a premium provider such as NordVPN. You won't be disappointed.
2048-bit SSL Encryption
Gateways on 10 GBPS Backbone Network
Provides High-Security VPN Connections
Sells Pre-Configured Router
Custom Built Gateways without Hard Drives
Money Back Guarantee (Days) :
10
Mobile app :
Number of devices per license :
4
Alessandro
The service itself cuts my speed to a fifth to what I normally have. I basically didn't use it and forgot about it, until the annual renewal arrived with the $84 fee. I politely asked to cancel it and refund me the money since I wasn't planning to use it. They refused it, using their policy and the classic "there's nothing we can do" and blaming me since I agreed with it. Even if it's legal (because they are based in Sweden) it's still a bad move toward customers.
---
See Plans
Reply to this review
Did you know? We approve all user reviews. Companies can't pay to include or exclude any.
Anonymous

Feb 13, 2020

If the problem is the cut speed, then you should probably choose another datacenter. I'm quite sure that it isn't always the service itself that has errors.

---

See Plans

Reply to this review

Jay

Purchased OVPN with auto-renew many months ago and forgot all about it. Had not been using it on a regular basis because there were better performing VPNs available. It renewed automatically and I got an email receipt for the service extension that I didn't really want. Since it was only a day I thought that OVPN would reverse it and cancel the service ....but No! Since auto renew was in effect at the time, they basically said "too bad" ....

---

See Plans

Reply to this review
Alex
Service is amazing and love the experience overall! Plus it's easy to use isn't that a reason enough?! But for details , you can choose any country and have good enough speed for stream and play so enjoy!
---
See Plans
Reply to this review
Stefan
Excellent service and quality!
They have a really high quality and high service! The clients are really good to use. I have even the OVPN box home and that thing is excellent for our security! We recommend all people who is in need of a high quality VPN service to choose OVPN!
---
See Plans
Reply to this review
Compare OVPN.com with the top alternative VPNs