StraightVPN claims to offer fast speeds via its WireGuard servers, that only users have access to. I found out that it leaves a lot to be desired.
It offers unlimited bandwidth and no speed throttling on both free and Premium plans. Its servers use WireGuard protocol for added speed, and according to the vendor, improved connectivity. On top of these features, StraightVPN's servers are only accessible to users.
StraightVPN offers users 1 US-based server on its free plan, and 5 additional servers on Premium; including France (2), Netherlands (2), and Germany (1). A VPN with a small number of servers isn't necessarily an issue, but I discovered that this VPN falls short on more than servers.
Short on Time? Here Are My Key Findings:
6 servers in 4 countries
Easy install, less than 5 minutes
Unnecessary permissions request
Android only
Speeds
I attempted to connect to the free US server after install but received the dreaded buffer-circle. I gave it about 10 minutes to connect but it ended up timing out.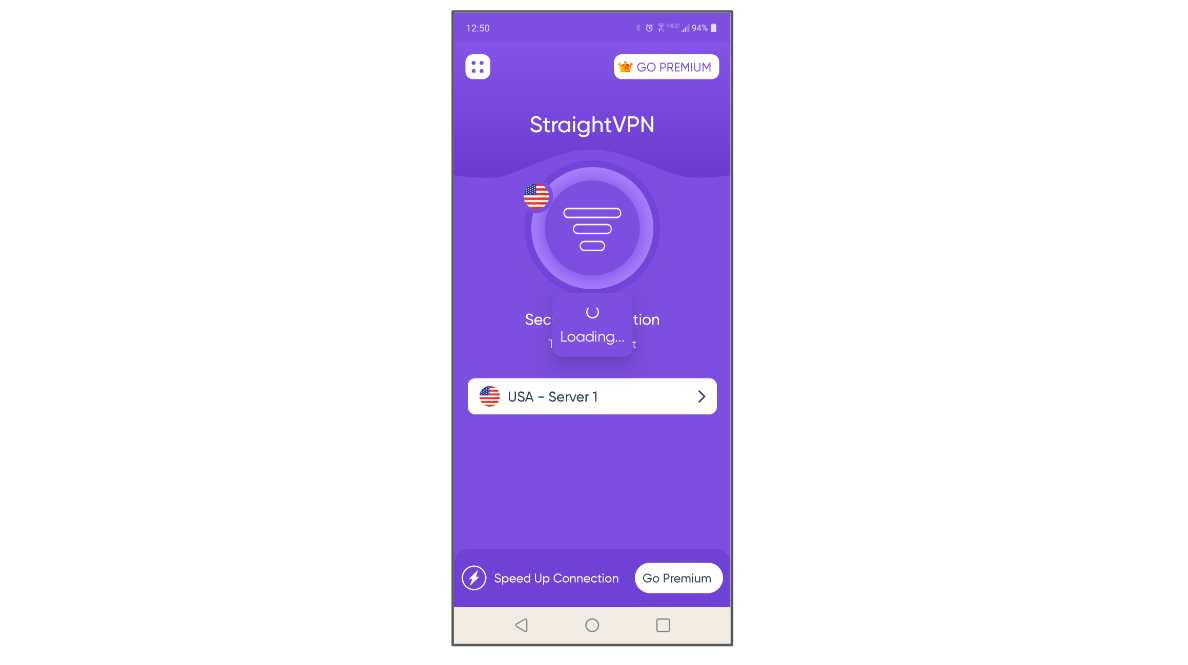 StraightVPN US-based free server, buffered and then timed-out.
I checked my internet connection, which it turns out was working perfectly, so I uninstalled and reinstalled the app thinking something may have loaded incorrectly. I tried connecting to the US server again with the same result.
Since it's not uncommon for free servers to become overloaded with traffic and load slowly or buffer, I decided to take advantage of the 3-day free trial to test the Premium servers. StraightVPN's app FAQ section says you won't have to deal with disconnects or buffering on the Premium servers, so I was hopeful. No such luck.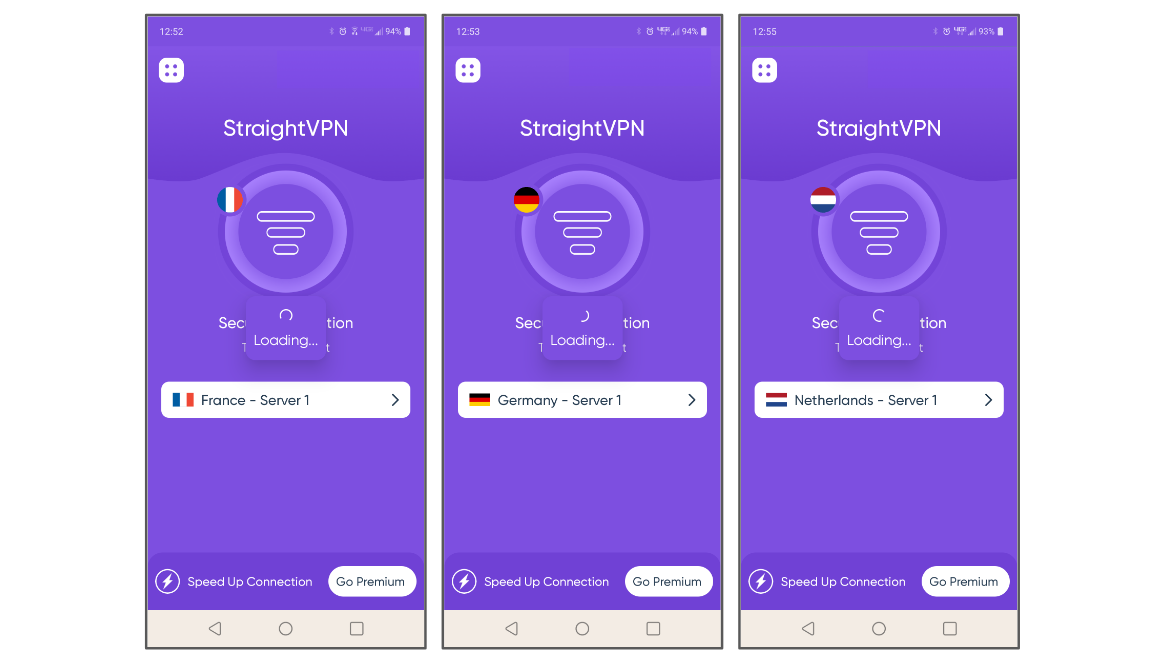 StraightVPN's France 1, Germany 1, and the Netherlands Premium servers timed-out before establishing a connection.
I tested a server in each Premium location. Even though it allowed me to attempt to connect to the servers, each one only buffered and then timed-out like the free server. Not only that, it kept asking me to buy premium. Why would I do that when I couldn't even get a Premium server to connect?
While it's disappointing, I'm not surprised. A server network consisting of 6 servers can only handle so much traffic, regardless of server type, protocols, or user-only access.
Security
While WireGuard servers sound impressive, very few VPN services have been able to safely integrate WireGuard protocol. Past saying it offers WireGuard servers only accessible to StraightVPN users, it offers no information on encryption level, other available protocols, a kill-switch, malware blockers, firewalls, or any other standard VPN security information. Both the site and the app claim the service is secure, but don't offer up many details on what it uses to secure your data.
On top of that, the Privacy Policy doesn't inspire much confidence in its ability to secure user data, with a laundry list of information they may keep and cookies they use. You can opt-out of these cookies by disabling by visiting the Network Advertising Initiative Opt-Out page or Google Analytics Opt-Out Browser add-on, but most legitimate VPNs offer an option on the app for opting out of certain types of data collection or cookies.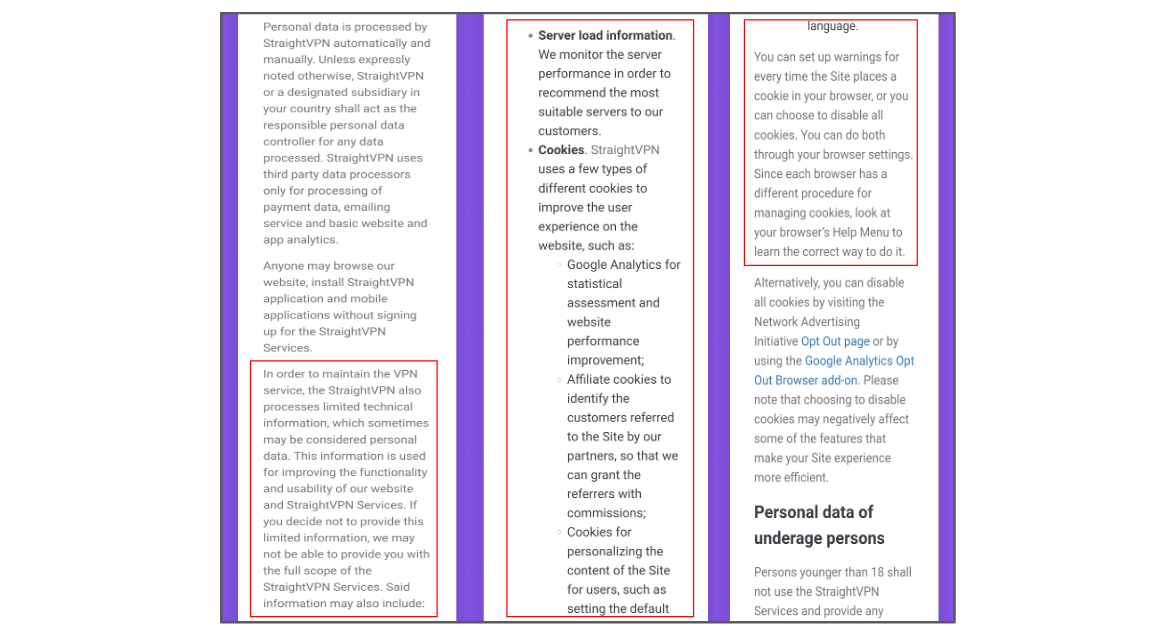 A snippet of some of StraightVPN's Privacy Policy, with potentially collected information highlighted.
Digging further I decided to check out app permissions as I do for all mobile apps, and what I found could potentially put your location, image, and device data up for bids to third-parties.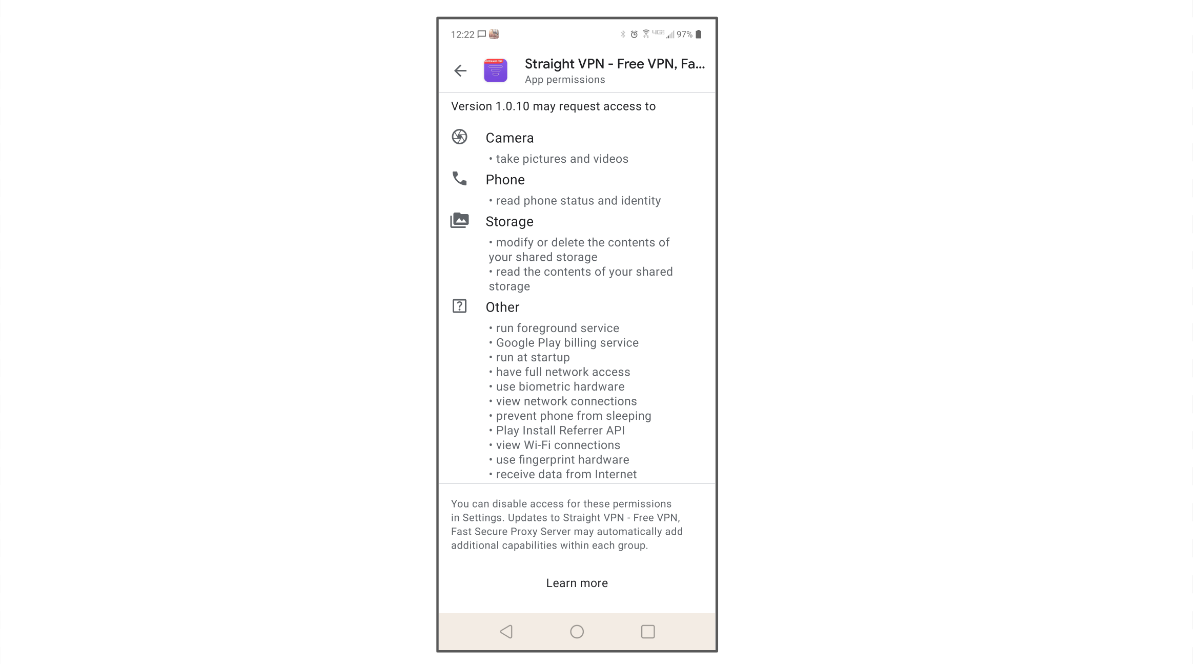 A screenshot of StraightVPN's lengthy permissions requests.
Not only does StraightVPN request permission to read your phone status and identity, a request that could potentially leave IMEI information up for grabs, but it also wants permission to take pictures and videos. If you look under Other it also wants permission to use your fingerprint hardware but a quick check of the app will show that it doesn't offer login via biometrics (fingerprint scan). I tested it and was never given the option once.
Other permissions that are bothersome but those were the most troubling. This is why reading and understanding the permissions apps request is so important. While it's incredibly hard to get personal information like your IMEI from reading phone status and identity, it's possible. Besides, the last thing you want is an app that has nothing to do with camera or photo editing software accessing your camera to take photos and videos.
Pro Tip:
Downloading VPN apps without reviewing the permissions requests creates an enormous potential risk to your privacy, safety, and identity. Be on the
lookout for VPNs that request permissions like read phone status and identity, use fingerprint or biometric hardware (where no fingerprint login option exists), or take photos and video
. To get a good idea of safe permissions, check out the app permissions for our
top VPNs for Android
.
Please note that it is not unusual for browsers with built-in VPNs (like Opera) to request access to photo and video as well as biometric hardware. This is because you may log in via fingerprint to certain accounts on your phone using the browser or use a social media site add-on to take photos.  
Can It Unblock Netflix?
I was unable to access any server to test this feature.
Torrenting
Don't torrent with this VPN, even if you manage to connect to a server. With no kill-switch and the frequent time-outs I experienced trying to connect, you could put yourself at risk of being tracked when the server eventually disconnects. Especially on the free server, as it automatically disconnects you after a half-hour.
StraightVPN Features — Updated in January 2022
7.0
💸

Price
$0/month

📆

Money Back Guarantee
14

📝

Does VPN keep logs?
Yes

🖥

Number of servers
6

💻

Number of devices per license
1

🛡

Kill switch
Yes

🗺

Based in country
Germany