VPN Master Review 2020 - Keep This in Mind Before Buying
VPNMaster is difficult to download, has slow customer service, and the speeds and encryption capabilities aren't that much better than free versions that are available. If you have to pay for a service, we would recommend looking at ExpressVPN or NordVPN. MasterVPN is hardly a premium service, but only available at a premium cost. I honestly can't understand what would prompt a person to choose VPNMaster.
That also means it definitely can't unblock Netflix on any of it's servers, or any other streaming sites. If you're looking to bypass Netflix's geoblocks, why not check out one of our top picks?
Located in the USA, VPNMaster has been providing services since 2008. As a lot of people are concerned about the sensitivity of the data that they are sending out over the Internet, VPNMaster market themselves as being a particularly secure private network. To their benefit, VPNMaster works questionably well on every major operating system, such as Linux and iOS and it has the adaptability to be used on different devices, though don't even think about using them simultaneously!
The servers are limited to just 14 countries and do not include top Internet active countries such as Australia, New Zealand, China, Japan, India, Singapore and Spanish speaking countries. No trial version is available which is something that they should really consider, as clients should be able to identify whether the site that they want to access works well, before having to purchase it.
Depending on the website, Encryption and speed levels varied significantly. Generally, BBC worked well, Hulu had reasonable encryption but poor speed, and you can pretty much forget about using Netflix.
Setup was particularly frustrating. A process that should have taken 5 minutes ended up taking an hour. Setup instructions were sent to my email but were long, overly-detailed and not easy to apply. This made it difficult to locate the download page, which significantly added to the time involved. However, VPNMaster does appear to have full symmetry, as the cancellation procedure was just as difficult to implement as the setup procedure. It took numerous emails, a ticket number, a review by a senior admin, and to date, I still have not received confirmation that my subscription has been canceled. All the more impressive when you consider that I canceled my subscription within the 24 hour refund period.
All in all, my advice is to stay away. Far away.
For better VPNs, it's worthwhile considering other options on the market, which offer higher speed servers, have better security, are much easier to use and likewise easier to install.
Are you looking for a VPN to start streaming Netflix? While VPMMaster isn't able to bypass geoblocks, these top five VPNs keep you secure and offer speedy, hassle-free streaming.
| Features | Details |
| --- | --- |
| Number of countries with servers | 14 |
| Number of servers | 14 |
| Does VPN keep logs? | Partially |
| Does VPN include a kill switch? | No |
| Number of devices per license | 1 |
As mentioned earlier the process of installing VPNMaster took much longer than what it should have.  To install on Windows 10, you are first required to go to the VPNMaster homepage and select the plan that you want. You then need to fill out your personal and payment details. Payment options include either paypal, credit card or bit-coin. Confirmation emails are then sent to your inbox as well as a Welcome email that provides you with installation instructions. With no logical sequence to the process it was difficult to locate the download page. We eventually found it several steps later, beyond what the instructions advised.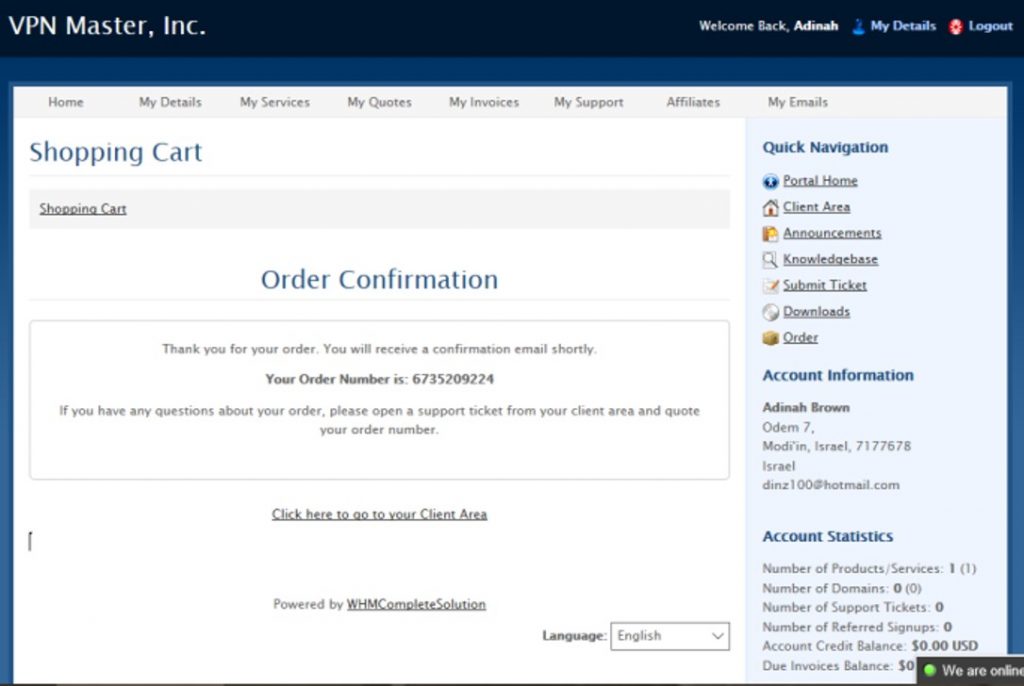 The password you log into for client services is not the same as for proxy server access. Every time you want to try a new server the existing password that you have therefore doesn't work and a new password needs to be reissued to you. All extremely frustrating.  No trial version was available, instead the only option to trial the service was to pay the fee and hope that they follow through on their 24 hour refund policy. Even still, 24 hours is just not long enough, as you really need at least a week to determine if the VPN is suitably meeting you needs.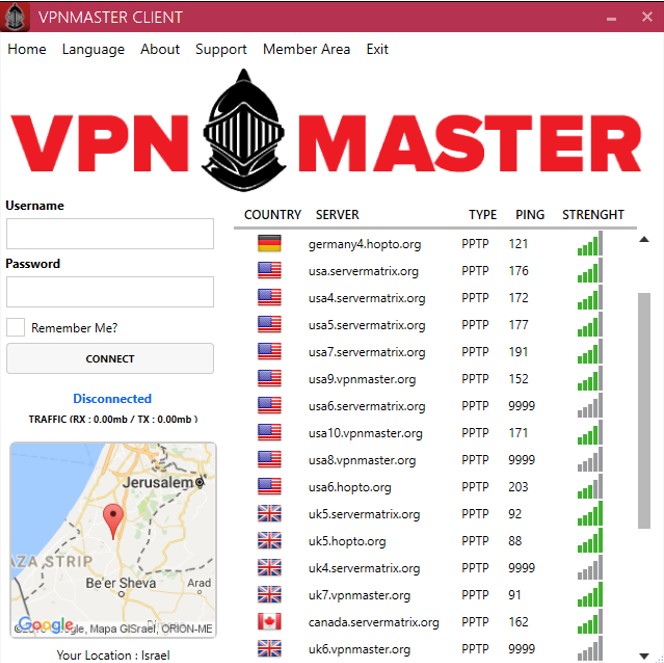 VPNMaster can be purchased in three different packages that all offer the same thing and just vary in terms of their time duration.  A monthly plan, a three month plan, and an annual plan. Payment could be made via Paypal, credit card and Bitcoin.  I think it needs to be acknowledged, albeit cynically, that the only part of this service that worked efficiently was payment.
Reliability & Support
3.3 / 5.0
At different stages of the installation process and in trying to access Netflix we utilized the online chat service available.  The online chat was slow but they did answer. In relation to the installation problems, they were able to assist and that is how I eventually located the download page. In relation to not being able to access Netflix of the US based server, they were not able to assist, rather they suggested that I just try to access the site via another server. The welcome e-mail had instructions for installation, but they were not clear and therefore not helpful.
I tested each of the different servers that we used in order to get a comparison of the processing speeds that are available.
Proxy US Download speed: 0.57Mbps, Upload speed: 1.11Mbps
Proxy UK Download speed: 1.13Mbps, Upload speed: 0.94Mbps
Proxy Germany Download speed: 0.956Mbps, Upload speed: 0.130Mbps
Without the VPN, the operating speed of my computer was 1.12Mbps for German downloads and 0.140Mbps for uploads. The nonproxy speeds for the UK Download was 2.43Mbps, while the upload speed was 0.24Mbs.
VPNMaster claims that they don't keep logs. Due to a legal precedent with a case involving HMA, all VPN servers are legally required to have log activity accessible for clients. Whether we were not provided with access or just couldn't find them is unclear, but not having access to the logs was highly disconcerting. Adding just another warning bell not to use their service.
No better service, encryption, speed or performance than most free proxy server providers, VPNMaster, offers the very unprivileged opportunity to pay top dollar for a sub-level service. Should you have the need to go undercover on an internet site restricted to Iceland and be able to pay in bitcoin, then this might just be the service you're looking for. That is also if you are a person of exceptional stamina who is willing to put up with their lousy customer service. For the 99.9% of the rest of us, I would say look elsewhere. There are numerous other VPN's that perform much better and provide far better security measures as well as terms and conditions. Save yourself the hassle and check out this list of top rated VPNs.
USA based VPN provider
Server locations in the USA, the UK, Canada, and Germany
Has been providing VPN services since 2008
Money Back Guarantee (Days) :
1
Mobile app :
Number of devices per license :
1
Watch the short video review and tutorial below of VPN Master
Mr Keith Turnbull
A Free APN easy to use. The few adds are acceptable interesting and manageable. My junk Email has shrunk to zero
I am an elder smartphone user. Smartphones are not easy to use. I understood a VPN is a safeguard. Due to my circumstances. They must be free. I tried 2 others, junk mail and spam was unbearable. Since downloading "VPN MASTER" spam and junk Email have virtually gone (mastered). The only worry is it cuts out (like on a timer) and has to be reset.
---
See Plans
Reply to this review
Did you know? We approve all user reviews. Companies can't pay to include or exclude any.
Amy
Garbage. Servers always down, missing or slow as crap
Enough said. You are better off using the free version because the paid subscription for "VIP" access is no good. Servers have been down the past 2 days and who the heck knows what happened to their US servers. I can't use any of my apps or services routing through any other server other than the one based in the US which negates the purpose. Don't waste your hard earned cash on this service.
---
See Plans
Reply to this review
Marianne
Hasta que cambiaron la version 1.7.0.34 y ahora esta nueva version no sirve, nunca carga, y se cierra sola, que mal, la antigua vpn master version 1.7.0.34 era lo máximo, ahora actualizaron y no sirve para nada.
---
See Plans
Reply to this review
Compare VPN Master with the top alternative VPNs