Windscribe VPN Review & Test (2020) - Too "Cheap" To Be Secure?
Windscribe VPN is a Canada-based provider that promises to help you browse the web privately.
In addition to its paid service, this VPN has a popular free version that attracts many users with its generous 10GB monthly data limit.
The Pro version gives you access to unlimited data and servers in 110 cities spread across 63 countries. Windscribe Pro also gives you the option of port forwarding.
Fans of its advanced feature R.O.B.E.R.T will be happy too. New updates to the feature allow you to spoof domains to an IP address of your choosing, and to block IPs and IP networks that may be untrustworthy. If you're not sure what R.O.B.E.R.T is don't worry, we cover it in further detail a bit later on in this review.
I put this VPN to the test to find out how its performance compares to other top VPNs on the market.
Overall, Windscribe VPN has a lot to offer. It can help you torrent, stream Netflix US, and is packed with privacy features.
There's one major drawback, though. While you have access to Netflix US, all other countries are off limits. If you want to switch between worldwide Netflix libraries, check out one of these vendors.
I discovered a few other areas with some weaknesses as well. Keep reading to find out how this VPN performs in each category.
Streaming – Does Windscribe VPN Work with Netflix?
A high-quality VPN can help you access geo-restricted streaming content by masking your true IP address.
When you connect to a VPN, it assigns you a new IP address. If you connect to a VPN server located in a different country, you will be assigned an IP address from that location.
This can help you access geo-restricted streaming content all over the world. The problem is that many streaming platforms like Netflix have gotten better at detecting and blocking VPN traffic.
Windscribe has dedicated VPN servers to help users access Netflix in various countries. These are labeled as Windflix in the server selection menu.
I connected to Windscribe's Windflix US server and opened up Netflix. I was able to stream content from the Netflix US catalog without a problem.
However, I was not able to access the Netflix catalogs of other countries I tested. But with a leading vendor like NordVPN, you have access to Netflix libraries around the world with no restrictions.
Windscribe's dedicated Netflix streaming server in the UK was not able to access Netflix during my tests. I was blocked by the following message: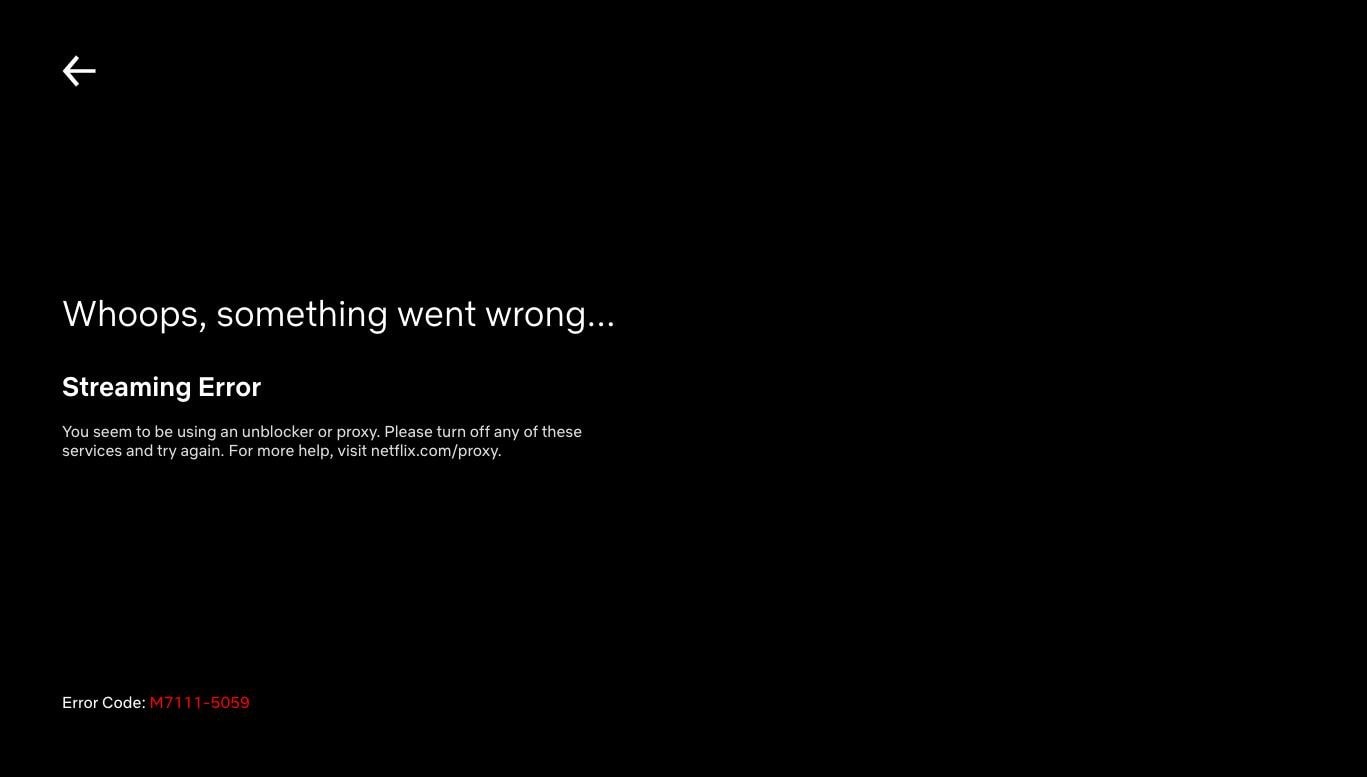 I was also blocked by Hulu's VPN ban on all of the US servers that I tested: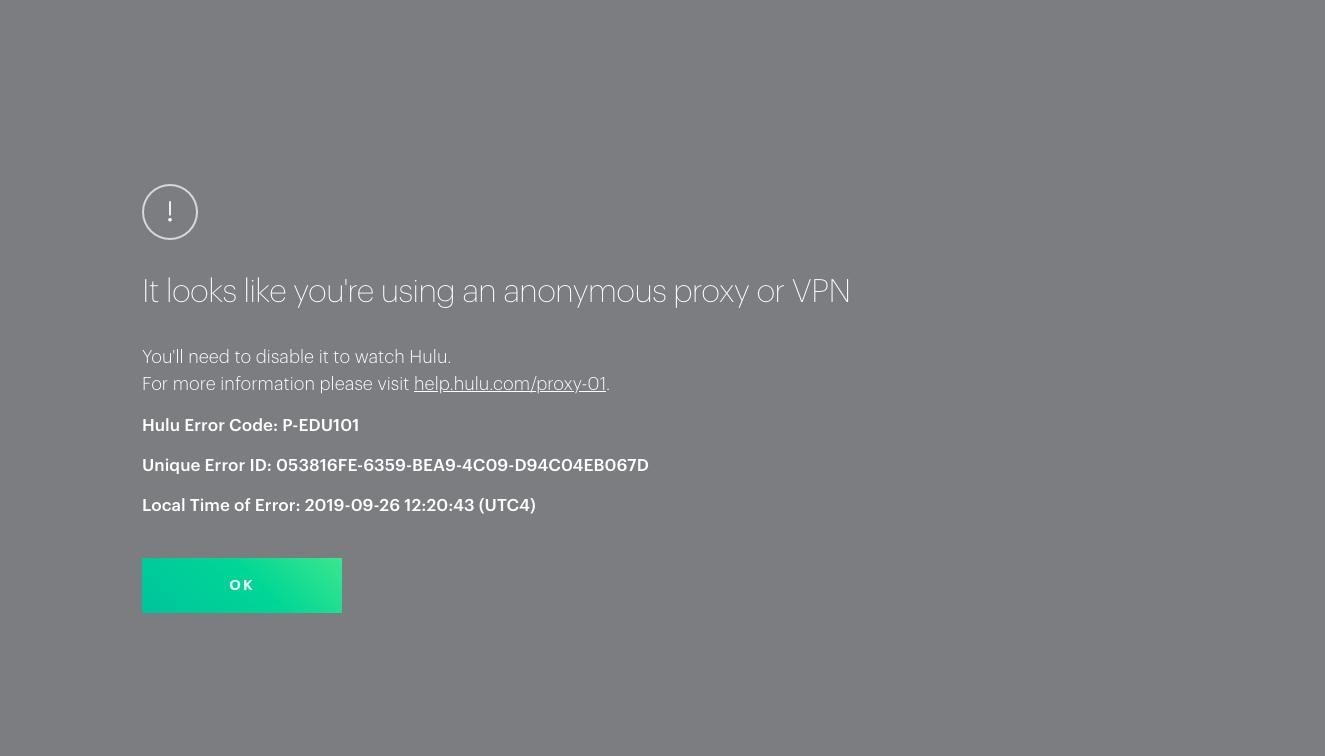 I had similar issues accessing Amazon Prime Video:

Windscribe also failed to access HBO GO, and BBC iPlayer.
Windscribe VPN Speeds
One of the most important qualities that you should be looking for in a VPN is fast connection speeds.
A VPN that slows you down can quickly become very frustrating. Whether you are streaming, torrenting, online gaming, or simply browsing the web, you need a VPN that is fast enough to keep up with your needs.
I tested the connection speeds of Windscribe VPN to see how it compares to other popular VPNs.
Before connecting to Windscribe, my download speed was 61.74 Mbps.
By comparing my starting speed to my average connection speeds while connected to the VPN, I can find out if Windscribe is slowing me down.
I connected to a Windscribe server near my location in the US. Servers closer to your physical location tend to give you the best connection speeds.
My average connection speed on the US server was 26.22 Mbps:

Windscribe's dedicated US Netflix server was a bit faster, with an average speed of 38.15 Mbps:

After connecting to a Windscribe server in the UK, my average connection speed was 30.28 Mbps:

A server in Germany had an average speed of 3.77 Mbps:

On a Windscribe server across the world in Japan, my average connection speed was 9.63 Mbps:

As you can see, there were some inconsistencies in Windscribe's server speeds.
The good news for Windscribe is that its dedicated US Netflix server, which is only available to premium members, delivered pretty fast connections.
On the other hand, I experienced a noticeable drop in speed on some of the servers that I tested.
Windscribe has decent server speeds overall, but right now it can't compete with the fastest VPNs on the market.
Is Windscribe VPN Good for Torrenting?
Windscribe VPN allows torrenting on most servers in its network.
The server selection menu identifies which servers should not be used for P2P file sharing activity. These servers are labeled with a crossed out P2P icon.
Security – Is Windscribe VPN Safe?
You need to be able to trust your VPN to keep you safe. It looks like Windscribe is doing its job correctly.
I ran multiple leak tests while connected to Windscribe VPN. I did not detect any DNS or IP leaks.
This is how I was viewed by the websites I visited while connected to a VPN server in the UK: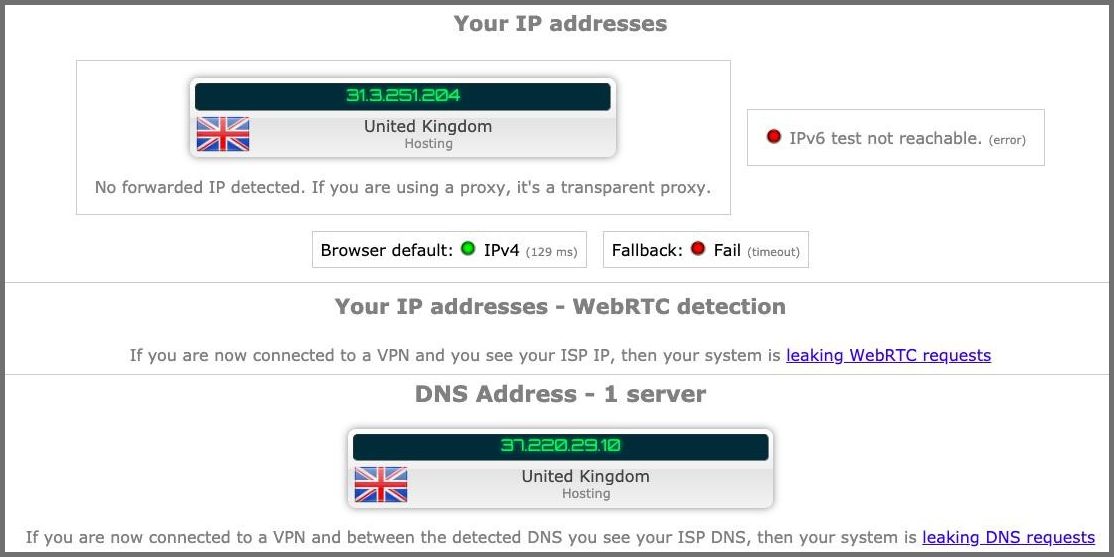 As you can see, my real location in the US was masked with an IP address in the UK. This is exactly what it looks like when a VPN is doing what it's supposed to.
Windscribe offers DNS/IPv6 leak protection to ensure that there is no way for your location to be exposed.
The VPN also comes with WebRTC leak protection and an automatic kill switch, which Windscribe calls its firewall. The kill switch will cut off all internet traffic if your VPN connection suddenly drops.
Without a kill switch, your data could be exposed if you lose your VPN connection.
Other advanced features that you can use to customize your security include port forwarding, split tunneling, and double hop.
Does Windscribe VPN Keep Logs?
Windscribe is located in Canada, which is a member of the 5/9/14-Eyes Alliance. That is typically not something that privacy lovers like to see.
However, a VPN provider can't share data that it doesn't collect in the first place. The most important thing to look at is the VPN's privacy policy.
Windscribe's privacy policy states that the VPN never collects usage data such as the websites that you visit while connected to the VPN.
The following types of information are never collected by Windscribe:
Historical record of VPN sessions
Source IP
Sites you visited while connected to the VPN
This is what Windscribe does collect:
Total amount of bytes transferred in a 30 day period
Timestamp of your last activity on the Windscribe network
This data is collected to enforce the limitations of the free tier and to prevent abuse of the network.
Overall, this is a pretty standard privacy policy. I also like the fact that Windscribe makes an effort not to require you to give out any identifying information.
The only things you need to provide to create an account are a username and password.
You don't have to give Windscribe an email or any other type of contact information if you don't want to. To maximize your anonymity, Windscribe allows you to pay with Bitcoin.
Does Windscribe VPN Have an Ad Blocker?
Windscribe offers Pro users a unique security suite called R.O.B.E.R.T. It is a customizable blocker that protects you from a variety of harmful and invasive content.  R.O.B.E.R.T is available in a limited capacity on the free plan as well.
With R.O.B.E.R.T., you can pick and choose from a list of content to block, including advertisements, malware trackers, and cryptominers.
Blocking these web features helps keep you safe, but it can also have other benefits. It can sometimes increase your browsing speed because there is less content to load.
You can even use R.O.B.E.R.T. to help you control your own browsing habits. The feature allows you to block things like social networks, sexually explicit content, gambling sites, and more.
Does Windscribe VPN Work in China?
In recent years, China has been cracking down on VPN use in the country. More and more VPNs are struggling to compete with the Great Firewall of China.
That makes it even more impressive when a VPN like Windscribe is able to bypass these restrictions.
Most users report that Windscribe does work for them in China. The VPN has some special connection modes that are designed to work in restrictive environments like China.
Windscribe has a Stealth VPN mode that masks your OpenVPN traffic by hiding it inside of a secure TLS tunnel. The company recommends this mode for users in China.
If all other protocols fail in China, Windscribe also has a Wstunnel mode that wraps OpenVPN in a WebSocket.
In Windscribe's FAQ, the company encourages users to contact support for help if they can't get the VPN to work in China.
Price and Value for Money
Windscribe offers affordable packages that won't break the bank. There are three types of paid packages – monthly, yearly, and a 2-year subscription.
The monthly subscription rate is reasonable for the great value that Windscribe offers with its VPN service.
Decent discounts are offered on longer subscriptions, which makes it even more affordable. The company also offers special discounts for students.
The company doesn't offer dedicated IPs, but you can buy a static IP for an additional monthly fee.
Windscribe offers good value for money, but its long-term plans are still a little pricier than some top competitors like NordVPN.
Does Windscribe VPN Have a Free Version?
Yes, Windscribe VPN offers a free version of the service. If you're on the fence about Windscribe VPN, the free version is a great way to test it out.
However, the free version probably won't be enough for most people's needs in the long-term. It comes with some big limitations.
For one thing, the free version doesn't give you access to Netflix. The dedicated Windflix servers are only available with the Pro version.
With the free version, you only have access to servers in 11 countries. These servers are sometimes slower because they are more crowded.
The free package allows 10GB of data per month and offers unlimited connections. This isn't a huge amount of data, but it is much more generous than most free VPNs.
Quick tip: Windscribe will permanently add 5GB to your monthly plan if you tweet about the company. Details can be found on Windscribe's website.
Windscribe VPN's Refund Policy
Windscribe VPN's refund policy is pretty restrictive compared to many of its competitors.
When you buy the service, you only have three days to request a refund. It's not a lot of time, but considering you can test it out with the free version, this is somewhat reasonable.
To request a refund, you must submit a written request to the support desk within three days of purchasing a subscription.
Keep in mind that you will only receive a refund if you have used less than 10GB of data.
Most popular VPN services offer a longer money-back guarantee without these kinds of restrictions.
Is Windscribe VPN Compatible with My Device?
Windscribe offers dedicated apps for all major platforms, along with router installation guides.
The company also sells pre-configured routers that make it easy to protect all the devices in your home or workplace.
You can download the Windscribe VPN app for Windows, Mac, and even Linux. The VPN also has browser extensions for Chrome, Firefox, and Opera. The Chrome and Firefox browser extensions now include malware and phishing blockers and location and API spoofing. Windscribe also recently developed a new iOS app, that offers IKEv2 and OpenVPN support, network whitelisting, and shortcuts for Siri. Its Android app was updated as well, and now includes IKEv2/OpenVPN support, split routing, and new design features like Dark and Custom Color Mode.
If you want to live stream videos on your TV, Windscribe can be installed on Amazon Fire TV, NVidia Shield, and Kodi.
For both the free and paid versions, you can connect an unlimited number of simultaneous devices, which adds a lot of value to the service.
Encryption
Windscribe protects your data with strong encryption. The VPN uses AES-256 cipher with SHA512 auth and a 4096-bit RSA key.
The VPN also supports perfect forward secrecy. This is a method of encryption that regularly generates new, unique encryption keys for your VPN sessions.
This guarantees that even if your encryption key were somehow compromised, only a small amount of data would be vulnerable.
Windscribe allows you to choose your VPN protocol. By default, the VPN uses the IKEv2 protocol, which offers a good balance of security and speed.
You can also use the VPN with OpenVPN. Windscribe lets you choose between UDP and TCP OpenVPN connections.
The VPN's Stealth Mode hides OpenVPN in a TLS tunnel via Stunnel. This makes it a good option to use in restrictive countries like China that often block VPN traffic.
Windscribe VPN Customer Service
In the past, the only way to contact Windscribe was through their ticket system, which still exists.
The customer service team typically responds to tickets within a few hours, but it can take as long as a few days.
If you want real-time assistance, you can turn to Windscribe's live chat service. The company's chatbot, Garry, can answer most common questions and support requests.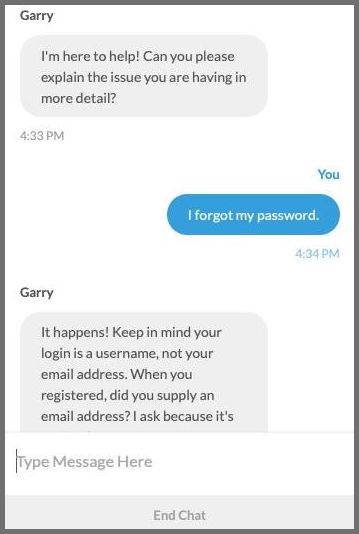 If your question is too complicated for Garry to handle, you will be transferred to a live chat team. I found the live chat customer service team to be responsive, friendly, and helpful.
The website also provides some helpful resources like FAQs, blog posts, and a searchable knowledge base.
User Experience
Windscribe VPN is a very user-friendly service. The desktop apps and browser extensions have a stylish, minimalist design.
You can connect to the VPN with a single click from Windscribe's main interface.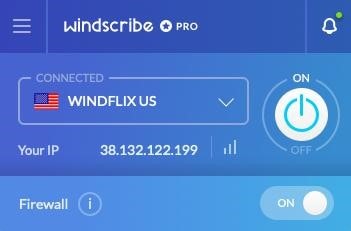 The Best Location feature will automatically connect you to a nearby server. You can conveniently toggle the automatic kill switch (called Firewall) on and off at the bottom of the screen.
To access the settings, click on the three horizontal lines in the upper left corner.
Clicking on your current location will bring you to the server selection menu.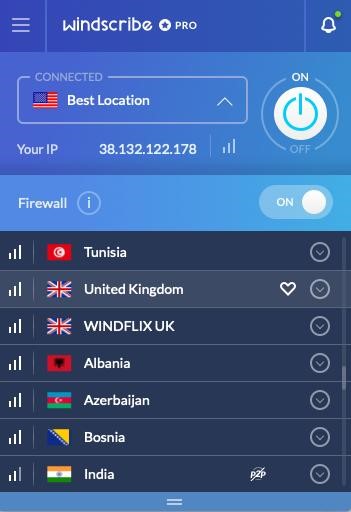 Dedicated Netflix servers are named "Windflix". Servers that do not allow P2P traffic are labeled in the menu.
The server menu and the settings interface are both intuitive and easy to navigate.
Conclusion
In a nutshell, Windscribe offers most of what you want in a VPN, including tight security and reliable performance.
You'll be able to stream Netflix US and surf the web anonymously on as many devices as you like. The VPN also works in China thanks to its Stealth mode.
On the other hand, my tests revealed some inconsistencies in Windscribe VPN's connection speeds and geo-spoofing abilities.
For a VPN that can help you access all your favorite streaming platforms and give you fast connection speeds at a reasonable price, take a look at our top six recommended VPNs for streaming.
| Features | Details |
| --- | --- |
| Number of countries with servers | 63 |
| Number of servers | 300 |
| Number of IP addresses | 10 |
| Does VPN keep logs? | No |
| Does VPN include a kill switch? | Yes |
| Number of devices per license | Unlimited |
It's easy to get started with Windscribe. You can install the desktop app or browser extension in seconds without even creating an account.
Upgrading to a paid account is super easy as well. You will find an upgrade link within the app.
Windscribe supports single-click connect. The desktop app offers a Best Location feature, which is called Autopilot in the browser extension. This feature will automatically connect you to the best server for your location.
You can open Windscribe and get started right away without a hassle, but there are also some advanced configuration settings for experienced users.
Windscribe offers a choice of three different-length paid plans. These include a monthly, yearly, and 2-year subscription.
The VPN service also has a free tier. The free version comes with some limitations, but it is one of the better free VPNs out there.
When you upgrade to a Pro plan, you can pay with a credit card, PayPal, Payment Wall, or Bitcoin. As a cryptocurrency, Bitcoin will provide the most anonymity.
Once purchased, you have three days to request a refund. It's a good idea to try out the free version first before deciding to purchase a paid subscription.
Reliability & Support
4.3 / 5.0
Windscribe provides reliable connections, but there is some variation in speed across servers.
You can ask Garry the Chatbot for help if you run into any problems or questions.
If Garry can't handle your query, he will pass it along to a human through Windscribe's live chat service. The customer service team is also active on Twitter and Reddit.
For basic troubleshooting and common questions, you can turn to Windscribe's website for helpful resources like FAQs, a searchable knowledge base, and informative blog posts.
Strong performance overall, but still room for improvement
Windscribe VPN offers good value for your money. It keeps your data safe while you browse or torrent and can access Netflix US—although it struggled with other popular streaming services.
The VPN's user-friendly apps are well-designed and offer some advanced features like ad blocking. Server speeds are decent, but a bit inconsistent. The refund policy could also be better.
Apps for all major platforms
Generate and manage secure links from your browser
Free account gives 10GB and access to 11 countries
Windflix for US and UK Netflix
Firewall for leak protection
Money Back Guarantee (Days) :
3
Mobile app :
Number of devices per license :
Unlimited
Watch the short video review and tutorial below of Windscribe VPN
Windscribe VPN

User Reviews
Mike Graves
Mar 7, 2020
There are a lot of things I love about Windscribe. First off, you can customize your service with the build-a-plan option really easily. Second, it does a great job of protecting your privacy online, and it doesn't gather a bunch of personal info from you either at or after sign-up. Last but not least, while it tends to be a little slow compared to some other VPNs, I have never had it be enough of a drop that it caused me any tangible issues. However, there are also a few gripes I have with it: mainly, that it is not good for use with most streaming services; if this is your reason for needing a VPN, then go elsewhere. Overall, I would say WS is a really great VALUE... I wouldn't rate it the front-runner in any one area, but it gives good, dependable, privacy-oriented service for a very good price (especially if you use the build-a-plan feature; you can get service for less than the price of a Starbucks coffee). For those who are wanting a static IP, WS does not offer one by default, but if you read their help documentation, they provide a very logical explanation as to why: maintaining a static IP would, in the end, create the possibility of your traffic being tied to you in much the same way that your actual IP does. That said, you can order one as an add-on to your basic service.
---
See Plans
Reply to this review
Did you know? We approve all user reviews. Companies can't pay to include or exclude any.
Majestic
Jan 9, 2020
Greatest and cheapest VPN!
I needed a VPN, to unlock my download Speed on Steam. So i tried this VPN, and the download speed went from 600kb/s, to 1.7MB/s!! Then, i have instantly bought a plan, which it costs only 2$! I totally recommend this one ;)
---
See Plans
Reply to this review
Marc Goodman

Feb 1, 2020

After going through a few VPN offerings including one of the major players, I came across a mention of the Canadian-based "Windscribe" in an article listing the best free VPN offerings. I tried Windscribe's free 10GB/month VPN service and it was both satisfactory and free (great combination; n'est pas!). I have given up on getting a dependable VPN that can access the BBC iPlayer with a consistent HD quality image and refined my needs to finding a low-cost VPN that will allow me to access all the geo-restricted content on American PBS stations instead. Windscribe does just that and for only $2.00 USD per month with their "Build a Plan" option. I actually feel a little 'guilty' I am paying so little for exactly what I want (great combination; n'est pas, encore!!). So far, so good and my PBS viewing is done with a rock solid HD picture hour after hour, day after day. As far as a slowing of the download speeds, I have an ISP that regularly gives me over 950Mbps on a fibre optic network that's also rock solid and reasonably priced. [P.S. If you live in downtown Toronto, Canada, don't even think about another internet service provider if Beanfield Metroconnect is in your service area because they can't be beat by any of the other players for price, quality, and customer service.] Now back to Windscribe...I did have some reservations about the signing up process when I ran into difficulties paying with PayPal and not having the transaction acknowledged. After a few e-mail queries to the Windscribe offices and nothing coming back my way I was more than a little frustrated. However, after the Christmas/New Year holidays were over I got a very competent response from Windscribe apologizing for the delayed response (due to holiday staffing numbers over the holiday period) and I was able to complete my PayPal transaction and have my VPN connection up and running within minutes. My "Build a Plan" is for US-based servers since I need a VPN to watch PBS offerings. However, for whatever reason a few other countries' VPN servers seem also to be active so it's a bonus. My Windscribe UK-based VPN server will not allow me to view either the BBC iPlayer or ITV Hub but they do allow me to view UK-based websites from within the UK so all is well and I can keep calm and carry on albeit without the BBC (c'est dommage, eh!). All in all, I think Windscribe is a reliable, easy to use and inexpensive VPN for most users however, I am not at all concerned with the security aspects of a VPN so read the extensive VPNMentor review above to suss out if Windscribe has the security features you need to stay out of the gulag in your country.

---

See Plans

Reply to this review
DPL
Jan 3, 2020
Windscribe is a marketing scam
Windscribe is probably one of the worst options for customers. They have a high price compared to top services like Surfshark, Cyberghost, NordVPN, Privatevpn or Ivacy. They only have THREE days for a refund if you are not satisfied with their service, but if you ask for a refund they do not respond for three days to your email and - no refund. They give false information to customers on the site. Windsribe does not have Stealth mode or IP obfusction, you can read this in detail on many blogs written by real VPN experts. There is no Port forwarding or static IP address unless you pay extra for the base price, which is not on offer. They have very slow internet traffic and a frequent drop in internet connection, and almost every day you get a warning for something that has nothing to do with you. They come from Canada, the country that receives all your information from Windscribe. When you contact customer service you get insulted by a street dictionary. It's simple, it's a waste of service, and for less money, buy some good and professional VPN services to get what you really pay for. I stand behind my words, I used Windscribe and never again.
---
See Plans
Reply to this review
Compare Windscribe VPN with the top alternative VPNs