10 Simple Ways to Unblock YouTube and Watch Everything
YouTube is the world's largest platform for video publishing. With over a billion hours of footage streaming every day, there are more videos on it than you can ever watch in a lifetime.
Unfortunately, YouTube can be disappointing at times. While it has a large library, not all videos are available everywhere and all the time.
If you try to open a YouTube video and find that it's unavailable, there can be many reasons behind it. It could be your country's restrictions, your office's network settings, or it might just be a technical difficulty.
Whatever the reason, there are many different ways to solve this problem. We explain 10 different ways to unblock YouTube below.
Some offices and schools restrict YouTube Videos
In schools and on college campuses, YouTube might be blocked. The reason for this is to prevent distractions; schools do not want students to watch YouTube videos while in class.
However, that block can seem infuriating when you want to show your friend a clip, or when you want to watch an explainer video.
Offices with many employers also tend to block social media sites and restrict access to increase productivity. While some content on YouTube might not be suitable for work, music videos and other content can be useful while sitting at a desk all day.
These YouTube restrictions can be frustrating at the very least, but the good news is that these network restrictions can be bypassed really easily.
Some countries block YouTube, too
YouTube has always been under pressure from various governments to remove some "unsuitable" content from their library. Due to these restrictions, all YouTube videos aren't available everywhere.
If a specific government blocks YouTube due to a single video, YouTube will usually limit the access to that particular video to help restore its services there.
And then there are some countries that block YouTube completely (such as China, North Korea, and Iran). Other countries have blocked YouTube in the past for a short phase (Russia, Pakistan, and Turkey), usually during a period of political unrest or elections. (If you're looking on how to Unblock YouTube in China, we show you how in this article.)
YouTube blocks in countries are harder to bypass than an office or school network block, but both can be done with some really simple hacks.

10 Easy Ways to Unblock YouTube
1. Use A VPN
This is probably the most dependable way to unblock YouTube, whether you're in a restricted country or just a strict office. However, while there are several VPNs on the market (and some of them are free), not all of them are adequate. When you search for a VPN to unblock YouTube, you should look for these qualities:
Unblocks YouTube videos from all over the world.
Anonymizes and encrypts your traffic. This will protect you from corporate and government surveillance.
Offers high-speed connections that allow you to stream HD YouTube videos without any lag.
How to use a VPN to unblock YouTube
Connect to your VPN.
Select a server close to your location.
Once you're connected, go to YouTube. You should be able to watch videos on YouTube without restrictions.
Wondering how a VPN can do this? This video explains everything you need to know.
2. Add an S to Your HTTP Connection
This is a simple trick and generally works when you want to access YouTube from your school or university. Most school networks block social media websites by entering their URLs manually into web monitoring programs, which allows them to block individual addresses as well as groups of websites.
Normally, a school or university network administrator would list the websites using "http://" while entering the URLs in the blocked list.
To bypass blocked websites restriction, you can use "https://" instead of "http://". If your school network admin has manually entered the website URLs, there's a good chance that you'll be able to unblock YouTube with this hack.
Notice: This will not work in countries where YouTube is restricted, only in specific networks.
3. Use a Proxy Website to Unblock YouTube
Search online and you'll find a number of YouTube proxy websites. They will help you open restricted YouTube videos.
A proxy is a special server and when you connect to it, your traffic passes through this server. This essentially changes your location, which can be useful if you're in a school or government building. Simply by changing your proxy, you can connect to a server nearby that does have these restrictions.
However, the proxy doesn't encrypt your traffic. So if you're watching YouTube on your school network, the network administrators can monitor your activities and block that proxy.
It's not just the school network admin who can watch your activities. If you access YouTube from your home, your ISP will be able to monitor all your activities, too.
Why does this matter?
Data collection is a profitable business, and companies that collect this data use it to generate targeted ads for you.
In addition, these proxies might have hidden spyware and can share more data than you'd like to reveal.
4. Set Up a Proxy In Your Browser
Instead of depending on a website proxy that can be blocked, you can configure a proxy on your own.
The problem with web proxies is that whenever you want to access blocked sites, you'll need to refresh the proxy page. This can be annoying, especially if you want to open blocked websites frequently. To solve this problem, you can use a manual proxy. It will help you open several blocked websites simultaneously on different tabs.
It's simple to configure a manual proxy. You need to get a reliable proxy (it might be a paid service) and configure it on your browser.
For example, if you use Firefox, here is how you can configure it. These steps are for Firefox Quantum 60.0.2 and will generally work on most Firefox versions.
1. Open the menu and go to Options
2. Go to the search box on the Options page.
3. Type in the keyword "network" and the following result will appear.
4. Click on Settings and the following dialog box will open.
5. Choose the option "Manual proxy configuration" and paste the web proxy configuration provided by your proxy vendor in the text field named "HTTP Proxy".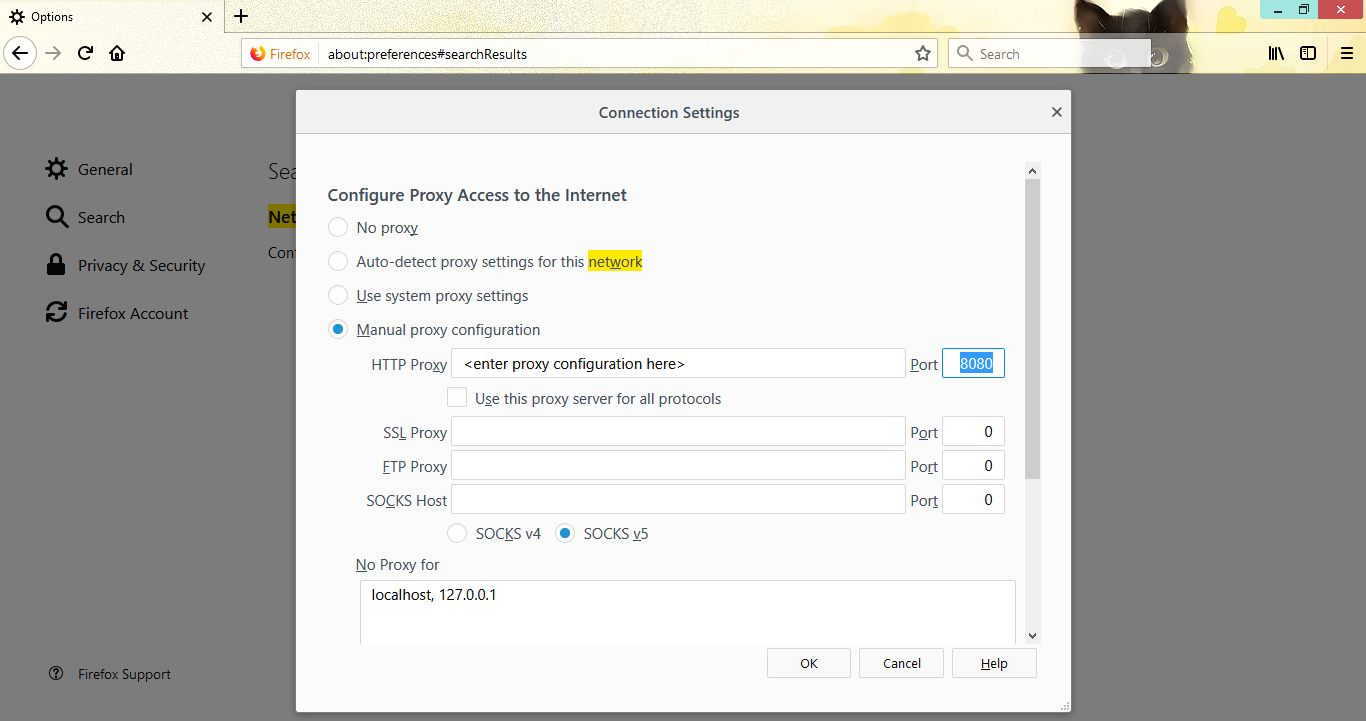 6. Set the port number as 8080 as shown above.
7. Save and restart the browser.
While these steps are for Firefox, other browsers have similar steps as well. With these settings, you'll be able to use a proxy without refreshing the page over and over.
5. Use Browser Add-Ons to Watch YouTube
If you don't want to install a proxy, you can use certain browser add-ons to unblock YouTube. There are several options such as Ultrasurf and ProxTube.
Ultrasurf lets you bypass geo-restrictions and you can access not just YouTube but other restricted sites as well.  It creates encrypted tunnels between your device and one of its proxy servers. This allows users to bypass censorships and firewalls.
ProxTube is only available on Firefox. If you're a Chrome user, you can use Proxflow. This plugin has a US proxy server that will help you unblock YouTube videos. The good thing about it is that the YouTube website will load using the proxy server but the video will be loaded without it to get the maximum speed.
There are several other browser plugins as well and you can visit the browser app store and select the right add-on from there.
6. Use Google Translate
You might have heard about Google Translate, an exceptional tool that can help you translate one language to another. It can also help you unblock YouTube in your school or university.
When you use Google Translate, you reroute the URL to another domain. When you open a website through Google Translate, it opens with a different domain that's not blocked by your network admin.
Here's a trick that will let you bypass restrictions of the local network. But if a network is banned by your ISP, this trick will not work in that case.
Visit translate.google.com and enter the YouTube URL in the text box.
Make sure one language is English and the second one is a different language.
It will translate the URL. If it doesn't, hit Translate.
Now click on the translated URL.
The translated URL will be YouTube with the domain of Google Translate. So if your network administrator has blocked YouTube, you'll still be able to open it.
7. Use Your Mobile Hotspot
If YouTube is blocked on your school or university Wi-Fi, you can connect your laptop with your mobile hotspot. Hotspot can be generated from your iOS/Android/Windows phone. Here's how you can do this.
Visit the network settings and turn on your mobile hotspot
Edit the name and password section to enter the right username and password
Connect your laptop to this new Wi-Fi network
If you have a cable, you can also use USB tethering to connect to your mobile internet.
This will allow you to access all restricted websites including YouTube. However, this will consume your mobile data and it can be costly.
Note that this trick won't work on a country-wide YouTube block, rather, it only works on a local network in your school or office.
8. Download YouTube Videos without Opening the Site
There are several websites that help you download videos from YouTube. You can use these websites to watch the videos offline. Here's how you can do it.
Let's say you're using your school's Wi-Fi and you want to watch the trailer for a certain movie. Instead of going to YouTube (which you can't anyway), use Google to search for it.
It will show you the YouTube URL of that video. Copy the URL and paste it on a YouTube download site.
Paste the URL in the provided space in any of these websites and you'll be able to download the video. You can then watch it offline. This way, you won't just bypass YouTube restrictions but can also store videos for later viewing.
9. Watch Same YouTube Videos on Alternative websites
If you still cannot access YouTube for some reason, you might find the same video on some competitor websites such as Dailymotion, Vimeo, and Metacafe. However, since YouTube has the largest library, it's not possible to find ALL YouTube videos on these websites.
But if you're looking for a particularly popular video, there are strong chances that you'll find it on another website. If you find the video there, you won't need to use YouTube in the first place.
10. Use Tor to unblock YouTube
Tor is an anonymous browser that will help you unblock YouTube. However, you'll need admin rights to install it on the device. If you want to install it on your own device, all you need to do is visit torproject.org and download this browser.
Tor is a secure browser and will hide your activities from your ISP. It will help you unblock YouTube without any issues. And you can use it as a regular browser.
How it works:
When you use the Tor browser, it routes your internet traffic through its own network. Tor has a large network and it sends your data packets through randomly selected relay points. It's all managed by volunteers and this is why Tor is free.
Once the data packets have jumped through several relays, they exit the network and arrive at the destination. This prevents your ISPs (or any hackers) from seeing your online activity.
The website you try to access doesn't get a request directly from your device but instead gets it from the last relay node, so it cannot see your true IP. It can see the IP of the exit node only. The best part is that even the relay nodes don't know who is the original sender or recipient of the data they pass.
Also, all traffic in Tor network is encrypted. This is why Tor is called the onion browser – because it works in several layers.
Want to know more about Tor? Here are some more Tor facts and details.
Conclusion
If you are unable to watch a YouTube video, you can try any of the methods given above. However, keep in mind that if the restrictions are posed by your country, only a VPN will help you bypass it.
For a local area restriction such as that posed by your school or office, any of the other methods will work. For any network to impose strict restrictions, the admins must have adequate funds. This is why country restrictions (that are imposed by governments) are far more difficult to bypass than the ones imposed by schools.
A VPN will help you bypass all types of restrictions – country-imposed or local network-imposed. Make sure you get a good VPN and you'll be able to watch all YouTube videos without any issues.
Looking for a great VPN? These are our most recommended: