How to Access YouTube TV from Anywhere in 2020 – Safe and Fast
Updated on 25th May 2020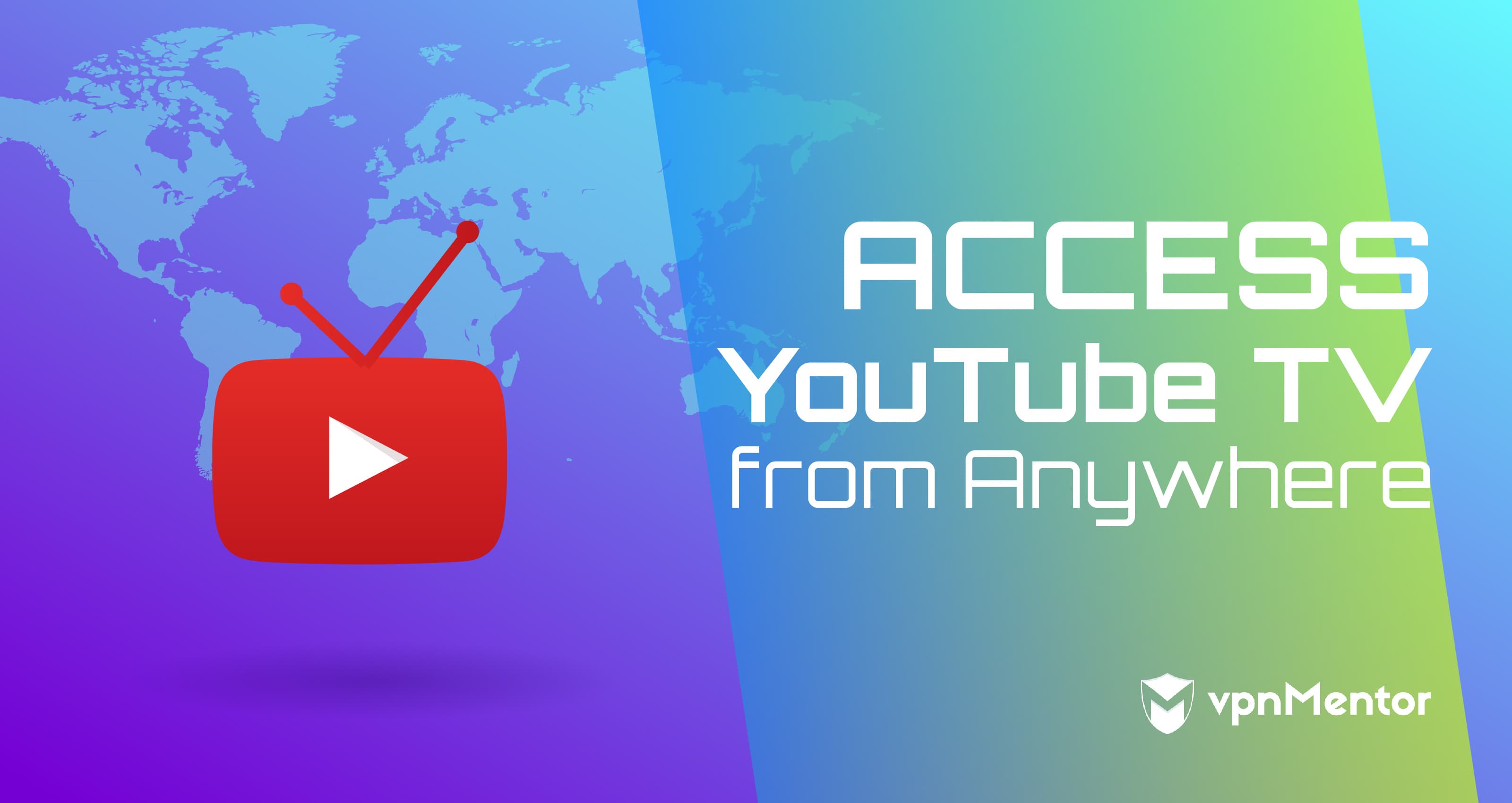 With a single subscription, YouTube TV lets you livestream over 60 major US cable TV channels. From your laptop or phone, you can keep up with the NBA playoffs, stay up to date with the breaking news, and binge watch the greatest classic movies – all in one place, for a single fee. 
There's just one problem. YouTube TV is only available to US residents. If you live overseas, or even just take a short holiday abroad, you will be denied access to all this amazing TV and movies.
So, it's a good thing there is a quick and easy solution. Using a VPN, you can access YouTube TV from anywhere in the world. It only takes a few minutes to install and will completely change how you use the internet.
Quick Guide: How to Watch YouTube TV
To start watching YouTube TV from anywhere, simply follow the steps below.
Choose a VPN provider with US servers. See below for recommended providers –CyberGhost is our #1 choice for YouTube TV.
Install the VPN and connect to a server in any major US city.
Sign up/log in to YouTube TV and enjoy!
Why You Need a VPN to Watch YouTube TV
YouTube TV was initially launched in five US cities back in 2017, then later expanded to the entire US. However, access to the service ends at the US border, due to the geo-restrictions of US TV networks.
Even if you live within the US, there are restrictions.
Local channels are only accessible within their respective regions. As a result, YouTube TV will prevent you from accessing local TV channels outside of your area. If you travel or move to a new state, you may discover you are 'geoblocked' from your favorite local shows.
The safe and easy way to get around these geoblocks, and watch YouTube TV from anywhere, is to use a reliable VPN.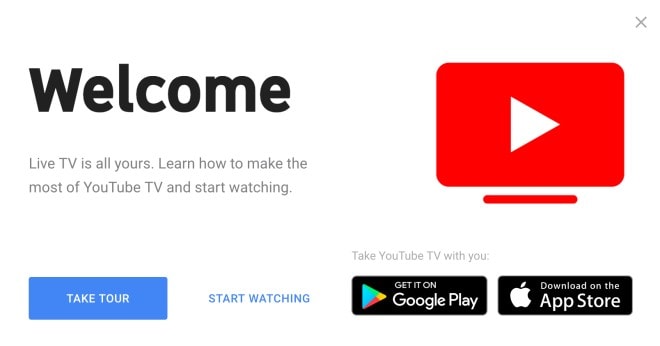 A VPN hides your real location by masking your internet device's IP address and moving it to a new location. So, if you're in Paris, France and want to access YouTube TV – or Paris, Texas and want to access YouTube TV channels from New York – you can move your location to the necessary region of the US.
Don't worry, we'll show you just how simple and quick this process is below.
VPNs also protect your privacy by encrypting your internet traffic and hiding your activity from hackers, government surveillance, and even your ISP. This added security is just one more reason we recommend using a VPN for all your online activities, not just TV streaming.
How to Unblock YouTube TV
1. Choose a reliable VPN with a big selection of US servers. We recommend CyberGhost.
2. Download and install your VPN. 
3. Connect to a server in the US. If you want to access local TV, choose a server in that region. In the example below, we've chosen a server in New York.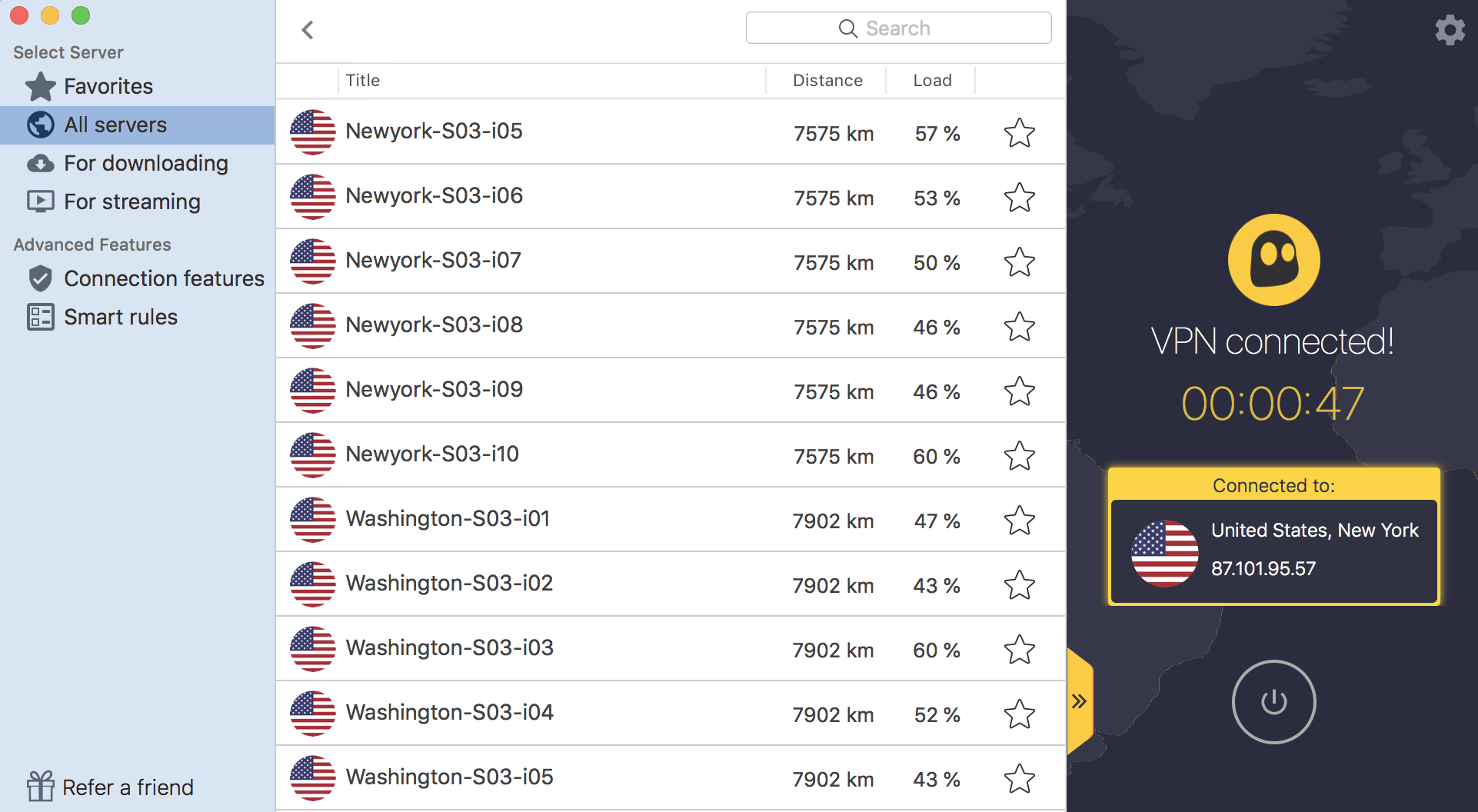 4. Sign up to Youtube TV and start streaming your favorite channels!
How To Get a US Zip Code for YouTube TV
If you're using YouTube TV to access local US cable TV, you may be required to enter a local zip code. This will 'prove' you're in the correct location to view these channels.
To find the correct zip codes for your local channels, follow these quick steps.
1. Visit Zip-codes.com
2. Click the option 'Find Zip Codes of a City'
3. Choose a city and state for your local cable channel
4.  Pick one of the zip codes that's generated
5. Enter this into YouTube TV
The Best VPNs for YouTube TV
There are thousands of VPNs available, but many of them don't offer stable enough connections, high enough speeds, or large enough server networks to work well for streaming US content.
When choosing your VPN for YouTube TV, make sure it provides:
Fast servers and reliable connections to ensure uninterrupted streaming
Unlimited bandwidth without throttling
Proven geoblock bypassing capabilities
Strong security features like encryption, a kill switch, and malware protection
Privacy protection measures such as a no-logs policy
Here is a quick summary of the best VPNs for watching YouTube TV:
If you use any of these top-rated VPNs, it will be quick and easy to install the app and start streaming YouTube TV today!
What's Unique About YouTube TV?
With no extra equipment needed, access to the best US TV content online, and no long-term contract, what's not to love about YouTube TV?
YouTube TV's many incredible features include:
Access to 60+ US TV Networks
Live local TV streaming (in US cities where the service is supported)
Subscription can be canceled anytime
Allows up to six users per subscription, with simultaneous viewing
Cloud DVR with unlimited storage
Showtime and Fox Soccer (Football) Plus and other sports and movie networks are available with premium packages
What Channels are Included on YouTube TV?
A single YouTube TV subscription allows up to six user accounts and includes:
The major national cable networks
Local ABC, CBS, FOX, and NBC streams
NBC Sports, ESPN, NBA TV, and regional sports networks
Movie channels
Much, much more
Users interested in premium streams like Fox Soccer Plus and SHOWTIME can access them for an additional monthly charge.
YouTube TV also offers free trials from time to time for new users, so watch for those promotions, especially if you only need YouTube TV for a short time.
The image below gives you an idea of the huge array of American TV networks you can watch with a YouTube TV subscription: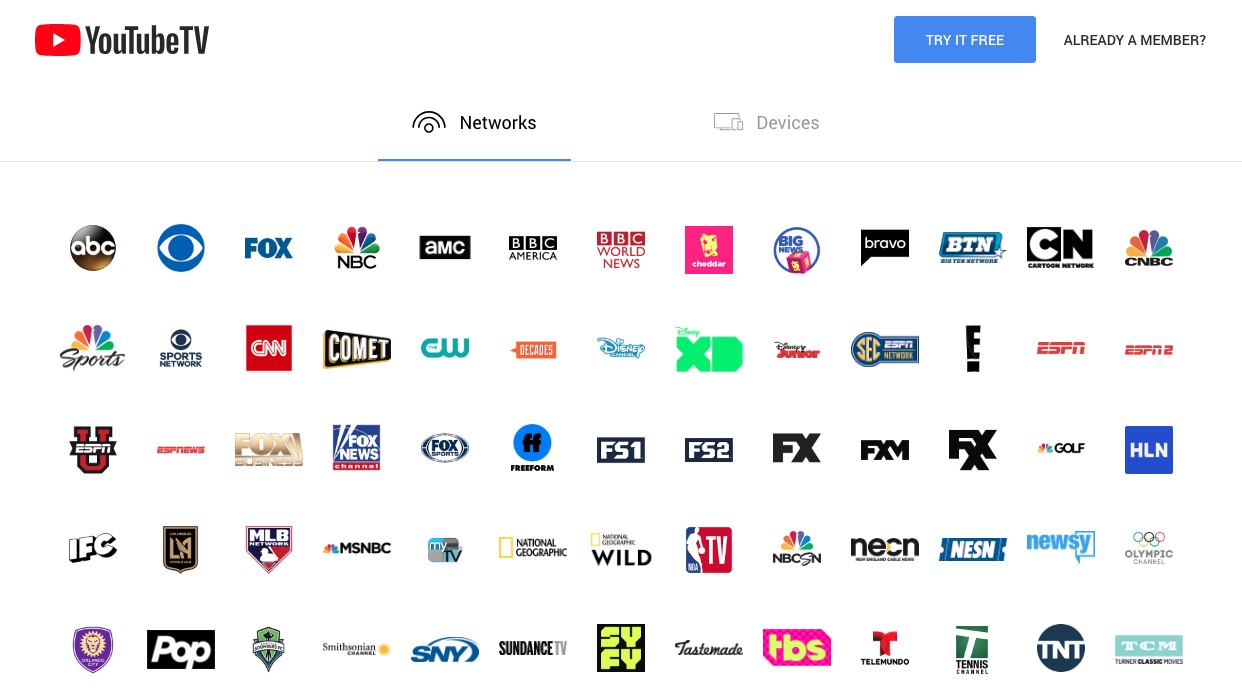 So whether you'd like to watch sports on ESPN, comedies and classic movies on TBS, or your favorite episode of Empire, YouTube TV makes it easy.
There's also a great mix of news networks, along with children's programming such as Disney Junior.
Supported Devices
How can you watch YouTube TV?
On your computer (any operating system) – access the service from your browser
On your mobile device – use the dedicated YouTube TV app for your platform (must be Android L or later or iOS 9.1 or later)
Directly on your TV screen if you are a Chromecast user
The YouTube TV app can also be downloaded on Roku, Apple TV, Android TV, and Xbox One, and is supported on Samsung and LG TVs.
Summary
Now that you've seen how to easily access and enjoy the best of US cable TV from anywhere in the world, what are you waiting for? Whether you are a US resident traveling abroad or live in another country, the VPNs listed here will help you seamlessly stream YouTube TV to your location.
If you want to learn more about how VPNs work and what makes one better than the next, we've got tons of advice from our experts to help you become a VPN pro in no time!
Best of all, the top VPNs offer free trial periods and money-back guarantees, so you have nothing to lose by trying one out and tuning in to YouTube TV today.
Start Your Free CyberGhost Trial Now!
Further Reading
Now you're starting to see the many benefits of VPNs, take a look at our complete guide.
You can also use a VPN to access US Netflix from anywhere in the world. We show you how. 
Streaming on more than one device? We have the best multi-device VPNs for you.