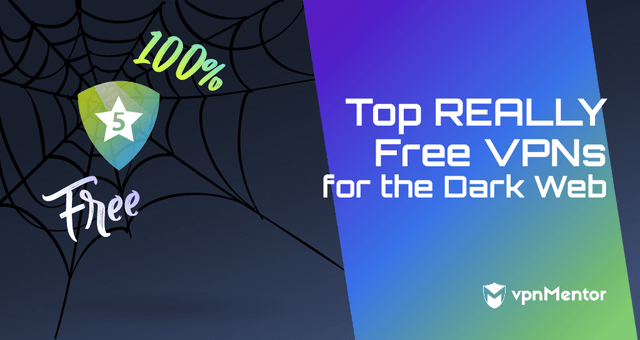 8 Best REALLY FREE VPNs for the Dark Web (Updated in 2021)
Updated on 16th June 2021
You might think dark web browsers do many of the same tasks as a VPN. Enabled browsers like Tor are supposed to keep your identity hidden by encrypting your data and rerouting your internet traffic through remote servers around the world.
So you don't need a VPN right? Wrong.
As dark web activity has entered the public eye, government and ISP surveillance have skyrocketed. So if you're looking to add an extra layer of anonymity to your dark web browsing, you may be considering a free VPN.
But having tested over 40 free VPNs for the dark web, I found that data limits and privacy leaks were a major problem. These free services often make their money by exposing you to ads and selling your sensitive data.
A free VPN is never really free. And with hackers and fraudsters infiltrating Tor nodes every day, the dark web is not the place to take a risk. 
That's why my favorite dark web VPN is ExpressVPN. It has its own hidden service in the Tor network and provides the added security of military-grade encryption to keep your activity safe, secure, and anonymous.
And the good news is you can try ExpressVPN out completely risk-free (it's backed by a 30-day money-back guarantee).
As a dark web user, I always use a premium VPN over a free one. But if you're looking to save some money, I've rounded up the best free dark web VPNs on the market. I've looked at speed, data limits and, most importantly, security.
Try ExpressVPN Risk-Free Today!
Best Free VPNs for Dark Web – Quick Guide
What's the Catch with Free VPNs?
If something sounds too good to be true, it usually is. And that's the case with free VPNs. As well as running reduced services, free VPNs can put your device and personal data at risk.
Compatibility
Free VPNs have a smaller number of servers so you can't guarantee they'll include nodes that can reroute your internet traffic through the Tor network. Most premium providers offer a wide range of access to the dark web.
Security
Running remote servers costs money and to cover those costs, free services may cash in on your personal data. When using the dark web, you don't want your sensitive information getting into the wrong hands. Premium VPNs ensure your privacy remains intact. 
Limitations
If you're looking to stream dark web content or share large files through torrenting, the data limits of free VPNs will stop you in your tracks. Unlike premium VPNs, many free services put caps on speed and bandwidth which lead to sluggish performance.
The Best Free VPNs for Dark Web
I've tested out dozens of free VPNs to find the best for browsing the dark web. Here are my top picks, taking into account speed, security and dark web performance. 
Lighting-fast streaming speeds
3,000 servers in 94 countries
30-day money-back guarantee
AES 256-bit encryption and automatic kill switch
Hidden service in the Tor network
Strict no-logs policy
5 simultaneous connections
Works with: Netflix, BBC iPlayer, Disney+, HBO Max, Vudu, Hulu, and more
Compatible with: Windows, Android, iOS, macOS, Chrome, Linux, routers, Apple TV, and more
ExpressVPN is my top VPN to use for the dark web. Even though it isn't free, it's backed by a 30-day money-back guarantee, which means you can buy in confidence.
If you find that it isn't for you, then you can simply request a refund within 30-days to get your money back. Its range of low-cost plans provide excellent year-round protection that is definitely worth the money.
ExpressVPN is ideal for the dark web. It has its own hidden service in the Tor network that provides you with the privacy and anonymity of the Tor network. Snoopers like the government and your ISP won't know you're using the dark web, which is great for counteracting unwanted surveillance.
It's got you covered for torrenting too. All of its servers are enabled for P2P sharing, so you can safely share large files over the deep or dark web. Plus your activity stays anonymous thanks to ExpressVPN's strict no-logs policy.
There's no need to worry about speeds either. When I used ExpressVPN on the dark web, my download speeds averaged 34.6 Mbps across a number of servers worldwide. This was a lot more than the 5 Mbps needed for streaming. With no data limits or bandwidth caps, you enjoy buffer-free streaming for as long as you want.
ExpressVPN also offers industry-leading security. Its AES 256-bit encryption scrambles your data so that it can't be intercepted or read by third parties, while its automatic kill switch cuts off your connection if your VPN suddenly drops. These security features are extra useful when using the dark web.
To find out how ExpressVPN performed under comprehensive testing, check out our full review.
One high-speed US server
AES 256-bit encryption
500MB daily data cap
P2P friendly
Works with: Netflix, BBC iPlayer, Hulu, Amazon Prime Video
Compatible with: Windows, Mac, iOS, Android
Hotspot Shield is seriously fast. For a free VPN, it offers similar speeds to premium services. In my tests, I registered download speeds of over 85mbps and upload speeds of 42mbps. If you're streaming or downloading content from the dark web, you won't find a faster free VPN.
You only have access to one server though and it's not optimized for Tor access. You'll still be able to access the dark web. Just expect to see a slight reduction in speeds.
For more comprehensive coverage, Hotspot Shield's premium plan gives you access to over 3,200 secure servers in 80 countries with no bandwidth limits.
Hotspot Shield's free server supports P2P file sharing. But here's the bad news. Hotspot Shield restricts its free users to 500MB of data transfer a day. While that's enough to transfer a number of images and text files, you can only stream 30 minutes of HD video.
Because Hotspot Shield funds the free plan through its premium packages, you still enjoy a strict no-logs policy. It won't sell your data to dangerous third parties. However, expect to see regular in-app ads with the free edition. You don't enjoy Hotspot Shield's 24/7 customer support either.
Your data is protected by AES 256-bit encryption for added anonymity on the dark web. Hotspot Shield even produces an award-winning annual transparency report so you can see how your information and activity is monitored.
Want to know more about Hotspot Shield's free plan? Read our full review. Or test out the premium service today with a 45-day money-back guarantee. 
10GB monthly data limit
Unlimited device connections
Access to 60 server locations
No session logs or IP timestamps
P2P allowed on most servers
Works with: Netflix, Amazon Prime Video, Hulu, BBC iPlayer, and Kodi
Compatible with: Windows, Mac, iOS, Linux, and Android
Windscribe is a comprehensive free package that offers many of the same features as its premium plans. But for use on the dark web, it has some serious drawbacks. 
You get a bigger choice of servers than most free VPNs. You have access to 11 server locations including the US, UK, France, Germany, and Hong Kong. I found that choice particularly useful to maintain my speeds while using the dark web.
It offers good protection with AES 256-bit encryption and strong IP leak protection. While Tor should keep your browsing private, Windscribe's automatic firewall ensures not even your ISP can see your activity, even when torrenting. However, you won't have access to pro plan security features like Windscribe's malware blocker.
The good news is that P2P sharing is supported on most Windscribe servers, even on the free plan. However, in my tests, I found the free server speeds to be fairly inconsistent. It's not helped by a monthly data limit of 10GB.
That works out at roughly 330MB a day, which is barely enough to stream video content. It should be enough if you want to access censored journalism though. Either way, it's a much smaller data cap than many free dark web VPNs.
Windscribe is great for keeping you anonymous. Even on the free plan, you don't have to give any identifying information when you sign up. Plus, you can pay with Bitcoins to keep your identity hidden.
To find out more about Windscribe's log keeping policy, check out our in-depth review. Or enjoy 10GB of data for free now.
No limits on data usage
Ad-free
Server locations in three countries
No-logs policy
Torrenting not available on the free plan
7-day free upgrade to the premium plan
Works with: Netflix, Hulu, Amazon Prime Video, but streaming is blocked on the free plan
Compatible with: Windows, Mac, iOS, Android, Linux, and some routers
ProtonVPN is one of the few free VPNs that doesn't put a cap on your data. But the free plan does come with other restrictions.
The major problem is torrenting. You only have access to servers in three countries (US, Netherlands, Japan) and none of them support P2P sharing. So if you want to torrent on the dark web, you have to upgrade to Proton VPN's premium service.
The second issue is speed. As your data is already being sent through the global Tor network, you don't want your VPN to slow you down even more. ProtonVPN's speeds on the free plan are strictly limited.
The good news is, ProtonVPN is integrated with the Tor network. But you won't enjoy the dark web-optimized Tor Over VPN feature that allows easy access to the entire Tor network. That feature is restricted to ProtonVPN's paying subscribers.
For the best dark web performance, use ProtonVPN's free 7-day upgrade. Just sign up for an account and enjoy all of ProtonVPN's premium features including Tor over VPN, secure streaming, and P2P support.
ProtonVPN is a trustworthy free VPN. As well as AES-256 encryption and DNS leak prevention, ProtonVPN keeps a strict no-logs policy to keep your browsing anonymous.
You don't have to give any payment information when you sign up. All you need is an email address. You can even use Proton's own ProtonMail service for a free encrypted email account. 
Want to find out more about ProtonVPN's pricing plans? Check out our full review for all the info. Or sign up today to try it for yourself.
256-bit AES encryption
2GB monthly data allowance
IP leak protection
Works with: BBC iPlayer, Amazon Prime Video, Sling TV, Showtime, Crackle, HBO GO, Kodi, and Sky Go
Compatible with: Windows, Mac, iOS, and Android, Linux and some routers
hide.me is one of the safest free VPNs for the dark web. It gives your browsing an extra layer of anonymity with 256-bit AES encryption and added IP leak protection to cover any server cut-outs.
hide.me promises 99.9% uptime so dangerous disconnections are rare. It doesn't throttle your IP either so you enjoy strong loading speeds on the dark web.
But hide.me only gives you access to servers in five countries. While that's more than some free VPNs, hide.me can't guarantee P2P support on those servers. Torrenting is supported on all of hide.me's premium plans though. Upgrade and you get access to 1,400+ servers in 57 locations with no caps on data usage.
hide.me's data limit is a real problem. You only get 2GB of data per month. That's enough for two hours of HD streaming or roughly eight hours of gaming. If you use the dark web regularly, hide.me offers a range of big data plans to match your budget.
Your privacy is protected. hide.me has a handy privacy check feature to make sure you don't get any unwanted attention from dark web surveillance. Plus, you get added protection from an automatic kill switch and a no-logs policy.
A solid and secure ad-free service, hide.me is a good free VPN for the dark web. But you can try its premium service with a 30-day money-back guarantee. To find out more about hide.me's no-logs policy, read our full review.
500MB of data per month
Servers in 22 countries
AES-256 bit encryption
Works with: HBO Go
Compatible with: Windows, macOS, iOS, Android
TunnelBear gives you one of the largest server choices of any free VPN. You get access to high-speed servers in 20+ countries. That choice of servers is handy for maintaining performance while on the dark web.
Speeds on the free plan aren't great though. And while connected to the Tor network, I saw significant dips in my download speeds. TunnelBear's in-app speed test is useful for seeing how much your device is affected.
TunnelBear's biggest drawback is its 500MB monthly data limit. That's the smallest limit on my list and will restrict you to 30 minutes of streaming of two hours of gaming. And that's over a whole month.
Security-wise, it performs better. On the free plan, you get AES 256-bit encryption for added protection against prying eyes. A no-logs policy ensures your activity remains private while its handy Vigilant Mode is great for blocking dark web malware.
Want to know more about TunnelBear's privacy controls? Everything you need to know is in our in-depth review.
Web browser with built-in VPN
Onion browser add on available
No data limits
Doesn't support torrenting
Works with: Netflix US, YouTube
Works only on Opera desktop browser
Opera is a free browser that features a built-in VPN. But to connect to the Tor network, you have to change the router information in the browser settings. Or you can use special add-ons like Onion Browser Button and Tor Control.
Even with those extensions, Opera isn't optimized for exploring the dark web. If you're looking for a dark web browser, there are better options on the market.
The reason it makes my list is its built-in VPN. Opera automatically connects you to the fastest available server. It offers 10 servers in five countries which is more than most free VPNs. But in my tests, I saw a drop in speeds with dark web browsing.
As well as unlimited data, Opera has a clear privacy policy. It won't keep logs or track your activity. But it does track the product features you use and how often you use the app.
I have concerns over security though. Opera's VPN is managed in Canada, which is part of the 5 Eyes Surveillance Alliance. Opera does encrypt your data but your dark web browsing could be under threat from government interference. 
Not sure if Opera is for you? See how it compares to premium VPNs in our comprehensive review.
7-day free trial of premium service
Unlimited data
Custom Tor support
2048-bit encryption
Servers in 60 countries
Works with: Netflix, Hulu, and Amazon Prime Video
Compatible with: Windows, Mac, iOS, Android, Linux
PrivateVPN doesn't offer an ongoing free plan. But it makes my list because you can access its premium features for a week with a free trial. If you only need a VPN for a short space of time, I would recommend this premium service over a free one.
You get 2048-bit encryption and IPv6 leak protection to keep your activity hidden from dark web attackers. Plus with a wide choice of servers, P2P support, and unlimited data, sharing files is quick and easy.
The best part is, PrivateVPN supports Tor over VPN connections. There's even a handy guide on how to modify the OpenVPN client to ensure traffic passes through Tor first and PrivateVPN second. That way, your ISP won't know you are accessing the dark web and your activity remains hidden from view.
PrivateVPN also follows Swedish security laws. Its no-log policy means your data remains private even if governments or ISPs request it.
The free trial only lasts for 7 days. But PrivateVPN offers a range of low-cost plans that are much more effective on the dark web than free VPNs. Check out our full review to find out more.
FAQs
Do free VPN providers keep log files?
With your privacy at stake, especially when accessing the dark web, it's important to check your VPN's user agreement. Some free VPNs will monetize their service by letting malicious third-parties snoop on your activity.
It varies though. Some free VPNs keep private logs for their own personal maintenance. The top free VPNs on this list adhere to a strict no-logs policy to keep your data private. A premium VPN like ExpressVPN comes with a no-logs policy as standard, so your browsing activity on the dark web never becomes public.
Does a VPN impact speed?
Sending your data across the world does have a small impact on your device's speed. You can expect to see a drop off of roughly 5-6%.
It's worse with free VPNs though. With tough restrictions on speeds and bandwidth, even light browsing can be affected. For the lightning-fast speeds and high-level security features you need for browsing the dark web, it's better to invest in a premium service.
What are the risks of using a free VPN on the dark web?
By tracking your activity and exposing your data, free VPNs do the very thing VPNs were designed to stop. If you're going to use a free VPN, it's important to know the risks.
As the dark web is popular with hackers, scammers, and internet fraudsters, you could be putting your information in the hands of some dangerous individuals.
Is the dark web legal?
Yes. While it has picked up a bad reputation, it's perfectly legal to access the dark web through anonymous browsers like Tor. It's a great tool for accessing helplines, censored journalism, and online gaming communities.
However, some sites on the dark web are illegal to visit. Whether you're using a VPN or not, it's important to stay vigilant while browsing.
Bottom Line
Don't be fooled by the free price tag. Free VPNs will leave you paying a greater price with your privacy. When using the dark web, it's even more important to keep your anonymity intact. 
Your security is at risk too. The dark web is home to thousands of trolls, spreading malicious content. To protect your device from malware, a free VPN may not be up to the job. 
You can use the limited free versions of premium services like HotspotShield and TunnelBear but heavy data limits make them unsuitable for everyday use on the dark web.
Due to these shortcomings, I wouldn't recommend using a free VPN. Instead, I'd use a reliable VPN like ExpressVPN which has a range of top-notch security and privacy features that free VPNs just can't offer. ExpressVPN comes with a money-back guarantee so you can claim a refund within 30 days if you're not satisfied.
If you're looking for a VPN to keep your dark web activity private, check out our 5 best VPNs for the dark web. Or for all the latest offers and savings, head over to our coupon page. 
Top VPNs for the Dark Web that you can try risk-free with money-back guarantees…
Privacy Alert!
Your data is exposed to the websites you visit!
The information above can be used to track you, target you for ads, and monitor what you do online.
VPNs can help you hide this information from websites so that you are protected at all times. We recommend ExpressVPN — the #1 VPN out of over 350 providers we've tested. It has military-grade encryption and privacy features that will ensure your digital security, plus — it's currently offering 49% off.