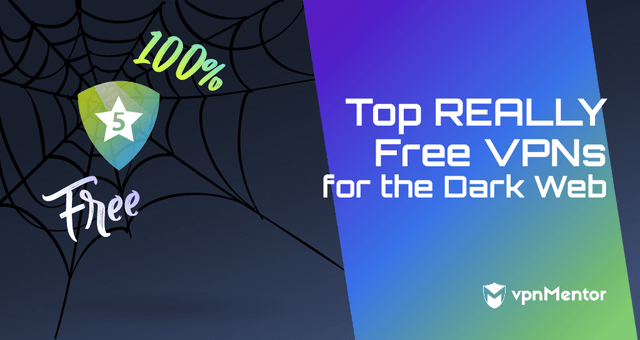 5 Best Free VPNs for the Dark Web: Safe Tor Access in 2023
A VPN is vital if you want to browse the dark web — but most free VPNs won't protect you. You'll need strong encryption to prevent anyone on entry or exit nodes from logging your IP address, but most free VPNs can't provide this. And, if they can't do this, they can't stop your ISP from seeing that you're using the dark web (and throttling your speeds as punishment).
That's why my team and I tested 50+ free VPNs to find those that can protect you on the dark web. We've only shortlisted those that are safe, reliable, secure, and fast enough to not add significant slowdowns on top of the Tor browser's slow speeds.
Overall, you're always better off opting for a cheap premium VPN. I recommend using ExpressVPN when you browse the dark web. No free VPN can match its fast speeds, proven privacy policy, and strong security features. It comes with a 30-day money-back guarantee, too, so if it doesn't meet your expectations, you can easily get a full refund.
Short on Time? Here Are the Best Free VPNs for the Dark Web in 2023
Best Free VPNs for the Dark Web — Full Analysis (Updated 2023)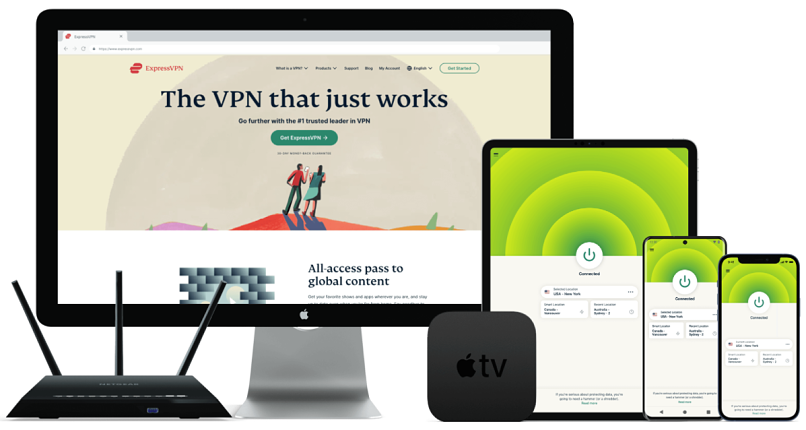 Editor's Choice
Editor's Choice

Tested December 2023
Try Risk-Free for 30 Days
Available on:
Chrome
Router
Smart TV
More
www.ExpressVPN.com
| | |
| --- | --- |
| Best Feature | Exclusive Lightway protocol offers the fastest speeds we tested |
| Speeds and Data | Extremely fast with no data cap |
| Server Network | 3,000 servers in 105 countries |
| Free Trial | 30-day money-back guarantee |
ExpressVPN is much faster than every free VPN I tested. That's crucial because Tor significantly reduces your speeds, even without a VPN. Our dedicated speed tester found a dropoff of 54% from their base speeds (with no VPN, Tor alone was a 50% drop). Every free VPN I tested slowed me down significantly more than this.
Every server supports Tor browsing, along with streaming, downloading, and gaming. That means you don't have to hunt around for specialty servers. In my tests, I could go from browsing the dark web to watching Netflix without swapping servers. Each server is RAM-only, too, which means that they wipe your data when they're rebooted, helping to keep your activity private.
On that note, ExpressVPN's privacy features make it ideal if you're looking for anonymity. For one, you can pay for your subscription with cryptocurrency. It also has a strict and verified no-logs policy, and I was pleased to see that I could opt out of sending anonymized diagnostics data too.
It isn't 100% free, but it outperformed every free VPN we tested. However, you can try ExpressVPN risk-free with its 30-day money-back guarantee and easily get a refund if you're not happy. I put this to the test using 24/7 live chat, and it only took them 2 minutes to approve my request. I got all my money back after 3 days.
Useful Features
Exclusive Lightway protocol. Lightway has roughly a quarter of the code that WireGuard uses. That gives you lightweight, fast, and secure connections for Tor. It was the fastest protocol overall in our tests.
Automatic obfuscation. Every ExpressVPN server can detect VPN blocks and will scramble your data further to avoid detection. That makes it ideal for using Tor to bypass censorship and beat tough firewalls.
Threat Manager. ExpressVPN continuously updates its blocklist of dangerous domains and content to help you avoid dodgy downloads on the dark web.
Split tunneling. This lets you decide which traffic goes through the VPN or your regular connection. I did this to optimize my dark web browsing speeds by only sending Tor traffic through the VPN.
| | |
| --- | --- |
| Best Feature | Private NoSpy servers eliminate third-party interference |
| Speeds and Data | Very fast, no data cap |
| Server Network | 10,529 servers in 100 countries |
| Free Trial | 45-day money-back guarantee |
CyberGhost's NoSpy servers are an excellent way to protect your privacy while browsing the dark web. They're located at the VPN's secure HQ in Romania, which reduces the risk of third parties accessing your data. Free VPNs very rarely have the resources to protect your data like this.
CyberGhost's fast speeds mean it won't significantly impact your Tor browsing, either. During our tests, our speed tester lost 56% from their base on a local UK server over Tor. On a regular browser, CyberGhost's speeds are comparable to ExpressVPN over short to medium distances. But Tor works differently to standard browsers, routing your data across a network. That said, the dropoff was barely noticeable.
I'm impressed with how open CyberGhost is about its no-logs policy, too. It publishes 4 transparency reports a year that detail how many police requests and malicious activity flags they've received. I've never come across a free VPN that's been so open about how it's protected its users' data.
It's important to note that CyberGhost isn't free. But it does offer the longest money-back guarantee period on the market — you can try CyberGhost for free for up to 45 days. If you choose a shorter plan, you'll only get a 14-day guarantee. When I tested this policy, I was able to get my money back just as easily as with ExpressVPN.
Useful Features
Downloading-optimized servers. I'd advise extreme caution when downloading anything on the dark web. But, there are archives of research, documentation, and rare publications on some Onion sites. If you're on a domain you trust, CyberGhost can help you get those files faster.
Block Content. This feature blocks malware on the dark web, helping you to stay safe while you browse. It also blocks ads and trackers. You won't come across those a lot on the dark web, but it's great for clean surface web browsing.
Smart Rules. You can configure startup and WiFi rules so you can start browsing on the dark web in just a few clicks. I set mine to automatically launch the Tor browser whenever I connect to a CyberGhost server.
| | |
| --- | --- |
| Best Feature | Unlimited data lets you browse the dark web as much as you like |
| Speeds and Data | Fast with unlimited data (even on a free account) |
| Server Network | 161 servers in 3 countries |
| Free Trial | Free forever plan |
Proton VPN has no data cap, so you can browse the dark web without limits. I found this particularly impressive since most free VPNs limit you to as little as 500MB/month. If you're like me and love diving into Sci-Hub's library of academic articles, then you'll appreciate this even more.
Proton VPN's strict no-logs policy makes it one of the most trustworthy free VPNs for the dark web. Most free VPNs don't have the budget for a no-logs audit, and many monitor user data, so wouldn't qualify for one anyway. However, because Proton VPN's free plan is funded by users paying for premium plans, it has the resources to protect your information.
We recorded a 64% speed drop on a Netherlands server over Tor. That's slower than a premium service but still impressive for a free VPN. Plus, the free US server specifically supports Onion browsing.
While it's free, you do have to register for an account. So it's not ideal if you don't want to leave any trace of your dark web browsing. Plus, a free account only covers you on one device.
Useful Features
Proprietary Stealth protocol. Proton VPN has developed its own privacy-based protocol that obfuscates your connection to get past network blocks. It's ideal if privacy is a concern, though it is a little slow.
Easy to use. With just 3 locations to choose from on the free plan and a one-click connect button, Proton VPN is easily accessible for VPN beginners.
No extra ads. Most free VPNs inundate you with "personalized" ads and alerts pressuring you to upgrade to a premium plan. I was pleased that my Tor browsing wasn't interrupted by either.
| | |
| --- | --- |
| Best Feature | Browse Tor on all your devices with unlimited connections |
| Speeds and Data | Slow, with a 500MB/month cap (1GB if you sign up) |
| Server Network | You can only connect to your nearest server location |
| Free Trial | Free forever plan |
Avira Phantom VPN is one of the only free services offering unlimited connections, so you can browse the dark web on most devices. On top of the standard security features you'd expect, you'll also be protected by a malware blocker, which not many free VPNs offer.
Avira's speeds over Tor fall way below the other options. We lost 83% from our base speeds, even on a local UK server. This effectively halved the speed we had with Proton VPN. Avira only lets you connect to your nearest server location, which usually improves speeds, but that didn't translate to Tor's complex network.
You get 500MB/per month, or 1GB if you register with an email. That undermines Avira's unlimited devices feature — with such little data, you won't get much Tor browsing done before you eat up your allowance. But, because you don't have to sign up, you can effectively use 500MB/month of data on each device.
Useful Features
Easy to use. Avira's app is a neat little widget that's much smaller than most VPNs. Plus, with no choice of servers, it's a quick and easy way to get a safe connection to the dark web.
Data usage on home screen. With many free VPNs, you have to dig into your Account to find how much data you've used. With Avira, you'll know precisely how much dark web browsing you can do before your data's gone.
| | |
| --- | --- |
| Best Feature | Anchor Tor to your VPN connection with Stealth Guard |
| Speeds and Data | Fast, with a 10GB/month cap |
| Server Network | Locations in 8 countries, covering the Americas, Europe, and Asia |
| Free Trial | Free forever plan |
Stealth Guard prevents you from accessing Tor until your VPN is connected. If you occasionally forget to activate your VPN, like I do, then this serves as an excellent security fallback.
Dark web speeds are average, but they're fine for light browsing. We connected to a UK server and lost 71% over Tor using the WireGuard protocol on a local server in the UK. OpenVPN is also available, and unlike most free VPNs, you can toggle between UDP (faster) and TCP (more reliable) connections.
The 10GB/month cap isn't a hard restriction, either. You can still use hide.me after you've hit the cap, but you won't be able to choose your location. This meant that, sometimes, I'd end up on a long-distance server that slowed my Tor browsing to a standstill.
Useful Features
Live chat. Unlike most free VPNs, you don't need an account to use the 24/7 live chat feature on its website. When I asked about the best servers to use Tor with, I got an instant response.
No signup required. You can download the app and connect to a server without entering any personal information. So, it's great for maintaining your anonymity online.
Quick Comparison Table: Free Dark Web VPN Features
This table provides an easy comparison of the best free VPNs for the dark web. Feel free to use it as a guide to help you choose a VPN for Tor.
Our specialized speed testing expert carried out targeted tests on the dark web using Tor and a sophisticated online instrument. For those prioritizing security, an option without the need for registration might be more appealing. Moreover, a dependable malware blocker is crucial to defend against the numerous hazardous files found on the dark web.
Tips on Choosing the Best Free VPN for the Dark Web
Here are the standards I employed to evaluate the VPNs on my list. I suggest taking these factors into account prior to selecting a VPN for use on the dark web:
Strong security features. I looked for VPNs that offer military-grade AES 256-bit encryption, which is virtually unbreakable. A kill switch is another necessary security feature that will block your connection if the VPN ever disconnects. You'll also want leak protection to make sure your real location is kept hidden.
Fast speeds. Tor reroutes your traffic through several locations, which significantly slows down your connection. Every VPN will reduce your speeds too, so you want one that does it the least. The top 2 VPNs on my list barely lower your speeds at all.
Malware blocker. You can use the dark web as a force for good, but by its very nature, it is home to cybercriminals, hackers, and dangerous content. In the Wild West of the dark web, any link you click is potentially dangerous. I've prioritized VPNs with built-in malware blockers to help you stay safe.
No-logs policy. You need to trust your VPN to handle your data responsibly. A proven no-logs policy shows you that a VPN won't store or sell your information. Every VPN on my list comes with a strict no-logs policy.
Large server networks. This prevents slowdowns due to overcrowding, and you'll get the fastest speeds by using a server close to you. The top 2 VPNs in my list have huge networks, so there's a good chance you can find a fast server nearby.
Data allowance. Most free VPNs limit the amount of data you can use. The top VPNs on my list give you unlimited data, so you can browse the dark web as long as you want.
Expert Tip: Most Free VPNs for the Dark Web Aren't Safe
Every free VPN has its limitations, and a significant number of them fail to prioritize your privacy or provide adequate security. Therefore, the most reliable method to ensure your safety while using Tor is by utilizing a premium VPN. Here are the crucial factors to consider before deciding to download any random free VPN:
Free VPNs can keep logs and sell your personal data. Since free services need a way to earn revenue, they often run targeted advertisements. But some make money by recording your personal information and selling it to advertisers.
Free VPNs often have weaker security features. Some free VPNs can't hide your location or properly encrypt your data. This means that hackers, governments, and corrupt Tor volunteers can access your information.
Free VPNs may come with malware or viruses. When free VPNs bundle malware and adware into their apps, it can slow down your device. Even worse, it can be used to steal your sensitive data and even infect your device with trojanware, spyware, and ransomware.
Free VPNs to Avoid
These VPNs aren't trustworthy and shouldn't be used with Tor:
Hola Free VPN. This is actually a P2P network, not a VPN. That means it doesn't encrypt your data. Plus, it shares your IP with everyone on the network, so if anyone does anything illegal, you could be accountable. Its privacy policy states that it records your browsing history, IP address, and more.
Betternet VPN. This provider has a record of infecting its users' devices with malware. Its Android app is especially dangerous — it comes with over 10 tracking libraries used to harvest your data.
TouchVPN. This service has been known to record your browsing history and sell it to third parties for targeted ads. It's also a proxy, so it can't protect you the way a VPN does.
Quick Guide:
How to Set Up a Dark Web VPN in 3 Easy Steps
Download a VPN. I recommend ExpressVPN. It has military-grade security, a large server network, and automatic obfuscation on every server. You can try ExpressVPN risk-free with its 30-day money-back guarantee.
Connect to a server. Use a nearby server to avoid adding even more speed drops on top of Tor's notorious slowdowns.
Start browsing. Open Tor and browse the dark web safely and anonymously.
FAQs on Free VPNs for the Dark Web
Is it safe to browse the dark web without a VPN?
No, it isn't safe to browse the dark web without a VPN. Using a VPN adds an extra layer of encryption, protecting your privacy and security as you browse the dark web. It also hides your IP address and browsing data from any malicious Tor volunteers.
While Tor encrypts your data, your ISP and government agencies can still detect your use of Tor. This can draw suspicion and result in your ISP throttling your speeds. It can even get you in legal trouble, depending on where you live.
Are free VPNs better than no VPNs for dark web access?
Yes, a free VPN is better than no VPN at all, but a premium VPN is your best option. All free VPNs have limitations, such as speed and data caps or small server networks. The worst ones can host malware and sell your data to advertisers. The top premium VPNs have no data limits, vast server networks, and optimal connection speeds, and can be trusted to keep your data private.
Is Onion routing better than a VPN?
Both Onion routing and VPNs have their advantages, but VPNs offer more comprehensive protection. I recommend you use a VPN with Tor for maximum security.
Tor's encryption means outsiders can't track your connection, but the internal volunteer-run nodes can. In addition, your ISP and government can still see that you're connecting to the dark web. A VPN encrypts all of your data before it reaches the dark web, so no one will be able to see your real IP address or other sensitive data.
Overall, VPNs are best for encrypting your day-to-day data because they won't slow your browsing as much as the Tor network does. However, the dark web (with a VPN) is a haven for whistleblowers and people in countries with strict internet censorship.
Should I use Tor over VPN or VPN over Tor?
You should use Tor over VPN in most cases, as it provides more reliable security. I recommend you use a quality premium VPN to protect your privacy during this process. To use Tor over VPN, first connect to a VPN server, and then connect to Tor. If you do this, no one will be able to see that you're using Tor.
To use VPN over Tor, you need to connect to Tor before your VPN. However, this means your ISP, government, and any other snoops can see you're using the dark web, so you're not protected against throttling or other consequences.
What can I do if my Tor VPN isn't working?
If your Tor VPN isn't working, there are several troubleshooting steps you can take. Different factors can cause issues, including software compatibility, network settings, and server errors. Here are a few methods you can try:
Check your connection. Sometimes, a slow or unstable connection can cause issues with your VPN. If you're using WiFi, try switching to an ethernet connection, or vice versa.
Restart the application. Close the Tor VPN and restart it. If that doesn't help, consider restarting your device as well.
Update the software. Make sure your VPN software and Tor browser are up-to-date. Updating to the latest version can often fix various bugs and improve overall functionality.
Change your server location. If you're experiencing difficulties, try switching to a different server. Some servers may be overloaded or experiencing technical issues.
Disable firewalls/other VPN services. Sometimes, firewalls or other VPN services can interfere with your Tor VPN's operation. Try disabling them temporarily to see if it resolves the issue.
Reinstall the application. If none of the above methods work, you may need to uninstall and reinstall your VPN software.
Contact customer support. Discuss your specific Tor issue with your VPN's customer support. They may be able to suggest a solution or a workaround.
Is the dark web legal?
It's complicated. Accessing the dark web via Tor is legal in most countries, but the network itself is regularly used for illegal activities and frequented by hackers and other cybercriminals looking to steal your data. That's why I suggest connecting to a VPN before you use the dark web to protect yourself.
However, countries like China and Russia have banned Tor completely. My team and I do not condone any illegal activities. I recommend reading up on your local laws to make sure accessing the dark web is legal where you live.
Who can see my dark web browsing?
When you use the dark web without a VPN, your ISP and government can see your use of Tor. It can cause suspicion even if you're doing nothing illegal. A reliable free VPN for the dark web hides your activities by encrypting your internet connection and changing your IP address to hide your real location.
On top of all that, the dark web is a haven for hackers and cybercriminals. Anyone can volunteer to run a Tor node on their home computer and as such, may be able to read your data when it's decrypted. A VPN encrypts your connection, so even if someone is watching, your data will be unreadable.
How can I protect against cybercriminals and hackers on the dark web?
For protection against cybercriminals and hackers, you should use a trustworthy VPN for the dark web. It provides an additional layer of security by encrypting your internet traffic, making it extremely difficult for anyone to intercept your data or trace your IP.
It's also crucial to follow other best practices for dark web use. Keep your OS and software up to date, be cautious of what you download, and avoid providing personal details whenever possible. Finally, continuously verify every Onion site you visit using dark web Wiki guides. Sites frequently change URLs, so a site that seems safe now might not be in the future.
Get the Best FREE VPN for the Dark Web
Going on the dark web without a VPN is unsafe. Before you know it, your ISP could be throttling your speeds, and government agencies monitoring your browsing. If you only want a VPN to encrypt your dark web browsing, then a free VPN might seem the obvious choice.
All free VPNs have restrictions on speeds, data allowance, servers, or all three. While the free VPNs on my list are safe, they won't let you browse the dark web as easily or securely as a premium VPN.
I recommend ExpressVPN to stay safe on Tor and the dark web. No free VPN can match its combination of Tor-friendly speeds, unlimited data, and a verified privacy policy. You can also try it out with Tor risk-free. If it doesn't work for you, you can easily get a refund thanks to its 30-day money-back guarantee.
To summarize, the best VPNs for the dark web with money-back guarantees are...
Privacy Alert!
Your data is exposed to the websites you visit!
The information above can be used to track you, target you for ads, and monitor what you do online.
VPNs can help you hide this information from websites so that you are protected at all times. We recommend ExpressVPN — the #1 VPN out of over 350 providers we've tested. It has military-grade encryption and privacy features that will ensure your digital security, plus — it's currently offering 49% off.
We rank vendors based on rigorous testing and research, but also take into account your feedback and our commercial agreements with providers. This page contains affiliate links.