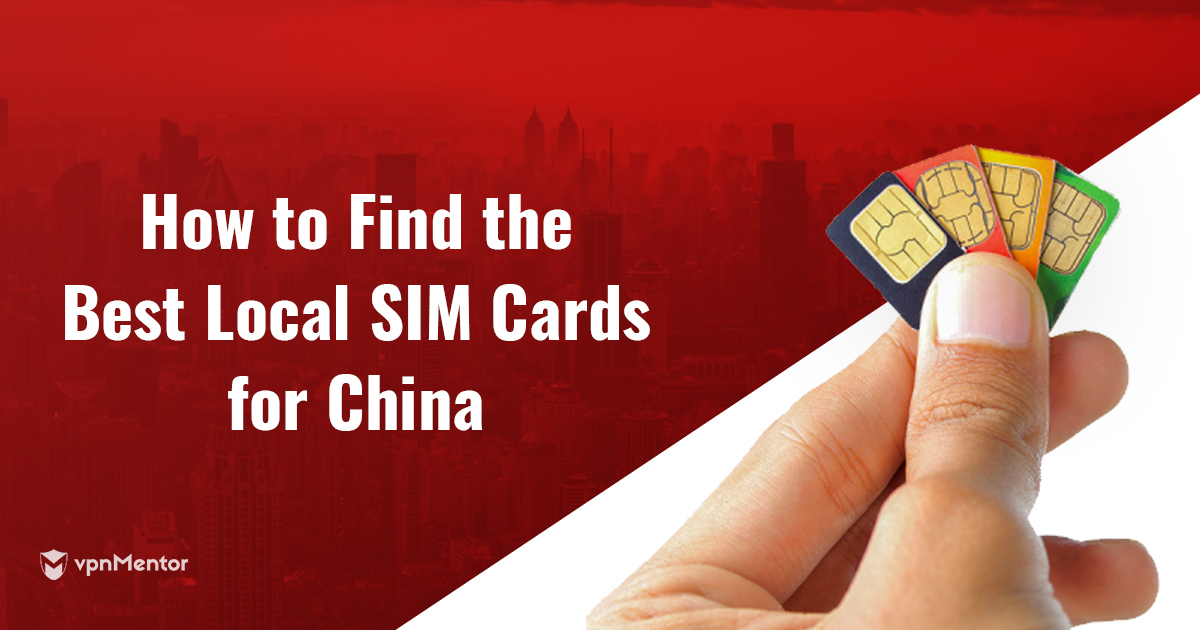 5 Best Local SIM Cards for China and Where You Can Get Them
If you're planning a trip to China, whether short or long, you need to include buying a local SIM card in your plans. A local SIM will allow you to use your mobile device in China and, if you know the best way to use the card, keep your activity private.
You'll be able to phone your local contacts, get a cab, call your hotel, or contact any other local service you might need unexpectedly. You'll also be able to stay online on the go.
Mind you, it might be possible to continue using your mobile service provider's SIM card in China. But if you look up how much you'll be charged for minutes and data, you'll see that using a foreign SIM card will cost you a fortune. So a local card will also save you a lot of money.
However, when you use your Chinese SIM card, you'll have a whole new problem to deal with – blocks on your favorite websites and apps. So along with recommending the best SIM cards to use, we'll show you how to get free access to the web in China.
Let's start with where can you safely buy a reliable local SIM card, either before your trip or when you arrive in China.
Where to Get Local SIM Cards in China
SIM card shops are widespread in China, and you can easily find them at major airports such as the Beijing Capital International Airport, Shanghai Pudong, Guangzhou Baiyun, Chengdu Shuangliu, and Shenzhen Bao'an.
You can also get Chinese SIM cards at kiosks and shops in most cities, or even from street vendors. However, we recommend buying your cards from official stores and websites only. We'll explain why in a moment.
The Best SIM Cards to Use in China
There are three major mobile service operators in China. China Mobile is the largest, followed by China Unicom and China Telecom. The most readily available SIM cards are the ones offered directly by these providers.
However, there are additional SIM card options for travelers who enter China through Hong Kong. We've included the best of these choices on our list as well.
Before going any further, it's important to know that your phone must be unlocked to work with these SIM cards. You should also know that Chinese networks might not support your foreign smartphone, especially for data use.
So as a first step, contact your mobile service provider and ask whether your device will work with China's 3G/4G networks. Once you've settled that matter, choose a SIM card from this list of trusted sources.
China Mobile (中国移动)

China Mobile SIM cards are available only in the provider's official stores; you can't order one online. This is what the most popular plans look like:
300MB of data and 80 minutes
2GB of data and 220 minutes
30GB of data and 4,000 minutes
If you exceed your data limit, you will be charged a premium for each additional GB – currently 60 CNY ($8.70). Unused data rolls over to the next month, while calling minutes last for 30 days.
China Unicom (中国联通)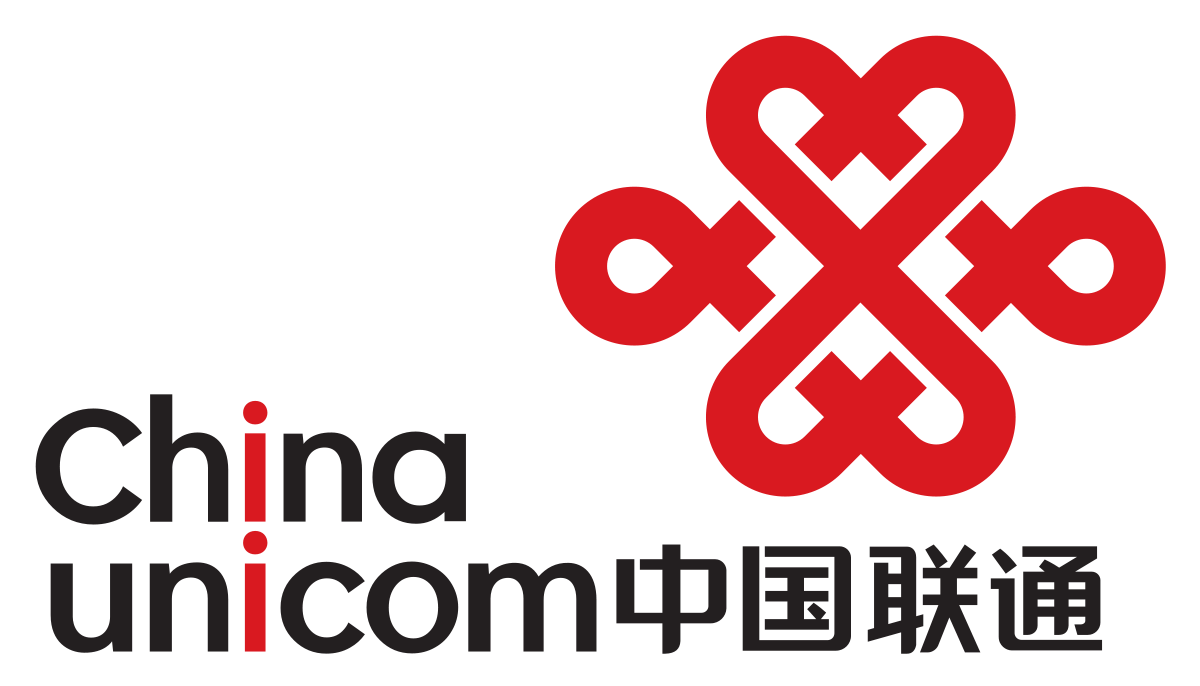 The easiest way to get a China Unicom SIM card is online. On the website, you can create a plan that suits your needs by combining data, text, and minutes.
You can have your card delivered to your hotel in China for free, or you can pay to have it delivered to you before you go to China.
You can also buy these SIM cards at Unicom Shops and Kiosks. Popular plans include:
500MB of data and 100 minutes
800MB of data and 200 minutes
11GB of data and 3,000 minutes
Just like with China Mobile, if you exceed the data limit for any plan, you'll pay an amount currently set at 60 CNY ($8.70) per additional GB.
Visit China Unicorn
China Telecom (中国电信)

As the smallest of China's three main mobile service providers, China Telecom often puts out good deals to attract new customers.
Note that when you buy this SIM card, you will need your passport as a form of identification. Most importantly – only purchase these cards in official stores! They can't be activated anywhere else, so a card purchased from a street vendor will be useless.
You can buy a data-only SIM card from this operator, such as:
3GB of data, good for 30 days
6GB, good for 30 days
6GB, good for 180 days
12GB, good for 365 days
Big Bay Area SIM Card for Hong Kong, Macau, and Mainland China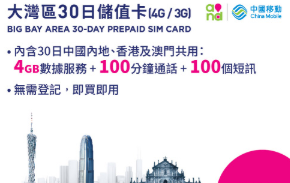 If you will be coming into China through Hong Kong, you have additional options, including Big Bay Area's roaming cards for China Mobile.
You can pre-purchase these cards online, but you'll have to pick them up in an outlet store in Hong Kong if you're not a resident. Otherwise, you can get them in person at CMHK (China Mobile Hong Kong) shops and airport kiosks.
Some of their more popular plans include:
1GB of data, 50 minutes, 50 texts
2GB of data, 100 minutes, 100 texts
4GB of data, 100 minutes, 100 texts
There is a discount of about 20% if you buy your Big Bay Area SIM card online.
Visit China Mobile HK / Big Bay Area
SmarTone Travel Data SIM Cards for China Unicom – Hong Kong ONLY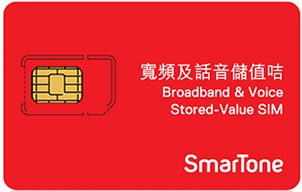 Like Big Bay Area cards, these cards can only be bought in Hong Kong. You can purchase them online, but only if you have a Hong Kong address for delivery. Otherwise, get one at the airport, SmarTone shops, 1010 centers, Circle K, or 7-eleven.
If you do have a Hong Kong delivery address, however, you can save some money because the cards are cheaper online.
These SIM cards give you 1GB of data and last for just seven days. The plan will activate when you start using the data, and deactivate automatically when you reach your cap.
Problems with Using a Local SIM Card in China
Imagine getting lost in Beijing – which is easy to do – and desperately needing to find your destination before night falls. Or imagine urgently needing to contact someone back home. That's when you'll learn just how hard it is to use your smartphone in China.
Your messenger app doesn't work, and you can't open Google Maps or Gmail. Facebook, WhatsApp, Instagram, and plenty more apps you take for granted are also out of reach.
It doesn't matter whether you use wi-fi, mobile data, or a computer in an internet cafe, either. These websites and services are blocked in China nationwide.
Luckily, there's an easy solution that will get you around these blocks. Just as importantly, this trick will protect you from cybercrime, ensure your anonymity, and even hide your activity from China's aggressive internet surveillance.
How to Get Past Website Blocks with Your Local Chinese SIM Card
The easiest way to bypass China's blocks on apps and websites is to use a premium VPN. There are thousands of VPNs available, but the word "premium" is critical here. China's internet filtering didn't get the nickname The Great Firewall of China for nothing.
The truth is, most VPNs just don't work in China. We spend hundreds of hours testing VPNs for specific purposes, and finding the ones that can break through The Great Firewall was a huge project.
Only a few highly rated VPNs can get around both website blocks and China's aggressive VPN screening.
To find out which ones, see our newly updated list of the best VPNs for China!
Most importantly, choose a provider from the list and download and install the VPN app before you travel to China. This is critical, because most VPN websites are blocked in China. You won't be able to set up a high-quality VPN after arriving there.
Summary
With the right SIM card and the right VPN, you'll be able to access all the local services you need in China and also easily bypass blocks on sites and content from all over the world. Just remember to plan everything out before taking your trip!
Get the Best VPN for China NOW!
Privacy Alert!
Your data is exposed to the websites you visit!
The information above can be used to track you, target you for ads, and monitor what you do online.
VPNs can help you hide this information from websites so that you are protected at all times. We recommend ExpressVPN — the #1 VPN out of over 350 providers we've tested. It has military-grade encryption and privacy features that will ensure your digital security, plus — it's currently offering 49% off.