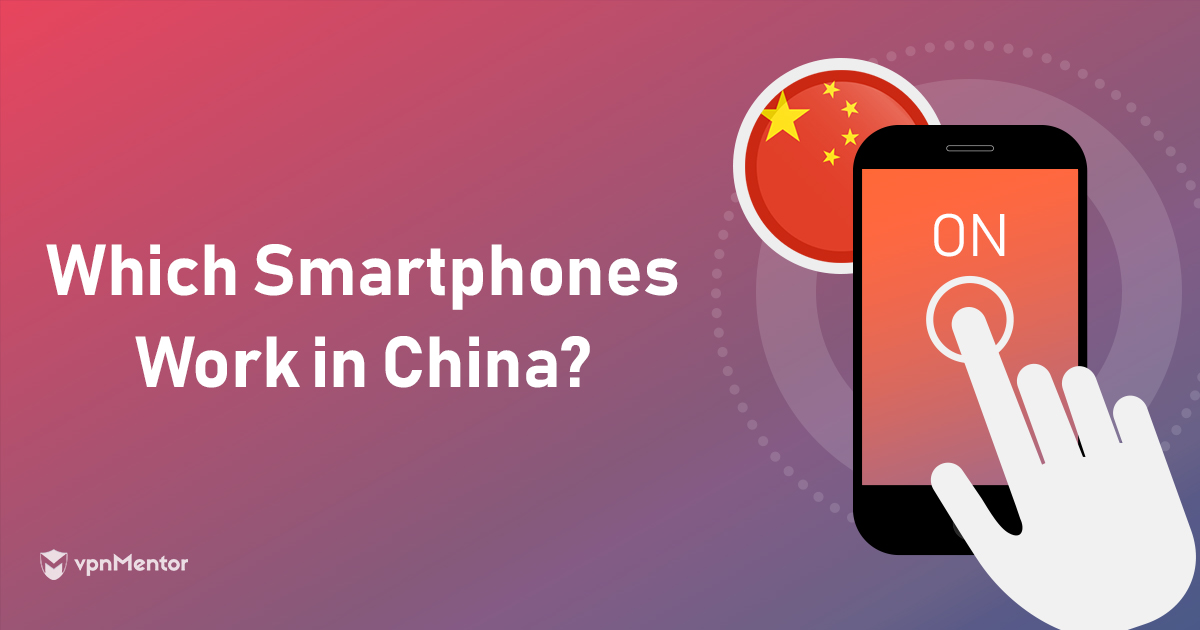 Will My Smartphone Work in China for Data? How To Find Out
Imagine stepping off the plane and discovering that you can't use your smartphone in China to make calls, send messages, or browse the web. You would find yourself with no way to access local services or stay connected with your family and friends.
In this guide, we'll explain why some cell phones simply don't work in China, and how to check if yours will before you travel there.
Even if your smartphone is compatible with China's networks, your provider's roaming charges might make for a very, very expensive trip. So we'll also show you how the right SIM card can save you a lot of money.
Finally, since government spying and website blocking are major threats to your privacy and web access in China, we'll show you how to protect your device from digital surveillance and bypass China's censorship firewall.
Why Don't All Mobile Devices Work in China?
Whenever you make a call, send a text, or browse the web, your smartphone uses radio waves to communicate with the nearest cell tower. This tower then relays your messages, calls, and data requests through other towers across the network.
Different countries use different radio wave frequencies for their wireless networks, however. For your phone to work when you travel, it needs to be able to send and receive data on the frequencies used in the country you visit.
Smartphone manufacturers produce region-specific phones to meet the frequency requirements of specific countries. Many phones designed for other regions won't work in China, because China's mobile network frequencies are different from those in any other country.
Here's where it gets even more complicated: The three main cell phone carriers in China all operate on different frequencies. So your phone might work with China Mobile, but not with China Unicom, or with China Unicom but not China Telecom.
The table below shows the frequencies used by China's three main mobile service providers. (We have not included information on 2G frequences, since 2G is outdated and data transfer over those frequencies is extremely slow and unreliable.)
Frequencies Used by Major Chinese Mobile Providers
| | | |
| --- | --- | --- |
| CARRIER | 3G FREQUENCIES | 4G LTE FREQUENCIES  |
| CHINA MOBILE | Not availabe on non-Chinese phones* | 1.9 GHz, 2.3 GHz, 2.5 GHz |
| CHINA UNICOM | 21000 MHz | 1800 MHz, 2.3 GHz, 2.5 GHz |
| CHINA TELECOM  | Not available | 1800 MHz, 2.3 GHz, 2.5 GHz |
* China Mobile only provides 3G over the TD-SCDMA protocol, which is incompatible with foreign phones.
4G is currently the best option in China for high-speed data service. However, many regions of the country do not have 4G cell tower coverage. If you plan to use 4G frequencies, check with your provider to make sure 4G service is available in the area you're visiting.
How Can I Tell If My Phone Will Work in China?
To figure out if your phone will work, you need to compare its frequency band compatibility with the frequencies shown in the table above. You can find this information in the user manual that came with your phone or on the manufacturer's website.
If the frequencies match, you can use your smartphone in China!
If you have any trouble finding your phone's frequency bands, contact customer service for the manufacturer or your phone service provider and ask to speak with an agent who specializes in phone compatibility issues in China.
Once you know that you will be able to use your phone on your trip, the next question is whether you should keep the same SIM card.
Do I Need a Different SIM Card?
If your phone is compatible with China's networks, you most likely have two SIM card options.
1. International Roaming Service
You can keep your current cell carrier's SIM card in your phone and use international roaming to access the internet, send texts, and make calls while you're in China.
Most carriers have international agreements that allow you to use their services overseas, but for a higher cost. For China, it is usually a much higher cost.
Because it's completely hassle free, this option might be a good choice for a short trip. If you're going to be in China for a while, however, we recommend Option 2 to prevent a very unpleasant surprise when your montly cell phone bill comes.
Note that if your phone is locked to your local network, you must use Option 1. You can't use a different SIM card in a locked phone.
2. Get a Local SIM Card
If your phone isn't locked, you can use a Chinese cell phone carrier during your trip. You'll need a different SIM card, but it's much cheaper than paying for international roaming service. We've got a simple guide to local Chinese SIM cards to help.
When you leave China, you can simply switch your SIM card again and return to using your regular service.
Is Using My Mobile Device in China Safe?
Whether you use international roaming or a Chinese cell phone carrier, everything you do on your phone in China will be subject to government surveillance and censorship.
From blocking popular sites like Facebook and Google to monitoring VoIP calls and messages, the Chinese government intrudes on every aspect of netizens' lives. Use our firewall testing tool to check whether the websites you use are blocked in China.
You can even face severe consequences for criticizing China's political leaders, even if you make the remark in a private message to a friend.
Using a good VPN is the best way to keep your digital activity in China private, allowing you to communicate freely with your loved ones back home. The VPN will also bypass censorship and geoblocks to give you unrestricted access to your favorite sites.
By masking your IP address, a reliable VPN will make it look as though you're accessing the internet from outside China. All of your data will be encrypted to protect it from hackers and government spies.
Be careful when you choose a VPN, however. The vast majority of VPN services don't work in China. Our experts have compiled a comprehensive guide to VPNs for China to help you find one you can trust.
Most Reliable VPNs for China
IMPORTANT: Make sure to download and install your VPN app before you arrive in China, because most VPN provider websites are blocked within the country.
Summary
To avoid a vacation or business travel nightmare, find out if your smartphone will work in China before you travel there. And remember that while you're in China, you should assume that all your activity on your phone will be monitored – unless you use a VPN.
So along with checking your phone's compatibility with Chinese networks, make sure to include downloading a VPN that works in China in your travel preparations.
Also make sure to check your carrier's international roaming rates for China so you don't pile up huge charges without realizing it. Don't forget, you can avoid roaming fees by getting a trustworthy local Chinese SIM card.
To save even more money on your China trip, head over to our insider deals page to see all the best deals and coupons for top VPNs.
Privacy Alert!
Your data is exposed to the websites you visit!
The information above can be used to track you, target you for ads, and monitor what you do online.
VPNs can help you hide this information from websites so that you are protected at all times. We recommend ExpressVPN — the #1 VPN out of over 350 providers we've tested. It has military-grade encryption and privacy features that will ensure your digital security, plus — it's currently offering 49% off.