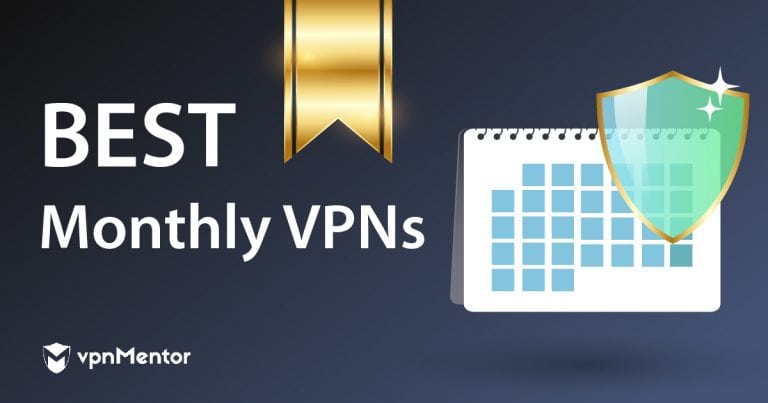 10 Best Monthly VPNs in 2022 — Great Value & Cheap Plans
Updated on 19th May 2022
Monthly VPN subscriptions are a great way to test the service without commitment, but a lot of them are expensive. If you don't want to commit to a long-term subscription, there are a few VPNs that offer good month-to-month plans. However, they're not easy to find with so many on the market.
I tested 50+ monthly VPNs and found the ones that offer the best value. I looked for affordable prices, fast speeds, robust security features, and good streaming capabilities. Furthermore, I ensured each VPN service comes with a trustworthy money-back guarantee and a reliable support team.
Out of all the monthly VPNs I tested, ExpressVPN is my top recommendation. Its fast speeds and reliability make its monthly price great value. In addition, you can try ExpressVPN out risk-free using its monthly subscription since it's backed by a 30-day money-back guarantee. In case you don't like it, claiming a refund is easy.
Best Monthly VPNs — Full Analysis (Updated in 2022)
With ExpressVPN's monthly plan, you get superfast speeds and steady, reliable connections. During my tests, I connected to its New York, Washington DC, Santa Monica, and Atlanta servers, all of which gave me speeds above 80 Mbps. I could watch New York Prison Break: The Seduction of Joyce Mitchell on Netflix in picture-perfect HD without any lag. These speeds are more than fast enough for any online activity, including torrenting, online gaming, and high-quality streaming.
Its network of 3,000 servers in 94 countries allows you to access tons of popular streaming services easily. Using its Australia, Japan, and UK servers, I could unblock various Netflix libraries. I also accessed HBO Max, Hulu, BBC iPlayer, and Disney+ without hassle. ExpressVPN also works to unblock gaming content that's only available in certain regions. If you travel somewhere like Iran or Germany, where many games aren't available or censored, you'll be able to access your favorite games still by connecting the VPN to your home country.
TrustedServer technology protects your privacy, ensuring your data isn't stored — Its entire network uses RAM-based servers designed to delete all data after reboot. In addition to this, it adheres to a strict no-logs policy that's been audited and verified with real cases.
Robust security features will keep you safe from prying eyes. These include 256-bit encryption, a kill switch, and DNS/IP/WebRTC leak protection. I tested the reliability of the switch by quickly changing servers to see whether ExpressVPN would protect my connection. Every time I did this, it cut off my internet, so I knew my connection was secure at all times.
It also has other features like split tunneling and MediaStreamer. Split tunneling lets you choose specific apps to use the VPN connection, which can improve performance — I set up split tunneling so only my uTorrent traffic was using the VPN. Since there wasn't any unnecessary traffic being encrypted, my download speeds increased. MediaStreamer allows you to easily unblock streaming content on devices that don't support VPN apps like gaming consoles and smart TVs.
ExpressVPN's monthly subscription is $12.95/month which is a bit on the expensive side compared to other VPNs. But you get unmatched reliability, seriously fast speeds, and powerful security that makes it really good value. You can also choose from over a dozen payment methods, including all major credit cards, PayPal, and Bitcoin.
All of its plans come with a 30-day money-back guarantee. So, if you're considering subscribing for longer than a month, you can save some money by signing up for a longer term (a yearly plan is about half the cost at $6.67/month). In any case, you can still try ExpressVPN risk-free. If at any point during the 30-day period you aren't completely happy with it, then you can claim a full refund.
To verify the legitimacy of the money-back guarantee, I asked support via its 24/7 live chat feature for a refund after using the service for 27 days. The support representative asked me a couple of questions about the service but didn't push me to stay. My request was approved in a little under 5 minutes, and I got my money back 2 days later.
You'll have no problem using PrivateVPN's apps, thanks to its intuitive user interface. Its Simple Mode makes the entire user interface minimalistic and straightforward, which lets you connect to a fast server in 1 click. There's also an Advanced Mode that enables additional security, protocol, and tunneling settings you can tweak, but this isn't necessary.
Although its server network isn't large (just 200 servers in 63 countries), PrivateVPN is reliable for accessing geo-restricted content. Its Stealth feature makes bypassing VPN blocks a breeze because it hides the fact you're using a VPN. I was surprised that during my tests, its servers consistently unblocked every popular streaming platform I tested it with, including Netflix, Amazon Prime Video, and BBC iPlayer. This Stealth feature is what makes PrivateVPN work in restrictive countries like China.
As for its speeds, PrivateVPN performed well. I was able to watch US Netflix lag-free as my download speed never dropped below 60 Mbps the whole time. Even though my speed dropped by 17% compared to my non-VPN speeds, I didn't notice any difference in streaming quality. As long as you have a fast base connection, you can watch your favorite shows lag-free.
It is super secure and protects your privacy. Like ExpressVPN, it offers 256-bit AES encryption (the strongest), comes with an automatic kill switch and leak protection, and adheres to a strict no-logs policy. This, combined with its free SOCKS5 proxy and port forwarding options make this a fantastic option for torrenting as well. I tested 15 different servers for IP and DNS leaks, so you can remain private online.
You can get PrivateVPN's monthly plan for $8.99/month, making it the cheapest month-to-month plan on this list. However, you can lower that price even further if you sign up for a long-term plan. It has the same features as the short-term plan but is cheaper in the long run (only $2/month).
Moreover, you can test PrivateVPN out first with no financial risk because it comes with a 30-day money-back guarantee. This is included with all plans — just make sure that you don't exceed the 100GB data limit. Otherwise, your refund request will be subject to the standard refund policy and is no longer guaranteed.
After using more than 66 GB of data over a 20-day period, I contacted support through its 24/7 live chat on its website and requested a refund. Before approving my request, the support rep asked me why I wanted to cancel. After providing a bit of feedback, my request was approved, and it only took 3 days to get my money back.
Private Internet Access (PIA) lets you customize your security settings to your liking. By default, PIA comes pre-configured with settings that offer the best combination of speed and security. However, you can switch from AES 128-bit (faster) to AES 256-bit (more secure) encryption to streamline your connection. Each protocol option (WireGuard or OpenVPN) offers its own set of configuration options as well.
PIA comes with all the standard security features including 256-bit encryption, leak protection, and a kill switch. However, its kill switch is also customizable — you can set it to "Advanced" if you want non-stop protection. This not only blocks your real data from being leaked in case of a disconnect (like most kill switch features) but even when the VPN is manually turned off. Other unique security features include MACE, a built-in ad and malware blocker, Multi-Hop SOCKS5 connections to double up your protection, and port forwarding, which makes PIA one of the top choices for safe torrenting.
In addition, its entire server network supports P2P and works well for streaming, too. It has 29,650 servers scattered across 84 countries, meaning you can access a wide range of platforms. During my tests, I connected to its New York server and had no problems watching US Netflix lag-free. Similarly, connected to its London servers, I was able to stream BBC iPlayer in Full HD. You'll have no problems accessing content abroad.
My only gripe with Private Internet Access is that it's based in the US, which is part of the 5 Eyes Alliance. This joint effort between the US, Australia, Canada, New Zealand, and the UK gathers and shares data on its citizens with one another. However, PIA's privacy policy is solid and instills confidence — it's been around for more than 10 years and has never shared any user data, even when requested to.
PIA's monthly subscription costs $11.99/month, which is a bit on the expensive side. However, as with all VPNs, you save more money if you sign up for a longer term (prices start at $2.19/month).
All of its plans come with a money-back guarantee, meaning you can try Private Internet Access risk-free for 30 days no matter which subscription you choose. After testing it for 28 days, I contacted its 24/7 support for a refund. Before approving my request, the support rep asked me whether they could do something to improve their service, but I wasn't pushed to stay. Shortly after, my request was approved, and I got my money back in 4 days.
CyberGhost offers specialized servers so you can reliably game, stream, and torrent. These servers are regularly maintained by CyberGhost's staff, meaning you don't have to worry about stumbling across one that doesn't work (it can happen with even the best VPNs). I tested its US-based gaming optimized servers first, which instantly allowed me to play Minecraft with my friends in California lag-free.
Its speeds are fast enough for gaming, but also more than sufficient for lag-free streaming. Connected to a UK server, my download speed averaged 52.3 Mbps which is 2 times more than what's needed for bufferless Ultra HD streaming. I was able to watch The Marvelous Mrs. Maisel on Amazon Prime in crisp 4K.
You can also stay safe while torrenting at top speeds. Using its Ireland, UK, and France torrenting servers, I downloaded a 700 MB film (Little Lord Fauntleroy) and it took less than 2 minutes on each one. Plus, CyberGhost encrypts your data using AES 256-bit encryption, an automatic kill-switch, leak protection, an ad-blocker, and multiple tunneling protocols (including OpenVPN and WireGuard). It also doesn't keep any logs and is based in privacy-friendly Romania, so you can keep your torrenting activity private.
CyberGhost's monthly subscription is $12.99/month, which is a bit more than other VPNs in this list. What's more disappointing is that the monthly plan comes with a shorter money-back guarantee period than the longer subscriptions (only 14 days).
However, if you choose to sign up for a longer term (plans start from $2.29/month), you can make use of its 45-day refund guarantee, giving you more than a month to use it with no financial risk.
This essentially lets you test CyberGhost for free, and I made sure the refund process was hassle free and trustworthy. After using the service for 35 days, I contacted its support team via the 24/7 live chat feature and asked for a refund. The support agent only asked why I wanted to cancel and processed the refund with no further questions. After about 6 minutes, I received a confirmation email and saw the money back in my account 5 days later.
IPVanish offers unlimited device connections and a decent monthly rate. In my testing, I connected my PC, Windows laptop, an Android phone, and my iPad to the same US server. Then, I streamed Netflix on 3 devices at once while playing COD: Mobile on my Android without experiencing any noticeable lag or buffering on any device. So, you can share IPVanish with your whole household without performance issues.
Advanced security features guard your device and data. IPVanish comes with all the standard security features: AES 256-bit encryption, DNS/IP leak protection, and a kill switch. Additionally, its Scramble feature will obfuscate your OpenVPN traffic — this means that not only your traffic is encrypted and kept anonymous, but the fact that you're even using a VPN is hidden, too. This is a great feature for bypassing firewalls on restrictive networks (like at work or at school) and VPN blocks seen in restrictive countries like China and Russia.
Speed is consistently fast on local and international servers for smooth browsing, torrenting, and streaming. IPVanish has 2,000 servers spanning 75 countries. I tested Switzerland, Belgian, and US servers and was able to stream shows in HD on all of them (my speed never dropped below 30 Mbps). Plus, it gives you free access to a SOCKS5 proxy for better torrenting speeds.
One pretty big disappointment is that IPVanish doesn't offer a money-back guarantee on its monthly plan. You have to sign up for at least a year to make use of the refund guarantee.
You can get IPVanish on a month-to-month basis for $10.99/month making it a bit expensive, but still cheaper than other top VPNs like ExpressVPN. Signing up for a yearly plan drops the monthly price to just $3.99/month and allows you to take advantage of the 30-day money-back guarantee.
The refund process is incredibly easy — you don't even have to contact customer support. After using the service for 29 days, I simply had to cancel my subscription within the "My Account" menu on its website. I didn't have to give a reason for canceling and I got my refund in 5 days.
ProtonVPN's Secure Core servers add an extra layer of privacy protection most VPNs don't offer. These servers are owned and operated by ProtonVPN and stored in highly secure data centers. If you connect to a server in a high-risk jurisdiction (like the US or UK), then your traffic will first pass through a Secure Core server — this essentially eliminates the risk of your data being intercepted and traced back to you. It can only be traced back to the Secure Core server.
Both your privacy and device are kept safe with ProtonVPN's NetShield feature. NetShield blocks ads, malware, and tracking software from infecting your device. I was most impressed with the ad blocker. A few VPNs come with a similar feature, but they don't usually work to block ads. However, NetShield blocked every ad on the Forbes page I used for testing.
Its 1,778 servers (across 63 countries) support speeds of up to 10 Gbps, so ProtonVPN is fast. Local connections gave me an average of 50 Mbps, while long distance connections hovered around 30 Mbps. When I tested its unblocking abilities, this was more than enough to stream in Ultra HD on Netflix US, Hulu, Channel 4, and BBC iPlayer. It also has specialized servers for P2P and Tor.
I tested ProtonVPN with its Plus plan — you can get it for $10/month with its monthly subscription. It also offers a Basic plan ($5/month), but this doesn't give you access to Secure Core servers, caps your speeds, and doesn't have streaming support. If you sign up for the Plus plan for longer, prices are as low as $4.99/month.
While all plans come with a 30-day money-back guarantee, you can only get a refund for the days you didn't use the service. Since it doesn't offer 24/7 live chat support, I had to request my refund using a contact form on its site. However, when I tested the guarantee, they refunded me without hassle. It just took about 10 days to get my money back.
Similar to CyberGhost, ZenMate offers specialized servers designed to make torrenting and unblocking streaming sites a breeze. As a test, I compared the speeds downloading the same 1GB video file on the regular Netherlands and UK servers with the torrenting servers in the same locations. I was very surprised that I had speeds 20% faster with the optimized ones (it got to about 45 Mbps and took 8 minutes to download).
In addition, ZenMate has almost 50 streaming optimized servers for easy access to dozens of streaming platforms, including Netflix US, UK, Australia, and France, plus Disney+, Hulu, RTE, HBO Max, and Amazon Prime during my tests (the servers are labeled per service). And with average speeds of 35 Mbps, I could stream in HD with no slowdowns.
The downside with ZenMate is that it doesn't have many security settings — it doesn't offer the WireGuard protocol or split tunneling. This means that if you want to tweak the VPN's settings for better security or speeds, there's not much you can do. However, it comes with all the standard security and privacy features like 256-bit encryption, leak protection, a kill switch, OpenVPN, and a zero-logs policy so it's still a super safe VPN with decent speeds.
A monthly subscription for the Ultimate plan costs $10.99/month, which is pretty average. However, it offers really great value because you can use it on as many devices as you want. ZenMate also has a Pro plan which costs $7.99/month, but it's only compatible with popular browsers. Of course, if you opt for a long-term Ultimate subscription, then the monthly price drops to to as low as $1.51/month.
All subscription plans come with a 30-day money-back guarantee, too. So, you don't have to sign up for a long term to try it out first. I made sure the guarantee was upheld and used 24/7 live chat to ask for my refund. The service agent didn't ask me any questions before approving my refund and I had my money back in less than a week.
Hotspot Shield's unique security protocol was built to decrease speed loss over long-distance connections. I tested this out by connecting to a US server from my location in Western Europe — with IKEv2, my speeds were 44 Mbps. However, after I switched to Catapult Hydra, my speeds went up to 53 Mbps. If you want a VPN to access international streaming content, this is a top feature.
To elaborate, I could unblock multiple popular streaming platforms including Netflix (US, Australia, and Japan), Hulu, BBC iPlayer, and HBO Max. Both its regular and its "quick access" streaming-optimized servers worked (it has 1,800 servers in 110 countries total). Even though Catapult Hydra was faster overall, I had speeds more than fast enough to stream in Ultra HD in every case.
These fast speeds are also ideal for torrenting, and Hotspot Shield keeps you safe too. Its entire network supports P2P traffic, so you're well protected with standard security features like 256-bit encryption and leak protection as well as a no-logs policy. You can also set up split tunneling (Smart VPN) to reduce speed loss and improve device performance.
The unfortunate part is that it's one of the most expensive month-to-month VPNs in this list, at $12.99/month, and you only get 5 device connections. Even for a longer-term plan, it's on the expensive side, at $2.99/month. However, with both plans, you also get 3 other apps thrown in for free: a malware blocker, a spam call protection app, and a password manager.
It offers a generous 45-day money-back guarantee period, too, so you can try Hotspot Shield out risk-free for more than a month. You can get a full refund if you're not completely satisfied. I found the refund process really easy. I tested it myself by contacting support via its 24/7 live chat feature. After I gave my feedback about using the VPN, my refund was approved, and I got my money back the following week.
Try Hotspot Shield's Monthly Plan
For torrenting, I really love hide.me's Stealth Guard feature. I configured it so that qBittorrent wouldn't be able to connect to the internet unless the VPN was connected. I turned the VPN off and tried to download a torrent file as a test — qBittorrent couldn't open the file. Once I connected hide.me, everything worked as normal. It works with numerous apps and software, so Stealth Guard guarantees your activity is always protected with military-grade encryption and leak protection.
It also comes with other useful security features and adheres to a no-logs policy. It has a customizable kill switch, split tunneling, and offers a free SOCKS5 proxy and port forwarding making a great option if you need a monthly VPN for torrenting. You can also choose between 5 security protocols to streamline your connection.
Another unique feature is Bolt, which boosts speeds and performance. It reduces TCP connection setup, which can improve latency and prevents ISP throttling. I compared my ping (latency) using OpenVPN with the "Best Location" server, which gave me 20 ms. With Bolt activated, it decreased to 16 ms, meaning my connection became more responsive.
Its app is a bit difficult to understand because the features aren't self-explanatory. However, it offers super responsive customer support 24/7 through live chat. The agents I spoke to knew the product well and provided valuable information.
Its pay-as-you-go monthly plan is $9.95/month, making it one of the cheaper options. I find this good value because you can connect up to 10 devices at once, which is more than most VPNs offer.
It offers a 30-day money-back guarantee on all subscription plans, too. If you sign up long-term, you can try hide.me risk-free and then pay as low as $2.59/month. If you decide it's not for you, then you won't have any issues getting a refund. I made sure they'd uphold this promise and cancelled after 23 days. The agent I spoke to over live chat didn't even ask me any questions and I had a full refund in 7 days.
You'll have no issues using TunnelBear's app, thanks to its simple and intuitive user interface. You select servers with an interactive map that has cute animations of a bear jumping through tunnels. There's also a drop-down menu with a list of all locations and an option to connect to the fastest server. Notifications and installation prompts are all written using bear puns, which made testing this VPN pretty enjoyable.
TunnelBear doesn't have many security options, which makes using it simple. You don't have to worry about configuring it or tweaking settings — it's already set up for you. It also has a GhostBear feature, which obfuscates your traffic to hide your VPN use. This is the reason why it works in restrictive countries like China.
Its speeds aren't the greatest and don't come close to the speeds I recorded using ExpressVPN. However, TunnelBear worked well to unblock popular streaming platforms such as Netflix US and Disney+. My speeds averaged 11 Mbps on its long-distance Salt Lake City server, which was enough for HD streaming, light torrenting, and general web browsing.
TunnelBear's monthly subscription costs $9.99/month. You can drop the price down to $3.33/month with a longer term plan, but it doesn't offer a money-back guarantee, so there's no option to get a refund if you don't like it.
Instead, there's a free version of TunnelBear, but it's not the best way to test the service because you're only given a monthly data allowance of 500 MB. This makes it a poor choice for anything except light browsing — 500 MB is about enough to stream in HD for 30 minutes.
Quick Comparison Table: Monthly VPN Features
The table below compares the features of my top-recommended monthly VPN. This includes the lowest monthly price, money guarantee period, number of countries where servers are available, average download speed, and whether it can unblock Netflix.
Tips on How to Choose the Best Monthly VPN
An excellent monthly VPN should offer a balanced price to performance ratio, an extensive server network, fast speeds, and robust security. In addition, it should protect your privacy by masking your real IP at all times and have reliable customer support. All VPNs on this list have been selected using these criteria:
Multiple subscription plans. A good monthly VPN should have several plans to choose from should you decide to commit. All VPNs on this list offer pay-as-you-go monthly subscriptions as well as long-term plans with reduced monthly costs, should you decide to commit for longer.
Trustworthy money-back guarantee. This allows you to test a VPN to see if it's right for you and get a refund if you decide it's not. Most VPNs will offer at least 30 days, but I included 2 VPNs that offer a generous 45-day refund guarantee. All of them held true to their guarantees and the refund process was simple in every case.
Fast speeds. This is essential because it means you'll be able to perform all your regular online tasks as if you were using your regular internet connection. All the VPNs I tested had speeds fast enough for HD streaming (5 Mbps), but most of them averaged speeds of around 40 Mbps.
Large server network. The more servers there are, the lower the chances of experiencing slow speeds due to congestion. In addition, the more server locations there are, the easier it is to find one close to you, which generally gives you better speeds. It also means you can access content from those locations. The VPNs listed here have reliable networks and can access geoblocked sites and services worldwide.
Strong security and privacy features. The whole point of a VPN is to keep you safe and secure online. So it should at the very least offer 256-bit military-grade encryption, IP and DNS leak protection, and a kill switch as standard. A no-logs policy is also essential. I tested each VPN to ensure my data was hidden and only selected ones that adhere to no-logs policies.
Vast compatibility. You should be able to use your VPN on all of your devices at once under a single subscription. Only VPNs with vast device compatibility were selected, and they all offer at least 5 simultaneous device connections.
Reliable customer support. Having a team of qualified experts to help you troubleshoot is a huge asset. 24/7 live chat is preferable, but email and ticketing systems are also acceptable. All the support teams I reached out to during testing were knowledgeable and most can be contacted 24/7.
FAQs on Monthly VPNs with Best Monthly Plans
How much should I pay for a VPN per month?
It depends on how long you want to commit to the VPN. The VPNs shortlisted here offer month-to-month (or "pay as you go") VPN subscriptions for between $8 and $13 per month. However, with almost all VPNs, the monthly price is significantly reduced if you sign up for a long-term subscription. For example, you can get a top VPN like ExpressVPN for $12.99/month on a monthly payment plan. However, you pay almost half that if you sign up for a year.
In some (but not all) cases, quality will reflect in the price as well. However, there are many really solid VPNs that offer top-of-the-line security and reliability for cheap prices, which I've also shortlisted.
What is the cheapest monthly VPN?
To get the cheapest monthly price for any VPN, you have to sign up for a long-term subscription. So I always recommend doing that if it's possible. However, if you're not willing to commit long-term, then PrivateVPN is a pretty affordable choice. Of the VPNs in this list, it offers the cheapest month-to-month payment plans. It's not as fast, reliable, or easy-on-the-eyes as the (slightly more expensive) ExpressVPN, but it's still a really good VPN with fast speeds and good streaming performance.
Will my monthly VPN work on my Fire Sitck?
Yes! You can usually download your VPN app directly onto your Fire Stick from the Amazon App Store. All of the monthly VPNs shortlisted have native apps for Amazon Fire Stick (except for ZenMate and TunnelBear). However, even if your VPN doesn't have an app in the Amazon App Store, you can usually sideload its APK file and just use the Android version.
Get a Monthly VPN Subscription Today
Monthly VPN plans can be really expensive. VPNs want you to commit to a longer subscription and make a larger upfront payment. While this saves you money in the long run, there are many reasons why you wouldn't want to make a year-long commitment.
Of all the monthly VPNs I tested, my favorite is ExpressVPN. While it's not the cheapest option for a month-to-month subscription, it offers the fastest speeds, unbeatable streaming capabilities, and its security features are hard to beat. It comes with a money-back guarantee, as well. So you can test ExpressVPN out risk-free with its monthly plan — if you're not happy with it, you can get all your money back within 30 days.
To summarize, the best VPNs with monthly subscription plans are…