10 Best Plex Plugins That Still Work in 2023 (+ How to Install)
January 2023 Update: Plex is phasing out plugins — especially those that require UI support or play content (like streaming plugins). Plex's representative couldn't give me an exact date when plugin support would be removed completely but told me that you should no longer rely on plugins to work. I will keep testing and update this page when I know more.
Plex plugins are really useful, so it's been frustrating to see Plex remove its official Plugin Directory and start phasing out plugin support entirely. It's equally frustrating to see other blogs and guides still recommending Plex plugins that no longer work.
I tested nearly 100 of the most popular Plex plugins to find out which ones still work. I found that while the service has phased out most UI apps and streaming plugins, there are still some great utility plugins for Plex you can rely on for now.
If you do a lot of streaming or host content that may come from an unofficial source, another tool you should strongly consider is a VPN. These programs aren't plugins, but they can help you get around speed throttling imposed by your ISP and protect you from trouble should you accidentally download or host copyrighted material.
After lots of testing, I've found that ExpressVPN is the best VPN for Plex because it's fast, secure, and easy to use. Plus, you can test it out risk-free, as it's backed by a 30-day money-back guarantee. If you don't like it, you can ask for a full refund.
Tip: Do This to Improve Your Plex Experience
Installing a VPN for Plex can help you avoid speed throttling and protect you if you accidentally download or stream copyrighted content.
If you often find that your Plex playback is delayed or choppy despite having fast internet speeds, you may be experiencing speed throttling. ISPs sometimes do this when they see that you're doing things that use a lot of data, such as downloading or streaming. With a VPN, you can avoid this unfair practice. VPNs encrypt your internet connection so that third parties (including your ISP) can't see what you're doing. If an ISP can't see that you're streaming, it won't slow down your internet speeds.
A VPN's encryption can also protect you from potential legal trouble. If you download content from non-official sources, such as torrenting clients, you may run into copyright infringement issues. While I don't condone downloading copyrighted content, it's not always easy to tell whether you're doing it. When you use a VPN, your location and identity are hidden, so your downloading and viewing activity can't be traced back to you.
My top Plex VPN recommendation is ExpressVPN. I've seen first-hard during testing how it defeats speed throttling, and its security measures are the best in the industry. It's also extremely to use — it takes only minutes to download and launch. Plus, you can test it out risk-free before you commit. If you don't like it, you can request a full refund in 30 days.
Warning: I always recommend using a VPN while using Plex. A VPN keeps your Plex activity completely private so that no third parties can monitor or track what you watch or host on Plex.
The Best Plex Plugins That Work in 2023
1. WebTools and the Unsupported App Store
Download: https://github.com/ukdtom/WebTools.bundle
WebTools is one of the most popular Plex plugins and gives you access to a range of useful functions including subtitle management, media search, log files, and technical information about your server.
Best of all, it gives you access to the Unsupported App Store. With the official Plugins Directory closed down, the UAS is the easiest way to find and install plugins for Plex. WebTools is no longer being actively developed, but both it and the UAS will be maintained until Plex plugin support is completely removed.
To install WebTools and the UAS, download its.zip file and manually add the.bundle file to Plex's plugins folder.
2. Kitana
Download: https://github.com/pannal/Kitana
Like the Unsupported App Store, Kitana gives you an easy way to access and manage your Plex plugins now that the streaming service has disabled its UI plugins. Kitana was originally developed for Sub-Zero, but you can now use it as an interface to manage all of your plugins for Plex.
Kitana is a cross-platform plugin, so it'll work across most of your devices, even smartphones. If you plan to use Kitana to manage your plugins on the go (especially when using public WiFi), I'd recommend using a VPN to encrypt your internet connection to safeguard your personal information. ExpressVPN is a great choice, and it has apps for both Android and iOS devices.
You can install Kitana via Docker or Python.
3. Sub-Zero
Download: https://github.com/pannal/Sub-Zero.bundle/
Designed as a better alternative to WebTools' OpenSubtitles agent, Sub-Zero collates subtitles from 9 different sites covering a range of languages — automatically searching for updates so you get the best and most recent subtitles for your content.
Sub-Zero no longer has a UI, so the easiest way to manage it is with Kitana instead. To install Sub-Zero, download its.zip file and manually paste the.bundle file into the Plex's plugins folder.
4. Ombi
Download: https://github.com/Ombi-app/Ombi
If you share your server with other users, you can use Ombi to give those users a quick and easy way to request content by automatically matching requests with your chosen DVR app. Your DVR tool then uploads the requested content to your Plex server — all without you having to lift a finger. I don't get many requests on my Plex server, but Ombi is really useful if you do.
The easiest way to install Ombi is using the apps for Windows, macOS, and Linux, but you can also use Docker if you like.
5. Tautulli
Download: https://github.com/Tautulli/Tautulli
Tautulli gives you a concise and easy-to-read overview of your Plex server statistics, including simple graphs that help you measure your stats. You can also use Tautulli to view current activity on your server, send out newsletters when you upload content, and manage your server's synced content.
I especially like that Tautulli is available cross-platform, allowing you to manage and monitor your Plex server from a range of devices.
Tautulli is no longer available on the UAS, so the easiest way to install it is to visit the download page and install the Windows, macOS, or Linux app, or install the plugin via Docker.
6. Bazarr
Download: https://www.bazarr.media
Another alternative to OpenSubs and Sub-Zero, Bazarr automatically searches and upgrades your subtitles for you. It uses a wider range of subtitle providers than Sub-Zero, but it's designed as a companion app to Sonarr and Radarr so it only covers shows and movies you've downloaded with them. If you don't use Sonarr or Radarr, you might find Sub-Zero more useful.
You can install this plugin with a Windows download or via Python or Docker.
One the subject of Sonarr and Radarr: If there's any chance that you may accidentally download or stream copyrighted material, be sure to protect yourself with a VPN. These programs encrypt your internet connection to hide your identity and protect your privacy.
Secure Your Plex Server With ExpressVPN!
7. Trakt.tv (Plex Scrobbler)
Download: https://github.com/trakt/Plex-Trakt-Scrobbler
Trakt.tv is a handy tool that lets you sync everything you watch over different devices and even different streaming services. Its Plex Scrobbler adds all of your Plex watch data to your trakt.tv profile, including your viewing history and how you rated shows and movies. Trakt then uses your data to recommend other content you might like across all of your synced streaming providers (it works with Netflix, Kodi, Emby, MediaPortal, and more).
You can still install Trakt.tv from the UAS, but you also have the option of using its installers for Windows, macOS, Linux, and many other operating systems.
8. FileBot
Download: https://www.filebot.net
FileBot helps you organize your content by automatically renaming poorly-named files. It uses online databases like IMDb and TheTVDB.com to correctly identify and label your media — making your server easier to access and manage, and ensuring bad labels don't prevent your files from showing up in your Plex library.
If you torrent movies and TV shows, you're well aware of how bad some of the file naming conventions can be, so FileBot will a great help. In this case, I'd also recommend that you use a VPN to protect your privacy and avoid potential copyright issues.
Filebot currently costs $6 for a one-year license and $48 for a lifetime license, and you'll install it using its Windows and macOS installers or Docker.
9. ExportTools
Download: https://github.com/ukdtom/ExportTools.bundle
If you want to give users a way to see what your Plex library contains without giving them access, you need ExportTools — it exports a list of your media into a.csv,.xls, or.m3u8 file that can be opened on any device. The list can be split into library sections including TV shows, movies, audio, and photos (like movie posters). You can also configure the list to include different levels of data about each file, from the release year and genre to more complex data like subtitle codecs and metadb links.
ExportTools is still available on the UAS, so that's the easiest way to install it. If it disappears or you'd rather install it manually, you'll download its.zip file, extract the files, and move the.bundle file to the Plex's plugins folder.
10. Plex-Sync
Download: https://github.com/jacobwgillespie/plex-sync
Plex-Sync is a simple but useful utility that allows you to sync the content on all your servers. This means that when you start watching media on one server, its watched status migrates to all the other servers. Users with access to your server can start watching a media file on one server, pause, and continue from the same place on any other server you choose to sync with.
Installing Plex-Sync requires NPM and a little bit of coding experience. This is the code you'll use: npm install -g plex-sync
Try ExpressVPN with Plex Risk-Free!
Take Note: These Plugins Don't Work
There used to be hundreds of fun, helpful, and entertaining Plex plugins. But ever since the company decided to stop supporting plugins that interact with its UI, the list of viable tools has dwindled.
These are some of the most popular Plex plugins I've tested recently that have either been phased out or are no longer maintained by their devs:
Plex Export
Transmogrify
Twitch
Vimeo
Crackle
PBS
Nickelodeon
Reddit Videos
Crunchyroll
Webisodes
How to Install and Remove Plex Plugins via the UAS
Now that the official Plex Plugin Directory is no longer available, the easiest way to install plugins is via the Unsupported App Store. Here's how:
Install and use a VPN. A VPN will protect your identity, location, and personal information, both while installing plugins and when using Plex. I recommend ExpressVPN because it has the strongest security features, and you can try it risk-free.
Download WebTools for Plex. The UAS is a part of WebTools, and you can download WebTools for Plex via GitHub.
Install WebTools. Once the WebTools bundle is downloaded, unzip the file and move the.bundle file to your Plex plugins folder. (If the.bundle file has anything after "bundle", rename the file to remove it.)
Here's where you'll generally find the Plex plugin folder on Windows, macOS, and Linux:
— Windows: %LOCALAPPDATA%Plex Media ServerPlug-ins
— macOS: ~/Library/Application Support/Plex Media Server/Plug-ins
— Linux: $PLEX_HOME/Library/Application Support/Plex Media Server/Plug-ins
Open the Unsupported App Store. Open your internet browser and navigate to https://127.0.0.1:33400. This will take you straight to the WebTools interface. Click UAS on the left to access the Unsupported App Store.
Start installing and removing plugins! Now all you have to do is use the UAS to find the plugin you want to add to Plex and click "Install". To remove a plugin via UAS, simply click the "Delete" button on the plugin you'd like to uninstall.
How to Install Plugins via Manual Installation
As Plex has ceased support for plugins, many are disappearing from the UAS. If a plugin you want to use is no longer available in the UAS, you can often install it manually.
Install a VPN. This is to encrypt your internet connection and protect your personal details when using Plex. My top recommendation is ExpressVPN for its strong security measures and ease of use.
Download your chosen Plex plugin. You can usually find download files on the plugin's GitHub page or its official site.
Move the bundle file. Extract the.zip file and look for the folder called.bundle. Copy it and paste it into the Plex plugins folder.
Restart Plex to confirm the installation. Restart Plex by closing the app and reopening it. Head to the Settings menu, and scroll down to Plugins under the Manage section to confirm that your plugin is installed.
Why You Need a VPN for Plex
While not exactly a plugin, a VPN is a valuable tool that can help you avoid legal trouble, bypass speed throttling, and get around annoying geo-blocks.
A VPN keeps all of your Plex activity completely private. This means that no one can monitor what you stream on Plex. VPNs do this by routing your internet traffic through an encrypted tunnel so that it can't be read or tracked — preventing third parties like ISPs from identifying whether you're hosting or streaming copyrighted content. So, whether you run a public Plex server or just use Plex for streaming, a VPN gives you protection against any accidental copyright infringement.
A VPN helps you bypass unfair speed throttling. When an ISP sees that you're doing a resource-intensive activity like streaming, it may purposely slow down your speeds. Because VPNs hide your online activity from your ISP, your streaming won't trigger speed or data throttling.
A VPN lets you get around geo-restrictions on Plex channels. About 20% of Plex live channels are geo-locked to the US. That means you can't access them if you're overseas, whether you live in a different country or are just traveling. When you connect to a US-based VPN server, you'll mask your actual location, making Plex think you're in the US and thus unlocking the channels.
The Best VPN for Plex (Updated 2023)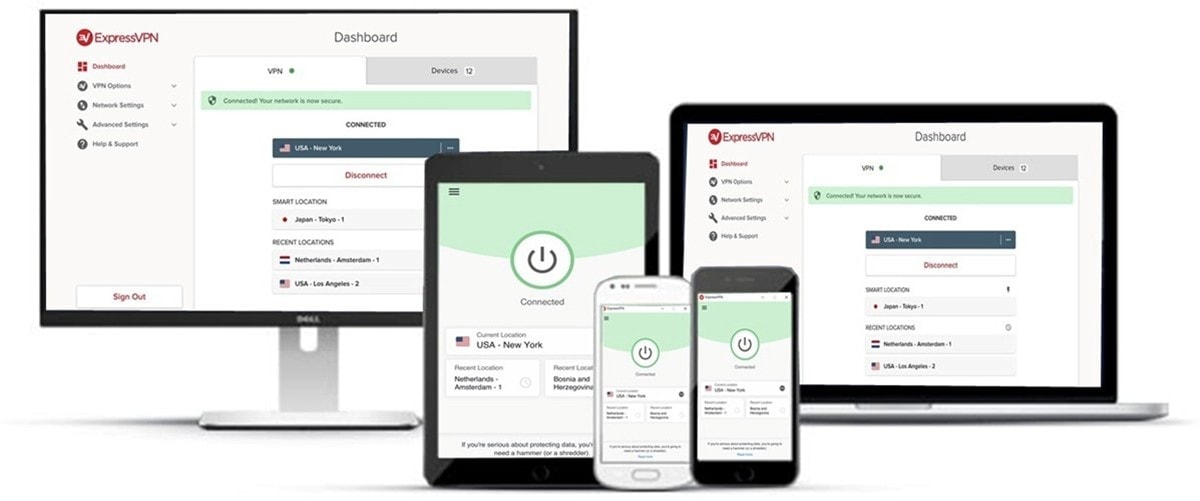 Editor's Choice
Editor's Choice

Tested January 2023
Try Risk-Free for 30 Days
Can access:
Netflix
Disney+
APV
HBO Max
Hulu
BBC iPlayer
Sky
More
www.ExpressVPN.com
Zero-logs policy and TrustedServer technology guarantee none of your Plex streaming activity is ever recorded or stored
3,000 servers in 94 countries — so you can access geoblocked Plex servers anywhere
5 simultaneous device connections
30-day money-back guarantee
Also works with: Google Chromecast, Amazon Fire Stick, Nvidia Shield, Kodi, Roku, and more
Compatible with: Windows, Mac, iOS, Android, Linux, routers, smart TVs, Synology, QNAP, and more
ExpressVPN ensures no one can monitor what you do on Plex by encrypting your internet traffic with the highest level of AES 256-bit encryption. You are completely protected against any accidental copyright infringement, whether you're watching content on Plex or hosting it yourself.
The VPN physically can't store logs of your Plex activity either. That's because its servers are all equipped with software called TrustedServer, which makes sure every server is completely wiped every time it's powered on and off again. So you know ExpressVPN's strict zero-logs policy can be trusted and that the VPN will never keep any records of what you do on Plex.
It's super fast for streaming Plex media too. I recorded speeds of up to 62 Mbps during my speed tests. 25 Mbps is usually the recommended speed for streaming high-quality videos so ExpressVPN is more than fast enough to stream content on Plex without having to wait for it to load or buffer.
I tested a couple of geo-restricted servers, and ExpressVPN was able to unblock Plex easily and quickly. It even helped me bypass restrictions on other streaming services, including Netflix and Hulu. The network covers 94 countries, so you can find servers to unblock Plex channels almost anywhere.
Subscription prices can be expensive, but I found that you can save money when you use ExpressVPN's new offer to get your plan for just $6.67/month.
You can also try ExpressVPN risk-free because it's backed by a 30-day money-back guarantee. When I tested the policy, I got a full refund in just 3 business days.
FAQs on Plex Plugins and VPNs
Do Plex plugins still work?
Plex has discontinued support for plugins that interact with its UI. This means nearly all of the most popular streaming plugins no longer work.
However, several utility plugins are still operational because they use API functionality instead.
Where can I find plugins for Plex?
The easiest way to find plugins for Plex is via the Unsupported App Store.
Finding and installing Plex plugins with the UAS is fairly easy — and it doesn't take too much technical know-how.
You can also find plugin information listed on Plex's plugins forum, although this is updated less now that Plex is phasing out plugin support.
How do I install Plex plugins?
There are several ways to install Plex plugins, but the easiest is via the Unsupported App Store.
You need to download WebTools first to get access to the UAS, but after that, installing Plex plugins is as easy as clicking Install Now in the store.
If a plugin isn't available on the UAS anymore, you may have the option to install it manually by downloading its.zip file and moving the.bundle file to the Plex plugins folder.
Some plugins, like Kitana and Plex-Sync, can only be installed via Docker or Python, or with some command-line code.
Why is my Plex plugin not working?
Plex has been phasing out all plugins for a while. If you come across a plugin that isn't working, it's probably no longer compatible with Plex. At the moment, this applies to all Plex plugins that interact with the UI (like streaming plugins). For now, several tool-type plugins are still working.
I contacted Plex to find out how long utility plugins would work, but it couldn't give me a clear answer:
Can I use Plex on all my devices?
Yes! Plex apps are available for nearly every major device and platform, including:
Windows
macOS
iOS
Android
Linux
Google Chromecast
Amazon Fire TV
Roku
Apple TV
NVIDIA SHIELD
Smart TVs from LG, Samsung TV, Sony, and more
NAS devices like Synology and QNAP
As you should always use a VPN when using Plex, look for one that's also compatible with any device you'll use to access Plex. All the VPNs I've researched and recommended work with most major platforms and devices. ExpressVPN is also compatible with NAS devices.
How do I use a VPN with Plex?
Protect your privacy by activating your VPN before accessing Plex. This will encrypt your connection so that third parties, including your ISP, cannot see what you're streaming.
If you'd like to access geo-restricted content, connect to a server in a country where that Plex content is available. Otherwise, connect to a nearby server for the fastest speeds. As your server needs may change depending on what you want to stream, it's important to choose a VPN with a large, worldwide network so you have plenty of options.
Improve Your Plex Experience With ExpressVPN!
How do I choose a VPN for Plex?
When choosing a VPN for Plex, look for a service that offers fast speeds, robust server coverage, and strong security features.
VPNs that maintain fast speeds ensure you won't have to deal with annoying buffering when you're streaming.
VPNs that have vast server networks guarantee a local connection for the fastest speeds. They also allow you to bypass geo-restrictions for Plex channels and other streaming services you might want to enjoy.
Military-grade encryption keeps third parties like ISPs from monitoring what you do online. This means that they can't see whether you're hosting or streaming copyrighted content, nor can they keep tabs on your viewing activity and other personal information (to create a profile on you or even sell to advertisers).
Can I use a free VPN with Plex?
Free VPNs can be tempting, but they won't provide a good user experience. That's because most free VPNs impose data limits. That means you may get through an hour or so of streaming before you're cut off. Free VPNs also tend to restrict your speed, so your little bit of allowed streaming may be filled with buffering and delays.
If you're considering a free VPN for its privacy protection, be careful. Some no-cost VPNs use subpar encryption standards that can result in data leaks. Others may actively collect and sell your personal information, defeating the purpose of using a VPN to begin with. It's always safer to use a low-cost VPN with solid security standards.
Protect Yourself While Improving Your Plex Experience
Plex plugins may be on their way out but — for now, at least — the plugins I've recommended above are still working and can still improve your Plex experience.
For truly safe and unrestricted access to Plex though, you need a VPN. VPNs make sure everything you do on Plex is completely private and can also help you bypass geoblocks on restricted servers.
During my tests, I found that ExpressVPN is the best VPN for Plex. It's lightning-fast for easy streaming and has a powerful network of servers that can unblock Plex in nearly every country. Plus, you can try ExpressVPN risk-free. If you don't like it, you can ask for a refund within 30 days.
To summarize, the best VPN for Plex in 2023 is
1
Privacy Alert!
Your data is exposed to the websites you visit!
The information above can be used to track you, target you for ads, and monitor what you do online.
VPNs can help you hide this information from websites so that you are protected at all times. We recommend ExpressVPN — the #1 VPN out of over 350 providers we've tested. It has military-grade encryption and privacy features that will ensure your digital security, plus — it's currently offering 49% off.