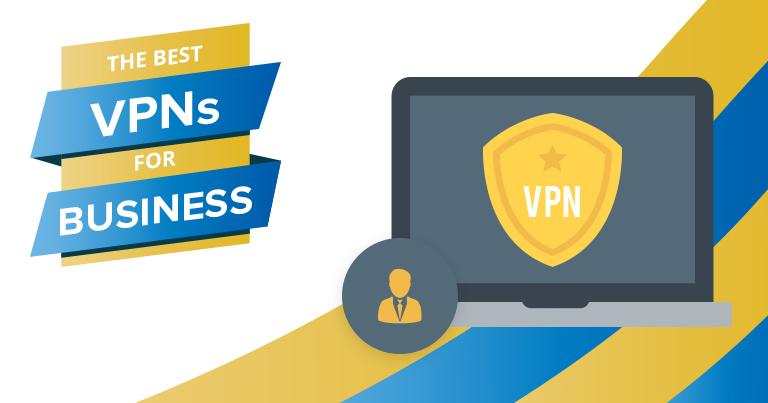 5 Best Business VPNs in 2023 - Most Secure and Reliable
Online data breaches are a constant and dangerous threat to your business. Releasing customers' confidential information, whether intentionally or as the result of a cyberattack, can have catastrophic consequences.
In 2018, all eyes are on cybersecurity, and preventing data leaks is more important now than it has ever been. If your business doesn't use a VPN, all your confidential data is vulnerable to hackers and cybercriminals, and you never know when they could be working for the competition.
A VPN is the best and most secure way to protect your business' data and defend your network against cybercrime, privacy breaches, and malware. By tunneling your network traffic through a secure connection to a remote server, a VPN will encrypt your data and make it virtually impossible for hackers to get their hands on it.
The Difference between a VPN for Personal Use and Business VPNs
Whether due to account limitations, server reliability, or general ease of use, most personal VPNs simply cannot meet the demands of the business world. There are many benefits to using a business-specific VPN instead.
Server reliability: Personal VPNs connect thousands of users to a single server. This can slow down connection speeds and even cause server overload. A business VPN will issue your company a dedicated server, resulting in higher speeds and greater reliability than public servers can offer.
You'll also be given a dedicated IP address so that your employees can access your server from anywhere in the world. This is great for companies with multiple offices or remote employees.
Multiple devices: Even though top-tier VPNs offer multiple simultaneous device connections, it's not enough if you have hundreds of employees. Business VPNs allow everyone on your network to connect at once without needing to sign up for multiple accounts.
Administration: Almost every business VPN offers a software suite that allows you to control your users' connections and settings company-wide, rather than changing them on individual devices. Set up an administration is far more streamlined with business VPNs, and many providers offer either 24/7 priority support or a dedicated network administrator to do the work for you.
Scalability: Business VPNs can scale up and down as needed. Their flexible nature allows them to evolve with your business' ever-changing needs.
What to Look for in a VPN for Your Business
For optimal security and speed, choose a VPN that offers military-grade encryption, fast connections, and unlimited bandwidth. Avoid VPNs that keep connection records, and instead, opt for providers with a strict no-logs policy. These records can contain sensitive information such as your real IP address, which can easily fall into the wrong hands.
You'll need a VPN with a dedicated IP server to avoid overload and lag, and to allow your employees to log in from remote locations. Make sure your chosen provider operates servers close to your physical location for optimal speeds. The farther away the servers are, the slower your connection will become.
If you're interested in changing your virtual location, look for a VPN with servers in the region you're interested in. Connecting to a server in another region will mask your device's IP location and make it appear as though you're located there instead, which is perfect for conducting market research or comparisons.
For optimal high-speed performance, choose a VPN provider with a proven record of stability and security. Read on for a detailed analysis of the 5 best VPNs for businesses.
The 5 Best VPNs for Businesses
Perimeter 81 offers a secure, cloud-based service through its ​​SASE(Secure Access Service Edge) platform. It allows you and your team to access the servers in real-time, from anywhere through a network of low-latency gateways placed strategically around the world.
It keeps your data secure with bank-grade AES-256 encryption and uses IPSec, OpenVPN and WireGuard. This means that you won't have to worry about any 3rd parties snooping through your business documents. It also has integrations with the major SIEM providers, such as Azure Sentinel and Amazon S3. With Zero Trust Access, you significantly reduce the attack surface by assigning resources based on role and device.
It has 700 servers places strategically around the world. These allow you to establish low-latency connections wherever you are.
Before accessing the system, each member needs to go through a verification process for themselves, and the device. Combined with the attribution of roles, you're sure that no one can access files outside their group.
Each plan is backed by a 30-day money-back guarantee, allowing you to try it out in confidence. Before subscribing, you can set up a demo presentation with one of its experts.
Even though it's first on our list, Twingate isn't really a VPN at all. While most VPNs control access through their network,
Twingate allows its users to control access through its application
. Since you don't need network resources for access,
your private network connection stays truly anonymous
.
That doesn't mean you'll miss out on classic VPN benefits like reduced latency, amplified security, and split-tunneling. Twingate offers businesses of all sizes a software only, cloud-based service with the above features, and more. Twingate never keeps any logs, so you won't have to worry about sensitive information being leaked online. Plus, your data is encrypted using your choice of either 128-bit or 256-bit AES encryption. It also uses AEAD mode, a feature that encrypts and then authenticates your data.
In addition, it has globally distributed servers on every continent and offers a networks analytics feature, so you can stay on top of your networks performance and catch potential security issues sooner.
If you have a VPN already, you can implement Twingate without having to replace it, which helps save your IT team time and your business money. With its powerful features and management tools, controlling who accesses the system has never been easier. It's user-friendly for workers from the bottom to the top of the corporate ladder and deployment time is minimal, even if you choose to replace your VPN completely.
With Twingate you only pay for what you need. You can even get a 14-day free trial of its Business plan tier, so you can demo it risk-free.
ExpressVPN's exceptional personal VPN service is also a great choice for small businesses. With top-of-the-line security features, like military-grade encryption and an automatic kill switch, there's no wonder it's a top-rated VPN. In fact, it's also our speed test champion!
It offers apps for almost every platform, 24/7 customer support via live chat, and a 30-day money-back guarantee on all of its services. iOS and Android users will also enjoy an additional 7-day free trial on new services.
TorGuard's powerful VPN service offers your business unlimited speeds and bandwidth on more than 3,000 servers across 50 countries. You can tailor your package to suit the size of your business, starting with 8 connections and encrypted email accounts. Custom accounts include a dedicated server, up to 30 dedicated IP addresses, and 24/7 access to a VPN administrator.
With easy to use apps for all devices, your data will be protected with 256-bit encryption in no time at all. You can also use its Stealth feature to unblock regional content on online business apps, like Skype, for unrestricted global access.
TorGuard offers a 7-day free trial and a 7-day money-back guarantee so you can see for yourself why customers rate it so highly.
Protect up to 5 devices simultaneously with Hotspot Shield's Business VPN. With super-fast speeds, unlimited, bandwidth, and rich security features, it's a popular choice for online security.
Hotspot Shield's 256-bit encryption protocol and strict no-logs policy will keep your data private and safe, and it can be easily managed company-wide using its custom admin console. It provides 24/7 live technical support for its customers, and an exceptional 45-day money-back guarantee on business accounts. Hotspot Shield also offers a free VPN with limited features.
Summary
Using a combination of high-end security protocols and dedicated servers, the best VPNs will protect your business from the threat of data leaks and cyberattacks. These features are instrumental to upholding your business' good reputation and avoiding the legal consequences of data breaches.
You'll also be able to use a virtual IP location to complete market research and unblock regional features of online business tools across the globe. Additionally, a dedicated IP address will allow your employees to access your server and work from anywhere in the world. Many providers offer ease-of-use features, such as VPN administrators and 24/7 priority support, to ensure that your VPN experience is as smooth as possible.
For more information on cybersecurity for your business, please read our Complete Guide to Cybersecurity.
To summarize, the best VPNs for businesses in 2023 are...