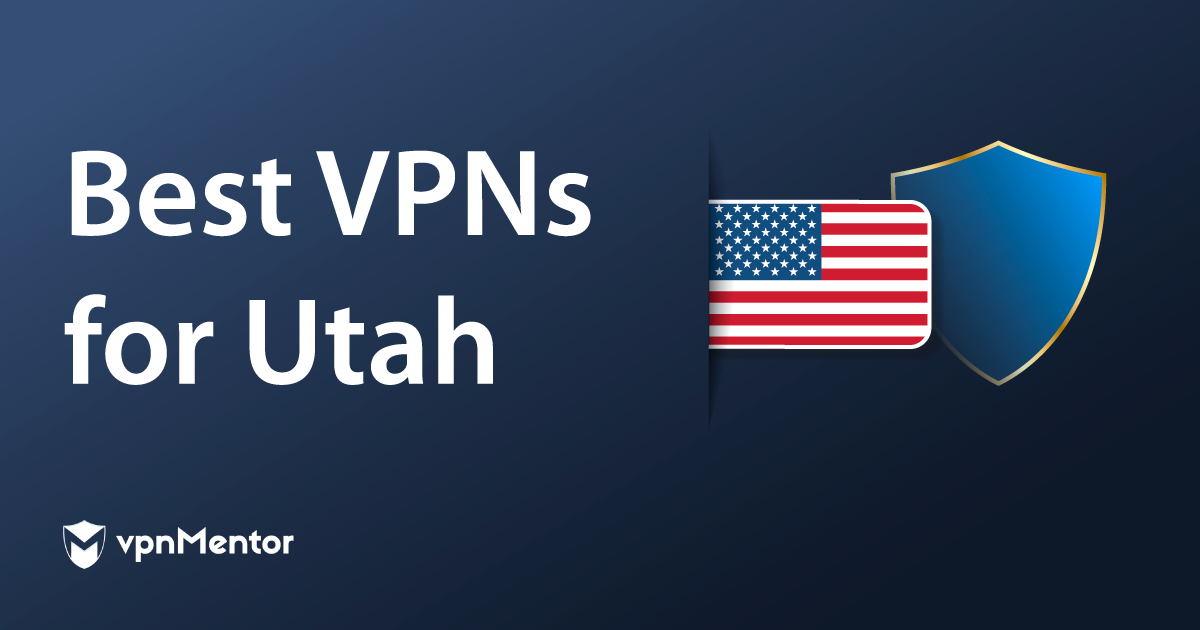 Best VPNs for Utah: for Safety, Streaming, and Speeds in 2023
Utah: a country of arid landscapes, deep canyons, vast wetlands, thriving pine forests and - who ever would believe it - world renowned ski resorts. But you didn't come here to be convinced of the delights of Utah tourism, so let's get to the point.
VPNs: we've literally tested hundreds of them to see which ones provided an IP address in Utah. The VPNs on our list are reliable in terms of security, fast speeds for streaming and browsing, and can access Netflix US, Hulu, besides other streaming services.
Discovering which VPN platform is best suited to your needs is the purpose of this article. For example, if you wish to access networks in the UK, such as the BBC, you will want to use a VPN which has servers in that region. This is important, as the geographical locations of the servers are as varied and divergent as the VPN providers themselves.
Short on time? These are the 3 best VPNs for Utah in January 2023
ExpressVPN: Provides stable connections, and high security from a vast array of servers across the globe
HideMyAss!: boasts the largest network of private servers across the globe, with options in at least 190 countries worldwide
Proton VPN: A budget VPN which doesn't compromise on speed, reliability, or security
What to Look for in a VPN for Utah
We can heartily attest that all the VPNs on our list performed exceptionally well in the state of Utah. Aside from the more obvious factors of speed, reliability, and security, other important factors to look out for is an ability to access distant networks.
The first thing you are likely to notice when you visit any one of these VPN websites is the alarming amount of webspace given over to security, and for good reason! All offer AES-256-bit encryption. What was once upon a time the gold standard in VPN security, is quickly becoming industry standard. Therefore, we selected VPNs with at least this level of encryption.
Below is a list of what to look for in a VPN:
Fast speeds for streaming
Strong Encryption to protect the user's policy
A strong global presence of servers: access to more content in more countries
Strict no logs policy which removes or limits access to your browsing and personal data
High network stability to avoid dropped connections
Servers that perform well in the region
Capacity: the available server capacity will determine download speeds or streaming.
Money back guarantee
The Best VPNs for Utah - Full Analysis (Updated January 2023)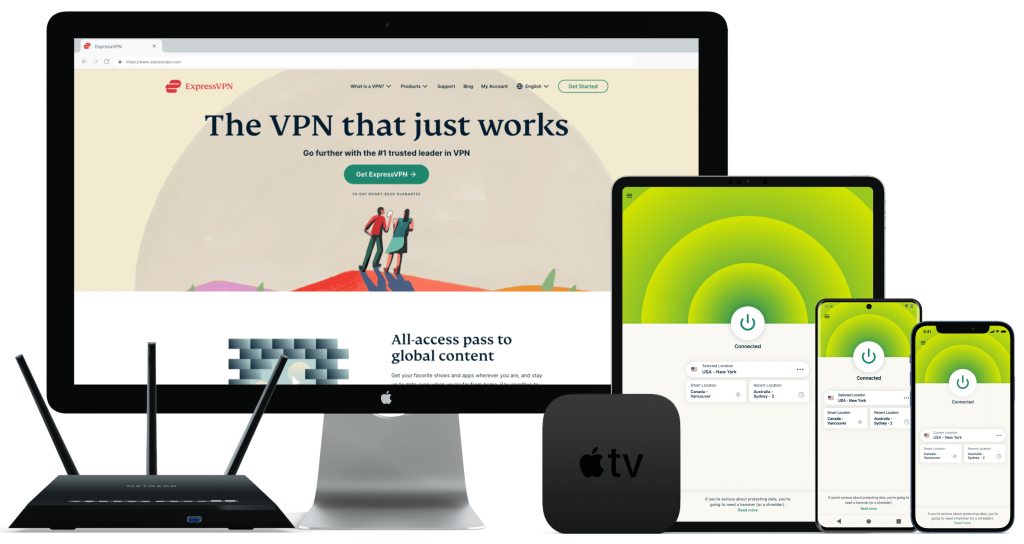 Editor's Choice
Editor's Choice

Tested January 2023
Try Risk-Free for 30 Days
Available on:
Chrome
Router
Smart TV
More
www.ExpressVPN.com
Has over 3,000 servers in 94 countries, server in Utah (Salt Lake City)
Super-fast speeds for streaming
Has state of the art security such as a Dynamic IP address
Strict logging policy and split tunneling feature
No bandwidth restriction, potential of simultaneous connections without lag
30-day money-back guarantee and 3 months free when you sign up for 12 months
Works with Netflix US, HBO, BBC iPlayer, Hulu, Prime Video, and more
Compatible with





































Regarding the streaming speed of ExpressVPN, we were hard pushed to find anything markedly better in Utah. This is no surprise, given ExpressVPN's already sterling reputation as a smooth, super-fast service, and this coupled with the fact that ExpressVPN has a dedicated server in Salt Lake City, Utah, makes it one of the best VPNs out there to choose from.
ExpressVPN is highly regarded and well-established, being well known for its reliability in unlocking geoblocks on Netflix and other streaming sites.
ExpressVPN has always been at the forefront of the fast-paced technological race for security. Aside from being equipped with the typical features of a high security platform, such as a kill switch, Express VPN also boosts a strict no logging policy. It also comes with a Dynamic IP address feature, so every time you log you get a new IP address, making you much harder to trace.
ExpressVPN works well across all the operating systems and comes with a 30-day money-back guarantee, giving you the perfect opportunity to trial it for yourself.
See the full ExpressVPN review here.
Friendly simple interface
Split Tunneling
Handy IP Shuffler
Server in Utah
Very Fast speeds
Available in 210 countries
Easy to set up, 24/7 Customer Service
Works with US Netflix, HBO, BBC iPlayer, Hulu, Prime Video, and more
Compatible with




























HideMyAss boasts that it has 1,040 servers in 210 countires worldwide, making it the overall winner in geographical spread. The good news for VPN users in Utah is that it holds a server in Salt Lake City. Coupled with the fact that it also offers impressive speeds, HideMyAss is a great choice for the international traveler, or anybody else for that matter. It's even got the continent of South America covered, and has paid more attention to Africa than most VPN providers.
Among its other great features are split tunneling, a friendly simple interface, and a handy IP shuffler. The IP shuffler allows you to manually change your IP address with just the click of the mouse, making you harder to trace, whilst also potentially unlocking any geoblocks which might be in your way.
HideMyAss is also easy to set-up and offers great 24/7 customer service alongside a 30-day money back guarantee. And if you are a casual gamer, you may want to consider HideMyAss for its ability to provide a gaming experience without lags. Indeed, this is one of the reasons for its rise in popularity among gaming enthusiasts.
HideMyAss works with US Netflix, and as its headquarters is located within the UK, it may be a good choice if you are thinking of streaming a lot of UK content. It's also compatible with Windows, macOS, Android, iOS, and Linux.
See the full HideMyAss VPN review here.
At the moment the following VPN providers do not have a server in the state of Utah. However, they all have servers close-by in neighboring states. We managed to track down where all of the server locations are, except for a few VPN providers who have not disclosed their specific locations but rest assured all have a strong presence in the USA. Therefore, any performance issues which normally would be associated with distant servers was not an issue.
Fast
Excellent privacy and security
Servers in 67 countries covering all continents
Exceptionally low price
3 Simultaneous connections
Works with US Netflix, Hulu, HBO Go
Compatible with




























The fantastic thing about Proton VPN is that it shares some of the best points of premium VPN providers at a much lower price and features like a strict no logs policy, DNS kill switch, and AES-256-bit encryption all are included.
Although Proton VPN may not have a server in Utah, it has at least 34 servers spread throughout North America, and given that Proton VPN speeds are superior to many other VPN platforms, this is hardly a drawback.
Neither is Proton VPN a bad choice for the international traveler. While it may cover less ground than HIDEMYASS! (which we'll talk about later), it still does a sterling job, given that the 67 countries it covers is much higher than the industry wide average of 30.
Another benefit of this budget platform is that it offers three simultaneous connections on your VPN subscription - more than enough for most users -. It also supports all the major operating systems (Windows, Mac, Android, and iOS), has a Chrome browser extension, works perfectly with Netflix, Hulu, Sky, Now TV and torrenting (P2P) with it is a breeze.
Also, expect a 30-day money back guarantee which makes it free to try out. And all of this in a budget; terrific!
See the full Proton VPN review here:
Servers in 91 countries, a huge fleet of servers
Great security
Strong privacy policy
7 simultaneous connections
Dedicated video streaming servers
Works with US Netflix, BBC iPlayer, Disney+, Hulu and many more
Compatible with


































Why call a VPN 'CyberGhost'? Because, my friend, this VPN platform does a great job at ghosting around and avoiding detection due to its ultra-strong security. And CyberGhost bolsters this fortress-like security with a strong stance on privacy. A Zero Logging policy means that your browsing history and personal details aren't compromised.
For video streaming it's equally impressive, having even its own dedicated servers to that end, which is handy when you don't want to be blocked out of your favorite shows. Access to US Netflix, Disney+, Hulu, ESPN and many more is second nature to this VPN.
And neither would you have to fret about not being able to access content across the globe as CyberGhost has servers in approximately 91 countries with a coverage of South America and Africa being above average. And CyberGhost geographical spread isn't thin either, as it has at least 9,758 servers at its disposal, putting it firmly among the biggest hitters when it comes to the sheer volume of servers; as we've already mentioned, having a lot of servers at your disposal translates to a lot of flexibility.
CyberGhost also offers consistent and decent speeds wherever you are in the world, and some of its upload speeds are the best in the business. Combine this with an amazing 45-day money-back guarantee and you'll be chomping at the bit to buy.
See the full CyberGhost review here.
Reliable and Secure
Torrent friendly
Strong encryption
Good value for money
Good speed
Dedicated servers for HD streaming including Netflix
Works with US Netflix, BBC iPlayer, Disney+, Prime Video
Compatible with

























PrivateVPN is a Swedish company and as the name suggests, it is committed to Privacy and Security. No logging, a kill switch, strong encryption, and a dedicated IP address are just some of the fare on offer with this reasonably priced VPN provider.
Regarding server locations near Utah, PrivateVPN has one in the neighboring state of Arizona, so streaming speeds are hardly going to be affected.
PrivateVPN offers deliciously easy-to-use software and setting it up is simple. Its server network is extensive, with over 200 servers in over 63 countries which will certainly satisfy the average VPN user. Plus, it bypasses geo-blocks with ease and its connections are stable. It's no logging policy makes it a torrent friendly platform and downloads are quick and simple. Private VPN also has special servers dedicated to streaming HD videos, with fast and reliable speeds. It even has a dedicated Netflix server which is very comforting, given their aggressive policy of blocking VPNs.
All these facts give PrivateVPN a big leg up when it comes to streaming and security. Furthermore, its customer service is quick and efficient. Plus, a full 1-month subscription is possible and a 30-day money back guarantee, which makes it a pretty cool option for the cautious buyer.
See the full PrivateVPN review here.
Well-designed app interface
10 simultaneous connections
Over 29,650 servers
High level of customer satisfaction and loyalty
Spilt tunneling feature
Robust collection of features
Works with US Netflix, Hulu, Disney+, Prime Video and BB iPlayer
Compatible with


































Private Internet Access is a reasonably priced VPN platform offering some nice network tools such as a snooze button, which allows you to effectively snooze your VPN connection and reconnect again with a click or a timer. Also on the offing is the ability to make 10 simultaneous connections to one account which is perfect for large households.
Private Internet Access have recently refined their interface and now it's exceptionally easy to use. Besides, they must be doing something right because their customer satisfaction and loyalty ratings are a blaze of sunshine in what often are grim customer survey poles.
Private Internet Access may not have the same wanderlust as some of its competitors, but it does employ a whopping 29,650 servers, so depending on which networks you need to access, great potential may be garnered here. And neither is its presence of servers in at least 84 different countries to be sniffed at, as this is more than enough for the average VPN user. And, you will be pleased to hear that there is a server right door to Utah, in Las Vegas, so you'll hardly have to worry about streaming speeds.
Private Internet Access also contains a robust collection of features and one worth mentioning is Split Tunneling. As the name suggests, Split Tunneling splits your traffic so you can, for example, use the local area network and a VPN client at the same time. You can also configure it to use specific applications while leaving out others. This ultimately reduces the burden your internet connection has to bear when switching between different networks. In fact, corporate networks often use Split Tunneling to reduce their traffic and increase their speeds.
If you want to try out Private Internet Access for yourself, there's no better way to avail of this trusted VPN platform than making advantage of their 30-day money-back guarantee.
See the full review of Private Internet Access here.
Try Private Internet Access Now!
Affordable
One of the best privacy policies available
Browser extensions
Ad-blocker
Good speed
Really nice design and user experience
Works with US Netflix, Hulu, Disney+, Prime Video and BB iPlayer
Compatible with

























Perhaps the most immediately striking thing about TunnelBear is its great design. It's simply too cute. The app is constructed around a central map of the world displaying the company's server locations. Simply select your target destination and watch a bear tunnel himself away from your location. Who said VPNs couldn't be cute!
TunnelBear also has a great pricing policy and it's even possible to use it for free with a restricted data plan of 500MB per month, although you can earn up to 1GB by tweeting about the company.
TunnelBear is no slouch either when it comes to streaming and it works well with US Netflix, Hulu, Disney+, Prime Video and BB iPlayer.
TunnelBear also comes with a host of browser plug-ins for Chrome, Firefox, Opera, plus a free ad-blocker thrown into the mix.
Possibly the most impressive and standout advantage of TunnelBear is its ultra-strong stance on privacy. You won't be disappointed in this respect, as it's one of the best in the business. The perennial fear of having personal details shared with third parties is not something you have to worry about here.
See the full review of TunnelBear here.
Strong privacy policy
Latest VPN technology
Good geographic distribution of servers
Full ownership of its server fleet
256-bit Chameleon protocol
Works with US Netflix, Hulu, Disney+, Prime Video, and BB iPlayer
Compatible with































There are lots of good reasons to choose VyprVPN over another platform. First of all, you can definitely trust VyprVPN when it comes to their stance on privacy. There is a strict no-logs policy along with a promise not to meddle with your Torrents. It's always peace of mind when you don't have to worry about your details being given over to third parties.
Regarding server locations for Utah users, they're never too far away and VyprVPN has made its presence felt in the nearby west coast in either Los Angeles or San Francisco. And even if you think this is a little too far, although there is no real noticeable difference, VyprVPN is one of the most technologically advanced VPNs around and have embraced the new WireGuard technology, which reportedly offers faster speeds than the current technology most VPNs are still using. They have also employed the 256-bit Chameleon protocol which is designed to circumvent sites and services that block VPNs. This will make it especially useful for getting around Netflix's aggressive VPN blocking policy and even makes access to countries with repressive internet laws (China and Russia for example) possible. This sly and sleek service is powered by a large fleet of encrypted servers in 64 countries. Of course, being truly global makes VyprVPN an even more alluring prospect.
Moreover, VyprVPN owns all its own hardware and protects it with some neat security features such as chassis intrusion detection which continually monitors your network to look for and capture any possible malicious activity.
We could go on and on about how good it is… but I think we've said enough at this point for you to make an informed decision; Oh wait, I also forgot to mention the 30-day money back guarantee!
See the full review of VyprVPN here.
Which VPN Is Right for You?
There's an old saying that goes something like this: "give a man some fish and you'll feed him for a day but teach a man to fish and you'll feed him for a lifetime." The meaning being? We are not here to tell you which VPN to choose. That wouldn't help either of us.
Instead, we want to lay it all out to help you decide which VPN is best for you. Ultimately your needs will determine which one is best for you, and we believe that there is more than enough quality in our diverse list of the top VPNs for Utah to give you the best possible outcome.
FAQ
? What's the best VPN for Utah?
Experience in the competitive world of VPN providers is worth its weight in gold. Two peerless performers in this respect are ExpressVPN and CyberGhost. Even in the newly conquered territory of Utah, both these providers outshone their rivals. Superb all-round service, especially in terms of speed, reliability, and security, make it exceedingly difficult to separate the two.
? Can I use a free VPN in Utah?
It may be possible, but why compromise your security, reliable access to networks, and a guaranteed choice of a large assemblage of servers for the sake of pennies? Besides, you may think that they are free at first, until you are told that you need to purchase upgrades to attain a service which… well… a service which at best, is not even guaranteed to be as good as the cheapest VPN provider on our list. It simply doesn't make sense. Moreover, all the top VPNs in Utah have 30-day money-back guarantees, so you can try them out for free for a month.
? Is a VPN legal in Utah?
Of course! VPNs are perfectly legal and safe to use. However, although VPNs offer you superb security and anonymity, we would advise you to exercise caution in countries with repressive internet laws, such as China and Russia for example.
? Which VPN is the fastest?
All things considered, i.e., local servers, distant servers, ExpressVPN came out on top in our Utah tests. Some of the other VPN providers on our list are not that far behind though!
? How can I get a Utah IP address?
With this VPN you can choose a server in Utah, and then any site you visit will think you are in Utah. It doesn't matter where you will be connecting from in the world, all roads lead to Utah!
Furthermore, all of the VPNs we have recommended have desktop and mobile apps, giving you great flexibility.
And if you cannot get a Utah IP address because there's not a server there, you can always connect to another server nearby. For example, If you don't find a server in Salt Lake City, you may find one in Las Vegas.
To summarize, these are the best VPNs for Utah in 2023…
Privacy Alert!
Your data is exposed to the websites you visit!
The information above can be used to track you, target you for ads, and monitor what you do online.
VPNs can help you hide this information from websites so that you are protected at all times. We recommend ExpressVPN — the #1 VPN out of over 350 providers we've tested. It has military-grade encryption and privacy features that will ensure your digital security, plus — it's currently offering 49% off.