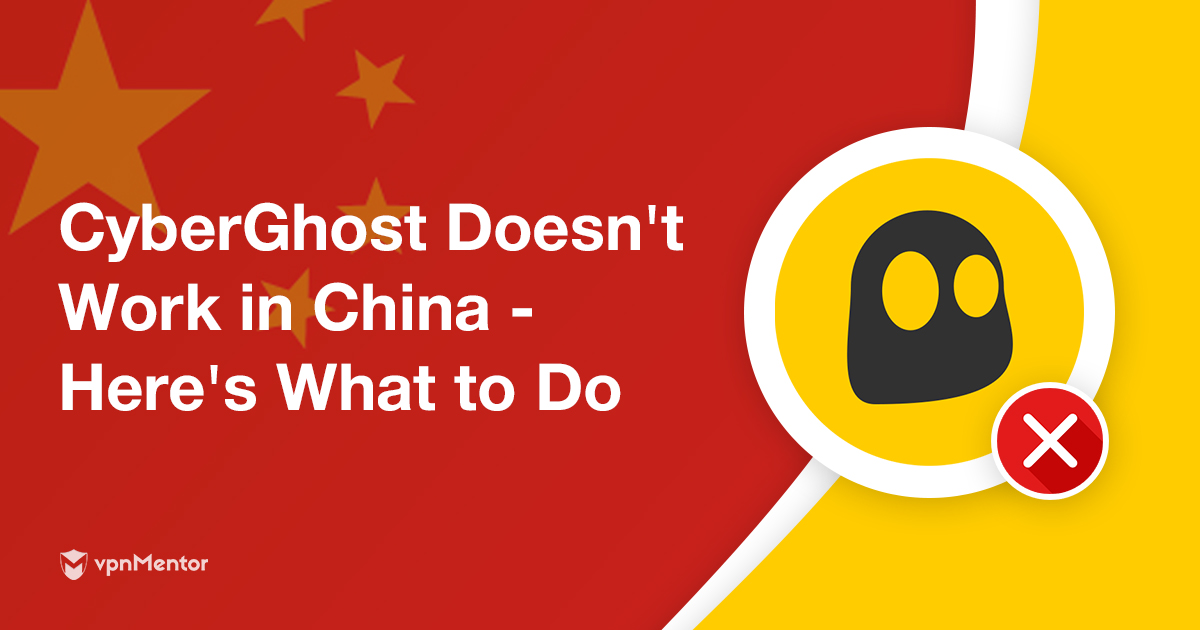 CyberGhost Doesn't Work in China – Here's an Easy Fix (2023)
CyberGhost was once a VPN that was highly recommended for China. But since the Chinese government banned VPN use and strengthened the Great Firewall, our tests have revealed that CyberGhost no longer works there. With the increased crackdown on VPNs in China, you might be wondering what to do.
The good news is that you can access your favorite websites in China by using another VPN. You should always be careful if you use a non-government-approved VPN there. However, the Chinese government fights VPNs by technologically blocking them rather than punishing users. No tourist has ever been arrested or fined in China for using a VPN.
Out of the 30+ VPNs I tested, the one I'd recommend for China is ExpressVPN. Its military-grade encryption, fast speeds, and specialized servers for China make it an excellent choice. Best of all, you can test it out risk-free — it comes with a money-back guarantee, so you can claim a full refund within 30 days if you're not satisfied.
Try ExpressVPN Risk-Free Today!
Quick Guide:
How to Use ExpressVPN in China in 3 Easy Steps
Download ExpressVPN. Go to the ExpressVPN website to download and install it. Make sure you do this before arriving in China.
Connect to a server. ExpressVPN has certain servers that work in China. Log in and connect to one once you're in the country.
Start surfing the internet! Enjoy full access to the entire world wide web!
3 Best VPNs That Work in China in 2023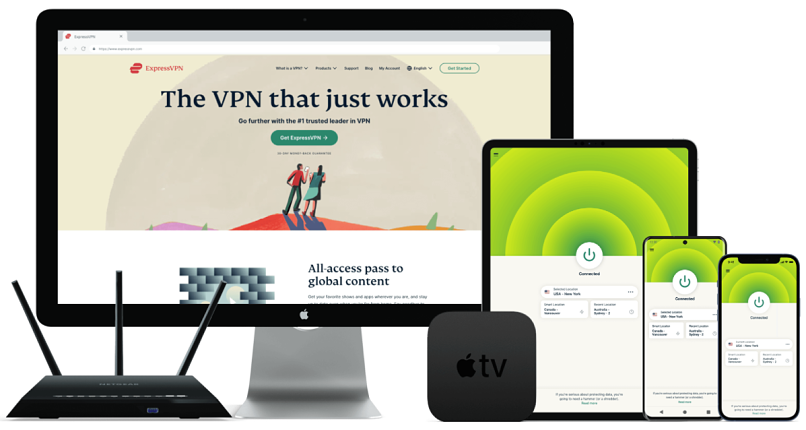 Editor's Choice
Editor's Choice

Tested January 2023
Try Risk-Free for 30 Days
Available on:
Chrome
Router
Smart TV
More
www.ExpressVPN.com
Lightning-fast speeds that let you watch shows in HD
3,000+ servers across 94+ countries, including servers that work in China
AES-256 bit encryption and no-logs policy keep you secure online
5 simultaneous device connections
30-day money-back guarantee
Can unblock: Netflix, Disney+, HBO Max, Hulu, BBC iPlayer, Vudu, and more
Compatible with: Windows, Mac, iOS, Android, Linux, routers, Apple TV, and more
ExpressVPN's server network consists of 3,000+ servers across 94+ countries worldwide, including specialized servers to bypass the Great Firewall. ExpressVPN has staff members constantly updating these special servers to make sure they work within China's borders. By simply connecting to the specialized Los Angeles one, I managed to access my Facebook and WhatsApp accounts without a problem. You can access your favorite content in China easily with ExpressVPN.
Its superfast speeds make it an excellent choice for any kind of online activity, too. When I tested its specialized LA server, my download speeds averaged 44.5 Mbps while watching US Netflix and Hulu, which was only a 10% drop. I watched shows and movie in Ultra HD with no buffering at all, which was really impressive. You can browse, watch your favorite shows, and play online games without any interruptions.
You'll also be well protected with its robust privacy and security features, including a strict no-logs policy and AES-256 bit encryption — that's the same level of encryption used by militaries, governments, and leading security agencies to protect sensitive data. A no-logs policy stops you from leaving a digital footprint and ExpressVPN's policy has been audited and verified as one of the safest in the industry. This means your online activity is kept completely anonymous, so you can browse online freely without worrying about online threats.
Just be wary of ExpressVPN's prices, because they are a bit expensive. However, it's possible to save $6.67/month right now by taking advantage of its current sale.
ExpressVPN also comes with a 30-day money-back guarantee so that you can try it before committing to a full subscription. I was eager to see if this policy works, so I canceled my subscription when the time was almost up. The live chat representative asked me a couple of easy questions and gladly proceeded with my request. After 4 business days, I was refunded in full.
Military-grade encryption, automatic kill-switch, and split tunneling to keep you protected online
Bypasses the Great Firewall using Stealth VPN, OpenWeb, and the Site Filter feature
113+ servers in 57+ countries that get past the Great Firewall
7-day free trial for certain locations
5 simultaneous device connections
Can unblock: Netflix, Disney+, Hulu, and Amazon Prime Video
Compatible with: Windows, Mac, iOS, Android, Linux, and routers ++
AstrillVPN works in China by using its StealthVPN and OpenWeb protocols, as well as its Site Filter feature. Both StealthVPN and OpenWeb scramble your VPN connection and make it look like regular internet traffic (also known as obfuscation). This makes it impossible to detect that you're using a VPN and allows you to bypass VPN-blocking technologies. Meanwhile, the Site Filter (or Smart Mode) feature disguises the VPN IP with a local one, making the VPN even more difficult to detect or block.
Its server network of 113+ servers includes China-optimized ones designed to overcome internet restrictions in China. When I tested a couple of its China-optimized US servers on my Windows laptop, I accessed Facebook and Google in under 30 seconds. My online Windows feed and Google searches even changed to Chinese when I used those servers. Accessing blocked sites in China is quick and easy with AstrillVPN.
Your personal data will be in safe hands, too, thanks to its military-grade encryption and automatic kill switch. AstrillVPN lets you choose from either AES 256, 193, or 128-bit encryption, which means you can customize it the way you want while always staying secure.
The kill switch cuts you off from the internet if your VPN connection suddenly drops, so you're protected at all times. In short, you're well protected while you surf the web freely in China.
The problem with AstrillVPN is that the StealthVPN feature isn't available for iOS. If you need a VPN in China on your iPhone, it's not a good option. It also only has a 7-day free trial instead of a money-back guarantee, which isn't available everywhere, so testing it out may require a commitment. However, if you refer a friend and they subscribe to a paid subscription, then you can use it for free for 1 month. You can also take advantage of its online sale and save 59% right now.
Uses StealthVPN to bypass firewalls and censorship
200 servers worldwide in 63 countries for fast, stable connections
DNS leak protection and automatic kill switch protects your online privacy at all times
10 simultaneous device connections
7-day free trial or 30-day money-back guarantee
Can unblock: Netflix, Disney+, Hulu, BBC iPlayer, Vudu, and more
Compatible with: Mac, Windows, Android, iOS, and more
PrivateVPN uses StealthVPN to bypass some of the toughest firewalls and censorship restrictions globally, such as the Great Firewall of China. StealthVPN is a proprietary protocol that's not as detectable as other VPN protocols. To test this, I went to my local library and accessed torrenting sites that are normally blocked on its network. When I connected to StealthVPN, all the websites loaded in under 10 seconds.
Its privacy features will keep you safe and anonymous online. For example, its DNS leak protection stops your online activity from being exposed to your ISP accidentally — even if your IP is fully masked. When I performed leak tests on 7 different servers using StealthVPN, no IP, DNS, or WebRTC leaks were detected on any of them. In addition, its automatic kill switch will cut off your internet connection if the VPN fails, which protects personal information from being leaked as well.
The downside to PrivateVPN is its customer service isn't the greatest. I had to wait 24 hours for a response sometimes, even when using the "live chat" feature. However, once I did get a response the representative was knowledgeable and friendly.
I was able to get 85% off a subscription when I signed up as well. It offers sales often, so this discount should still be available.
Private VPN also offers a 7-day free trial on top of a 30-day money-back guarantee so you can test it out for free. I tested the money-back guarantee to see if it would be a hassle and it wasn't. When I requested my refund, it took 24 hours to get a response, but it was approved right away and I had my money back in 6 days.
Is Your VPN Not Working in China? Here's What to Do
No VPN is guaranteed to work 100% of the time in China — even ExpressVPN. This is especially true when the Chinese government implements new technologies that block VPN connections. If you find that your VPN stops working in China, here are some easy tips to restore your online freedoms. For specific troubleshooting with ExpressVPN, please see this article.
Use a proxy server — Proxy servers change your IP address by redirecting your web traffic through another server. This bypasses internet restrictions as the Great Firewall will see your proxy IP address instead of your real one. Be careful, though because a lot of them lack vital security features, like military-grade encryption.
Share a VPN — If you aren't traveling alone, ask one of your travel companions to use their VPN. Before traveling to China with a group, it's always a good idea to have access to more than one VPN in the group.
Use a hotel's VPN — Many hotels in China now offer a VPN service, so it can pay to stay at a hotel with one. A VPN service usually costs extra and is only offered to VIP guests, so take note. To find a VPN hotel in China, use travel websites and online forums because VPN advertising is illegal over there.
Connect to a different server — Simply go to your server list and connect to another server. Just make sure your VPN provider claims that it can work in China.
Update your VPN software — Sometimes outdated software can stop your VPN from working in China, so always make sure you're using the latest version of your app.
Change your protocol — Go to your VPN settings, choose a different protocol, and experiment. The best protocols for China are OpenVPN and WireGuard.
Port forward to port 433 — Port 433 is often used to encrypt internet traffic, which means firewalls might have a harder time detecting your connection.
Contact customer support — If all else fails, then it's best to ask customer support for help. You'll need to contact them through an email service that isn't blocked because most VPN websites aren't accessible in China.
FAQs on Using a VPN in China
What is the Great Firewall of China?
The Great Firewall of China refers to the technologies and legal measures used by the Chinese government to regulate the internet in China. It's the reason why popular sites like Google, YouTube, and Facebook are banned in China, as well as apps like Snapchat and WhatsApp.
Another issue it presents is that it can throttle internet speeds when visiting foreign websites that aren't blocked. Its implications on online freedoms are largely concerning and it's a huge inconvenience. While using a reliable VPN can help you bypass these restrictions, you need to be aware of the laws and regulations in place. Even though the Chinese government goes after VPN technology rather than VPN users you could technically be fined for using a VPN. No tourist has ever gotten in trouble for using one in the country, though.
What is the best VPN for China?
The best VPN to use in China is ExpressVPN. It has several specialized servers in countries like Hong Kong, Singapore, Japan, and the US, that are built to bypass the Great Firewall of China. Additionally, it provides fast speeds and has world-class security and privacy features (like military-grade encryption and a strict no-logs policy). In other words, you can browse the internet freely and stay protected from online threats.
Another benefit is that it comes with a 30-day money-back guarantee, so you can test it out risk-free before committing to a subscription.
Why do I need to use a VPN in China?
You'll need to use a VPN in China to access blocked sites like Facebook, Google, YouTube, Wikipedia, Twitter, and more. Internet restrictions in China are much greater than in other parts of the world because the Chinese government wants to control information that concerns its regime. For this reason, it bans numerous sites.
A reliable VPN can unblock these sites and keep you safe while using them because of its encryption technology. This is crucial if you value your online privacy and security, so make sure you find a suitable VPN for China. Also, it's best to download a VPN before entering the country because many VPN websites are blocked over there.
Just keep in mind that non-government-approved VPNs are banned in China, so using one carries some risks. Chinese residents have been issued fines for using a banned VPN, although this is extremely rare and no tourist has ever been punished for using one.
Is a VPN required in Hong Kong and Taiwan?
It's highly recommended to use a VPN in Hong Kong and Taiwan, even though their internet restrictions aren't as severe as China's. Taiwan is still controlled by China, which means that your internet use is within reach of the Chinese government. Also, some VPN providers disabled their Hong Kong servers in 2019 to protect their users from China's security laws in the city.
For these reasons, it's best to download a top-tier VPN that works in China before going to either place.
Are VPNs illegal in China?
VPNs are illegal in China if they aren't approved by the government. This is because many businesses need to access blocked sites to conduct business, so some considerations must be made. These government-approved VPNs are still heavily monitored by the Chinese government, so they aren't ideal for online privacy.
Even though non-government-approved VPNs are illegal in China, no tourist has faced personal repercussions for using one. The Chinese government tries to block VPN technology instead of targeting users. It's always best to inform yourself about the laws and regulations over VPN-use before traveling and stick to top-tier, highly trusted VPN services.
Does CyberGhost have any servers in China?
Yes, CyberGhost has servers in China, Hong Kong, and Macau. There are over 10 servers in Mainland China which are all located in Shenzen. You can use these servers to access Chinese websites from abroad, but they won't get past the Great Firewall of China. CyberGhost is one of the many VPNs that doesn't work in China, so it's better to use a more powerful VPN instead.
Is Netflix banned in China?
No, Netflix isn't banned in China, unlike the many other sites that are banned including Google, Facebook, YouTube, Twitter, WhatsApp, Snapchat, and Wikipedia. However, Netflix doesn't have a Chinese service, which means you can't watch any shows. If you go to the Netflix website, you'll see the landing page without any shows listed.
To watch Netflix in China, you will need to use a powerful VPN, like ExpressVPN. A good VPN will have certain servers that can get past the Great Firewall of China. For example, you can use ExpressVPN's specialized Los Angeles server to watch US Netflix from China. Its military-grade encryption and no-logs policy will also keep you protected and private.
The Bottom Line
CyberGhost no longer works in China, which is a real pity. If you'd like to access your favorite content while in China, then you'll need to use a more powerful VPN instead. VPNs that work in China have advanced protocols, military-grade encryption, and optimized servers that can bypass the Great Firewall.
Out of the VPNs that work in China, my favorite is ExpressVPN because it has all of the above features plus fast speeds. It's really easy to use, too. Best of all, its 30-day money-back guarantee lets you try it out risk-free. If you don't like it, simply cancel your subscription within the 30-day period to get a refund.
To summarize, the best VPNs to use in China are…
Privacy Alert!
Your data is exposed to the websites you visit!
The information above can be used to track you, target you for ads, and monitor what you do online.
VPNs can help you hide this information from websites so that you are protected at all times. We recommend ExpressVPN — the #1 VPN out of over 350 providers we've tested. It has military-grade encryption and privacy features that will ensure your digital security, plus — it's currently offering 49% off.