CyberGhost Doesn't Work in China in 2020 – Here's What to Do
Updated on 26th December 2019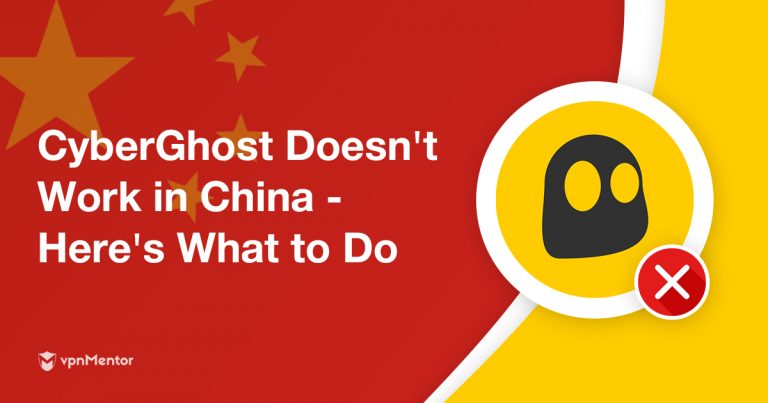 The internet in China is heavily restricted, and using a VPN in China is a must if you want to access blocked websites like Facebook, Gmail, YouTube, major news outlets and more.
However, since a China-wide VPN ban recently came into place, using a VPN has become increasingly difficult. Most VPNs do not work well in China, if at all. Many experience frequent glitches and difficulties, and it is near impossible to subscribe to a VPN service when you are already in the country, as most VPN sites are blocked. Even premium VPN providers can be vulnerable to issues.
In the past, we recommended CyberGhost to bypass blocks, censorship, and to browse anonymously in the country – but recent tests have shown that CyberGhost is no longer working in China.
CyberGhost is still an excellent service for bypassing geoblocks for streaming, encrypting traffic and maintaining your privacy online, and we still recommend it for general use. But, if you're traveling to China, you need to choose a different VPN.
The good news is that you still have a solid option for a VPN in China. Based on the most up-to-date information we have, NordVPN is an excellent choice to bypass government restrictions and access the internet freely and anonymously.
Why NordVPN is the Perfect VPN for China
NordVPNis a premium VPN service that offers top-notch security features – such as military grade encryption – and a robust server network that includes obfuscated servers, and lots of server options in neighboring counties.
NordVPN not only circumvents the Great Firewall of China – it can also easily bypass stubborn VPN blocks, giving you access to all you favorite streaming services, such as Netflix USA, BBC iPlayer and more. You'll be able to use the internet just like you normally do at home.
NordVPN's obfuscated servers make your traffic appear as though it is unencrypted – that is, no different from other users' internet traffic. So, while your information remains encrypted and is still protected, it doesn't look suspicious and won't raise any red flags.
Server options in nearby countries is also a big plus, because nearer server locations tend to be faster. While in China, NordVPN's server options in Taiwan, Singapore, South Korea, Japan and Hong Kong will probably give you the fastest and smoothest connection.
NordVPN offers fast speeds, cross-platform applications, and 24/7 customer service is available via live chat if you run into any issues. It is truly a premium VPN that delivers on security, speed and user experience.
If you are a new user, you're also covered by a 30-day money-back guarantee. That means that if you're traveling for a short time, you could even use NordVPN for free to access your favorite websites and services while in China, as long as you ask for a refund before the 30 days are over.
If you're still not sure if NordVPN is the right VPN for you, read what real users think of it.
Why You Need a VPN for China
China has never enjoyed unrestricted access to the internet. Along with other sources of information and expression, internet access in the country is heavily censored. The layered technological and legal limitations that are used to regulate domestic internet use are often referred to as the Great Firewall of China.
The Firewall restricts and monitors all internet traffic within mainland China, limits access to foreign information sources, requires technology companies to abide by domestic censorship regulations, and heavily censors certain content.
That means that major sites and services – including social networks such as Facebook, Instagram, Twitter, search engines like Google and Yahoo, and foreign news services like Reuters, The New York Times, and the BBC – are inaccessible from within China (click here to check if a website is blocked). Certain keywords and phrases are also flagged, monitored and censored.
The Great Firewall is famously tricky to bypass. After the Chinese government's recent crackdown on VPNs, even top-shelf VPNs which could get around it in the past – such as CyberGhost – can no longer do the trick.
If you want to stay connected to the rest of the world during your stay in China, you need to be sure to choose the right VPN.
How to Use NordVPN in China
First of all, you must subscribe to NordVPN, download the application and install it on your devices before you enter China. You will not be able to access VPN sites inside mainland China because they are all blocked.
For NordVPN to work properly in China, you may also need to enable obfuscated servers.
Access to NordVPN's obfuscated servers are only available via the NordVPN OpenVPN applications for Windows, Android and Mac OS applications. If you use iOS or another operating system, you will have to use a workaround or install OpenVPN manually to connect to NordVPN servers.
Follow these steps to use NordVPN, and to enable obfuscated servers.
Choose your subscription, download the NordVPN application to your device and install it as normal.
Enter your access key to unlock the service.
You might be able to connect using the regular list of servers. If not, you should connect to an obfuscated server.
To do that, go to the Settings Menu in the NordVPN app.
Select Advanced Settings.
Enable Obfuscated Servers.
Connect to a server from the alternative list.
Summary
The interplay between technology that enables free internet access and technology that restricts it often feels like a cat and mouse game.
VPN providers are working quickly to bypass filters, censorship and other restrictions, but sometimes governments are just one step ahead.
Right now, NordVPNis the best VPN to use in China. If you would like to see how other VPN services compare and whether they can bypass the Great Firewall of China, check out our list of the best VPNs for China.
Related Posts: