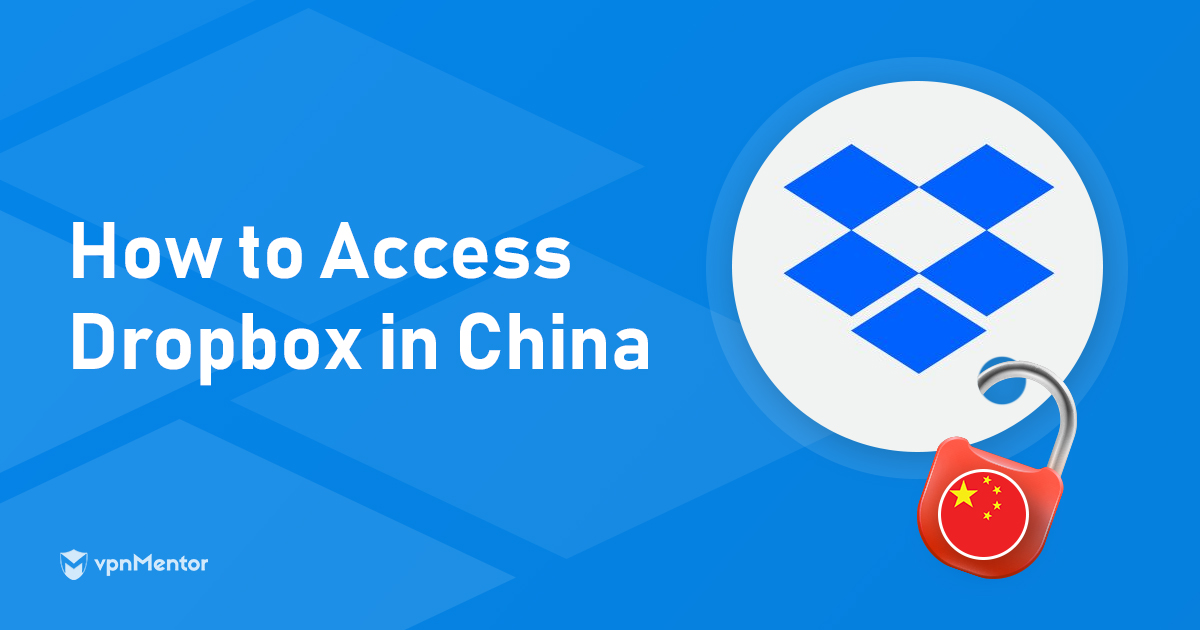 How to Access Dropbox in China in 2023 – This Really Works
Are you planning a trip to China? Planning on accessing your files while you're there? You need to know that Dropbox is blocked in China. But don't worry – there's an easy solution!
China blocks thousands of websites behind a nationwide internet firewall, nicknamed the Great Firewall of China. The Great Firewall prevents Chinese citizens and visitors using Dropbox because of its lack of compliance with the government's content filtering regulations. But we do have some good news - a good VPN can help you bypass censorship and access your files on Dropbox.
And, if you need to access other platforms like WhatsApp and Facebook, you'll need to plan ahead, too. You can use our firewall testing tool to check which sites the Chinese government censors. If you're concerned about using a VPN in China, then don't worry because the Chinese government fights against VPNs by technologically blocking them. No tourist has ever been penalized for using a VPN over there.
Read on for our simple guide on how to use Dropbox in China.
Quick Solution
The fastest and most secure way to use Dropbox in China is to install a VPN before you arrive. You'll need to be sure to choose a service that works in China, as many VPNs have been blocked by the government, too.
Download and install a VPN on all of your devices before you leave - ExpressVPN is our #1 choice!
Connect to a server outside of China.
Make the most of your unrestricted use of Dropbox in China.
Why You Need a VPN to Use Dropbox in China
Along with opposing political ideas, websites that fail to comply with China's strict content filtering regulations are censored by the Great Firewall. Dropbox is one such website, primarily because it allows users to share uncensored files.
After its sudden and unannounced overnight ban, users in China found themselves completely unable to access any of their personal files. Four years later, Dropbox began to use the HTTPS protocol, which helped it to avoid the firewall until the Chinese government responded by blocking access to its secure address, as well.
The good news is that you can use a VPN to bypass China's censorship and gain access to your Dropbox account. Many VPNs have been blocked in China, so it is important to select a service that is proven to work. To help you with your choice, our experts have compiled a list of the 6 best VPNs for China.
When you use a VPN, it connects your device to a remote server through and masks your IP location. This makes it appear as though you are accessing the internet from the location of your remote server, and not from within China, allowing you to bypass censorship and safely use Dropbox in China.
A VPN also encrypts your internet traffic to protect you from cyberattacks and government surveillance, which is especially useful when transferring files to the cloud. For example, if you're uploading political material or anything that could be seen to be mocking the ruling party (including funny memes), you'll want to keep it private.
China's firewall blocks access to most VPN websites, so you'll need to download and install your VPN before you leave home. Once you've arrived, you can use Dropbox by connecting to a remote server in a country outside China.
What Else Can a VPN Do for You?
VPNs are powerful internet security tools, and as such, they have a diverse range of uses. Here are just a few benefits of using a VPN:
Protect your data from hackers and spies
A VPN will encrypt your personal data, protecting your identity and making it completely unreadable to hackers and government surveillance agents.
China's government uses invasive internet surveillance techniques, so your privacy and anonymity are vital when you're transferring files to and from Dropbox. If the government does intercept your data, a good VPN will prevent them from discovering your real IP address or location so that your identity remains secret.
Unlock geoblocked websites and streaming services
When you're traveling, it can be hard to keep up with your favorite shows from back home. Most streaming services use geoblocking and VPN blocks to restrict access to viewers in certain regions, so once you leave the country, you won't be able to watch.
Luckily, a good VPN makes it easy to bypass geoblocking and keep up to date with new episodes. All you need to do is switch to a server in your home country, and you will have unrestricted access to all the streaming services and TV networks you watch back home.
Bypass censorship to access other blocked websites
A VPN will not only unblock Dropbox while you're in China, but every other website that the Great Firewall blocks, including Facebook, Gmail, and YouTube.
For more information on this, check out our comprehensive guides to unblocking Gmail, YouTube, and Facebook.
Summary
The best way to use Dropbox in China is to install a VPN on your devices before you travel there.
A VPN will protect your identity and your right to freedom by masking your IP address and encrypting your internet traffic. You'll also be able to unlock geoblocked content and other censored websites from anywhere in the world.
ExpressVPN has proven time and time again that it can bypass The Great Firewall and work smoothly in China, and its military-grade encryption and advanced security features will ensure your identity remains private at all times. Not only that, but the company offers a 30-day money-back guarantee, so you can try it out risk-free.
Other Articles That Might Interest You
If you're interested in censorship in China, we have compiled a list of informative guides for both travelers and citizens.
If you're interested in learning more about censorship in China, check out our Complete List of Blocked Websites in China.
And, before you embark on your journey overseas, make sure you protect yourself with one of the 6 Best VPNs for China.
Privacy Alert!
Your data is exposed to the websites you visit!
The information above can be used to track you, target you for ads, and monitor what you do online.
VPNs can help you hide this information from websites so that you are protected at all times. We recommend ExpressVPN — the #1 VPN out of over 350 providers we've tested. It has military-grade encryption and privacy features that will ensure your digital security, plus — it's currently offering 49% off.