How to Use Facebook in China in 2021 – This Really Works
Updated on 22nd February 2021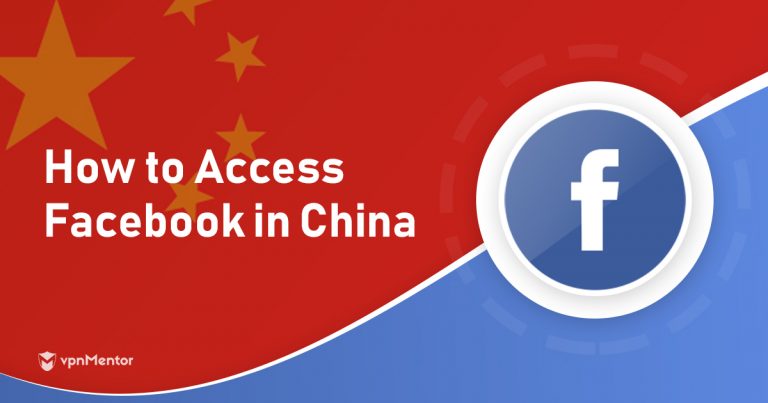 Is China your next vacation destination? If you want to stay in touch with friends and family while you're there, you need to know that Facebook is blocked in China.
Luckily, there is an easy way to bypass the block!
Chinese censorship bodies banned Facebook after Ürümqi riot activists used it to communicate with the rest of their network. To this day, the Great Firewall of China prevents citizens and visitors from logging into their favorite social media platform.
You'll also need to plan ahead if you want to use other blocked platforms, like YouTube and WhatsApp. You can use our firewall testing tool to check which sites the Great Firewall blocks before you arrive.
The good is that we are here to help! Below, you'll find our simple guide on how to use Facebook in China.
Quick Guide:
How to Use Facebook in China in 3 Easy Steps
The easiest way to use Facebook in China is to install a VPN before you arrive. Many VPNs have been blocked by the government, so you'll need to be careful to choose a service that works in China.
Download and install a VPN on all of your devices before you leave – NordVPN is our #1 choice!
Connect to a server in the US, or another country where Facebook is freely available.
Enjoy your online freedom and bombard your friends with selfies and vacation pics!
Why You Need a VPN to Use Facebook in China
The Chinese government uses a strong firewall to block websites that oppose its ruling party, social values, and content filtering regulations. Among the most popular blocked websites are Facebook, YouTube, and even Google.
Facebook is loaded with diverse and often controversial and political content – but, surprisingly, this isn't why you can't use it in China. Facebook was blocked in China after a group of political activists who opposed China's president used it to spread information to other activists.
So, if you're planning a trip to China you won't be able to access Facebook – unless, of course, you use a VPN to bypass the firewall.
A VPN masks your IP location by creating a secure connection between your device and a remote server. With a VPN, you can easily bypass censorship and geoblocking to enjoy unrestricted internet access, even in one of the most heavily censored countries in the world.
Your VPN will also encrypt your data as it travels over the network to protect you from hackers and government surveillance. This is especially important for Facebook users, as even the slightest comment mocking the Chinese government can incur severe legal consequences.
You won't be able to access most VPN providers' websites when you're in China, so it's important to download and install a VPN before you leave your home country. If you're looking for an excellent VPN, check out our experts' recommendations for the 6 best VPNs for China.
What Else Can a VPN Do for You?
VPNs aren't just limited to securing your connection and protecting your online freedom. Below, we have listed just a few of the other benefits of using a VPN.
Avoid government spies
The Chinese government uses internet surveillance to keep watch over its visitors and citizens. In fact, political commentators have described its system as a terrifying dystopia. The government also criminalized the spreading of online rumors, with lawbreakers facing up to three years in jail.
Online anonymity is crucial to your personal safety in China. Through encryption, VPNs ensure that your identity remains hidden if the Chinese government intercepts your private data. With that said, you'll still want to avoid posting such comments under your full name.
Unlock geoblocked websites and streaming services
Most streaming services use geoblocking to restrict access to viewers in certain regions. This makes it hard to keep up with your favorite shows from back home while you're overseas.
A VPN will help you to bypass geoblocking so that you can watch all the new episodes as they air. You'll just need to switch to a server in your home country to have unrestricted access to all of the TV shows and movies that you watch back home.
You'll also be able to use your VPN to unlock streaming services in other regions and countries. Simply connect to a server in the country where the service is based, and you'll be ready to watch!
Unblock other censored websites
With a VPN, you'll have access to Facebook and every website that's censored in China, including YouTube, Gmail, and even Dropbox.
A VPN makes it easy to stay connected with your friends, family, and work from China.
For more information, check out our informative guides to unblocking WhatsApp, Gmail, and Dropbox in China.
Keep your private data out of hackers' hands
Cybercriminals prey on vulnerable and unprotected devices to steal personal information, like passwords and banking details. Your connection is particularly vulnerable to attacks if you use public WiFi, or WiFi in hotels and cafes.
A VPN will encrypt your data, making it unreadable to hackers and government surveillance agents.
Summary
The best way to use Facebook in China is to install a VPN on your devices before you arrive.
A VPN will restore your online freedom by masking your IP address and encrypting your private data. You'll also be able to unlock geoblocked content, like Netflix, from anywhere in the world.
NordVPN, our #1 recommendation for China, will give you all this and more. Its high speeds, combined with its ability to bypass just about anything, will give you the unrestricted internet access you're accustomed to. Take advantage of the 30-day money-back guarantee to check it out before you commit to a long-term plan.
Other Articles That Might Interest You
Below, you will find a comprehensive collection of informative guides to online security in China for both travelers and citizens.
If you're interested in learning more about censorship in China, check out our Complete List of Blocked Websites in China and How to Access Them. Afterwards, read our article to find out why Donald Trump uses a VPN when he visits China.
And, before you embark on your journey overseas, make sure you protect yourself with one of the 6 Best VPNs for China.
Privacy Alert!
Your data is exposed to the websites you visit!
The information above can be used to track you, target you for ads, and monitor what you do online.
VPNs can help you hide this information from websites so that you are protected at all times. We recommend NordVPN — the #1 VPN out of over 350 providers we've tested. It has military-grade encryption and privacy features that will ensure your digital security, plus — it's currently offering 68% off.
Privacy Alert box - content - Popular posts