Does ExpressVPN Work in China in 2023? Yes, But Do This First
Updated on 14th November 2022
Not many VPNs can get past the Great Firewall of China, but ExpressVPN is one of the few that can. Thanks to its advanced features and technologies, you can get to your favorite streaming sites, social media, and websites on the internet from anywhere in the world, even in China.
It uses automatic obfuscation, DNS and IP leak protection, and a kill switch to get around China's firewall consistently. It even offers workarounds so you can download the app when you're already in China.
While you shouldn't need to configure it to get it to work there, there are some settings we recommend for best performance. Plus, you can always try ExpressVPN out risk-free since it offers a 30-day money-back guarantee. If you're not happy with it, it's really easy to get a full refund.
Important! This article is for information purposes only. My team and I don't condone using a VPN with illegal intentions. China has banned the use of non-government-approved VPNs. However, no tourist has ever been charged for using one. Use a VPN at your own risk and adhere to the laws of the country you are in.
Quick Guide:
How to Use ExpressVPN in China in 3 Easy Steps
Get ExpressVPN. It's best to sign up and download ExpressVPN before you arrive in China since its website is blocked by the Great Firewall.
Connect to a server. You can choose any server location from the list.
Start browsing the internet. All you need to do is access your favorite websites once it's established a connection.
How to Set Up ExpressVPN to Work in China (+ Other Troubleshooting Tips)
Since ExpressVPN's website is blocked in China, it's best to download it before you arrive there. If you're already in China, you can email ExpressVPN's support team (support@expressvpn.zendesk.com) and ask for a mirror link — this is another version of the ExpressVPN site that hasn't been blocked by the Great Firewall. Using this link allows you to sign up, download the app to whatever device you need, or update the software.
Once you've installed the app, a few quick configurations will ensure ExpressVPN works in China without hassle.
1. Set the protocol to "Automatic"
By setting your security protocol to "Automatic," ExpressVPN will choose the one that is best for your network automatically. ExpressVPN offers different protocols for different needs. Some give you a more secure connection (like OpenVPN), and some give faster speeds (like its Lightway protocol). Both these protocols support obfuscation, which masks the VPN connection, so it doesn't get blocked. ExpressVPN's obfuscation feature will kick in automatically, too.
Here's how to set your protocol to "Automatic" in 2 easy steps:
Go to the "Protocol" settings, which can be found in the "Options" menu on the VPN app.
Set the protocol to "Automatic." This lets ExpressVPN find the best protocol for connecting from China.
For added convenience, you can also set ExpressVPN to connect to your last used location automatically whenever you start up your device: this can be toggled on under General Options.
2. Enable the kill switch and leak protection
When using a VPN in China, you should keep the kill switch on at all times. This protects your data if you lose connection to the VPN. You can activate the kill switch in 2 steps:
Open the General Settings. You'll find this under "Options" when you click in the top left corner of the VPN.
Activate the kill switch. Underneath Network Lock, check the box next to "Stop all internet traffic if the VPN disconnects unexpectedly."
IP and DNS leaks can expose your real IP to the firewall. If the VPN fails or the browser sends WebRTC requests, your online access will be restricted. When you connect to ExpressVPN, DNS leak protection is enabled automatically. However, you need to manually enable IPv6 leak protection. You can do this in 2 easy steps:
Open Advanced Settings. This is located in the "Options" area under the cog icon.
Enable IP leak prevention. Check the boxes next to "Prevent IPv6 address detection while connected."
3. Clear your browser's cache and cookies
Websites can block VPN IP addresses, but they can also use your cookies and cache history to see your true location. If your VPN IP doesn't match the location data in your browser's cache, you might face issues accessing certain sites (like Netflix). All you have to do is go into your browser's settings and delete your cache and cookies. This option can usually be found under privacy and security settings.
If you don't want to delete everything, you can just delete the caches from the sites that are blocking you. Doing this should remove any blocks you might be facing and let you access the site.
4. Re-connect the VPN or try another server
A poor internet connection or a technical glitch could cause the VPN to stop working. It may take up to 30 seconds to connect to the server if your internet isn't fast enough, or it might not work at all. Wait until ExpressVPN's connection status shows "failed" before trying to reconnect. If the connection fails, close the app, restart your device, then try to connect again. Also, make sure to wait for the app to show the "connected" status before you start browsing.
If the VPN app says it's connected but isn't unblocking content, try reconnecting to the server. This will re-establish the connection and provide you with a different IP address, hopefully fixing the issue.
You can also try connecting to a different server. I contacted its chat support to find the best servers for China. The representative was extremely helpful and redirected me to a web page with troubleshooting tips for connecting in China. ExpressVPN recommends the following servers: Japan (Yokohama), USA (Los Angeles - 5 and Santa Monica), UK (Wembley), Singapore - (Marina Bay), and France - (Alsace).
5. Reinstall or update the app
If you still can't connect, try reinstalling the app. However, make sure you have the executable file before you do this, because it can be difficult to download it again while in China.
The app might also need updating. I recommend making sure you have the most up-to-date version of the app before you travel to China. You will need access to EpressVPN's website mirror link to update the app if you're already there.
6. Get in touch with customer support
You can also contact ExpressVPN's customer support and ask for guidance. Since the website is blocked in China, you can email support@expressvpn.zendesk.com (Yahoo and Hotmail are both accessible in China). The support team is prompt and usually sends a response within 24 hours. If you already know the most current mirror site link, you can use it to contact ExpressVPN's 24/7 chat support, too.
How ExpressVPN Works in China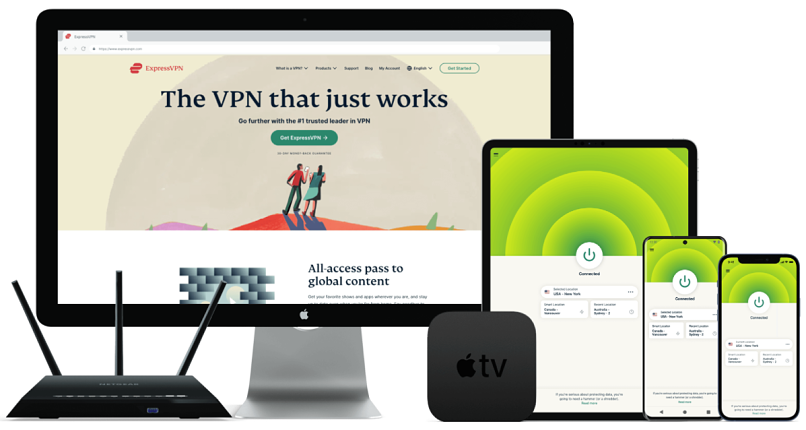 Editor's Choice
Editor's Choice

Tested February 2023
Try Risk-Free for 30 Days
Available on:
Chrome
Router
Smart TV
More
www.ExpressVPN.com
Obfuscated servers ensure you won't get blocked by the Great Firewall
Working mirror link in China for access to 24/7 support to get help when you need
3,000 servers in 94 countries for access to international sites and services
5 simultaneous device connections with a single subscription
Can unblock: Facebook, Netflix, WhatsApp, Gmail, Google, The New York Times, YouTube, Twitter, and more
Compatible with: Windows, Mac, iOS, Android, Linux, routers, Smart TVs, and more
All ExpressVPN's servers are automatically obfuscated, so your VPN use is always concealed. You don't even have to take any extra steps to enable it. Other VPNs make you select specific obfuscated servers or "stealth" protocols when using them in a censored region. However, ExpressVPN automatically uses obfuscation when it identifies deep packet inspection (DPI) on the network. The Chinese government blocks VPNs through DPI, so this is one of the reasons ExpressVPN works so well in China.
It's also one of the only VPNs with a mirror website you can use in China. Non-government-approved VPNs (like ExpressVPN) are blocked there. To keep this mirror link working in China, it's frequently updated, so it's best to reach out to get the most current version. I got the mirror link by contacting ExpressVPN's customer support via both its 24/7 live chat and email (support@expressvpn.zendesk.com). Note down the mirror site link before you travel, or keep its support email address handy, so you can reach out when you're in China. Just keep in mind you'll need basic English since Chinese isn't supported.
Nonetheless, I still recommend you download the app before going. Even though ExpressVPN updates the mirror link to keep it working, it can get blocked by the Great Firewall. It also has a website that can be accessed through the dark web in China. This is a.onion site that can be accessed through a browser like Tor (http://expressobutiolem.onion).
To uphold ExpressVPN's promise to protect your online privacy, none of its servers are physically located in China. The government requires all online movements be tracked and stored, so not having servers there means ExpressVPN doesn't have to comply with this. Its policy was proven in 2017 when the Turkish government seized ExpressVPN's servers. Since ExpressVPN doesn't keep logs, nothing was found.
It's also based in the privacy-friendly British Virgin Islands, outside of the 14-Eyes Alliance. This means it's outside of any jurisdiction that would require it to store or share data with international government agencies. For added privacy, ExpressVPN also accepts payments using Bitcoin, but you can also use a credit card, Union Pay, or PayPal.
ExpressVPN's security features are some of the best in the industry. Military-grade encryption means no one can see what you're doing online. All the while its kill switch and leak protection mean even if the VPN malfunctions, none of your personal info would be leaked. I made sure my true IP and location were hidden using an online leak testing tool — no leaks were found on any of the 25 servers I tested.
ExpressVPN has lightning-fast speeds so it's great for safe torrenting, too. Plus, it worked to access every news website, social media site (and app), and streaming platform I tried it with. While it's not the cheapest VPN on the market (prices start at $6.67/month), there aren't many VPNs that work in China so easily. If you want to read more about ExpressVPN, check out our in-depth review.
FAQs About Using ExpressVPN in China
Can I use ExpressVPN on my Android or iOS phone in China?
Yes. ExpressVPN has native apps for all major platforms, including iOS and Android. All of ExpressVPN's servers use automatic obfuscation, so your VPN use is hidden in China, allowing you to overcome the Great Firewall on whichever device you need. Its own Lightway protocol has been integrated into its mobile apps as well. So, the special obfuscation tech needed won't slow down your internet speeds like it can with other VPNs. Just set the protocol to automatic to allow the VPN to choose the best option for you.
That being said, it's best to download ExpressVPN before you arrive in China. The app isn't available in China's Apple App Store and Google Play is blocked completely in the country. So, you can't download the app easily from within China. However, you can create a new App Store account and set it to a different region where VPNs aren't blocked (like the US, for example).
Is ExpressVPN illegal in China?
It's complicated. ExpressVPN is not approved by the Chinese government. Any VPN that doesn't have an official license approved by Chinese authorities is banned in the country. VPN companies themselves are usually the target of legal action. It's very rare for individual VPN users to be prosecuted and no tourist has ever faced any legal action for using a VPN while traveling in the country. But, you should always proceed with caution when using any VPN in China.
If you're traveling to China, it's best to download ExpressVPN before you arrive. And if you face any issues connecting, there are a few configurations and tips that will help you maintain your internet freedom while there.
Does ExpressVPN have servers in China?
ExpressVPN doesn't have servers in mainland China, but it has some in Hong Kong and Macau. This means it doesn't have to conform to China's strict data-logging policies. The Hong Kong and Macau servers mean you have some nearby locations to optimize speeds. And since Hong Kong and Macau don't censor the internet heavily like mainland China, you'll have access to a more open internet using them as well.
Does ExpressVPN's site have a link that works in China?
Yes, it does. It's one of the very few VPNs with a working mirror site for China. To get the most up-to-date link to its mirror site for China, you should contact its customer support via the 24/7 online chat or its support email address. ExpressVPN also has a.onion site that can be accessed through a dark web browser. The link to its.onion site is http://expressobutiolem.onion, which can be accessed through a browser like Tor.
Is ExpressVPN owned by a Chinese company?
No, it's not. ExpressVPN is owned by Kape Technologies, headquartered in the UK, which also owns other top VPNs like CyberGhost and Private Internet Access. However, ExpressVPN itself is headquartered in the privacy-friendly British Virgin Islands. Since there are no data retention laws there, ExpressVPN doesn't have to store any identifiable information about you, and upholds its strict no-logs policy.
Why is the internet censored in China, and which websites are blocked?
The Great Firewall of China was established to control and restrict the information that Chinese residents can access for political reasons. ExpressVPN is one of only a few VPNs that can bypass it. Basically, the government doesn't want its people to be exposed to any content that is critical of its power. It also doesn't want people to have access to foreign ideas or beliefs contrary to their own. This includes things like suggestive content, differing political views or beliefs, and even things like gambling sites.
The following sites are blocked by the Great Firewall:
Streaming platforms: Netflix, Amazon Prime Video, YouTube, Spotify, Twitch, etc.
Social media sites and apps: Facebook, Instagram, Twitter, etc.
International news outlets: BBC, NY Times, The Guardian, The Wallstreet Journal, Bloomberg, NBC, etc.
Search engines: Yahoo, Google, Bing, etc.
Messaging services: Gmail, WhatsApp, Telegram, Skype, Slack, etc.
If you want to see if a specific site is blocked in China, try our Great Firewall Tool. However, it's important to remember that China's restrictions are constantly changing. A website that is accessible now might not be available when you arrive in the country.
Try ExpressVPN Risk-Free Today
Bypass the Great Firewall of China with ExpressVPN
ExpressVPN is the best VPN to bypass China's Great Firewall. It scrambles your metadata using obfuscation to get past the firewall and keeps your online activity private with DNS/IP leak protection and other top security measures. Without servers in China, you can use ExpressVPN knowing that it doesn't have to conform to any of the country's strict data retention laws, either.
You can also try ExpressVPN out for yourself risk-free since it offers a money-back guarantee on all plans. You can get a full refund within 30 days if you're not completely satisfied.
The best VPNs that work in China in 2023 are…
Privacy Alert!
Your data is exposed to the websites you visit!
The information above can be used to track you, target you for ads, and monitor what you do online.
VPNs can help you hide this information from websites so that you are protected at all times. We recommend ExpressVPN — the #1 VPN out of over 350 providers we've tested. It has military-grade encryption and privacy features that will ensure your digital security, plus — it's currently offering 49% off.