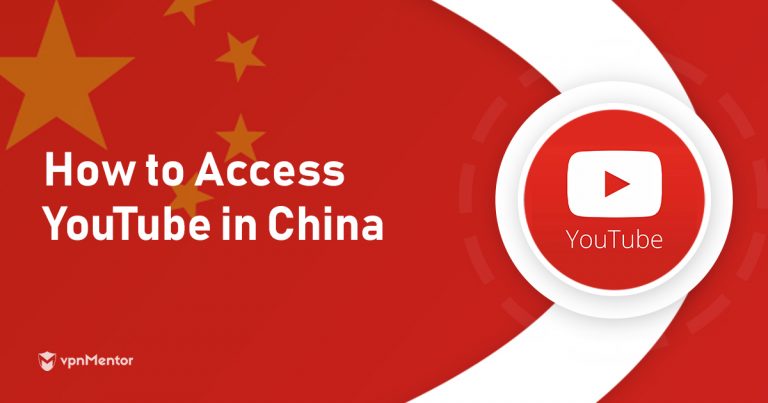 How to Access YouTube in China in 2021 – This Really Works
Updated on 16th September 2021
Are you traveling to China? Planning on watching YouTube while you're there? The bad news is that YouTube is blocked in China. While my team and I don't condone any illegal activity, we are dedicated to educating the public about VPNs. It's important to know that the Chinese government focuses on blocking VPNs and usually doesn't go after individuals for using them. If you do decide to use a VPN, there are some that can access YouTube in China.
YouTube was among the first social media websites to be blocked in China due to the government's strict censorship policies. To date, China has censored over 10,000 websites, including Facebook, Twitter, and even Google. To see which of your favorite websites are blocked in China, you can use our tool to test the firewall.
Whether you're a citizen or a traveler, online censorship and surveillance threaten your freedom and security. If you're planning a trip to China, there are ways to bypass its censorship system if you want to keep up to date with your favorite YouTubers.
But don't worry – we are here to help! In this guide, you'll find our best tips for accessing YouTube in China.
Quick Guide:
How to Access YouTube in China in 3 Easy Steps
Download and install a VPN on all of your devices – ExpressVPN is our #1 choice!
Connect to a server in the US, or another country where YouTube isn't censored.
Enjoy unrestricted access to all your favorite YouTube channels!
Why You Need a VPN to Access YouTube in China
If you're traveling to China, you'll find yourself without access to most of your favorite social media sites, like YouTube, Facebook, and WhatsApp. In fact, China has blocked all of the websites under Google's corporate umbrella, including Google Maps and Gmail.
However, the Great Wall isn't as impenetrable as its name suggests. With the right VPN, it's possible to bypass censorship and unblock YouTube. Most VPNs have been blocked in China, so it's important to know which ones work. To help you with this, we have compiled a guide to the 6 best VPNs for China.
VPNs mask your IP location so you can bypass censorship and geoblocking. To the rest of the world, it'll look as though you're accessing the internet from the location of your remote server. It will also encrypt your data, protecting you from malicious attacks and government surveillance.
If you're planning to access banned websites, your online anonymity is vital. Government surveillance is incredibly common in China.
The Chinese government blocks access to most VPN websites, so if you want to use a VPN, you'll have to install it before you arrive. In China, you'll have to connect to a server in another country to access YouTube.
What Else Can a VPN Do For You?
VPNs are a powerful security tool that protects your right to online freedom – but that isn't all they can do for you.
Keep government surveillance at bay
In China, free speech is non-existent. The government continues to ban words and phrases it finds offensive, and insulting the president is a punishable offense. Government surveillance bodies police citizens' speech, so anonymity is crucial to maintaining your physical freedom in China.
In fact, a citizen from Sanya, Ni Huaping, was imprisoned for 10 days for posting an unflattering comment about the president in a WeChat group conversation. The offensive comment? Well, he called the president a dimwit. 30 days after it was posted, public officials detained him.
Another benefit of using a VPN is that you remain anonymous if the government intercepts your data and private conversations – although you'll still want to avoid making public comments using your real name.
A VPN will protect you from hackers
China is infamous for its huge population of cybercriminals. These attackers prey on vulnerable, unencrypted connections to steal private data, like online banking and credit card details. If, like many travelers, you use public Wi-Fi to access the internet, you're particularly vulnerable to attack.
A good VPN uses military-grade encryption to make your personal information unreadable to hackers and spies.
Unlock geoblocked streaming services
If you're as addicted to streaming as I am, you'll dread missing out on the latest episodes of your favorite shows while you're away from home. With a VPN, there's no need to!
Simply by connecting to a server back home, a VPN will allow you to access your favorite streaming service from anywhere in the world. You can also use this trick to watch episodes live as they air on your local TV network's live streaming feed, or to catch up with on-demand viewing.
Unblock all of your favorite social media platforms
A VPN will bypass the Great Firewall to grant you access to other banned platforms, like Facebook, WhatsApp, and Instagram. With a VPN, it's easy to stay connected with friends and family – and, more importantly, to bombard them with happy snaps and vacation pictures!
For more information, check out our complete guides to accessing Facebook and WhatsApp in China.
Access Gmail and Dropbox
China is a hub for business, but keeping up with work can be hard when you can't access tools like Gmail and Dropbox. But, you guessed it – you can use a VPN to access Google's entire productivity suite.
Summary
If you do decide to get a VPN, it's best to install it before you leave. This is the only way to get access to YouTube in China since most VPN websites are restricted.
A VPN will mask your IP so that you can bypass the Great Firewall of China and restore your online freedom.
ExpressVPN is the best VPN for China, as it can easily bypass The Great Firewall – and not only that, but it can unblock just about anything. You'll have access to popular streaming services like Netflix and Hulu, while military-grade encryption keeps your connection private, anonymous and secure. Friendly customer service is available 24/7, and there's also a 30-day money-back guarantee, so you can test it out risk-free.
Other Articles That Might Interest You
Whether you're planning a trip to China, or you're just intrigued by their political landscape and online censorship policies, our selection of informative guides will tell you all you need to know.
Before you leave for your journey, check out the 5 things you need to know about China and our Travel Guide to Beijing.
You can learn more about China's censorship and online security concerns in our article on the VPN block in China and Russia, and protect yourself with our guide to the 6 Best VPNs for China.
Privacy Alert!
Your data is exposed to the websites you visit!
The information above can be used to track you, target you for ads, and monitor what you do online.
VPNs can help you hide this information from websites so that you are protected at all times. We recommend ExpressVPN — the #1 VPN out of over 350 providers we've tested. It has military-grade encryption and privacy features that will ensure your digital security, plus — it's currently offering 49% off.