How to Stream Hotstar From Anywhere in 2020
Published on 12th August 2020
Don't let geoblocks stop you from streaming all your favorite Indian TV shows and movies on Hotstar. Get a premium VPN, like ExpressVPN, and you can safely stream Hotstar from anywhere. I'm going to show you how to use a VPN to watch Hotstar content no matter where you travel. Share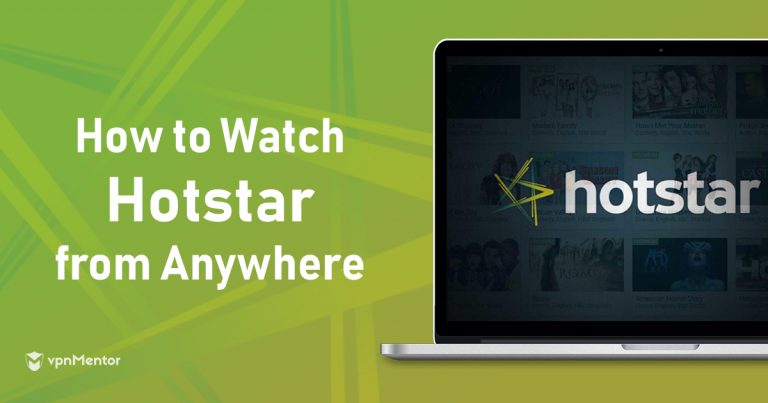 Can't stream your favorite Indian content because Hotstar is blocked in your area? I'm going to show you how you can get around this and stream Hotstar from anywhere in the world. It's easy–all you need is the right VPN!
Whether you're a Bollywood buff, die-hard cricket fan, or Indian expat looking to catch up on your favorite shows from back home, Hotstar has the content you want to watch. But this great platform isn't easy for everyone to watch.
Hotstar uses strict geoblocks to stop you from streaming unless you live in India, the US, the UK, or Canada. VPNs help you safely get around these geo-restrictions so you can start streaming.
My top VPN recommendation is ExpressVPN because it gave me the fastest speeds and best performance during my tests with Hotstar.
A VPN makes it easy for you to enjoy Hotstar's full catalog–including 60,000+ hours of TV shows, 2,000+ Indian movies, and live streams of all your favorite Indian sports teams in action. It only takes a few simple steps.
Watch Hotstar From Anywhere in 3 Steps – Quick Guide
Choose a VPN with plenty of servers. I recommend ExpressVPN for Hotstar because it offers unlimited data and high-speed streaming.
Install the VPN and connect to a server in India, the US, the UK, or Canada.
Head over to Hotstar, log in, and enjoy!
Best VPNs for Hotstar – Quick Guide
Why You Need a VPN to Watch Hotstar
Just like Netflix and Hulu, Hotstar uses your device's IP address to find your location. If you're trying to stream Hotstar from outside of India, the US, the UK, or Canada, this error message greets you:
Uh-oh, we cannot playback due to geographic restrictions. Disable VPN if it's accidentally turned on.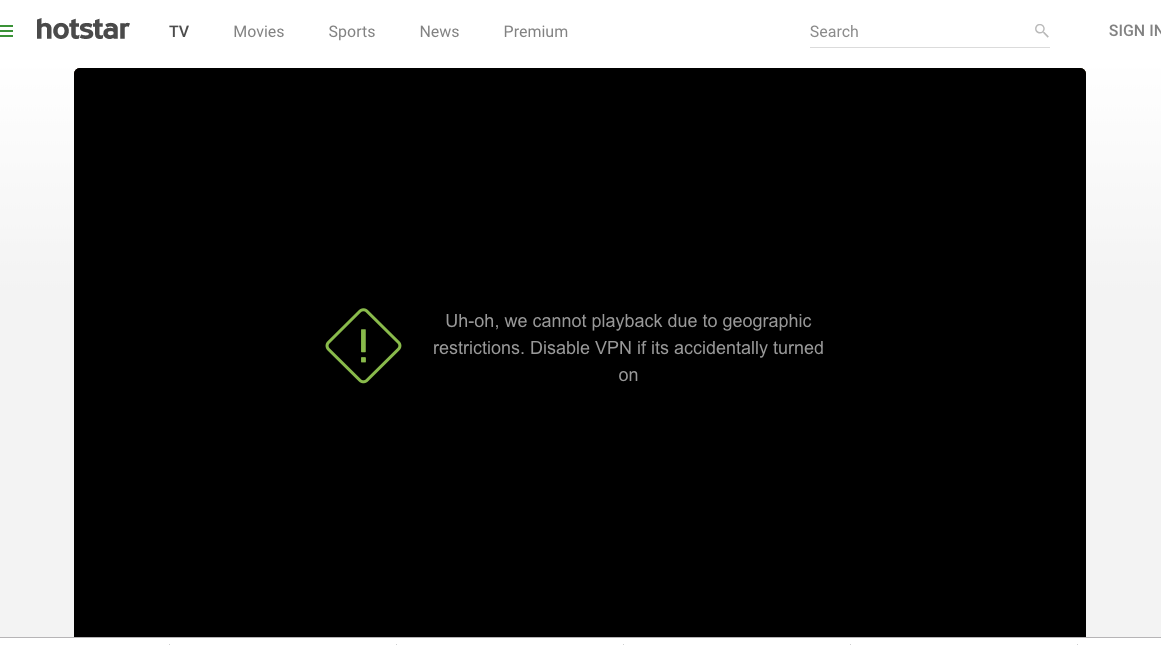 The easiest and most secure way to bypass geoblocks is to use a VPN. With a VPN, you connect your device to a remote server in the location of your choice. This masks your IP address to make it look like you're accessing the internet from another location.
To watch Hotstar from anywhere in the world, all you need to do is connect to a high-speed server in India, Canada, the UK, or the US and you're ready to go!
In fact, when you use a VPN, you can unlock any geoblocked content you like, including Netflix, Hulu, and HBO.
VPNs also encrypt your data, protecting your personal information from online threats like hackers and spies. Your data is virtually unreadable, so nobody can see what you're watching online, including your internet service provider (ISP) and government censorship bodies.
Choosing the right VPN is crucial to secure, fast, and anonymous internet access. When you choose a VPN for Hotstar, look for providers that offer unlimited bandwidth and high-speed servers in India, the UK, the US, and Canada–after all, there's nothing worse than sitting around in silence while your stream buffers!
Hotstar uses anti-VPN technology to compare your IP address with a list of known VPN servers, and if it finds a match, you won't be able to watch your stream. Luckily, there are a few premium VPNs that can bypass VPN blocks by regularly refreshing their servers' IPs to avoid detection.
Your VPN should also offer apps for all of your devices. If you're looking to keep the whole household entertained, look out for services that offer multiple simultaneous connections, too.
In terms of your online security and privacy, your VPN should offer strong encryption and a strict no-logs policy. Also, look for a service that offers an automatic kill switch to prevent unprotected data from leaving your network in the rare event that your VPN connection fails.
The Best VPNs for Watching Hotstar – Full Analysis (Updated August 2020)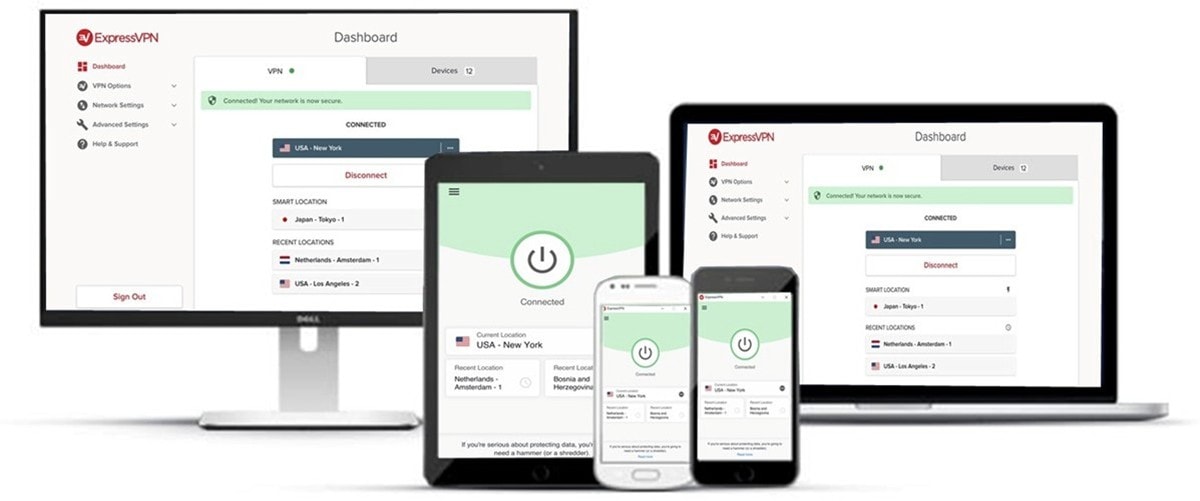 ExpressVPN is the fastest VPN I tested–and this really shows when you're streaming Hotstar!
Its high-speed servers are optimized for fast streaming, so you can say goodbye to buffering when you're watching your Musakaan marathon.
The VPN has over 3,000 servers in 160 locations, including high-speed servers in all the countries that can access Hotstar. You get unlimited bandwidth with ExpressVPN, which means you won't run out of data right in the middle of an episode.
The MediaStreamer feature makes it easy to connect to ExpressVPN even on platforms that normally wouldn't support a VPN. Take advantage of this to stream Hotstar on your smart TV or gaming console.
ExpressVPN isn't just great for streaming. Its state-of-the-art security features safeguard your private data to ensure you're always anonymous online.
The VPN secures your traffic with 256-bit AES encryption and OpenVPN. The automatic kill switch and DNS leak protection ensure none of your data is ever leaked, even if your connection suddenly drops.
ExpressVPN fully supports P2P connections, so you can torrent securely on any server in its network.
With the split tunneling feature, you can customize which apps and devices connect to the VPN, while your other traffic goes through your local internet connection. This means you can access both local and foreign content on one device without having to switch your VPN on and off.
All ExpressVPN plans come with a 30-day money-back guarantee, so you can try it risk-free, no questions asked. Live chat support is available 24/7 for help anytime.
To learn more about what this lightning-fast VPN can do, check out our expert review of ExpressVPN.
Over 3,000 servers in 164 locations worldwide
256-bit AES encryption, automatic kill switch
Split tunneling feature
No-logging policy
30-day money-back guarantee
Five simultaneous connections
Works with: Hotstar, Netflix, Amazon Prime Video, Hulu, HBO GO, Showtime, YouTube, ESPN
Compatible with: Windows, macOS, Android, iOS, Linux, Android TV, Chrome, Firefox, certain routers
Watch Hotstar With ExpressVPN Now!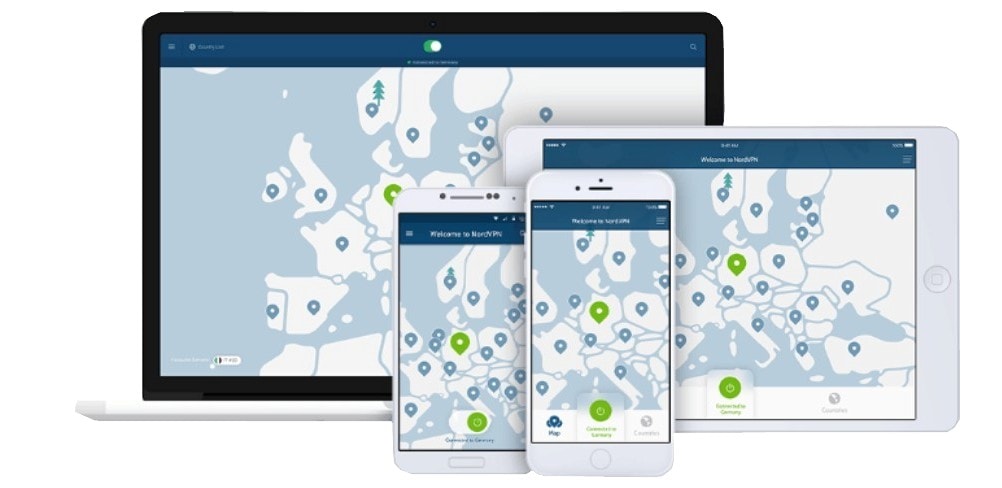 NordVPN combines high speeds, unlimited bandwidth, and top-of-the-line security features to bring you the smoothest Hotstar streaming experience possible.
It regularly updates its 5,390+ servers to ensure they can bypass geographical restrictions and VPN blocks. Plus, with virtual locations in 59 countries (including India, the US, the UK, and Canada), crowded servers aren't a problem even during high-traffic times.
NordVPN's SmartPlay technology makes streaming Hotstar easy no matter what device you're using. It acts as a built-in Smart DNS service on all your devices, helping you access tough geoblocks without having to change any of your settings.
Hotstar isn't the only streaming platform that NordVPN unblocks. It can access an impressive 400+ streaming platforms, including Netflix, Hulu, and BBC iPlayer.
NordVPN safeguards your personal information and online anonymity with military-grade encryption, a strict no-logs policy, and an automatic kill switch.
These features alone are enough to ensure your data is safe from spying eyes, hackers, and cyberthieves at all times. However, if you want even more anonymity, you can even use NordVPN to connect to Tor with specialty Onion over VPN servers.
You can also torrent safely on NordVPN's specialty P2P servers.
Its CyberSec suite protects your devices by blocking popup ads, malware, and other annoying or harmful content from your devices.
If you have any trouble accessing Hotstar, you can reach out to NordVPN's responsive 24/7 live chat support for help.
Try it out risk-free with a 30-day money-back guarantee. You have plenty of time to test out all its advanced features.
Find out more about NordVPN in our in-depth review.
5,390+ global servers in 59 countries
SmartPlay to access geoblocked content
Military-grade encryption, kill switch
CyberSec suite to block malware
Zero-logs policy
30-day money-back guarantee
Six device connections allowed
Works with: Hotstar, BBC iPlayer, Netflix, HBO GO, Hulu, Showtime, Amazon Prime Video, Sky TV, Kodi
Compatible with: Windows, macOS, Android, iOS, Android TV, Linux, Chrome, Firefox, Raspberry Pi, routers
Watch Hotstar With NordVPN Now!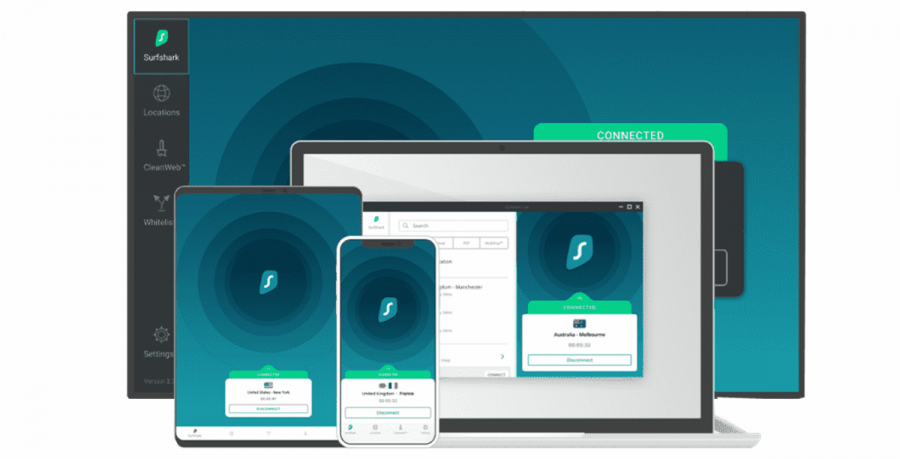 Surfshark is another solid choice for Hotstar. It's especially useful if you are watching from a restrictive country or need to bypass a firewall to stream.
With its NoBorders mode enabled, you can watch Hotstar without your government knowing that you're using a VPN. Switch to Camouflage Mode and Surfshark makes your VPN traffic look like regular traffic — so you can stream on your lunch break at work without your boss realizing.
It operates 1,040 servers across 61. I tested servers in Mumbai, Chennai, Indore, Toronto, LA, and London — all of which let me unblock Hotstar hassle-free. It's also fast enough to stream in high definition without buffering.
Surfshark's apps are well-designed, and you don't need any experience with VPNs to set it up. It took me roughly four minutes to download and install, and everything was ready to go as soon as I logged in. You can share your Surfshark account with your whole family because it offers unlimited simultaneous connections.
You can use its smart DNS server to connect your game consoles, too. It's easy to configure; I had it working on my Xbox One in less than five minutes. Smart DNS lets you watch Hotstar on the big screen even if you don't own a smart TV.
Robust encryption, leak protection, and an automatic kill switch protect your personal information while you're streaming. I tested the kill switch by interrupting my connection and it disconnected me immediately. Surfshark reconnects automatically — you don't need to do any work to get back online.
There's also a strict no-logs policy, so your browsing activity can't be traced.
You can use Surfshark's 30-day money-back guarantee to test it out, risk-free. If you're quick, that's enough time to watch multiple Hotstar series.
Check out our comprehensive expert review to learn more about what Surfshark has to offer.
NoBorders mode to get around firewalls and censorship
1,040 servers in 61 countries.
Unlimited simultaneous device connections
30-day money-back guarantee
Works with: Hotstar, BBC iPlayer, Netflix, HBO, Hulu, Showtime
Compatible with: Windows, macOS, Android, iOS, Fire TV, Linux, Chrome, Firefox, game consoles, routers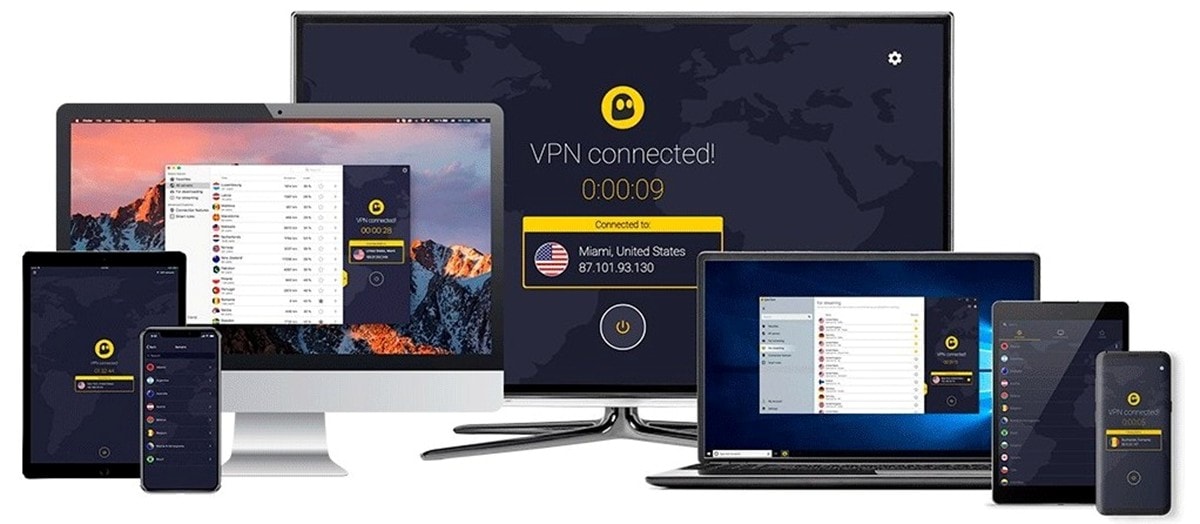 CyberGhost is another great choice for Hotstar, thanks to its fast, reliable connections and unlimited bandwidth.
It performed well in my tests with Hotstar with its large network of 5,500+ servers in more than 90 countries, including dozens of servers in India, the US, the UK, and Canada that can access Hotstar.
Another strength of this VPN is its user-friendly design. CyberGhost is super easy to use, even if you don't have much experience with VPNs.
With a single click, CyberGhost masks your IP address, so you can start streaming Hotstar right away. It also works with other popular streaming platforms like Netflix and BBC iPlayer.
CyberGhost keeps you safe while you stream and browse the web. It protects your anonymity with robust encryption, leak protection, and an automatic kill switch. You never have to worry about your private information going public.
The strict zero-logs policy ensures your browsing logs never stay on the server for anyone to access.
This VPN's strong safety features make it perfect for anonymous torrenting. CyberGhost's dedicated P2P servers offer fast connections and airtight security.
If you like how all this sounds, you can try out CyberGhost with its 45-day money-back guarantee. This lengthy period is plenty of time to test drive the service. And friendly live chat support can answer all your questions.
Check out our comprehensive expert review to learn more about what CyberGhost has to offer.
Over 5,500 servers in 90 countries
256-bit encryption, auto kill switch
No-logs policy
Supports P2P activity
45-day money-back guarantee
Seven simultaneous connections allowed
Works with: Hotstar, Netflix, BBC iPlayer, HBO GO, Showtime, DAZN, Crunchyroll, Disney+
Compatible with: Android, iOS, Windows, macOS, Amazon Fire TV Stick, Android TV, Linux, Chrome, some routers
Watch Hotstar With CyberGhost Now!
FAQs
📱 Can you download the Hotstar app for mobile, if you live in the US?
The Hotstar app is available in the Amazon App Store, Apple App Store, and Google PlayStore. You can download the app without having to change your region, as the service is available in the US with a premium subscription.
You will still need a premium provider like ExpressVPN, to access all of Hotstar's content though. It has the server numbers and security features to provide you with consistent access to Hotstar, and other geoblocked streaming services.
💻 Will one VPN work for all my Hotstar compatible devices?
The vendors on this list all come with a handy compatibility guide, that way you can check to make sure your device is compatible with both Hotstar and the VPN. You also need to pay attention to how many devices you can connect to one account. For example, if you have six devices, make sure your VPN covers all of them on one subscription.
Read up on the best VPNs for multiple devices and connections, to find VPNs that offer multiple simultaneous connections on a variety of devices.
🇺🇸 Why isn't Hotstar free in the US?
In short, content distribution and copyright laws are the main reason. With a strong VPN you can bypass geoblocking and watch all of the free content available in India, by logging on to a server in that region.
Keep in mind, you will still need a subscription for premium content. Hotstar's US plans are actually quite affordable, so it's worth getting the premium subscription if you love shows and movies from India.
Bottom Line
If you're traveling or live in an area that can't access Hotstar, you still need a way to catch up on all your favorite Indian shows and movies. A VPN is the easiest and safest way to get the access you need.
The right VPN helps you unlock geoblocked and censored content from around the world safely and anonymously, while protecting your online activity and data from hackers and cyber attackers.
I recommend ExpressVPN to access Hotstar content. It offers the fastest speeds available with advanced security features to protect you while online.
Before you settle in for your Hotstar marathon, check out our collection of the best deals currently available for these top VPNs.
Do you want to find out more about VPNs for streaming content? Read our article on how to bypass VPN blocks.
To learn how to access other streaming content from India, check out the best VPNs for India.
To summarise, the best VPNs for watching Hotstar are…