How to Watch Indian TV Series Online From Anywhere in 2023
Many Indian streaming platforms like Voot and SonyLIV are geo-restricted to India due to licensing agreements. You have to be either virtually or physically located there to get access to your account. There's an easy solution to make yourself seem like you're located in another country.
A VPN changes your virtual location to one of your choice, allowing you to access local shows. Still, not many VPNs work well to unblock Indian TV platforms. That's why I did extensive testing to find out which ones are up to the task.
ExpressVPN is the best VPN for unblocking Indian TV shows. Its virtual Indian servers unblock streaming platforms reliably, and its super-fast speeds suit HD streaming. Also, it comes with a 30-day money-back guarantee, which lets you try out ExpressVPN risk-free. If you're not satisfied, you can get a full refund.
Quick Guide: How to Watch Indian TV From Anywhere in 3 Easy Steps
Download a VPN. I suggest you try ExpressVPN. It has virtual Indian servers that are more than fast enough for HD streaming without buffering.
Connect to a virtual Indian server. The server will connect you with streaming services using its Indian IP address, allowing you to access Indian TV shows.
Why You Need a VPN to Watch Indian TV
You can't watch all Indian TV shows if you're not in India. Platforms like Voot and Disney+ Hotstar are geo-restricted to comply with their licensing agreements. That way, they control who can watch their content.
Indian TV streaming platforms monitor your IP address to ensure you're viewing from India. If you try to watch Indian TV from the US, you'll get an error message like this one from SonyLiv.
"Sorry, our services are not available in this country. But we'll be waiting for you with all your favorites back home. See you soon."
VPNs let you change your virtual location by giving you an IP address from the country of your choice. For example, if you're in the US temporarily and connect to a VPN server for India, it will look like you're browsing from there. Once you connect to a server, you get an Indian IP, which enables you to access your Indian TV accounts while traveling.
Additionally, VPNs also mask your online activity. For instance, some ISPs can slow down your internet connection, which can diminish the streaming quality. With a VPN, however, your ISP can't see your online activity, and they can't throttle your connection.
Watch Indian TV With ExpressVPN
Best VPNs to Watch Indian TV From Anywhere in 2023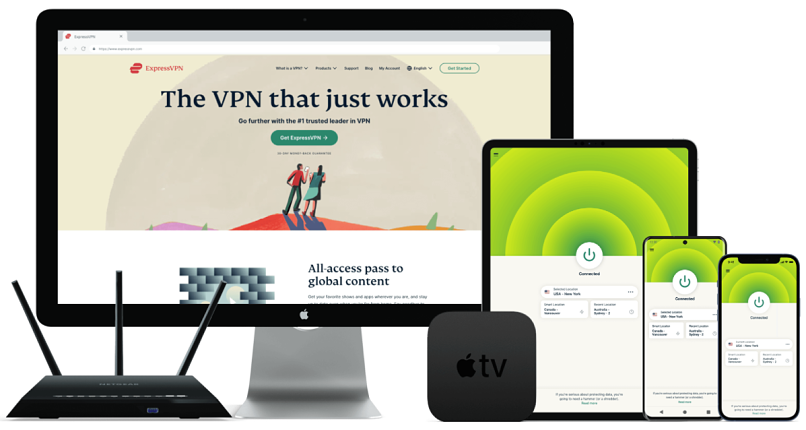 Editor's Choice
Editor's Choice

Tested January 2023
Try Risk-Free for 30 Days
Available on:
Chrome
Router
Smart TV
More
www.ExpressVPN.com
Lightning-fast speeds for bufferless streaming
3,000 servers, with several virtual Indian servers
5 simultaneous device connections
Can unblock: Disney+ Hotstar, Netflix IN, Voot, MX Player, SonyLIV, and more
Compatible with: Windows, macOS, iOS, Android, Linux, Apple TV, and more
My tests proved that ExpressVPN is consistently fast, so you can stream all your favorite Indian TV content without interruptions or buffering. I live in a busy metro area, and my speed without a VPN is about 49.84 Mbps. With ExpressVPN's virtual Indian server (via the UK), I only experienced a 7% drop in speed. When I watched London Files on Voot, the picture quality was excellent, and the stream played uninterrupted.
Another advantage of ExpressVPN is that it has 2 virtual Indian server locations that reliably give you access to platforms like Voot. "Virtual" means ExpressVPN doesn't physically host the servers in India, but the servers have Indian IP addresses. During my tests, I accessed my Voot, Hotstar, and SonyLIV accounts on my first try. ExpressVPN updates its IPs continually, so streaming platforms can't detect and block them easily.
Its apps are very intuitive. Even if you're new to VPNs, you'll get it up and running in less than 5 minutes. Finding and connecting to a server is simple — just type "India" in the search bar and double-click on your preferred server location to connect. There's an option to save your most-used servers in a Favorites tab, so you can quickly access them each time. I saved both of its Indian IP servers, and it took just 2 seconds to connect to them.
ExpressVPN's drawback is that its pricing is slightly on the expensive side. Its lowest price for a long-term plan is $6.67/month. Still, it makes up for the price with its reliability and excellent streaming features. With the current offer, I got a 49% discount and a few free months with my annual subscription.
ExpressVPN has a 30-day money-back guarantee, allowing you to try it risk-free. If you're not satisfied, you can get a full refund within those 30 days. Its guarantee is legitimate, and the refund process is straightforward. All I had to do was contact its support team via the 24/7 live chat. After a few brief questions, the representative authorized my refund, and I received it in 5 days.
Watch Indian TV With ExpressVPN
Dedicated virtual servers for accessing Disney+ Hotstar and Netflix IN
7 simultaneous device connections
Intuitive app suitable for VPN beginners
Can unblock: Disney+ Hotstar, Netflix IN, Voot, MX Player, and more
Compatible with: Windows, macOS, iOS, Android, Linux, routers, Apple TV, and more
One of CyberGhost's strongest points are its streaming-optimized servers for Disney+ Hotstar and Netflix IN. When I tested them, they unblocked the platforms easily and let me watch movies like Chhichhore and RRR. These special streaming servers are designed to give you faster speeds for good-quality streaming. Additionally, they're regularly monitored to make sure they allow you access to your Hotstar and Netflix IN accounts.
CyberGhost was fast during testing and allowed me to perform bandwidth-intensive activities like streaming Indian TV shows without buffering. It gave me a download speed of 45.35 Mbps, from a base speed of 49.84 Mbps, which is only a 9% drop. With results like these, you can enjoy smooth HD streaming, which only requires 5 Mbps. My speeds were well above that, so there were no interruptions while watching shows on Hotstar.
If you're not very tech-savvy, like my dear parents, then CyberGhost is the VPN for you. It's effortless to use. Its streaming servers are organized in a separate "For streaming" tab, so you can easily find them. Once you select a server, you can double-click on it to connect. Similar to ExpressVPN, to find its regular Indian IP servers, you can type "India" in the server list. Additionally, it shows your distance to each location next to the servers so you can select one that's closer to you for faster speeds.
However, this VPN can prove pricey if you only go for the monthly plan. Plus, you get a shorter 14-day money-back guarantee with it. Its long-term plans are more affordable, starting at $2.19/month, and they come with a longer money-back guarantee.
The refund period for these plans is 45 days, which offers you a good amount of time to give CyberGhost a try risk-free. When I tested the refund process, it was fast and pleasant. While chatting with the support representative, they only asked why I wanted to cancel my subscription. After that, they quickly approved my request. The process took only a few minutes, and I received my money back in 6 days.
Watch Indian TV With CyberGhost
10 simultaneous device connections
Impressive speeds for uninterrupted streaming
29,650 servers in 84 countries, with 1 virtual Indian location
Can unblock: Disney+ Hotstar, Netflix IN, Voot, MX Player, and more
Compatible with: macOS, Windows, Linux, Android, iOS, Roku, gaming consoles, and more
PIA allows 10 device connections, which offers a great value if you're living in a large household. To test this, I connected my computer and 2 phones simultaneously and accessed different Indian platforms on each device. There was no change in performance compared to using only one device. The connection was stable throughout and the speeds were consistent.
During my tests, PIA's virtual Indian server unblocked streaming sites easily and let me stream without buffering. I had no trouble watching shows like Campus Diaries on MX Player. It clocked in at 46.63 Mbps over an internet connection with a base speed of 41.97 Mbps. That's only a 10% speed drop. This speed is more than enough to watch HD Indian TV shows.
One thing about PIA is that you may find it challenging to use if you're a VPN beginner since there are many customization options. However, the app comes pre-configured, so you don't have to change the settings to make it work for streaming Indian TV.
PIA offers monthly and yearly plans. If you're looking for bigger savings, you can get a long-term plan for just $2.19/month. Also, I took advantage of the current discount of 83% when I purchased my subscription.
It offers a 30-day money-back guarantee, which allows you to test it out risk-free with Indian TV platforms. As with the other VPNs on my list, I used the 24/7 live chat to request a refund. The process was effortless. The rep asked a few short questions, and after confirmation, I received my refund in 7 days.
How to Watch Indian TV on Your Device
Desktops and Smartphones
You can watch Indian TV on almost all desktops and smartphones. These include Windows and macOS computers and iOS and Android phones.
Note that you should set your store's region to India to download an Indian TV app from the App Store or the Play Store. So, if you're traveling abroad, I suggest you download your preferred app before leaving the country. That way, you won't have to go through changing your store's region and can use your VPN's Indian servers to access your Indian TV accounts.
Download a good VPN. I suggest you try ExpressVPN because it's fast and delivers an excellent streaming experience. To download the VPN app on your computer, you can do so by visiting the VPN's website. If you want to download the VPN app on your phone, you need to do it from your respective store.
Connect to a server for India. Open your VPN app and search for "India" to find the virtual Indian servers. After selecting a server, click on the on/off button to connect.
Sign in to your streaming platform account. Navigate to a streaming website like Jio Cinema or Jadoo TV on your computer, or sign in through their app on your smartphone.
Enjoy top-notch Indian TV shows anywhere.
Streaming Devices and Smart TVs
You can access Indian TV platforms across different devices, such as Apple TV, Amazon Fire Stick, and Roku. Most streaming devices and smart TVs don't support native VPN apps, so you have to install the VPN on your router first. After installing the VPN on your router, all devices on that network will connect via the VPN.
Pick a VPN that unblocks Indian TV platforms. I recommend ExpressVPN for the task because it comes with a router app that makes it much easier to navigate.
Download the router firmware. You can find ExpressVPN's router firmware on its website. Select your router from the dropdown menu, and click "Download Firmware".
Connect your router to the internet. Turn on your router and connect it to the internet.
Install the router firmware. Follow the instructions for your specific router and once you're done reboot the router.
Connect your device to your router. Once connected, open ExpressVPN's router app and select one of its Indian IP servers to get access to Indian TV platforms.
Start watching your favorite shows on any device connected to your router.
FAQs on Watching Indian TV With a VPN
Which Indian TV apps are available on Fire Stick, Roku, Apple TV, Android, or a smart TV?
There are various Indian TV apps available on these devices. For example, you can get SonyLIV, ZEE5, YuppTV, and Hotstar on Fire Stick, Apple TV, Roku, and Android devices. Jio TV is available on Android phones and Apple TV, whereas MX Player — on Android devices, including Android TVs.
However, Indian TV streaming platforms are geo-restricted because of licensing agreements. To control whether you can watch their content, they check your IP address. So, if you're traveling abroad, you need a VPN to access your Indian TV accounts on any device. The VPN gives you an Indian IP address, making it look like you're back home in India.
There's also Indian content that you can find on Kodi if you're using it instead of streaming platforms. However, if you're a new user, it might be overwhelming and not so easy to use at first. It's a media player and has different features and options than regular streaming platforms. The good thing about it is that you can install it on most of the above-mentioned devices.
How can I watch Indian TV shows for free?
You can watch shows on some Indian TV platforms, like Voot, for free. However, note that Voot's free version plays a lot of ads. To watch it ad-free, you need to upgrade to a paid plan.
Still, you can't access Voot if you're traveling outside India because it is geo-restricted. It can see where you're accessing it from by looking at your IP address and decides whether to grant you access or not. You need an Indian IP address to log in to your account. However, there's an easy solution. You can get an Indian IP address and watch your favorite free shows on Voot with a VPN.
Can I watch Indian TV in the US?
You can watch Indian TV shows in the US on Netflix IN, Amazon Prime Video IN, YouTube, Star Plus, Hotstar, MX Player, and more. However, due to broadcasting restrictions, these streaming platforms block users outside India from accessing their content. When they see your US IP address, they won't let you watch content because it's geo-restricted to India. However, a reliable VPN gives you an Indian IP address while masking your US one and lets you bypass the geoblocks.
You can find some Indian content on Sling TV if you're from the US. For example, you can get SonyLIV as it's available for Sling users.
Where can I watch Indian TV online?
Indian TV platforms like Disney+ Hotstar, Voot, Eros Now, Jadoo TV, YuppTV, Colors TV, ALTBalaji, ZEE5, and Jio TV have websites. However, you can only access most of these sites if you're in India. They check your IP to see where you're logging on from. If you take a trip abroad, you can still access your favorite Indian TV online sites with a VPN. It gives you an Indian IP, which makes you appear as if you're there. That way, you can watch your favorite Indian content as you normally would back home.
Why can't I unblock Indian TV channels with my VPN?
You may need to try a another service if your VPN doesn't unblock Indian TV channels. Before you do, however, there are a few things you can try:
Make sure you've installed the latest version of your VPN app in case there were any updates.
Check whether you've connected to an Indian VPN server.
Try clearing your browser's cache and cookies because they usually store your location.
Connect to a different server for India if more are available.
Restarting your VPN app.
If you're still having issues, contact your VPN's customer support.
Can I watch Indian TV shows with a free VPN?
It's doubtful — most of the free VPNs I tested aren't reliable for streaming Indian TV shows. The streaming platforms easily blacklist free VPNs' IPs since they don't have the resources to update them regularly. It's better to use a premium VPN with a money-back guarantee instead.
Free VPNs have limited server networks and some don't offer Indian servers. Even if you find one that comes with Indian servers, they're usually overcrowded since your server choice is no more than just a few. This leads to slower speeds and hence an unenjoyable streaming experience. They also usually come with strict data limits, which allow you to watch Indian TV for just a couple of hours per month.
Also, free VPNs might make money by bombarding you with ads and selling your data. They may also infect your computer with malware since they sometimes have viruses in their installers.
Is it legal to watch Indian TV with a VPN?
Yes, but it's complicated since it depends on the country you're based in. Highly censored countries like China and Russia restrict VPN use to some extent. For example, only government-approved VPNs are permitted in China. However, there haven't been any cases of tourists being fined for using any VPN there. The country goes after the VPNs rather than the users. That's why most VPNs don't work there and their websites aren't even accessible in China.
ExpressVPN is one of the rare ones that reliably work in China and has a mirror website that you can access while you're there.
Start Watching Indian TV Now
Indian TV platforms and streaming sites are geo-restricted due to licensing agreements. Even if you have an Indian TV streaming account, you can't log into it when traveling outside of India. Fortunately, you can get make yourself appear as if you're back home with the help of a VPN.
I suggest using ExpressVPN since it impressed me the most during testing. It's super-fast and has 2 virtual servers for accessing streaming content in India. Also, it's backed by a 30-day money-back guarantee, so you can try it risk-free. If you're not satisfied, you can get a full refund.
To summarize, the best VPNs for watching Indian TV are…
Privacy Alert!
Your data is exposed to the websites you visit!
The information above can be used to track you, target you for ads, and monitor what you do online.
VPNs can help you hide this information from websites so that you are protected at all times. We recommend ExpressVPN — the #1 VPN out of over 350 providers we've tested. It has military-grade encryption and privacy features that will ensure your digital security, plus — it's currently offering 49% off.