3 Ways to Watch the IAAF World Championships 2018 Online
The IAAF World Championships are exciting to watch, but it's hard to do so if you don't have a VPN. We show you three ways to watch the championships this summer (and one of them is FREE). Share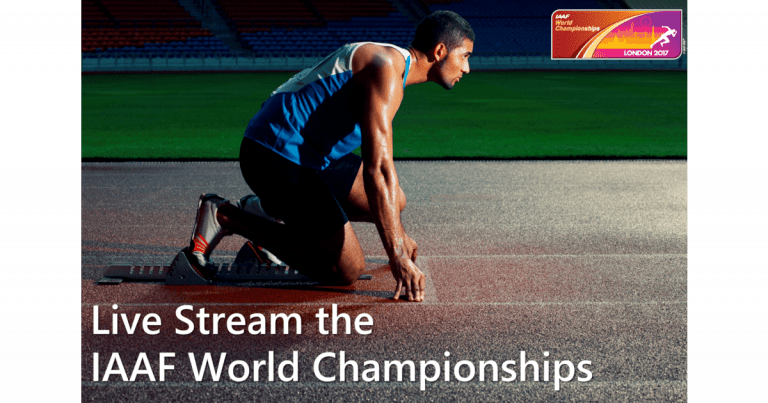 The way to make the most out of the IAFF championships is to watch it live. However, as you may know, it's not that simple to just find a good service and enjoy it without any complications. 
Geographical restrictions are the main culprit – if you are residing outside of a particular website's available countries, geoblocks may prevent you from accessing it effortlessly.
No need to give up so easily, though; after thoroughly researching the variety of options, I have come up with three different solutions that will ensure you don't miss a single moment and get to watch IAAF World Championships 2017 live, from start to finish and no matter where you are.
Each of them involves a separate approach, so keep reading to find out the best service for you, as well as my personal recommendation!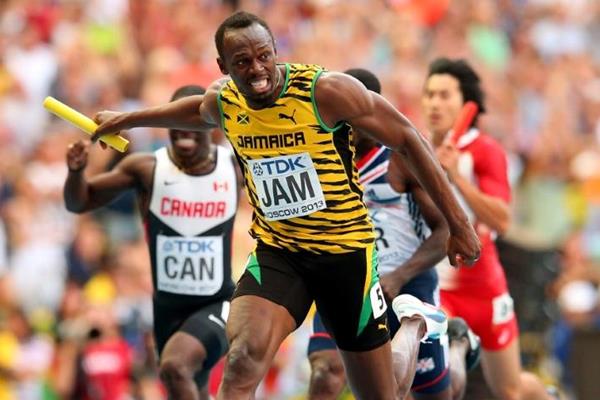 Usain Bolt at the IAAF World Championships in Moscow 2013. Source: iaaf.org
A Good VPN Is the Key
Before we get started, there is one thing you should know: in order to use any of these methods to their fullest advantage, you have to have a reliable VPN service at your disposal. 
If you are just now making your first steps in using a VPN, or you feel like you need some more information on how it works, don't hesitate to take a look at our beginner's guide.
A VPN will let you access geoblocked premium streaming services. Its ability to provide you with an IP address in a multitude of locations across the globe in a fast and safe manner allows you to take advantage of great streaming platforms that will make your IAAF World Championships an unforgettable experience as it unfolds.
These are the most recommended VPNs for watching IAFF.
Method #1: Eurosport Player
Eurosport takes their coverage of IAAF World Championships to the next level and offers a full livestream of the event.
Naturally, it's not free, but the quality and the fact you won't miss a single competition is more than worth it. This, combined with the very affordable subscription fee makes Eurosport a great option for watching the IAAF World Championships online.
Eurosport is available in 70 countries, so chances are you won't need a VPN. However, the vast majority of those are located in Europe, and if you reside or are abroad in the USA, Canada, or Australia, for example, you will need a good VPN service in order to access the website and subscribe. Here is a step-by-step guide:
Launch your VPN of choice and get an IP address that works with the Eurosport Player

(if your country isn't supported)

Navigate to the Eurosport Player website and click on Live Events (1), then select the month of August (2) and click on the World Athletics Championships window (3):
Next, you will be asked to subscribe to the service. Click on the red button:
Choose a monthly subscription and fill out your details. You can unsubscribe at any time. And that's it!
The Eurosport Player is a solid pick for watching the upcoming IAAF World Championships – it's affordable and long-term involvement isn't a factor, as mentioned. In addition, there is a variety of payment options, with support Visa, MasterCard, and American Express credit cards, as well as PayPal.
While a VPN may not be necessary in certain cases, it can still be beneficial for you even if you don't need it for accessibility purposes. 
Method #2: BBC iPlayer
The British Broadcasting Channel is known for its extensive, live coverage of notable sports events, as well as the excellent production value it comes with.
As such, there is no doubt that watching this competition on the iPlayer will be an amazing experience, but actually getting it to work outside of the UK is the main issue. If you try to watch anything via the BBC iPlayer, and you happen to be beyond the United Kingdom's borders, you will be greeted by the following message: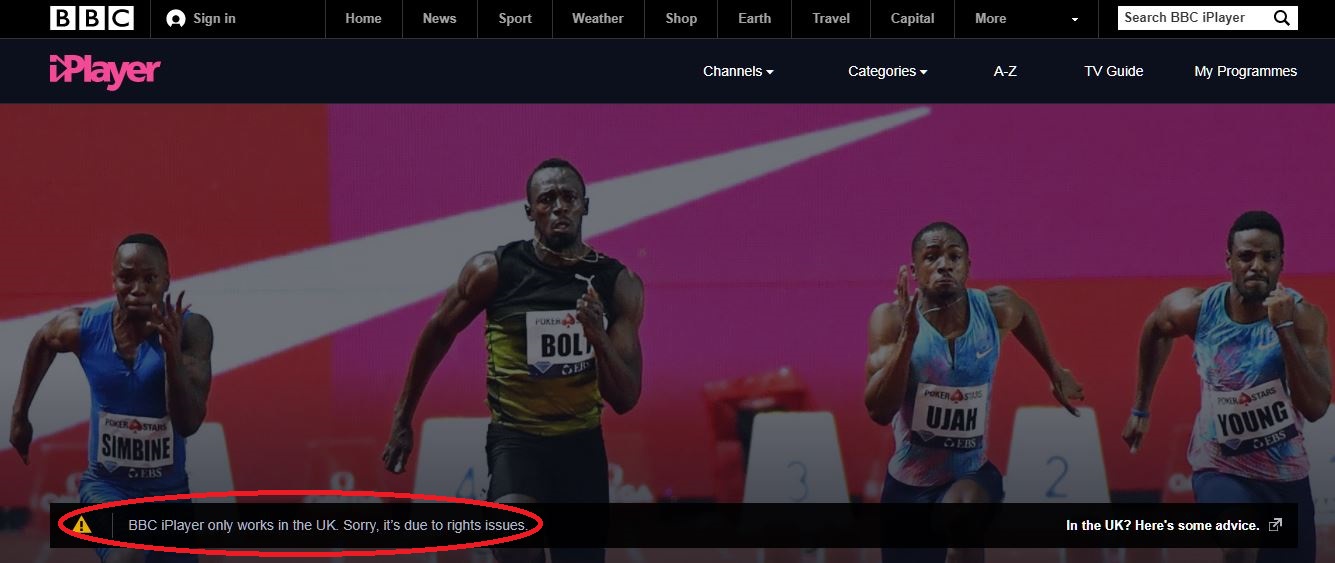 In order to circumvent this, you will need a good VPN. Really. BBC has gone to great lengths to block a huge number of IP addresses that are commonly used by a variety of VPN services. In order to make sure you have the right tool for the job, check out the VPN recommended list above for our BBC-compatible VPNs of choice.
After gaining access to the iPlayer, it's as simple as starting the stream. This BBC service is free and logging in is currently optional – however, it should be noted that the iPlayer is intended for UK residents only, and using it requires you to have paid for a TV License.
Of course, you can't do that if you don't live in the UK, and you can simply say you have a TV License when asked since that's about as far as it goes. I recommend you do it the right way, though – find a friend with a TV License in the UK and use his account with a VPN instead.
We believe in unhindered access to the things you enjoy on the Internet, but also in doing it by the books. What's more, BBC can always run a cross-reference check to see whether you have a TV License or not, so it's best to be on the safe side.
Method #3: I-Player.net
I-Player.net is a streaming service affiliated with FilmOn. It brings several geoblocked BBC channels, such as BBC One and Two, which also happen to be the main sources of coverage for the IAAF World Championships. AVPN is a must if you're in the United States or Australia – I-Player.net is restricted there.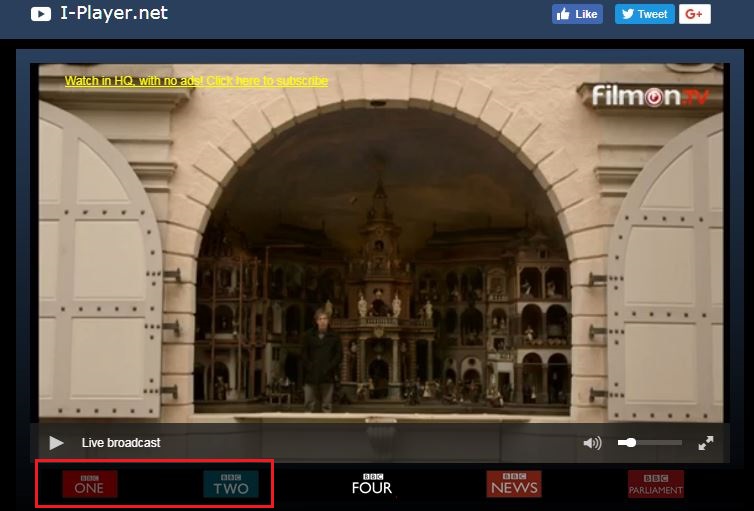 You may ask, "what is the difference between this option and the previous one?" On one hand, it's absolutely free. There is the possibility of upgrading, which gives you an HQ, ad-free stream.
It's also the easiest to set up – the player shows itself as soon as you enter the website. On the other hand, well, you have to deal with what I just mentioned – the quality isn't the best unless you subscribe to the service, and you are definitely going to need an ad blocker or you will have to endure interruptions every other minute.
There is also the combination of FilmOn's somewhat controversial reputation and its legal issues throughout the years. In addition to all that, if you do decide to upgrade, you will be paying quite the monthly fee, as the package includes not just the BBC channels, but over 500 others as well.
In short, if you want an immaculate experience and you are only interested in IAAF World Championships coverage, you should probably look into other options.
The Choice Is Yours
In the end, it's up to you which method you will pick. Each one of them comes with its benefits and drawbacks, but one stands out and it is the Eurosport Player.
With the right VPN, it can be accessed in a breeze and if you care about saving some money, you can do that as well by choosing the cheapest location.
It doesn't have an exorbitant price and it doesn't expect you to meet specific criteria, either. And let's not forget the matter of reputation – Eurosport is one of the most solid platforms for sports events worldwide.
If you want the perfect balance between quality, reliability, and ease of access, then this is the option to go for. With the right VPN, catching the upcoming IAAF World Championships live is guaranteed, wherever you may be.