How to Watch YouTube Without Ads — 6 Easy Ways in 2023
YouTube ads can be pretty annoying and ruin a streaming experience with advertisers promoting their products. The number of YouTube ads has increased, and they're available in 7 different formats (like non-skippable in-video ads, bumper ads, and banners). Showing ads is YouTube's primary way of making revenue out of free users, so it most likely won't go away anytime soon.
The internet is full of information on watching YouTube without ads, but these methods quickly become obsolete because the platform steps up its game. So I did my own tests to find effective ways of stopping YouTube ads on my PC and phone. Some solutions might not block all YouTube ads but can still let you watch videos without so many interruptions. One of the best ways to watch YouTube ad-free is to install an ad-blocking extension or app, and a VPN.
If you decide to use a VPN, my top recommendation is CyberGhost. It has a built-in ad blocker to stop bothersome ads from popping up, and robust privacy features to prevent sites from keeping tabs on you. You can test CyberGhost for free since it's backed by a 45-day money-back guarantee.
Quick Guide: How to Watch YouTube Without Ads in 3 Easy Steps
Download ad-blocking software. Pick an extension or app proven to work. I also recommend using a VPN like CyberGhost. It's consistent in blocking ads and provides extra tools to avoid tracking by third-party advertisers.
Activate the ad blocker. If you're using a VPN, some don't have ad blockers on by default. Check if the feature is up and running before connecting to a server.
Start watching YouTube. Enjoy streaming YouTube videos without ads.
Why You Need a VPN to Watch YouTube Without Ads
YouTube often targets you with ads based on your browsing activity. Google (YouTube's parent company) deploys tracking cookies to monitor your behavior on the internet and learn your interests. Your IP address is crucial and can significantly affect how YouTube shows you ads.
A VPN hides your online identity by masking your IP address and DNS requests. This way, the YouTube algorithm doesn't know which ads to serve because there's no data tied to your actual IP address.
Quite a few top VPNs have built-in ad and tracker blockers to stop pesky ads by third parties. There are many types of YouTube ads, such as banners, the masthead, in-feed, skippable, and out-stream ads. Using a VPN with an additional ad-blocking extension or app can eliminate them effectively.
Watch Ad-Free YouTube With a VPN Now
How to Watch YouTube Without Ads — 6 Tried-And-Tested Methods
1. Install an Ad-Blocking Extension on Your Browser
Choosing an ad-blocking extension depends on the browser you use to watch videos. Ad blockers can automatically detect and stop ads on any sites you visit, like YouTube. However, some websites develop ad blocker detection software and might block access to users who have them switched on. If this happens to you, most ad blockers are customizable, so you can set permission for specific sites.
My team and I successfully tested several browser extensions for blocking YouTube ads. Just keep in mind they don't protect your IP address and can still collect browsing data to sell to advertisers. That's why it's critical to use a secure VPN on the side. My top recommendation for a VPN is CyberGhost because of its built-in ad/tracker/malware blocker and robust encryption to protect you from snoops.
How to watch YouTube Without Ads Using an Ad-Blocking Web Browser Extension
Go to the Chrome, Firefox, or Microsoft Edge extension store and search for "ad blocker" or "ad remover." Some ad blockers are also compatible with mobile phone browsers like Opera Mini.
If you don't have any service in mind and just want to test what's available, choose a blocker with many downloads, reviews, and good ratings.
Install the extension on your browser. For example, click "add to Chrome" to integrate the extension into the Chrome browser.
Access YouTube using the browser with your new extension. Most of them (like AdBlock) configure the settings automatically, so you don't have to tweak them yourself.
Say goodbye to annoying ads and enjoy watching ad-free YouTube videos.
Top Ad-Blocking Extensions for Browsers
Many sites use special software to counter ad blockers, and you may be surprised that the extension or app you've installed still can't prevent YouTube ads. That's why it's best to go for a reliable blocker. Some ad-blocking services with a good reputation include:
AdBlock — A popular extension with over 60 million users that can stop YouTube banners, annotations, and pre-roll ads. Besides Chrome, it's also compatible with Firefox, Safari, and Edge browsers. Plus, it allows you to whitelist pages that prevent access with ad blockers.
Adblock Plus (ABP) — Among the best free ad blockers for YouTube that can also keep away third-party trackers and malware.
AdGuard — Available as a browser extension that blocks video ads, trackers, and spyware. It can also warn against malicious sites.
AdBlocker Ultimate — A free ad blocker for YouTube and other sites that blocks trackers and malware as well. It's supported by community donations.
Stands Fair AdBlocker — A light extension to make browsing faster. It blocks many kinds of ads, including autoplay video ads.
AdLock — Effective at blocking YouTube and social media sites ads (such as video ads, banners, and pop-ups). It also works great with iOS devices.
Total AdBlock — This extension can block YouTube's skippable and banner ads, although the free version works for a limited time before you start getting prompts to subscribe. It's available for free to any TotalAV user with the Ad Block Pro addon.
uBlock Origin — Works with multiple extensions, including less popular ones like Chromium and Pale Moon. Besides ads, it stops web trackers too.
Adblock for YouTube — An extension custom-made for YouTube to block different kinds of ads displayed on the platform.
Ghostery — Free and compatible with most browsers, including Opera.
Poper Blocker — Chrome extension that removes pop-ups, pop-unders, and overlays.
2. Use a VPN to Block Ads
VPNs are primarily designed for online safety and privacy from snoops. However, some VPNs come with built-in ad blockers that can stop YouTube ads. They also mask sensitive data, like IP address and browsing activity, so advertisers can't track you. For example, CyberGhost offers ad-blocking features that prevent pop-ups on YouTube. It also has a malware and tracker blocker.
To get the best results with blocking YouTube ads, it's a good idea to combine a VPN with an ad-blocking extension or app. This way, you have a double layer of protection from ads and eliminate the danger of being tracked through your IP address.
Note: VPNs with ad blockers may not block all YouTube ads, like intro videos. But most of them can block other types of ads such as banners, overlay ads (in-video advertisements), and bumper ads.
3. Watch YouTube With Ad-Blocking Apps
You can install third-party software directly on your smartphone, computer, or Smart TV to watch YouTube without ads.
Watch YouTube Without Ads on Your Computer
To prevent ads on your computer, get only software from a trusted vendor. AdGuard, for example, is secure and supports Windows, macOS, Android, iOS, and Linux. Simply download a file from the website and install it on your PC to filter the video ads and banners on YouTube. AdBlocker Ultimate and AdLock also have applications for computers and phones (besides supporting extensions like Safari). There's also AdFender running on Windows.
When I installed AdBlocker Ultimate on my Windows PC, it removed YouTube ads effectively. This app stops pop-ups, video ads, and sponsored content. Plus, it neutralizes trackers and blocks harmful domains. Still, it's important to use ad-blocking software on your computer along with a VPN. This way, your IP address is hidden, and YouTube can't collect data to send targeted ads in the future.
Watch YouTube Without Ads on Your Smartphone and Tablet
There are multiple ad-blocking apps for mobile phone devices (Android and iOS). Adblock Plus, AdGuard, and AdBlocker Ultimate all have apps that can be directly installed on Android devices, iPhones, and iPads. Other alternatives are AdBlock and AdLock. You can also get 1Blocker for your iPhone and iPad from the App Store. Plus, Firefox Focus is an open-source mobile browser from Mozilla, available for smartphones and tablets.
YouTube Vanced allowed Android users to watch an ad-free version of YouTube for some time, but Google shut it down. SkyTube is a similar app that still works on smartphones. It allows users to personalize their YouTube experience by blacklisting channels and filtering videos according to language preferences.
If you download an ad blocker apk file for your Android, make sure it comes from a trusted source. Also, remember that jailbreaking and sideloading apps can be risky — there are many sketchy app stores that can expose your phone to malware.
Watch YouTube Without Ads on Your Smart TV
It's also possible to watch YouTube without ads on Smart TVs and media streaming devices like Amazon Fire Stick and Android TV. You simply need to install a third-party app that can block ads such as NewPipe or SmartTube Next. These apps are more or less the same as popular but discontinued YouTube Vanced, and let you watch YouTube on a big screen ad-free. NewPipe is good for devices that can't use Google-owned mobile services, like Huawei phones.
Blokada is also an app you can sideload on an Android TV. If it's not possible to download an apk file on your Smart TV, get it on your computer or phone. Then, use a flash drive to move it and install the app.
4. Block YouTube Ads on Mobile Devices via DNS Server
If you have Raspberry Pi, there's good news — Pi-Hole blocks ads too. You can connect other devices in your network to use Pi-Hole's custom DNS, which is designed to block ads. Simply configure the DHCP settings in your router with the Pi-Hole DNS server address so that devices connected to this WiFi may use it as the default server.
Software like AdGuard offers DNS for content blocking and preventing ads, trackers, and malicious websites. AdGuard DNS is a freemium service — you can test its limited functionality for free or subscribe to a paid plan.
The DNS server method of blocking ads can be less reliable against some YouTube ads. YouTube is now opting to show videos directly on the platform using the original URL, making it hard to filter between the content and a third-party ad. A VPN with an ad blocker should be used together with the DNS filtering option for more effective results.
5. Get YouTube Premium
Subscribing to YouTube Premium is the most hassle-free way of enjoying ad-free YouTube. The paid membership lets you access YouTube exclusives and millions of worldwide content, also on YouTube Music. It's a win-win scenario because YouTube and its content creators also profit from their work. Plus, a family plan allows you to share 1 account with multiple users.
However, Google can still track your activity even after upgrading to YouTube Premium. So you still need to be cautious about your online privacy. Using a VPN is a safe option to avoid marketers tracking your online activity.
Watch YouTube Safely With CyberGhost
6. Use a YouTube Downloader App or Website
You can also "rip" YouTube clips and watch them offline without ads. There are ripping apps, software, and sites available, like 4K Video Downloader and Tube Ripper. The file is kept in local storage, allowing you to watch it anytime. It's also possible to download videos automatically from your subscribed channels.
Important: It's against YouTube's terms of service to rip or download videos without permission. We at vpnMentor do not condone any unlawful activities. YouTube Premium allows you to download videos on your device and watch them offline legally. Using third-party sites or apps is also risky since you're exposed to online dangers, including data theft, malware, and hacks.
Best VPNs to Watch YouTube Without Ads — Full Analysis (Updated in 2023)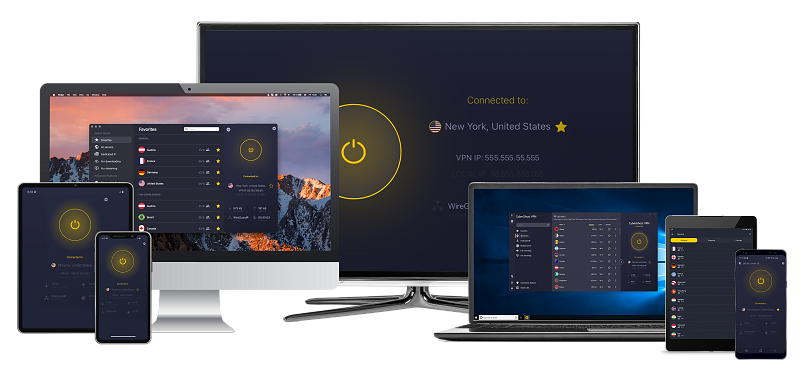 Editor's Choice
Editor's Choice

Tested January 2023
Try Risk-Free for 30 Days
Available on:
Chrome
Router
Smart TV
More
www.cyberghostvpn.com
A built-in ad blocker to remove banner and overlay ads while browsing and streaming
7 device connections to easily watch ad-free videos on your mobile devices
Super-fast connection speed to watch YouTube buffer-free
Compatible with: Windows, Android, Mac, iOS, Linux, Android TV, Amazon Firestick, Roku, routers, and more
CyberGhost has a Content Blocker to stop ads. You must first activate this feature in the privacy settings and use it with the WireGuard protocol. During CyberGhost testing, the VPN successfully blocked pop-up ads on multiple sites like Yahoo News. The blocker also stops malware and trackers that reveal your browsing activity to advertisers.
Privacy Guard prevents Microsoft from collecting data in the background without your knowledge. This extra feature is available for Windows users and comes with 1-year subscriptions or longer. It also disables personalized ads on the Microsoft Edge browser so you can peacefully surf the internet.
AES 256-bit encryption scrambles your private data to protect you from snoops. CyberGhost also has a kill switch to prevent data exposure if the VPN connection accidentally drops (which didn't happen during my testing). Your private information, like your actual location, remains hidden because of the IP/DNS leak protection feature. There's a no-logs policy too, meaning the VPN doesn't collect or share your browsing activity with anyone.
Server connections are fast, allowing you to watch YouTube buffer-free. It's also very straightforward to install CyberGhost on any device because of the user-friendly app design.
I was disappointed to see the monthly plans are a bit pricey (and only have a 14-day money-back guarantee). However, long-term plans, like a 2-year option, are much more affordable. You can subscribe to CyberGhost for as low as $2.19/month. They also come with an extended refund period.
If you're not fully satisfied with the service, getting a refund is hassle-free thanks to a 45-day money-back guarantee. I contacted customer support via 24/7 live chat, and my PayPal wallet was reimbursed after just 2 days.
Ad and tracking blocker to prevent third-party tracking across the web
Fast speeds for streaming YouTube videos without buffering
10 simultaneous connections to watch YouTube on many devices
Compatible with: Windows, Android, Mac, iOS, Linux, Android TV, Amazon Firestick, Roku, routers, and more
PIA's MACE feature blocks IP trackers used by advertisers to collect your data and display personalized ads. It's effective at blocking ads (like the ones on YouTube) because it works at the DNS level. MACE also stops malware deployed by malicious sites from installing on your device. You can activate this feature in the app's settings.
Like CyberGhost, PIA provides solid security for online browsing using AES 256-bit encryption. There's also a kill switch and leak protection to hide your identity from marketers. While testing PIA, sensitive information like IP/DNS/WebRTC requests didn't leak. The VPN doesn't store your private data either, thanks to a zero-logs policy.
One drawback is many customization settings that can confuse new VPN users. However, all the apps come with preconfigured settings — you can use PIA straight away without tweaking anything yourself. If you ever get stuck, contacting customer support through 24/7 live chat is effortless.
The VPN's plans start at $2.19/month. I highly recommend the 3-year subscription because it lets you save big.
Besides, you can try PIA's ad blocker for free with its 30-day money-back guarantee. If you change your mind, getting a refund is effortless. I sent an email via the support page, and my credit card was refunded within 4 days.
Malware and ad/tracker blocking features to keep away malicious snoops
10 connections to watch YouTube ad-free on your favorite devices
Good server coverage to stream worldwide YouTube content anywhere
Compatible with: Windows, Android, Mac, iOS, Linux, Android TV, Amazon Firestick, routers, and more
ProtonVPN's custom settings let you block malware, ads, and trackers all at once. You can also choose only to block malware. Plus, the NetShield ad blocker feature filters ads in the background as you browse the internet. Like PIA, ProtonVPN's ad filtering happens at the DNS level, so it's more effective at blocking ads. Tests on ProtonVPN showed it could stop pop-up and banner ads effectively.
The top safety features of the VPN include AES 256-bit encryption and a kill switch. Leak protection prevents sites from obtaining your identifiable information. Plus, your data isn't collected because of a strict no-logs policy.
A minor con of this service is that it doesn't provide 24/7 live chat support. However, it's convenient to reach reps via email. Quick solutions to most issues you might run into are also published on the online Support Center.
You can get ProtonVPN for just $4.99/month. Long-term plans offer better value for money. I chose the 2-year option, which is the most budget-friendly.
This VPN has a 30-day money-back guarantee. I easily got the value of my unused time (pro-rated) back after filling out the support form on the website. It took 5 days for the money to appear in my bank account.
FAQs on Watching YouTube Without Ads
Why does YouTube have so many ads?
YouTube uses ads to make money out of non-paying users. The more ads they can slot in, the more money they make. It's annoying, but still, there are ways you can watch YouTube without ads. Or, at least, you can reduce the frequency of banner and clip ads placed on YouTube videos.
Many advertisers use YouTube — it's a platform of global reach with billions of users every month. Because of the competition (like Twitch and TikTok), YouTube displays even more commercials to boost its ad revenue. Monetizing YouTube channels is also a good incentive for content creators as the platform doesn't produce its own content.
Does a VPN block YouTube ads?
Yes, some VPNs can block YouTube ads — although only a handful work with YouTube reliably. Get a premium VPN with ad-blocking features to stop YouTube's ad-serving algorithm. You can combine it with an ad-blocking browser extension or an app for much better results.
Besides blocking ads, premium VPNs protect your online activity and let you bypass geoblocks to access the content you need. You can also use a VPN to pick better prices for some products and services, like console games or airline tickets.
How can I stop YouTube from tracking my activity?
You can prevent YouTube from tracking your online activity by using a VPN. Premium VPNs block trackers and hide your IP address, so YouTube can't compile data on you. All you have to do is connect to a server, and the VPN immediately kicks in to block trackers. With some VPNs, however, you must manually activate the ad/tracker blocking feature in the settings beforehand. It's also a good idea to use incognito mode together with a VPN.
There are several other things you can do to minimize YouTube tracking:
Erase your playlists, search history, and watch history.
Stop liking videos.
Unsubscribe from the channels you follow.
Turn off location history and ad personalization.
Do content creators still get paid if I block ads?
YouTubers are only paid when the ads are viewed. Their rate often depends on how many times people click on ads. To support content creators, you can use a blocker that allows ads on your favorite YouTube channels (like AdBlock). Another solution is subscribing to a premium plan.
Luckily, YouTubers have more sources or revenue as well — such as branded merchandise and affiliate programs. Other monetization options include Super Chat, Super Stickers, YouTube Premium royalties, and channel memberships.
Does ExpressVPN block YouTube ads?
No, it doesn't block ads, but that doesn't mean you shouldn't use it. ExpressVPN is highly effective at securing your online connection with advanced encryption. You can use it in conjunction with an ad blocker extension (or app) to watch YouTube videos ad-free AND remain safe online.
Can I block YouTube ads for free?
Yes, you can block YouTube ads using a free ad-blocking extension or app. However, you must be extra cautious since most free software collects crucial data, like your browsing activity, and may sell it to advertisers. Some may even install malware on your device. It's better to use a reliable VPN ad blocker with a money-back guarantee and ad-blocking features. This way, your IP address remains hidden, and third-party trackers can't follow your device.
Block YouTube Ads With CyberGhost Today
Start Watching YouTube Without Ads Now
Nowadays, YouTube can counter most methods to block ads on the platform. A VPN may give you an ad-free YouTube experience, either as a stand-alone app or when used jointly with other ad-blocking software. It also prevents tracking your online activity by third parties that use your data for marketing, like Google.
I highly recommend CyberGhost for blocking ads on YouTube. It comes with a reliable blocker for stopping ads and trackers. The VPN also uses AES 256-bit encryption and IPv6/DNS leak protection to secure your private data. You can test CyberGhost for free as it's backed by a 45-day money-back guarantee.
To summarize, the best VPNs for watching YouTube without ads are…
Privacy Alert!
Your data is exposed to the websites you visit!
The information above can be used to track you, target you for ads, and monitor what you do online.
VPNs can help you hide this information from websites so that you are protected at all times. We recommend ExpressVPN — the #1 VPN out of over 350 providers we've tested. It has military-grade encryption and privacy features that will ensure your digital security, plus — it's currently offering 49% off.