NordVPN vs Private Internet Access – Which is Best in 2020?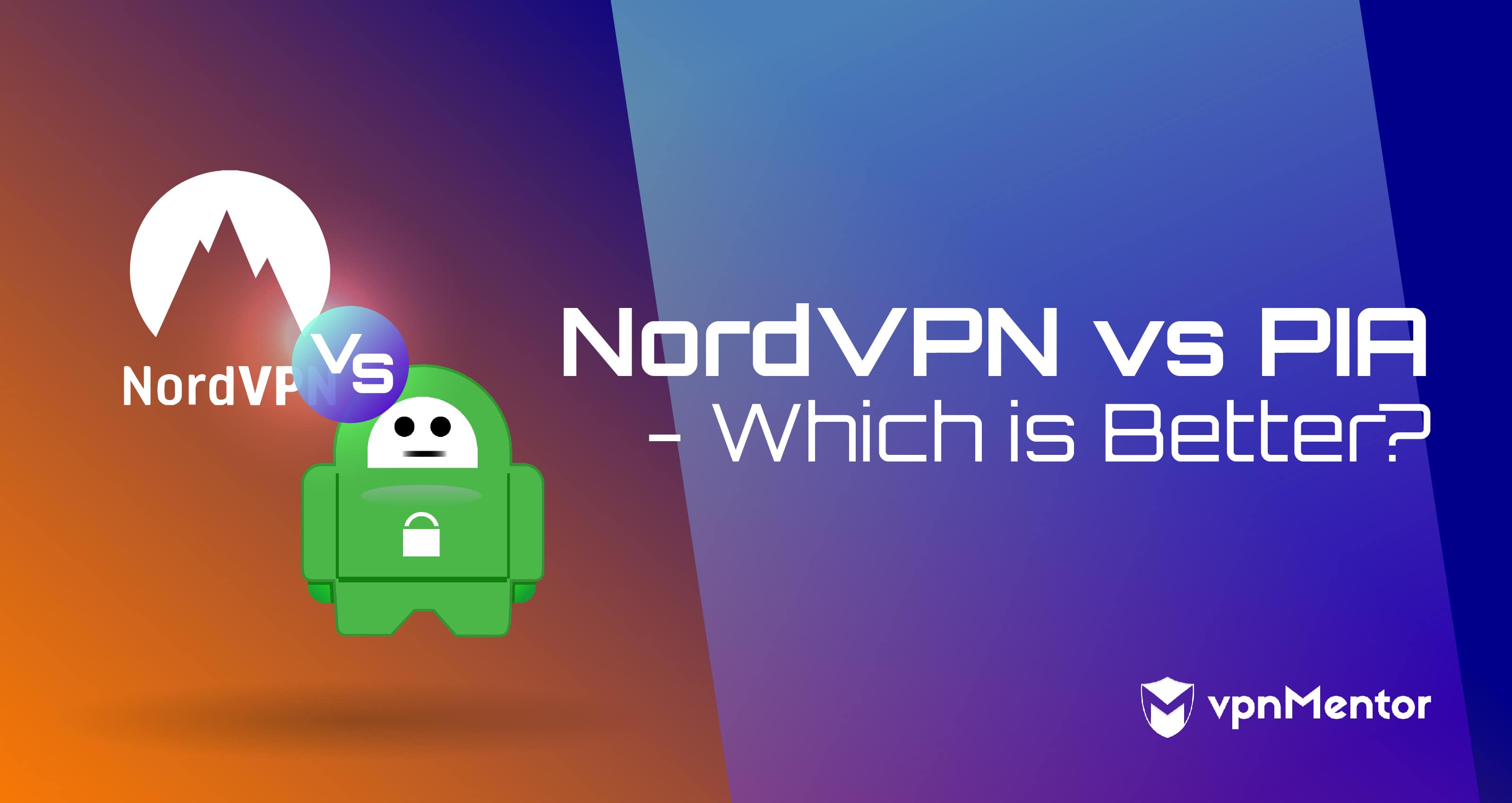 NordVPN and Private Internet Access (PIA) are two of the biggest names on the VPN scene. Which one should you trust to keep you safe online?
If you've already checked our best overall VPN rankings, you know why NordVPNis considered one of the best providers on the market. But with plenty of value for its budget-category price, Private Internet Accessmakes a strong case as well.
There's only one way to find the better service for your money –  an in-depth comparison. In this article, you'll see how PIA stacks up against NordVPN in several crucial tests that will determine our final winner.
That said, we simply can't cover all the fine details of each service in one comparison. To find out everything you need to know, take a look at our NordVPN review and Private Internet Access review, where our experts put these two VPNs under the microscope.
NordVPN vs Private Internet Access – The Categories
We based our comparison between NordVPN and PIA around eight important VPN aspects.
First off, we'll see how the two VPNs fare in the streaming and torrenting categories. Don't miss these if you're interested in the BitTorrent protocol or bypassing geographical restrictions.
Next, PIA's affordable pricing will be tested against NordVPN's value for money in the cost category. We'll also check out app interfaces in an effort to find the winner for ease of use.
Platform support is important, so we'll also review each VPN's overall compatibility. If you're wondering just how fast NordVPN and PIA are, we also have a speed comparison – complete with speed tests for servers around the world.
Finally, we'll take a look at server networks, privacy, and security. NordVPN and PIA each have their strengths here, so these categories should be interesting.
Now that the terms are set, it's time to find which VPN does a better job in our tests. Let's begin!
1. Streaming
On the surface, both VPNs look promising for streaming your favorite content. NordVPN has the edge with its massive server network, but PIA isn't far behind with a respectable roster of its own.
Things are different once you run some tests, however. NordVPN proves the better pick for Netflix fans – it works effortlessly with catalogs in the US, UK, Canada, France, Japan, and Brazil.
Meanwhile, PIA struggled with many regional Netflix versions. While we were able to watch the US, UK, Canadian, and Australian versions, access was far from reliable. We also had issues with other popular streams – PIA couldn't help us with Hulu, BBC iPlayer, and Amazon Prime Video.
NordVPN accessed content on the platforms above without a hassle. Between the great choice of servers and the proprietary SmartPlay DNS feature, this provider is well-equipped for consistent streaming. Still, no VPN is perfect – like PIA, NordVPN failed to get past the DAZN blocks.
2. Torrenting
Fans of the BitTorrent protocol will be pleased to hear that both VPNs in this comparison allow P2P connections on their servers. NordVPN is a little more open about its support, but PIA works just as well.
That said, NordVPN has some quality-of-life torrenting features which can't be found in PIA. Namely, there's a separate P2P tab, where you can choose between 4,400+ suitable servers.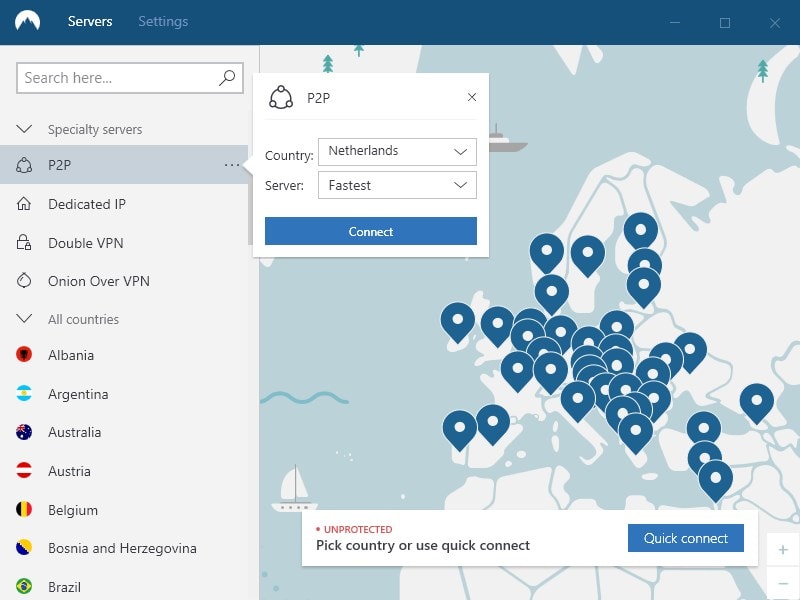 PIA is a little more spartan, which is a double-edged sword. The good news is that you can connect to any server for secure torrenting. The bad news is that PIA actually has P2P-optimized servers – and it silently reroutes your connection to one of them if P2P traffic is detected.
If you haven't done any research, you won't know which servers are best for torrents. The resulting double-hopping is likely to make your connection slower, so it's best to just pick the right server from the start – we had the best results on the Switzerland and Netherlands servers.
It gets even more confusing when you add the port forwarding feature to the mix. It's great that PIA offers it (NordVPN doesn't), but – again – it's only available on a handful of servers in Canada, Switzerland, Sweden, France, Germany, Romania, Israel, and the Netherlands. PIA doesn't indicate this too well in the app, and learning more about it requires another trip to the forums.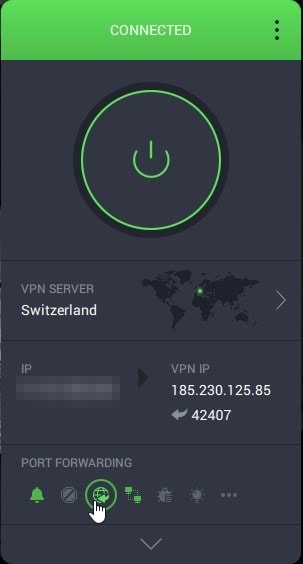 One feature you'll find in both VPNs is support for SOCKS5 proxies. These proxies rely on extra authentication instead of encryption, and usually provide better speeds.
Lastly, as a US-based service, PIA has a strict DMCA (Digital Millennium Copyright Act) policy. Not the best thing for avid torrenting fans.

Since NordVPN is registered in Panama, it isn't as vulnerable to DMCA notices and may be the better choice if you're worried about copyright trolls.
3. Cost
Both NordVPN and PIA offer the full list of servers and features across all plans. You'll be getting the same package whether you subscribe for a month or a year.
The pricing strategy is clear – the longer you go, the better the discount. If you're looking to pay on a month-by-month basis, PIA is 20% cheaper than NordVPN.
The percentage difference is reduced on the one- and two-year plans, but NordVPN remains slightly more expensive compared to PIA. 
That said, NordVPN offers one more plan, and it's the ultimate bargain. You can save 70% on your three-year NordVPN subscription – just use our exclusive coupon code!
Surprisingly (or not), this huge discount makes NordVPN cheaper than PIA in the long run. A huge accomplishment, considering PIA is already one of the best picks for users on a budget.
4. Ease of Use
What good is a VPN if the apps give you a hard time? NordVPN and PIA understand this, which is why they have stable, stylish, and intuitive interfaces.
NordVPN keeps things simple with a sharp design and one-click protection via the quick connect button. The full server list is also present on the main menu for easier access to specific locations.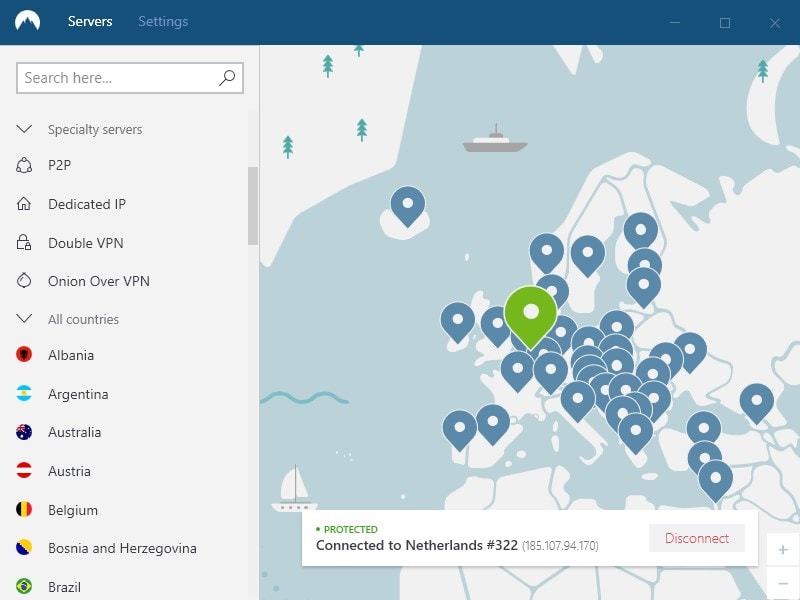 The Settings tab is easy to get to. A decently long, but organized list provides everything you can tinker with. Most settings are security-related – not a surprise, given this VPN's focus on protection.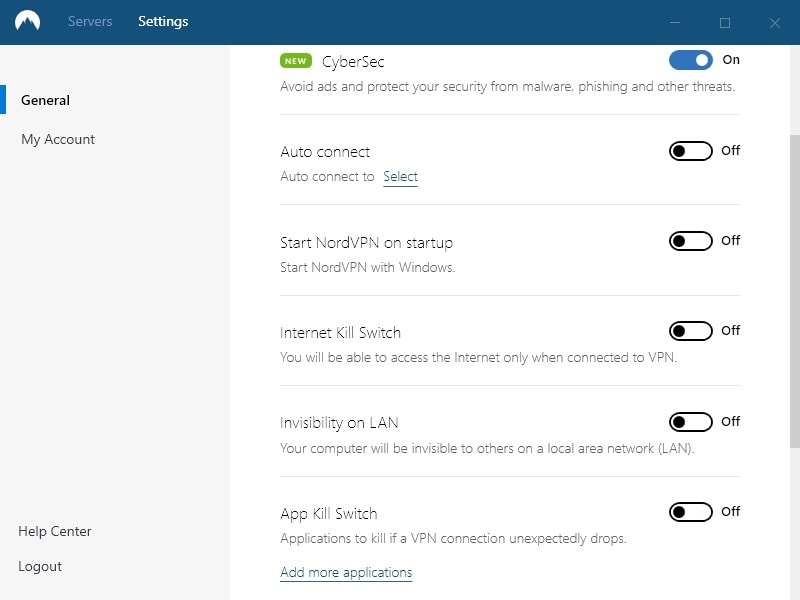 PIA looks much more compact at first glance, with a mobile-like design even on desktop. You can't move the app around, but you can customize it by adding quick settings, recent servers, and info on data usage and performance.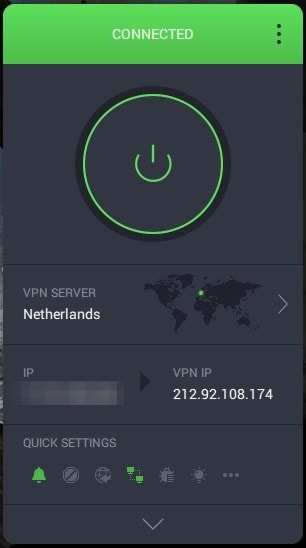 Compared to NordVPN, PIA also goes a different route with settings. They're divided into six tabs, but the overall number of features is roughly the same.
Personally, we love how this VPN looks with the Dark theme enabled – it's a shame NordVPN doesn't offer a similar appearance.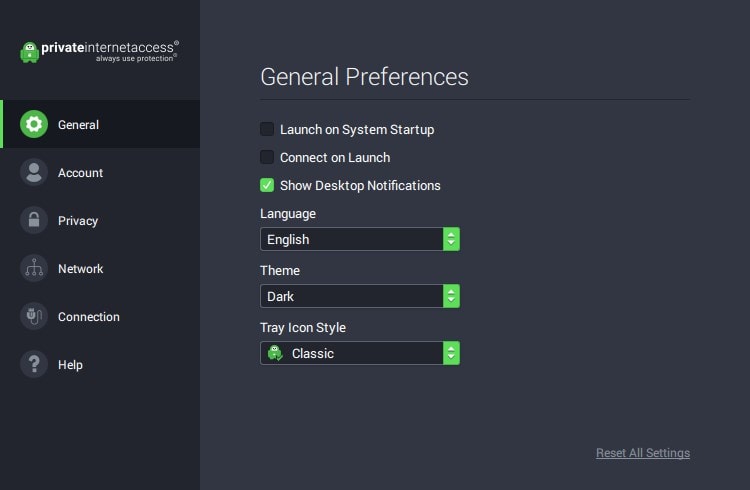 PIA also gives you a little more freedom when it comes to connection settings (more on that later).
If you want to run a custom VPN setup via the OpenVPN interface, both NordVPN and PIA give easy access to configuration files.
5. Compatibility
As two of the best commercial VPNs on the market, NordVPN and PIA work smoothly on a variety of platforms. You'll find dedicated apps for all major operating systems, as well as support for many other devices.
Let's see if a deeper look will show us some big differences.
Windows
Windows is the OS of choice for many users. Both VPNs are impressive here, and it's no surprise.
NordVPN app support starts from Windows 7 – same as PIA. NordVPN offers a little more flexibility with manual setups for XP and Vista.
Mac
To use the NordVPN app on your Mac, you'll need at least version 10.10 (Sierra). PIA requires version 10.11 (El Capitan) and higher. Again, NordVPN is more flexible – but only slightly.
Android
Both VPNs work with a variety of newer and older Android versions. The apps can be installed on your Android TV. PIA support starts from Android 4.1.
If you want to skip the Google Play Store, you can download the app's APK directly from the NordVPN or PIA website.
iOS
Both NordVPN and PIA have native apps for your iPhone or iPad. You'll need at least iOS 9 for either VPN to work.
Linux
NordVPN has rather limited Linux support compared to PIA. Both work on Debian distros, but PIA is also compatible with Ubuntu (16.04+), Mint (18+), and Arch.
Routers
Both VPNs work with a wide array of router firmware – DD-WRT, Tomato, and pfSense. NordVPN has a slight advantage, thanks to support for additional firmware.
If you're looking to set up a VPN router by yourself, you'll benefit from plenty of well-written tutorials and extra resources with both services.
Lastly, pre-configured routers are available for both NordVPN and PIA via third-party vendors.
Other Platforms
NordVPN works on the following additional platforms:
Browser extensions (Chrome, Firefox, Opera, Safari, Internet Explorer)

BlackBerry

Kodi

Media and gaming consoles (via router)

Smart TVs (via router)
PIA supports the following additional platforms:
Browser extensions (Chrome, Firefox, Opera)
6. Speed
Connection quality can either make or break a VPN. You want a high-speed VPN to offset the slowdown caused by encryption.
But it's not just about big numbers. Even more important is consistency – ideally, your VPN should be fast and stable at the same time.
To find if NordVPN and PIA fit the criteria, we tested 10 of their server locations around the world. Our tests were conducted from Eastern Europe – here are the benchmark speeds (VPN off):

Below, you can see how NordVPN and PIA performed in each of our 10 tests.
Server
Download speed (MB/s)
Upload speed (MB/s)
NordVPN
PIA
NordVPN
PIA

Auto (closest)

70.05
70.63
32.61
35.03

Romania

55.90
70.12
34.15
33.62

Germany

63.95
65.62
34.53
36.43

United Kingdom

53.72
46.93
24.44
27.58

Portugal

33.93
N/A
30.00
N/A

Israel

34.52
39.43
11.62
21.18

United States (New York)

54.35
35.25
27.61
30.12

United States (Los Angeles)

51.12
34.56
7.77
17.09

Japan

28.09
21.81
2.02
2.41

Australia

24.56
4.56
1.97
1.01
NOTE: PIA doesn't have servers in Portugal so we couldn't test its speeds there.
Compared to our benchmark speeds, both VPNs post some impressive results in most locations. NordVPN and PIA are exceptionally fast in Europe and don't disappoint even when connecting to servers overseas.
The only exception is PIA's Australia server, where the 90% decrease in download and upload resulted in some annoying lag and buffering issues. NordVPN delivers much better speeds in this location, even though our tests were made from the other side of the globe.
NordVPN takes a convincing lead on US servers as well. Great news for those who are looking to watch US Netflix or American TV on the highest possible video settings.
As for consistency, we didn't experience any speed drops or disconnections during our tests. That said, we avoided crowded servers to prevent this exact scenario from happening – a task achieved more easily with NordVPN, thanks to its excellent server variety.
7. Servers and Network
When talking VPNs, bigger networks give you a better chance of avoiding overcrowded servers. This almost always leads to better speeds and stability, as well as more reliable access to your favorite content online.
NordVPN is one of the best when it comes to server parks.

The 5,100+ number is massive and covers several specialty types in addition to standard VPN servers. You also get P2P, double encryption, Onion-over-VPN, and extra obfuscation. If you need a dedicated IP, you can also get this optional NordVPN extra, which unlocks 70 additional servers.
Compared to that, PIA offers "only" 3,300+ servers in 32 countries.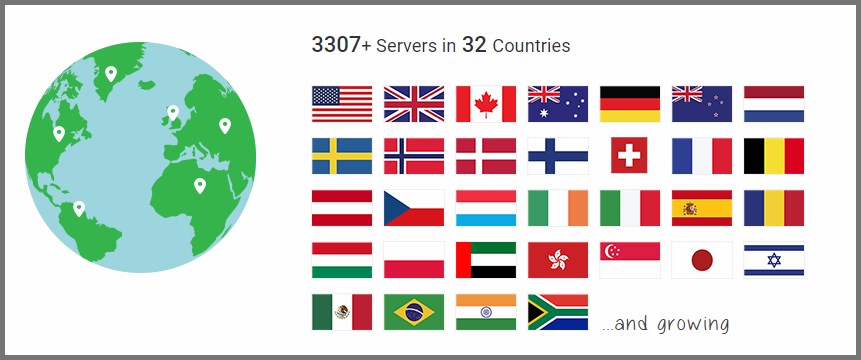 These numbers would be impressive in any other comparison, but not in this one. NordVPN also spreads its servers in almost twice as many countries. With a much stronger presence in Southeast Asia, South America, and the Middle East, this VPN has the advantage in location variety.
8. Privacy and Security
At first glance, there aren't any glaring privacy and security risks with NordVPN or PIA. Between the strong encryption, zero data logging, and numerous features to keep you safe, these VPNs perform their primary duty – protection – very well.
Let's see if this holds true after a more thorough look.
Logging Policy
NordVPN operates out of Panama – a country far away from data retention laws and 5/9/14-Eyes surveillance. It's common for VPN services to register their business in safe havens such as Panama because this allows them to work under a strict no-logging policy – as NordVPN does.
PIA is another champion for privacy with a clean record. This may come as a surprise, given that it's a US-based VPN provider (and as such, within easy reach of government surveillance). Normally, it would raise some eyebrows – but PIA hasn't given us any reason to doubt them, unlike some other US-based VPN services.
In fact, PIA has already proven it doesn't keep any sensitive user data on two separate occasions, in 2016 and 2018. Both of them were related to FBI investigations, and both times PIA managed to defend its zero-logs claim. In other words, the "private" in Private Internet Access isn't just a marketing gimmick.
Bottom line – both VPNs earn a deserved point here.
Encryption and Protocols
NordVPN comes with industry standard AES-256 encryption. This is military-grade encryption and is currently considered uncrackable. The supported protocols are OpenVPN and IKEv2/IPSec – two of the best ones to have – thanks to their great balance of security and performance.
Perfect Forward Secrecy is also guaranteed, thanks to dynamic 2048-bit DH (Diffie Hellmann) keys.
NordVPN works with the OpenVPN protocol on Windows, Mac, and Android. The iOS app runs IKEv2/IPSec, with the option of manual OpenVPN setup.
PIA offers the same robust AES-256 encryption with 2048-bit DH keys, but the app also lets you switch to AES-128. 128-bit encryption provides lesser, but still acceptable security levels, and usually helps speed up your connection.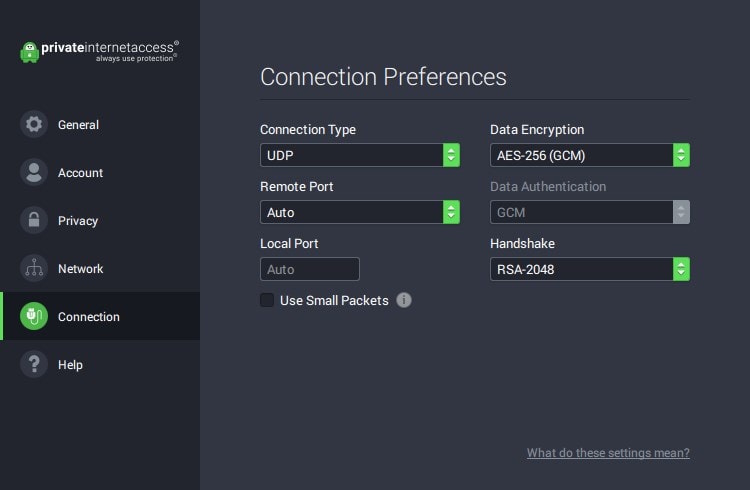 OpenVPN is the default protocol for PIA's Windows, Mac, and Android apps, with IPSec on iOS. Like NordVPN, PIA can also be manually configured with OpenVPN on your iPhone or iPad.
Security Features
NordVPN and PIA take security very seriously, which is why you'll find plenty of useful features with a lot of depth to them.
There are a lot of similarities. For example, NordVPN's CyberSec suite is almost identical to PIA's MACE feature – both act as ad blockers and anti-malware tools.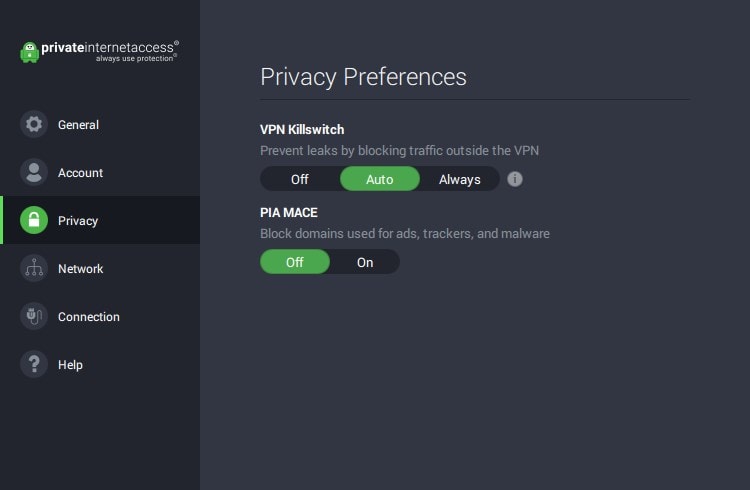 Both VPNs go the extra mile with their DNS leak protection, too. You can enter your own DNS address, or use the ones provided by NordVPN/PIA.
The essential kill switch is also found in both providers' apps. NordVPN has two of them – one for your connection and another for specific apps on your device. PIA doesn't offer an app kill switch, but its own feature comes with two modes – Auto (which blocks outside traffic while the VPN is on) and Always (which prevents any traffic from leaking while the VPN is off).
If you often need extra stealth for bypassing heavy internet censorship, NordVPN shines with its 460+ Obfuscated servers. But we aren't talking just about servers here – this is actually an elaborate feature that transforms your VPN app in just one click.
When running NordVPN in Obfuscated mode, you only have access to the special Obfuscated servers. They have plenty of uses – such as getting past the Great Firewall of China.
PIA also provides a degree of obfuscation by allowing you to switch to port 443 on OpenVPN TCP. This can help you bypass OpenVPN blocks in several countries, but it isn't enough for China. PIA currently struggles with providing reliable access in this country, but some users have reported success with a manual L2TP configuration.
9. Final Verdict
NordVPN comes out ahead in seven out of eight categories, but make no mistake – PIA is a capable VPN in itself.
Sure, it suffers from inconsistent speeds on some servers, and offers a smaller server network compared to NordVPN. But PIA is still a user-friendly and all-around fast service, despite some minor issues.
If your top priority is private and secure browsing, you really can't go wrong with either VPN. But when streaming and torrenting enter the equation, NordVPN pulls ahead with top-shelf accessibility and a well-organized P2P profile with thousands of servers. The value for money is terrific with this VPN, which is why it takes the win over PIA in the end.