5 Best VPNs for Thailand – Safety, Streaming & Speeds in 2021
Updated on 22nd March 2021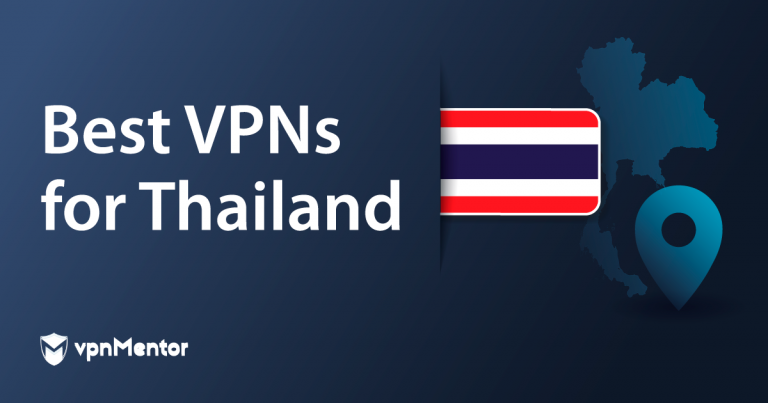 Government control of the internet has increased dramatically in Thailand since the country revised its Computer Crime Act (CCA). Over 100,000 websites have been blocked including nypost.com, dailymail.co.uk, Wikileaks, pornography sites, and websites offering censorship circumvention tools. Internet Service Providers (ISPs) are also collecting more data on users, and internet activity is closely monitored.
A VPN can change your IP address and encrypt your data so you can avoid government and ISP surveillance in Thailand. You'll be free to access censored and geoblocked content like discussion forums, news networks, and streaming services. To help you find one you can rely on, I've put together a list of the five very best VPNs for Thailand.
My top overall choice is NordVPN. It's simply the best all-rounder, offering an excellent blend of speed, security, special features, and customer support. My other four options have unique qualities though, and may be better suited to your particular needs.
Short on Time? Here Are the 5 Best VPNs for Thailand in 2021
NordVPN: Your top all-round option. This VPN provides fast connections, a good selection of servers, and plenty of security features.
ExpressVPN: Arguably the fastest VPN around. Provides you with excellent speeds, whatever you're doing online.
Surfshark VPN: Perfect for power users, Surfshark lets you protect an unlimited number of devices at one time.
CyberGhost: Instead of the standard 30 days, you get an extra-long 45 day money-back guarantee with this powerful VPN.
Private Internet Access: Gain access to an enormous range of secured servers, with over 35,550 different options to choose from.
The Best VPNs for Thailand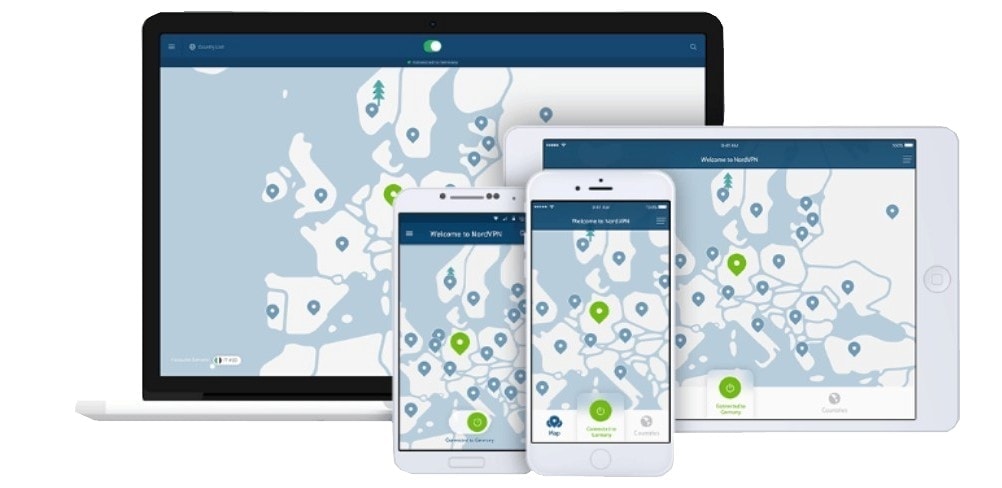 Over 5,460 servers in 60 countries
30-day money-back guarantee
Up to 6 device connections
Double VPN' encrypts your connection twice
Works with Netflix, Hulu, iPlayer, ESPN, and more
Compatible with Windows, Android, iOS, macOS, Ubuntu, Linux, Router, Chrome, Firefox.
Whether you're living in Thailand permanently, or just visiting for a short time, NordVPN should be your first port of call. It's simply the best all-round option for conducting your online activity anonymously and securely.
Online surveillance is a serious issue in Thailand, for citizens, expats, and tourists alike. NordVPN has a whole range of features to help you dodge this, and keep your internet activity private. At a basic level these include powerful 256-bit AES encryption and three different VPN protocols. There is also a Double VPN tool, which means your connection is actually encrypted twice over. Given that your actual IP address was changed by the first server, the second server has no information whatsoever about your location, making you essentially 'untrackable'.
NordVPN has been known to break some of the toughest geoblocks around, including China's. Whatever sites you're trying to access from Thailand therefore, you shouldn't have any issues. Accessing the likes of US Netflix and BBC iPlayer is easy. There are also several servers within Thailand itself, meaning that – if you're out of the country but need to access geo-dependant services – you'll be able to do so.
NordVPN's other calling card is its speeds. VPNs are supposed to slow down your connection, but this one can actually make it quicker. This is obviously great if torrenting is your thing, and there are 5,460 of ultra-fast P2P-optimised servers you can choose from. If that's not important to you, you can simply use the Quick Connect tool to immediately find the fastest server for your needs.
In short, NordVPN ticks every box, and does so in style. I'd highly recommend making use of the 30-day money-back guarantee and trying it out for yourself. You're unlikely to be disappointed.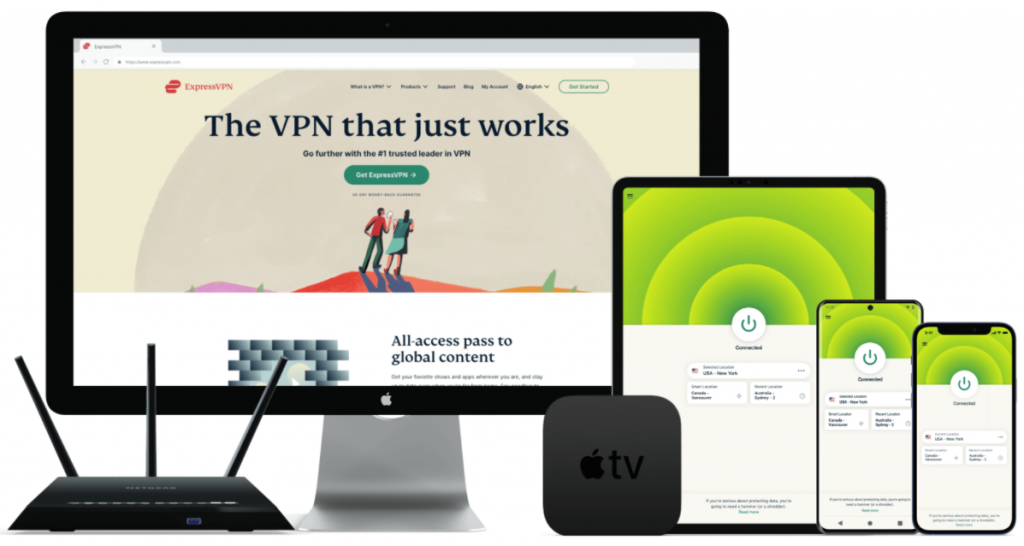 Over 3,000 servers in 90 countries
30-day money-back guarantee
Up to 5 device connections
Blazing-fast connection speeds
Thai language apps available
Access Amazon Prime Video, HBO, Disney+, Netflix, ESPN, and more
Apps for Windows, Android, iOS, macOS, Ubuntu, Linux, Router, Chrome, Edge, Firefox.
It doesn't matter what you're using the internet for in Thailand, whether it's streaming content, downloading P2P files, or simply browsing websites. You naturally want to do all these things as quickly as possible. And when it comes to sheer speed, ExpressVPN might be the fastest VPN around right now.
The lack of slowdown you get when using this VPN is seriously impressive. During our extensive testing, it hovered around 23% when picking our own server. This dropped to a mere 12% when using the Quick Connect feature, which automatically locates the fastest server for you at that moment. There are no download rate caps on any of the servers, and you can even use the Speed Test tool to check out a server before connecting to it.
With speeds like this on offer your streaming experiences will be extremely smooth, whatever services you're accessing from, or in, Thailand. ExpressVPN is handy at breaking geoblocks too, allowing you to access ESPN, Disney+, BBC iPlayer, Sky Go, and US Netflix without any issues.
There are also plenty of ways in which this VPN helps keep your online activity private. There's private DNS on every server, 256-bit encryption, and a network lock kill switch in case your connection drops. ExpressVPN also uses TrustedServer technology – meaning the data on every server is wiped whenever it's rebooted – and there is a strict no-logs policy in place.
Overall, ExpressVPN's most notable feature might be its flashy speeds, but there's plenty of substance to back that up. You can also try it out risk-free today, courtesy of a 30-day money-back guarantee.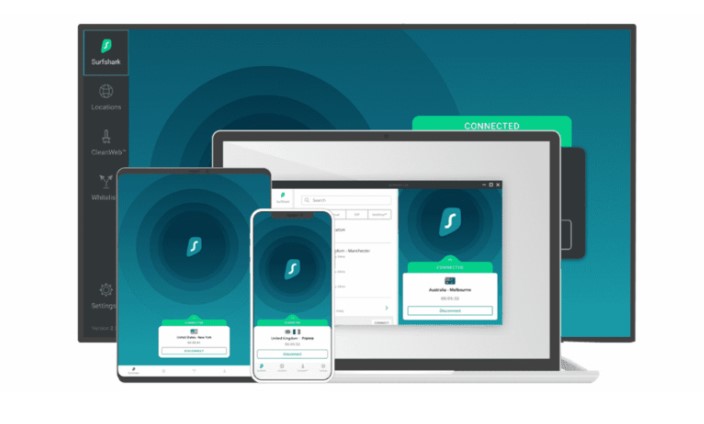 Over 3,200 servers in 65 countries
30-day money-back guarantee
Connect to multiple countries at once, with MultiHop
Use on an Unlimited number of devices
Access Hulu, iPlayer, and 15 different Netflix locations
Compatible with Windows, Android, iOS, macOS, Ubuntu, Linux, Router, Chrome, Edge, Firefox.
When you're in Thailand, it's not only your computer which can be being spied upon. The internet activity on your phone, tablet, games console, and all your other devices are also fair game to government officials, ISPs, and hackers. If you're staying with family or friends, the same is true for them. Surfshark can offer you all protection. With a single subscription to this service, you can hook all of your devices at once up to a VPN.
The protection Surfshark provides for those devices is enough to immediately put your mind at rest. For starters, you get Industry-leading 256-bit AES encryption. Private DNS and leak protection are offered on every single server, and you can even use MultiHop to connect to multiple countries at once. You're also given the choice between connecting via the faster OpenVPN protocol, or the safer IKEv2/IPsec. On top of all that, the CleanWeb feature gives you protection against trackers, malware, and phishing attempts.
Clearly security is a massive priority for Surfshark, but it offers you plenty of ways to have fun too. In fact, it's one of the best VPNs around for streaming. It can reliably bypass geoblocks for popular services like Netflix and Amazon Prime Video, and connection speeds are fast enough to stream content in high definition and without buffering. There's also a built-in Whitelister tool, which can be configured to disable the VPN when accessing non-geoblocked sites like YouTube. Better yet, all these features and more can be trialled courtesy of Surfshark's 30-day money-back guarantee.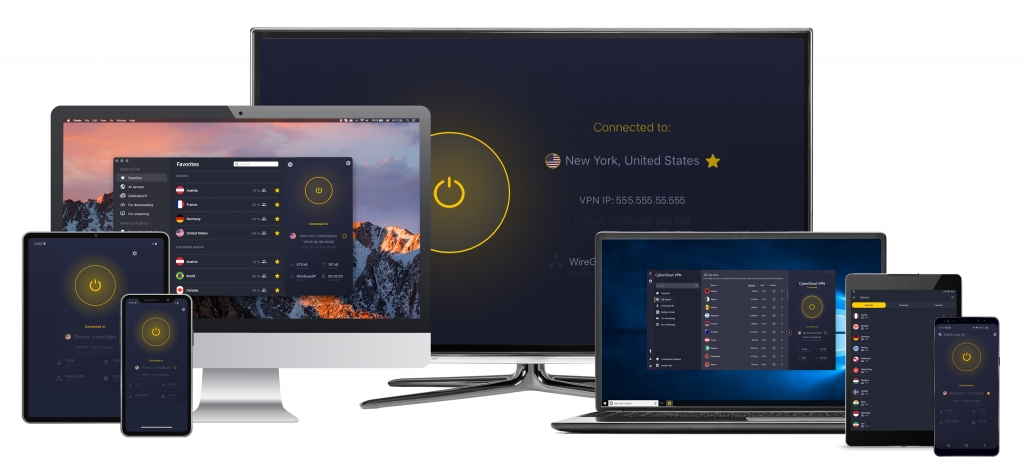 Over 6,800 servers in 90 countries
45-day money-back guarantee
Up to 7 device connections
Exceptionally user-friendly apps
Works with Amazon Prime Video, Netflix, iPlayer, HBO, Disney+, and more
Compatible with Windows, Android, iOS, macOS, Ubuntu, Linux, Router, Chrome, Firefox.
Very few VPNs are 'difficult' to use. When it comes to user friendliness though, CyberGhost really takes things to another level. This is arguably the most intuitive VPN around right now. Regardless of your experience level in this area, you'll be able to get up-and-running with CyberGhost in no time. That's true not only of the desktop version, but the apps for mobile devices, Smart TVs, and games consoles too. During our testing, we managed to complete the entire installation process on both Windows and Mac devices within four minutes.
CyberGhost might be a beginner-friendly VPN, but it still has enough features to satisfy the most security-conscious users. With just one click you can not only hide your IP, but also your connection with 256-bit AES encryption too. There are also four different protocols to choose from, each of which offers a different mix of speed and security.
While there are no options within Thailand itself, CyberGhost still has over 6,800 servers in place, spread across 90 different countries. This allows you to access a variety of geoblocked websites with ease, and many servers are specifically optimised for P2P downloads.
Finally, it's worth noting that CyberGhost offers an unusually long 45-day money-back guarantee. This gives you plenty of time to make your mind up after downloading and testing out the apps.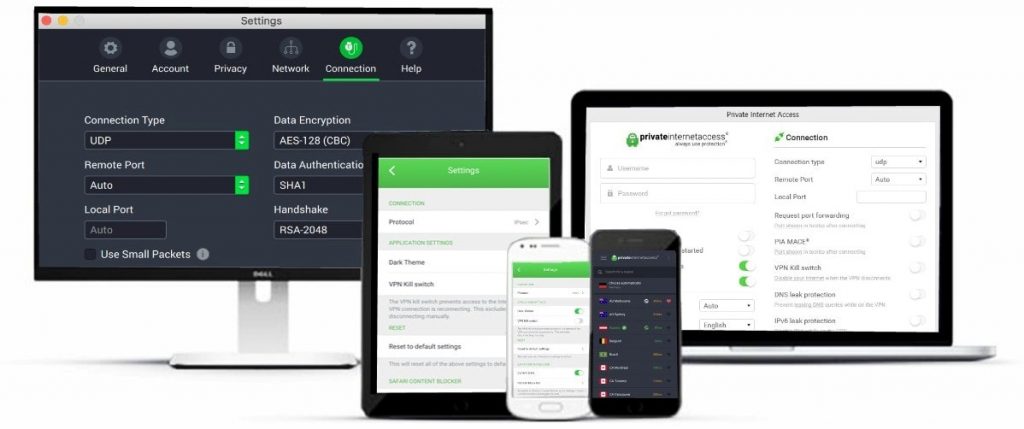 Over 35,550 servers in 77 countries
30-day money-back guarantee
Connect 10 different devices simultaneously
Thai language apps available
Works with Disney+, Amazon Prime Video, Netflix, Hulu, iPlayer, and more
Apps for Windows, Android, iOS, macOS, Ubuntu, Linux, Router, Chrome, Firefox.
When it comes to server selections, the rule is simple – the more, the better. The more servers a VPN has, the lower the chance of any individual server being slowed down by traffic.
Private Internet Access excels in this area. It has comfortably the most servers of all the VPNs on our list, with over 35,550 in place. While none of those servers are in Thailand itself, there are some in nearby countries such as Cambodia and Vietnam. Naturally there are also thousands of options in the USA and UK, allowing you to access the likes of US Netflix and iPlayer with ease.
Whether streaming content, downloading torrents, or doing anything else online, Private Internet Access also has plenty of ways to keep you safe from prying eyes. There's protection against both trackers and leaks, a kill switch, and IP cloaking. You can also choose between WireGuard, IPSec/L2TP, PPTP, and SOCKS5 protocols, or simply opt for the speedier OpenVPN if you prefer.
The only real downside here is inconsistent connection speeds. These are unlikely to actually trouble you when it comes to everyday streaming or browsing though, and you're free to test those connections for yourself courtesy of a 30-day money-back guarantee.
Get Private Internet Access Now!
Quick Guide:
How to Access Blocked Sites in Thailand Using a VPN
Choose a premium VPN – ideally one which has servers inside or nearby Thailand. NordVPN is definitely my top choice here.
Download the VPN's app, log in to your account, and connect to a server in your desired location.
That's it! You're now free to browse the internet in Thailand with both security and privacy.
How We Tested the Best VPNs for Thailand
My selections for the top five VPNs in Thailand haven't been thrown together at random. Instead they are the result of dozens of hours of testing. This testing was carried out according to specific key criteria, with these being the five most important factors.
Security: A VPN's number one job is to protect your connection from hackers and snoopers. Encryption is the most common form of defence, with 256-bit AES being the industry standard. Other important security features include DNS leak protection,a kill switch, and the ability to run your connection through two locations at once (known as 'multi-hopping'). Measures against the likes of malware, adware and trackers are also a welcome bonus.
Speed: It's inevitable that a VPN will slow your connection to an extent, but the best ones keep this to a minimum. In turn, this should lead to buffer-free streaming, speedy downloads, and a smooth browsing experience.
Servers: There are two things I looked at here. First was the sheer number of servers, with more options increasing your chances of finding a speedy option with little traffic. Second was the quality of those servers. Some are simply better than others, whether that's through superior technology, or certain servers being specifically optimised for the likes of P2P downloads.
Usability: You should never have to fight with a VPN. Instead you should be able to register for an account quickly in the first place, and enable it afterwards within seconds. All the VPNs on my list are highly intuitive, even if it's your first time using this kind of app.
Support: Even with the best VPNs, you may encounter issues eventually. The most important thing is that you can get those issues solved quickly. I've evaluated the quality of each VPN's customer service based on the number of contact options, coverage hours, and the simple quality of the help you typically receive.
Why Do You Need a VPN in Thailand?
The scope of the 2007 Computer Crime Act (CCA), which governs internet usage in Thailand, was widened in 2017. In addition to penalizing those who upload forged, false, or harmful content, it now includes content that could "cause public panic," along with any content identified as damaging to national security, public safety, or the national economy. However, censorship is inconsistent – a legal site today might be banned tomorrow.
Because the list of banned or restricted sites constantly changes, you need a secure VPN to mask your location and identity every time you access the internet in Thailand. That's true whether you are at home, at work, or using public wi-fi, and no matter which websites you plan to visit.
If you are visiting Thailand, a VPN will keep your communications with friends and relatives safe and private. The best VPNs also give you anonymous access to geoblocked content, including news services in your home country and streaming services like Netflix and Hulu.
FAQs
😃 Should I use a free VPN in Thailand?
You can, but it's not the best route to take. Free VPNs provide a basic level of anonymity, but also have quite a few drawbacks. They have far fewer servers, fewer protocols to choose from, and slow your connection more dramatically. Free VPN providers have also been known to sell user data for marketing purposes, which compromises your anonymity to an extent.
😄 What websites are restricted in Thailand?
The list of websites blocked in Thailand has grown dramatically in recent years. In September 2020, the government suddenly blocked over 2,200 websites which were said to have 'illegal' content. Many of these were Facebook pages, YouTube channels, and Twitter accounts. The entire YouTube website has also been blocked several times in the past. The only way to ensure you can access the internet unfiltered, regardless of government censorship, is to use a VPN.
🙂 Is it legal to use a VPN in Thailand?
Yes. Unlike a handful of other countries across Asia, most notably China, there are no laws against using a VPN in Thailand. Doing so is therefore perfectly legal, without the need to fear any kind of prosecution.
😃 Can I blog anonymously in Thailand?
Not without a VPN. There has been a significant increase in blogging and general social media activity in Thailand over recent years. Much of this has been driven by young people, particularly those who are politically active. Since 2007 though, laws have been passed allowing the Thai government to remove online content, and even arrest its creators. A VPN won't prevent your posts from being blocked in Thailand, but it will protect your anonymity.
The Bottom Line
Whether you're visiting Thailand or live there permanently, a VPN is a must-have every time you use the internet. The best VPNs for Thailand will protect you from the country's web surveillance and harsh censorship laws, and give you access to geoblocked content.
A trustworthy VPN will also allow you to use public wi-fi without worry, knowing that your identity and data are securely encrypted. If you are having a hard time deciding which VPN is best for you, learn more by reading our article on the best overall VPNs available today.
Best of all, since all the top VPNs for Thailand offer free trials and/or money-back guarantees, you can try them out for yourself with no risk. I'd highly recommend starting off with NordVPN, which is my top choice for using a VPN in Thailand.
To summarize, the best VPNs for Thailand are…
Provider
Our Score

9.8

/10

9.8

/10

9.6

/10

9.4

/10

9.2

/10
Privacy Alert!
Your data is exposed to the websites you visit!
The information above can be used to track you, target you for ads, and monitor what you do online.
VPNs can help you hide this information from websites so that you are protected at all times. We recommend ExpressVPN — the #1 VPN out of over 350 providers we've tested. It has military-grade encryption and privacy features that will ensure your digital security, plus — it's currently offering 49% off.