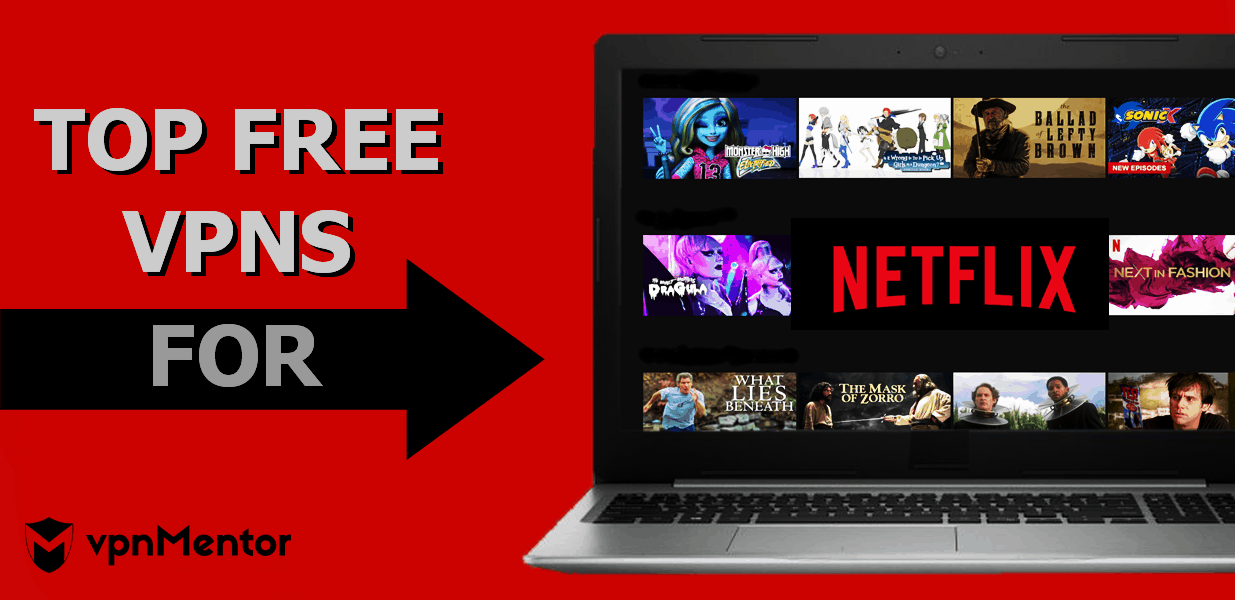 6 Best Free VPNs for Netflix That Still Work (Updated in 2023)
Updated on 6th February 2023
Netflix is notorious for its strong VPN-blocking technology, so it's hard to find free or even paid VPNs that can unblock it reliably. Even if you find a free VPN that accesses Netflix, it always comes with limitations like data caps that only allow you to stream for a couple of hours, slow speeds, and a small server network.
I tested more than 30 free VPNs with over 50 Netflix libraries to see if any of them still work. Luckily, I found a few free VPNs that consistently access Netflix without compromising your online safety.
Of all the VPNs I tested, ExpressVPN is the best for Netflix. Although it's not 100% free, ExpressVPN doesn't limit you like the free VPNs do. It reliably unblocks 20+ Netflix libraries and has unlimited data. But, you can try ExpressVPN risk-free. If you don't feel it's right for you, you can claim a full refund within the 30-day money-back guarantee period.
Try ExpressVPN Risk-Free Today
Short on Time? Here Are the Best Free VPNs For Netflix in February 2023
Best Free VPNs for Netflix — Full Analysis (Updated February 2023)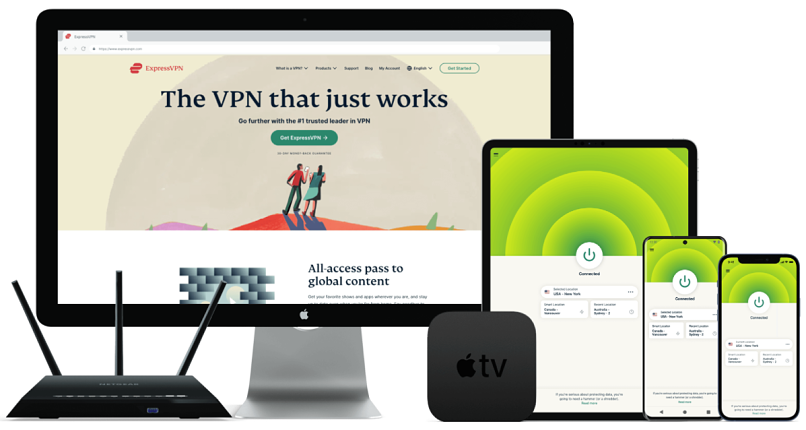 Editor's Choice
Editor's Choice

Tested February 2023
Try Risk-Free for 30 Days
Available on:
Chrome
Router
Smart TV
More
www.ExpressVPN.com
3,000+ servers in 94 countries to unblock Netflix libraries all around the world
Unlimited bandwidth and superfast speeds for uninterrupted Netflix streaming
5 simultaneous device connections
Works with: 20+ Netflix libraries (including US, UK, Canada, Australia, and France), Disney+, Hulu, HBO Max, Amazon Prime Video, BBC iPlayer, and more
Compatible with: Windows, macOS, iOS, Android, FireStick, Apple TV, routers, smart TVs, game consoles, and more
ExpressVPN has an extensive network of 3,000 servers in 94 countries. During my tests, I consistently accessed more than 20 Netflix libraries (including Netflix US, UK, Australia, France, Japan, and lots of others). This means that you won't have any issues finding a reliable server for streaming Netflix. ExpressVPN is one of the few VPNs that also works in restrictive countries like China, so you can access your Netflix account from almost anywhere.
It gives you ultra-fast speeds and unlimited data to stream Netflix without interruptions. I could binge-watch my favorite Netflix series for hours without slowdowns. When I tested its US, UK, and Australia servers, my speeds averaged 67.8 Mbps (with a starting speed of 69.4 Mbps). You only need 25 Mbps to stream in Ultra HD, so this was more than enough.
You can use ExpressVPN with a number of devices and operating systems, including Windows, Mac, iOS, Android, routers, smart TVs, Amazon Fire TV Stick, Roku, and more. It was just as easy to access US Netflix on my iPhone as it was on my MacBook Pro.
Its MediaStreamer (Smart DNS) feature even let me stream Netflix on devices that normally don't support VPNs. All I had to do was access my ExpressVPN account and copy a provided code into my smart TV's network settings. It only took 5 minutes, and I could unblock Netflix on my big screen.
ExpressVPN lets you connect up to 5 devices simultaneously. During my tests, I set up my iPhone, MacBook, and tablet to the VPN. Even while playing different Netflix shows on each device at the same time, I didn't experience any lag or buffering.
Although ExpressVPN isn't really free, I included it on this list because it's much better for watching Netflix than any free VPN. Plus, it's backed by a 30-day money-back guarantee. This means that you can test all ExpressVPN's premium features risk-free. It's easy to claim a refund if you're not happy with it.
I tried this policy myself and contacted its 24/7 live chat support after 25 days. The agent asked a few questions about why I wanted to cancel and quickly approved my refund. I had my money back in 3 days.
Start Risk-Free With ExpressVPN
9,753+ servers in 91 countries and Netflix-specific servers in 16 countries
Unlimited data for endless binge-watching on Netflix
7 simultaneous device connections
Works with: 15+ Netflix libraries (including US, UK, Canada, Australia, France), Disney+, Hulu, HBO Max, Amazon Prime Video, and more
Compatible with: Windows, macOS, iOS, Android, FireStick, Apple TV, routers, smart TVs, game consoles, and more
CyberGhost let me reliably unblock Netflix with its servers that are specifically optimized for the platform. It has a large server network of 9,753 servers in 91 countries in total. When I tested it out, I was able to access 15+ Netflix libraries. These included the US, the UK, Canada, Japan, France, Germany, and Sweden with its streaming-optimized servers. The regular servers could usually unblock Netflix in my tests too, but the optimized servers were about 15% faster and always worked.
It has impressive speeds, although it's not quite as fast as ExpressVPN. While testing it, I could unblock different Netflix libraries in under 30 seconds every time. During my tests, I recorded an average of 46.5 Mbps (starting with 65 Mbps) across its US and UK servers. I didn't experience any lag while watching 3 episodes of Superstore. Its fast speeds and unlimited data are ideal for streaming Netflix without interruptions.
CyberGhost's app is easy to use and took me less than a minute to download and install on my devices. I was able to find the streaming server I wanted within seconds. I could then add them to my favorites list for an even quicker connection next time.
Unfortunately, CyberGhost can't be used in China. An agent in the 24/7 live chat confirmed to me that it's been effectively banned from the country. On the plus side, its support staff are super responsive and always have answers to my questions.
While it's not completely free, you can try CyberGhost risk-free by using its generous 45-day money-back guarantee. It's always possible to ask for your money back if you're not satisfied. After using the VPN for 40 days, I canceled my subscription using the live chat feature. The agent was friendly and processed my refund quickly. I had my money back within 4 days.
10GB data/month and fast speeds to watch hours of Netflix
5 free server locations so you can access multiple libraries
1 free device connection
Works with: 4 Netflix libraries (the US, Canada, Germany, and the Netherlands), Crackle, Funimation, Crunchyroll, YouTube, and Spotify
Compatible with: Windows, Mac, iOS, Android, and Linux
I recorded stable speeds while testing hide.me, so you can watch your favorite shows without buffering. To test this, I connected to 5 global servers. No matter how far the server was from my actual location, its speeds were never lower than 24.5 Mbps. While it doesn't offer unlimited data like ExpressVPN or CyberGhost, with 10GB of data/month, I was able to stream in HD for about 5 hours. I also switched to a lower-quality resolution, so I didn't go through my data allowance too fast.
Even though hide.me's website states that its free plan doesn't support streaming, I successfully unblocked 4 Netflix libraries. The servers are located in Canada, the Netherlands, Germany, and the US (East & West). I was specifically happy to see that I could access Netflix US, as it has one of the largest catalogs out there.
Unfortunately, hide.me only allows you to connect 1 device at a time. You can't set it up on your router with the free plan (you used to be able to). And since you have to sign up to use it, you won't be able get around this limit without creating multiple accounts.
You can use its 24/7 customer support if you need any assistance, which is super rare with free VPNs. When I wanted to ask a question about the server locations, I was connected to a live chat agent in less than 10 seconds. Plus, hide.me also offers an extensive knowledge base with easy-to-follow setup guides.
Its mobile app is extremely easy to use and lets you access tons of Netflix libraries
Fast speeds for HD and lag-free streaming on Netflix
Unlimited simultaneous device connections
Can unblock: 10+ libraries (the US, the UK, Canada, Germany, Japan, and more), Disney+, HBO Max, Hulu, and more
Compatible with: Windows, Mac, Android, and iOS (but only works with Netflix on mobile)
Avira Phantom's mobile apps are extremely easy to install, use, and access Netflix — you have access to its entire server network (you can only connect to your nearest location on Windows and Mac). It took me less than 3 minutes to set it up and you don't need an email to use its free plan. I selected the US streaming server from the dropdown list, and was watching my favorite shows in minutes. Using regular servers, I accessed 10 other libraries as well.
Its speeds were not as fast as ExpressVPN or CyberGhost, but I got good speeds when I tested its US servers. Avira Phantom VPN's speeds were fast enough for HD streaming. I tested its free servers in New York, Los Angeles, and Miami and got an average speed of 37.82 Mbps, which is plenty for HD streams.
It offers Unlimited device connections, so you can also use it on multiple devices. It only offers 500MB of data/month. However, I downloaded it on both my Android tablet and iPhone, and I had the entire monthly allowance to use on each.
On top of the minuscule 500MB/month data allowance, you can't access live support as a free member. However, it does have a good online knowledge base where you can find answers to common FAQs.
Avira Phantom also offers a 7-day free trial of its premium plan, which gives you unlimited data, access to live support, and extra security features like a kill switch.
Start FREE With Avira Phantom VPN
Unlimited data to watch Netflix to your heart's content
3 free server locations in the US, Netherlands, and Japan
1 device connection
Works with: Netflix Originals only, Peacock, Crackle, Crunchyroll, YouTube, Spotify
Compatible with: Windows, macOS, iOS, Android, FireStick, Linux, routers, smart TVs, and more
Proton VPN is one of the only free VPNs that offers unlimited data (most free VPNs offer 500MB-10GB per month), so you can stream as long as you want. During my tests, I spent the whole day watching Stranger Things on Netflix without slowdowns.
Proton VPN has decent speeds on all 100+ free servers (located in the US, the Netherlands, and Japan), so you don't have to worry about annoying interruptions while watching your favorite movies. When I tested its (local) Netherlands server, my speeds never dropped below 30 Mbps. And although the speeds dropped 25% on its long-distance servers in the US and Japan, it was fast enough to stream in HD.
You can use Proton VPN Free with Windows, Mac, iOS, Android, Linux, and routers. This means that although you only get 1 device connection, you can still connect to a router and stream Netflix on all your devices at no cost.
It's simple to use the app on desktop and mobile devices. I could see how busy each server was, so instead of wasting time trying to find the one with the fastest speeds, I chose the server with the lowest load percentage. Additionally, the Proton VPN app does not contain any advertisements. This is a huge benefit because the majority of free VPNs annoy you with intrusive advertisements.
I was disappointed that Proton VPN's free servers only unblock Netflix Originals, unlike the other free VPNs on this list, which access region-specific content. You can only contact support through email, but its knowledge base has a ton of useful info as well.
2,600+ free servers in 47 locations to access multiple Netflix catalogs
500MB of data per month with decent speeds for steady streaming
Unlimited simultaneous device connections
Can unblock: 5+ Netflix libraries (including US, UK, Canada, Germany, and France), Amazon Prime Video, BBC iPlayer, YouTube
Compatible with: Windows, macOS, iOS, and Android
Unlike most free VPNs, TunnelBear gives you access to its entire server network for free. This makes it easier to find a reliable server, since this helps reduce overcrowding. While testing the VPN, I accessed more than 5 Netflix libraries, including ones from the US, the UK, Canada, and France.
It comes with decent speeds for buffer-free streaming on Netflix, at least with nearby servers. During my tests, I often had inconsistent speeds (they ranged between 4.2–23.3 Mbps, the fastest connections were the ones close by). This means you might only be able to watch Netflix in SD.
A few excellent VPNs are available, and TunnelBear is one of the best. It is easy to use and fantastic for new users.
For Standard Definition streaming to last longer than 30 minutes, the 500MB of data offered by the free plan each month is insufficient. But after I enquired about this in a reply to my email to customer support, a representative increased my data limit to 1GB. This was immediately added to my account, allowing me to continue streaming in Standard Definition for almost two hours.
Quick Comparison Table: Best Free VPNs for Netflix
Each of the VPNs I've included are pretty reliable at unblocking Netflix, but there are some considerable differences between them. The table below summarizes the key features that are important for streaming Netflix.
First, the VPN should have servers in the location where you wish to unblock Netflix content. More server locations usually means more Netflix libraries you can unblock. Even better is if it works with US Netflix since this is the most extensive library. Your VPN should also provide decent speeds (at least 5 Mbps for HD).
Depending on how much Netflix you want to binge, consider how much data the VPN provides. Unlimited data lets you stream for as long as you want. With 10 GB of data, you get about 10 hours of SD streaming or 3.5 hours in HD.
You may also need multiple device connections, so you won't have to kick off another device before using another one to stream Netflix. Also, make sure that the VPN is compatible with the device(s) you prefer streaming with, so you can install and stream without issues.
Tips on How to Choose the Best VPN for Netflix
When looking for a reliable free VPN for Netflix, there are a few criteria you need to pay attention to. I tested the following features to rank the best free VPNs for Netflix. You can use the list below when shopping for the right VPN:
Really free. A free VPN doesn't ask you to commit to a subscription. I ensured that all the VPNs on my list are completely free or come with a tried and tested money-back guarantee.
Can access US Netflix. US Netflix has one of the largest libraries out there. I tested all the VPNs on this list to see if their US servers consistently unblock US Netflix.
Large number of server locations. More server locations around the world give you access to different Netflix libraries. Plus, it ensures you'll have a backup server if the one you're using goes down or is overcrowded.
Fast speeds and enough data. This is so you can stream Netflix without long loading times or annoying slowdowns. I conducted speed tests for all the VPNs on my list to ensure you can watch your favorite shows with minimal buffering.
Compatibility with multiple devices. Make sure to choose a VPN that is compatible with the devices you want to stream Netflix on. If you want to watch Netflix on devices that usually don't support VPNs, make sure to choose a VPN that has router support and/or Smart DNS.
Excellent customer support. If you run into any issues, your VPN provider should provide responsive support to help find a solution. I ensured the VPNs on my list offer support whether its via email, contact form, or a knowledge base on their site. Even better is live customer support, so you can get immediate assistance.
Try ExpressVPN Risk-Free Today
Warning! The Risks of Free VPNs
Free VPNs often come with restrictions such as data caps, slow speeds, small server networks, and limited device connections. In addition, there are a lot of free VPNs that come with serious risks.
Free VPNs can store and sell your data to third parties: Because free VPNs need other ways to make money, they often sell your user data to third parties. You should always read the privacy policies to make sure the free VPN really keeps you safe.
Free VPNs can have weak security features and leak your info: Many free VPNs don't have the resources to keep their features up to date. This often results in IP/DNS leaks, meaning that your privacy isn't protected at all.
Free VPNs can be infected with harmful malware: Free VPNs are often created with the intention to infect your device with viruses and malware. Moreover, free VPNs rely on advertising for money, so they usually don't provide built-in ad blockers. This means that the risk of your device getting infected with malware could increase when using a free VPN.
Free VPNs You Should Avoid
The following free VPNs are proven to be dangerous to use. They can share your data with third parties or include malware and viruses.
Hola: Hola is not a VPN but a P2P network. This means that others use your computer's IP address. It could get you in trouble since their activities will be traced back to you.
Betternet: Installs malware onto your device.
TouchVPN: Logs your browsing activity and shares it with third parties to create targeted ads.
OperaVPN: Has an invasive logging policy. Its privacy policy states that it stores some of your personal data, like your location. It also gives you targeted ads and sells customer data to third parties.
PureVPN: Claims to have a "zero-logs policy" but actually keeps logs and sells your data to advertisers.
UFO VPN: Leaked 20 million paid and free users' data, including IP addresses, passwords, geo-tags, session information, connection timestamps, and device and OS details.
VPN Not Working With Netflix? Try These Troubleshooting Tips
Sometimes, Netflix detects that you're using a VPN and either only shows you Originals or shows the following error message:
You seem to be using an unblocker or proxy. Please turn off any of these services and try again. For more help, visit netflix.com/proxy.
Error Code: M7111-50-59
Try the following steps if you see this message:
Choose another VPN server. It's possible that the server you've chosen is blocked by Netflix or is leaking your IP information. Try switching to another server to access Netflix.
Make sure your VPN is up-to-date. VPNs are continually changing their technology to overcome more advanced geoblocks. Ensure you're running the most recent VPN version to get the most out of its unblocking abilities. Or, you can simply try reinstalling it.
Clear your browser history and cookies. This data can allow Netflix to see your actual location.
Try another web browser. Try switching to Firefox or Chrome, as they're usually the best options to watch Netflix on.
Disable IPv6 addresses on your device. Free VPNs mostly use IPv4 addresses, while websites like Netflix tend to use IPv6 addresses. If your VPN is running an IPv4 address, it might reroute your traffic through an IPv6 server while revealing your real IP to Netflix. Try disabling this in your device's settings.
Contact customer support. Try contacting the VPN's customer support to ask which server works best to access your desired Netflix library.
Quick Guide:
How to Unblock Netflix With a Free VPN in 3 Easy Steps
Download a VPN. My top recommendation is ExpressVPN. Although it's not free, it's the most reliable VPN I tested with Netflix. Plus, you can try it risk-free because it comes with a money-back guarantee.
Connect to a server. Choose a server in the same location as the Netflix library you want to access. For example, I connected to a UK server to access my UK Netflix account.
Start streaming. Now you can log in to Netflix and watch your favorite movies and shows.
FAQs on The Best Free VPNs for Netflix
Can I watch Netflix US, Japan, and other countries with a free VPN?
Yes, just connect your VPN to a server in the country you want access to. Simply open the VPN app and search for a server in the country you wish to access. For example, you can watch Netflix US by connecting to a server in the US and then loading up Netflix. The US library should load, and you'll be able to watch the shows available there. With my top 2 VPNs, I was able to access all of the Netflix libraries I tested them with, including the US, Japan, Canada, the UK, India, Malaysia, and the Philippines.
Which free VPN doesn't require a credit card to sign up?
There are a few VPNs that don't ask for payment details when you sign up. This way, you don't have to worry about getting surprised by any hidden charges.
On the other hand, the paid VPNs in this list do need a valid form of payment. However, you don't have to use a credit card. Both accept alternative payment methods, such as PayPal — or even cryptocurrency, for extra privacy. In addition, they are both backed by legitimate money-back guarantees, so you know you can get a full refund without hassle.
Is using a free VPN for Netflix legal?
Yes, but it's a bit complicated. The content blocks are not carried out by the government but by Netflix due to license agreements. So, if you intend to use a VPN to primarily access content not available in your actual location, you could be breaking Netflix's Terms and Conditions.
In addition, if you use a VPN for any purpose in a country that bans or regulates their use, you could be breaking a law (China bans many VPNs, while they are regulated in Russia, for ex.). We encourage you to always check the local rules and regulations to make sure you don't accidentally break any laws.
Can I use a free proxy to access Netflix?
Yes, some work, but I can't recommend them. Although proxies change your IP address, they don't encrypt your internet traffic, so they're not as safe as using a VPN. A better option is to use a VPN with robust security features. This way, you're sure that you're protected against data leaks.
On which devices can I use a free VPN to access Netflix?
Most free VPNs can be downloaded on laptops, desktops, tablets, and smartphones. However, ExpressVPN offers a MediaStreamer feature, so you can use it on game consoles, smart TVs, and other devices that don't usually work with VPNs. Router compatibility also allows you to use your VPN with more devices.
Even VPNs that are compatible with several devices usually have a limit to how many connections you use at once. So a VPN with router compatibility is helpful, so you can cover all the devices on your home network.
Here's a breakdown of the best free VPNs for Netflix and which devices you can use them on to access Netflix:
Get the Best VPN For Netflix Today
Most free VPNs don't work with Netflix at all. Even the ones that do unblock it are usually slow, causing buffering in your streams. However, after testing several VPNs, I found a few that can reliably some of Netflix's content.
So, even though it's not 100% free, I recommend ExpressVPN since it doesn't limit you like the free options. Its high-speed global server network can unblock Netflix within seconds, and you can stream as long as you want since it has no data caps. Plus, it comes with a 30-day money-back guarantee so you can test ExpressVPN out completely risk-free.
Top Netflix VPNs You Can Try Risk-Free With Money-Back Guarantees…
Privacy Alert!
Your data is exposed to the websites you visit!
The information above can be used to track you, target you for ads, and monitor what you do online.
VPNs can help you hide this information from websites so that you are protected at all times. We recommend ExpressVPN — the #1 VPN out of over 350 providers we've tested. It has military-grade encryption and privacy features that will ensure your digital security, plus — it's currently offering 49% off.