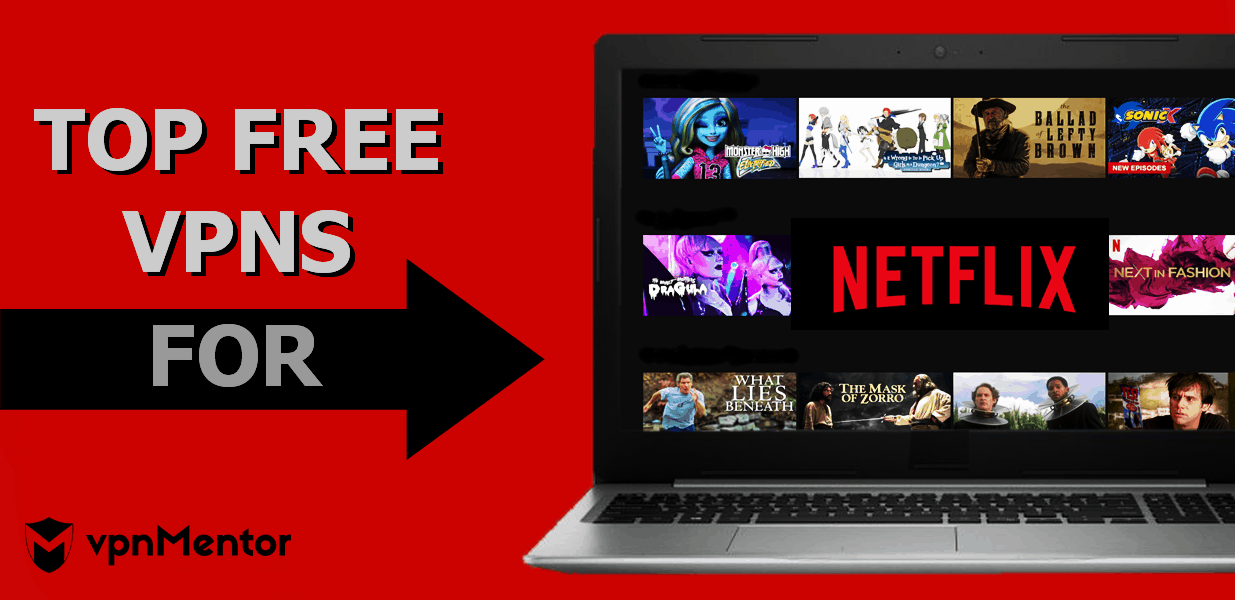 5 REALLY FREE VPNs for Netflix That STILL Work in October 2021
Updated on 19th August 2021
Finding a free VPN that won't steal your data and that provides a reliable, safe service is tough. But finding a safe, free VPN that lets you stream Netflix? That's almost impossible! Almost every free VPN comes with a catch. And most of the reasonably safe ones can't get around Netflix's notoriously tough geoblocks.
Even if a free VPN can give you access to Netflix, you feel the true cost of a free VPN in other areas. Many free VPNs limit your data, bandwidth, and connection speed. And some free VPNs could endanger your privacy.
I've tested 100s of elements in 92 free VPNs and found that many of them are filled with ads, scams, and annoying restrictions. According to my extensive research, there are only 10 that are safe. But out of those 10, only 5 consistently work with Netflix.
Try ExpressVPN Risk-Free Today!
The Best Free VPNs for Netflix – Full Analysis (Updated October 2021)
There really aren't many free VPNs that work with Netflix. My research shows that even providers that manage to unblock the service come with limitations.
Lighting-fast streaming speeds
3,000 servers in 90 countries
30-day money-back guarantee
Effectively unblocks Netflix from anywhere
MediaStreamer to watch Netflix on any Wi-Fi enabled device
5 simultaneous connections
Works with: Netflix, BBC iPlayer, Disney+, HBO Max, Vudu, Hulu, and more
Compatible with: Windows, Android, iOS, macOS, Chrome, Linux, routers, Apple TV, and more
ExpressVPN isn't free, but it is the best VPN for most things you need to do online. It's easy to use, blazing-fast, and backed by a 30-day money-back guarantee so you can get a refund if you don't feel it's right for you.
You're guaranteed superfast speeds while you're streaming, free from buffering and lag. I found all the servers I tried – from the US to UK – performed perfectly for streaming on Netflix, especially when I tested Ultra HD. My average speed never dropped below 46 Mbps, which is way more than the 5 Mbps needed for HD on Netflix. Even all the way in Australia, my speed only decreased by a few Mbps. With some VPNs you'd see a much higher decrease while connected to a local server over 15,000 km away.
Access to ExpressVPN is totally unlimited; this means no restrictions on speed, data, or usage. You can stream Netflix as much as you like.
Using the full offering of ExpressVPN's 3,000 global servers, the impressive network allows you to unblock Netflix in every region. Its unblocking capabilities automatically fly past geoblocks while keeping your traffic highly encrypted. We tried Netflix UK, US, Canada, Australia, France, and more, and it unblocked the streaming platform seamlessly.
Even when we tried multiple servers across each location, Netflix still had no idea we were using a VPN. Normally, you'd find at least a few IP addresses that get blocked, but not with ExpressVPN. Even if the one you're using does get blocked, simply choose another server, since there are thousands on the list.
It was able to unblock every other major streaming site our team tested from around the world, including Disney+, BBC iPlayer, and HBO Max.
MediaStreamer lets you stream Netflix on any device, even those that don't typically support a VPN. This works for any unblocked streaming platform and was incredibly easy to set up. I was able to get Netflix working on a smart TV in less than 10 minutes. You can watch your favorite shows and movies on a bigger screen!
All Express VPN servers run their own encrypted DNS, so you can be sure that you won't get blocked. All your activity is private – no logs, no filtering, and no slowdowns. Streaming platforms will work for you without any interruptions or concerns.
You can connect up to 5 devices simultaneously under one ExpressVPN profile, so you can switch seamlessly between all of them.
I found the app simple and easy to use, so you can head over to Netflix in minutes. I was set up and streaming in under five minutes. If you do need any support, though, you can use the 24/7 live chat.
Want to know more? Explore our ExpressVPN review to see the full results of our research and testing.
Start Risk-Free With ExpressVPN Today!
7,350 servers across 90 countries that allow you to bypass regional geoblocks
24-hour free trial with no restrictions
Superfast speeds across all servers worldwide
Strict no-logs policy that keeps you anonymous
7 simultaneous device connections
Works with: Netflix, HBO Max, Disney +, Hulu, BBC iPlayer, and more
Compatible with: macOS, iOS, Windows, Android, Linux, Chrome, Firefox, and more
CyberGhost is always high on our list of recommended free VPNs, because it's a world-class VPN with optimized Netflix servers.
The Netflix servers are located in countries like the US, UK, France, Germany, Canada, and Australia. When I used its Netflix servers in the US and UK, I unblocked those Netflix libraries in under 30 seconds every time. The servers were clearly labelled too, so I could easily find one and connect in no time.
I also found its speeds to be excellent for streaming. During my speed tests, I recorded an average download speed of 46.5 Mbps across its US Netflix servers while streaming shows. Since you only need 5 Mbps for HD streaming, I was more than impressed.
There are no limits or restrictions when using its free trial. You'll get full access to its global server network of 7,350+ servers and have unlimited server switches. Also, all of its stellar features are there for you to use for as much as you want.
CyberGhost's apps are easy to use and took me less than 30 seconds to download and install on my devices. It also has its own ad blocker for Windows and Android, which is a huge plus while you're locked into a movie.
The one catch is that the free trial only lasts for 24 hours, so your time is very limited. But if you need more time, you can use its 45-day money back guarantee. You'll need to make an upfront payment first, which will get refunded if you cancel within 45 days.
Want to know more? Explore our CyberGhost review to see the full results of our research and testing.
Unblocks Netflix US, UK, CA, FR, and GR
10GB of data per month
5GB of extra data on offer
No ads in the app
Works with: Netflix, BBC iPlayer, Hulu, HBO Go, HBO Now, Sling TV
Compatible with: Windows, Android, iOS, macOS, Chrome, Linux, routers
Windscribe is always high on our list of recommended free VPNs, because it's trustworthy, secure, and comes with a more generous data allowance.
You have 10GB of data, but it has to last you the whole month. And I made the mistake of not providing my email address on sign up, so I only got 2GB, so make sure you don't get caught out.
2GB only lasted me 2 hours of streaming in SD on Netflix, so I only just finished one Harry Potter film. 10GB gave me about 10 hours of SD streaming, which was enough for 5 movies at most. If you're after HD, though, I ran out of data after 3 hours so it eats away at your allowance quickly. Ultra HD isn't an option, unfortunately – it didn't work at all when I tested it.
You can get another 5GB, though, just by tweeting Windscribe. It was added to my account instantly, but it took a few hours for them to respond.
Windscribe lets you choose from 10 server locations for free and it comes with unlimited switches, which I like. This means you can move between Netflix libraries as you please, but you're still limited to just 10 locations. I tried Netflix UK, US, Canada, France and Germany without any issues, but the Australian servers are reserved for premium users only. The WINDFLIX servers designed specifically for streaming with better speeds are also off-limits.
Its speeds are steady and I was able to stream mostly hassle-free. My streams weren't the best quality, especially on the France and Germany servers. Even just getting to Netflix through Google took a few minutes. Funnily enough, I had less buffering and better picture quality on the US servers which are further away from my home location, and my speeds were better there, too.
| | | | |
| --- | --- | --- | --- |
| Connection | Ping | Download Speed | Upload Speed |
| Starting speed from the UK | 11 ms | 55.73 Mbps | 11.88 Mbps |
| UK server | 89 ms | 41.8 Mbps | 9.70 Mbps |
| US server | 154 ms | 35.43 Mbps | 9.92 Mbps |
| CA server | 189 ms | 30.14 Mbps | 7.25 Mbps |
| FR server | 101 ms | 33.46 Mbps | 6.94 Mbps |
| GR Server | 125 ms | 31.94 Mbps | 7.21 Mbps |
My speeds didn't drop below 31 Mbps on any server, which makes Windscribe one of the fastest free VPNs out there. That said, it still caused my speed to drop by 25% even on a local UK server, which is a big loss over such little distance. No matter where I connected, episodes buffered for 20-30 seconds before I could press play, which was annoying, but I can't expect much more from a free service. After that, though, there were no interruptions.
Windscribe's apps are easy to use and took less than two seconds to connect to any of the servers, so you can head over to Netflix in no time at all. The app is also free from ads which is a huge plus while you're locked into a movie.
You only get one connection on the free plan, though, so you can't share. But something that Windscribe doesn't reserve for premium is its 24/7 live chat – you still get access on the free plan.
Want to know more? Explore our Windscribe review to see the full results of our research and testing.
Unlimited data
Unblocks Netflix US, JA, and NE
Easy-to-use apps
Ad-free
Works with: Netflix, YouTube, Kodi, Sling TV, Hulu, ESPN, HBO GO, HBO Now
Compatible with: Windows, Android, iOS, macOS, Chrome, Linux, Firefox
Whether you're streaming, browsing, or gaming, ProtonVPN is a good choice because it's one of the only free ones I've tested that allows completely unlimited data transfer. But as with any free plan, there are some limitations.
You have servers in three countries – Japan, the Netherlands, and the US. Thankfully, it unblocked Netflix in all of these regions when I tested regularly over a few weeks. However, it also means other major Netflix libraries like the UK, Canada, and Australia aren't accessible. Good news for those of you in China, though, as our team easily accessed Netflix US from behind The Great Firewall.
Unlimited data means you can stream as much as you like on the available Netflix libraries. However, the bandwidth isn't unlimited. I found speeds were deliberately throttled during my tests, which caused some frustrating lag as I had to wait for episodes to buffer before I could play and a few times throughout an episode, too.
When I compared my speeds to the premium plan, they increased by 53% which shows you just how much ProtonVPN throttles your speed. And I noticed a significant drop on the free US server from my base speed, too.
| | | | |
| --- | --- | --- | --- |
| Connection | Ping | Download Speed | Upload Speed |
| Starting speed from the UK | 11 ms | 55.73 Mbps | 11.88 Mbps |
| US server | 134 ms | 22.56 Mbps | 5.29 Mbps |
| Premium US server | 79 ms | 34.52 Mbps | 8.94 Mbps |
| JA server | 223 ms | 19.56 Mbps | 4.34 Mbps |
| NE server | 153 ms | 20.89 Mbps | 7.48 Mbps |
I actually lost 55% of my speed on the free US server, which made HD streaming basically impossible. But I could stream in SD for a few hours before being hit with any fuzzy pictures. Between 6-9 pm, though, at peak times, some shows took over 2 minutes to load since the free servers were so busy.
One thing I did like, though, is that ProtonVPN's app is completely ad-free. I often find you have to sit through 20-second adverts while you're trying to connect to a server, so this was a nice surprise. It means you can go to Netflix without delay to start streaming.
The apps are also incredibly easy to use on both desktop and mobile. It's easy to see which servers are performing fastest in the available locations, so you can just hit connect straight away. I switched servers a few times when I had super slow speeds and they increased by 12%, so make sure you keep an eye on the app. It can be annoying to disconnect and reconnect, but it's worth it for the improved picture quality and lower lag.
You can stream simultaneously on one device on the free plan and if you need any support, there's a ticketing system. It's not live chat, but agents are quick enough to respond.
Want to know more? Explore our ProtonVPN review to see the full results of our research and testing.
Access to all global servers
Unblocks Netflix US, CA, UK, GR, FR
Works inside China
500MB of data a month, with option for 1GB more
Fast connections
Works with: Netflix, YouTube, HBO Go, HBO Now, Sling TV, Hulu
Compatible with: Windows, Android, iOS, macOS, Chrome, Linux, Firefox
TunnelBear stands out as a quality free VPN because it doesn't restrict any of its servers and it's super secure. We're always impressed by its speeds, too, even on the free plan.
The app let me choose from servers in 23 countries, which is great news, because premium users get exactly the same. There are servers all over the globe, including major Netflix locations like the US, UK, Canada, Australia, and Germany. But can it actually unblock Netflix in these regions? Our experts had mixed results.
We were able to consistently bypass Netflix's geoblocks in the US and the UK, but we couldn't unblock Netflix Australia no matter how many times we tried. We accessed Netflix Germany and France easily, though.
While there are no server restrictions, you only have 500 MB of data every month. That's not even enough to stream for an hour on Netflix in SD, so you'll run out of data quickly. I only managed to watch half an hour of After Life 2 before it kicked me off. However you can get 1GB more data, either by tweeting TunnelBear or connecting another device. It added to my account immediately, so I was able to stream for another half hour in SD. Unfortunately, HD is completely impossible with this amount of data.
TunnelBear offers unlimited bandwidth and it doesn't deliberately throttle your speeds either, which is a huge advantage. Its speeds are fast and reliable, and I didn't notice much speed loss. At most, I only lost 51% of my base speed and that's when I connected to a server all the way in Australia. Unfortunately I couldn't test streaming on Netflix there.
| | | | |
| --- | --- | --- | --- |
| Connection | Ping | Download Speed | Upload Speed |
| Starting speed from the UK | 11 ms | 55.73 Mbps | 11.88 Mbps |
| Quick connect UK server | 35 ms | 49.04 Mbps | 10.93 Mbps |
| US server | 225 ms | 42.35 Mbps | 9.84 Mbps |
| AU server | 331 ms | 27.30 Mbps | 6.58 Mbps |
| GR server | 180 ms | 45.14 Mbps | 9.98 Mbps |
The US server caused my speeds to decrease by 21%, which is impressive for a free VPN. For the hour I was able to stream on Netflix, it was free from any buffering or lag and I was able to press play straight away. TunnelBear is definitely one of the faster free VPNs I've tested, so it's a shame you don't have much data available to enjoy the speeds.
TunnelBear's GhostBear Mode makes it a good free choice for places like China, too. This feature scrambles your VPN traffic so your ISP doesn't know that you're using a VPN. My team tried accessing UK, US, and Canada Netflix libraries from inside China with no trouble.
There's no live chat support, but there's a handy ticketing feature and I found agents usually respond within 24 hours. As with most free plans, you can connect as many devices as you like (and you get more data for doing so), but you can only use one at a time.
Want to know more? Explore our TunnelBear review to see the full results of our research and testing.
Unlimited free data and bandwidth for Netflix streaming
No speed restrictions
Ad blocker
Unblocks Netflix UK, Sweden, and Singapore
Works with: Netflix UK, Netflix Sweden, Netflix Singapore
Compatible with: Windows, Android, iOS, macOS
Opera is a completely free, in-browser VPN. It's one of the only free services that's completely unrestricted, so it's a good choice if you need safe, anonymous browsing and streaming without caps. It comes with neat security features, too.
Opera's VPN is also one of the only free services compatible with Netflix – but beware: it's not as straightforward as unblocking Netflix with a premium VPN.
I could only get access to servers in three general locations: Europe, the Americas, and Asia. While I was able to switch between these locations as many times as I wanted, I couldn't choose a more specific server or country. This can make things tricky, especially when you need to bypass restrictions that are specific to a certain location.
During my tests, I was able to connect to Netflix UK, Sweden, and Singapore by switching server locations. Annoyingly, though, this was random luck, because sometimes the server would route me somewhere else in Europe, for example, and then I couldn't get onto Netflix Sweden.
I couldn't access Netflix US, even after testing 33 times. Opera works well if you live in – or are traveling to – a country where Netflix is not available, and you don't mind which region you access.
You get unlimited data and bandwidth, so there's no limit on how much Netflix you can watch. My speed tests confirmed that Opera VPN doesn't throttle its speeds, which is a welcome surprise. This kept my movies free from deliberate buffering, so you're guaranteed reliable streaming.
Its speeds aren't the fastest out there, though, so while I could stream in HD most of the time, I saw some lagging during peak times. Even the European server caused my speeds to decrease by 55.73%, which is a big loss. And the further I went from my UK location, the more speed fall I experienced.
| | | | |
| --- | --- | --- | --- |
| Connection | Ping | Download Speed | Upload Speed |
| Starting speed from the UK | 11 ms | 55.73 Mbps | 11.88 Mbps |
| Europe server | 88 ms | 25.64 Mbps | 8.54 Mbps |
| Americas server | 389 ms | 19.32 Mbps | 4.58 Mbps |
| Asia server | 461 ms | 12.54 Mbps | 4.47 Mbps |
Extra features include a tracking and ad blocker extension that you can install separately, which means no annoying popups interrupting your favorite Netflix shows.
Want to know more? Explore our Opera VPN review to see the full results of our research and testing.
How We Tested and Ranked These VPNs
Any free VPN for Netflix needs to be safe, fast, and – of course – able to bypass Netflix's geoblocks, so you can watch as much of The Politician or Big Mouth as you like.
First, I looked at the size and spread of each VPN's server network. Only VPNs with large global networks are usually capable of bypassing Netflix's geoblocks, as they continuously update and add new servers. I've noted server numbers and locations in all of my reviews.
I also tested several servers in different locations for each VPN, to make sure they give you access to as many Netflix libraries as possible.
I tested each VPN for speed using speedtest.net. By recording my speeds before and after connecting to the VPN, I was able to determine how much – or how little – each of my recommendations will affect your connection.
The faster the connection, the less likely you have to put up with buffering or lag while streaming Netflix.
Last but not least, I tested each free VPN on security and privacy, to make sure you're always secure while you're streaming.

Free VPNs to Avoid for Netflix
While the free VPNs in this list might be okay for light browsing on public WiFi, they are useless for watching global Netflix. Make sure you avoid the following VPNs if you want access to Netflix.
Hotspot Shield
For a free VPN, Hotspot Shield has plenty to offer, including some of the fastest speeds around. But it can't unblock Netflix. I tried it several times and had no luck. If you want to learn more about Hotspot Shield, check out our review.
hide.me
It's one of the few free VPNs that offers a high amount of data for free, but that's worth nothing if you only want Netflix. It can't bypass Netflix's geoblocks, but it can give you access to some other streaming sites. You can see which ones in our hide.me review.
Speedify
Even the premium plan can't get around Netflix's tough geoblocks consistently, so I certainly didn't expect much from the free plan. I managed to get onto Netflix US once, but after that I was blocked. Netflix UK and Australia were blocked, too. If you just want a VPN with fast, secure browsing and a fairly generous data allowance, though, it's OK. Read more about Speedify in our detailed review.
FAQs
What free VPN works with Netflix?
While many free VPNs claim to break Netflix's geoblocks, most can't unblock Netflix on a global scale. A majority of them only unblock Netflix US or UK, and not reliably. If a free VPN does manage to unblock Netflix, limitations on data, speed, and bandwidth, make it impossible to stream HD content.
There is no perfect, free solution. Opera VPN does allow free viewing but you won't get Netflix US, and you can't use it outside the browser. Luckily, premium and elite providers like ExpressVPN do an expert job at unblocking Netflix. It offers a money-back guarantee, so you have up to 30 days to claim a refund if you're not satisfied.
How do free VPNs make money?
The most common way is through annoying pop-up ads that disrupt your viewing. Careful, those seemingly harmless ads can be hiding some pretty serious malware that may be tracing your internet footprint. While the free VPNs on my list are safe to use, other free services have been known to log and sell your data to third parties for a profit.
Are free VPNs safe?
The VPNs on this list are tested safe to use, but not all free services offer adequate security. Most free VPNs lack basic features like high-grade encryption, a kill switch, or DNS/IPv6 leak protection. Others lack a clear privacy or logging policy, so they could be collecting your personal browsing habits and using it for marketing purposes.
Are VPNs legal?
In most countries using a VPN is completely legal. Some countries like Russia, Iraq, China, and Belarus limit or ban the use of VPNs. That doesn't mean that a VPN can't be used for illegal purposes. It's important to know that you may face consequences if you're caught downloading copyright protected materials.
Does a VPN impact streaming speed?
VPNs route your internet traffic via an additional server, which can slow you down. However, all of the premium VPNs I recommend are so quick that you won't notice any delay. You are more likely to notice a speed decrease with a free VPN, due to speed and bandwidth restrictions or server limitations.
Bottom Line
In the search for a free VPN that works with Netflix, there are some options. However, there's no perfect solution.
If you want a free VPN for Netflix, you have to opt for temporary use or tolerate unreliable connections.
The good news is that you don't have to put up with unreliable unblocking, slow speeds, and substandard security. Premium services like ExpressVPN reliably unblock Netflix and keep you safe at the same time – all for a very low price.
ExpressVPN is backed by a money-back guarantee so you can claim a refund within 30 days if you're not satisfied.
Top Netflix VPNs that you can try risk-free with money-back guarantees…
Privacy Alert!
Your data is exposed to the websites you visit!
The information above can be used to track you, target you for ads, and monitor what you do online.
VPNs can help you hide this information from websites so that you are protected at all times. We recommend ExpressVPN — the #1 VPN out of over 350 providers we've tested. It has military-grade encryption and privacy features that will ensure your digital security, plus — it's currently offering 49% off.