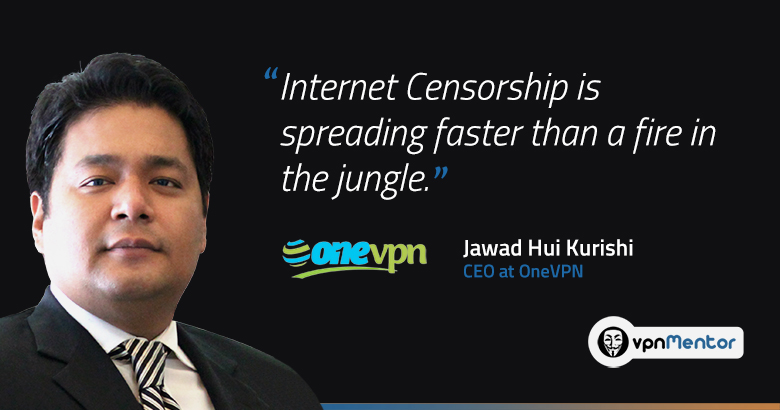 VPN is the Only Weapon Against Internet Censorship, Says OneVPN CEO
Jawad Hui Kurishi is a security and freedom enthusiast, who has been serving the IT industry for the last three decades. Formerly a network consultant at PureVPN and Ivacy VPN, Kurishi now runs OneVPN, a Hong-Kong based service that uses BSD technology to provide ultra-secure encryption. In this interview he expresses his concerns regarding internet censorship and offers the technology to fight against it. Share
Jawad Hui Kurishi is a security and freedom enthusiast, who has been serving the IT industry for the last three decades. Formerly a network consultant at PureVPN and Ivacy VPN, Kurishi now runs OneVPN, a Hong-Kong based service that uses BSD technology to provide ultra-secure encryption. In this interview, he explains the advantages of BSD, and expresses his concerns about global internet censorship.
What inspired you to start OneVPN?
There were a lot of factors that inspired me to start OneVPN. First and foremost it was the increasing censorship and online surveillance. I lived in many countries over last 2 decades and everywhere it is the same. You cannot access websites, communities, forums, movies and sports channels. Plus, online threats are always there to haunt you. I have learnt from my past experience that VPN users need a combination of online security and streaming speed. Unlike, using SSTP/Ikev2 for utmost security makes you compromise your internet speed. At OneVPN, we combine both.
What makes OneVPN different from other VPNs?
Speed and our dynamic VPN network. 90% of VPN providers are running a VPN network based on Windows OS with virtual servers. This is the main reason that users get less speed when connected with VPN. If I talk in a more technical language, a Windows server has a very heavy and large footprint, which makes it impossible to Packet switch at client side line rate, Plus VPN overhead and load makes it worse. We design a more stable and highly-compatible VPN network based on BSD. BSD based networks have a very small and lighter footprint, hence provide you better speed than a Windows server (RRAS).
Interesting, can you elaborate on that?
FreeBSD is incredibly stable, and boasts better security to boot. Windows, on the other hand, has been constantly plagued by security flaws, and is a frequent target for viruses, worms, and hacker attacks, until Windows 2000 was launched. FreeBSD is based on UNIX. Proprietary AT&T code has been removed, but FreeBSD can trace its roots back into the 1970s. Another main reason why FreeBSD has been preferred over other operating systems is the performance. FreeBSD feels significantly faster and more responsive than any other operating system. It is ultra-secure and unbreakable at the same time. At OneVPN, we have customized Kernel that provides more stability and cutting-edge features. In simple terms, our users do not face connectivity and downtime issues. BSD is becoming the priority for popular platforms like Whatsapp, Binger etc.
What are some of the challenges you encountered when attempting to protect your users' privacy?
Our motto is to provide a VPN service that secures your internet connection, offers fastest speed and above all maintains utmost privacy. To start with, we selected Hong Kong as our base location, because it is the safest place in Asia when it comes to data retention laws and surveillance policies. At OneVPN, we do not keep any logs of users' activities, as mentioned in our Terms of Service. We only have session logs. So, we cannot tell what our user is browsing or downloading on the internet. Fortunately, we haven't yet faced any problem in keeping our users' personal information private. We use BitCoin for payments, safest data centers for bandwidth usage, and have server locations that don't comply with data retention laws.
How widespread is Internet Censorship, and how does OneVPN fight against it?
Internet Censorship is spreading faster than a fire in the jungle. Can you name one country that is free of online restrictions? Or, can you name one website which is accessible worldwide without any geo-restriction? Well, you cannot. Censorship is everywhere and on everything. If one website is accessible in the USA, it is blocked in the UK. If google is accessible in the majority of countries, it is still blocked in China. A VPN is the only weapon against online censorship, because with a VPN you get numerous locations to connect with. If the USA is not good, connect from the UK. If the UK is not working out for you, select a Canadian server or a French one. At OneVPN, we are constantly adding new and most desired locations in our network to provide diversity to all our users. We started back in July 2016 with only 3 locations, now we have 60 locations.
How would someone in Afganistan, China, Cuba or UAE benefit from your service?
Fortunately, the OneVPN website is still accessible to all visitors across of the world. It is working fine in all the countries you mentioned, although we haven't received any queries from Afghanistan yet. Users can easily subscribe to OneVPN plan using 50+ payment options which are available in all countries, they just need to download the app and start using it. In China, we have many customers who are using our services and complementing us via their feedback. We also have customers in UAE as well. The real problem starts when ISPs block your website in that particular region, because then the user won't be able to subscribe or pay for your service; so as long as we're not blocked by censorship, we're all good!
What would you advise to people using public WiFi?
It is a very good question. I personally call public WiFi a Hacker's Heaven. There are so many potential threats associated with WiFi technology. First, a layman and non-tech savvy can never differentiate between the "Evil-Twin". Then there is a fake WiFi, which in simple terms can refer as "Booty-Trap" set to target internet users. I personally advice every internet user in the world to connect to a VPN every time you are using a WiFi hotspot, and if possible, avoid WiFi as much as you can in public places.
How do you see the future of online privacy in terms of legislation?
In the last 5 years everything has changed. First, it was restricted to online spying by government authorities and we heard a couple of BIG names like NSA Prism Program, GCHQ, 5-EYE, but now it has gotten more complicated. The USA, UK, Canada, Australia, France and Germany have all joined the race to implement data retention laws, making it impossible for a citizen to keep his/her personal life private. The best and quick fix for this increasing Privacy issue is a VPN.