PureVPN is a premium service that operates 6,500+ servers in 140+ countries. It offers unlimited bandwidth, P2P compatibility, and high-end security features including military-level encryption and port forwarding.
Even better, it can unblock Netflix. But it's not as reliable as our top 10 recommended VPNs, since the speeds were slow and the quality was poor.
Streaming – Does PureVPN Work with Netflix?
Netflix US: Yes
Hulu: Yes
HBO GO: Yes
BBC iPlayer: Yes
PureVPN can unblock most popular streaming sites, including Netflix US. Although my connection was sluggish, I could stream Netflix, Hulu, HBO GO, and BBC iPlayer in HD. For a faster connection and consistent upload and download speeds, check out a VPN with excellent support and servers distributed all over the globe, like ExpressVPN.
The VPN's streaming profile optimizes your connection for high-speed streaming, but it uses a weaker encryption protocol than its other profiles. According to the customer support agent I spoke to, this is because stronger encryption protocols will slow down your connection.
You can increase your encryption, but this will reduce your speed. I can't recommend this, given that my speeds while using the streaming profile were already slow, even with the weaker encryption.
PureVPN also operates specialized servers for most popular websites. If there's a specific website you'd like to unblock, you can search for it on the server-selection page and receive a list of servers that can unblock it.
PureVPN Speeds
Whether you want to torrent, stream, or just browse, it's crucial that your VPN offer high-speed connections. It's normal to experience some speed loss, because your data has to travel farther to reach the VPN server. However, the difference should be barely noticeable with a premium VPN.
When determining the speed of an internet connection, we measure three things:
The download speed is the rate at which you can pull data from a server to your device. The higher this number is, the faster your internet connection will be. This is measured in megabits per second (Mbps).
The upload speed is how quickly you can send data from your device to others. The higher this number is, the faster you'll be able to send files and upload data. This is also measured in megabits per second (Mbps).
The ping is how long it takes your connection to respond after you've sent a request. The lower this number is, the faster your connection will be. This is measured in milliseconds (ms).
During my analysis of PureVPN, I measured my speed while connected to a local server and to a server in the US. The usual assumption is that connection times to a local server are quicker, because the data has less distance to travel.
My speed before connecting to PureVPN was 12.49 Mbps download, 0.91 Mbps upload, with a ping of 34 ms.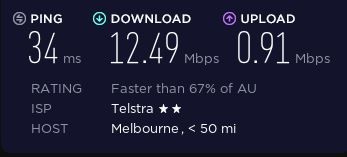 When I connected to my local PureVPN server in Australia, my download speed dropped slightly to 10.75 Mbps, and my upload speed dropped to 0.85 Mbps. My ping increased to 76 ms. I didn't notice any speed difference.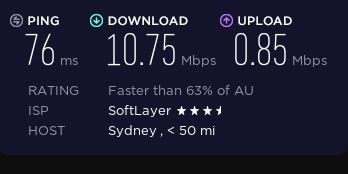 However, when I connected to a US server, my download speed plummeted to 3.78 Mbps. My upload speed actually increased slightly to 0.87 Mbps, and my ping increased to 216 ms. This was still fast enough to stream in high definition, but my connection definitely lagged.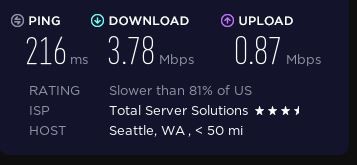 Is PureVPN Good for Torrenting?
Yes. PureVPN supports P2P file sharing. In fact, it offers a dedicated torrenting profile and specialized servers to ensure that your P2P connection is as fast and secure as possible.
Security – Is PureVPN Safe?
PureVPN offers reliable security protocols, but its no-logs policy came under fire in 2016 as a result of its involvement in a criminal investigation.
Does PureVPN Keep Logs?
PureVPN is headquartered in Hong Kong, outside the 5/9/14-Eyes jurisdiction. It claims to keep a strict no-logs policy, but was able to supply a user's records in a 2016 cyberstalking investigation.
The court documents credit PureVPN for supplying information that linked the use of two separate email accounts and identified the user's home and workplace IP addresses.
After the court case, PureVPN updated its privacy policy to reassure its users:
"We DO NOT keep any record of your browsing activities, connection logs, records of the VPN IPs assigned to you, your original IPs, your connection time, the history of your browsing, the sites you visited, your outgoing traffic, the content or data you accessed, or the DNS queries generated by you."

But can this VPN really be trusted? There's no way to prove whether or not PureVPN continues to log users' data. If you're looking for a VPN to protect your anonymity, PureVPN might not be the best choice for you. You can check out our guide to the most transparent VPNs available, instead.
Does PureVPN Have an Ad Blocker?
Yes, PureVPN's app includes a built-in ad blocker.
Does PureVPN Work in China?
Yes, PureVPN is able to bypass China's firewall and VPN blocks.
It also operates servers in China for high-speed access to local websites.
Price and Value for Money
PureVPN is feature-packed and offers great value for money.
Does PureVPN Have a Free Version?
PureVPN doesn't offer a free trial. It does offer a well-priced, 3-day paid trial, though.
PureVPN's Refund Policy
PureVPN offers a 31-day, money-back guarantee.
Is PureVPN Compatible with My Device?
You can connect up to 10 devices simultaneously with PureVPN. There are apps available for all devices, including Smart TVs and gaming consoles.
Encryption
PureVPN uses 256-bit encryption to protect your data.
Leak Protection
The VPN offers DNS, IPV6, and WebRTC leak protection.
Internet Kill Switch
PureVPN's automatic kill switch prevents unprotected data leaving your network in the rare event that your VPN connection fails.
Split Tunneling
The VPN's split tunneling feature lets you choose which data you send through your VPN connection, and which you don't. This is great in office environments, for example, where you need to connect to some services using your local IP.
PureVPN Customer Service
I opened a live support chat to find out more about the encryption protocol the VPN uses for its streaming profile, since the website is very vague about it.
Unfortunately, this was a frustrating process. The support agent was polite, but did not read my question properly. In fact, they just redirected me to the exact page I was asking them to explain.
I then waited a few moments while, I assume, they were doing some research. Their second answer was helpful, and resolved my query.
PureVPN's customer service needs improvement. Overall, this wouldn't be enough to prevent me from using a VPN, but it is something to keep in mind if you value customer service like I do.
User Experience
PureVPN is straightforward and easy to use, but its app requires a lot of power to run.
I tested it using a Windows 8 device with 4GB of RAM and an Intel Core i3 processor. Running the app caused my computer to slow down to a frustrating pace. It even froze my computer four times during an hour-long session. If you're operating a slow or older device, I'd recommend using the browser extension instead.
When getting started, it took less than five minutes to download and install the app. Once you log in, it's ready to go. You don't need to manually adjust any settings, but you can customize your connection in the preferences window.
When you're ready to connect, you'll need to select a profile for your VPN. Each profile is designed to optimize your connection for its intended use.
It's easy to switch servers. If you select Popular Websites and enter the service you want to unblock, the app will recommend a series of servers that are best suited for that site. You can also search for them manually by location.
Overall, I found the app frustrating to use. Although it's functional and well designed, it took a huge toll on my device's performance.
Conclusion
PureVPN has all the features you need in a premium VPN, but its performance and customer service don't measure up.
The app was very demanding on my computer's resources, causing my system to slow down and, a few times, freeze altogether. The problem resolved immediately after I closed the app.
During my speed tests, I enjoyed a high-speed connection on my local PureVPN server. But I lost a lot of speed when I connected to US servers. Although I was still able to stream HD content from the major websites I tested, like Netflix US, my loading times were very slow. If you're after speedy streaming on any server, and extra features thrown in, too, such as specialty streaming servers, check out one of these top 10 VPNs for Netflix.
The VPN's customer support was a letdown, too. I found it frustrating that I needed to ask my question twice before the support agent understood it properly.
It should also be mentioned that PureVPN's no-logs policy came under fire several years ago, when it was able to supply a user's records in a 2016 cyberstalking investigation.
With all of these issues in mind, I don't recommend PureVPN. If you're looking for a fast, high-quality VPN, I suggest taking a look at CyberGhost or ExpressVPN instead.
💸

Price
$2.91/month

📆

Money Back Guarantee
31

📝

Does VPN keep logs?
No

🖥

Number of servers
6500

💻

Number of devices per license
10

🛡

Kill switch
Yes

🗺

Based in country
Hong Kong

📥

Supports torrenting
No