AirVPN is a reliable, budget-friendly VPN with high-end security features. It offers unlimited bandwidth on 240+ servers across 20 countries.
Let's take an in-depth look at its features and policies to find out if this is the best VPN for you.
AirVPN does work with Netflix, but it's not quite the seamless streaming experience we'd hoped for, with slow speeds and ads. If you want speedy, uninterrupted streaming, check out our most highly-rated vendors for unblocking Netflix.
Just a short note to say that if you are looking for an easy solution for streaming the BBC iPlayer, AirVPN is not an option. For that, check out one of the VPNs we've vetted that works across all streaming platforms like ExpressVPN.
Does AirVPN Works with Netflix?
Yes, I was able to stream Netflix US using AirVPN. During my tests, I noticed a small speed reduction which caused the quality of my stream to drop. I resolved this by letting my stream load for a little while longer before pressing play.
AirVPN's plans include unlimited bandwidth, which helps to reduce buffering and load times while you're streaming and browsing.
I was disappointed to see that AirVPN's app lacks an ad blocker. Using an ad blocker while you're streaming eliminates the pop ups and mid-roll ads that can interrupt your show or movie. Although this isn't an issue with Netflix, it is a useful feature to have if you use free or ad-supported streaming services like CWTV.
Looking for ad-free streaming and lightning-fast speeds? ExpressVPN is our #1 recommended vendor for streaming on Netflix for these reasons and much more. It can also unblock BBC iPlayer, unlike AirVPN.
Netflix US: Yes, I was able to stream Netflix US using AirVPN.
Hulu: Yes. I had no issues streaming Hulu with AirVPN.
HBO GO: Yes. AirVPN's US servers can bypass HBO GO's VPN blocks.
BBC iPlayer: No. BBC iPlayer detected that we were not within the UK, even when using a UK server.
AirVPN Speeds
When you're looking for a VPN, it's important to choose a service with high-speed connections. If you're stuck with a slow service, you won't be able to play games, stream, or torrent.
It is normal to lose a little bit of speed when you connect to a VPN, particularly if you're using a server overseas. This is because your data has to travel further, and because it takes extra time to encrypt and decrypt your data. However, when you use a premium VPN, this speed difference should be barely noticeable.
If you're browsing local websites, you'll get the best speeds by connecting to a server that's close to your physical location. But if you're streaming and need to bypass geoblocks, you'll have to connect to a server that's farther away.
AirVPN operates a smaller server network than most of its competition. When I began my testing, I discovered that it doesn't have an Australian server at all. This means that, even when I connected to the recommended server, my data had to travel halfway across the world to the nearest server.
Despite this, I was very impressed with AirVPN's connection speeds. For comparison, I tested my speed before I connected to AirVPN.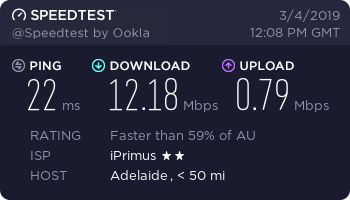 The closest AirVPN server to my location was in the UK. Considering the distance that my data had to travel to get to the VPN server, my speed loss was minimal. At 5.92ms, I could still browse, stream, and download without noticing any speed loss.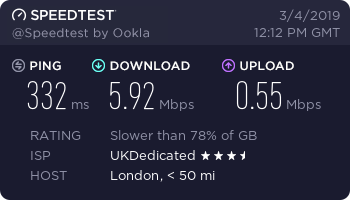 I was extremely surprised with my speeds when connected to AirVPN's US server. At 10.63Mbps download, I had barely lost any speed at all. My ping did increase, but was well within the normal limits.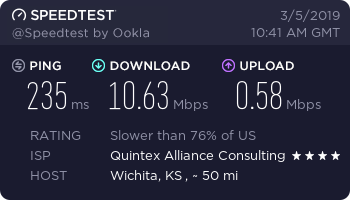 Is AirVPN Good for Torrenting?
Yes. You can use any AirVPN for P2P connections. It does not limit or throttle P2P connections, so you can enjoy top speeds while you torrent.
Security - is AirVPN Safe?
Does AirVPN Keep Logs?
AirVPN keeps no record of your browsing activity or data. However, it is based in Italy, a member of the 14-Eyes Alliance.
According to its privacy policy, when you use AirVPN, your information is protected in compliance with EU data protection laws, even if you use a server outside the EU. Further to this, it states that it is under jurisdiction of the EU, and will only respond to European Union laws, and not those of the 14-Eyes Alliance.
Does AirVPN Have an Adblocker?
Unfortunately, AirVPN does not have an ad blocker.
Does AirVPN Work in China?
Yes, but according to its users, you will need some technical skills to configure it so that it can bypass the Great Wall of China. Luckily, there are some helpful guides on the AirVPN forums to assist you.
Price and Value for Money
Does AirVPN Have a Free Version?
AirVPN does not offer a free trial on any of its services. If you'd like to test it out before subscribing, it offers a low-cost 3-day subscription.
AirVPN's Refund Policy
If you aren't satisfied with AirVPN's service, you can apply for a refund in writing within three days of payment. AirVPN states that it will refund the cost within 30 days of your request as long as you haven't violated its terms of service and/or used 5 GB of data or more.
Is AirVPN Compatible with My Device?
AirVPN is compatible with almost every device, including:
Windows
Linux
MacOS
Android
iOS
chromeOS
DD-WRT
Tomato
AsusWRT
pfSense
Tor
SSH & SSL Tunnel
You can also connect up to five of your devices with one account.
Encryption
AirVPN's 256-bit encryption guarantees you the highest level of protection possible. It would take 50 supercomputers capable of checking a billion billion AES keys per second 3×1051 years to crack a single piece of your data with AirVPN's protection.
Network Lock
AirVPN's network lock prevents unprotected data from leaving your network when you're not securely connected to a VPN server. Unlike an automatic kill switch, you'll need to activate the network lock before connecting to your server.
AirVPN Customer Service
I reached out to AirVPN through their online ticketing system. Although it took 48 hours for my ticket to be answered, the staff member I spoke with was professional, polite, and understanding.
I also checked out the forum to see how they handled customer's questions and reviews. They were, again, extremely polite and helpful, even when dealing with complaints and complex problems. My only criticism is that they sometimes delivered highly technical answers without explaining them in easy-to-understand terms.
User Experience
AirVPN's app is quick to install and easy to use. It's great for beginners, but it is a bit outdated. It lacks some of the features that more modern VPNs use, like optimized servers and automatic connections. This makes server selection a lengthy process and one that I found frustrating on more than one occasion.
Advanced users won't be disappointed. You can customize almost every part of your VPN within the app. And, if you need some assistance, you can find extensive guides from AirVPN staff on the forums.
Once you've logged in, you can choose to connect to the closest, fastest server automatically, or select your server manually.
You'll need to whitelist the country you want to connect to in the Countries panel. Then, you'll need to switch to the servers panel and filter through the list to find the one you need. This step is very tedious, and you may need to try several servers before you find one that can access the website you need.
I'd love to see AirVPN add some more ease-of-use features in the future, like a list of servers that are optimized for streaming services.
Overall, it's a very intuitive app to use, even though it is time-consuming to find and connect to the right server.
Conclusion
When it comes down to it, AirVPN cuts some important corners to keep its prices low.
Its app is easy to use, but its lack of features makes it inconvenient. If you don't need your VPN to bypass geoblocks, it may be a good, budget-friendly option for you. But if you'll be changing servers regularly, you'll need a VPN that makes it easy to do so.
That's especially important if you're changing between Netflix libraries. Why not check out our top VPNs for Netflix? Not only do these vendors offer unlimited server switches and ad-free browsing, but incredible speeds, too.
AirVPN was lightning-fast, even though I was connected to a server on the other side of the globe.
Its customer support staff are friendly are helpful, but unfortunately, their response time was quite slow when compared to its competitors. When you invest in a VPN to protect your privacy, it's vital that its customer support staff can respond quickly if any problems arise. I'd like to see AirVPN invest in a live chat support system, but for now, their ticketing system is a big letdown.
If you're looking for the fastest VPN for streaming, torrenting, or browsing, there are better recommendations I'd make over AirVPN. Instead, I suggest a provider with updated interfaces and timely, live chat customer support, like ExpressVPN or CyberGhost.
AirVPN Features — Updated in January 2022
7.4
💸

Price
$3.11/month

📆

Money Back Guarantee
30

📝

Does VPN keep logs?
No

🖥

Number of servers
240

💻

Number of devices per license
5

🛡

Kill switch
Yes

🗺

Based in country
Italy