Considering that you can buy Ghost Path VPN for less than $3 per month, I wanted to give the company's system an in-depth review to find where they had compromised to keep the price low.
It didn't take me long to discover that Ghost Path is a pretty basic VPN option. More demanding users will be disappointed by the lack of features. If you want a VPN that gives you more for your money, check out our best VPNs in 2022 instead.
One thing Ghost Path does give you is a 30-day money-back guarantee. You can try the service safe in the knowledge that if it's not right for you, they will refund you.
Try Ghost Path Risk-Free For 30 Days!
Short on Time? Here Are My Key Findings
Only unblocks Netflix. Most streaming sites discovered Ghost Path and blocked me from viewing. The only streaming site that worked for me was Netflix, but it worked consistently and reliably.
Inconsistent speeds. Using servers close to my location, the speeds were only marginally slower than through my ISP. However, long distances proved difficult in some cases with significantly reduced speeds.
Small network. Ghost Path only has a limited network of servers - 130 servers in 50 countries. Most servers were reliable but I had connection issues on some.
Limited apps. There are only native clients for Windows and macOS — other devices require complicated manual setup.
Good security. The VPN uses military-grade 256-bit AES encryption and I didn't discover any IP leaks.
No-logs policy but US HQ. Ghost Path claims to keep no logs but is based in the US, which is not privacy friendly.
30-day money-back guarantee. Ghost Path offers a standard money-back guarantee so you can try out the service with no risk.
Ghost Path Features — Updated in January 2022
6.8
💸

Price
$2.91/month

📆

Money Back Guarantee
30

📝

Does VPN keep logs?
No

🖥

Number of servers
130

💻

Number of devices per license
5

🛡

Kill switch
Yes

🗺

Based in country
United States

📥

Supports torrenting
Yes
Streaming — Only Unblocks Netflix, All Other TV Streaming Sites Detect a VPN Is In Use
Ghost Path VPN could only unblock Netflix. Every streaming service except Netflix detected that I was using a VPN.
Some explicitly gave a warning or error, while others simply didn't work. To prove it was an issue with Ghost Path VPN and not a general problem for all VPNs, I used another well-known provider to access the streams — in each case they worked the first time.
Streaming TV is an essential feature for VPNs, so I contacted Ghost Path support. They replied that they could not guarantee the ability of their service to unblock streaming sites, and new servers are being shut down within a day or so of launching.
Unblocked: Netflix
Netflix worked from every server I tried, in the USA, UK, Europe, or Asia.
I could switch servers as often as I liked, and selecting one of the 45 USA servers provided buffer-free streaming of Netflix US content.
Choosing one of the other 50 countries brought up the local library with lag-free streaming. There are only six UK servers at the time of writing, and one (Eastleigh near Southampton) appeared to be down. I had no issues with any of the other five UK servers.
We know that Netflix and other providers are constantly trying to block VPN connections, so the fact that Ghost Path VPN had no issues unblocking Netflix is a huge positive.
Blocked By: Disney+, Amazon Prime Video, HBO Max, Hulu, BBC iPlayer, ITV Hub, Peacock TV
Unfortunately, Ghost Path VPN couldn't unblock any other streaming sites.
It seems Disney+ is wise to Ghost Path VPN servers. No matter which country or server I tried, I couldn't unblock the streaming channel. With Ghost Path VPN connected, the Disney+ homepage was blank.
To make sure, I used another well-known VPN and it allowed me to log in with no problems. If streaming Disney is one of your needs, then check our best VPNs that can unblock Disney+.
Amazon Prime is another top-rated streaming service that is working hard to block VPN servers. No matter which of the 45 US servers I tried, Amazon Prime Video detected Ghost Path every time and prevented me from streaming.
I had the same issue with every other streaming service I tried. HBO Max, Hulu, BBC iPlayer, ITV Hub, and Peacock TV all detected Ghost Path and blocked me from viewing their content.
Speeds — Consistent Speeds On Local Servers, But Distant Servers Hit and Miss
Overall, some Ghost Path servers gave me decent speeds but these weren't reliable across the network.
I measured my base connection so I had a comparison for my speed test results. I got 24 ms ping, 19.23 Mbps download speeds, and 4.81 Mbps upload speeds.
The nearest server to me was in Tel Aviv, Israel. When I connected to the server, Ghost Path slightly reduced both download and upload speeds but nothing serious. However, the ping time was much longer at 188ms. The ping rate is significant, particularly for online gamers as it could cause lag and jumpy game play.
Next, I tried connecting to the UK via Ghost Path but initially encountered numerous connection failures. Although Ghost Path showed that I was connected, the speed test failed and the test app reported a loss of connection.
I tried later in the day and the problem had cleared, so that may have been a temporary glitch. Test speeds from the London server were only marginally down compared to my direct link, but again the ping was significantly higher — hitting 145 ms.
Overall, test speeds for servers relatively close to my location in Cyprus were acceptable. My speeds hovered around 17-18 Mbps, which is fast enough to stream in HD (but not in UHD). Unfortunately, the high ping is likely to cause latency issues with streaming.
However, the speeds from Ghost Path VPN servers in distant locations were more disappointing. I ran tests on numerous servers and, as you can see from the examples below, the biggest issue was ping times again.
Boston and San Diego both had good data speeds, with the Californian location almost matching my local non-VPN test. Boston wasn't far behind, but ping times of 410 ms for San Diego and 303 ms for Boston could make the servers unworkable for gamers or streaming TV.
It seems that Ghost Path also has trouble with its servers in Australasia and Asia, as you can see from the table below. Distance itself isn't the issue as San Diego is almost as far as Sydney from Cyprus, but the speeds from San Diego almost matched those without a VPN connected.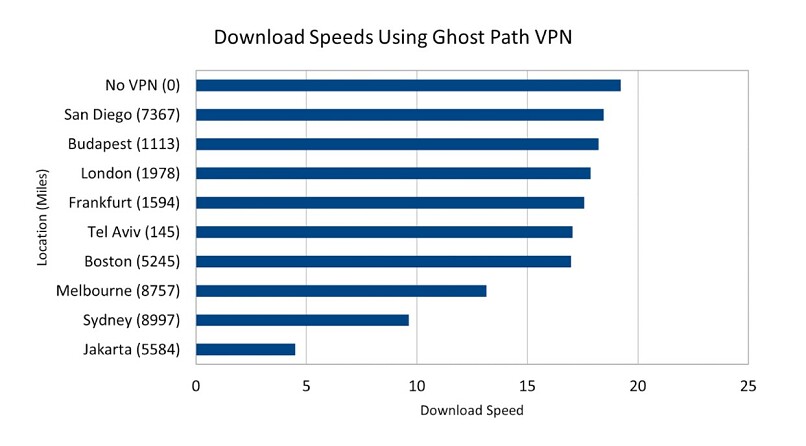 Are Ghost Path's Speeds Fast Enough for Gaming? Only on Some Servers
RuneScape ran with no issues on some Ghost Path servers in the US, Tel Aviv, London, and other European countries. There was no lag or and the graphics updated without any glitches or buffering.
However, as we saw on the speed tests, servers that are much further away were producing long ping times so I needed to test the USA and Australian servers.
I connected to the San Diego server, which had given ping times of 410 ms, expecting some problems but was pleasantly surprised. I didn't experience any lag or slow game play, and everything ran smoothly.
However, switching to Melbourne in Australia was a very different story. I measured a ping time of 636 ms, but my download speeds also slowed to 13 Mbps. There was a very noticeable lag when sending commands to myr character, and the graphic updates were slow.
If you're a gamer looking for a VPN that gives you reliable ping and speeds across its network, check out our best gaming VPNs for better options.
Get Ghost Path For Gaming Now!
Server Network — Small Network With Some Reliability Issues
Ghost Path VPN has 130 servers, spread over 50 different countries — so you should be able to find a server close to your location.
The most significant number of servers are based in the USA, with 43 individual servers located in 27 different cities. I had no issues connecting to any of them.
The UK has 12 servers in 6 locations. However, I did have a couple of issues connecting to the UK, and I never successfully connected to a server in the Eastleigh area.
One helpful feature is that Ghost Path offers servers located in countries that restrict Internet access, such as Russia and Turkey. Lots of VPNs pulled servers from these locations after local governments cracked down on VPN regulations, so this is a bonus.
Admittedly, there is only one server in Turkey, but I had no issues connecting to it — and the two Russian Federation servers in Moscow and St Petersburg worked fine.
Overall, there is a good spread of servers worldwide, ensuring there is usually one close to you. Only Africa is completely left out.
Security — Industry-Standard Encryption But Few Extra Security Features
Ghost Path VPN uses industry-standard 256-bit AES encryption, which is virtually unbreakable and will prevent your ISP or anyone else from logging your online activity.
The VPN claims to offer multi-hop, but I couldn't find anywhere in the settings to activate this feature. In reality, multi-hop VPNs are not really necessary unless you are highly cautious and worried about data snoopers. For 99.99% of users, a single VPN is all that is required. Besides, using this feature will most likely slow down your surfing speeds significantly.
There are very few additional user-changeable security settings, but you can choose between OpenVPN or PPTP security protocols. I'm used to VPNs offering more choice when it comes to protocols, but I usually choose OpenVPN anyway as it gives you the best balance of speed and security.
I was especially disappointed to see there's no automatic kill switch. The Ghost Path website claims the VPN has a kill switch but, when I looked into it, I saw they were talking about their DNS and IP leak protection settings.
A kill switch cuts off your traffic if you lose connection to the VPN, preventing it from defaulting to your ISP and exposing your identifying information and online activity. It's not the same thing as DNS/IP leak protection and is usually offered as standard by good VPNs. It's a real shortfall that Ghost Path doesn't give you this protection.
Leak Testing
I didn't find any leaks on any of the Ghost Path servers I tested.
If a VPN is leaking your actual location, your ISP or online snoopers can log your internet activity. Ghost Path gives Web RTC and IPv4 leak protection but doesn't currently support the IPv6 format.
Also, you have to ensure you turn on IP and DNS leak protection in the settings. This is a bit frustrating as leak protection really should be an automatic precaution.
Privacy — No-Logs, But US HQ
Ghost Path can log your connection history and IP address, but you can disable logging in your settings. This is an unusual setup as I'm not sure why anyone would want their information to be logged, but no-logs is the default setting and the VPN promises not to store any logs at all when this option is toggled off.
The only personal information recorded by Ghost Path is your email address and password, stored securely on their servers. Of course, you also need to provide a payment method to maintain your VPN service, and Ghost Path uses Stripe for this process.
That being said, Ghost Path is based in the US — which is a member country of the 5/9/14 Eyes Alliance. The alliance is an international intelligence sharing pact that includes government surveillance of online activity.
Since Ghost Path claims to store none of your identifiable data, this shouldn't be too much of a problem — they can't pass US authorities your information if they haven't logged anything to hand over.
But Ghost Path has never undergone independent audits of its security measures and privacy policies. We can only take the VPN's word that it's not storing information that could be used against you. If you want complete privacy and anonymity, I would choose a VPN based in a more privacy-friendly country — and that has had its practices independently verified.
Torrenting — P2P Traffic Allowed but Worrying DMCA Policy
Ghost Path claims to be "torrent and P2P friendly" but it has no dedicated features for torrenting or P2P-optimized servers. All you can do is select the fastest download speed by using the built-in speed tester. There didn't appear to be any restrictions on which servers you could use.
I had no problem downloading using uTorrent, but the speed was not great.
The VPN's US base is also a concern when it comes to torrenting, as the States has very strict laws when it comes to sharing copyrighted content online. You could get into trouble if you torrent copyrighted material accidentally.
Ghost Path's DMCA policy (Digital Millennium Copyright Act) makes it very clear they'll assist US authorities in any legal investigations that might be launched against you.
Again, this shouldn't be a problem if the VPN doesn't store logs of your online activity. However, I prefer torrenting with a completely secure, zero-logs VPN that's based in a privacy-friendly country, so I know I'm 100% protected.
If you feel the same way, I'd recommend that you choose one of our top-rated VPNs for torrenting instead. They'll give you P2P-optimized servers, lightning-fast speeds, and guaranteed privacy.
Does Ghost Path Work in China? No Promises
Ghost Path's customer support was not able to guarantee that the VPN works in China.
The VPN has servers in Hong Kong, which is a bonus as it should give you decent speeds when logging in from China. Sadly, there's no guarantee you'll be able to.
There are better VPNs that work in China with more reliability.
Simultaneous Device Connections — Connect Up to 5 Devices
You can connect up to five devices to Ghost Path simultaneously.
If you prefer, there is also the option to install Ghost Path at the router level. This option will give you complete protection across all devices in your household, but you can only connect to one server at a time. If one person wants to stream TV shows from the USA and another wants to stream from the UK, you have to choose one or the other.
Adding several devices at the same time didn't cause any issues. I connected my desktop, laptop (operating Windows 10), and Android cell phone with no problems.
With these three devices connected, there was no difference in performance. With Netflix videos playing on both the desktop and laptop, there was no buffering or lag. Considering my download speed here in Cyprus is only a maximum of 20Mb, that's very good.
Device Compatibility — Native Apps for Windows and Mac Only
Ghost Path VPN only provides apps for Windows and macOS. I was really surprised to see there aren't even native clients for Android or iOS. Bad news if you want to use the VPN on your smartphone!
Instead, you have to set the VPN up manually on other devices. The Ghost Path website provides a couple of manual setup tutorials for different devices but they're not particularly in-depth.
Read our rundown of the best VPNs for Android or the best VPNs for iOS to find a service that saves you hours of complicated configuration.