Mullvad is a budget-friendly VPN that operates 360+ servers in 30+ countries. It also operates bridge servers that help users bypass censorship and firewalls. This means you can connect to Mullvad from places like China.
It's easy to use and security-minded. This VPN keeps a strict no-logs policy and protects your data with military-level encryption. You can try it free for three hours before purchasing a subscription.
Let's get straight into it by saying that Mullvad can't unblock Netflix. You can save time searching for a VPN that does, as we've rounded up the top five VPNs for streaming Netflix anywhere in the world, with unlimited bandwidth, the best speeds, and no interruptions.
If you're looking for a VPN with more global coverage and server availability, plus those all-important unblocking capabilities, consider a premium provider, such as NordVPN.
Streaming – Does Mullvad Work with Netflix?
I was excited to see if Mullvad could unblock Netflix and other top streaming services. Unfortunately, with the exception of HBO GO, the answer was no.
Netflix: No. I first connected to Mullvad's New York server. When that was unable to bypass Netflix's VPN block, I tried a few more. No luck.
Hulu: No. Mullvad wasn't able to bypass Hulu's VPN blocks, either.
HBO GO: Yes. I was able to stream HBO GO in high definition.
BBC iPlayer: No. Even on Mullvad's UK server, BBC iPlayer detected that I was connecting from outside the UK.
I was disappointed to see that Mullvad can't unblock most popular streaming sites. If you want to access Netflix, BBC iPlayer, Hulu, and more, check out leading vendor NordVPN. With its incredible speeds and impressive unblocking capabilities, it's a great choice for streaming.
Mullvad's Speeds
My connection was loading quite quickly while I was browsing, so I was interested to see exactly what my speed test results would be.
I first measured my speed without a VPN connection. I then tested it when connected to my local Mullvad server (in Australia). Lastly, I connected to a US server to see if there was much of a drop.
It's normal to experience some speed loss when using a VPN. This is because it takes time to encrypt and decrypt your data, and your traffic has to travel farther to reach the server. However, this speed loss should be hardly noticeable if you're using a premium VPN.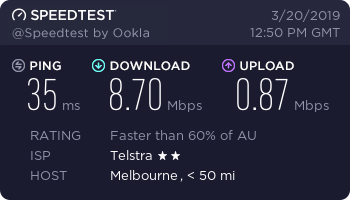 My speed prior to connecting to Mullvad:
5 ms Ping, 8.7 Mbps Download, and 0.86 Mbps Upload
This isn't incredibly fast, but not bad for Australia's outdated internet infrastructure.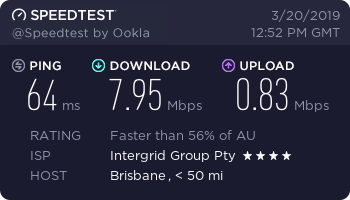 My speed when connected to my local Mullvad server:
64 ms Ping, 7.95 Mbps Download, and 0.83 Mbps Upload
Although my ping rose slightly, there really was no noticeable difference in my loading times when I connected to Mullvad's Australian server.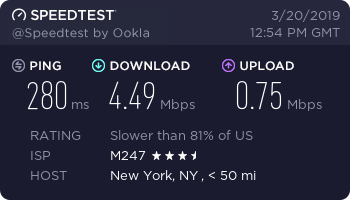 My speed when connected to a US server:
280 ms Ping, 4.49 Mbps Download, 0.75 Mbps Upload
My ping did increase, but this was expected because my data had to travel halfway across the globe. My download speed didn't drop very much, and 4.49 Mbps is still fast enough to download files and stream in high definition.
Overall, I was highly impressed with Mullvad's connection speeds. I didn't experience much of a speed loss, even when my data had to travel all the way to the US.
Is Mullvad Good for Torrenting?
Yes! With high connection speeds and secure servers, Mullvad is great for torrenting. It even provides guides for safe torrenting on its website.
Security – Is Mullvad Safe?
Does Mullvad Keep Logs?
Mullvad vigorously protects your privacy. It doesn't log any of your data, and all of its user accounts are totally anonymous.
This VPN is based in Sweden, which is a member of the Fourteen Eyes Alliance. Although I don't usually recommend VPNs from allied countries, Mullvad is the exception.
Given its extraordinary levels of anonymity and strict no-logs policy, there is little to no risk of your personal information being exposed, even if the authorities request it. There simply wouldn't be any records to expose.
Does Mullvad Have an Ad Blocker?
Mullvad doesn't have a built-in ad blocker, but it does recommend that users block ads using uBlock Origin.

Does Mullvad Work in China?
Yes, Mullvad allows you to counter China's VPN block and firewall.
Chinese authorities are constantly working to block most VPN connections. To get around this, Mullvad operates specialized servers that act as a bridge between your device and its regular servers.
Mullvad sends your data to these bridge servers using the SSH protocol, which wraps your data inside an extra layer of encryption so it can bypass China's surveillance technology.
From there, the bridge server sends your traffic to one of Mullvad's regular VPN servers. Mullvad offers an extensive guide to connecting to its bridge servers under the Guides section of its website.
Price and Value for Money
Does Mullvad Have a Free Version?
Mullvad offers a 3-hour free trial that you can use to test its service.
Mullvad's Refund Policy
Mullvad offers a 30-day, money-back guarantee. It cannot refund cash payments due to money laundering laws.
Is Mullvad Compatible with My Device?
Mullvad has apps for macOS, Windows, Fedora, and Debian. You can use its OpenVPN configuration files to install it on iOS, Android, Chromebook, Linux, and router and desktop operating systems.
It allows for up to 5 simultaneous connections per account, so you can protect all of your devices at once.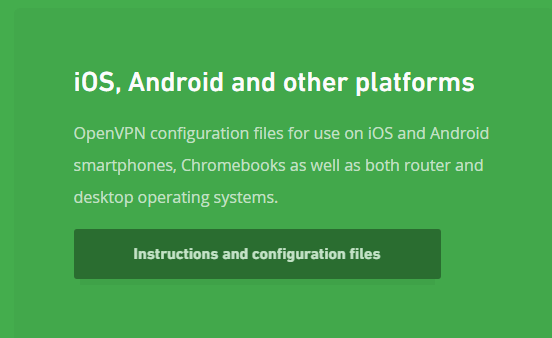 Encryption
Mullvad uses military-level 256-bit AES encryption.
SSL/SSH Tunneling Support
Mullvad supports SSL/SSH tunneling. This hides your data inside an additional layer of encryption to evade deep packet inspection methods used in countries with internet surveillance.
SOCKS5 Proxy
All of Mullvad's servers support SOCKS5 to further anonymize your connection.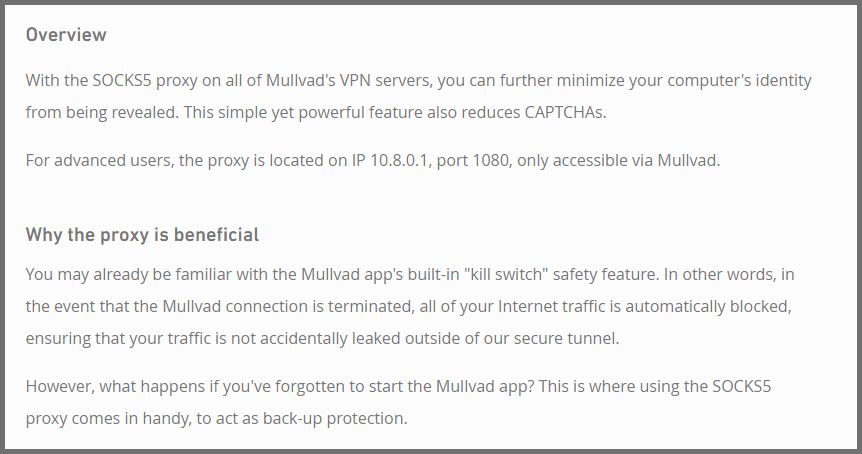 Automatic Kill Switch
All of Mullvad's apps include an automatic kill switch that prevents unprotected data leaving your network in the rare event that your VPN connection fails.
DNS Leak Protection
Mullvad has its own public DNS server, as well as DNS servers running on each VPN server. This prevents your browser leaking your real IP address to websites.
If you're using the Mullvad app, DNS leak protection is automatically on. If you're using OpenVPN, you'll need to configure it manually.
Mullvad Customer Service
Customer service is just another strong point for Mullvad. You can reach out to its customer support team via email and expect a quick response during business hours in Sweden.
When I sent an email to the team, I received a response in under two hours. There is, unfortunately, no live chat option, but if you don't feel like sending an email, you can also reach out over Twitter.
The representative who responded to me was polite and helpful, and answered my question succinctly.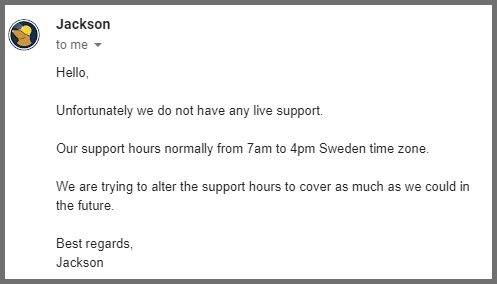 User Experience
Mullvad is one of the easiest VPNs to use. Registering is as simple as completing a simple captcha and being assigned an account number.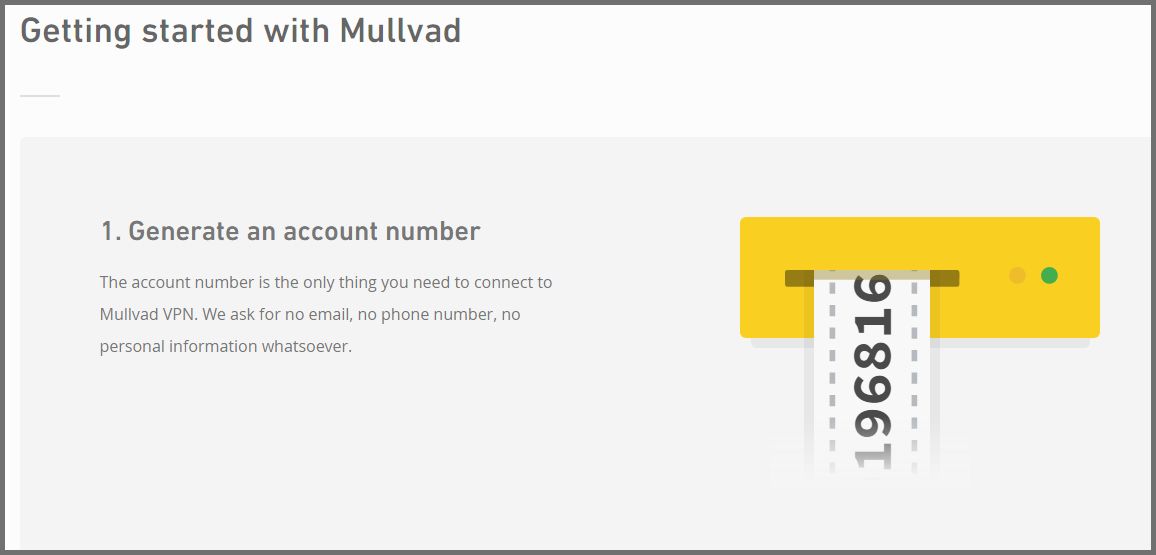 You'll be able to download the software in one click. Once you open the executable file, the app will install itself. Just log in and you'll get connected to the best server immediately. You're good to go in minutes!
Changing servers is easy. You can simply choose a country, or click the menu arrow next to a country to choose a specific server.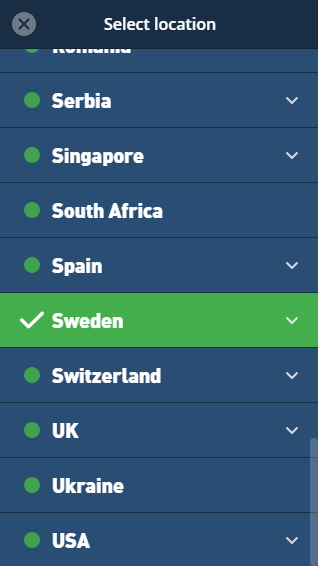 Conclusion
Mullvad is a genuine pleasure to use. It is secure and the speeds are great.
It is one of the only VPNs that offers a completely anonymous account. You don't need to provide a name, email, or even a password. You can even pay with cash if you don't want to store any of your account details.
It's perfect for beginners. Installation is simple, and you can get it up and running in about five minutes.
Mullvad's only downfall is that it wasn't able to unblock Netflix or Hulu. If you're looking for a VPN for streaming, I'd recommend one of these six vendors, which are all reliable for unblocking your favorite movies and TV shows on all major streaming sites.
If you're more interested in high security, low prices, and bypassing censorship, Mullvad may be a good option, but i'd still recommend premium provider NordVPN for the best all-round experience.
| Features | Details |
| --- | --- |
| Number of countries with servers | 24 |
| Number of servers | 160+ |
| Does VPN keep logs? | No |
| Does VPN include a kill switch? | Yes |
| Number of devices per license | 5 |