Mullvad VPN has been popular among privacy buffs for some time now, but I've always wondered about its other features. Does it offer good value for your money? To find out, I tested its mobile and desktop apps and did some thorough research on its features.
From this, it's clear that Mullvad VPN offers more than privacy and isn't far off from the premium VPNs. What really surprised me was its security features and speeds, which have undergone some big improvements. However, it still falls short on its streaming abilities as it still struggles to unblock a lot of streaming sites.
If you're not big on streaming and don't mind basic customer service, I'd highly recommend Mullvad VPN. You can check out all of its features with the promise of a refund, should it not work out. If that is the case, there are a number of other VPNs you can choose from as well.
Try Mullvad Risk-Free For 30 Days!
Short on Time? Here Are My Key Findings
Mullvad Features — Updated in May 2021
| | |
| --- | --- |
| Number of countries with servers | 37 |
| Number of servers | 770 |
| Number of IP addresses | 770 |
| Does VPN keep logs? | No |
| Does VPN include a kill switch? | Yes |
| Number of devices per license | 5 |
Streaming — Only Good for Unblocking Netflix
Mullvad unblocks US Netflix with ease, as well as Netflix libraries in other countries. However, it couldn't unblock other streaming sites like Amazon Prime Video, Hulu, and Disney+.
Unblocked: Netflix and HBO Max
Mullvad can unblock Netflix from anywhere. I began my streaming tests by connecting to a Mullvad server in Los Angeles (US-LAX-010), and even though it took me about 25 seconds to connect to the server, I watched my favorite Netflix shows in HD.
After that, I tested its US servers in Chicago (US-CHI-009), New York (US-NYC-102), Dallas (US-DAL-102), and Salt Lake City (US-SLC-104), and I unblocked Netflix every time.


Next, I tried to unblock Netflix libraries in other countries. I connected to Mullvad servers in Australia (AU-SYD-002), Brazil (BR_SAO-001), Japan (JP-TYO-002), France (FR-PAR-003), and Germany (DE-FRA-003) for good measure. I once again unblocked Netflix without any hassle.
Apart from Netflix, the only other major streaming site I unblocked was HBO Max. For this one, I connected to the VPN's US servers in New York (US-NYC-102) and Los Angeles (US-LAX-008). Again, I could watch HD shows without any lag.
Blocked By: Amazon Prime Video, Hulu, Disney+, ESPN+, BBC iPlayer, NOW TV, ITV Hub, and All 4
Unfortunately, Mullvad can't unblock popular streaming sites like Amazon Prime Video, Disney+, Hulu, ESPN+, and BBC iPlayer. While I could log into Amazon Prime Video successfully, I kept getting this error message when clicking the play button:
"Your device is connected to the Internet using a VPN or proxy service. Please disable it and try again."
This happened on 4 of the US servers I tested (New York, Los Angeles, Salt Lake City, and Seattle), so it's safe to say that Amazon Prime Video doesn't work. I also tried to unblock Hulu, Disney+, ESPN+, ITV Hub, YouTube TV All 4, and Plex, but I had similar problems yet again.
I then tried the VPN's UK servers to see if it could unblock British platforms like BBC iPlayer and NOW TV, but I was disappointed again. Mullvad servers in London and Manchester could not beat these blocks.
Overall, Mullvad is a solid choice for unblocking Netflix, but not much else. Streaming isn't something that it openly advertises, so this shouldn't come as a surprise.
Speeds — Fast and Consistent
Mullvad offers fast speeds across a range of short and long-distance servers. Its speeds were right up there with the premium VPNs, which really surprised me. Even though it slowed down a little on its long-distance servers, it was still fast enough to stream, torrent, and game. It's expected for speed to drop on long-distance servers because your data has to travel further.
Using Ookla's speed test tool, I measured my speeds based on the following factors:
Download speed — How long it takes to download files to your computer.
Upload speed — How quickly you can upload files and data, such as photos and videos.
Ping — A website's response time after you've clicked on its link. In short, it's the reaction time of your connection.
Local Speeds
To set a baseline, I tested the speeds of my local connection in Singapore without using a VPN. These were my readings:
| | |
| --- | --- |
| Ping (ms) | 7 |
| Download (Mbps) | 10.24 |
| Upload (Mbps) | 1.31 |
Then, I connected to Mullvad's server in Singapore (SG-SIN-203). My results were as follows:
| | |
| --- | --- |
| Ping (ms) | 31 |
| Download (Mbps) | 10.05 (2% decrease) |
| Upload (Mbps) | 1.31 (same) |
Even though the results differed on paper, none of my usual online activities were affected, and I didn't notice anything different between the non-VPN and VPN connection when web browsing or streaming.
Long-Distance Speeds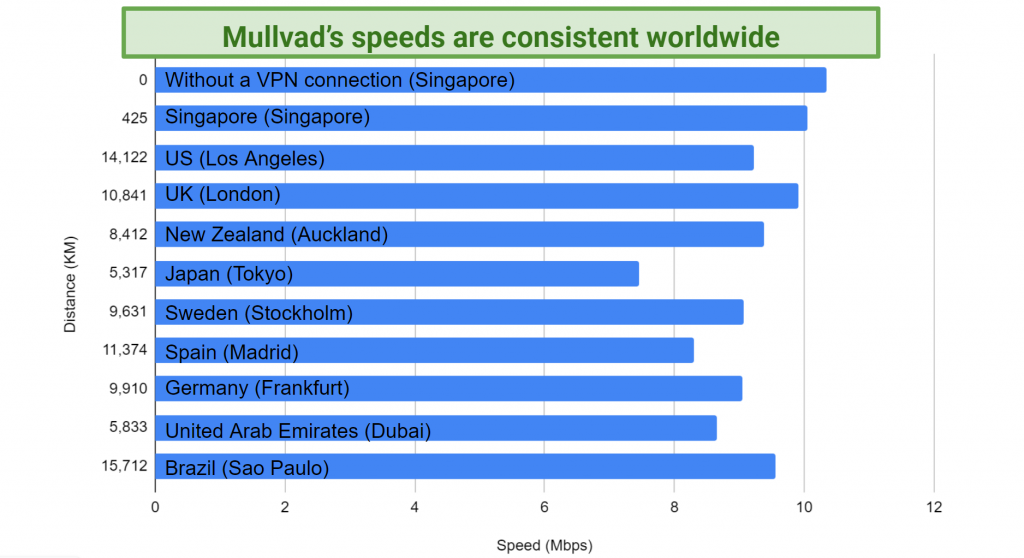 I connected to Mullvad servers in the US and UK for my long-distance tests, two of the most common worldwide server locations. I also connected to some other destinations, as per the graph above.
As expected, my speeds dropped a bit because of the long distance. The good news was that it was hardly noticeable. Here were my results for the US and UK:
US (US-LAX-201)
| | |
| --- | --- |
| Ping (ms) | 202 |
| Download (Mbps) | 9.23 (8% decrease) |
| Upload (Mbps) | 1.14 (13% decrease) |
UK (GB-LON-005)
| | |
| --- | --- |
| Ping (ms) | 195 |
| Download (Mbps) | 9.92 (11% decrease) |
| Upload (Mbps) | 1.01 (14% decrease) |
While I could still stream my favorite shows without issues, I noticed that it took longer to download pages on both servers. Even though the difference wasn't massive, it was slightly inconvenient, especially when I waited for Netflix to download. But once it started streaming, there wasn't any lag at all.
Mullvad's speeds across long-distance servers were fairly consistent, except for a couple of locations. This level of consistency in speeds is usually only found in top-tier VPNs, so I was rather surprised.
Are Mullvad's Speeds Fast Enough for Gaming? Yes, Speeds Are Smooth on Most Servers
It's possible to play without any interruptions on most of Mullvad's servers. By connecting to Mullvad VPN when you're gaming, you can bypass ISP throttling to improve your speeds and obtain expansion packs from other countries.
I tested several Mullvad servers worldwide while playing Brawlhalla online, and most of them were reliable. Out of the 5 countries I tried, only 2 of them were laggy. These were the servers in Spain and Brazil, which were both over 10,000 km away from my location. The further you are from the server you're using, the slower your speeds will be.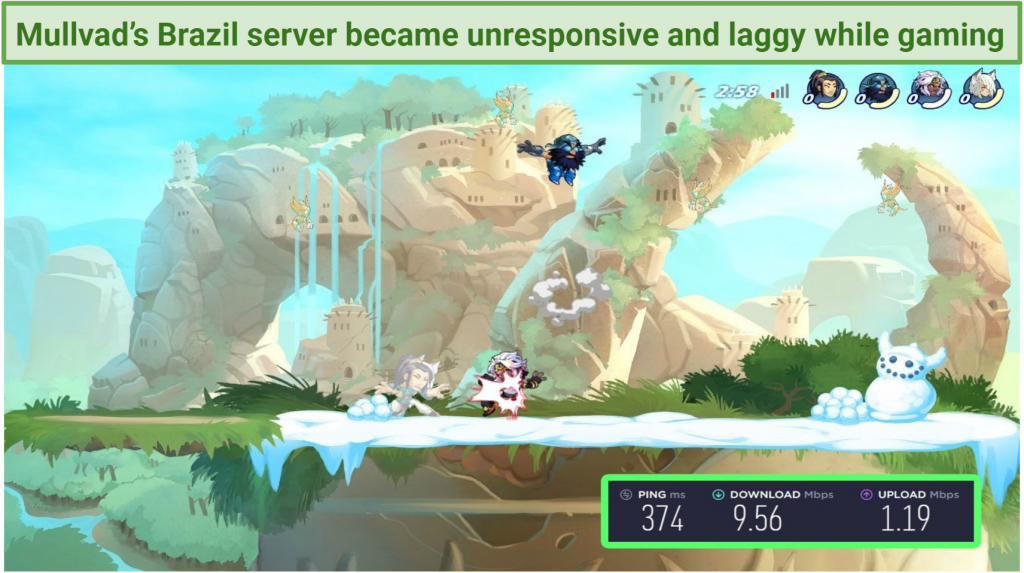 I spent the most time playing Brawlhalla on the US and UK servers. Even though they were over 10,000 km from my actual location, I still played without any lag for a solid 30 minutes.
From my results, it's clear that playing on international Mullvad servers has mixed results, but most servers are fast enough for lag-free gaming.
Server Network — Decent but Not Massive
Mullvad has 770 servers in 37 countries. While this is fewer than many top VPNs, the network provides fair coverage throughout the world. You'll find most Mullvad servers in North America, Europe, Asia, Australia, and New Zealand, but there are connections in places like Hong Kong and the United Arab Emirates too.
When you visit Mullvad VPN's server page, you can get real-time information on all of the company's servers. You'll see the hostname, location, provider, and ownership (either owned or rented) of every server, which tells you everything about the server. You can also filter your search on these factors or even search by VPN protocol. This level of transparency is rare among VPN providers, even the most well-known ones.


To ensure your security, Mullvad doesn't use any virtual servers. These servers use an IP address of a country that they aren't actually located in, meaning they run on virtual machines. For example, a virtual server for China might be located in Singapore. These virtual machines are often shared with other providers, which can leave your data open to third-party exposure.
Instead of virtual servers, it uses physical servers that it owns or rents, which are kept in highly secure data centers. Its website states that its rented servers aren't shared with other providers, which means your data isn't vulnerable to third-party breaches. Knowing that I can make an informed decision on the servers I use gives me great trust in Mullvad and its level of commitment to running secure servers makes me feel safe.
Another point to mention is that Mullvad doesn't have any specialized servers. Specialized servers are good if you have a specific use in mind, such as P2P sharing and bypassing firewalls. However, all of its servers are optimized for P2P sharing, so this is unnecessary.
When I tested Mullvad's servers, I generally had positive experiences. Out of all the servers I tested in my speed tests, it took me no longer than 15 seconds to connect to each one. All I had to do was select the server location I wanted in the app. The connections were largely reliable, and I only got some downtime with the servers in Brazil and the UAE, which only lasted for about 10 seconds.
Security — Robust and High-Quality
Security Breaches and Independent Audits
Mullvad had one minor security breach in early 2020. It was a privilege escalation attack on versions 2020.3 and older, and it only affected users who may have had a Windows account named build. By the time Mullvad reported the attack, most users were already protected because they'd already upgraded to version 2020.4 or were never in any danger because they didn't have a Windows account with the necessary and specific name.
Mullvad had one independent audit in June 2020, which was conducted by Cure53. It was performed on the desktop versions of its app (both Windows and Mac) and its apps for Android and iOS.
The full audit is available on Cure53's website, and it found 7 issues in total. Just 2 of those issues were classed as medium severity, while another 2 were classed as low. The remaining 3 were classed as info, which is lower than low. Nothing was classified as dangerous. By the time Mullvad received the report, 5 of the 7 issues had already been fixed. Since then, the other 2 issues were fixed in version 2020.5.
Cure53 stated that "Mullvad does a great job protecting the end-user from common PII (personally identifiable information) leaks and privacy-related risks." When using Mullvad, I can safely say that I don't have any concerns about my privacy or online security.
Encryption and Security Protocols
Mullvad uses OpenVPN (both TCP and UDP ports) and WireGuard — two of the most advanced and popular VPN protocols. You can choose which you'd like to use or let Mullvad do it all for you by selecting automatic, which is the default setting. The default protocol is WireGuard for macOS, iOS, Android, and Linux apps. For Windows, it depends on your connection. Here's a brief explanation of each protocol:
OpenVPN — OpenVPN is an open-source protocol that gives you an outstanding balance of speed and security. These features and its easy configuration with different port types contribute to it being the default protocol for a lot of VPNs.
WireGuard — A newer protocol that's becoming popular, WireGuard aims to increase speeds by running from the Linux kernel.
SOCKS5 — This protocol is a proxy server that routes small packets of data between the server and user. It's good at getting around internet restrictions because it's a proxy and is useful on P2P platforms because of the faster download speeds from smaller data packets.
I use OpenVPN for activities where privacy and security are of importance, such as using public WiFi, WireGuard for streaming and gaming because those activities are largely affected by speed and SOCKS5 for P2P sharing.
Mullvad uses AES-256 bit encryption, the strongest level of encryption currently available. With this method, it would take several lifetimes for the world's most powerful supercomputers to break the encryption, meaning that your internet traffic is extremely secure.
It's for this reason that top government agencies use AES-256 bit encryption to protect their most sensitive data.
Leak Tests and Leak Protection
Mullvad has DNS leak protection that's always enabled. A leak occurs when your DNS request goes through your ISP by accident, usually as a result of misconfiguration. When this happens, you risk exposing your hidden online activity to your ISP, which can be a big problem if you're torrenting. Therefore, testing for this fault is crucial for privacy and anonymity.
I wanted to see if Mullvad's DNS leak protection is secure, so I ran a few leak tests on ipleak.net. After connecting to servers in the US, UK, Australia, and Germany, I didn't detect any leaks. Not only did my DNS requests go through Mullvad's server, but my real IP address was masked.


Also, Mullvad protects IPv6 connections from DNS leaks, which is quite unusual for a VPN. IPv6 connections aren't as common as IPv4 connections, so most VPNs don't offer protection against it. This often results in IPv6 users experiencing DNS leaks when using a VPN, so ensuring this protection against it should give peace of mind.
Other Security Features
Kill Switch — A kill switch acts as your last line of defense when your VPN connection unexpectedly drops. Mullvad has a built-in kill switch that can never be disabled. I tested it by trying to load a page when changing servers, and it said my connection was cut off.
Split Tunneling — Split tunneling allows you to use your VPN connection and local network at the same time. The advantage is that you can use local apps while bypassing geoblocks on your browser. Mullvad enables split tunneling on its mobile apps but not desktop. However, they are currently building a desktop version. When I tried it on my smartphone, I could use my local banking app while watching US Netflix.
Double VPN — Double VPN is when your internet traffic gets redirected through two VPN servers for extra security. The catch is that it reduces your speeds because of the extra layers of encryption. Mullvad has a feature called Bridge which enables Double VPN protection, and it can easily be turned on or off in your settings. When I used it, my drop in speed was barely noticeable.
Privacy — Takes Privacy Seriously
Location — 14 Eyes Alliance Member Sweden
Mullvad is located in Sweden, which is part of the 14 eyes alliance. Intelligence agencies of the countries in the alliance often share intelligence, such as personal data, with each other — giving you a reason to be concerned. However, Swedish laws state that VPN providers aren't required to keep any logs of their users' activity, so you should have nothing to fear.
Therefore, what really matters is that Mullvad adheres to its strict no-logs policy, not its location.
Ownership — Trustworthy Company in Sweden
Mullvad AB is the company that owns Mullvad, which is a subsidiary of Amagicom AB. Both companies are owned by the same people, Fredrik Strömberg and Daniel Berntsson, and have never come under scrutiny. Everything about this ownership is stated on Mullvad's website, which in my opinion, further cements their transparency and trustworthiness.
No-Logs Policy — Fully Upheld and Transparent
Mullvad doesn't keep any activity logs whatsoever and has fully published its privacy policy on its website. The underlying belief in this policy is that they want you to remain as anonymous as possible, which should also be a fundamental right. The policy states that the only personal data they collect is your payment method, which is in accordance with the General Data Protection Regulation (GDPR).
It also collects some data from its servers: the number of current VPN connections and the amount of bandwidth used. None of this information is personal. In fact, you only need to provide your payment method to create a Mullvad account, which arguably displays its strong commitment to online privacy and anonymity. It also means that Mullvad won't have anything to hand over if they are ever investigated.
Torrenting — Enabled on All Servers
All of Mullvad's servers are enabled for P2P sharing. Simply connect to any server, and you'll be able to download torrents quickly and anonymously. Mullvad doesn't record any logs and uses AES-256 bit encryption, which prevents your ISP from viewing your torrenting activity or throttling your bandwidth.
During my tests, I connected to a US server (US-LAX-006) and downloaded the movie trailer for Fantastic Planets on uTorrent. My download speed averaged 255.1 KB per second, which let me download the 31.8 MB file in 2 minutes and 4 seconds. I then downloaded the same movie trailer on a non-VPN connection, and my download speed averaged 338.0 KB per second.


Also, note that your torrenting speed largely depends on the number of seeds your torrent has rather than your internet connection speed. Even with this fact, I was very impressed that Mullvad didn't slow down my torrenting speed significantly. The slight drop in speed is undoubtedly worth the privacy and security that comes with it.
Does Mullvad Work in China? Yes!
Mullvad works in China, even though its marketing doesn't mention it. It can do this by using the shadowsocks proxy (an open-source proxy that's commonly used to bypass the Great Firewall). Shadowsocks works by creating a new proxy connection every time it's used, making it difficult for the Great Wall to identify and block.
I even emailed its support team to confirm if it works in China, to which they answered "yes."