Perfect Privacy VPN Review 2020 - Keep This in Mind Before Buying
We recently learned that Perfect Privacy uses a US-based location to handle some payments.
If you're paying via PayPal, the billing address will appear as Vectura Datamanagement Limited Company, based in Cheyenne, Wyoming: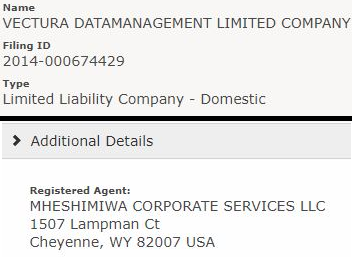 This may come as a surprise for some, especially when PP doesn't mention a US billing address for PayPal anywhere in their terms (although they aren't obliged to do so).
Here's what we found upon further research:
It's true — Vectura Datamanagement Limited Company does have an "office" in the United States. However, it's just a branch — the principal office is located in Panama, and the company's legal headquarters are in Switzerland (according to the company's imprint).
We also got in touch with Perfect Privacy to get more clarity. As it stands, the US office is only relevant to payments and app listing for Google Play Store. This is common practice — the important takeaway is the VPN itself isn't subject to US jurisdiction.
In short, this is a grey area. Regardless, users looking for zero ties between a VPN and the home of the NSA deserve to know about this.
A word of caution:
Just because a VPN isn't based in the Fourteen Eyes, doesn't mean it won't air your dirty laundry if asked. In other cases, parent companies may be based in the Fourteen Eyes while the VPN is not — that still makes the service partly vulnerable to intrusion.
Our advice? Always make sure to carefully read a VPN's terms of service, and take the initiative to research a service's background before your personal info takes a hit. And, make sure you look into top-level VPNs such as ExpressVPN, CyberGhost or NordVPN. With these providers, you don't need to worry about any compromise to your privacy.
And one more thing to be aware of - Perfect Privacy doesn't work with Netflix. If you want a VPN that does, check out our top picks.
Perfect Privacy is becoming a popular VPN
Perfect Privacy operates 39 servers in 23 different countries. Every server is configured to support the OpenVPN, IPSec, PPTP, SSH2, Squid, and Socks5 protocols. Their OpenVPN offering is configured with 256 bit AES encryption which is on par with most other VPN providers. Additional security can be achieved by using a cascaded connection that routes your OpenVPN connection over a maximum of four servers of your choosing. They also operate their own DNS system for the exclusive use of their customers and allow you to choose a specific server or be assigned a random one from the pool of servers.
There is no limit to the amount of data you can download, and their servers support up to 1 GBPS of bandwidth. Switching between servers is allowed and is free, so you can switch as often as you like. Perfect Privacy stands out among VPN providers because they allow an unlimited number of simultaneous connections.
Your privacy is protected by their no logging policy which states that they will not log or store IP addresses, any traffic, or any other type of information that would let someone to find you. The anonymity and privacy of their customers are their main focus, and the infrastructure was built with this in mind. This makes their service ideal for BitTorrent and other file sharing software as long as you use the right servers. They block the most popular torrent trackers in the United States and France because they treat copyright violations harshly and very quickly terminate servers. All of Perfect Privacy's other servers allow file sharing and also provide 8 port forwarding that you can use with torrent apps.
A custom client is offered for Windows, Linux, and Mac OS X desktops and iOS and Android devices. The client provides features such as switching protocols, cascading your connection, a firewall, and DNS leak protection. If you need help with using the client or setting up a connection, you can find answers in their online forum, or you can e-mail them. Perfect Privacy is one of the few VPN providers that also offers the option of getting support through TeamViewer. The TeamViewer software allows one of their technicians to chat with you and also to remote control your system, while you are watching, so they can set it up for you.
Perfect Privacy offers a wide range of payment options including the ultimate in anonymity, cash. You can send them a cash payment and leave no trace of payment information on any electronic system. They also accept Bitcoin, PayPal, credit cards, Bank Transfer, AliPay, LiqPay, payment with a mobile phone, Paymentwall, Webmoney, PerfectMoney, OK Pay, Paxum, LiteCoin and more via LavaPay. None of your payment data is kept except for the date when payment was received (which is linked only to an anonymous account number).
Still not sure if Perfect Privacy is the VPN for you? Check out our top recommendation for best-all-round VPN, NordVPN to learn more.
If streaming Netflix is top of your agenda, then take a look at our top five recommended VPNs. They're all guaranteed to work with fast speeds and in HD quality.
| Features | Details |
| --- | --- |
| Number of countries with servers | 23 |
| Number of servers | 42 |
| Number of IP addresses | 479 |
| Does VPN keep logs? | No |
| Does VPN include a kill switch? | Yes |
| Number of devices per license | Unlimited |
Live Support Using TeamViewer
Unlimited Simultaneous Connections
Up to 8 Forwarded Ports
Wide Range of Payment Options (including cash)
No Data Transfer Limits
Money Back Guarantee (Days) :
7
Mobile app :
Number of devices per license :
Unlimited
Watch the short video review and tutorial below of Perfect Privacy
Perfect Privacy

User Reviews
RA
Outstanding vpn for security
I have tried and used other popular vpn's but find that Perfect Privacy seems to work the best when it comes to security and privacy....it also has a more professional feel to it compared to others. Its worth the little bit of extra money i paid for it.
---
See Plans
Reply to this review
Did you know? We approve all user reviews. Companies can't pay to include or exclude any.
Dan
This is a real VPN Provider!! They take care about your privacy!! Yes, it is NOT Cheap but you GET what you PAY for!!! So when i compare to other VPN Provider they really have Privacy. And yes, if you lose your Password there is no recovery because they don't know your account because IT IS Anonymous!! Think about this when you choose another VPN Provider ;)
---
See Plans
Reply to this review
Katara
The Best VPN out there. Period <3
I've worked with MANY VPNs over the years, after 2+ years of perfect privacy, they are simply put: "THE Best". From their speeds and minimal latency, which are amazing for gaming and voip calls - to their very thorough VPN client which covers ALL the desired needs (including a permanently on firewall* that works very well even before boot), to cascading, to gigabit servers.. If you're looking for a truly stable VPN that performs well in every aspect and feels and acts seamlessly, Perfect-Privacy is the VPN of choice. It's 17USD per month and I gladly will pay 56 cents per day for the amazing performance and gigantic speeds and privacy. Their servers run in RamDisk Mode which ensures your privacy (meaning none of the data is actually stored on the machine, somewhat like a virtual box held in ram). These guys have always offered me quick responses to email tickets if I have a question. Unless it's a frustrated noobie who can't understand why they're using a VPN in the first place, this one is a huge green light for anyone who knows what they're doing. Express VPN (in my experienced opinion) is tapped, overloaded, random high-latency, and is for novice users who do not have experience. Perfect-Privacy delivers. They are feature-full and offer everything you would need and want as an advanced user. Port forwarding, gigabit servers, multiple encryption algorithms. It feels like you're not even on the VPN 24/7, and that's a good sign and adds peace of mind at all times. If you're reading this Perfect Privacy, I freakin' love you guys. Truly the BEST!! 2+ years and for life.
---
See Plans
Reply to this review
Compare Perfect Privacy with the top alternative VPNs