Turbo VPN is a China-based service that enjoys a lot of popularity on Android and iOS. Considering the domicile of this particular service, that may stop a lot of you in your tracks right now. If so: we recommend an alternative provider based in a country less hostile towards privacy like ExpressVPN.
That's mostly because of the free version, and it's no surprise. Few providers out there give you unlimited bandwidth and 9 servers in 8 countries with no strings attached. Well, aside from the annoying ads and no access to Netflix.
Turbo VPN also has a paid VIP plan, which cleans up the interface from advertising and boosts the network to 29 servers in 15 countries. And that's not all. This plan also unblocks Netflix libraries, but you are restricted to only 15 countries. If you want worldwide access to Netflix and super-fast streaming, check out one of these top vendors.
At first glance, this service seems like a great pick for mobile users. But how does it fare in a detailed test? Join us as we explore Turbo VPN and see if it's worth using on your phone or tablet.
Streaming – Does Turbo VPN Work with Netflix?
Due to advanced detection and extensive blocking from streaming sites, many VPNs are unable to access platforms like Netflix.
In order to watch your favorite content successfully, you need a serious provider. Turbo VPN appears to be one of those, thanks to its special streaming servers.
You have options for Netflix, BBC iPlayer, Fox, and more. Unfortunately, these servers are locked behind the VIP plan, so you're out of luck if you were hoping for free access.
The good news is the premium servers work well enough for unblocking and streaming. That said, Turbo VPN shouldn't be your first choice for Netflix, due to serious issues with server uptime and customer support. Don't worry, you can avoid these pitfalls with one of our top five recommended VPNs for Netflix.
Speed Test – How Fast Is Turbo VPN?
From its name alone, you'd expect Turbo VPN to deliver some awesome speeds. But advertising is often different from actual results – so we put this service to the test.
For reference, here's our speed without a VPN:

First off, we checked the "fastest server" option, which connected us to the U.K.:

Not impressive. A 50% decrease in download speed isn't what you want to see – especially if your connection isn't anything special in the first place.
Next up, we selected the Netherlands server manually from the list. The result was much better:

Every VPN will slow you down, but 20% (download) is an acceptable drop. Further tests on this server gave similar results.
The U.S. New York server made a terrible first impression:

We suspected the 95% decrease in download was due to server overload. So we gave it another try a few hours later:

A much better result, and a little surprising. The U.S. speed tests were the fastest overall for us, even though our test location was in Europe.
Sadly, that wasn't the case for long – when we tried again during peak U.S. hours, it was another sluggish experience.
During the tests, we also noticed a major issue. Manually selecting servers was promptly followed by a connection crash.
We tried checking for updates and even reinstalling the VPN, but the problem persisted.
In short, two big takeaways here. One, Turbo VPN can be fast on empty servers, but its tiny network doesn't handle intensive traffic very well. Two, you basically have to use the quick-connect feature to avoid any sudden drops.
Choosing a server by yourself quickly turns into a headache – even worse, you're putting your privacy at risk.
Is Turbo VPN Good for Torrenting?
Using Turbo VPN together with BitTorrent is strictly forbidden:

It could be explained a little better, but you get the idea. Avoid torrenting with this VPN, or you'll get into trouble.
Security – Is Turbo VPN Safe?
When it comes to protecting your data, Turbo VPN is a mixed bag. If we had one word to describe the security here, it would be "misleading."
Does Turbo VPN Keep Logs?
Turbo VPN advertises itself as a no-logs service. This isn't true.
The first red flag is the privacy policy, which is hard to find in the app (and almost unreachable if you're on a computer).
That's probably because it explains very carefully the data this VPN logs. And it's a lot:

As you can see, Turbo VPN collects all kinds of user info, making it the exact opposite of a true no-logs service.
The jurisdiction isn't any better, either.
China isn't part of the Fourteen Eyes surveillance alliance, meaning you're safe from government spying in the Western world. But China itself is notorious for its extensive privacy violations.
Is it a good idea to trade one problem for another? Not really. In the end, Turbo VPN will collect sensitive data on you, and share it with numerous third parties – including the Chinese government.
If you're a privacy-conscious individual, you'll be much better off with a legitimate zero-logs VPN.
Turbo VPN's Security Features
Turbo VPN will disappoint those looking for advanced security features – because there aren't any.
It's worth noting that we didn't detect any IP or DNS leaks during our tests. However, without a kill switch or custom DNS settings, this VPN can't guarantee your security at all times. Anti-malware and adblocking are other sorely missed features.
What's more, Turbo VPN is only reliable when you use the "fastest server" option. Without a kill switch, your traffic can easily be exposed once the connection is interrupted. Given Turbo VPN's uptime issues with manual servers, it's only a matter of time before this happens.
Does Turbo VPN Work in China?
Turbo VPN isn't available in China. This is explicitly mentioned in the service descriptions on Google Play and App Store:

Not surprising. Turbo VPN is most likely approved by the Chinese government, like any other China-based VPN. Bypassing the Great Firewall is one of the things they don't want you to do, so it's understandable why this VPN can't be used for that purpose.
Turbo VPN's Paid Version – Worth It?
Going VIP with Turbo VPN has its perks. You get access to all the special streaming servers, along with extra connections and an ad-free interface: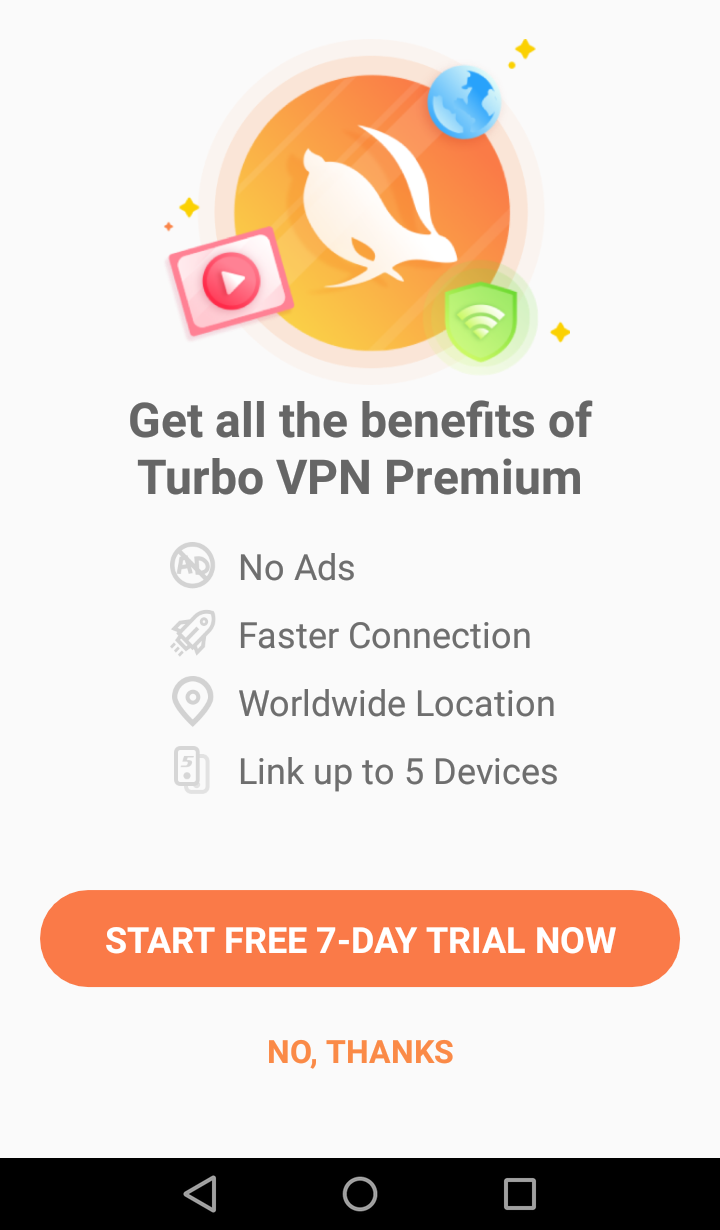 These are all great upgrades over the free version. But there's one more thing to consider.
The price.
Sadly, this is where Turbo VPN's paid plan lost all appeal for us. There's no mild way to put it – the VIP package is ridiculously overpriced.
It's in the same range as leading providers like ExpressVPN and IPVanish. You really can't compare Turbo VPN to these services, or any of our top 10 VPNs, for that matter.
From Turbo VPN's price tag, you'd expect thousands of servers, plenty of features, and support for all major platforms. Instead, you get a VPN with just 29 servers, average speeds, and no special settings.
There's also the stability problem, which isn't solved with the VIP plan.
Overall, paying premium money for a barebones service such as Turbo VPN isn't something we'd recommend.
Does Turbo VPN Have a Free Trial?
You can get a full taste of Turbo VPN for free with its seven-day VIP trial.
Unfortunately, you'll also need to make a subscription in order to redeem it.
If you don't want to get charged after the trial period ends, you need to remember when you signed up for it. Then, once it's about to expire, you'll have to cancel manually.
And you'd better do that in time, because Turbo VPN doesn't have the most favorable refund policy around.
Turbo VPN's Refund Policy
Turbo VPN doesn't offer a money-back guarantee. From the FAQ:

This is another drawback. Usually, we'd be fine with just the one-week free trial. The only problem is, it isn't exactly free. Users shouldn't have to make a mental note of when they started their VPN test period, and Turbo VPN doesn't make it any easier for them.
Is Turbo VPN Compatible with My Device?
Turbo VPN is available on Windows, macOS, iOS, and Android.
The free service can be installed on as many devices as you want. You don't need any authentication to use the VPN, so there aren't any device caps.
The VIP plan gives you ad-free clients and 20 extra servers on up to five devices at once. This is standard for most paid services. All in all, not bad.
Encryption
This is one of Turbo VPN's strong sides.
It uses AES-256 encryption, which is considered bulletproof. What's more, you get the OpenVPN and IPSec protocols.
OpenVPN is the industry standard protocol, offering a great balance of security and speed. IPSec provides excellent protection and performance for iOS devices.
On the Android app, we could choose between both protocols – such variety is always welcome.
If it wasn't for the extensive data logging, we'd consider Turbo VPN one of the most secure VPNs on mobile. It's a real shame the powerful encryption here is offset by a questionable privacy policy.
Turbo VPN Customer Service
Turbo VPN claims (in less than perfect English) to provide 24/7 customer support. Looking at the website, you may even get the impression that live chat is available:

The reality is a polar opposite.
There's no live chat or dedicated ticket system. Turbo VPN does leave an email address for "feedback," but the overall impression here isn't good.
The customer support ad mentions "automated and artificial customer service." We aren't sure whether this means no help from actual human beings, or it's just more broken English.
You can also find Turbo VPN on Facebook. However, expect little more than an auto-reply.
Helpful and responsive support is a clear indicator that a VPN provider cares about you as a customer. From what we've seen, Turbo VPN isn't too interested in providing users with quality assistance.
User Experience
Let's start with the usual first step – the Turbo VPN website.
It may sound a little harsh, but it looks more like an unfinished template than a functional website. There really isn't any valuable info here. Even the privacy policy is missing.
Skipping the website visit and going straight to Google Play/App Store is a much better move. We downloaded and installed the Android version. The entire process lasted less than a minute. Great!
The VPN app is simple and intuitive, but the ads can be very frustrating. They were predictable enough, but sometimes we got videos with sound – let's just say we didn't appreciate them too much.
You connect the VPN with a single tap. The "fastest server" option is set as default, but you can switch to a server of your choice with ease: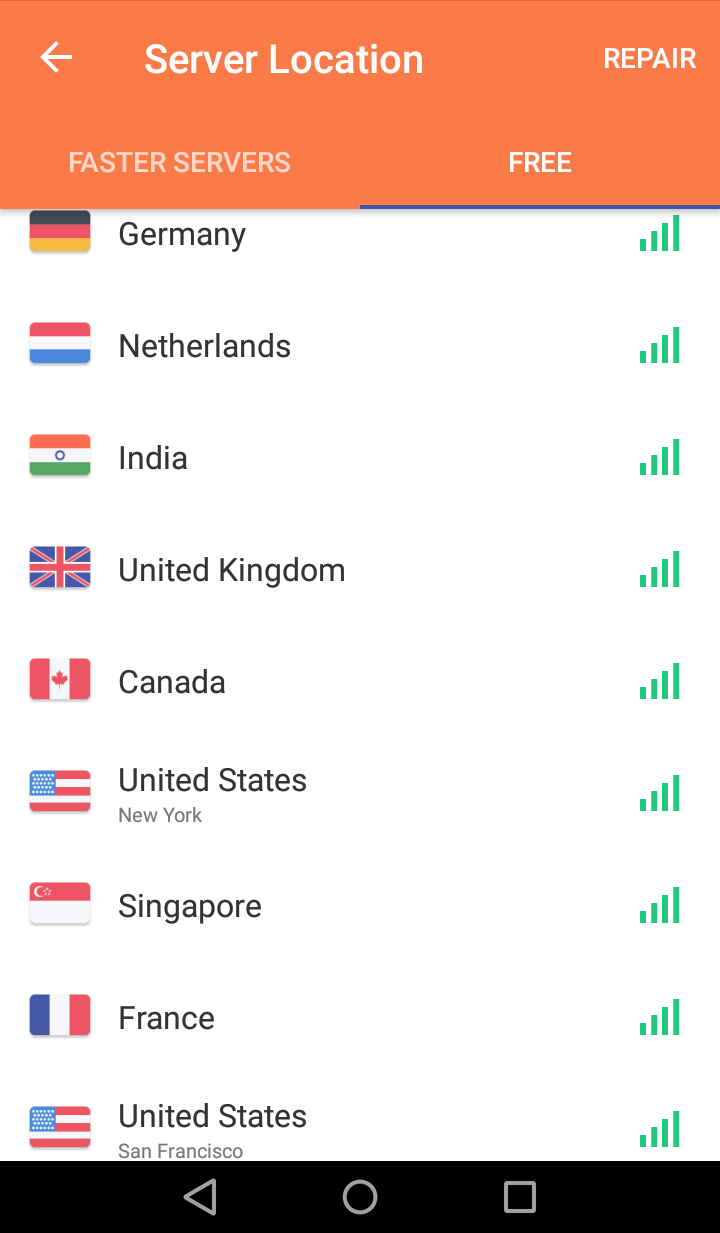 The Faster Servers tab is where you'll find all the VIP locations, including the special streaming servers: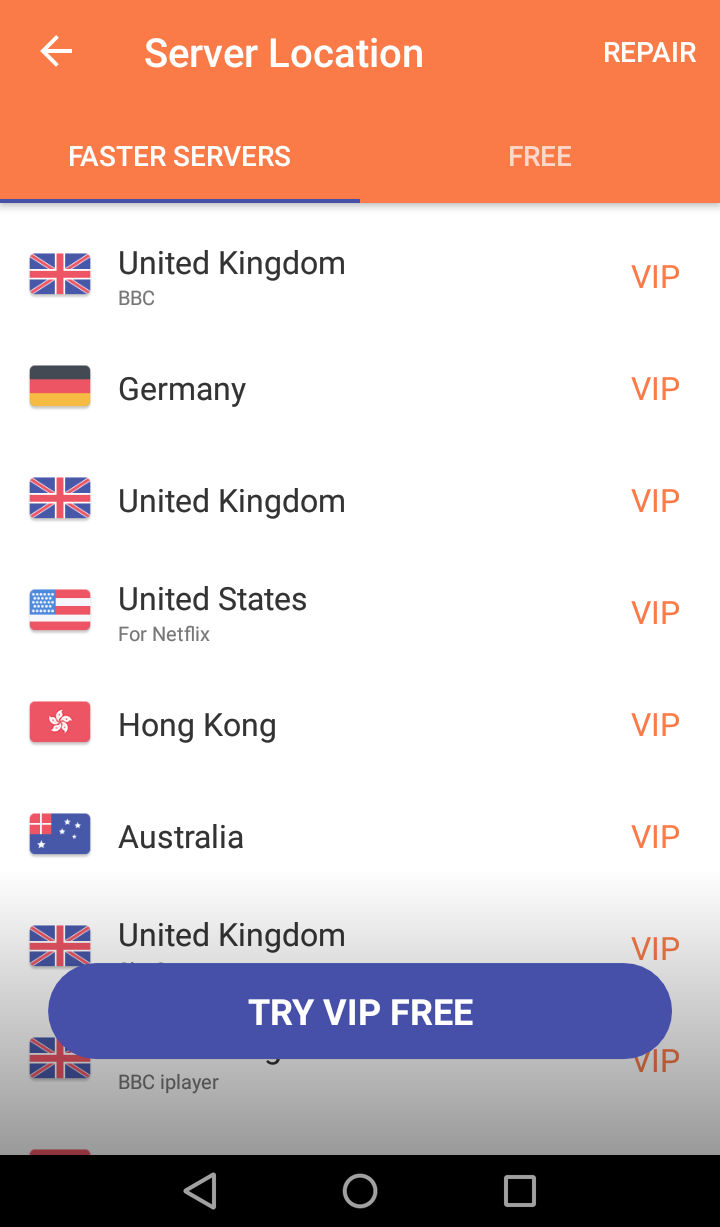 As for settings, you don't get much: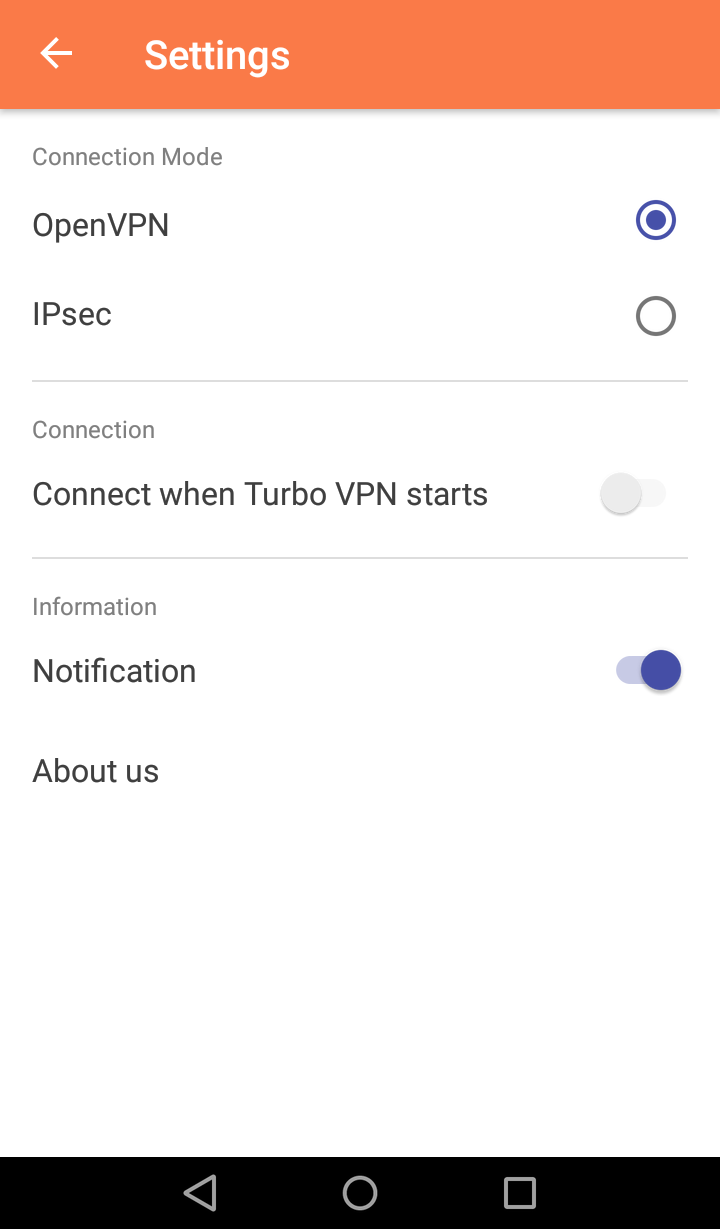 Having the choice between the OpenVPN and IPSec protocols is nice, as is the auto-connect feature. But this menu would look much better if it had extra DNS settings and a kill switch.
Overall, Turbo VPN isn't too bad when it comes to the user experience. However, once you add the non-existent customer support and severe uptime issues, things quickly take a bad turn.
Conclusion
Turbo VPN is all about simple protection. Its free version is one of the best, offering much more than the competition.
That said, the price of the VIP package definitely doesn't reflect the added value. Power users will be better off taking their money elsewhere.
Last but not least, we need to mention this again – the connectivity issues with manual server selection are a huge drawback. We know we aren't the only ones with this problem.
Multiple other reviews, as well as Google Play and App Store users, have brought this up. Turbo VPN absolutely needs to fix this – until then, you can do much better if you want to pay for a solid, stable VPN.
We recommend checking out CyberGhost VPN if you're looking for a huge server roster, top-shelf reliability for streaming, and robust protection.
If blazing speeds and effortless streaming on Netflix are your top priorities, ExpressVPN is another excellent pick, but there are more choices, too. Check out our guide to the best VPNs for Netflix to help you make your decision.
Lastly, IPVanish is a great budget-priced VPN with unlimited simultaneous connections and plenty of premium features. If you need more recs, we tested and ranked the world's top VPNs.
| | |
| --- | --- |
| Price | $4.17/month |
| Money Back Guarantee | 7 |
| Does VPN keep logs? | No |
| Number of servers | 22000 |
| Number of devices per license | 5 |
| Kill switch | No |
| Supports torrenting | No |