UltraVPN is a high-speed service with 100+ servers across 10 countries. It doesn't keep activity logs and all its apps use 256-bit encryption and an automatic kill switch.
It can unblock Netflix, but not BBC iPlayer. If you're looking for a more global streaming experience, I recommend ExpressVPN. It can access over 140 streaming services from around the world, and it's fast enough to stream in 4K.
UltraVPN Features — Updated in January 2022
9.0
💸

Price
$2.99/month

📆

Money Back Guarantee
30

📝

Does VPN keep logs?
Yes

🖥

Number of servers
100

💻

Number of devices per license
6

🛡

Kill switch
Yes

🗺

Based in country
United States

🛠

Support
Via Email

📥

Supports torrenting
Yes
Streaming - Does UltraVPN Work with Netflix?
According to UltraVPN's homepage, you can use it to "unlock the whole web." But can it defeat Netflix's notorious VPN blocks?
The short answer - yes. I was able to unblock Netflix and stream in high definition using the Ultraflix US server. While connected to this server, I was also able to unblock Hulu and HBO GO.
Unfortunately, I wasn't able to unblock BBC iPlayer using any of its UK servers. If you love your BBC content, check out a more global provider like ExpressVPN.
Netflix: Yes.
Hulu: Yes.
HBO GO: Yes.
BBC iPlayer: No.
UltraVPN Speeds
Speed is one of the most important things to consider when choosing a VPN. Nobody wants to wait forever for a website to load, so it's important to choose a VPN with top-notch connection speeds.
The farther your data needs to travel from your device to the VPN server, the slower your speeds will be.
For browsing, you'll get the best speeds by connecting to a server in your country because your data won't have to travel as far.
If you want to bypass a geoblock or censorship, you'll need to connect to a server in a country where that content is already available. So, if you want to watch Netflix US, you'll need to connect to a US VPN server. This will slow your connection down, but the difference should be barely noticeable with a premium VPN.
I wanted to find out exactly how well UltraVPN could perform, so I decided to test its connection speeds myself.
My base speed before I connected to UltraVPN was 12.81 Mbps download, 1.38 Mbps upload, with a ping of 31 ms. The internet in Australia can be pretty slow, so I was pleased to find that my connection was 71% faster than most of the country.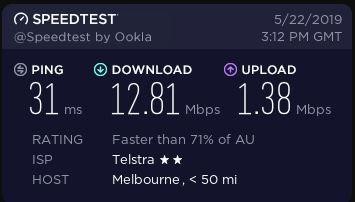 My download speed decreased to 8.53 Mbps when I connected to UltraVPN's Australian server. My upload speed increased to 1.56 Mbps, and my ping increased a little bit to 44 ms. This was still faster than 66% of the country, so I was happy with this result.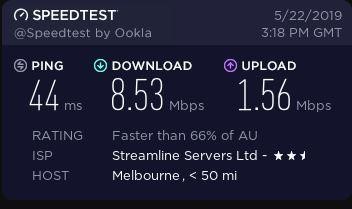 Finally, I connected to UltraVPN's US server. Although my ping increased dramatically to 335 ms, I was really impressed with my connection speed.
My download speed actually increased to 10.30 Mbps, and my upload speed dropped slightly to 0.53 Mbps. This is a really good result, especially considering that my data had to travel all the way to the US from Australia.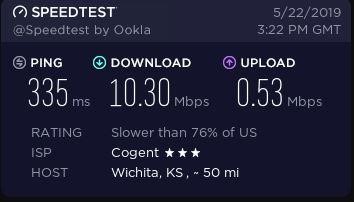 Overall, I found UltraVPN to have fast and reliable connections. It was perfect for streaming in high definition, and browsing was even quicker.
Is UltraVPN Good for Torrenting?
UltraVPN's website is quite basic, and I couldn't find a lot of information about P2P connections. So, I decided to reach out to customer support to find out.
After a few minutes, the representative advised me that VPNs are essential tools for anyone who is interested in torrenting. I already knew this, so I re-phrased my question.
The representative replied, "you're welcome, is there anything else I can help with?", which… did not answer my question, so I asked a third time.
Finally, I was advised that UltraVPN allows P2P connections and torrenting without any restrictions. Whew.
Is UltraVPN Safe?
Yes. Although it's based in a 5/9/14-Eyes country, UltraVPN doesn't keep activity logs. So, even if the government subpoenaed it for information, it wouldn't have any data to hand over.
Does UltraVPN Keep Logs?
Yes, it keeps some logs. UltraVPN collects IP address, location, and device information, but not activity logs.
It is headquartered in the US, which is a member of the 5/9/14-Eyes Alliance. This means that allied countries could retrieve information from UltraVPN about its users, but is this really a threat to users like you and me?
Well, no. While Ultra VPN collects some information, it doesn't track what you do online. That means there would be nothing to report to the government even if they did try to subpoena information.
Does UltraVPN Have an Ad Blocker?
No. If you want to use an ad blocker, you'll need to use a third-party app or browser extension.
Does UltraVPN Work in China?
According to UltraVPN's customer support, it doesn't currently work in China. However, they are working on a fix, so it may become available at a later date.
UltraVPN Price and Value for Money
UltraVPN is well-priced, but its limited server network means it struggles to compete against bigger providers, like ExpressVPN. ExpressVPN offers more features and a few thousand extra servers for only a few dollars extra per month.
Does UltraVPN Have a Free Version?
Yes, UltraVPN offers a 7-day free trial with a limited amount of servers.
UltraVPN's Refund Policy
UltraVPN offers a 30-day money-back guarantee with all its subscriptions.
Is UltraVPN Compatible with My Device?
Although it advertises one VPN service for all your devices, UltraVPN only offers apps for Windows, MacOS, Android, and iOS.
The good news is that you can connect up to 6 devices simultaneously with the premium plan.
Encryption
UltraVPN uses 256-bit encryption to protect your data.
Multiple Security Protocols
From within the app, you can configure UltraVPN to use IKEv2, UDP, or TCP.
Automatic Kill Switch
UltraVPN's automatic kill switch - or firewall - prevents unprotected data from leaving your network in the event your VPN connection fails. It can be manually configured from within the app.
UltraVPN Customer Service
Because UltraVPN is a relatively new provider, there wasn't much information available about it online. So, whenever I had a question, I had to get in touch with customer support via the online chat.
The representatives I spoke with were consistently friendly and thorough. Although I did have trouble with one agent who didn't understand my question regarding torrenting, I was able to get an answer after I rephrased my query, and they remained friendly and polite for the whole interaction.
It's really easy to get in touch with UltraVPN.
Each time I connected to the live chat, I only had to wait around 30 seconds to connect with a representative. Because I was able to provide my email before connecting, they already had all of the necessary information on the screen in front of them, so there was no time wasted looking up my account details.
Unlike most VPN providers, UltraVPN can also be contacted 24/7 toll-free by phone for billing support from anywhere in the world.
User Experience
UltraVPN's app is really easy to use. It's lightweight, which was great for my ageing Windows 8 PC. Running the app won't freeze your computer or slow down any processes.
It offers a simple layout with convenient buttons to control your connection. There are very few settings, so UltraVPN may not be the best choice if you're an advanced user looking to customize your connection.
From the main interface you can choose a server to connect to and configure your firewall. Unfortunately, there is no search function so you'll have to scroll through the server list each time.
Conclusion
UltraVPN is relatively small and doesn't offer a lot of value for your money.
When I tested it, my connection was quick and reliable. I was able to unblock Netflix US, Hulu, and HBO GO. UltraVPN can't unblock BBC iPlayer, though. If you're looking to stream content from all over the world, take a look at our best VPNs for streaming.
But I had a lot of trouble setting it up, and I had to contact customer support three times just to get it going.
Its apps are easy to use, but are quite limited when it comes to features. You can't customize them at all.
Based on my experience, I don't recommend UltraVPN. For a few dollars more each month, you could use a premium provider like ExpressVPN instead.
ExpressVPN offers great value for money. It operates 3,000+ servers across 90 countries, and can unblock any streaming service, including BBC iPlayer. Its apps are feature-rich and fully customizable, too.